Anatomy of a Limited Pro Stock Truck
Last, but not least, in our "Anatomy of" series is the Limited Pro Stock class within diesel truck pulling. With even more restrictions placed on them than what the Pro Stock trucks face, the Limited Pro's must retain 100 percent of the original sheetmetal (no gutted cabs or beds), are limited to running a single 76 mm (3.0-inch) turbocharger and have to utilize a DOT-approved tire.
Although Cummins is still king in the Limited Pro Stock class, you will find more Duramax-powered trucks in this category than any other. Not that a Duramax can't compete in the higher horsepower Pro Stock and Super Stock classes, but it's definitely an uphill battle. Beyond engine brand, the Limited Pro Stock class directly pits mechanical injection against high-pressure common-rail systems (i.e., old-school vs. new-age).
Read on for the full scoop on these 1,400 hp monsters.
Built for Longevity
Like all areas of diesel motorsports, 5.9L and 6.7L Cummins mills are the power plant of choice. And similar to the Pro Stock class, no aftermarket blocks or billet heads can be used in Limited Pro Stock. But, that doesn't mean the engines don't receive Pro Stock-like treatment in the form of crankcase girdles (to tie the main caps together), cylinder sleeves (easing repair), deck plates (to keep blocks from cracking and cylinders from distorting) and extensively ported heads (for optimum air and exhaust flow).
Haisley Machine of Fairmount, Indiana, builds a nearly indestructible version of the Cummins, which it coins the "Super B," and the company has more Limited Pro Stock customers than any other engine builder in the diesel industry. Based on a 6.7L Cummins block, the Haisley Machine Super B sports an internally balanced crankshaft, billet connecting rods, low-compression pistons, a roller camshaft and displaced 6.4L. The Super B platform has proven both reliable and infinitely capable — especially when you consider this same basic engine program is employed on the 3,000 hp Super Stock trucks Haisley also puts together.
Not Just a Sea of Cummins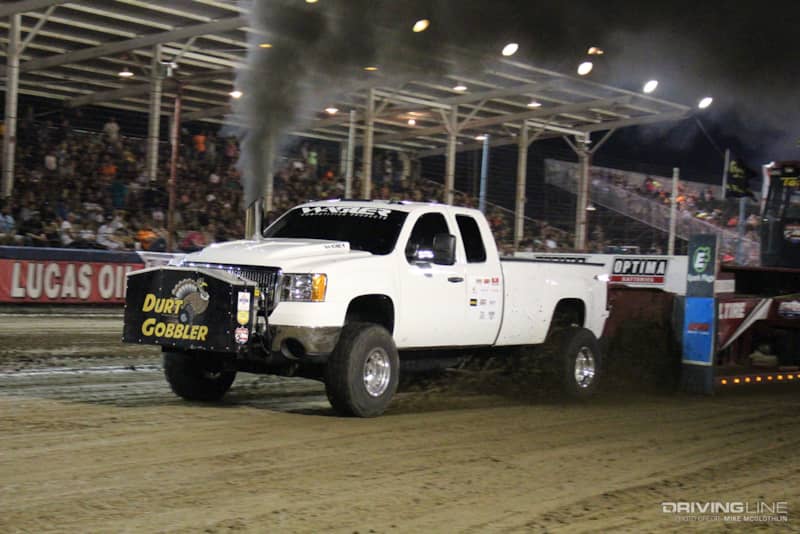 Despite the Cummins mills dominating most of the Limited Pro Stock class, the Duramax crowd can definitely hold its own. Take Joe Hill, for example. His truck sports a full, deck plate Wagler Competition Products engine, and you can bet that it makes the better part of the 1,300 to 1,400 hp it takes to compete in the Limited Pro Stock class. It's common to find this GM (named the "Durt Gobbler") in the top 10 of an always tough field of 25 to 30 trucks.
3.0-inch Smooth Bore Turbo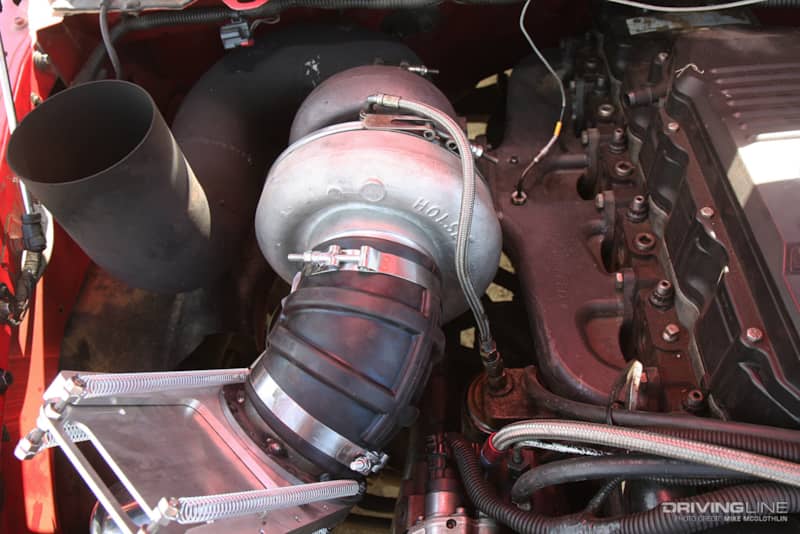 Turbo rules dictate that a smooth bore (i.e., no map groove) charger with a compressor wheel inducer measuring no larger than 3.0 inches (76 mm) be run in Limited Pro Stock. As you can imagine, squeezing 1,400 hp through a 3-inch opening is no easy feat, which explains why so many turbo companies are constantly performing R&D to find more horsepower for their customers. The custom turbo shown above is based off of a Holset HX60 and retails in the $4,500 range. Some folks are surprised to learn that the top-performing trucks in this class only see 45 to 50 psi of boost. This is due to a very efficient overall setup, thanks in large part to the high flow provided by extensively ported heads.
Keeping Intake Air on Ice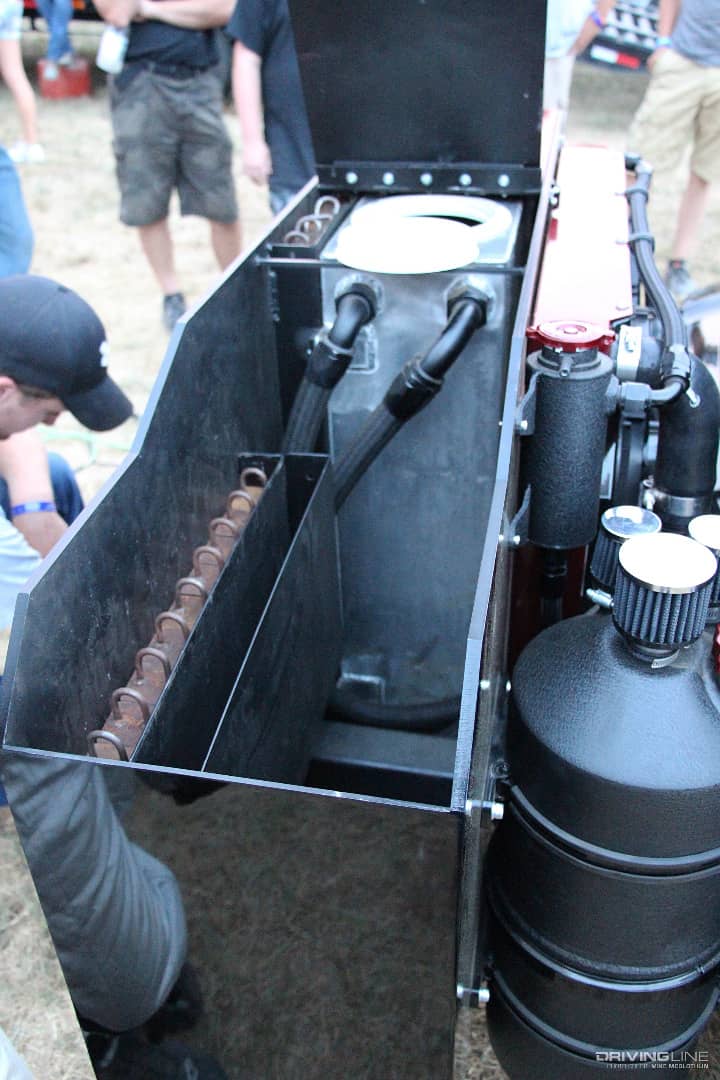 To cool off boosted, 500-degree intake air, water-to-air intercoolers are employed. These systems are made up of an icebox, water pump and multi-core, fabricated intercooler and are vastly more efficient at cooling the intake charge than traditional air-to-air units (what you'll typically find in street-driven pickups). When directly compared to the performance of an air-to-air unit, water-to-air intercoolers are good for more than a 100 hp gain at this power level. Unlike the Pro Stock and Super Stock classes, water-injection is prohibited in Limited Pro Stock.
Common-Rail and Mechanical Injection Systems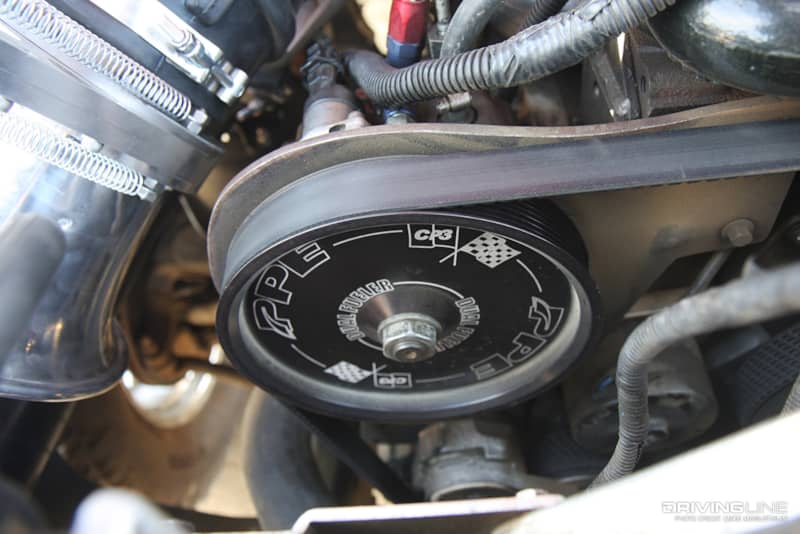 While the Cummins is the heavy favorite in the Limited Pro Stock class, 24-valve versions with common-rail injection systems keep pace with the proven, mechanically injected ones on a nightly basis. To keep rail pressure up in common-rail applications, competitors run multiple CP3 injection pumps. The top-mounted, belt-driven pump in one truck's dual CP3 system is shown above. With more and more innovation occurring every day, many enthusiasts believe there will eventually come a time when common-rail injection begins to edge out mechanical injection.
Open Driveline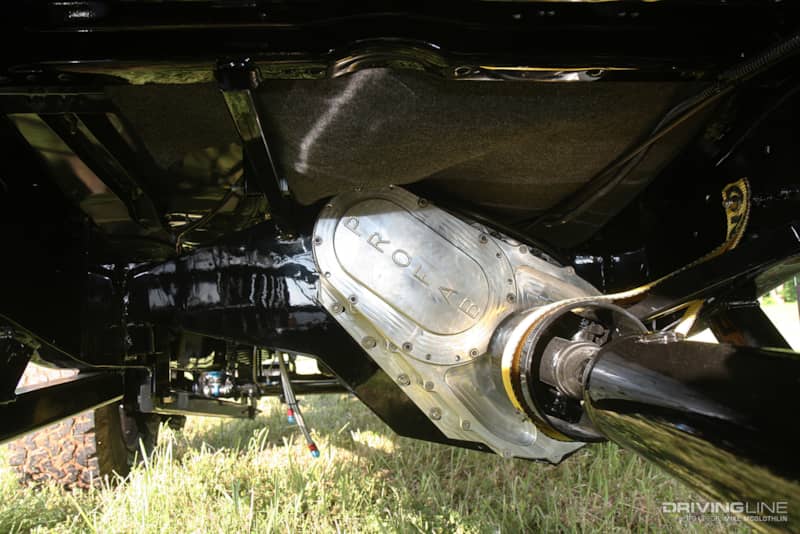 To help eliminate breakage, the Limited Pro Stock trucks are allowed to run open drivelines. In the truck pulling world, "open driveline" essentially means that a one-speed transmission is used in conjunction with a drop box-style transfer case, along with virtually no limits being placed on the axles. The photo here shows a quick change (drop box) transfer case from Pro Fab Machine, which sits behind a one-speed Pro Fab reverser transmission and routes power to the front and rear axles.
Full OEM Chassis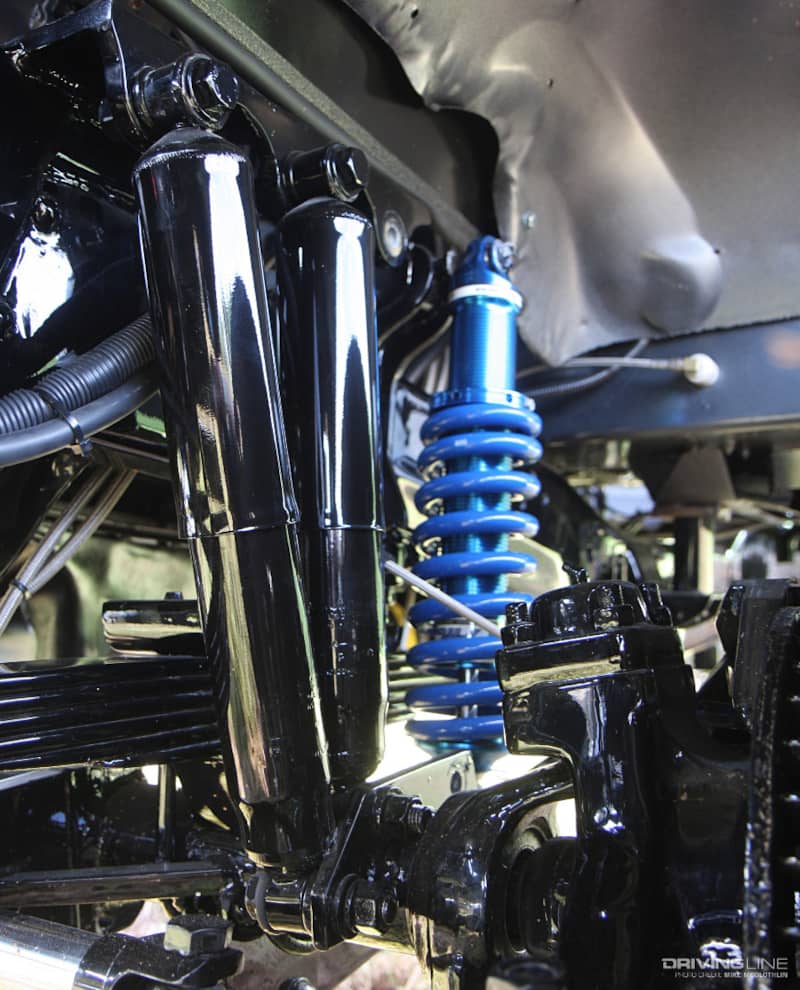 A full OEM chassis is mandatory (no wheel tubs, back-half conversions or tube chassis), with rigid suspension being legal in the rear. As for front suspension, competitors try many different things, including adjustable shocks, four-link configurations, as well as coilover and double-coilover setups. The maximum wheel base allowed is 158 inches, with a 102-inch width limitation. Last, but not least, the maximum overall weight of the truck cannot exceed 8,000 pounds.
100 Percent OEM Body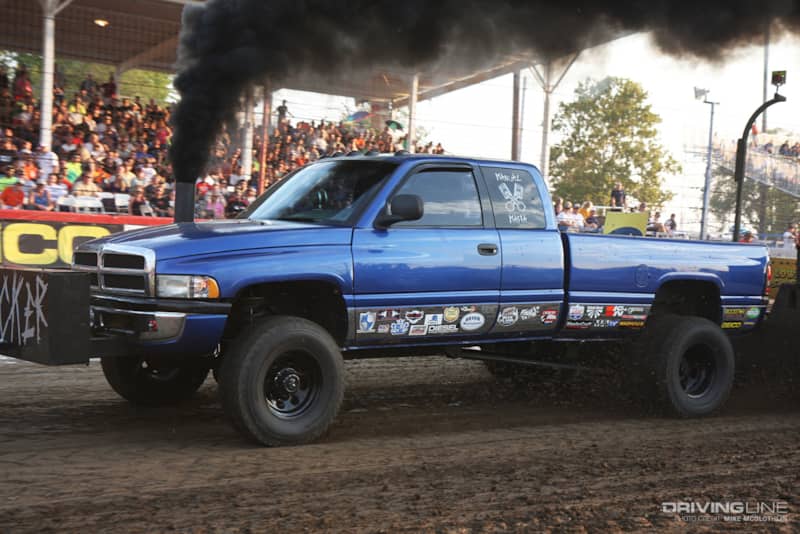 Different from Pro Stock — where the truck's bed and cab can be gutted — Limited Pro Stock rules require the truck's body be 100 percent OEM. That means the factory firewall is still in place, the cab floor is intact and the bed floor hasn't been cut out.
Unbreakable Axles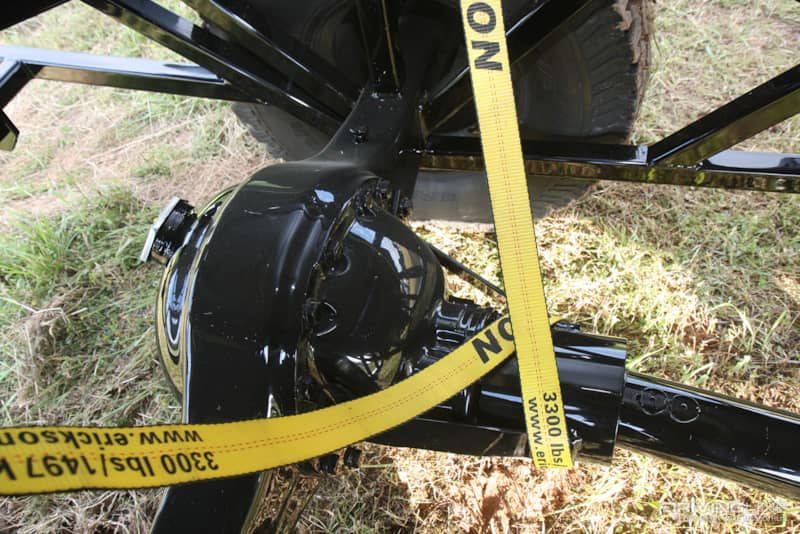 According to the Limited Pro Stock rulebook, any front or rear axle is allowed, except for planetaries. Armed with this freedom, most competitors no longer use the Dana 80 or AAM 1150 originally found under their Ram or GM (even in "beefed up" form, Dana 80s and AAM 1150s don't last long at 1,200+ hp). Instead, they opt to run Rockwell 106s or larger units, which rarely break at this power level.
DOT Tires Only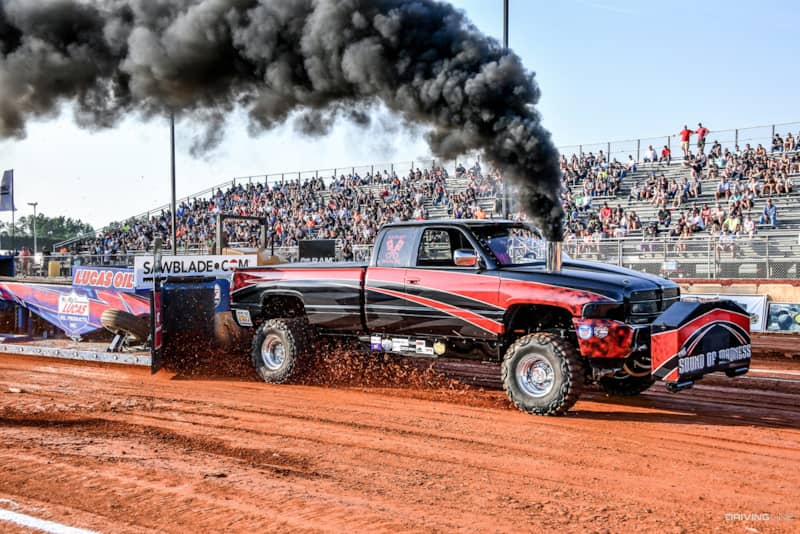 The first 100 feet matter most in truck pulling. Whoever hooks and gets out of the hole the quickest usually stands the best chance of winning. With DOT-approved tires being mandatory (and no alterations to them being allowed), many truck owners turn to Nitto Mud Grapplers for an aggressive tread pattern that bites hard in the dirt. Dual rear wheels can be (and usually are) run in Limited Pro Stock for optimum traction, but the maximum overall diameter of each tire cannot exceed 35-inches.
Ready to see these ultra-competitive trucks in action? Find them at a venue near you this summer.
Lucas Oil Pro Pulling League Schedule
| DATE | EVENT | LOCATION |
| --- | --- | --- |
| July 14 | Wabash Valley Fair Pull | Terre Haute, Indiana |
| July 18 | Johnson County Fair Pull | Franklin, Indiana |
| July 22 | Tollesbore Lions Club Pull | Tollesboro, Kentucky |
| July 26 | Jackson County Fair Pull | Brownstown, Indiana |
| July 29 | Rocky Top Diesel Shootout | Crossville, Tennessee |
| August 4 | Rossville Truck & Tractor Pull | Rossville, Illinois |
| August 25-26 | Scheid Diesel Extravaganza | Terre Haute, Indiana |
| September 9 | Lanesville Heritage Weekend | Lanesville, Indiana |
| September 23 | Macon County Truck Pullers | Lafayette, Tennessee |
| October 6-7 | Rudy's Diesel Truck Jam | Julian, North Carolina |
See the full PPL schedule ProPulling.com.