Soot Yeah! 6 Incredible Cummins Diesel Engine Swaps
Cummins has built its name on powerful and reliable diesel engines. While the famed 5.9L inline six is coveted among those in the diesel racing community, variants of it and its little brother (the 4BT) have become a go-to source for those looking to add the torque-richness of a diesel under the hood. We've shown you some of the most insane diesel swaps before, but the video above highlights six of our favorite Cummins-swapped machines.
1. 4BT Dakota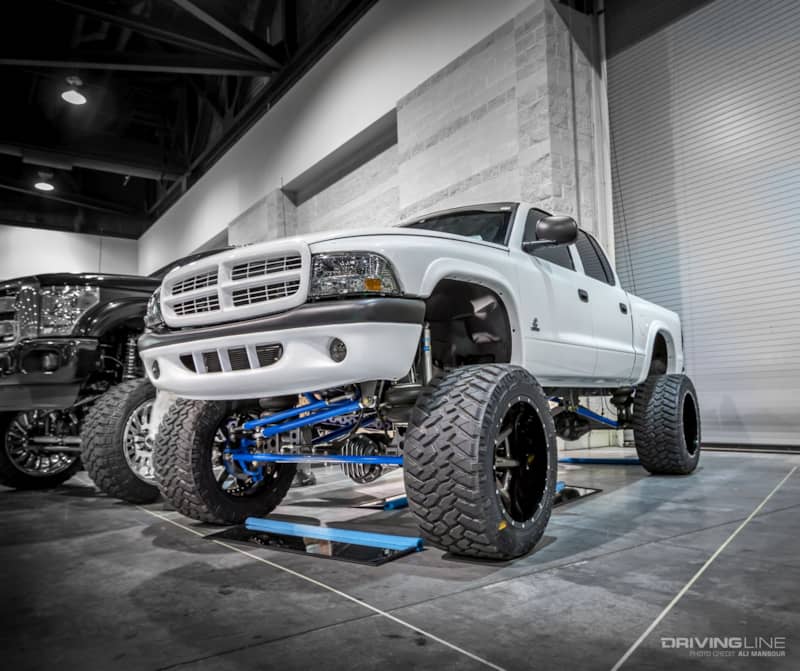 We first spotted Bed McWhorter's 2000 Dodge Dakota at the 2017 Daytona Truck Meet. Fresh off of a two-year build, the truck sported a solid-axle conversion, 375/45R22 Nitto Trail Grapplers, and a custom multilink suspension using air bags at all four corners. Of course, there is a Cummins under the hood too.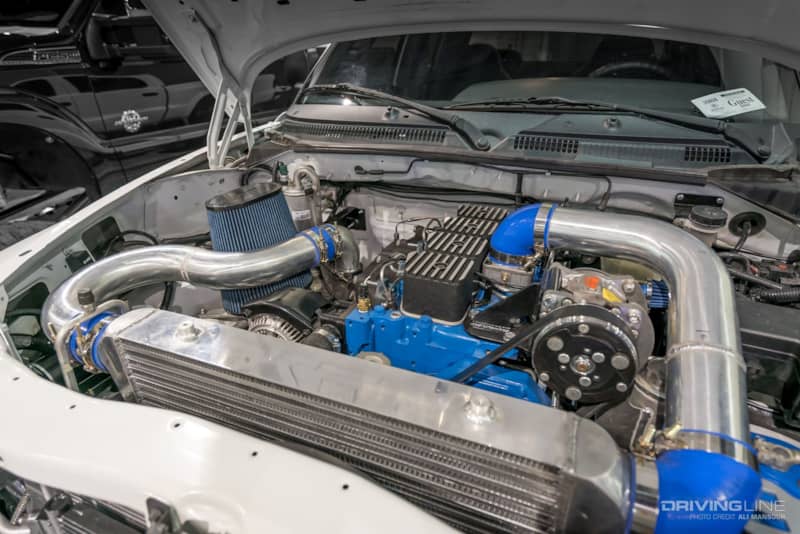 A 5.9L was offered in the Dakota from the factory, but that liter designation was assigned to a Magnum V8, not the famed inline-six Cummins diesel. Looking for more torque and fuel efficiency, McWhorter had Sercer Machine drop in a 3.9L Cummins 4BT turbodiesel. With a relatively large engine bay, the revamped and intercooled diesel engine was made to look as though it rolled off the showroom that way. Backing the inline-four cylinder is an NV4500 manual transmission, which is connected to an NP241 transfer case.
2. Copper Cadillac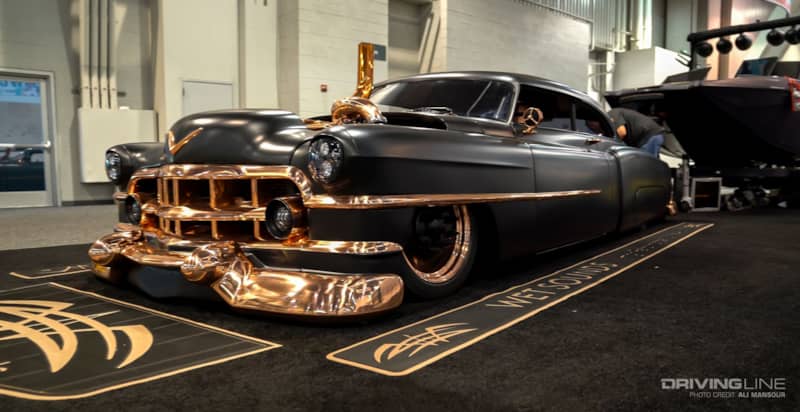 Rod Nielsen of Hot Rod Restos merged a 1950 Cadillac and modern-day 1-ton truck to create this copper plated masterpiece. Nearly every piece of sheetmetal has been modified in some way. This was done not only to achieve the amazing look, but to ensure that the car could be fully functional as well. It's not every day that you see an eight-lug caddy.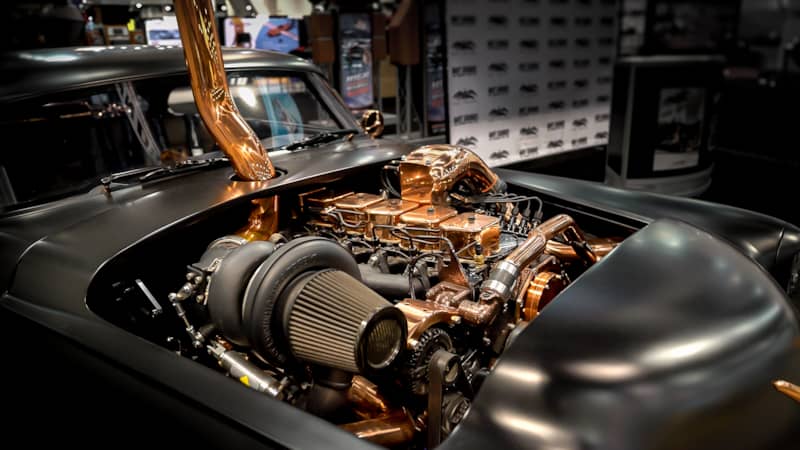 Powering the car is a twin-turbo 12-valve Cummins diesel built by BD Diesel. The merger of the air and fuel upgrades sent this 5.9L over the 1,000 hp mark. Backing the heavy powerplant is a BD-built 47RH automatic transmission.
3. Kymera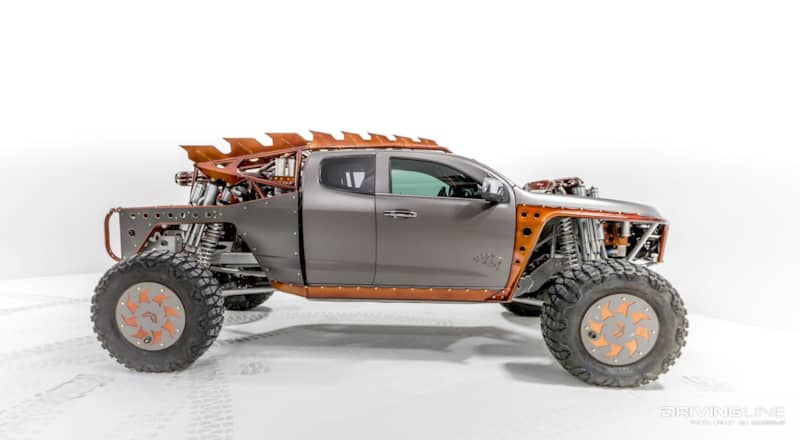 Fab Fours calls it Kymera—a derivative of the fable creature Chimera from Greek Mythology. Fabled name aside, this 2015 Chevy Colorado is a real life monster. Teaming up with Tim Odell at Vice Unlimited, Fab Fours was able to execute its vision of a mid-engine pickup that combines military, hot rod and trophy truck components alike.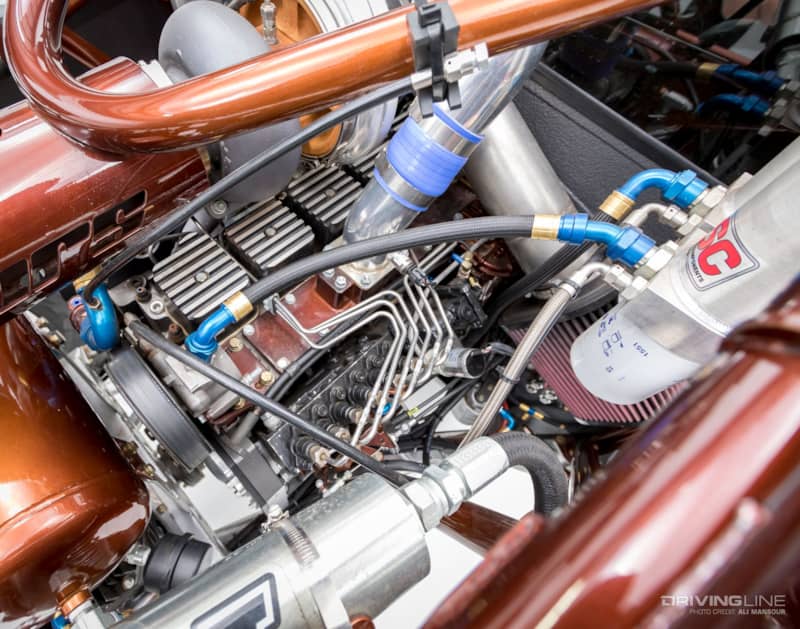 Built by BD Diesel, the 5.9L Cummins 12-valve engine is fit with the company's twin-turbo system designed specifically for the 6BTA. This setup uses a low pressure turbo with a 66mm compressor wheel and 80mm turbine wheel, while the high-pressure turbo has a 58mm compressor wheel and 65mm turbine wheel. Throwing fuel from the BD injection pump to high-flow injectors and lines, the truck is able to pump out 650 hp and 1,200 lb-ft of torque.
4. Ol' Yeller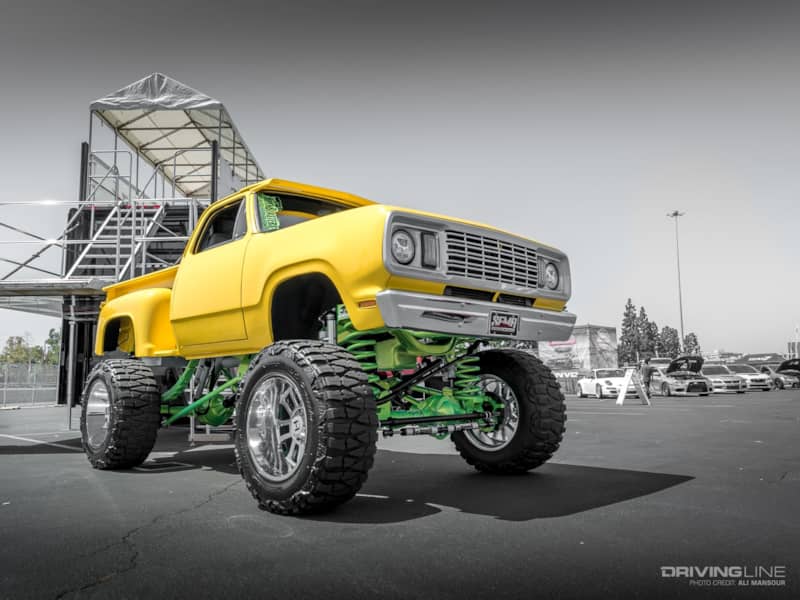 Not many people still have the first truck they ever drove. Even fewer can call a 1978 Dodge Ram W-150 mom's ride. After losing his mother to cancer in 2009, Greg Yount would tear down this family owned 4x4 and start over from scratch. The result would be a show-worthy masterpiece that combines modern touches and classic truck flare.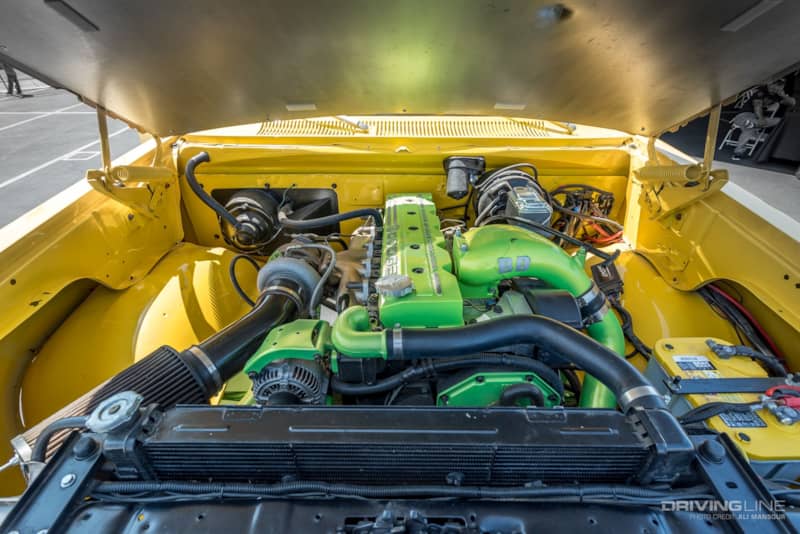 Under the hood, you'll find a 24-valve 5.9L Cummins, which was sourced from a 2000 Ram 2500. To ensure there would be plenty of power to roast the truck's Mud Grapplers, a new turbo, intake and exhaust manifold were attached to the classic inline six. Working with the air upgrades is an Edge Insight CTS2 programming module, which allows for power adjustments on the fly.  
5. Train Car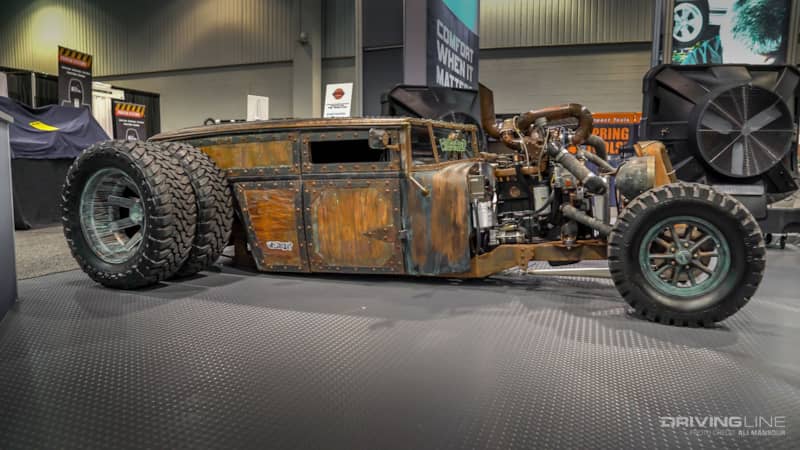 For those of you still subscribing to cable TV, you may recognize this 1929 Dodge Sedan. It was built by the team at Welder Up for the show "Vegas Hot Rods." They call it the Train Car and the diesel rat rod has made the SEMA Show rounds a time or two. Despite that, we still can't get enough of the build.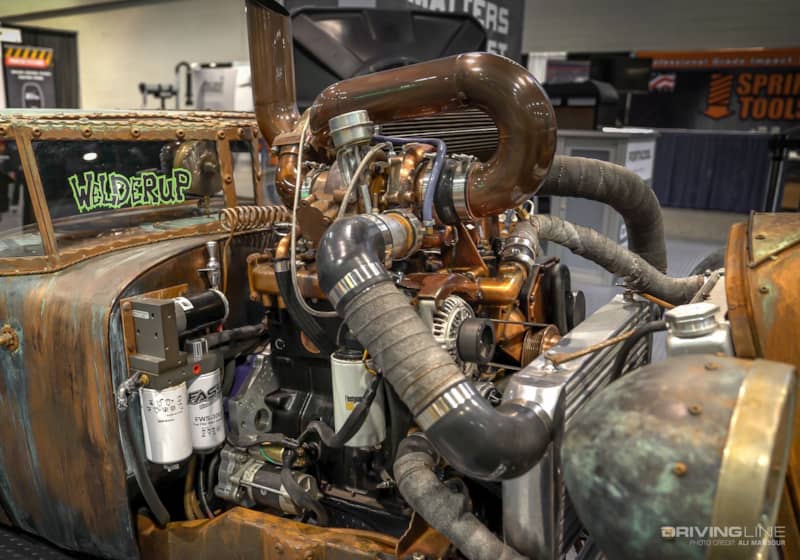 It's powered by a twin-turbo 4BT Cummins diesel engine. The mechanical injection series inline-four feeds a TH400 transmission, leading to a Dana 70 rear axle. With dual wheels out back, the rig is a bit wider than the legal limit, but for the Vegas-based builders, the width gamble was worth it.
6. Old Smokey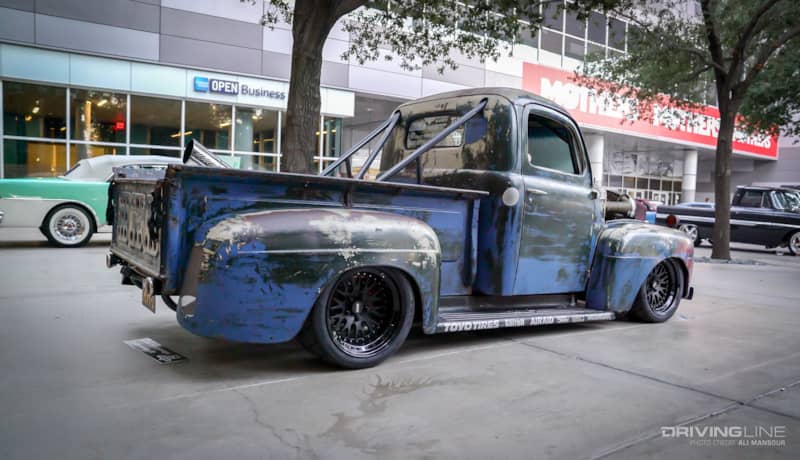 The best for last? Well, we'll say this is by far the most powerful in the group. It belongs to Scott Birdsall, owner of Chuckles Garage. What started off with a $225 Craigslist purchase of a 1949 Ford F1 pickup, evolved into the tube chassis diesel rocket you see here today. Weighing in at a little over 3,600 pounds, the F1 is far removed from any typical diesel build.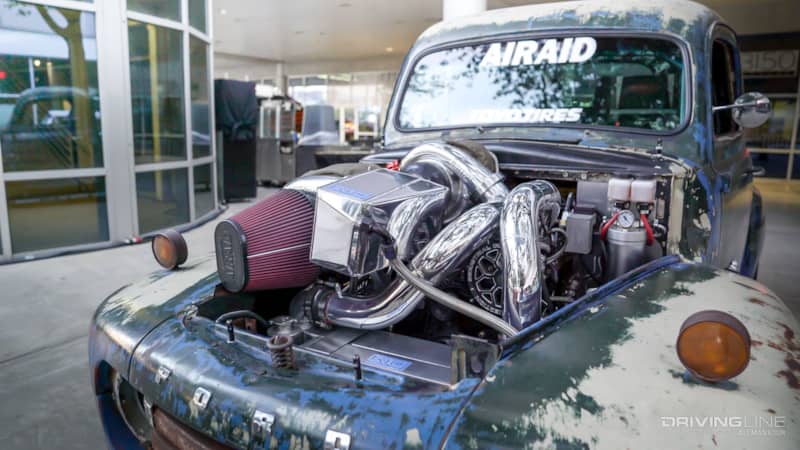 Powering the beast of a truck is 5.9L 12-valve Cummins inline-six engine that is boosted by an 80mm and 94mm compound Garrett turbo arrangement. Paired with built internals, the 100 pounds of boost allows for over 1,200 hp at the rear wheels and 2,000 plus lb-ft of torque. A custom 5-inch MBRP exhaust was plumbed out the back, while a Winters Quick Change differential allows the truck to be versatile in a bevy of motorsports.