Stormtroopers and Toys at the Purist Winter Drive 2015
For most of us, the holiday season marks another year in the books and a time to be with family and friends, passing around gifts and plates full of good food.  For the less fortunate, however, this time of year can represent another holiday season without presents for the kids or enough school supplies for the second half of the school year.  Two years ago the Purist group, a large online car community founded in Southern California and now spanning globally, aimed to help out those in need with a large toy and school supply drive. Now in its third year, the Purist Winter Drive is a whirlwind of charity and exotic cars of all makes and models.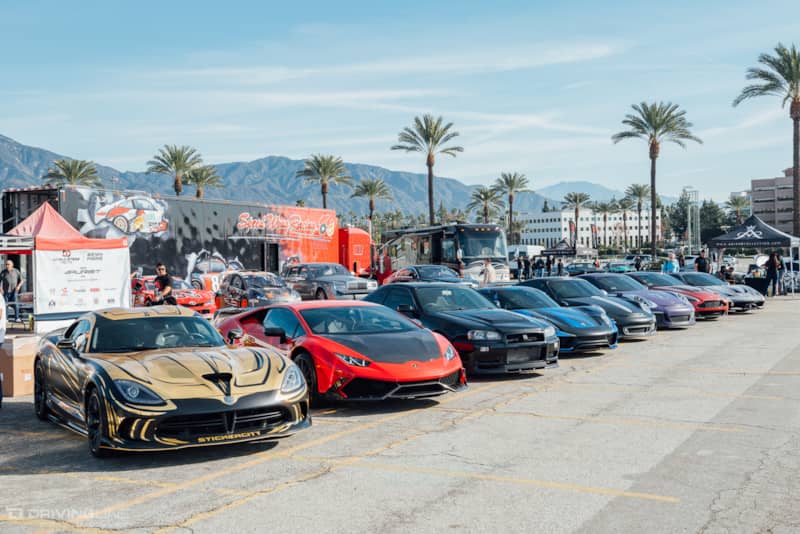 The third year of this event brought about some big changes, including a new venue plus new sponsor and supporter help. Among the many large supporters of the event were Nitto Tire, AutoCon, Senator Bob Huff, the 501st Legion - as well as Scion, who donated $2,500 to Cody Walker on behalf of Reach Out Worldwide, a nonprofit disaster relief volunteer organization founded by the late Paul Walker.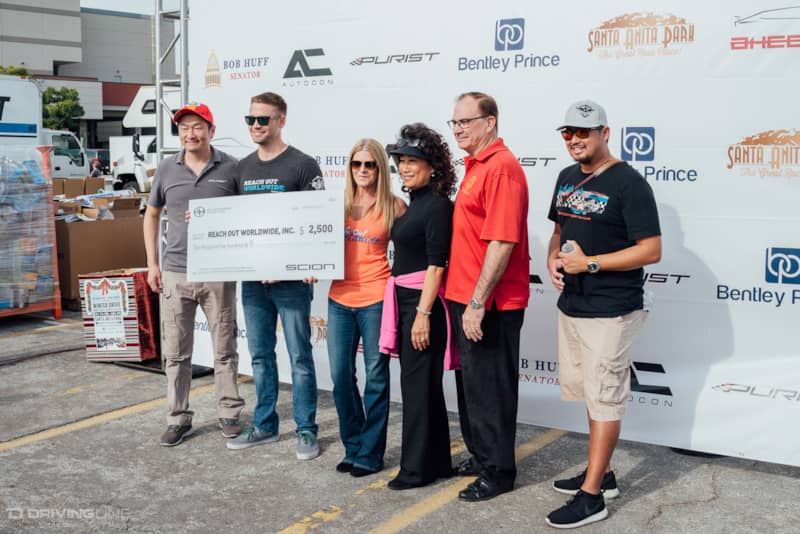 This event had no ticket sales or admission fee, instead opting for toy or school supply donation in exchange for being able to drool over cars most have only seen in photos.  This year's Purist Winter Drive brought in over 10,000 toy and school supplies!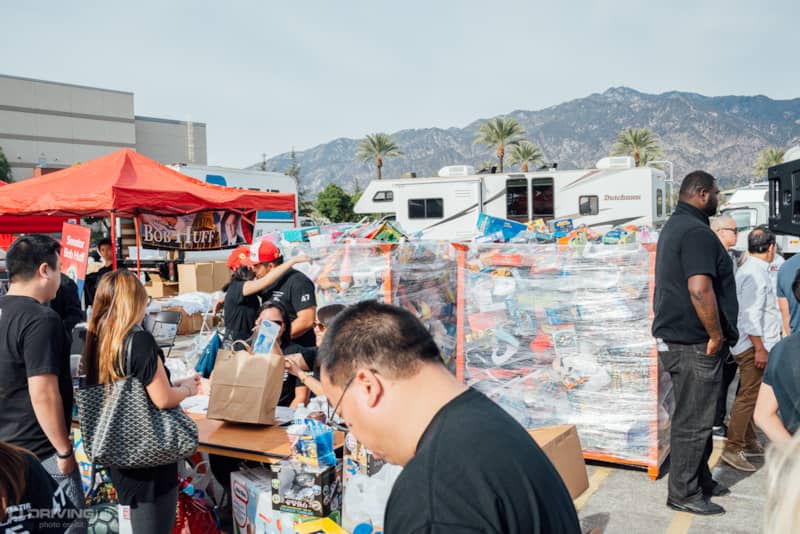 Each of these bins measured roughly 5x5x5' and that doesn't include the numerous sorting boxes spanning out behind them or the stacks of toys waiting to be donated from neighboring car clubs and booths that day.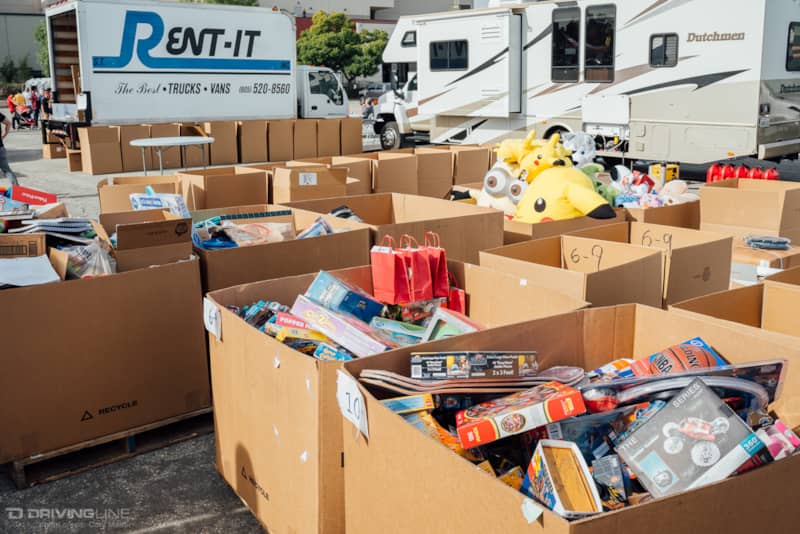 As the day went on, more and more cars rolled into the venue, making every trip through the rows of cars a different experience than the last. One of the rarest cars of the day included this Mercedes CLK GTR, which arrived on an even rarer open display trailer.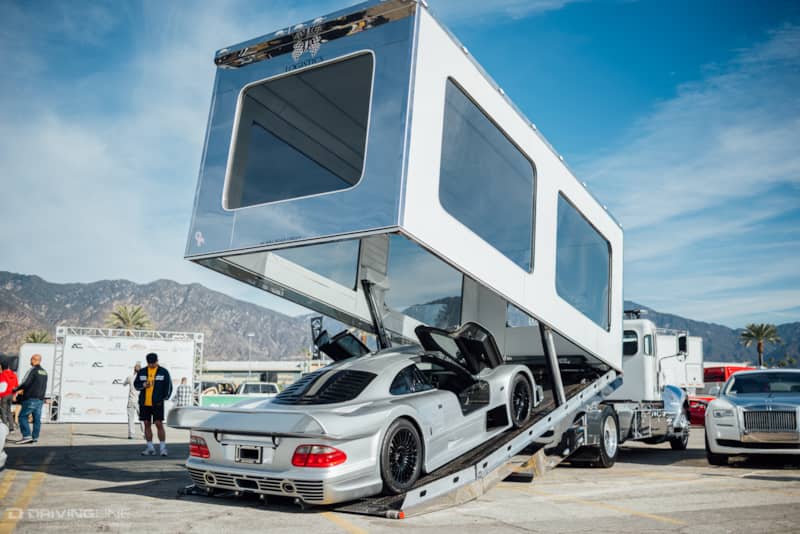 Due to the rules surrounding the FIA GT Championship, Mercedes was required to build 25 road going production models of the CLK GTR chassis before it would be allowed to run in the championship in 1998.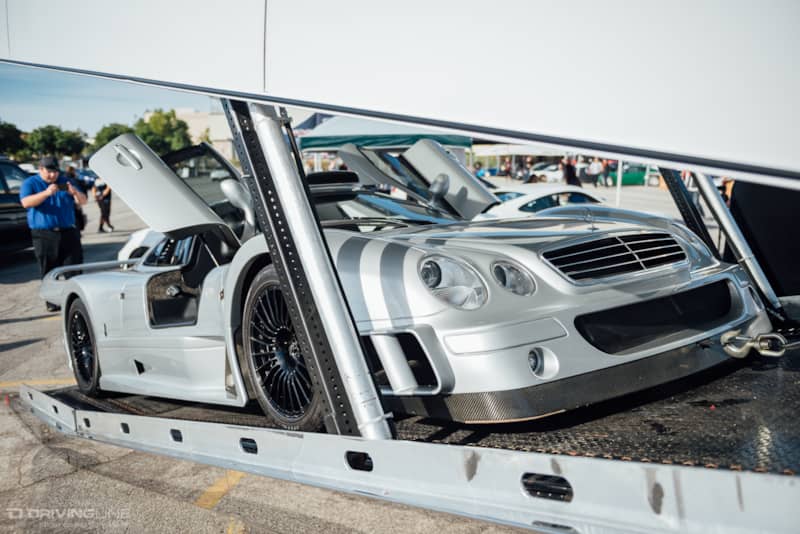 In an effort to meet the requirements and keep costs down as much as possible, only 26 were ever produced: 20 hardtops and 6 roadsters. Mercedes retained 1 hardtop and released the other 25 models to the public.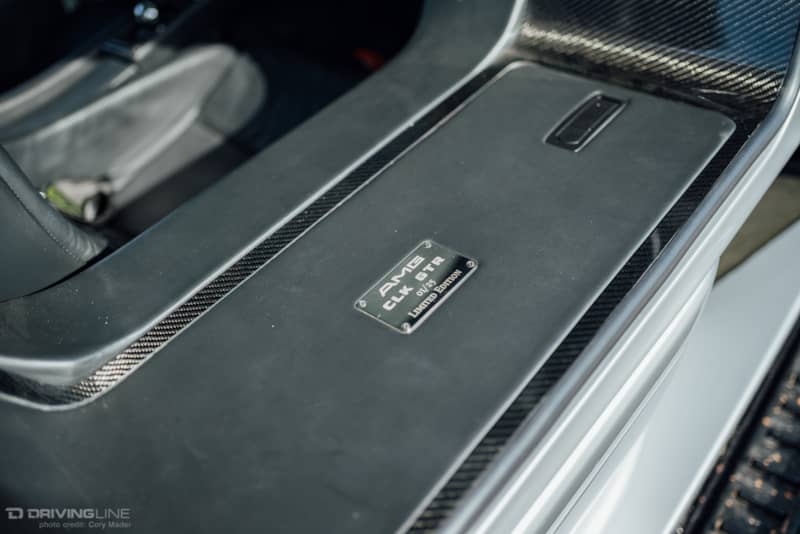 This legendary model is even more interesting and awe-inspiring in person, measuring almost 16 feet long and saving only a just-big-enough cockpit to house the driver and passenger and not much else.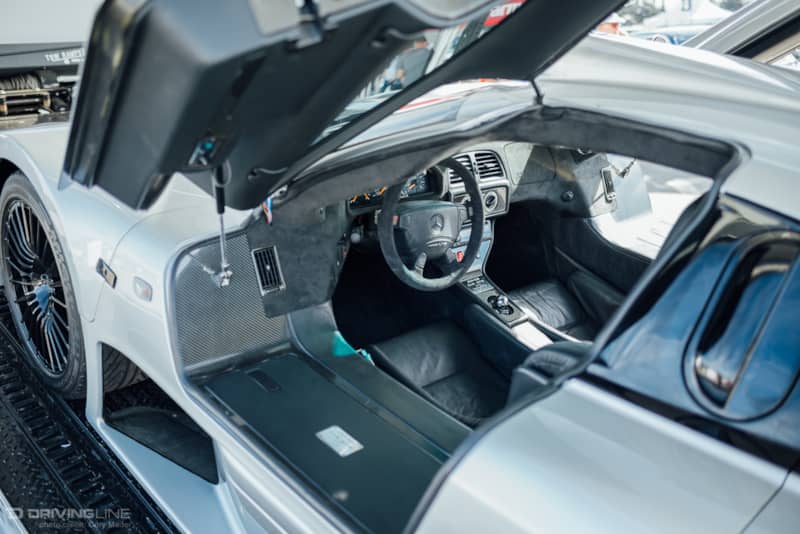 Unfortunately the car never fully left the trailer - which is understandable considering the price tag of roughly $2,500,000.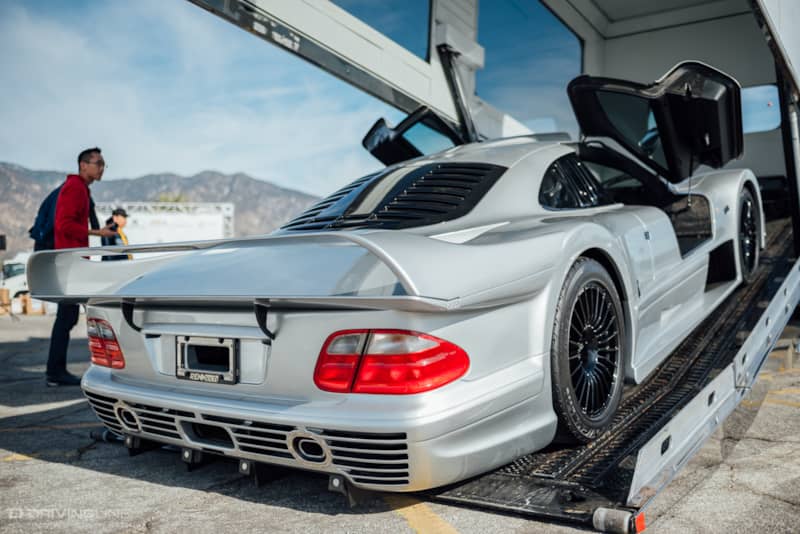 Speaking of incredibly expensive pieces of automotive art, this local Ferrari LaFerrari certainly garnered a strong crowd when it rolled into its parking spot. 1 of 499 ever made and coming in at a cool $1,400,000 base price before any markup.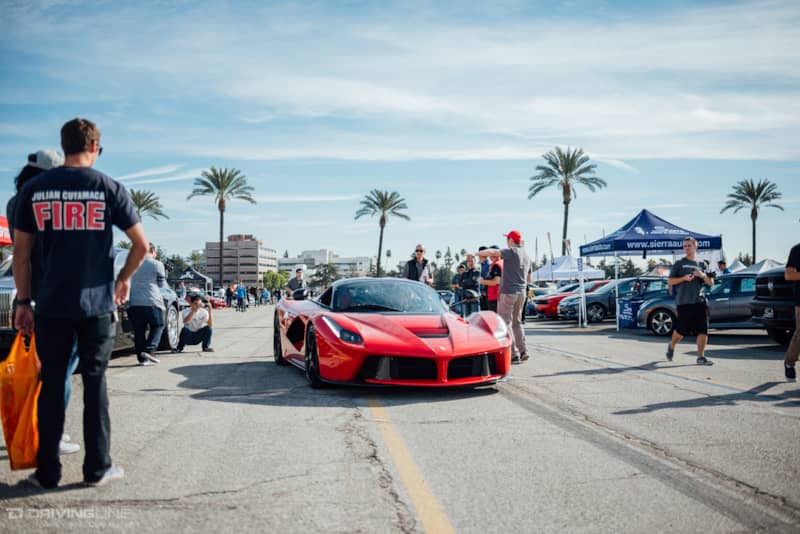 This carbon fiber-laced hybrid drew spectators from all around the venue and broke many a neck as it slid into place next to the Buddy Club FRS and later on a white-on-white Lamborghini Countach.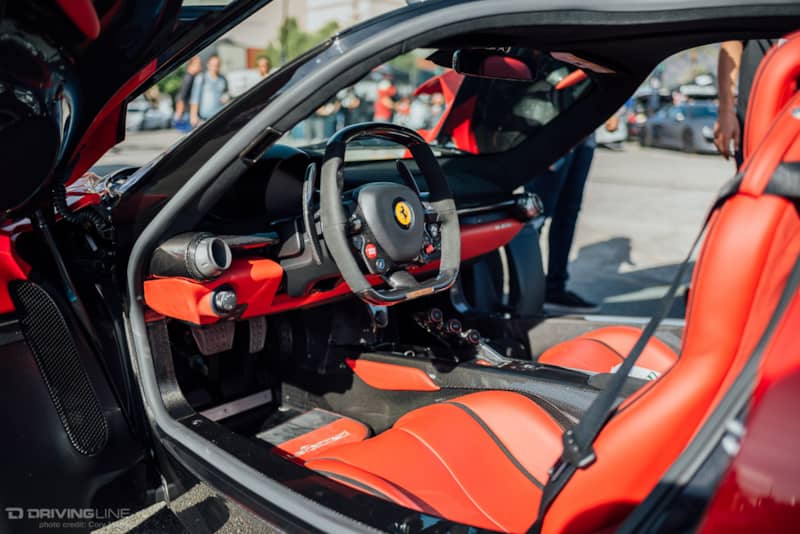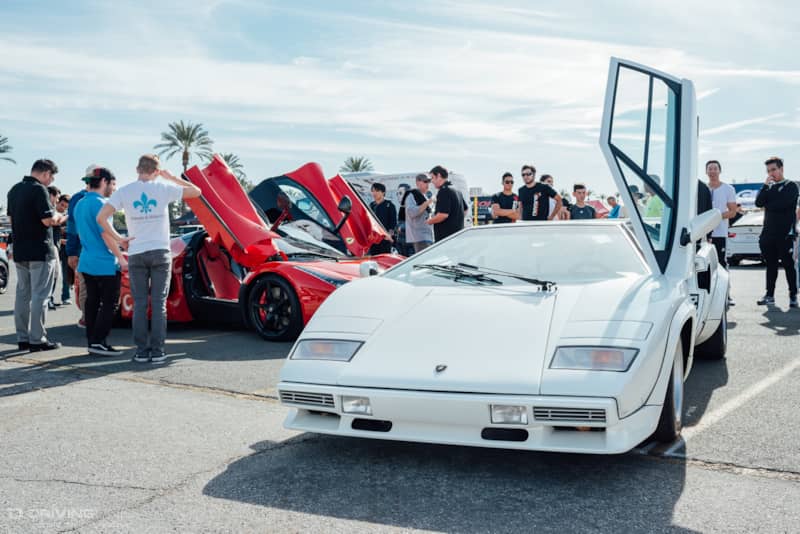 As spectators walked up and down the aisles, they were met with many members of the 501st, a large costuming organization that builds accurate replicas of Star Wars' Imperial Army uniforms. Darth Vader, Boba Fett, Jango Fett, and a variety of Stormtroopers were sprinkled about the cars, hanging out to take pictures, meet the kids and present incredibly surreal situations like this one: real life Stormtroopers standing next to a car I had a huge poster of on my bedroom wall growing up. How cool is that?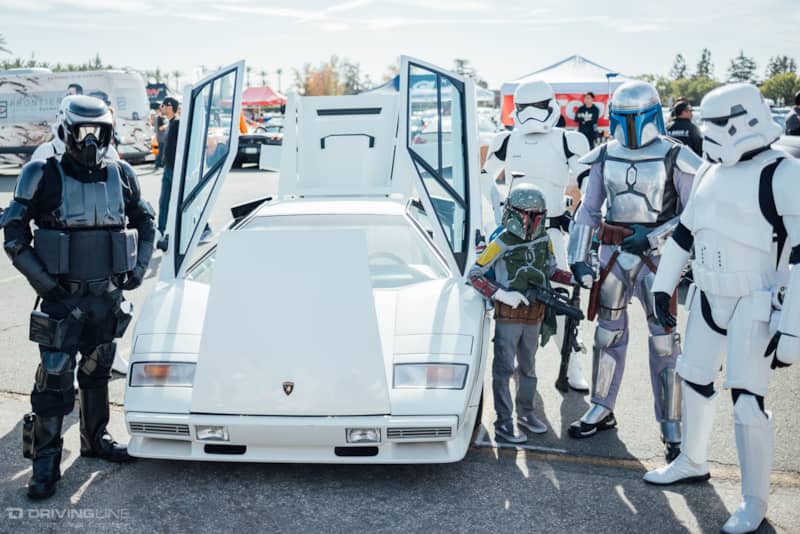 Last seen bringing joy to everyone at the Driving Line booth during last month's SEMA Show, SSA's Snow Bunny NSX was nice and cozy at the Nitto Tire booth.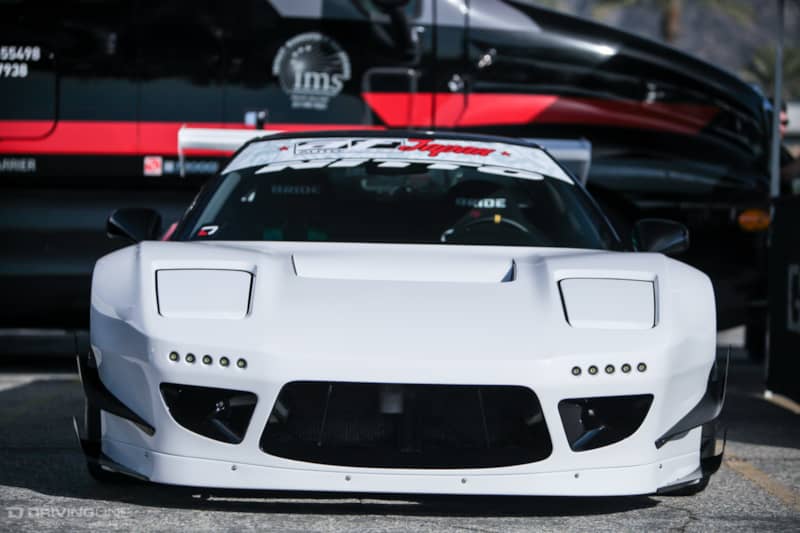 Continuing on, of course some of the main local garages had a solid showing including Rauh Welt LA next to Magnus Walker's famous 277 machine. The amount of neat details are too many to count.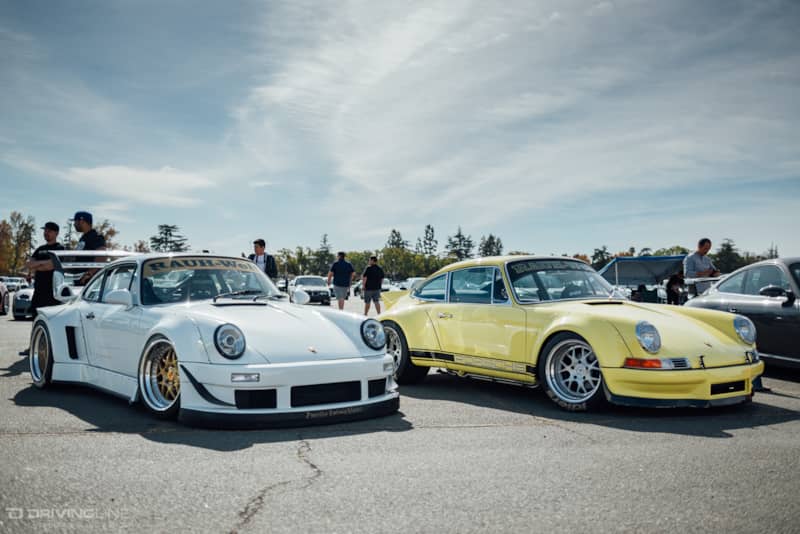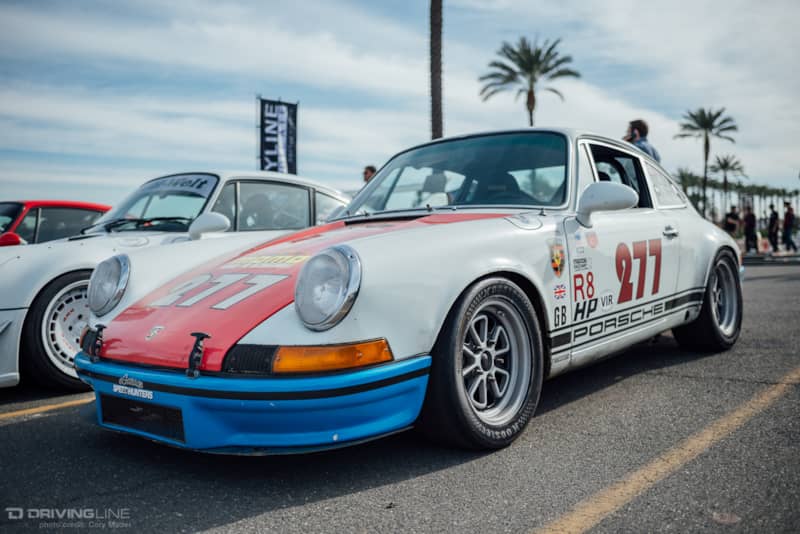 Exotics and import cars weren't the only ones at the party. Right next to these sleek Porsches were multiple off-road rigs -such as this crazy lifted Jeep, which was probably taller than most of Santa's elves.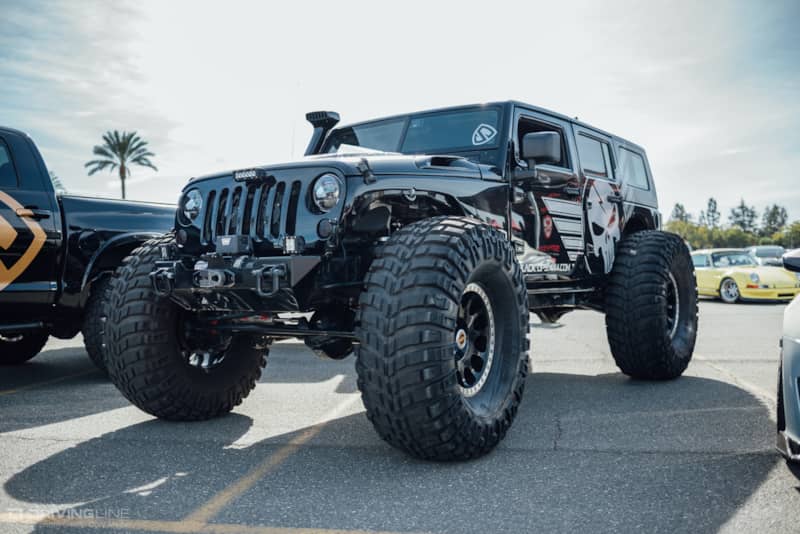 Further down the row were a couple LTMW and Liberty Walk builds in the form of a slick Audi and bright blue Challenger that strongly reminded me of Kato's original Kenmeri.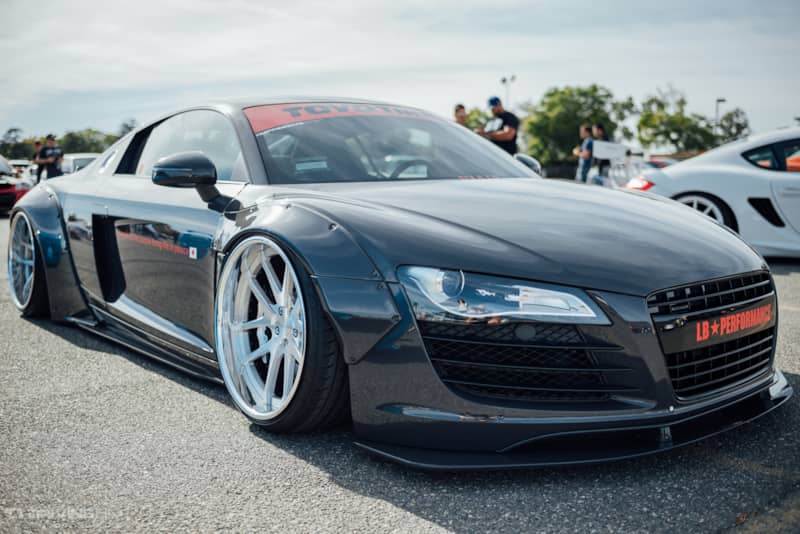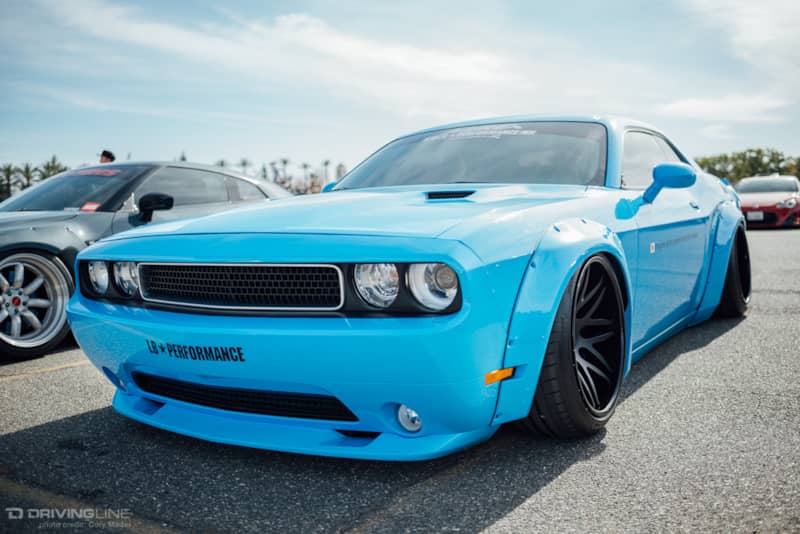 In a stark contrast of form and function, this China-themed racecar was parked right next to the LTMW Rocket Bunny BRZ.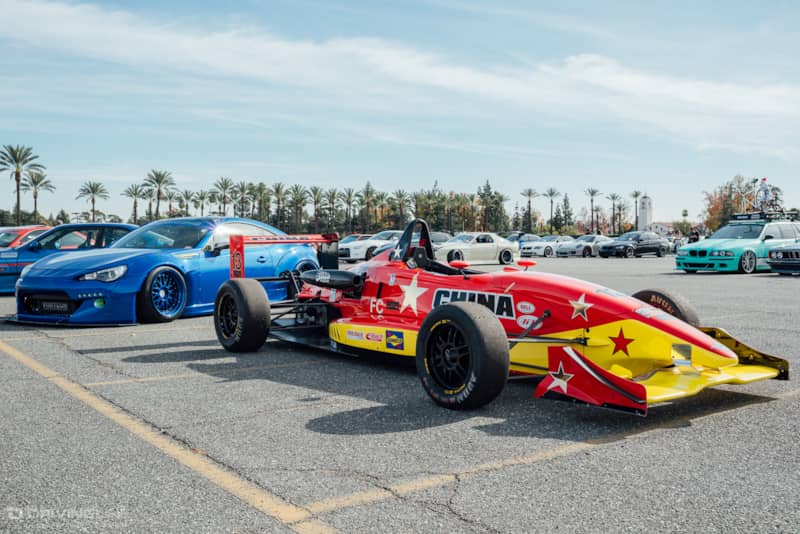 IJB Photography's minty BMW wagon complete with Olaf and huge LED light bar made an appearance just a couple spots away from Steven Nakamura's clean and simple 86 HIRO old school-esque FRS.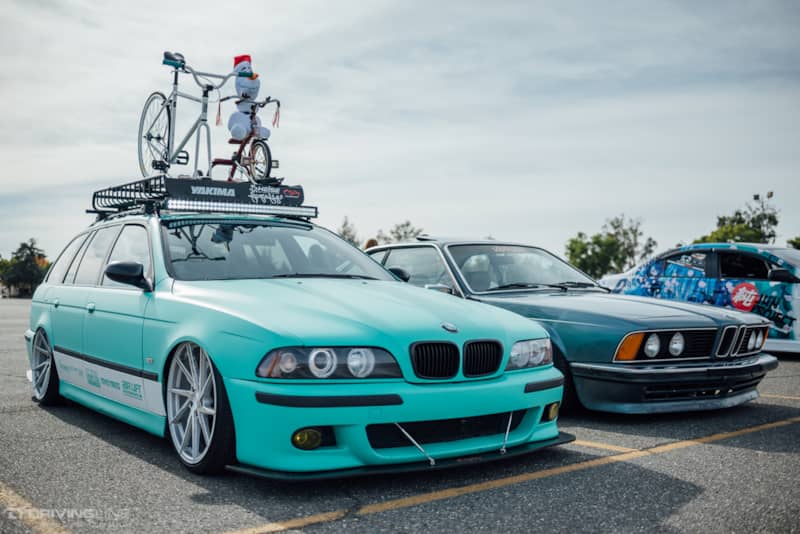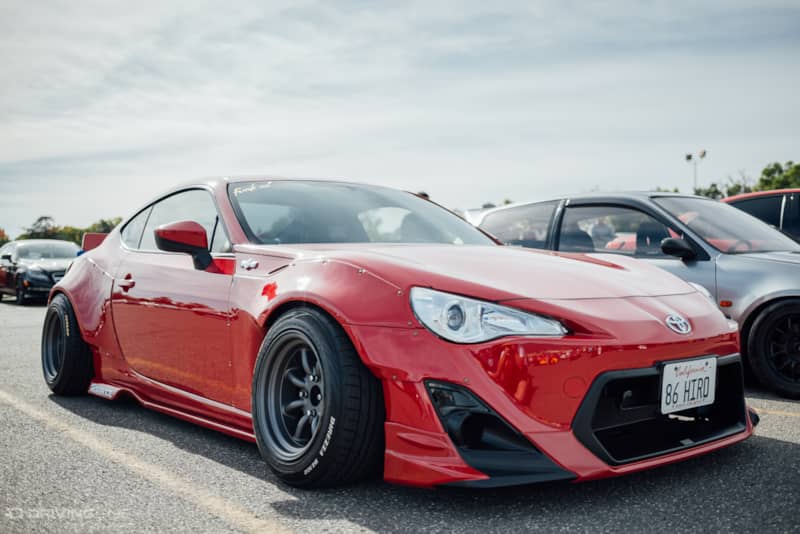 One oddball that made it's way out was this Citroen SM with the famous hydropneumatic suspension and Maserati-designed powerplant. This was easily one of my favorite cars of the show.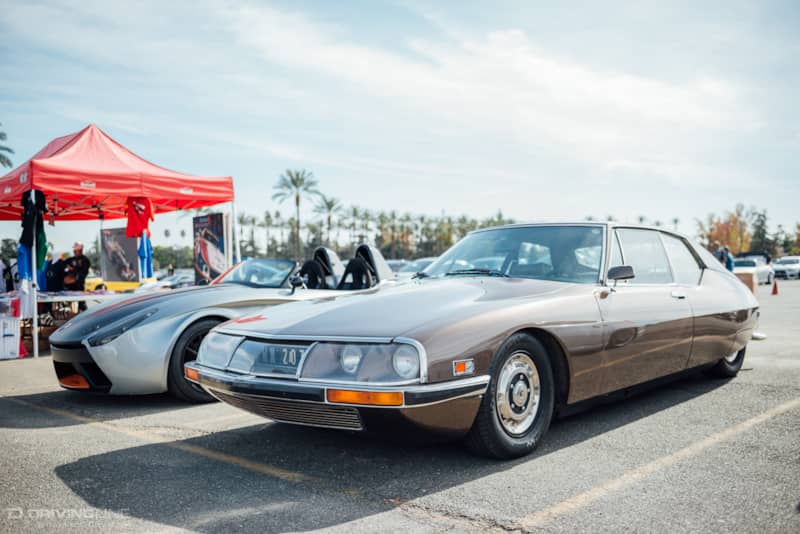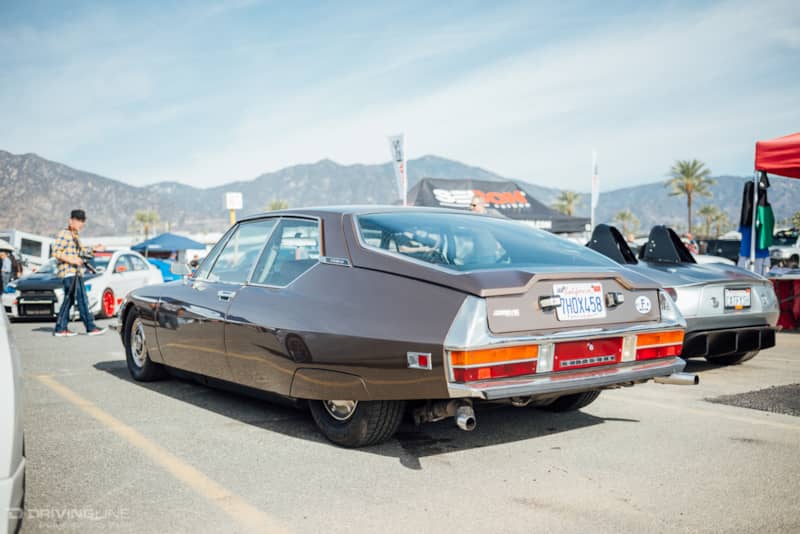 Before leaving, two of the last cars I spotted were both carbon fiber bodied, albeit at two different ends of the automotive spectrum. One was a Seibon carbon Smart Fortwo and the other was an incredible all-carbon Pagani Huayra.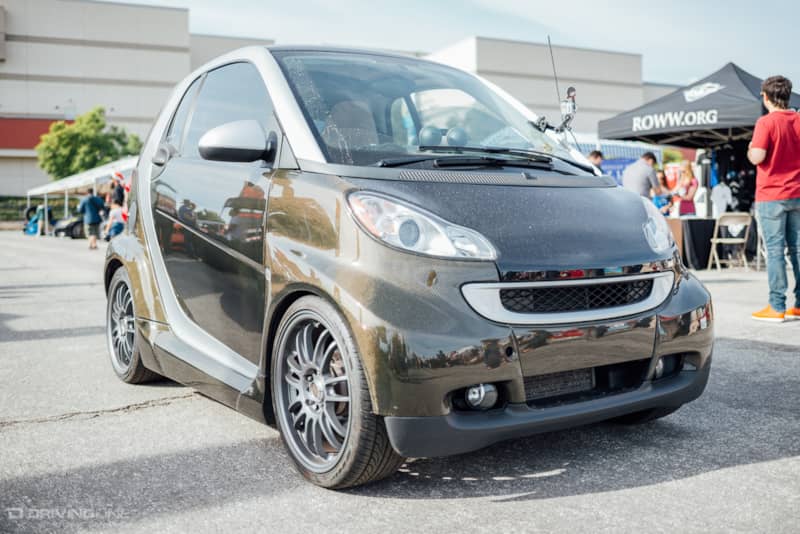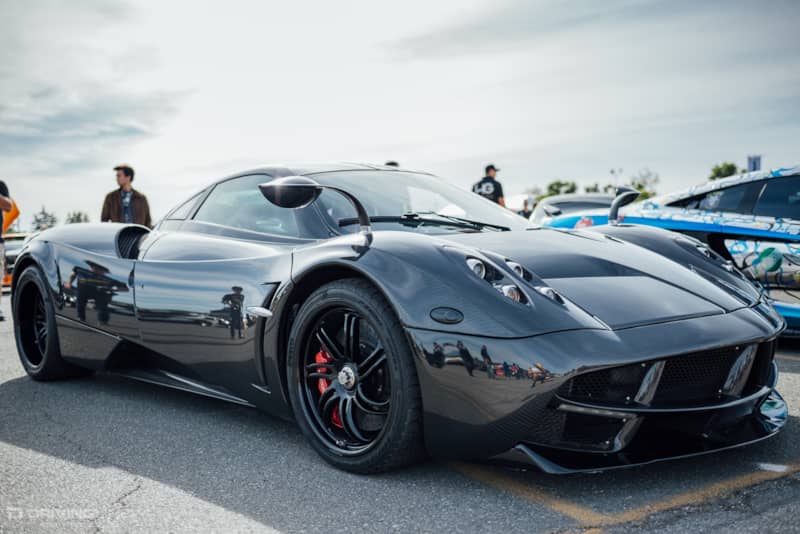 Of all the cars featured in this article, these two may be the most important. Between the two is a chasm of nearly 630 horsepower, but both represent a beloved part of the automotive hobby and lifestyle to their respective owners. This mutual feeling of respect and appreciation could be found throughout the entire show, because in the end there were no awards or blue ribbons - there was only a huge community with their rare supercars, modified exotics, lifted trucks and Star Wars cosplay coming together for the kids. The donations made at the meet will go to multiple local organizations and will make the holiday season a little brighter for kids all over California. A big thanks goes out to everyone that made this event possible and we look forward to seeing the event get even bigger in 2016!
Browse the gallery below for even more from the event! Were you there? Comment with your favorite car!