Stunning, Slammed '56 Ford F-100 Pickup Truck
Truck builds don't always go according to plan and this classic Ford is a good example of that. The journey all started when David Crocker was a kid and his father had a '56 F-100. Like most of us, David had fond memories riding around in his dad's truck. Furthermore, his dad was always the one that the family turned to when they needed something fixed. This was especially true for cars as David remembers numerous weekends spent getting his hand dirty while helping change brakes, clutches and with tune ups.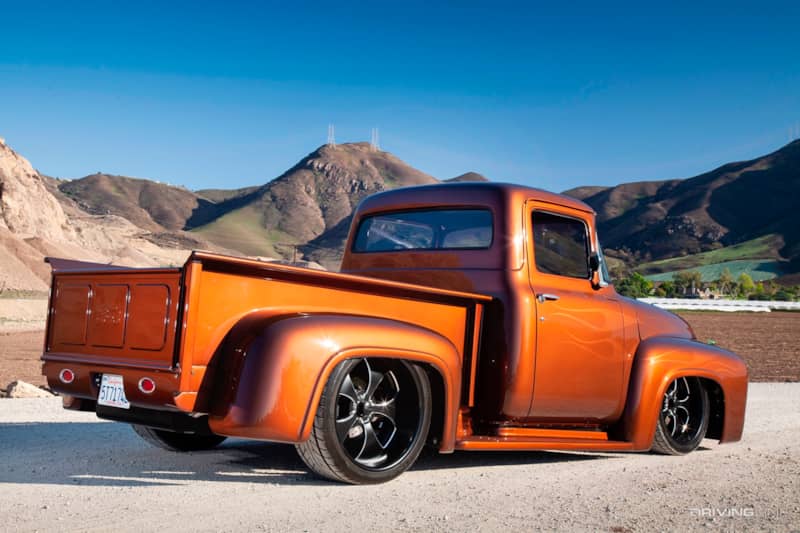 Hooked on Cars
David was hooked at a young age and now that he has the means to work on his own rides, there was nothing he wanted more than to fix up an old '56 like the one his dad had. Luckily, a family friend had one in a drivable condition and David had his eye on it for quite some time. He even told his dad that if it were ever for sale, he would snag it up in no time. After year of waiting, word got out that, Byron, the previous owner was looking to get rid of it and David didn't skip a beat on scooping it up.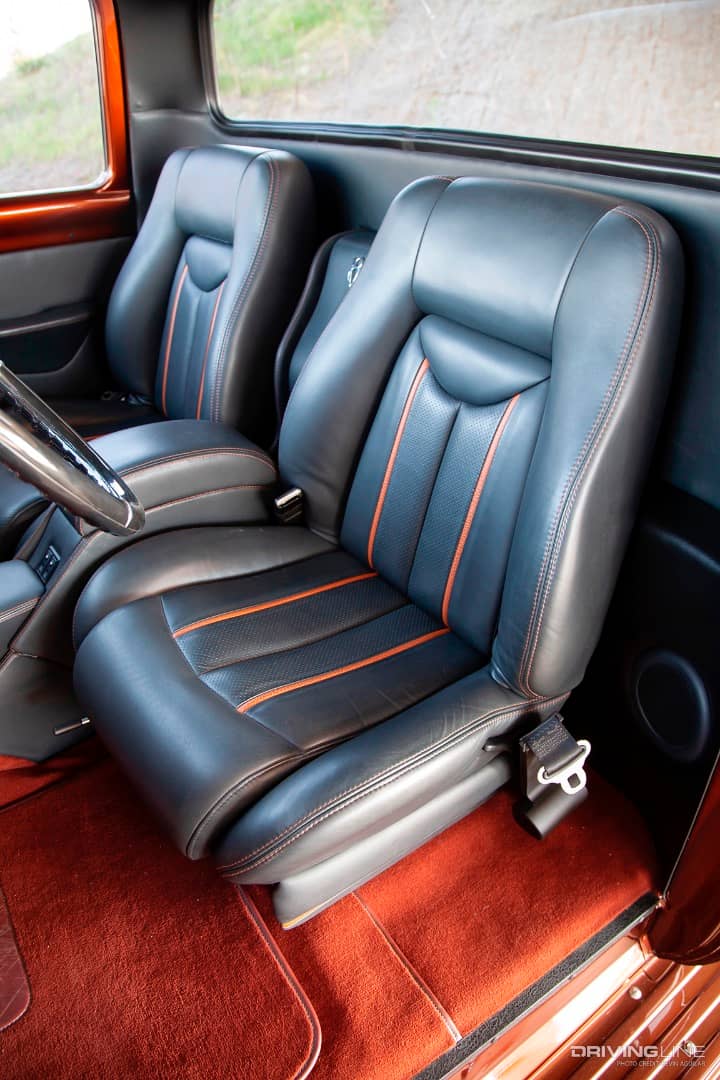 Getting Started
The F-100 was in decent shape but it was nothing spectacular. After about five years of it being parked at his dad's house, David decided to take it to his own house and told him that he was going to fix it up for him. While searching around for shops, David came across a local place that put out some great vehicles and looked pretty reputable. So, he dropped it off and many of the pieces were sent out to different vendors that specialized in the different sectors.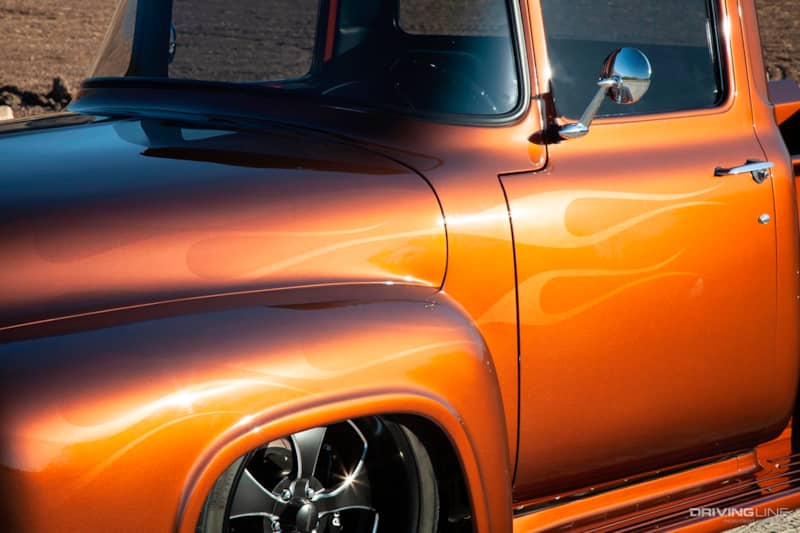 The Crocker Curse
All was good until one day when David stopped by to check out the progress. Well he found an eviction notice on the door of the shop and no one around. The frame was there, but everything was gone because it had all been sent out. When his mother heard about this, she raised her arms and uttered, "it's the Crocker Curse," which is a phrase she always says when something goes wrong in the family.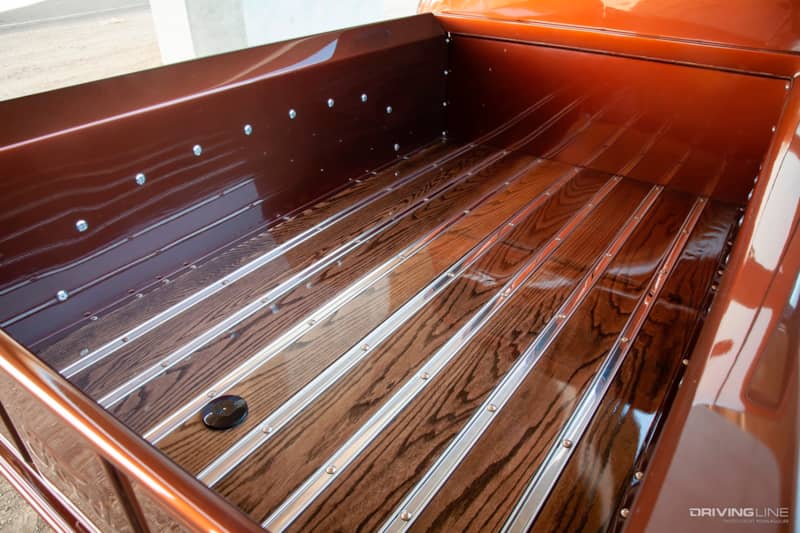 Picking Up the Pieces
Fortunately, David was able to track down all the pieces and get them back together. He decided to cut his losses and move forward with the build. David then connected with Jim Bassett of Bones Fab in Camarillo, CA and brought the truck in so that he and his talented team could put it all together. Once there, the two of them went over ideas and a plan was formed to finish it.
The Foundation
Starting with the foundation of an F-100, the frame was cleaned up, reinforced and powder-coated. Updating the front suspension is an IFSsystem from Total Cost Involved. In the back, a custom wishbone three link suspension keeps the rearend in place while it functions. Providing a smooth ride and ability to adjust the height come from the Ride Tech air bags complimented by Bilstein shocks. Wrapping up the suspension is a set of 12-inch Wilwood brakes with 6-piston calipers up front and 4-piston version for the rear. A Hydratech hydraulic braking assist system and Classic Performance Products master cylinder to control them.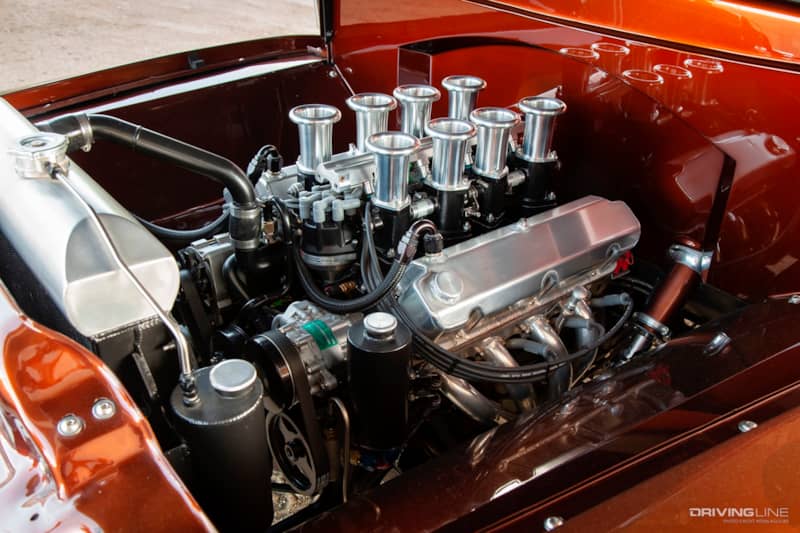 Breathing New Life
David wanted something a little more modern to power this truck and chose a 351ci Windsor-based engine that was punched out to 392-cubic inches. Natural aspiration comes from a Borla TWM fuel injected throttle body kit with billet machined air horns for optimum airflow. This system not only has the impressive appearance of eight-stacked injection, but it provides efficiency and drivability. Exhausted gases then flow through a custom set of ceramic-coated headers to an exhaust that merges and utilizes a single Flowmaster muffler. Behind the Windsor engine is an automatic overdrive transmission with 2,500-stall torque converter. Rotational force then goes to the custom steel driveshaft and then to the Currie 9-inch Ford rear end that is equipped with 4.10:1 ring and pinion gears.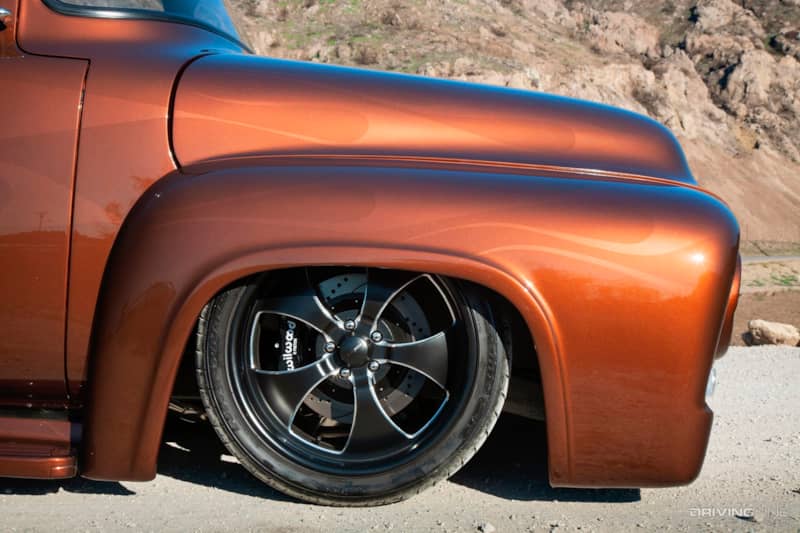 Fresh Appearance
The body of this super smooth F-100 was sand blasted clean to give a good place to start the bodywork. For the front and rear, the bumpers were removed while roll pans were installed. The doors received one-piece glass while the bed got widened fiberglass fenders. From there, all the imperfections and distracting objects were removed, and the panels were worked straight with small amounts of body filler. Then, the truck was coated in custom mix of root beer/copper paint with ghost flames up front. Completing the look is a set of 20 and 22-inch Bonspeed Quasar billet wheels with satin black powder coated finish. The wheels were wrapped in 245/40R20 and 285/35R22 Nitto NT555 tires. This ultra high performance tire was the perfect fit as the large contact patches make for superior traction and great handling.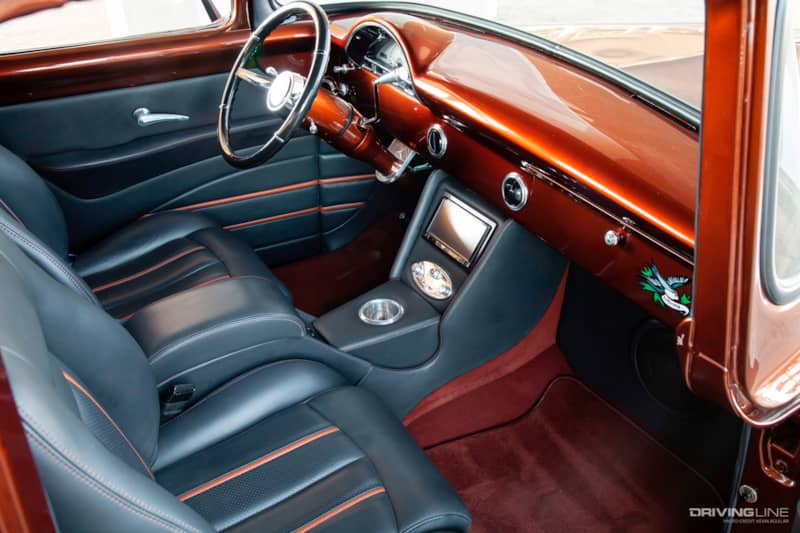 Inner Goods
For the interior, Conejo Upholstery stepped it up with a set of Glide Engineering bucket seats and a custom center console. The headliner and door panels were hand-made and covered in leather upholstery. To help steer the truck is a column from Flaming River with a Con2r custom wheel. The vitals of the engine are now monitored with a Dakota Digital VHX gauge system. Keeping the climate cool on hot summer days is a Vintage Air system. Providing a solid soundtrack for the road ahead, Phantom Electronics wired up a Pioneer DVD head unit to the new speakers in custom kick panels and Addictive Audio subwoofers behind the seats. One of the most notable features on the inside of the cab is a Sparrow painted on the smoothed dash. This is to replicate a tattoo that David's father got in 1951 to show his love for wife Virginia.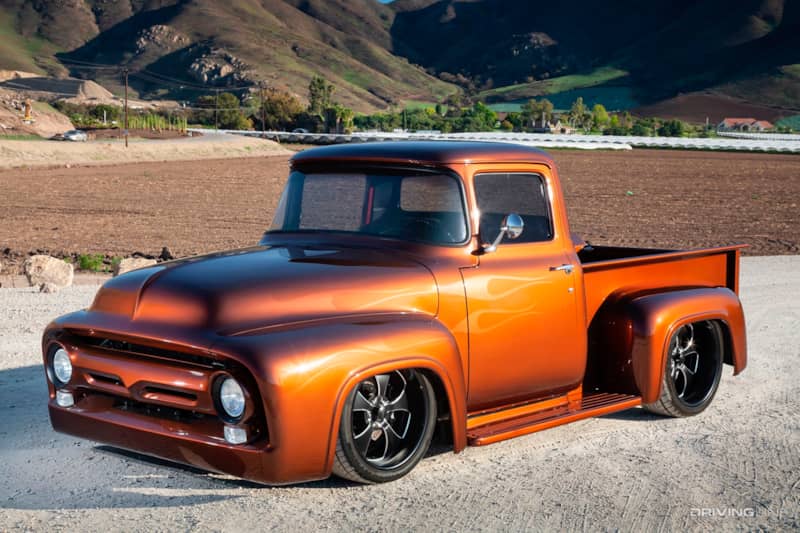 Making New Memories
Though the truck was only supposed to be a mild restoration with a decent turn around time, David was able to see it through and create something even better than expected. David told us that the greatest part of the project was when he had his dad stop by the house to see the completed project. Since then, the two of them have made many more fond memories in this stunning truck.