Super Streetfighter: '16 Steeda 'Stang
Story By Mark Masker
Photos By
"I think fast, I talk fast, and I need you guys to act fast if you wanna get out of this."--The Wolf, from the movie, Pulp Fiction, 1994
If Steven O. Jay drives his 2016 Steeda Q750 StreetFighter as quickly as he talks about it, he'd give The Wolf a run for his money in the speed department. Jay is very enthusiastic about his Steeda-modified Mustang and with good reason; it's a very sexy beast.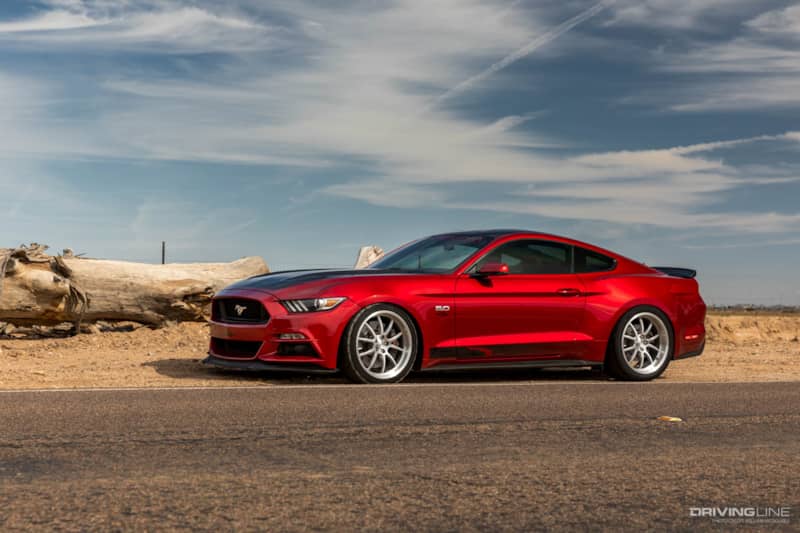 Having grown up in a small Kansas town drag racing with Chevys, he is definitely a muscle car guy. When he saw a 2008 Saleen Ford Mustang, though, he jumped ship to a Ford. "I had the Saleen for eight years and blew up a lot of the parts," he recalls. "When I saw a rendering online of a Steeda custom Mustang, I wanted it. I called up Steeda and they referred me to Bob Adams with Steeda Performance in Detroit. I started at the top with the best you could get. Steeda built this fantastic car no one can beat."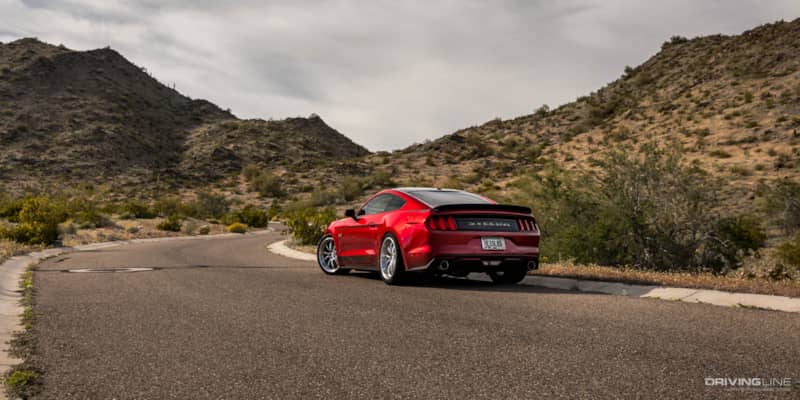 Let's elaborate on that. Steven wasn't about to go with a Stage One minor hop-up. You don't get that kind of upgrade he wanted with a new muffler and air intake. Steeda pulled out all the stops on his Mustang. Open up the hood on this baby and you'll find a Steeda/Whipple 2.9L Supercharger, and a host of other Steeda parts: High Flow Cold Air Intake System, performance motor mount kit, Severe Duty IRS half-shaft upgrade, and out back, a Bassani Cat-Back Sport exhaust system. It's not exactly the same motor that left the Ford factory...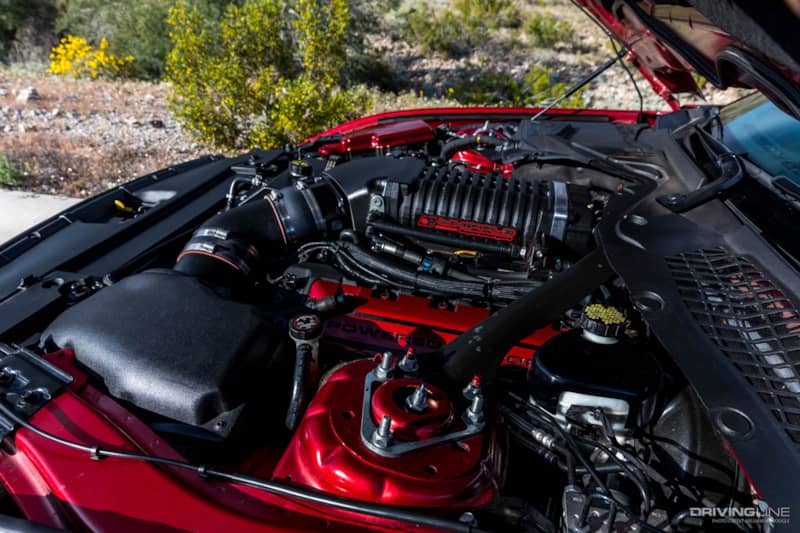 Nor is the handling anywhere near the same, either. Steeda brought the full power of its G-Trac Stage II Ultimate Package to bear in the suspension. If you think the name is a mouthful, you should see the list of parts. From sway bars and support plates to shocks, springs, steering, and wheel alignment, it's as comprehensive a chassis upgrade package as you can get.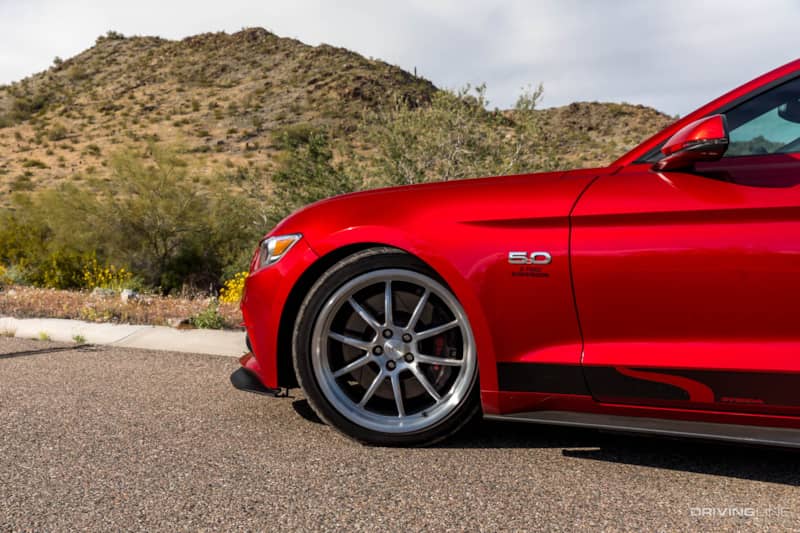 But in Steven's opinion, what really makes the car, at least in the looks department, are the wheels. He hunted around for the perfect set of them online and found it, but there was a catch. "I saw Super Snake in a magazine that had these Weld Racing Wheels," he told us. "But when I called up Weld, they told me, 'We're sorry, but those wheels are proprietary to Shelby.'" It took some investigating to dig around and find out who actually had a set, but Steven's work paid off. "Bob Adams knows the Mustang designer in Detroit. When Steeda built my car, the guy walked over and said, 'Damn, where'd you get those wheels?'" Steven's CCW SP540 wheel set sports 20x9.5-inchers in front and 20x11-inch hoops at the rear. His tires of choice are Nitto NT05s in the front (275/35R20), with a pair of Nitto NT05R D.O.T.-compliant drag radial tires (315/35R20) in the rear. "Nitto drag radials are the only tires that work on my car for me. They really hold the car down. They're great tires."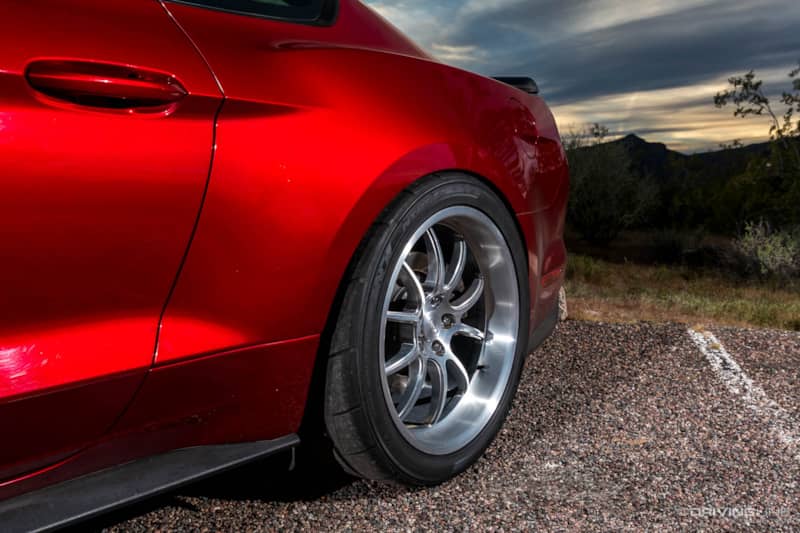 The outside of the car got its share of mods, too. Namely, Steeda's aerodynamic front facia enhancement package, hood struts, and aerodynamic rear spoiler. Both the hood and roof also got the Steeda Q-Series Blackout paint treatment.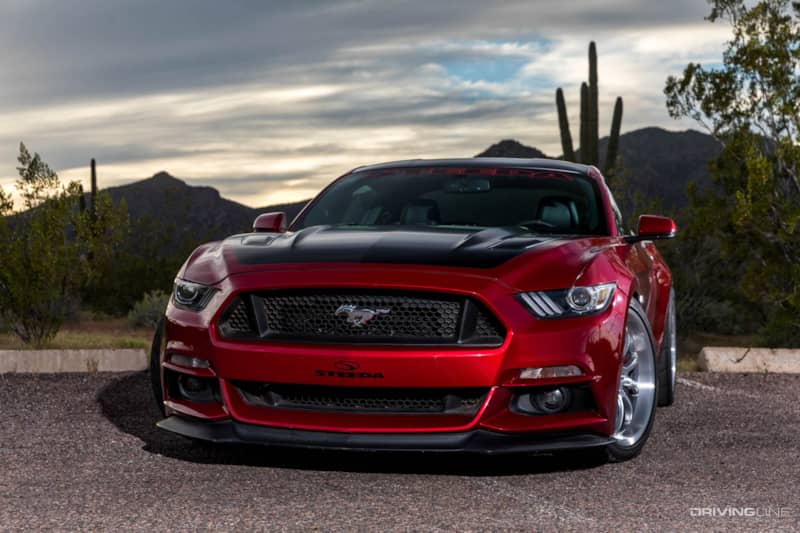 Beauty may be skin deep for people but not for cars. Look inside Steven Jay's car and you'll find Steeda front seats, sill plates, and dash emblem. Not only that, Katzkin Interiors laid down a sweet leather upgrade to boot.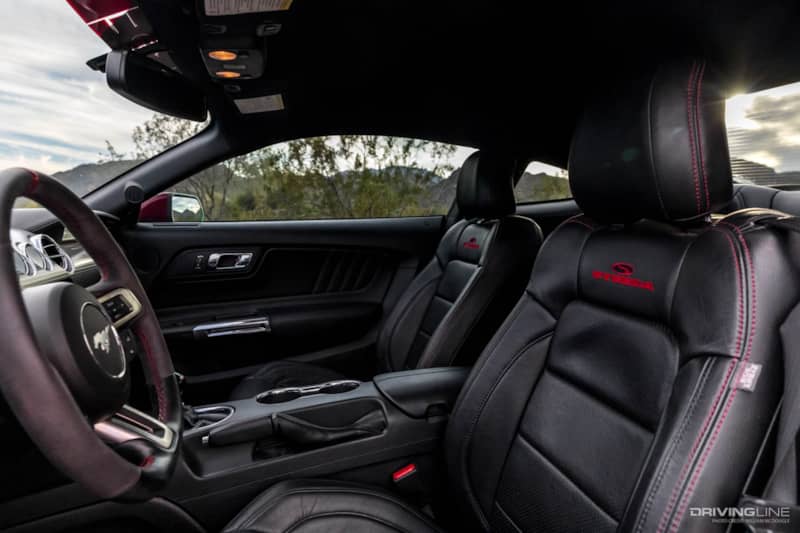 Steven had lots to say about his beautiful car but one thing he'd never say is, "Oh, I trailer it to shows." No, he didn't get all of this done to drive to the local Starbucks on the weekends and impress the rubes. His StreetFighter lives up to its moniker. "Steeda got me a Star Wars car," he says. "It's fun to drive, but you get used to the horsepower. I love the sound of the exhaust. That Bassani has a mellow sound to it with no droning. It's my daily driver to work. I taken it to Los Angeles and San Francisco. It's fun, comfortable, and has all the power you'd ever want." You'd think he'd run it at the track, but that's not the case: "No track. I'm 74. I'm a drag racer, not a road racer. One of my clients hosts road races. I went once to the track and ran four races with it. I lapped the field halfway through the first race. I really think that if you put a real race driver in this car, it would do amazingly well." And if The Wolf had his Mustang in Pulp Fiction, he'd have gotten to Jimmy's house even faster, and those two guys would've had even more time to clean out the back of that other car.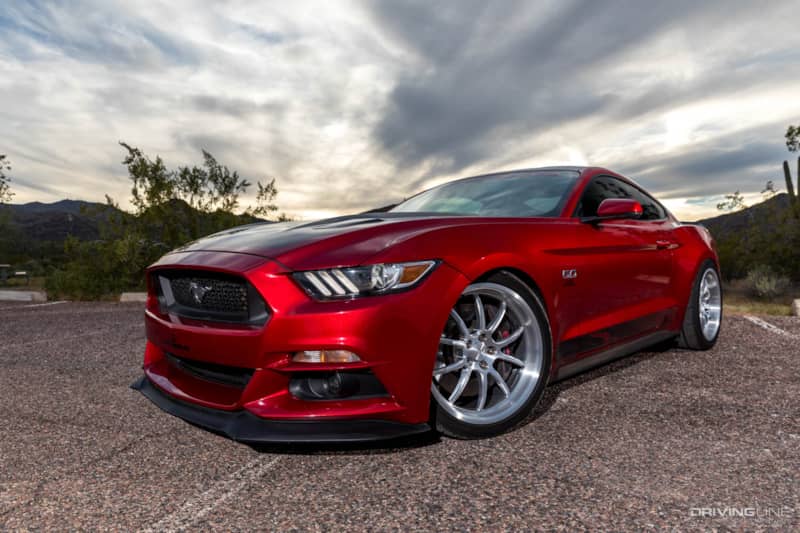 Love Steeda Mustangs? Click here to see Steeda's "Special Service" Mustang.