Team Nitto Takes Over San Felipe: Places Top Three at Ultra4 El Rey de Las Bajas
The competition has been hot for the 2021 Ultra4 Racing race season so far, and with King of the Hammers, as well as the first Eastern and Western Series races already done, we headed to San Felipe, Baja Norte Mexico this last weekend with the U4 crew and Team Nitto Tire for the second running of the El Rey de Las Bajas!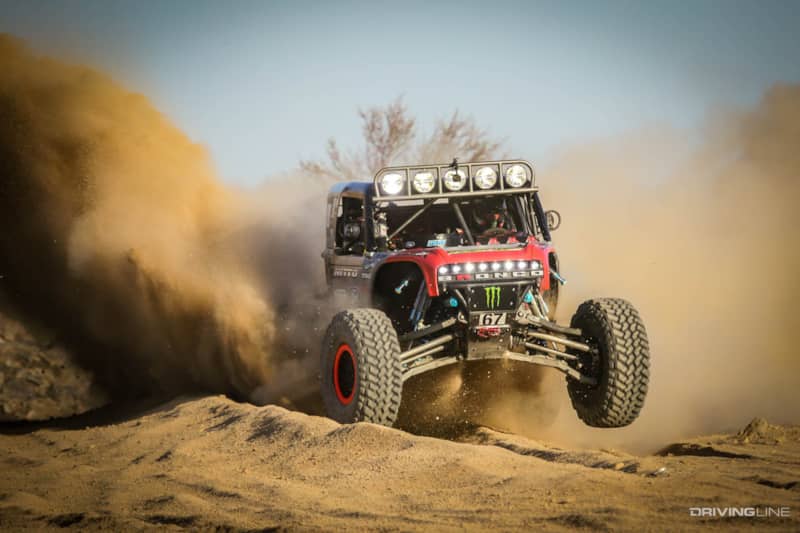 With Ultra4 down south of the border, competitors and teams alike were in for a heck of a ride. From the ever-changing terrain and notorious San Felipe Whoops, to the warm temperatures and less than forgiving sun, most teams spent only partial days pre-running, while the nights were spent kicking back and relaxing with a drink, and bench racing for hours.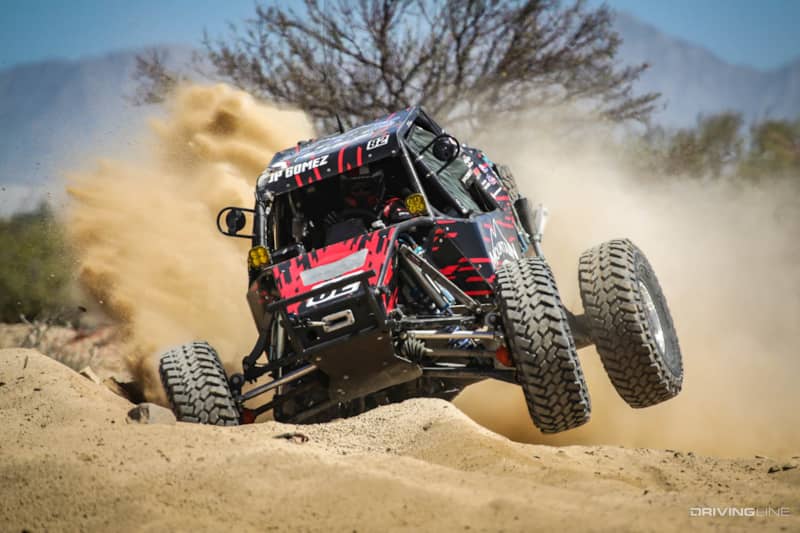 Qualifying:
On Friday, qualifying kicked off at 4pm, starting with the Spidertrax 4600 Stock Class and Brad Lovell in the first-ever Ford Bronco U4 Stock Class car. A total of eight Stock Class vehicles, including the Bronco, were entered and made quick work of the 1.5-mile qualifying loop, solidifying their place in Baja. When the class was done qualifying, it was Lovell that secured the pole position for Saturday's race with an impressive 3-minute and 39.544-second run. Rounding out the top three were Sean McNamera with a run of 4 minutes and 1.408 seconds, as well as Twitchy McGee with a run of 4 minutes and 15.130 seconds.
Next to hit the qualifying course was the Can-Am 4900 UTV Class. With top-notch UTV drivers from all over the states down for the Baja race, it was anyone's guess who would pull out the top qualifying time to solidify the pole-starting position. As the second-largest class at the race, UTV competitors threw down some impressive numbers, but it was Josh Smith with a 3-minute and 8.137-second lap time who secured the top spot. Qualifying just behind him was Cole Clark with a run of 3 minutes and 8.239 seconds, followed by Jacob Versey with a 3-minute and 11.430-second run.
Following the UTV Class in qualifying was the Yukon Gear & Axle 4500 Modified Class. With just three cars registered, qualifying went quickly, finishing with Rick Lavezzo taking the pole position with a 3-minute and 36.524-second run. Shawn Rants followed closely behind with a 3-minute and 37.707-second run, followed by John Grounds with a 3-minute and 45.004-second lap.
By the time the Branik 4800 Legends Class was set to qualify, the fastest time of the afternoon was Lavezzo's 4500 Class run. That quickly changed, however, when three-time King of the Hammers and current King, Randy Slawson hit the course, throwing down a blistering 2-minute and 57.850-second run. Out of 13 cars in the class, Slawson was the only one in the 2-minute range, although second to place, Chayse Caprara with a 3-minute and 2.443-second run, wasn't far off Slawson's pace. Rounding out the top three was Logan Goodall with a run of 3 minutes and 13.053 seconds.
With Golden Hour hitting, the 4400 Unlimited Class staged for their qualifying slot. A total of 35 Unlimited Class cars were registered as the biggest class of the event, promising an amazing show of power and driving ability for all those watching. Kicking off the class was Chip McLaughlin in his Tribe 16-built rig. As more and more cars went, the qualifying times dwindled, impressively diving under the 2-minute and 50-second mark with Paul Horschel's run of 2 minutes and 45.218 seconds.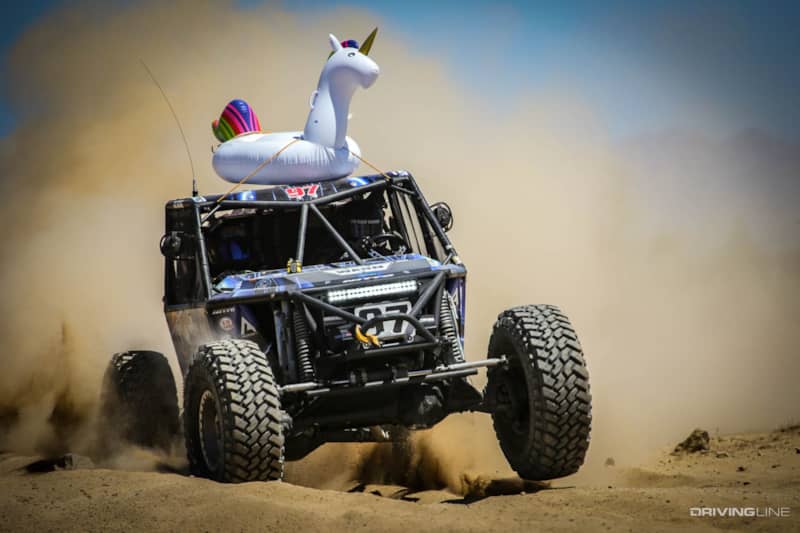 Many top competitors tried to knock Team Nitto's Horschel from the top, but his sub 3-minute run stuck as the quickest of the class and of the day, putting him in the pole position for Saturday's race.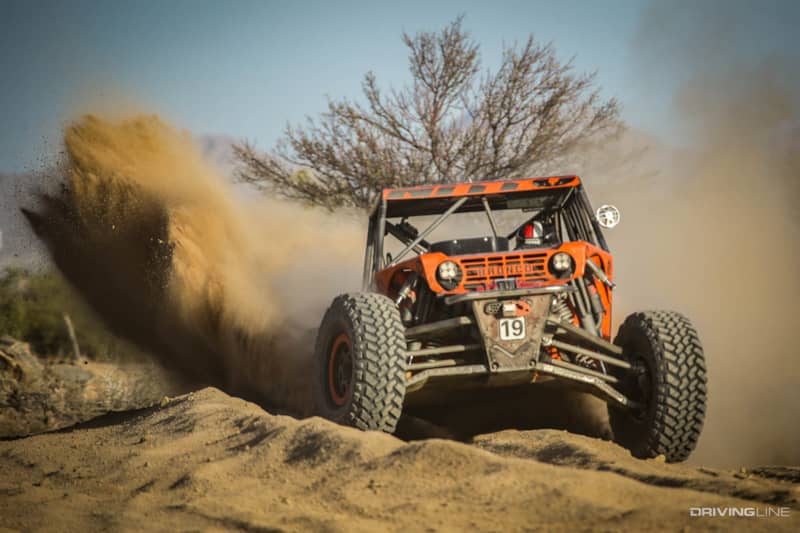 Following Horschel to the front of the field was fellow three-time king, Jason Scherer with a time of 2 minutes and 50.052 seconds. Third and fourth, Nitto drivers Loren Healy and Bailey Cole, qualified with similar times, putting down 2-minute and 50.498-second, and 2-minute and 50.725-second runs respectively. In total, eight of the top 10 qualifiers were Nitto drivers!

Race Day:
Saturday's race day was split into two different slots: the morning slot, which kicked off at 9am with the UTV, 4600, 4500 and 4800 classes all racing together; and the afternoon slot, which kicked off at 2pm with the 4400 Class cars to be run by themselves.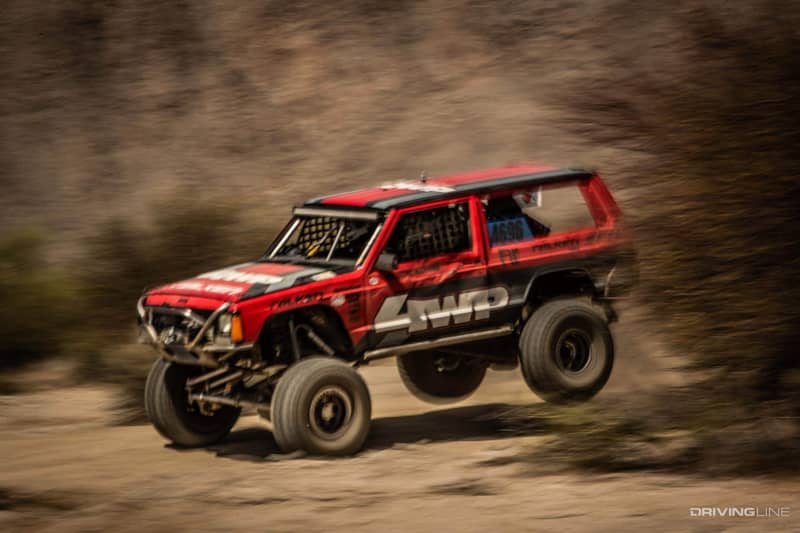 Pole-setter for the 4800 Class, Randy Slawson kicked off the day with the first wave of the green flag. Following him off the start line were his fellow 4800 and 4500 Class competitors, followed by the UTVs, and finishing with the 4600 Class. All of the classes had virtually the same course to run aside from two small Stock bypasses along the way (which we drove and found were really not easy by any stretch) – the only difference was the amount of laps each class had to do: 4600 – 2 laps; UTV – 3 laps; and 4500/4800 – 4 laps.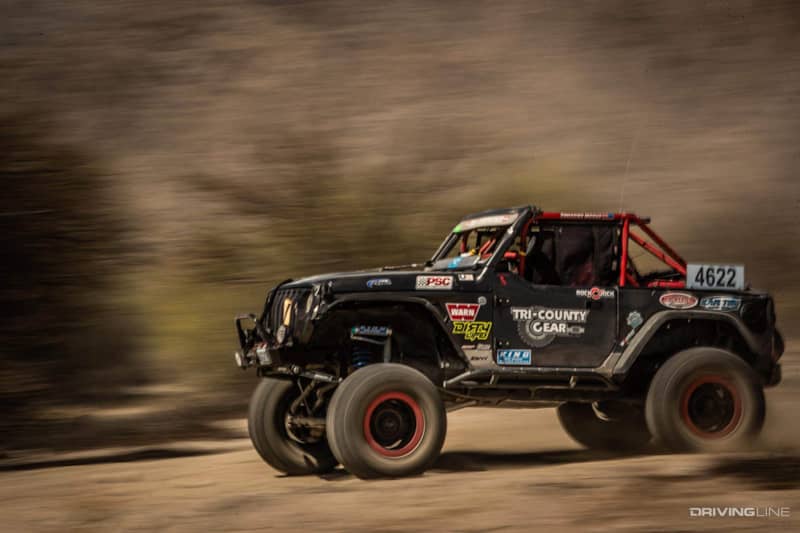 Slawson ran out front until he experienced debilitating mechanical issues half way through his second lap, taking the three-time King out of the race with a broken transmission along the go-fast power line road section of the course. Second off the line in the class, Chayse Caprara, didn't fair much better, experiencing mechanical failure on his third lap, which also took him out of the race. This left room for third in class off the line, Logan Goodall, to lead the pack.
As the four laps ticked away for the 4800 Class, Goodall was able to maintain his lead despite the difficult course. This lead to him securing his spot atop the podium by race end with an overall time of 2 hours, 57 minutes, and 44.028 seconds. Following Goodall onto the box was Cody Young with an elapsed time of 3 hours, 1 minute, and 56.832 seconds, as well as Eric Winkle with an elapsed time of 3 hours, 10 minutes, and 31.864 seconds.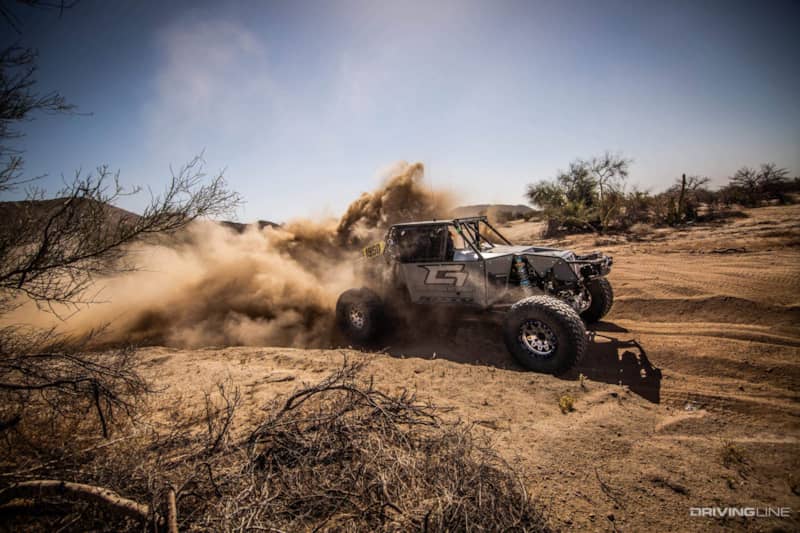 Also running four laps, the 4500 Class kicked off with pole-setter Rick Lavezzo leading the charge. Unfortunately, the tough course got the better of him and he was only able to complete one full lap before blowing his car's rear differential on the second. This gave him a third-place finish in the class. 
On the opposite end of the spectrum, long-time racer Shawn Rants proved once again that his rig was virtually bulletproof, conquering all four laps with a well-dialed driver/co-driver/car team. This pushed him to the top of the class with an elapsed time of 3 hours, 40 minutes and 23.626 seconds. John Grounds came in second with a two-lap time of 2 hours, 59 minutes, and 20.170 seconds.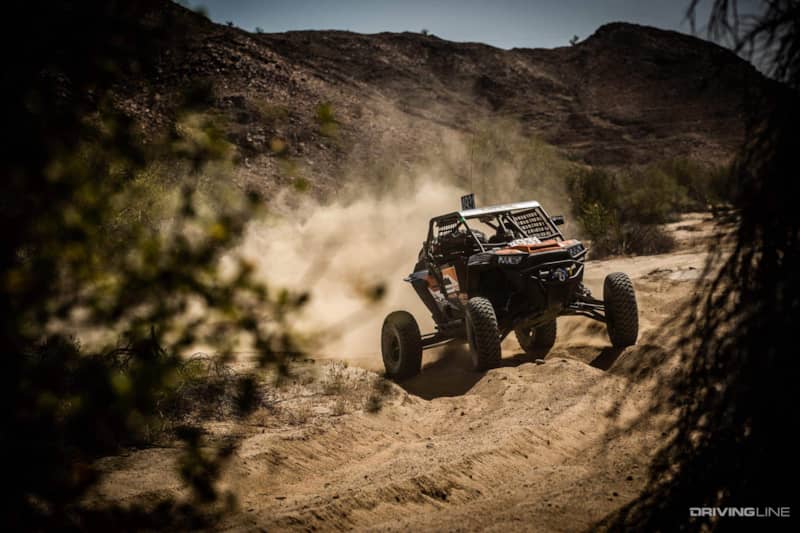 Small and nimble, the UTVs made quick work of their three-lap race. In fact, the top five drivers did so in less than 2 hours and 15 minutes, throwing down sweltering times both through the silt beds and whoops, as well as the tricky rock sections.
Quickest to the finish was third off the line, Jacob Versey, who completed his three-lap race in an impressive 1 hour, 57 minutes, and 17.292 seconds. Not far behind him was first off the line, Josh Smith, with an elapsed time of 1 hour, 58 minutes, and 37.483 seconds, just barely bypassing third place, which was Travis Zollinger with an elapsed time of 1 hour, 58 minutes, and 55.566 seconds.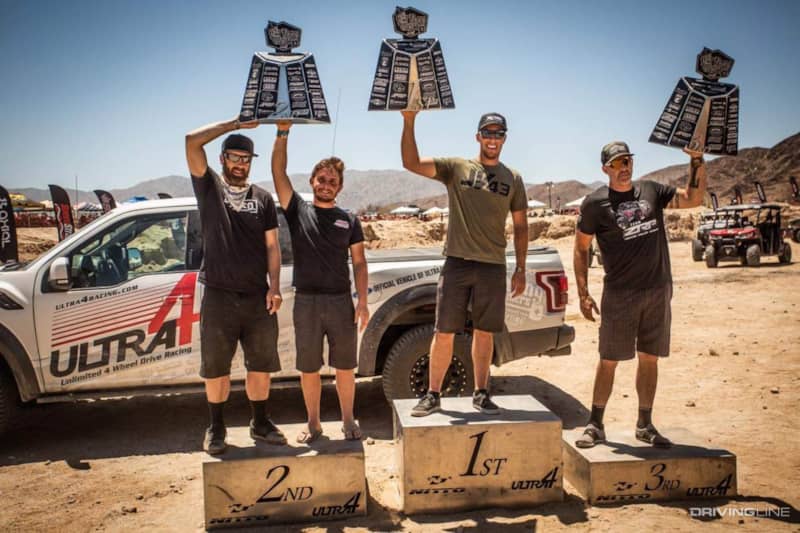 When it came to the 4600 Class, Lovell and the new Bronco set the standard the whole race through, plowing through obstacles like it was as easy as a Sunday drive. Thanks to his driving skill, a fine-tuned vehicle, and a probably a bit of luck (which every top runner has to have on their side), Lovell took the checkered flag with a time of 1 hour, 26 minutes and 22.644 seconds. Joining him on the podium were Twitchy McGee in second with an elapsed time of 1 hour, 35 minutes, and 22.933 seconds, and Sean McNamera in third with an elapsed time of 1 hour, 48 minutes, and 32.327 seconds.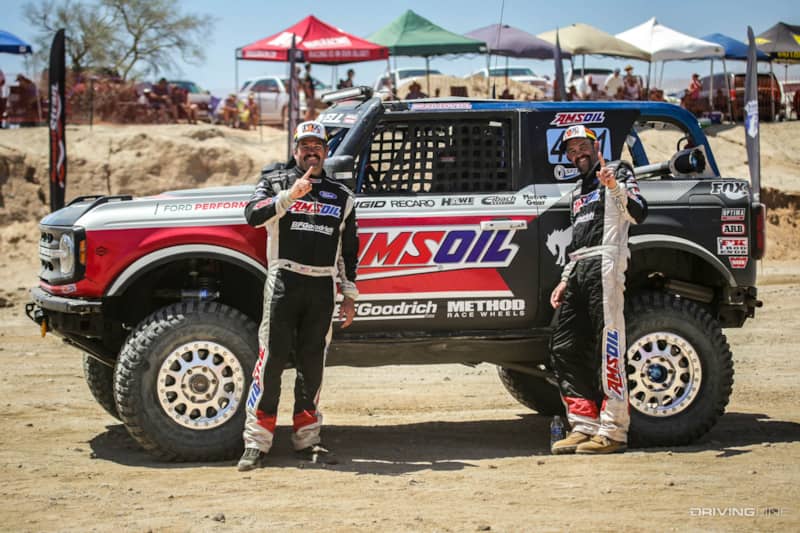 Once the morning race slot was over and broken vehicles were either recovered or moved from the course, the afternoon race kicked off at 2pm with the "big guys" ready to put on a show. With the first three off the line all being multi-year KOH Kings, and eight out of the top 10 drivers being Nitto drivers, we were beyond excited to see how the afternoon's race would play out.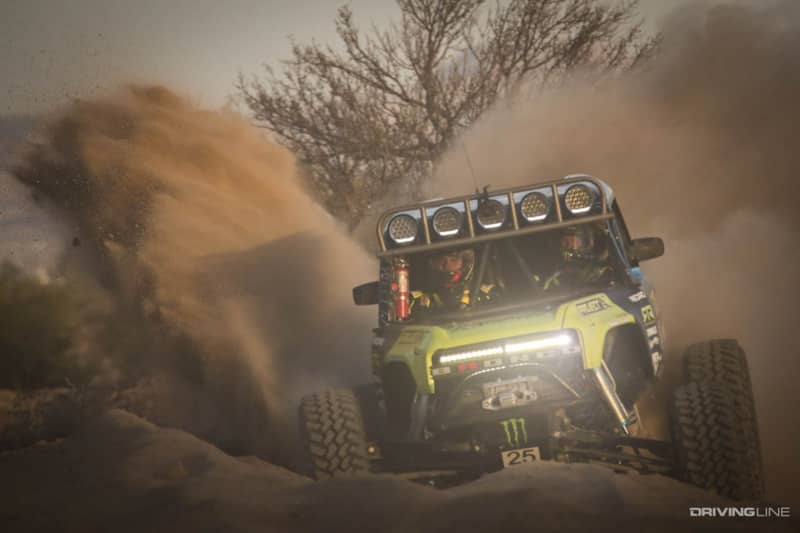 First off the line, Paul Horschel took demand of the field from the get-go, determined to run in the front of the pack the entire day. Unfortunately, things didn't go as planned and Horschel had a high-speed tumble on his first lap, ending his race in short order. Fellow Nitto driver, Cody Addington was also taken out on his first lap. Marcos Gomez suffered a similar fate on his third lap, cutting his race short.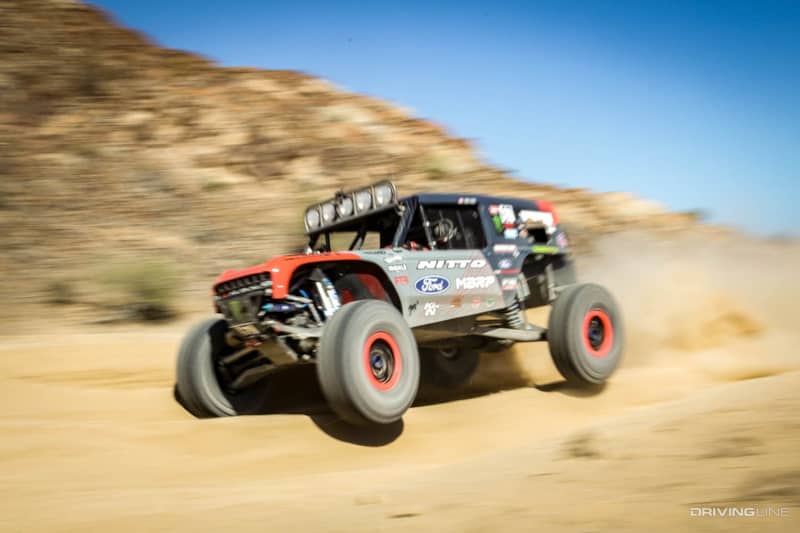 While some racers saw some bad luck, the flip side of the coin is that others had near perfect race days. One of those drivers was Loren Healy, who took his third position off the line and was able to not only run up front all race long, but ultimately secure his place on the top of the podium at the end of his fifth lap with a time of 2 hours, 53 minutes, and 0.877.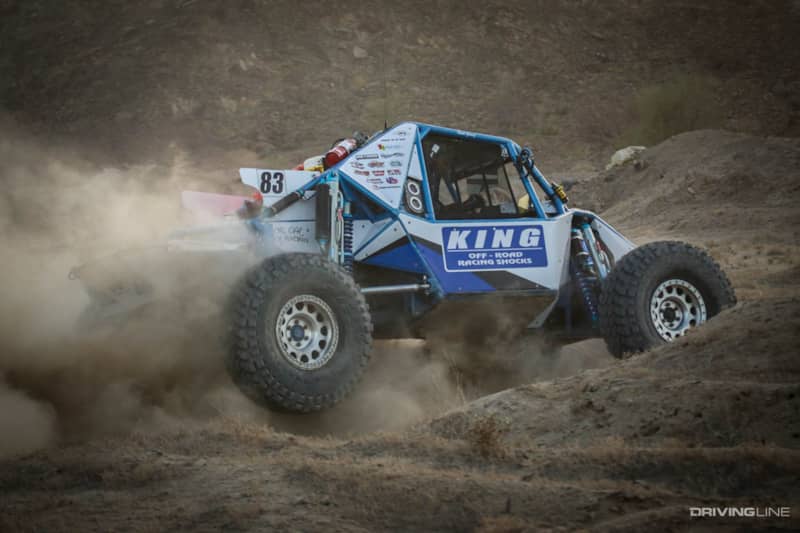 Fellow Nitto driver Raul Gomez, who qualified in tenth position, also had an awesome race day, ultimately running some of the fastest laps of the day. This led to a second-place finish for the Gomez Brothers Racing teammate with an elapsed time of 2 hours, 53 minutes, and 42.929 seconds, just 49 seconds off of Healy's winning time.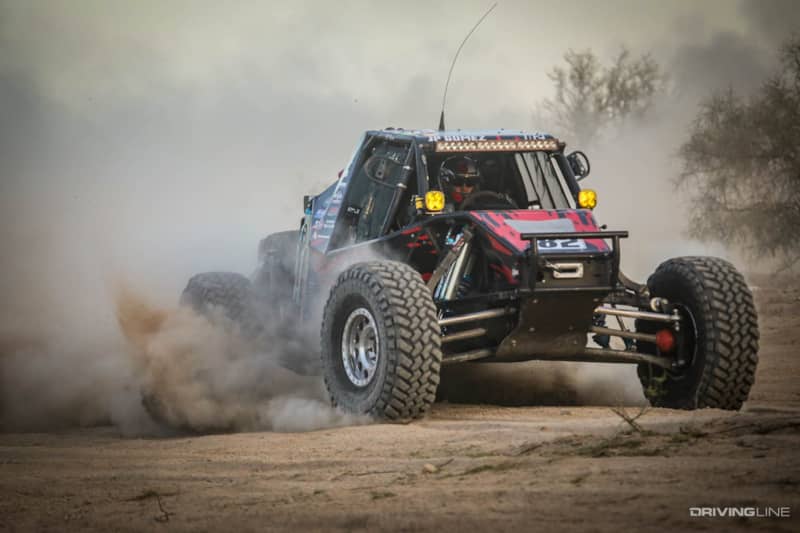 Fellow Gomez brother and Nitto teammate, JP Gomez, proved once again that he has his race program dialled as he secured a third-place finish after a rear start after a flip in qualifying, with a time of 3 hours, 3 minutes, and 20.306 seconds. Once again, Nitto swept the podium in the 4400 Class!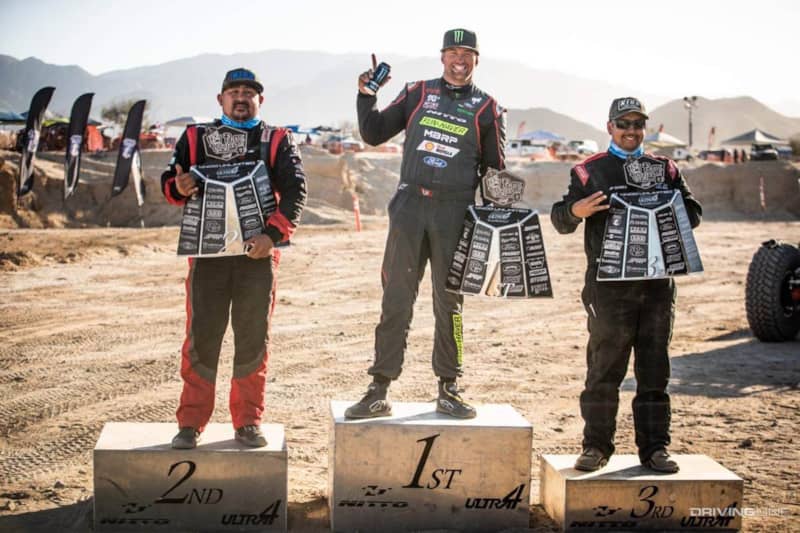 In the end, six of the top 10 finishers in the 4400 Class were Nitto Drivers, with Bryan Crofts finishing in fifth, Vaughn Gittin Jr. in sixth, and Bailey Cole in eighth.
Congratulations goes out to all of the podium finishers at the 2021 El Rey de Las Bajas! Top main race results can be found below. For full qualifying results from the race, please click HERE, and for full main race day results, please click HERE!
El Rey de Las Bajas Main Results:
Yukon Gear & Axle 4500 Modified Class (4 laps):
Shawn Rants: 3:40:23.626

John Grounds: 2:59:20.170 (2 laps)

Rick Lavezzo: 49:41.670 (1 lap)
Spidertrax 4600 Stock Class (2 laps):
Brad Lovell: 1:26:22.644

Twitchy McGee: 1:35:22.933

Sean McNamera: 1:48:32.327
Branik 4800 Legends Class (4 laps):
Logan Goodall: 2:57:44.028

Cody Young: 3:01:56.832

Eric Winkle: 3:10:31.864
Can-Am 4900 UTV Class (3 laps):
Jacob Versey: 1:57:17.292

Josh Smith: 1:58:37.483

Travis Zollinger: 1:58:55.566
4400 Unlimited Class (5 laps):
Loren Healy: 2:53:00.877

Raul Gomez: 2:53:42.929

JP Gomez: 3:03:20.306

Brian Caprara: 3:12:47.904

Bryan Crofts: 3:13:10.913

Vaughn Gittin Jr.: 3:14:59.893

Jason Scherer: 3:19:17:277

Bailey Cole: 3:23:25.225

Chip McLaughlin: 3:25:31.010

Kris Wicks: 3:28:15.922