Raul Gomez Claims the Throne: 2022 Nitto Race of Kings Recap
Every year we think we know who will win the King of the Hammers, and every year we end up surprised. At this point, we should know to expect the unexpected, but that's just how it goes.
From early trouble for past Kings to daring passes through the desert and dramatic rollovers, this year's race had everything. If you watched the action live, then you know what we're talking about, but if you missed it, read through Driving Line's full minute-by-minute highlights of the Nitto Race of Kings presented by OPTIMA Batteries to re-live the excitement!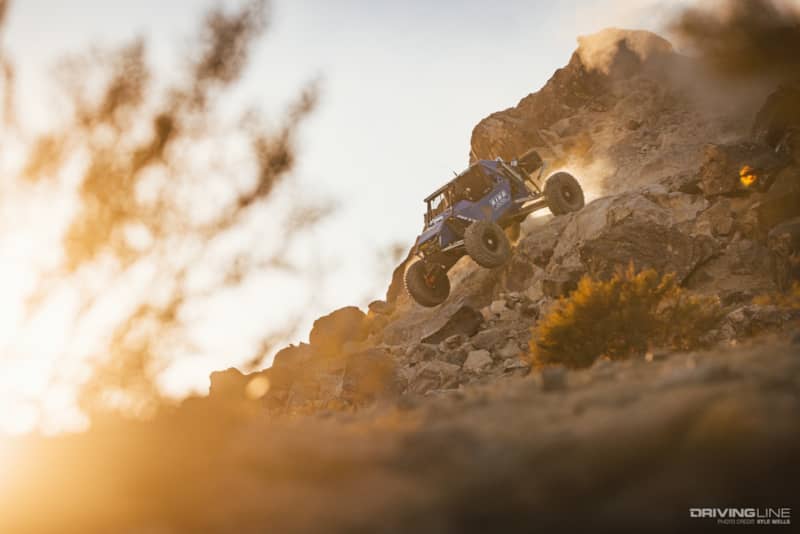 This year's race started out quick, with 102 drivers on a cold California desert morning, and ended with as much drama as we've ever seen.
Lap 1
Each year there is always the question of whether or not we'll see a new King crowned. The last new King was Josh Blyler two years ago, but before that the last truly new King was Erik Miller in 2012 (though Randy Slawson won it for the first time as a driver in 2013). Since the race's inception in 2007, either Jason Scherer, Randy Slawson, Shannon Campbell, Erik Miller or Loren Healy have been atop the podium every time but once.
Of course, the one time was only two years ago. The past Kings' stranglehold over the throne looks like it might be waning with all of the talent that has come into the sport in recent years. However, with Jason Scherer starting on the front row and the other past Kings not far behind, they're not going away without a fight.
8:03 Top two qualifiers Bryan Crofts and Jason Scherer are off, officially starting this year's Nitto Race of Kings. Bryan takes the lead out of the first turn! As they kick up dust going out into the desert, the rest of the field starts two-by-two.
8:04 Loren Healy takes off the line on his own after Paul Wolfe failed technical. Raul Gomez and Cameron Steele take off after him.
8:05 Hunter Miller, a perennial contender in his UTV, leaves the line next to Randy Slawson, last year's winner. Wayland Campbell also leaves the line after him.
8:06 Kyle Chaney, another strong UTV competitor, leaves the line with JP Gomez.
8:07 Erik Miller and Shannon Campbell take off together. Can either of these two past Kings reclaim the throne?
8:08 Bryan Crofts is already into Turkey Claw, working through the small rocks.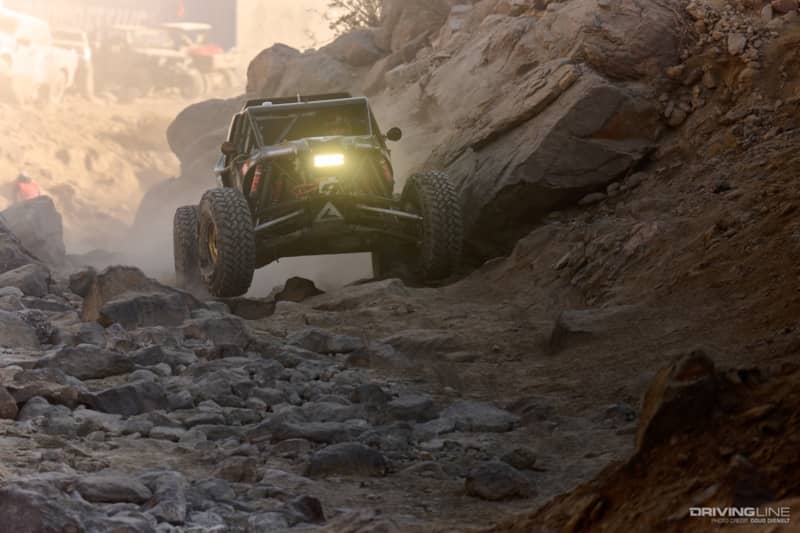 8:09 Jason Scherer now makes it into Turkey Claw, with Loren Healy right on his heels, and Raul Gomez and Cameron Steele just behind him.
8:10 Bailey Campbell leaves the line, hoping to become the first Queen of the Hammers.
8:13 Brian Caprara makes the pass on Erik Miller through the rocks in Turkey Claw.
8:18 Jason Scherer screams through the desert without any dust in front of him. Did he pass Bryan Crofts for the lead?
8:20 2021 Ultra4 Champion Vaughn Gittin Jr. leaves the line. Jason Scherer is also the first one through Remote Pit 1. Where is Bryan Crofts? He may be stationary outside Turkey Claw.
8:21 Loren Healy makes it through Remote Pit 1 30-40 seconds behind Jason. He's been able to keep their gap at the start similar through the first stretch of the race.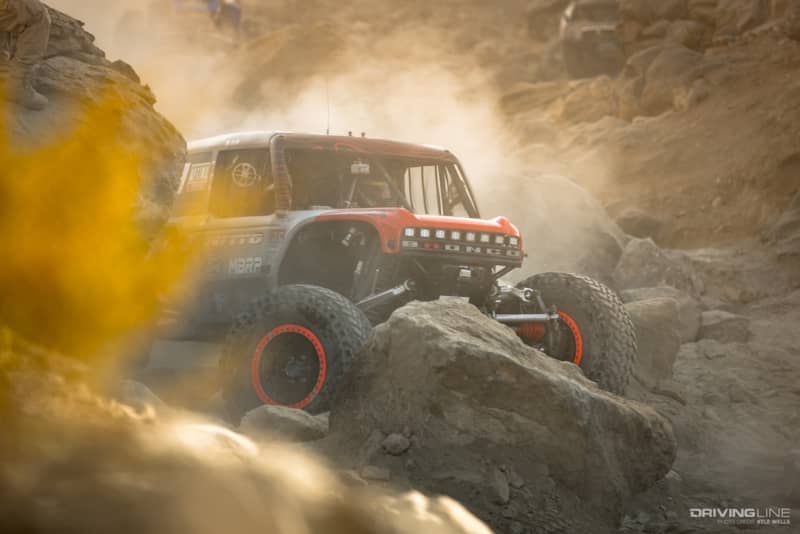 8:22 Raul Gomez is the third driver into Remote Pit 1, having lost a bit of time to Loren.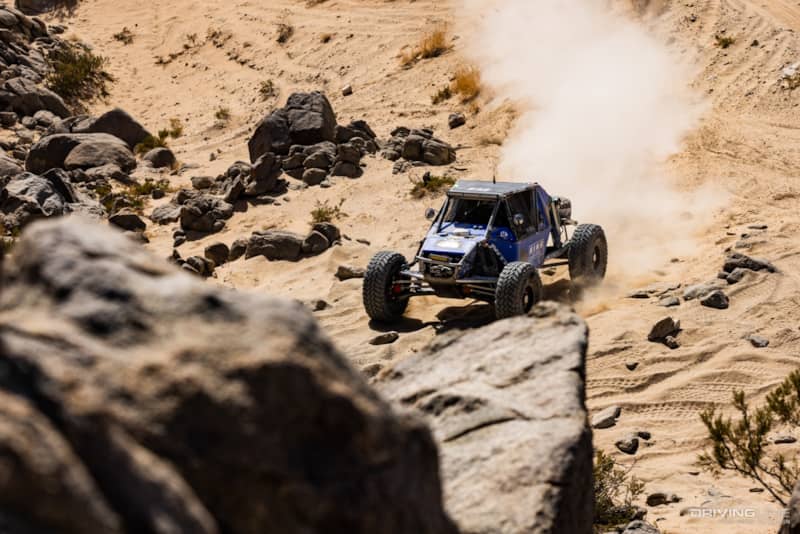 8:23 Randy Slawson is fourth through Remote Pit 1, having a great start in his attempt to defend the crown.
8:24 Hunter Miller makes his way through Remote Pit 1 in physical 5th place, with Wayland Campbell right behind him.
8:25 Loren Healy is stopped and getting out of the car! He must have broken down. Randy Slawson races past.
8:26 JP Gomez hits the pits as he rolls into Remote Pit 1. He may have some sort of problem.
8:30 Raul Gomez floors it across the desert at race mile 19.
8:32 Bryan Crofts goes to his pit in Remote Pit 1 to fix a broken brake line. This isn't too hard of a fix, so his day isn't over yet, even though he's lost a fair amount of time.
8:35 Randy Slawson is clearly slower through the desert than Jason, but he's also shown that he's capable of making up time in the rocks.
8:37 Shannon Campbell makes the pass at race mile 19 in the desert. The leaders have also made it into Cougar Buttes.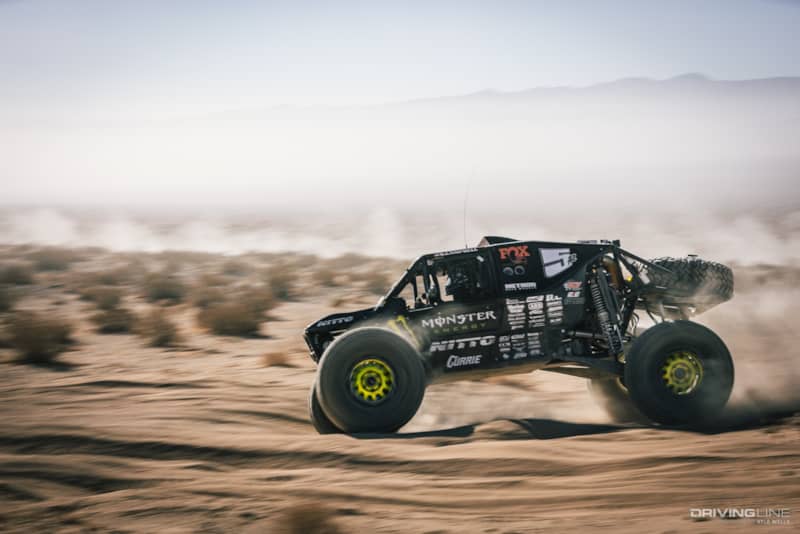 8:38 Bryan Croft's brake line has been capped, and he's back out on course. He'll now only be running with three lines for the rest of the race.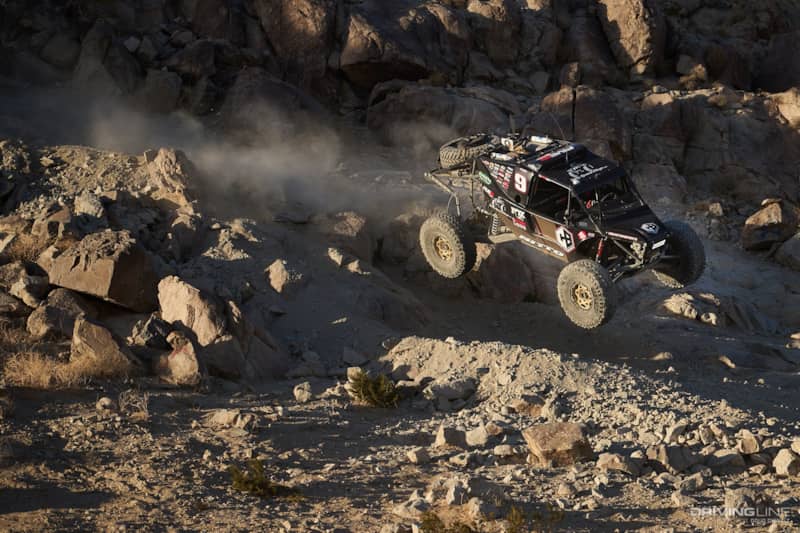 8:39 Raul Gomez appears to have broken a differential breather line, but he's still moving forward.
8:40 Randy Slawson makes his way through Cougar Buttes in physical third.
8:42 Cameron Steele puts a little time between himself and Wayland Campbell through the rocks in Cougar Buttes.
8:51 Cody Addington, Bailey Campbell and Tom Wayes all drive through Cougar Buttes in a tight pack.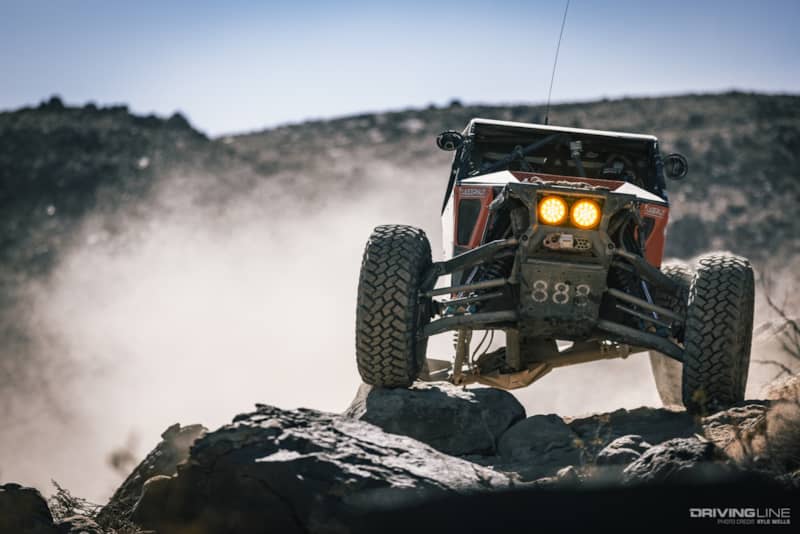 8:57 With no wind at all, the dust is hanging in the air, creating a haze and making it hard to see far in front.
9:25 Jason Scherer launches off the rocks and heads back into Remote Pit 1 in physical first position.
9:35 Raul Gomez drives through the desert after passing through Remote Pit 1 in physical second place. There is a gap of around four minutes between the top two cars.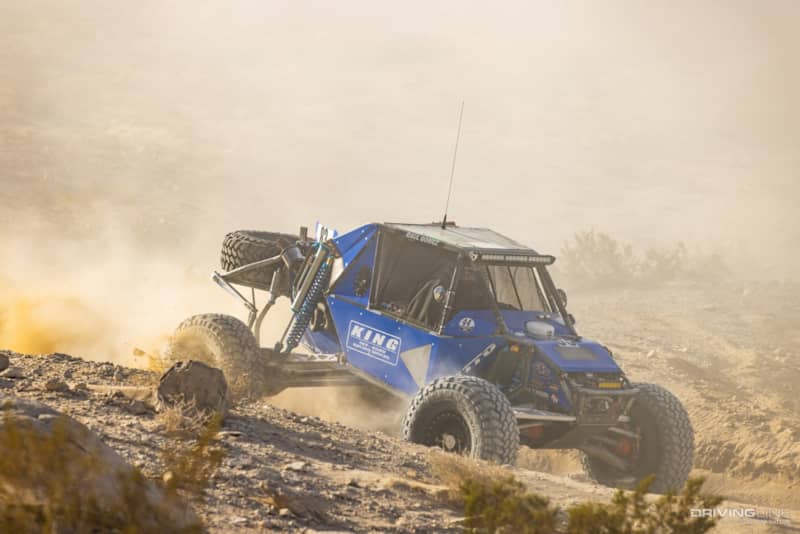 9:39 Jaren Gunter has also made his way through Remote Pit 1 for the second time.
9:41 Kyle Chaney drives through Remote Pit 1 for a second time as the first UTV on course after winning the UTV race earlier in the week.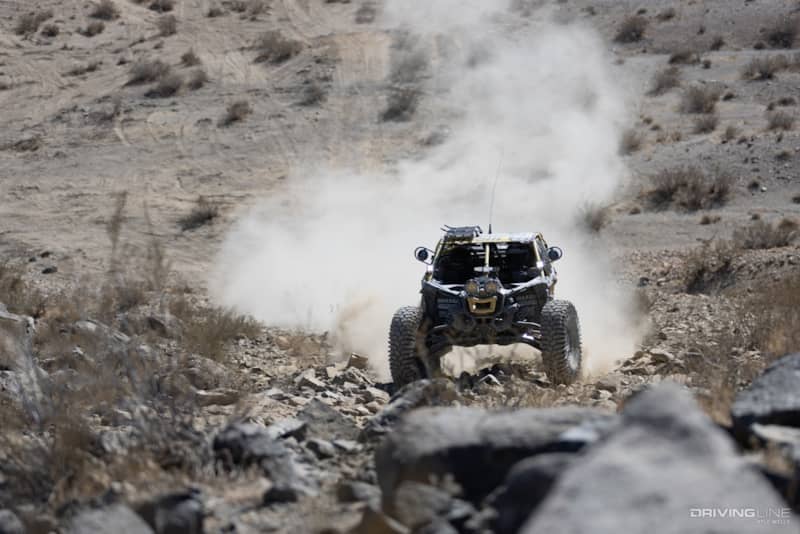 9:43 Shannon Campbell makes a scheduled stop as he drives through Remote Pit 1 for the second time.
Lap 2
After one lap, this race is starting to look a lot like the years when Jason Scherer won back-to-back. Everything is going nearly perfectly for him, with clean air and his fellow front row starter Bryan Crofts having problems. That said, he's not completely alone near the front. The Gomez brothers of Raul and JP are having top 5 runs, and with both having finished on the podium last year, they know how to be there at the end.
Cameron Steele is also having a great start to his day. He's been in the mix until near the end the past few years, with his rig breaking down on the last lap while in the lead two years ago. If his car can keep moving forward, he has a great chance to challenge Jason. Then there's the defending champion Slawson. Last year, he had to come from back in the pack to claim the throne, and he's already way ahead of that pace this year. Few drivers in the world are better in the rocks than him, and with the two rock laps coming up, he is right where he needs to be to win again.
9:47 Jason Scherer enters Hammertown, takes on fuel and heads back out. His race has gone perfectly through one lap, with a time of 1:43:37.
9:51 Raul Gomez looks like he went down Backdoor as he comes into Hammertown. He takes on fuel and gets his seatbelt tightened after a first lap of 1:47:42.
9:55 Cameron Steele comes through Hammertown in physical third place and heads to his pit. He's led the race the past few years, but can he seal the deal in 2022? He appears to be getting some grease in his CVs before heading back out.
9:57 Randy Slawson crosses the line in physical fourth place. He gets some fuel and his crew takes off the hood. His team is looking at the steering reservoirs, so there may be a problem.
10:00 JP Gomez is the fifth driver to come into Hammertown and heads into his pit. The Gomez family is having a great start to the day. Randy leaves his pit, so it looks like if there was any problem, they fixed it.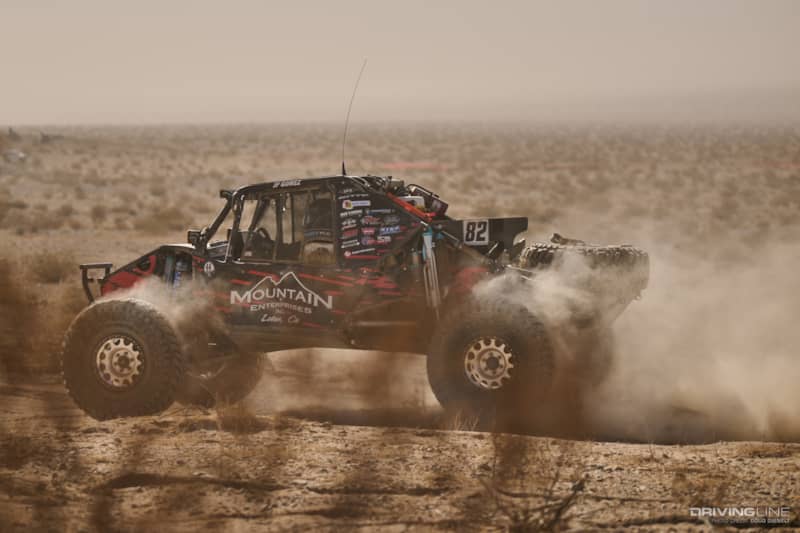 10:04 Kyle Chaney heads into Hammertown, pits and heads back out. He's putting on a show in his UTV.
10:06 Shannon Campbell comes through Hammertown and stops in the pits. His stop is pretty short, and he heads back out. Jaren Gunter also makes his way through Hammertown.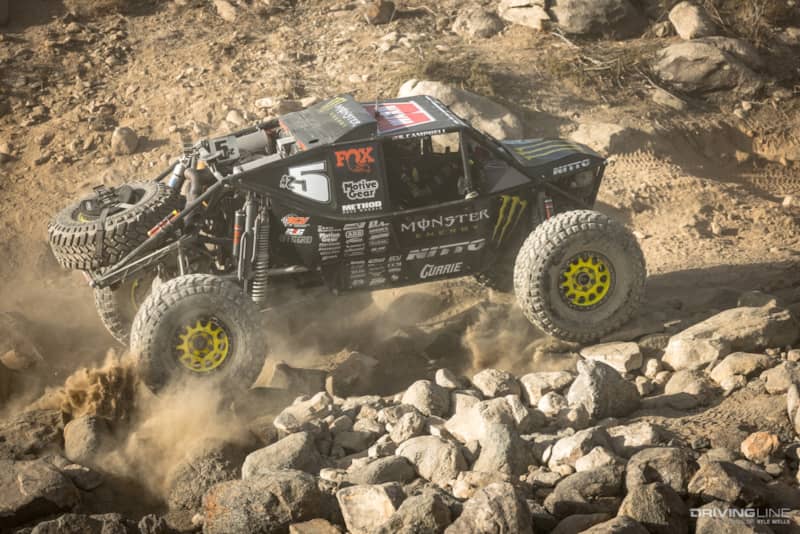 10:10 Rusty Blyler hits his pit as he drives through Hammertown. Brian Caprara also heads into Hammertown.
10:13 Erik Miller is in his pit in Hammertown. He takes only a few minutes to refuel and is back out.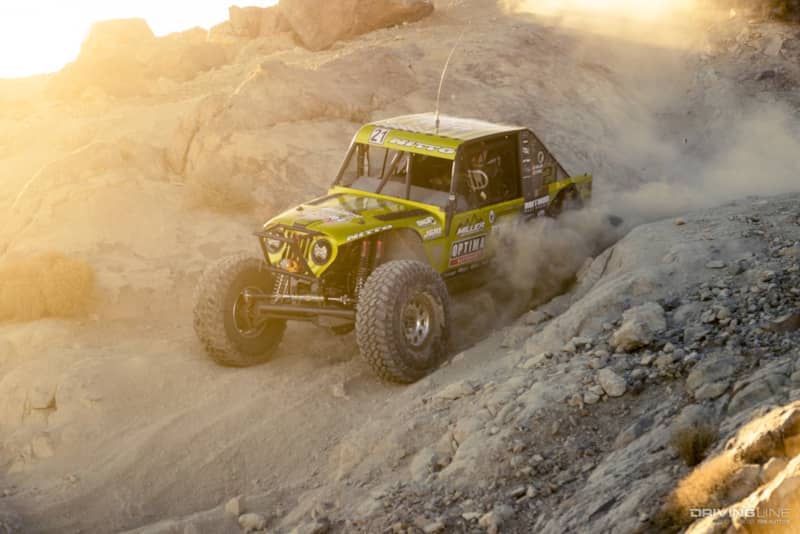 10:14 After his initial issues, Bryan Crofts is back into Hammertown and looking to make up time.
10:15 Through the first lap, the current running order is Jason Scherer in first, followed by Raul Gomez in second, Randy Slawson in third, Cameron Steele in fourth, JP Gomez in fifth, Kyle Chaney in sixth, Jaren Gunter in seventh, Shannon Campbell in eighth, Brian Caprara in ninth and Chayse Caprara in tenth.
10:21 Chayse Caprara puts pressure on Erik Miller through Turkey Claw as Bailey Campbell finishes Resolution on the way to Hammertown.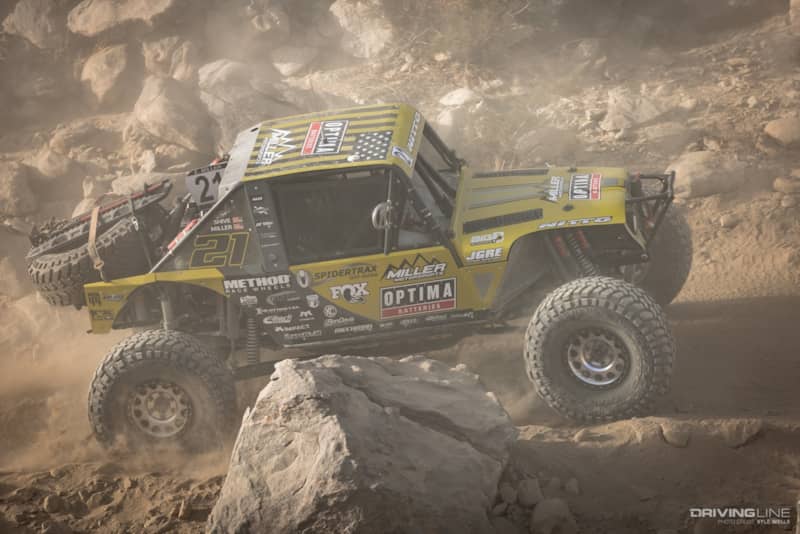 10:23 Bailey Campbell yells out that something is broken as she pulls into her pit. There's something wrong on her right front wheel.
10:25 Jason Scherer is the first one into Hidden Valley. He's been looking dominant thus far. Vaughn Gittin Jr. has made his way up to 14th place as he drives through Hammertown.
10:33 Cameron Steele has passed Raul Gomez through Spooners, but now Cameron has pulled over to the side! Raul has passed him back and left him behind. He may have a problem.
10:35 Jason Scherer is starting through Outer Limits, still in the lead.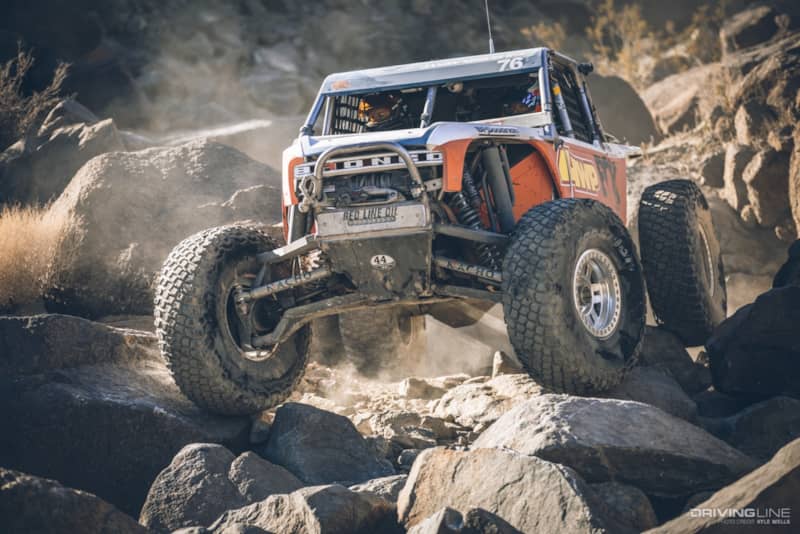 10:37 Loren Healy is officially out of the race. Heartbreak for the former King.
10:41 Cameron Steele is out of his car with his helmet off. It looks like his day is done. Bailey Campbell is back out and headed through Turkey Claw after having her brake caliper fixed in Hammertown.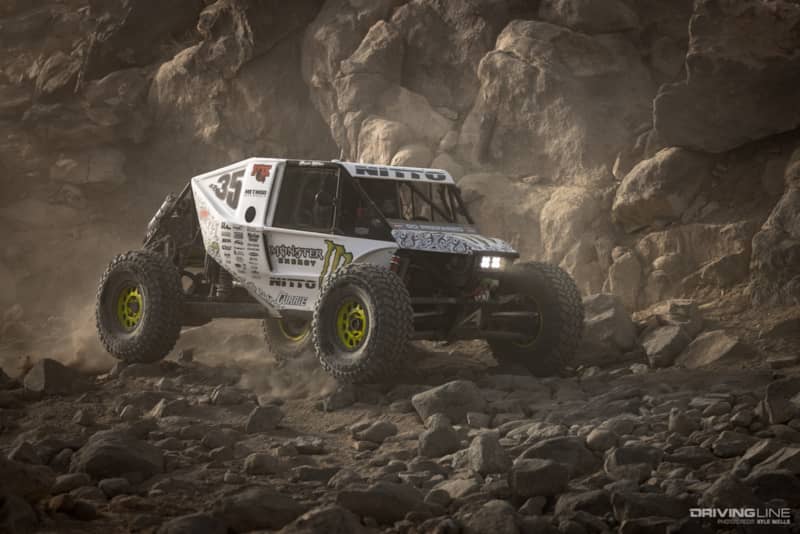 10:43 Randy Slawson passes the stopped Cameron Steele while Raul Gomez works through Outer Limits. JP Gomez is close behind Slawson in Spooners.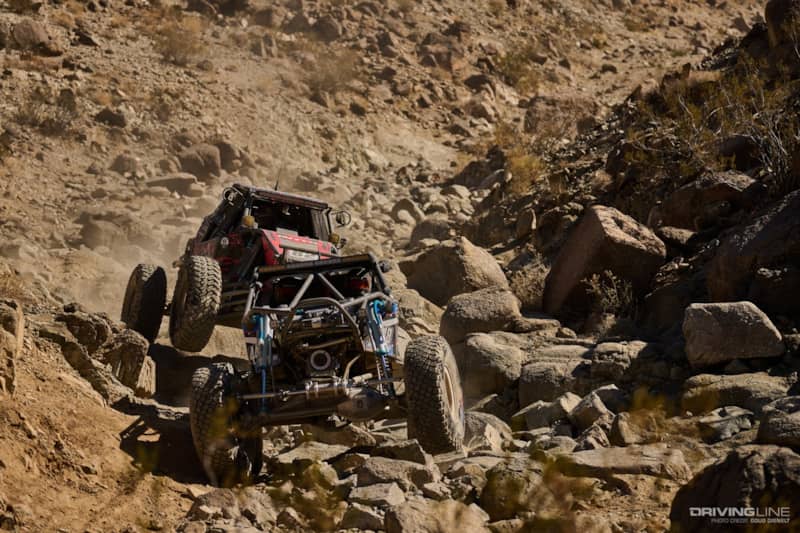 10:45 Jason Scherer is through Outer Limits and back out on the desert on the way to the rock trails.
10:50 Shannon Campbell starts through Spooners closely followed by Jaren Gunter.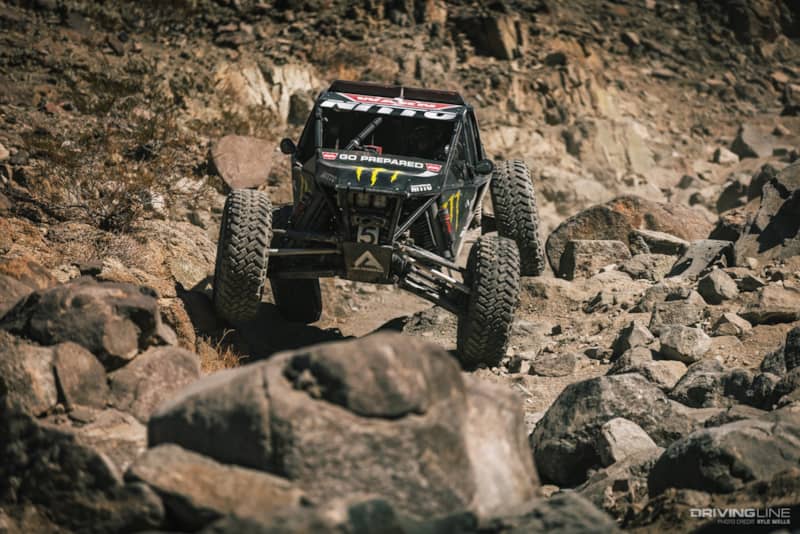 10:58 As Jason Scherer starts Aftershock, Erik Miller goes through Spooners, with Josh Blyler and Marcos Gomez right behind him.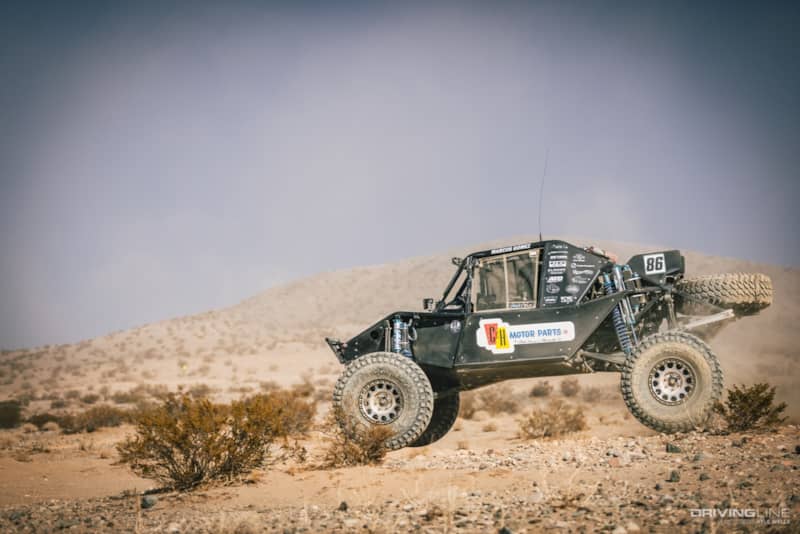 11:02 Brian Caprara rolls his car in Outer Limits right in front of Rusty Blyler, who easily passes him on his side.
11:05 JP Gomez starts up the rocks, appearing to have passed Randy Slawson in the short desert section.
11:11 Cody Addington leads a pack of cars into Spooners including Jason Blanton and Vaughn Gittin Jr.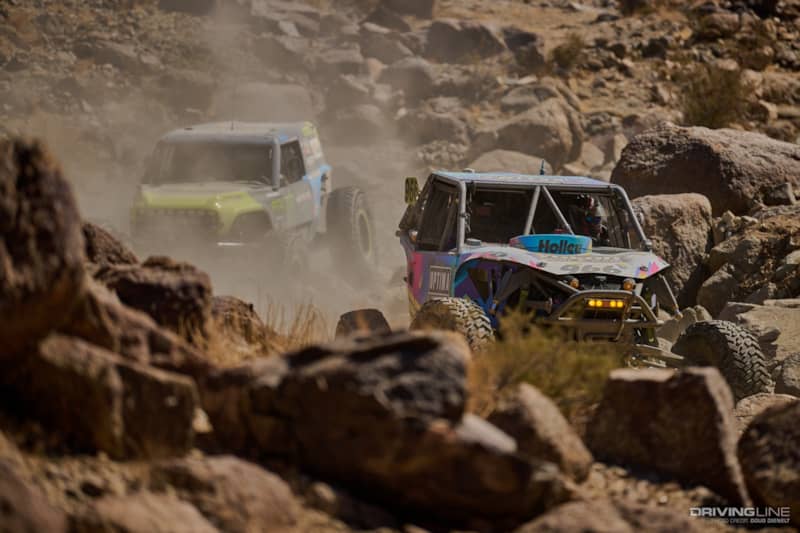 11:17 Kyle Chaney makes his way up Aftershock in physical fifth place. His UTV is so light and small that he can easily pick his way through the rocks.
11:24 Rusty Blyler makes his way through Aftershock, having a great day so far.
11:26 Jason Scherer makes his way up Chocolate Thunder. This first time isn't too hard for him, but the second time through traffic may be a totally different story.
11:38 Raul Gomez comes out of the top of Wrecking Ball, not too far behind Jason. His Nitto Trail Grapplers are holding up well. This race is far from over.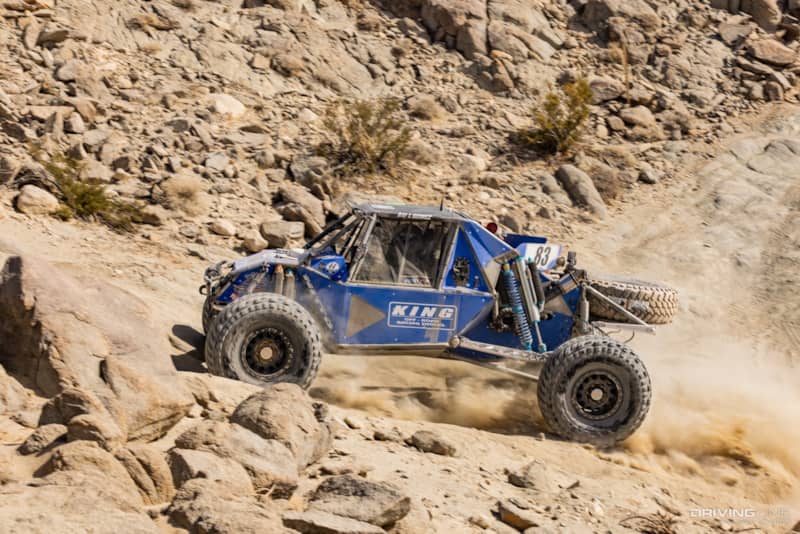 11:39 JP Gomez makes his way down Sledgehammer on the way to Chocolate Thunder. He's still putting pressure on the top two drivers.
11:42 Randy Slawson is now ahead of JP Gomez as they both enter Chocolate Thunder.
11:45 Ultra4 has announced that they are adding another $100,000 to the total purse for the weekend based on the overwhelming support of the fans!
11:47 Raul Gomez has caught Jason Scherer and the two are within seconds of each other!
11:50 Kyle Chaney is out of his UTV and needing to winch through Chocolate Thunder.
12:00 Shannon Campbell comes out of Sledgehammer, while Jason puts a bit of space on Raul in the desert. Raul later reported that, "We only had the midrange box in it today, so max speed was 88mph in the desert." Raul is driving a brand new car, one with less than 50 miles driven on it before starting the race.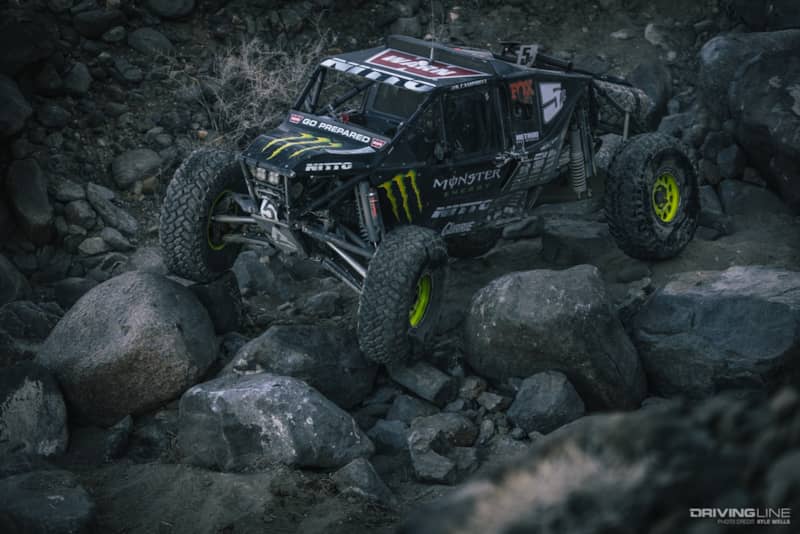 12:04 The two leaders come into Resolution with Raul Gomez only feet behind Jason. Jason goes left to the sand wash while Raul takes the optional Backdoor! While Backdoor is a shorter distance, it's a wildcard obstacle that could potentially get blocked. Jason gets through way faster than Raul and makes up a bit of time before coming into Hammertown.
Lap 3
After two full laps and four hours of racing, we're right back where we started with the top two drivers only seconds apart. The only difference is that battling Jason Scherer is Raul Gomez. Just when it looked like Jason was starting to pull away from everyone in the rocks on the second lap, Raul pulled him back in.
Of course, while the top two might be the most obvious contenders, a peek one place back in the standings shows Randy Slawson lurking, right where he needs to be to take advantage of anything that might go wrong. His skill in the rocks means that any flat tire or high-centering from either Raul or Jason will put him right back in position to steal the win. The race to the finish is officially on.
12:07 Jason Scherer comes into Hammertown with Raul Gomez only a few seconds behind him. Jason changes his rear tires and takes on more fuel. Raul Gomez opts for a fresh set of tires and gets more fuel, too.
12:09 Jason Scherer is the first one out.
12:10 Raul Gomez is now out of the pits, too. He should be down on corrected time, as well, but not by much.
12:14 Bryan Crofts makes his way through Clawhammer, having recovered well from his early troubles.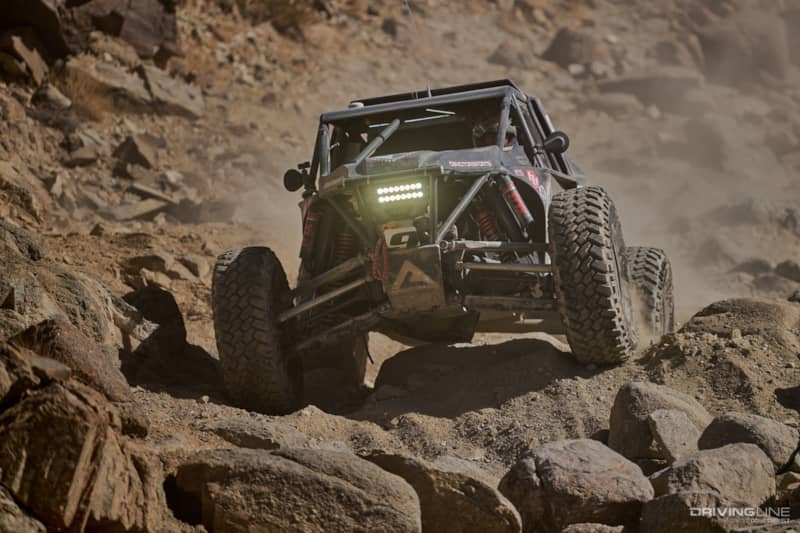 12:16 Raul Gomez puts his foot into it and takes a risky pass for physical first, climbing over the rocks past Jason in Turkey Claw!
12:22 Randy Slawson is in the pits, getting a bit of work done on his car before heading back out.
12:23 JP comes into the pits in physical fourth, and his pit crew will try to get him out before Randy.
12:24 Randy gets out first, but JP leaves only a few seconds later.
12:30 Jason and Raul are racing next to each other in the desert! It's back and forth! Jason makes the pass and starts putting some space on Raul in the fresh air!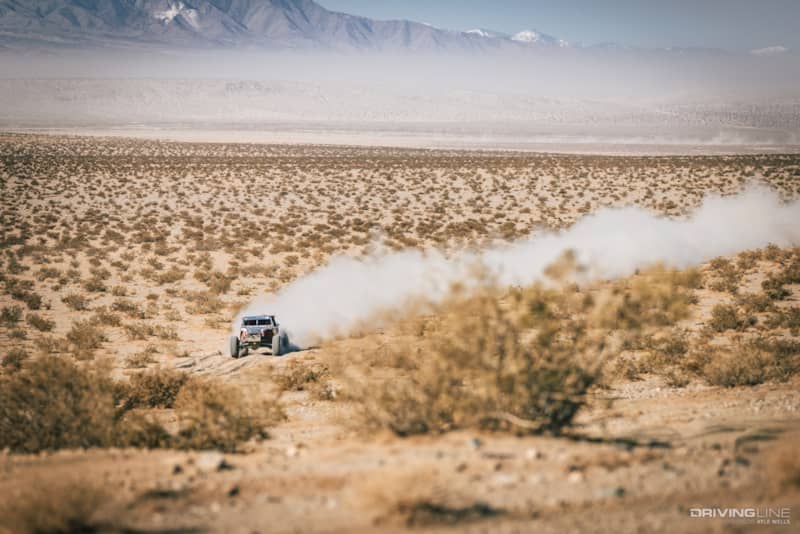 12:37 Vaughn Gittin Jr. makes his way up Clawhammer on his second lap as Rusty Blyler drives through Hammertown.
12:41 Jaren Gunter is stopped on track, a heartbreaking development for what had been a top 10 run, as Erik Miller makes his way into Hammertown. Erik has finished every 4400 King of the Hammers he's raced, a claim that few, if any, other racers can make.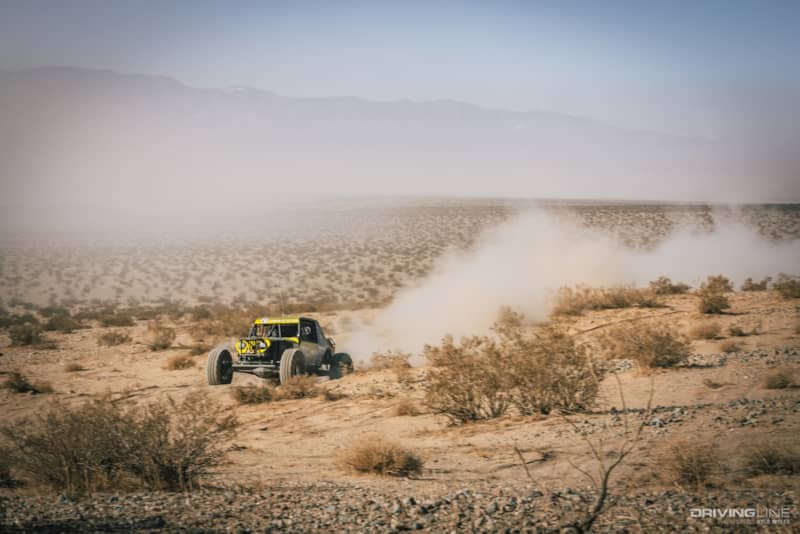 12:44 JP appears to have flipped in the desert, but was fortunate to end up on his wheels. He is trying to get the car moving again. Josh Blyler also makes his way into Hammertown to start his third lap. JP is out of his car to look things over.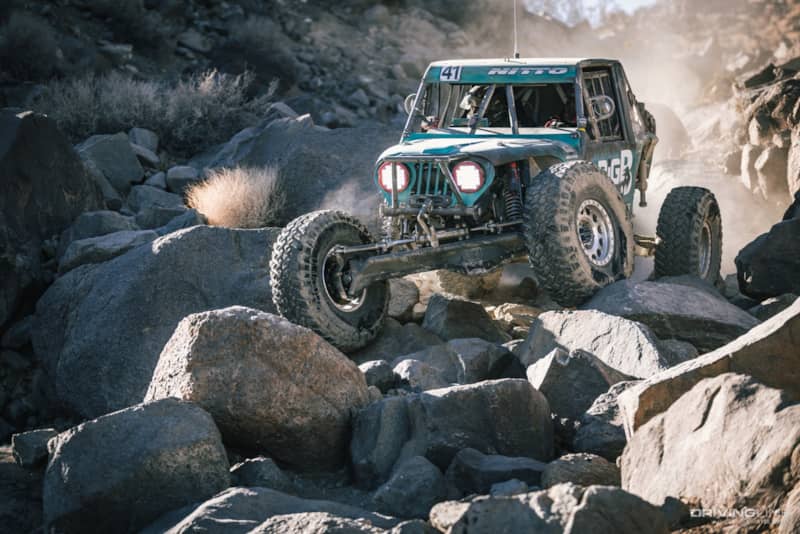 12:48 Jason starts his way up Spooners, and now the wait for Raul begins.
12:52 It's reported that Raul Gomez is only a minute behind Jason, still within striking distance.
12:57 As Raul works through the ridges outside of Spooners, Jason flips on his side in Outer Limits! He's getting out of the car! He jumps off the car and lands straight on his tailbone, obviously in a lot of pain. After a few seconds, he gets back up and starts working with the winch.
12:59 Raul Gomez comes up and passes him! Jason lets down his winch line to let him through.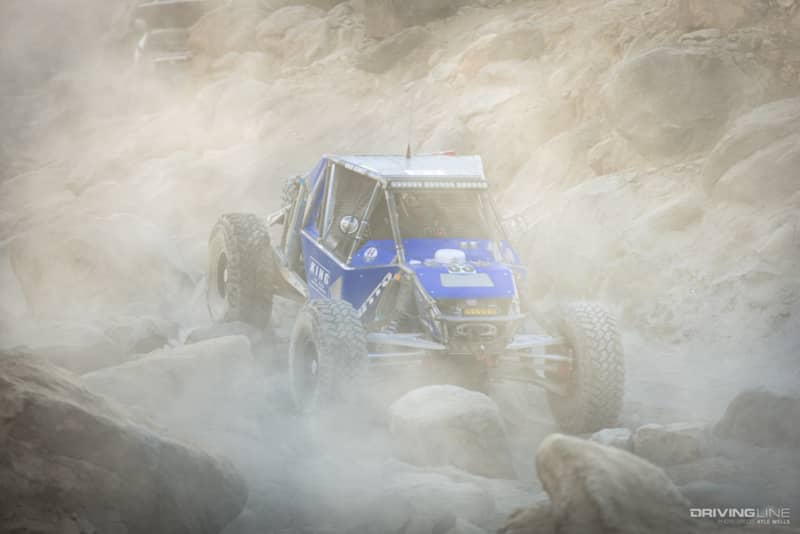 1:02 Jason now has his rig up on all four wheels and is driving down Outer Limits with his co-driver walking in front.
1:04 Vaughn Gittin Jr. drives through Hammertown, having made up a ton of places since his mid-pack start. Two laps into the race, the official standings through Hammertown are Raul Gomez in first, Jason Scherer in second, JP Gomez third, Randy Slawson fourth, Rusty Blyler fifth, Josh Blyler sixth, Erik Miller seventh, Vaughn Gittin Jr. eighth, Marcos Gomez ninth and Tom Wayes tenth.
1:11 Randy Slawson is leaving Spooners in physical third place with a lapped car right in front of him. There's a pretty massive gap behind Slawson and fourth place, so it looks like there are only three cars left really battling for the win.
1:18 Jason Scherer heads up Emmerson a few minutes behind Raul, trying to reel him back in. He can't see his dust, so there's definitely some space to make up.
1:21 Raul Gomez works his way up the start of Aftershock. He's trying to make some space as Jason tries to reel him in. This race may come down to who does a better job of navigating the lapped traffic through the rocks.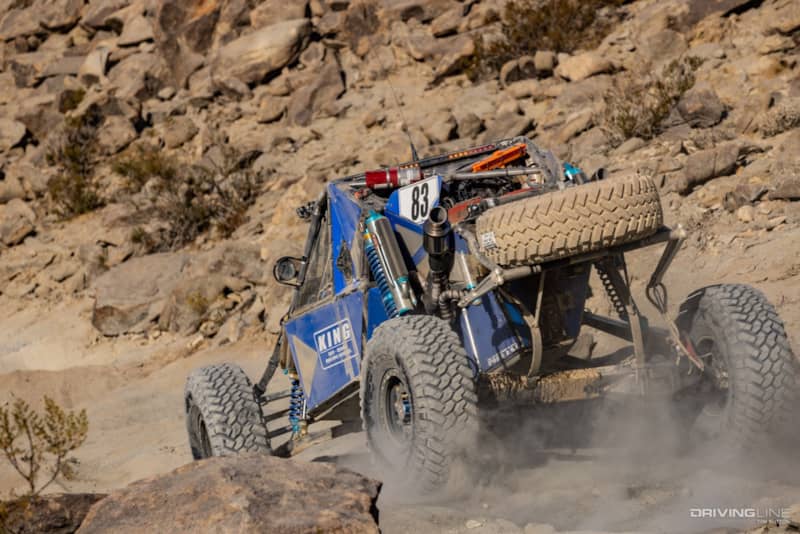 1:25 Raul Gomez meets his first car of lapped traffic and easily navigates around it.
1:27 Randy Slawson makes his way over Emmerson, in perfect position to go back-to-back if either of the top two drivers make a mistake or have a mechanical issue.
1:30 Jason Scherer has a left rear flat, so he'll need to stop to change it before he gets back out into the desert.
1:31 Erik Miller leads Josh Blyler through Spooners, with Blyler right behind him. Blyler passes him as Erik takes the wrong line! Both are driving Miller Motorsports straight-axle chassis which are proven performers in the rocks.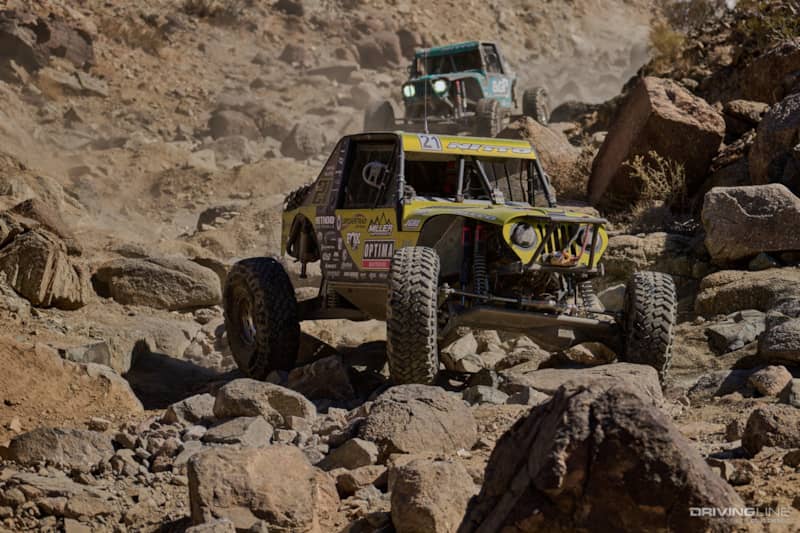 1:35 Rusty Blyler works his way through Outer Limits, continuing his excellent day.
1:38 Randy Slawson appears to be stopped on course, his beacon showing him having not moved for a while.
1:44 Jason Scherer comes into Remote Pit 2 and gets his flat tire changed. He's back out in two minutes.
1:47 Raul Gomez works through Sledgehammer as his brother Marcos makes the pass on Tom Wayes in Spooners.
1:51 Wayland Campbell, Bryan Crofts and Levi Shirley are all confirmed out with blown transmissions.
1:58 Cody Miller, the last remaining UTV, is working his way through Outer Limits, along with Vaughn Gittin Jr.—Vaughn has high-centered! He's going to need to get out and winch.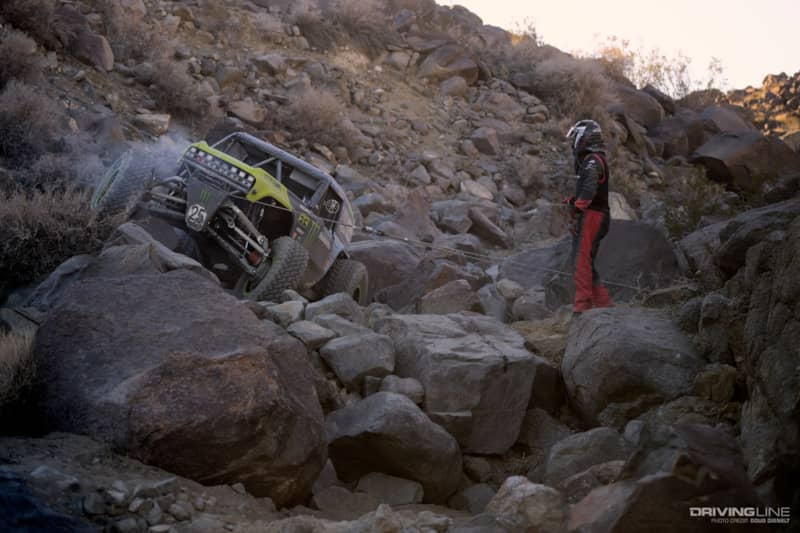 2:00 Rusty Blyler has worked his way up to third as he goes through Aftershock, with his son Josh not far behind him.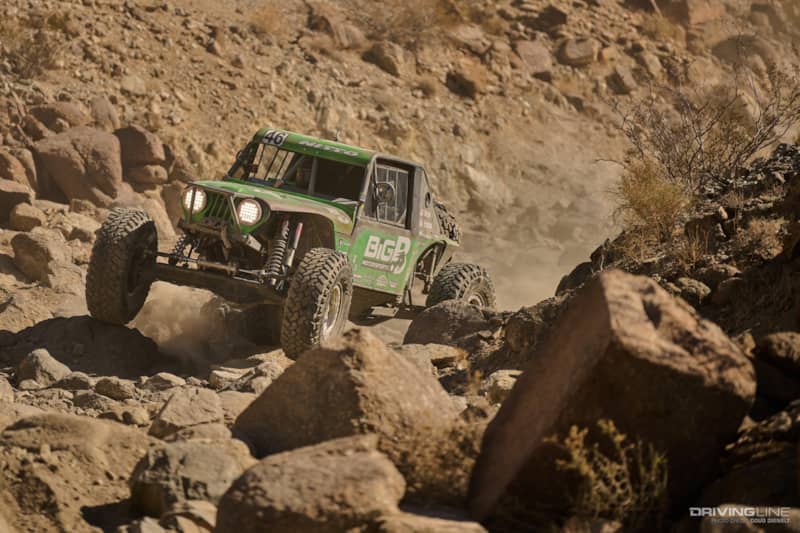 2:03 Jason Scherer is stopped on Sledgehammer and his co-driver Jason Berger is out of the car to winch.
2:07 Jason Scherer is back moving again and putting the hammer down to make up the time he has lost to Raul Gomez. At the same time, Raul is climbing Chocolate Thunder and getting closer to coming into Hammertown.
2:12 Raul Gomez is stopped on course and getting out to winch!
2:17 Raul Gomez finishes winching, but he's still high-centered, so he's back out again to winch farther up the canyon. Raul is in a single-seat vehicle, which means he must get out himself to winch rather than having a co-driver to help. 
2:25 Jason Scherer drops down into Chocolate Thunder. He was 17 minutes behind Raul Gomez at that point, but with Raul stopped, that gap will start to melt away.
2:28 Raul is back moving and working his way through Wrecking Ball, but with a much smaller gap between him and Scherer. He makes easy work around a flipped vehicle.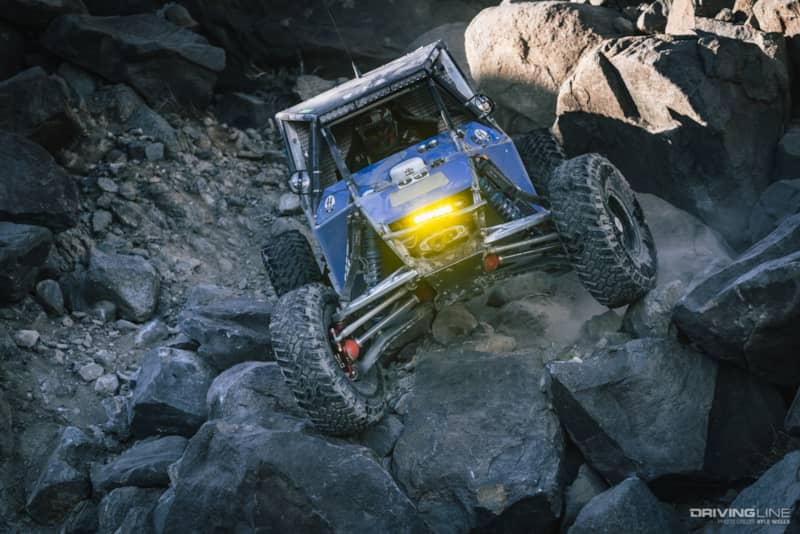 2:33 Jason is now passing the flipped truck that Raul had worked past in Wrecking Ball. He's only a few minutes behind him.
2:36 Jason Scherer and his co-driver are out of the car to get out a spare tire to replace the left front that had gone flat!
2:38 It's confirmed that Randy Slawson is out of the race. This means that Rusty Blyler is in physical third, and with Scherer stopped, he's making up time on second.
2:43 Jason is back moving again and headed down Clawhammer.
2:50 Raul Gomez is in the desert and getting close to Hammertown. With Jason Scherer still working through the rocks in Clawhammer, Raul has a commanding lead.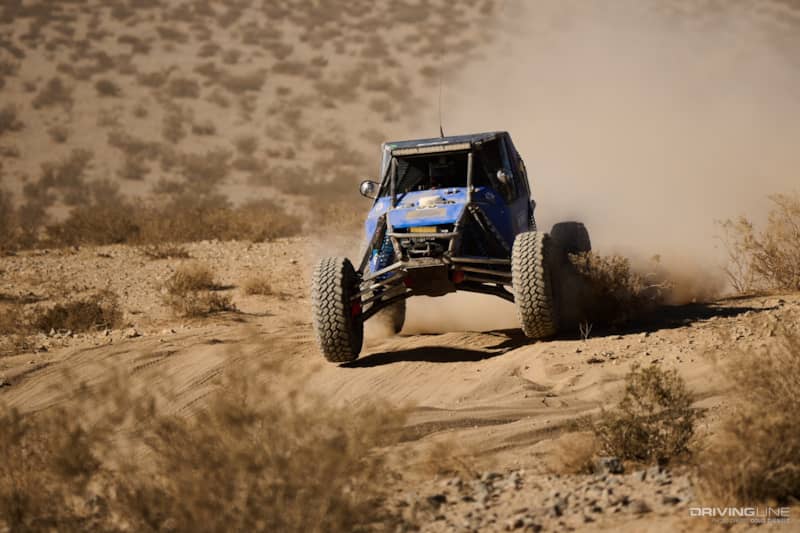 2:57 Jason Scherer makes it out of the rocks and into the desert, trying to take advantage if Raul makes a mistake.
2:59 Raul Gomez climbs down Resolution, only a few minutes outside Hammertown.
3:01 Raul Gomez drives through the Bronco Arch, makes the last few turns and crosses the line first at the Nitto Race of Kings!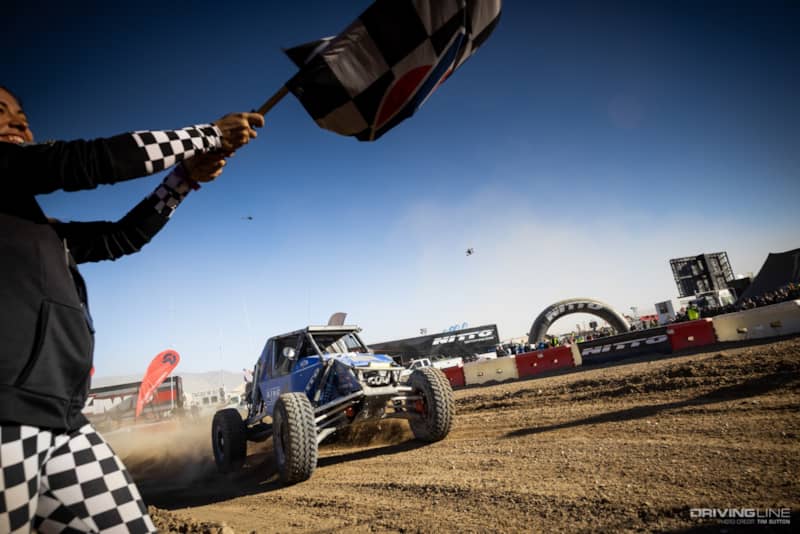 3:03 Raul says that his radio had been off for the past two hours, so he didn't know that he was in the lead until his team came over to him after crossing the line!
3:08 Josh Blyler makes his way down the rocks in Clawhammer as Jason Scherer speeds through the desert.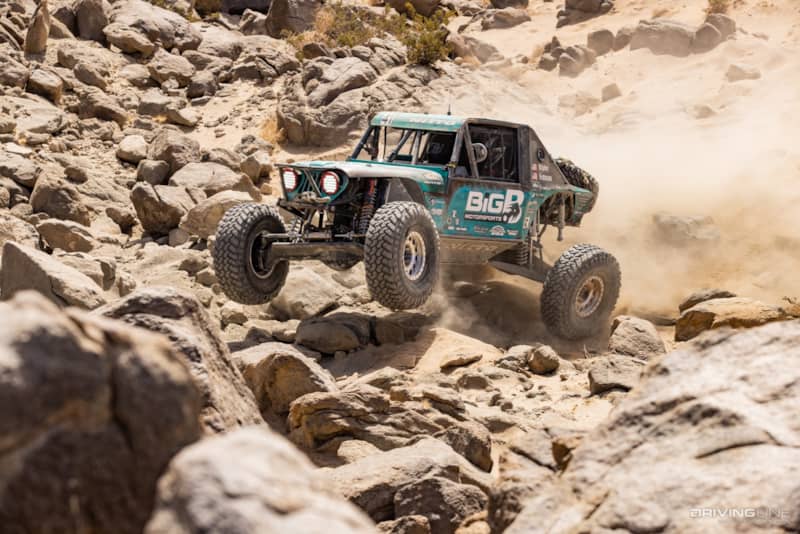 3:15 Jason Scherer crosses the line second to get on the podium.
3:24 Marcos Gomez works his way up Clawhammer as he edges closer to Hammertown.
3:26 Josh Blyler drives through the desert towards Hammertown in physical third place. What happened to his dad Rusty?
3:40 Josh Blyler crosses the line third as the first straight axle vehicle to finish.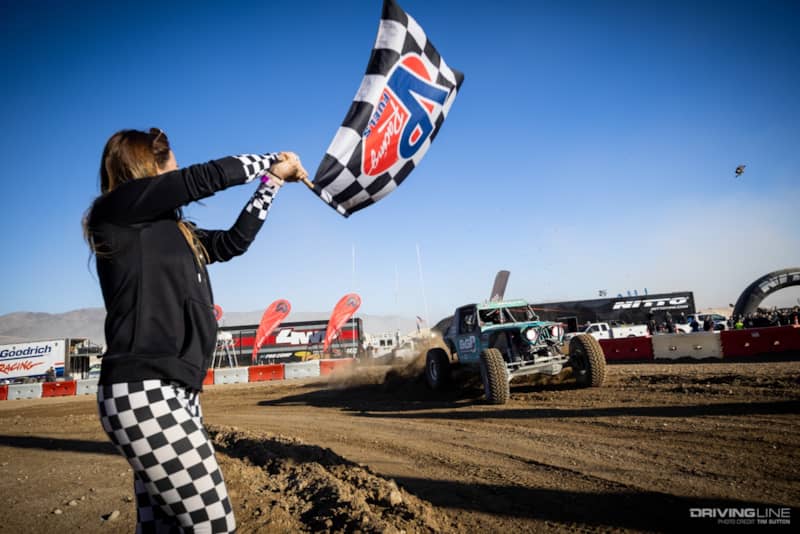 3:45 Marcos Gomez races across the desert, looking to make up the corrected time on Blyler and become the second Gomez on the podium.
3:50 Marcos Gomez crosses the line fourth.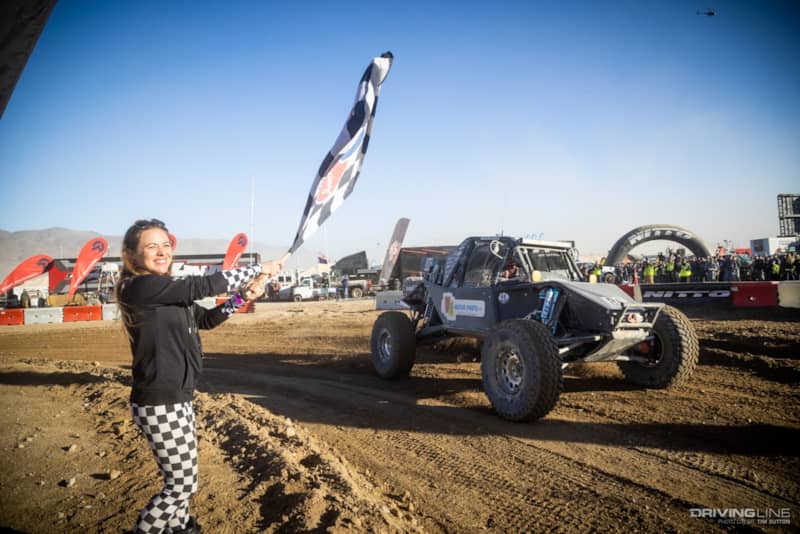 4:06 Erik Miller crosses the line fifth to round out the unofficial top five.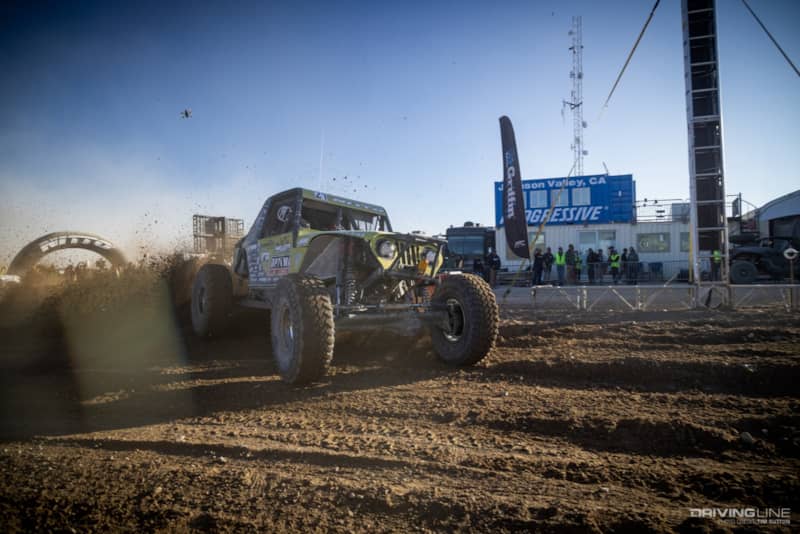 4:10 Raul Gomez is officially crowned King of the Hammers! Jason Scherer is also confirmed as second and Josh Blyler as third for the full 2022 Nitto Race of Kings podium.
4:11 "We just went out today and drove the car. And kicked some butt," said Raul.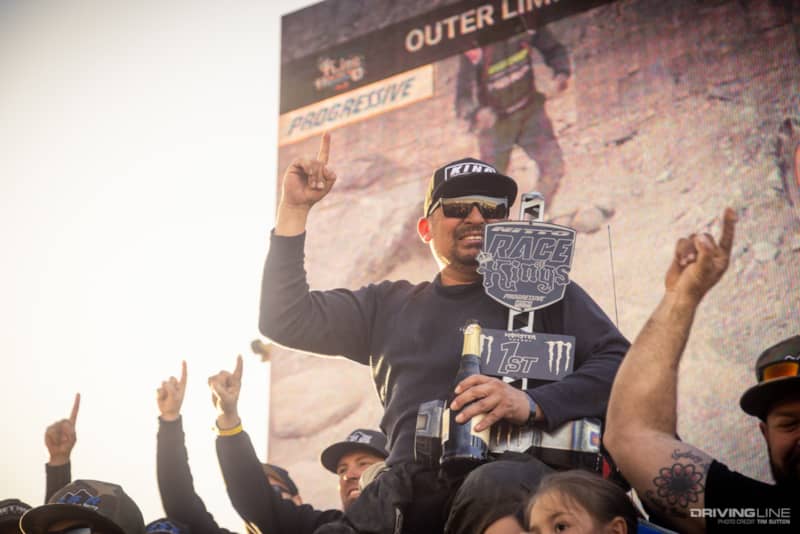 4:12 Vaughn Gittin Jr. crosses the line sixth.
4:21 Shannon Campbell crosses the line seventh.
4:29 Cody Miller crosses the line eighth, putting a UTV into the top ten again. 
4:32 "We had a great day. I feel really bad for my dad...This is our sixth start at King of the Hammers and our sixth finish, and I couldn't be happier," Josh said. "The rocks were good, the lines were great. This car did good. We're really happy."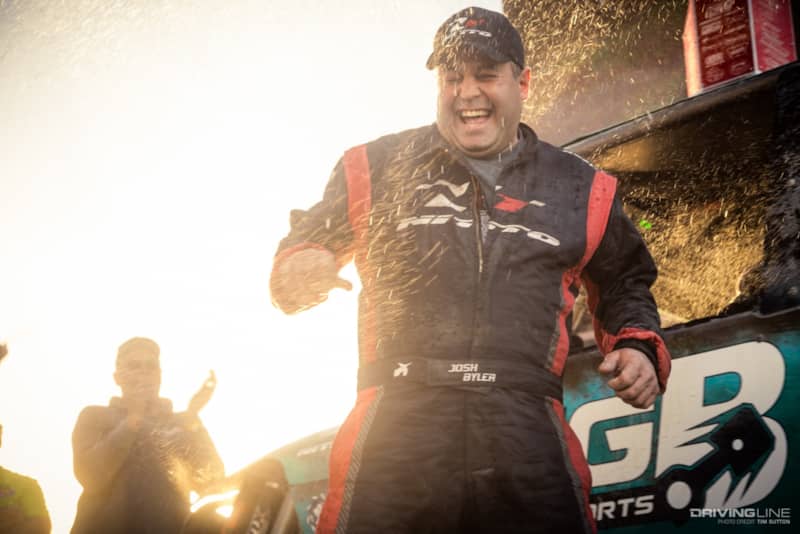 4:37 Tom Wayes crosses the line eighth as Jason Blanton races across the desert for home.
4:40 "All I gotta say is this place is freaking awesome," said Marcos.
4:46 "Stoked to be able to bring it around after a tough day at EMC and UTV," said Erik. "To continue to finish every King of the Hammers I've ever started in 4400 class, I'm so proud."
4:48 Jason Blanton crosses the line tenth.
5:02 John Webb crosses the line eleventh.
5:05 Erik Wicks crosses the line twelfth.
5:13 Brian Caprara crosses the line thirteenth.
5:18 Cody Addington crosses the line fourteenth, the last driver to finish the race before the sun went down.
With that, the daylight for King of the Hammers faded. There were still whole host of drivers battling into the night for the right to count themselves among the select few who can say that they have finished the King of the Hammers. At the end of the day, only 26 of 102 competitors finished this year's race. Check out the official standings below to see exactly who managed to bring it home before the race ended at 10:00 pm that night, 14 hours after it began.
Congrats to Raul Gomez on winning this year's Nitto Race of Kings, and congrats to all the competitors for putting on one of the most exciting races we've seen!
| | | | |
| --- | --- | --- | --- |
| Position | Number | Name | Time |
| 1 | 83 | Raul Gomez | 6:57:12.881 |
| 2 | 76 | Jason Scherer | 7:12:19.797 |
| 3 | 41 | Josh Blyler | 7:32:02.829 |
| 4 | 86 | Marcos Gomez | 7:39:23.713 |
| 5 | 21 | Erik Miller | 7:59:12.335 |
| 6 | 25 | Vaughn Gittin Jr. | 8:05:44.033 |
| 7 | 5 | Shannon Campbell | 8:16:05.901 |
| 8 | 221 | Cody Miller | 8:18:52.764 |
| 9 | 321 | Tom Wayes | 8:27:56.011 |
| 10 | 4468 | John Webb | 8:51:48.431 |
| 11 | 59 | Erik Wicks | 8:56:01.165 |
| 12 | 9901 | Brian Caprara | 9:05:52.018 |
| 13 | 888 | Cody Addington | 9:09:50.329 |
| 14 | 1978 | Joe Thompson | 9:43:32.468 |
| 15 | 966 | Jason Blanton | 9:46:20.580 |
| 16 | 4414 | Jason Shipman | 9:54:25.895 |
| 17 | 32 | Sam Collins | 9:56:35.876 |
| 18 | 4464 | Guy Miller | 9:57:45.126 |
| 19 | 35 | Bailey Campbell | 10:20:47.613 |
| 20 | 60 | Chad Owens | 10:27:23.928 |
| 21 | 2 | Casey Currie | 11:00:03.330 |
| 22 | 999 | Kevin Williams | 11:12:13.911 |
| 23 | 4493 | Andrew McLaughlin | 11:13:50.363 |
| 24 | 4 | Chip McLaughlin | 11:25:30.552 |
| 25 | 4415 | John Grounds | 11:33:03.480 |
| 26 | 4434 | Kevin Yoder | 11:49:18.959 |