Test Drive Review: The 2023 Subaru Outback Touring XT Is A Refreshed, But Still Familiar Turbo SUV Face
Live long enough and even the most pioneering of sport-utility vehicles will see its niche overstuffed with competitors eager for their own slice of the world's most popular automotive segment. So it goes with the Subaru Outback, a tall-riding wagon whose soft-roading trailblazing dates all the way back to the 1990s when the idea of leaving the pavement behind in anything other than a full-frame, truck-based beast was nearly unheard of.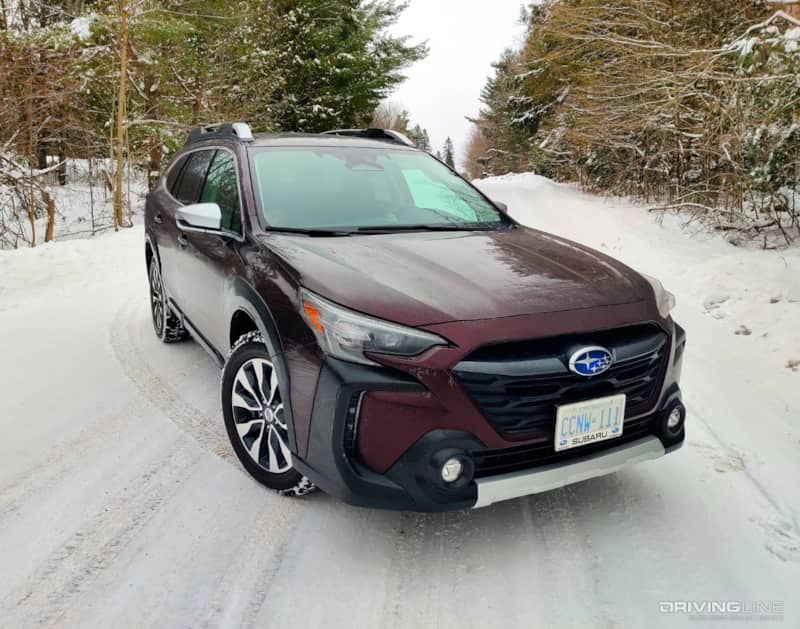 Today it's a very different story, as crossovers have crowded what was once the Outback's nearly undisputed domain. It's even lead to an arms race of ruggedized models that take aim at soaking up some of the dollars dripping down from the current overlanding craze (including Subaru's own Wilderness trim level on the Outback and Forester.).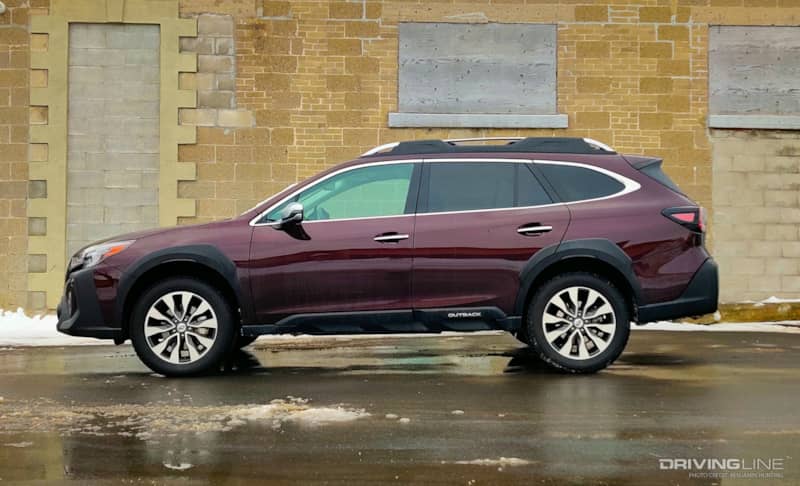 Where does that leave the standard Outback? Mildly revised for 2023, Subaru has updated its flagship SUV's looks while also making judicious adjustments to its suite of high tech safety features. Stepping outside the medium-tough truck masquerade, the Outback Touring and Limited trims also make a credible play for affections of families who want comfort over crawling capability when it comes to a daily driver.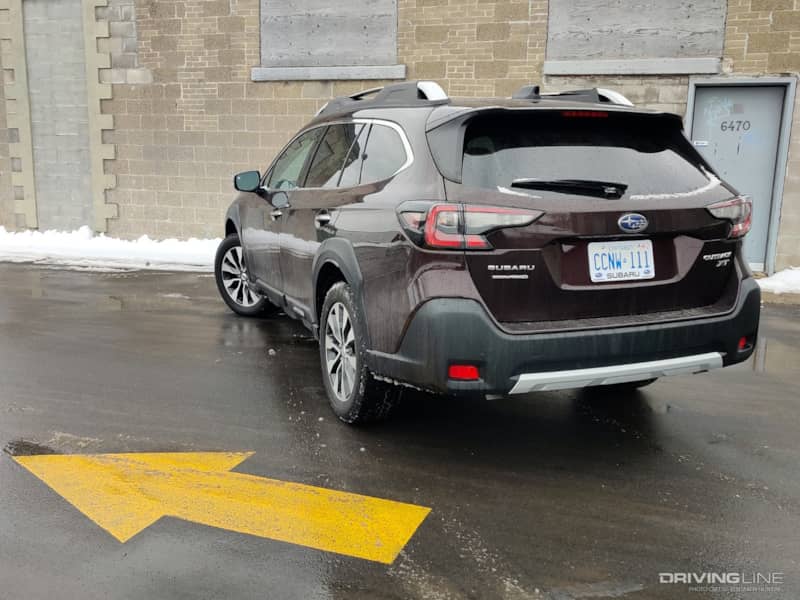 It's a largely successful formula that continues to refine itself with each passing year. There are a couple of caveats, however, to keep in mind when shopping for Subaru's mid-size people mover, especially if you plan on munching major highway miles.
Nips, Tucks, and EyeSight Surgery
It doesn't take long to summarize what's new with the 2023 Subaru Outback. The XT Limited trim model I drove provided an effective display of the styling changes that have nipped and tucked at the crossover's extremities, with a larger grille showing just above a revamped front bumper, framed by slightly more angular headlights. Squint and you'll also see tweaked wheel arches at all four corners, although to be honest these changes really only jump out at you when the new model is parked beside a '22 or older edition of the vehicle.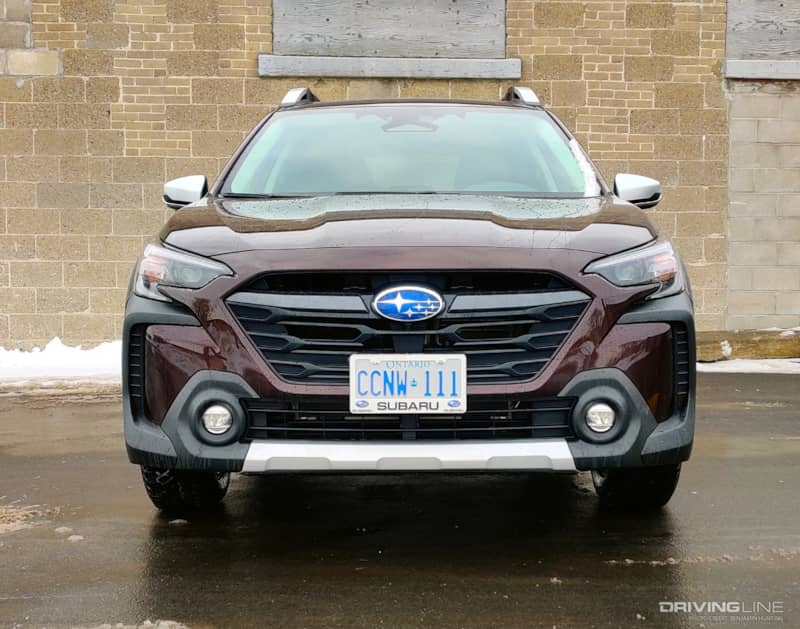 Much more crucial to the Outback experience are the ones and zeros uploaded to Subaru's 'EyeSight' adaptive safety system. This standard feature relies on a set of cameras peering out through the top of the windshield, which inform its lane-keeping, adaptive cruise control, and collision warning and emergency braking functions.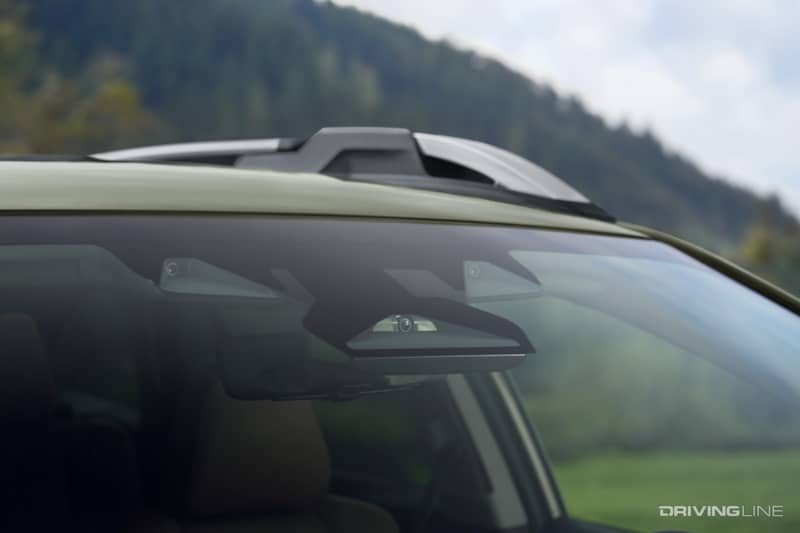 For 2023, an update gives the system a wider field of view, which proved to be problematic on an extended, thousand-mile road trip. Even on straight stretches of road, the EyeSight cameras seemed to pick up traffic in the right lane, resulting in adaptive cruise control braking while making a passing maneuver (even with the blinker engaged). This also occurred in heavier traffic while staying in my own lane, which was both frustrating and puzzling, and was paired with inconsistent slow-downs and speed-ups when approaching a vehicle from behind with adaptive cruise engaged. I struggled to understand what the actual gap allowed between the Outback and traffic ahead was allowed, which made planning any passes that much more difficult.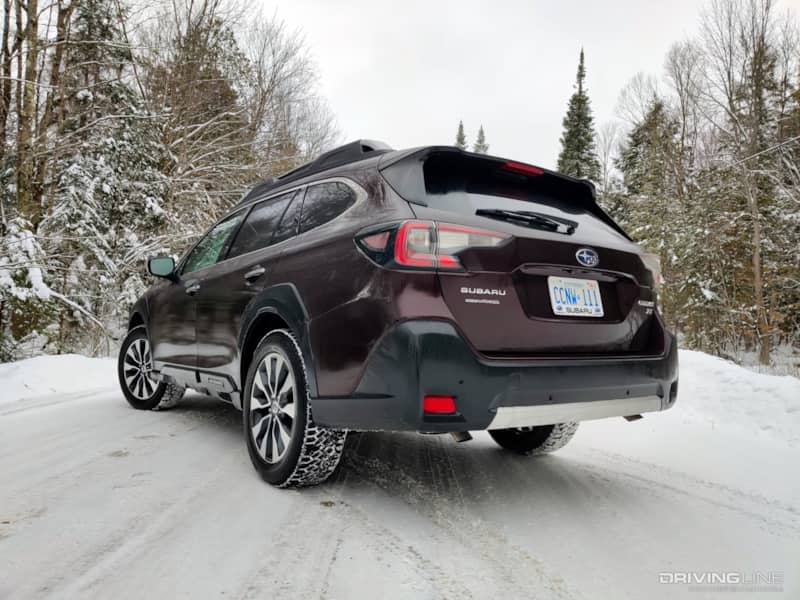 The most irritating issue, however, had to do with EyeSight's functionality on wet, slushy roads. When pulling up alongside a transport truck, the windshield would get sloshed with a spray of water and snow, which blocked the EyeSight cameras even with the wipers slamming side-to-side like symphony conductor clutching a live wire. This disengages cruise control, and forces a time-out period until EyeSight decides it can 'see' the road ahead again. While bumper-mounted radar sensors traditionally used for adaptive cruise can also become occluded by a built-up of salt and gunk, it takes far more water to knock them out of commission versus what I dealt with in the Outback.
Buffing Up
A more pressing, all-weather concern involving road trips in the 2023 Subaru Outback is found under the hood—or, to be more precise, depends on what you see when you pop the crossover's lid. The Outback's base engine is a 2.5-liter four-cylinder that's good for 182 hp and 176 lb-ft of torque, and it's matched with a continuously-variable automatic transmission and standard all-wheel drive. With most models weighing in at just over 3,700 pounds, doing anything other than basic commuting feels like a chore with this particular motor, especially considering the yawning character of the CVT's gear selection (necessitated by Subaru's desire to keep fuel economy to a reasonable 28-mpg combined).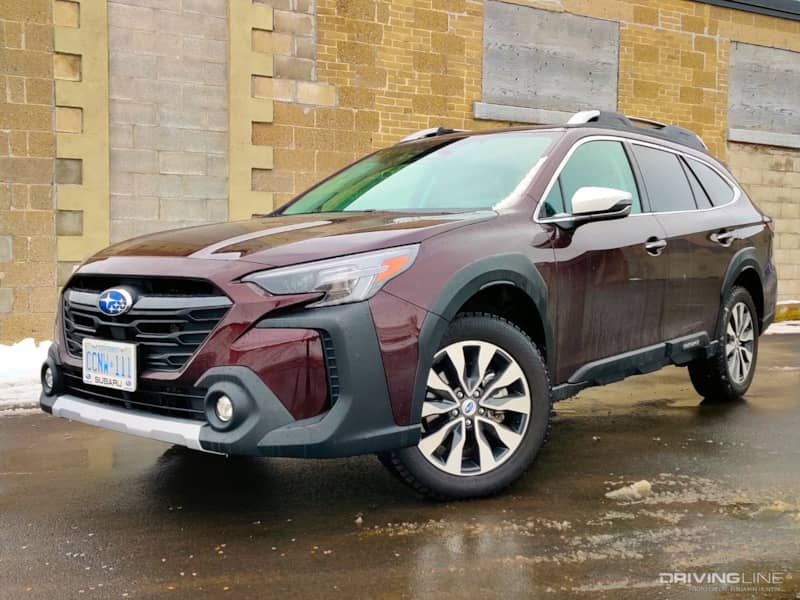 It's a stark contrast to the more willing character of the 2.4-liter, turbocharged four-cylinder found in any Outback model with the XT badged appended to the hatch. With a much heartier 260 hp and 277 lb-ft in the mix, the engine's output better pastes over the transmission's rubbery character, while also significantly improving acceleration and overtaking at higher speeds. I drove each engine back-to-back prior to setting off on my extended trip, and counted myself lucky to have selected the XT as my primary ride. I was even able to best its EPA fuel mileage on the highway with a near-29 mpg performance with temperatures hovering right around the freezing point.
Paying For Turbo
Of course, there's a price to pay to go turbo. The 2.4L motor isn't offered with every trim level, but the most affordable option—the Onyx—requires an additional $5,000 if you want to swap out the less energetic engine. The Touring XT I drove represented the top tier for Outback buyers, and its $42,295 price puts it nearly $14k above the entry-level edition of the crossover.
The comforts afforded by the Touring are meaningful, particularly when settling in for a long slog. Upgraded leather adorns the seats and side panels, while the improved stereo system de-muddies your music as compared to the Outback's original set of loudspeakers. I also appreciated the heated steering wheel and seats, as well as the hard buttons paired with the on-screen controls for the SUV's large infotainment touchscreen, which serves as the occasionally labyrinthine portal for accessing most of the vehicle's settings and functionality.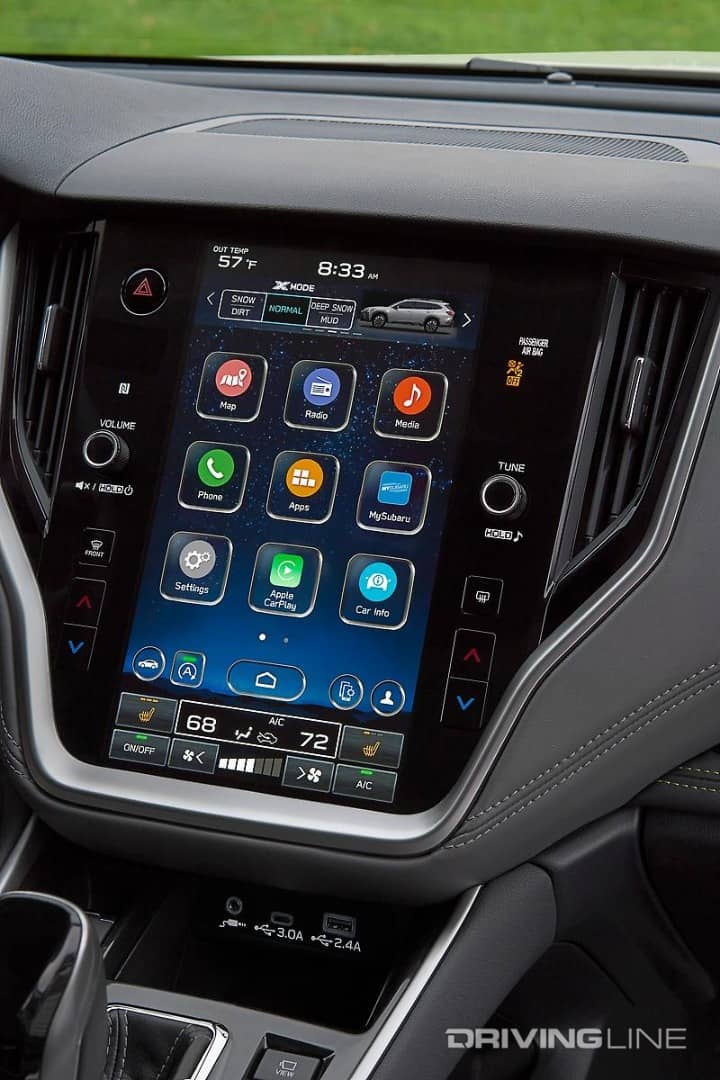 This is all on top of the cavernous cargo area afforded by every version of the Outback, which I put to good use in hauling home a replacement grille for my Grand Wagoneer. With one section of the rear seat folded I had no issues stuffing in the Jeep-wide hunk of chromed aluminum, even with a full weekend of luggage for two people stacked alongside it.
Respectable Value
If you're shopping on a budget, it's a hard to recommend putting down big bucks on the Outback without the turbo. The Premium trim gives you a few welcome extras compared to base for just $30,000, but paying more than that without tagging in the mightier motor doesn't feel like a worthwhile investment, especially if you plan to maximize weekend outdoor fun outside a city setting.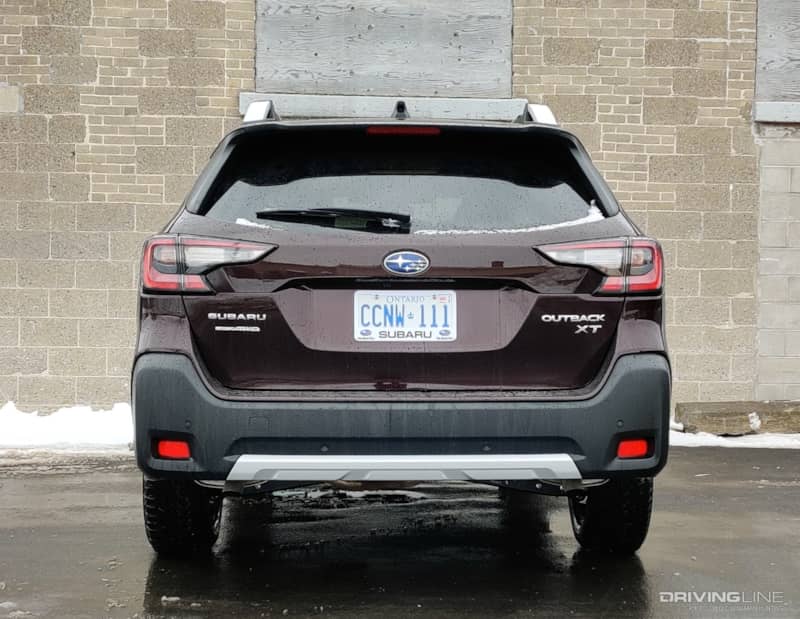 The Subaru Outback Touring XT isn't exactly a luxury SUV, but nor is it priced like one. Scoring such a practical, and comfortable vehicle for just over $40,000 is an increasingly rare accomplishment, and if you're more concerned with motivation than cultivation the turbocharged engine can be found in the previously-mentioned Onyx XT (which includes the brand's waterproof StarTex seat coverings) for about $38,000. As long as you respect the Outback's clear split personality when it comes to engine choice, you won't walk away disappointed.