Review: The 2022 Subaru Outback Wilderness Is The Most Hardcore 4x4 SUV Ever Built By The Japanese Brand
Diversification is the name of the game for automakers hoping to move as many SUVs as possible, and for smaller brands like Subaru that often means getting creative with trim levels and special editions that put a fresh spin on an old favorite. Such is the case with the 2022 Subaru Outback Wilderness, which alongside its Forester equivalent, is as close to a dedicated off-road option that fans of the Japanese brand are going to find in its showrooms.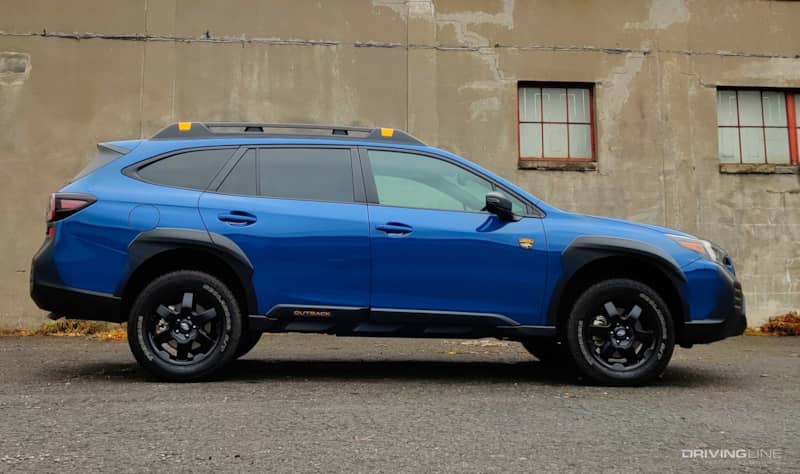 More important than its actual trail cred, the Wilderness also brings with it a visual attitude that clearly separates it from other Outbacks on the order sheet. All terrain cosplay is the name of the game here, and while the Subaru SUV backs up its extroverted looks with a dose of extra go-anywhere goodies that promise to get you out that much farther from home, the real story after a week behind the wheel is that it asks for almost no compromises from its traditionally practical formula in the process.
Two-Track, Not Race Track
Subaru has decades of experience building quick, fun, and quirky versions of its various vehicles, and while in the past the company has trended towards STI-induced speed excursions, the recent trend among sport-utility fans is embracing the aura of freedom found in a relatively rugged daily driver.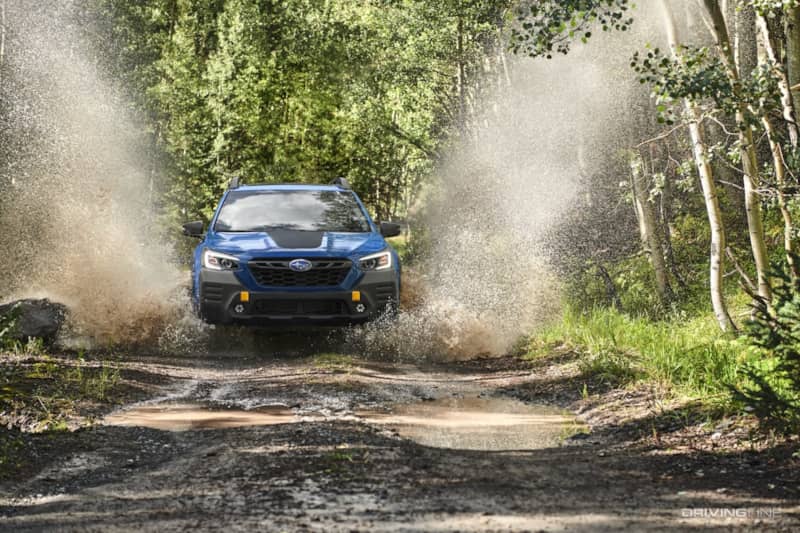 For 2022 the Outback Wilderness embraces a little bit of both, marrying the model's mightiest 2.4-liter, turbocharged four-cylinder engine (the XT's 260 hp unit that's also good for 277 lb-ft of torque) with a suspension setup that adds nearly an inch of extra ground clearance to the vehicle's already tall stance. Throw in a set of knobby tires on 17-inch wheels and you've got a recipe for respectable approach and departure angles and increase travel thanks to the Outback's stretched-over-stock springs.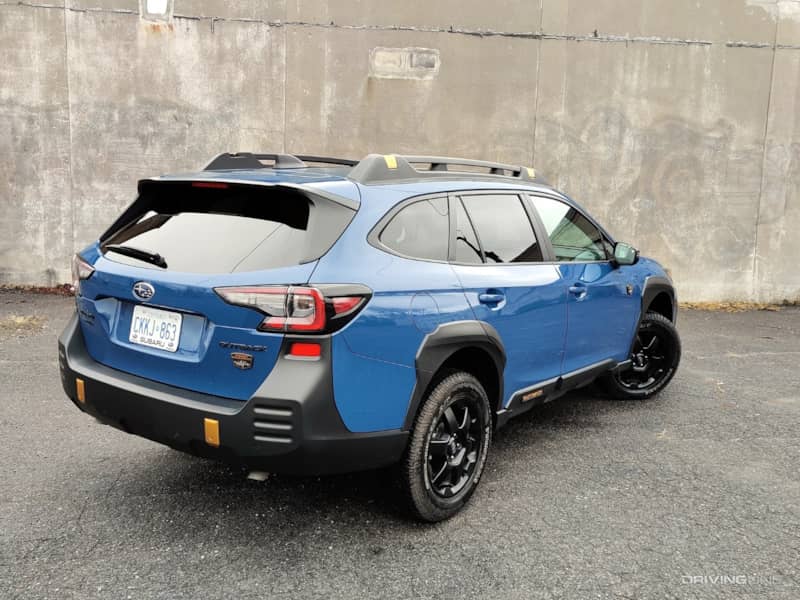 Subaru has also tweaked the Wilderness trim's X-Mode feature, which allows for more granular control over how its all-wheel drive system parses particularly challenging terrain. In addition to wheel spin-friendly settings intended to handle standard snow-covered roads or dirt surfaces, as well as a 'Deep Snow/Mud' toggle, the Wilderness allows the vehicle to swap back and forth between its low-speed, crawl-type capability and quicker-paced driving, making it a 'set it and forget it' option while playing off the pavement. A roll indicator is also present to keep you attuned to the attitude of your Outback should you leave even ground behind.
Will It Off-Road, Though?
Just how far from civilization are you likely to get in the Subaru Outback Wilderness? There's no question that Subaru knows what it's doing on the all-wheel drive spectrum, and the 2.4 turbo motor already comes with the brand's clutch-activated 'variable torque distribution' design that shuttles engine output from one axle to the other when deviating from its nominal 45:55 front/rear split is required to maintain traction.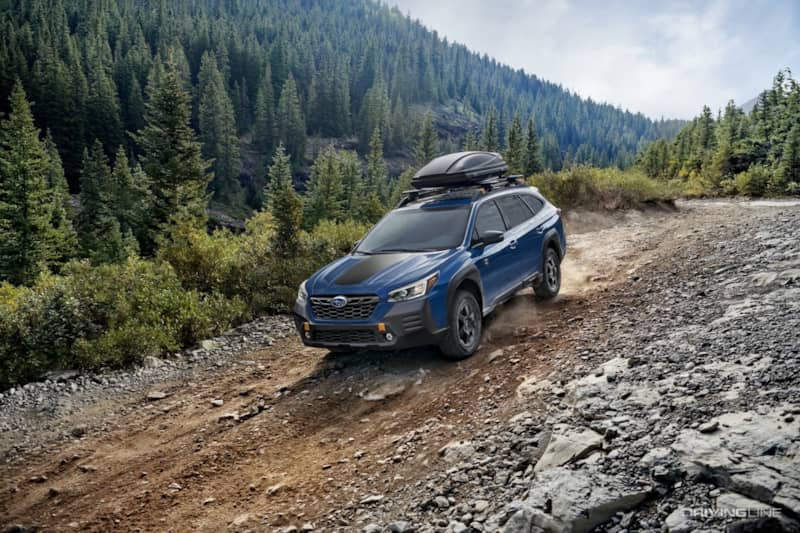 Still, don't mistake the Wilderness for a rock crawler. At its best, this is a vehicle that won't trip over roots or be fearful of mixing it up with mud on a spring-soaked green lane, and you'll definitely get farther with the Wilderness than you would any other Outback thanks to the tires and ground clearance alone.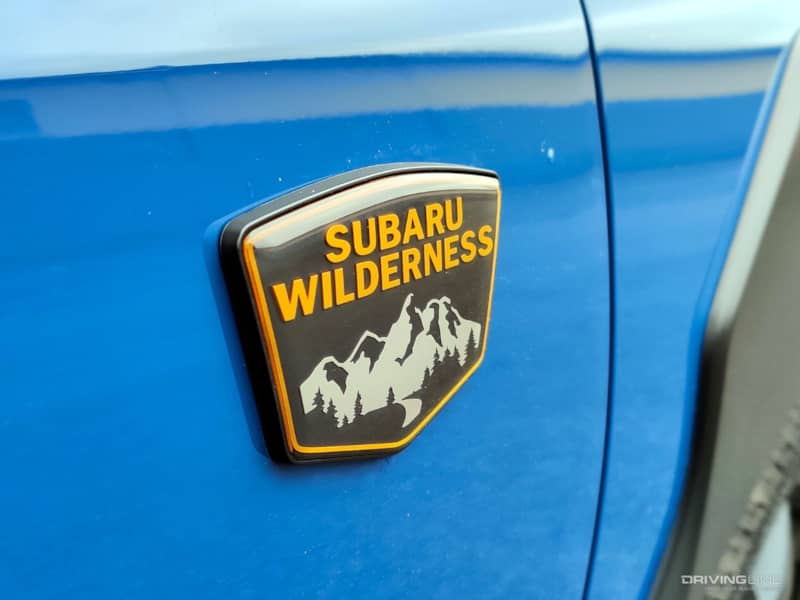 The X-Mode system is also adept at staying out of the picture until it's absolutely needed, as I discovered after forgetting to turn it off on the way home from testing and having it activate out of nowhere when slipping over a hefty speed bump.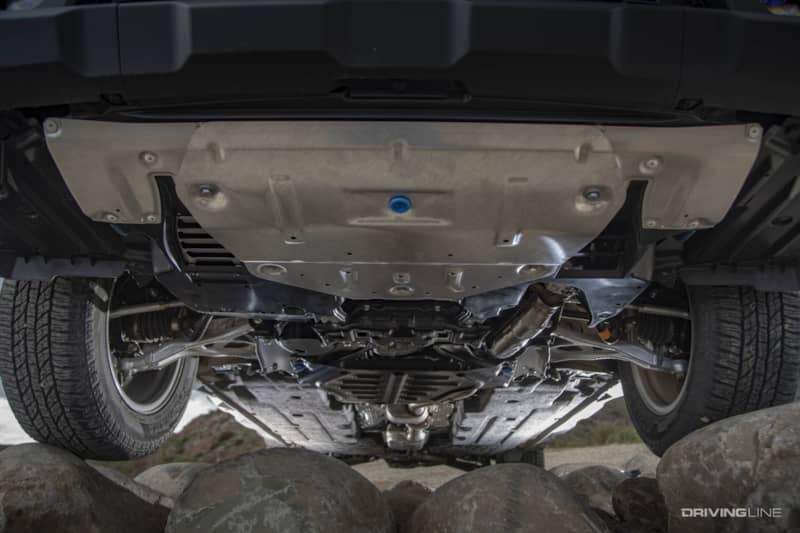 That being said, you can't bang around in the Outback Wilderness with the same abandon you would in a Jeep Wrangler or you'll quickly encounter the audible protestations of its bouncing undercarriage. It's still a unibody design that, with the exception optional skid plates, offers the same modest ability to absorb abuse as any other Subaru crossover or sport-utility vehicle.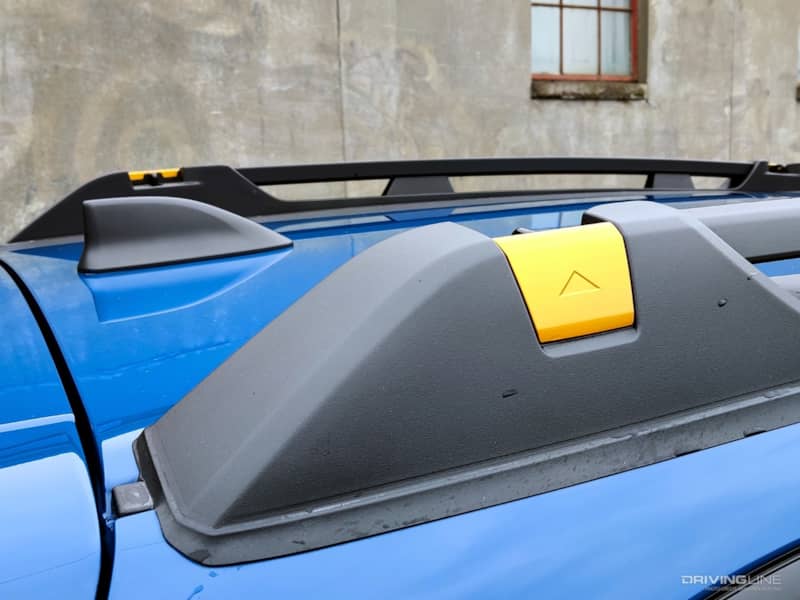 Hit something hard or at an awkward angle and the axles respond with an awkward boom that occasionally unsettles the vehicle, and reminds you that maybe you should be a little more careful in how and where you're treading.
Still Slick On The Pavement
That same level of caution also needs to applied to on-road maneuvering. With its less-than-sticky rubber and extra-stilted suspension, the Wilderness is a little less confident when changing direction as compared to a regular Outback. It never feels out of control, but especially on wet asphalt or around tight corners the Subaru reminds you of its top-heavy tendencies.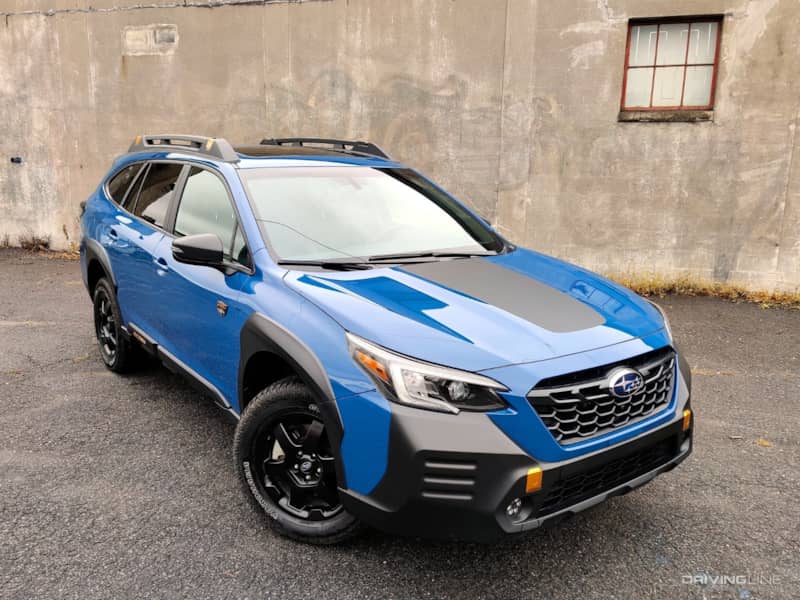 While this might raise the occasional eyebrow on the morning drive, in general driving the Wilderness is as comfortable as one would expect from Subaru's flagship SUV. Power is excellent from the turbocharged engine, and while the continuously-variable automatic transmission takes some getting used to (especially if you're in a hurry), it's perhaps the best drivetrain package the company has to offer outside of its clutch-equipped models.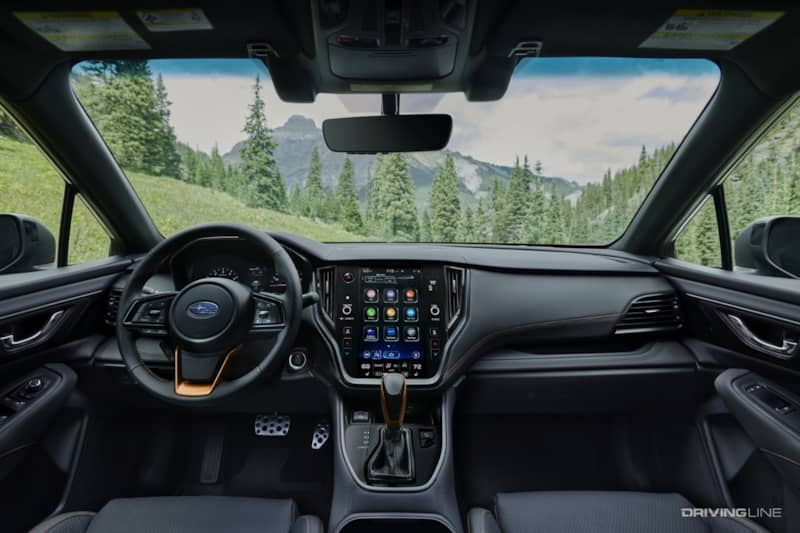 There's also plenty of space to stretch out both front and rear, the vehicle's cargo space is generous and easy to configure for larger loads, and even the brand's once-lamentable infotainment has of late stepped up both in terms of appearance and functionality (although I'd love hard switches for the heated seats). For some, the over-the-top black body cladding tacked onto the Wilderness will give pause, but for others its plastic-fantastic interpretation of what an off-roader looks like will only whet their appetites.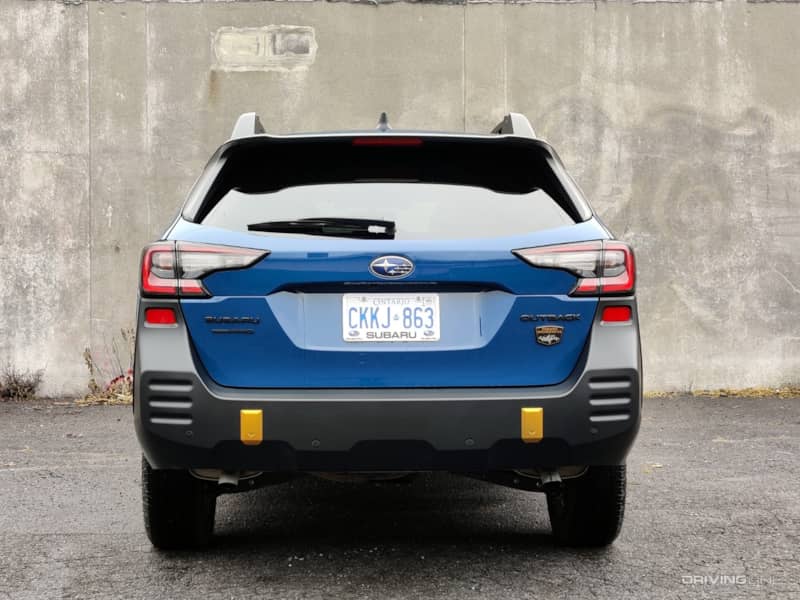 The Subaru Outback Wilderness isn't alone out there in trying to tempt buyers with a mix of commuter-friendly comforts and the promise of weekend exploration. In-house, it's been joined by the previously-mentioned Forester Wilderness, which co-opts its formula, and out on the street it was preceded by the Toyota RAV4 TRD Off-Road, which walks a very similar path, and the Ford Explorer Timberline, which beefs up the Blue Oval's three-row hauler for limited excursions beyond the fire road. Of course, there's also the Ford Bronco Sport, which bases an entire badge around the soft-roader concept, and even Mazda is getting in on the act with the recent announcement of the CX-50, which borrows extensively from the Wilderness playbook.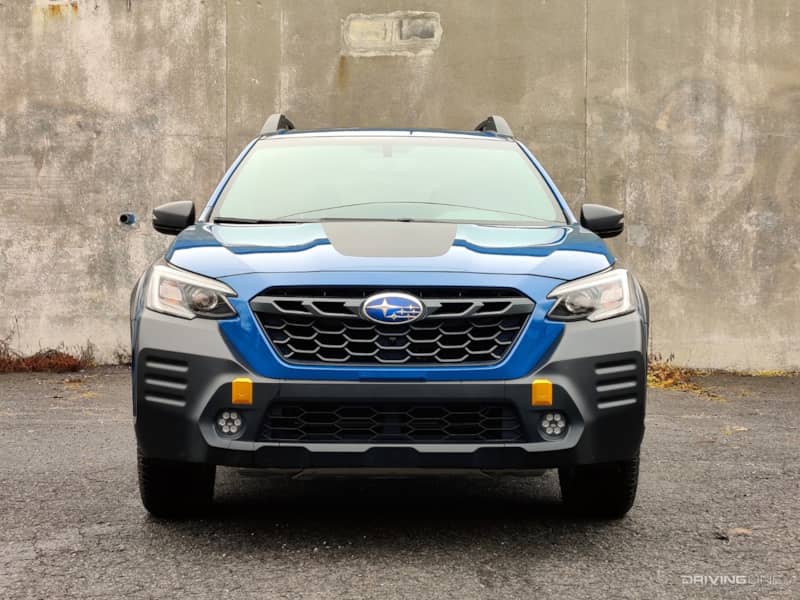 As a style trend, the tough-but-tame crossover and SUV segment seems to be running at full steam. How many of these models will end up actually being driven with modest off-road intent is up for debate, but as it stands the 2022 Subaru Outback Wilderness is certainly keeping pace with the pack.