The 1000HP DuraBurb Diesel: The Ultimate Duramax-Powered Suburban
Chevy fans, diesel enthusiasts and heads of households have desired them for years: Duramax-powered Suburbans. Yet GM never decided to offer a direct answer for the Power Stroke-equipped Excursion produced by Ford. Luckily, several aftermarket companies specialize in integrating the durable 6.6L V8 between the frame rails of GM's largest SUV. After enlisting the help of Apopka, Florida's DuraBurb Inc., the 8.1L big block in Nick Priegnitz' '04 K2500 Suburban was scrapped in favor of a built LBZ Duramax and his unique family hauler project soon became reality. However, as Nick is the owner of DuramaxTuner.com, this would be no ordinary Duramax swap.
For starters, the engine would be built with some of the strongest hard-parts on the market, enough fuel and air would be on tap to produce a dyno-proven 1,050rwhp and a competition-ready Allison transmission would harness every ounce of power without skipping a beat. When Nick's DuraBurb isn't trapping 125 mph at the drag strip, it's either shredding the rear tires, towing a boat out to the lake or hauling his employees to and from industry events. It's breakneck fast yet highly streetable, tame enough to hook to a trailer and even sees up to 20 mpg out on the highway. Did we mention it seats seven?
Follow along to see how Nick and the folks at DuramaxTuner were able to transform this ¾-ton Suburban into a sports car killer.
Built for Big Boost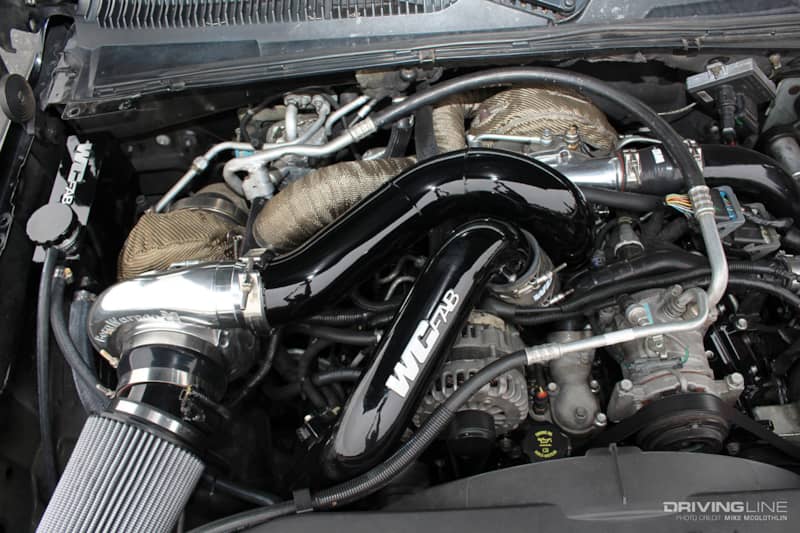 Buried beneath the WCFab compound turbo system piping, a beefed up version of the LBZ 6.6L Duramax makes up the heart and soul of Nick Priegnitz's 2004 Suburban. A crankcase girdle ties the main caps together via ARP main studs, forged-steel Carrillo rods mate to cast-aluminum Mahle Motorsports pistons and an alternate firing order camshaft sits in place of the stocker. The heads were left alone aside from the addition of dual valve springs and being anchored to the block by way of ARP studs.
VGT Retained in the Valley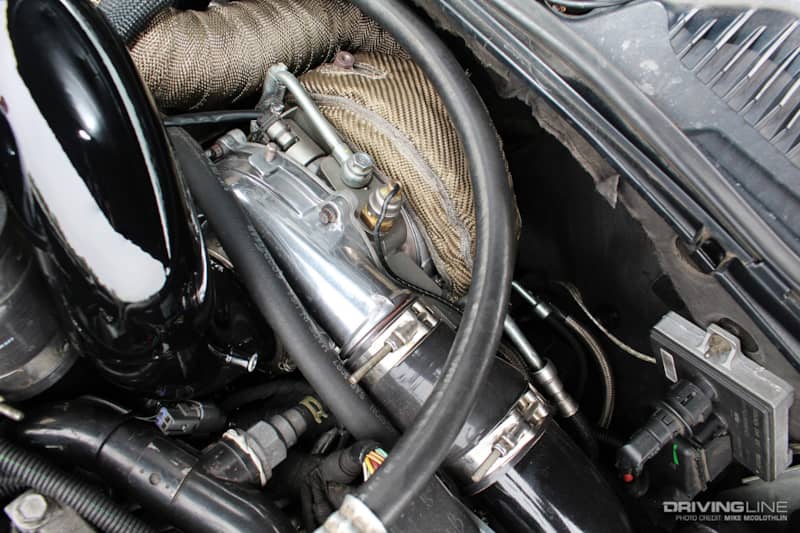 With plans to run a large fixed geometry turbo as the atmospheric unit out front, the decision to retain a variable geometry charger in the valley made the most sense from a drivability perspective. DuramaxTuner's own Stealth 64 VVT got the nod in this application—a factory-based Garrett that makes use of a billet 63.5mm inducer compressor wheel and a high-flow turbine. Quick spool up, efficient EGT control and the ability to support 650rwhp in a single turbo setup is this little charger's claim to fame.
88mm Windmill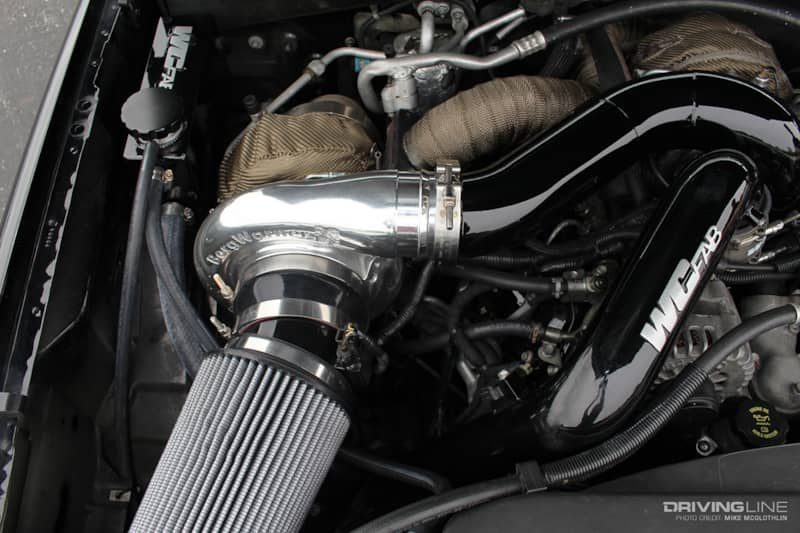 An 88mm version of BorgWarner's S400 SX-E consumes a healthy portion of the passenger side of the engine bay. The big, T6-flanged charger sports a forged milled compressor wheel, a 96mm turbine and a relatively loose 1.15 A/R exhaust housing for optimum top-end flow. When this turbo comes online and combines with the Stealth 64 VVT, more than 75 psi of boost is shoved through the BD intercooler and into the engine.
DT1000 Allison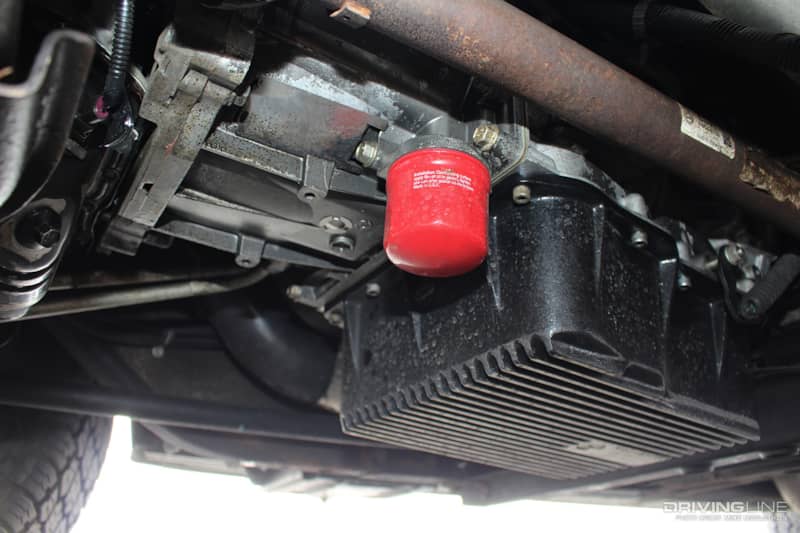 Over the years, DuramaxTuner has earned a reputation for building a solid Allison 1000 and they pulled out all the stops with this one. Coined the DT1000, it's chock full of billet parts and upgrades over factory—all of which are designed to work together to hold 1,000rwhp reliably. Among some of the high-end parts inside the commercial-grade six-speed are the billet C2 hub and P2 planetary, a billet input and output shaft, Sun Coast clutches, steels and frictions, custom pump and valve body modifications, Goerend Transmission's C3 oiler and a triple-disc, billet stator torque converter (also from Goerend).
High Volume Fuel Delivery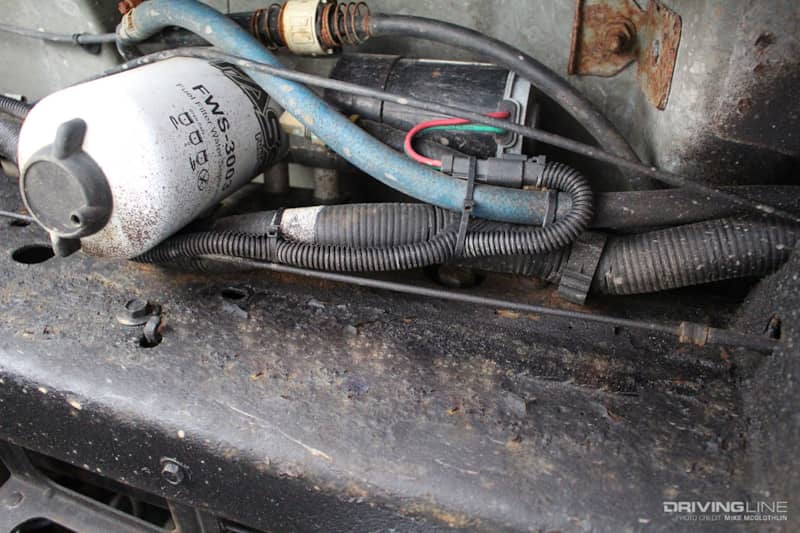 Mounted above the driver side frame rail you'll find a Titanium Series fuel supply system from FASS. The lift pump flows 150 gph and sends a steady 8-10 psi worth of fuel pressure toward the CP3 high-pressure pump at all times. The CP3 itself is a 14mm Street Series stroker pump from Exergy Performance. High-pressure fuel, produced in the CP3 and stored in the rails, passes through a set of 150-percent over Exergy injectors before being sprayed in-cylinder.
Looks, Bite and Brake Improvements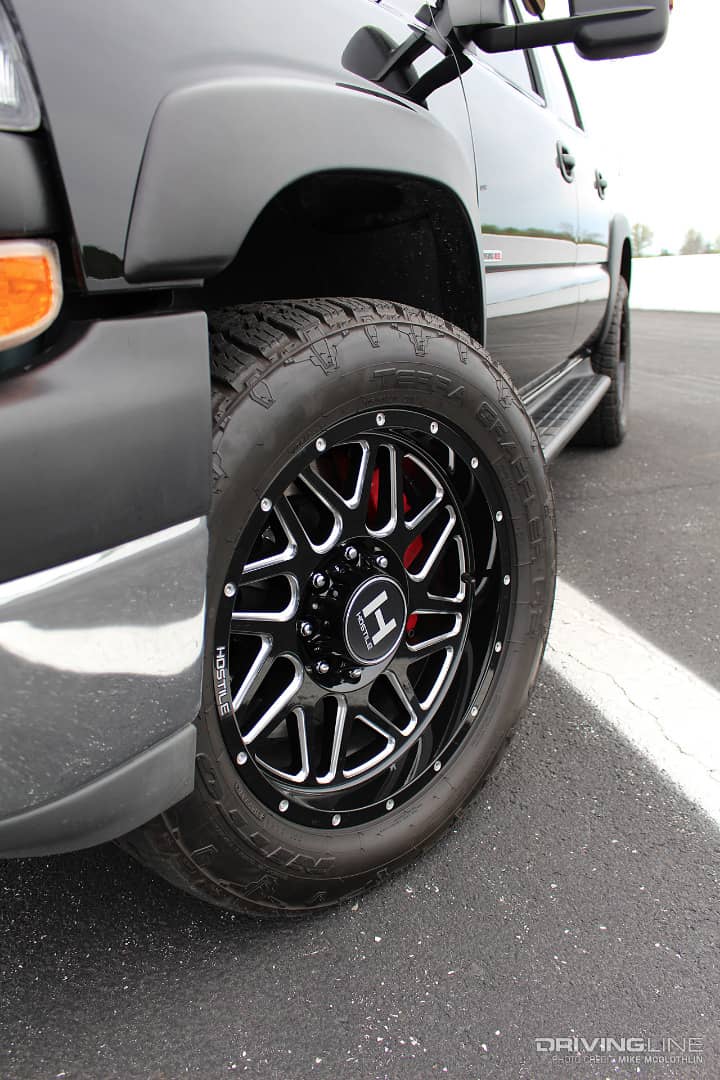 For a bit of black-on-black dress-up, Nick turned to Hostile Wheels' blade-cut H108 Sprockets. The 20x10-inch wheels are fitted to 305/50R20 Nitto Terra Grappler G2s, a tire chosen for its quietness, comfort and all-around versatility. To bring the big SUV back down to cruising altitude in a hurry, a TC6R Big Brake kit from Wilwood Engineering got the nod.
Bulletproof Front-End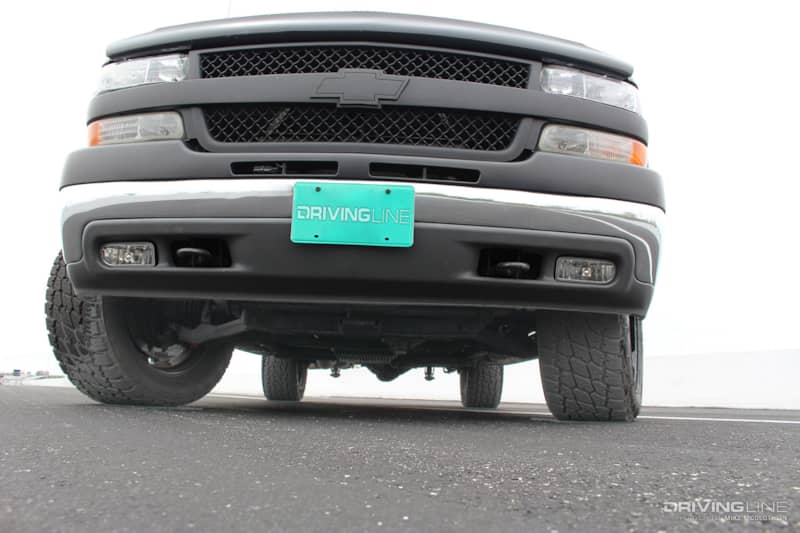 Ruling out all of the factory IFS steering woes is a Stage 3 Ultimate Front End package from the DMAX Store. The all-inclusive kit replaced the factory tie rods with Kryptonite death grip versions, along with an SS center link, and added a Moog XD idler arm and XD idler arm support, a Moog XD pitman arm and a Kryptonite pitman idler support kit. Without these mods, launching the 'Burb in four-wheel drive (and under any sort of boost) would be impossible.
In-House Fine-Tuning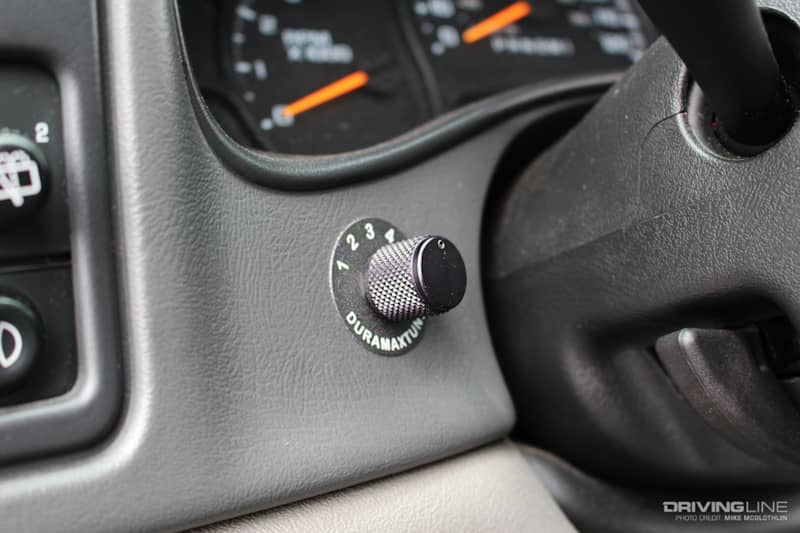 Renowned as one of the best EFI Live tuners in the diesel industry, DuramaxTuner ECM and TCM calibrations help ensure the extensive injection system, compounds and transmission mods all perform in sync with each other. Five custom calibrations are available via a DSP5 switch on the dash and each file yields the type of refined, clean-burning and linear throttle characteristics DuramaxTuner is known for.
Powertrain Watchdog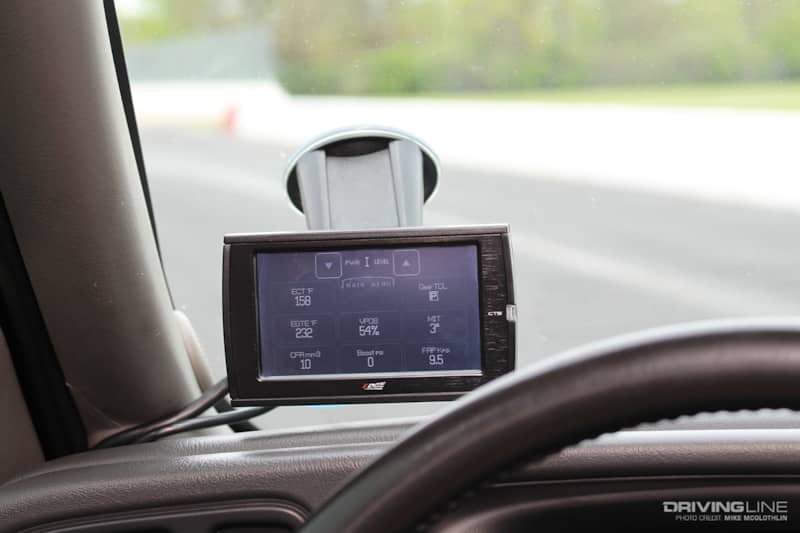 Though a color touch screen (CTS) Insight monitor from Edge Products allows the driver to view virtually any powertrain parameter he or she likes, the screen is usually configured to display the most vital. This means commanded and actual fuel rail pressure, main injection timing, VGT turbo vane position, engine coolant temp and EGT are all readily viewable.
Bring Your Friends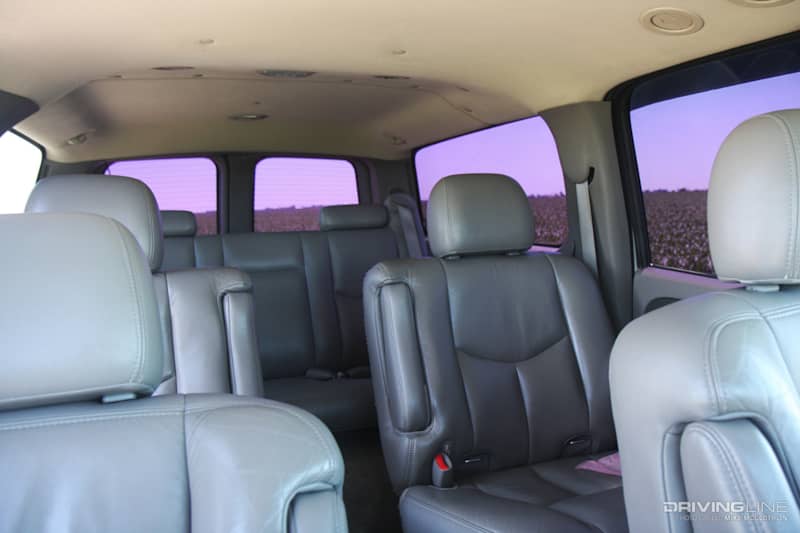 All aboard! With the capacity to seat seven people in relative comfort, you can bet Nick's DuraBurb is the favored company vehicle for employee lunches, work trips and errands. For the boost in morale alone, every company needs a 1,000rwhp vehicle in its stable.
Remember the Name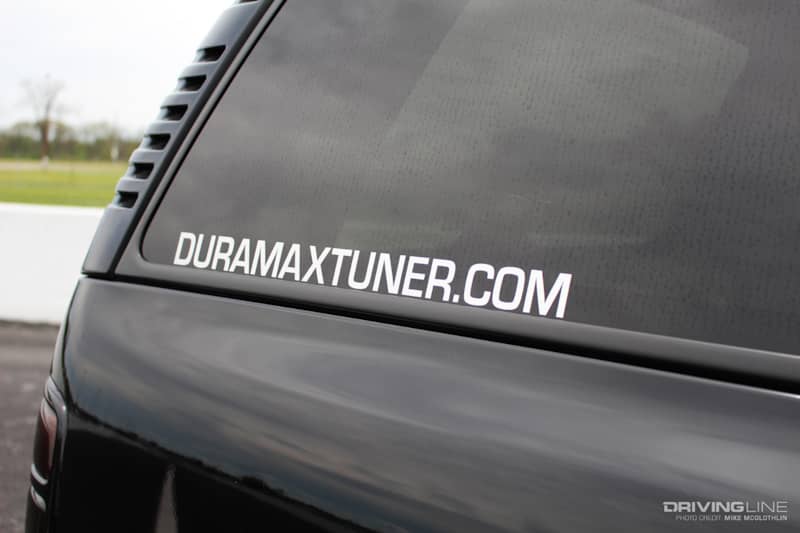 While the DuramaxTuner sticker may bring about the occasional street race from time to time, the unsuspecting opponent likely won't realize they're dealing with an extra turbo, more than twice as much fuel as stock and an overall package that's capable of running high 10s.
1,000-Plus HP for Sale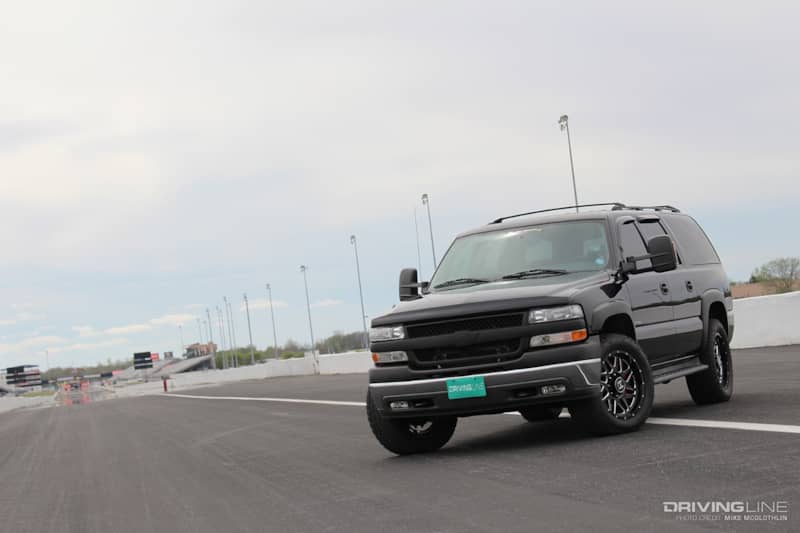 Moving on to the next build, Nick has the DuraBurb listed for $60,000 at the moment. For 60 large you get the Duramax-powered Suburban GM never made—and yours packs four times the power everyone else's does.
For a look at other tire-melting diesel swaps, check out our diesel sleepers series.