The Cummins-Powered, First-Gen Crew Cab Dodge Should've Built
Chris Ohl might've purchased a mid-'80s Dodge that was already Cummins and Allison swapped—but he didn't let that stop him from making it uniquely his. First he pulled the cab and bed for a frame-off resto, then turned his attention to installing his own 5.9L B-series, added a bulletproof Dana 80 out back and designed, fabricated and installed a four-link, air-ride rear suspension. From head to toe, every component on this '82 D350 has been rebuilt, replaced or refreshed. On top of that, modern creature comforts like fourth-gen leather seats, all-new A/C components and a satellite radio with Bluetooth connectivity make long hauls much more enjoyable.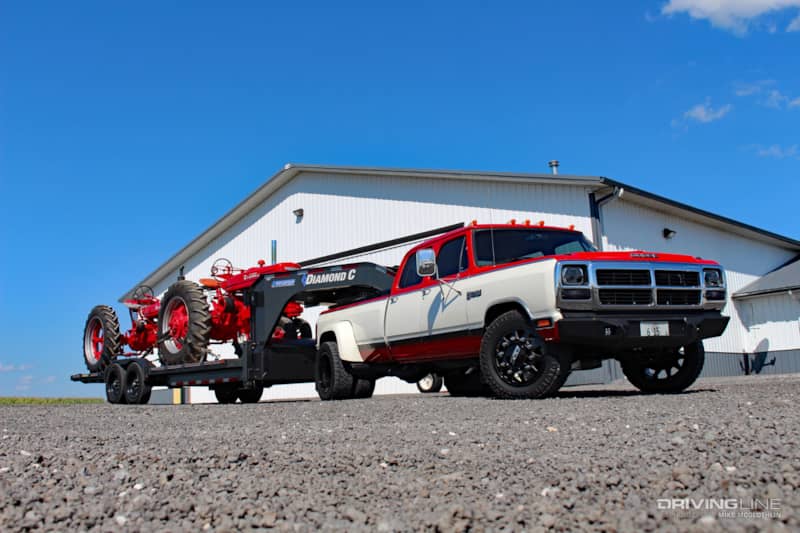 Join us below for a walk around this jaw-dropping, old-school tow rig.
Freshly-Rebuilt (And Upgraded) 12-Valve Cummins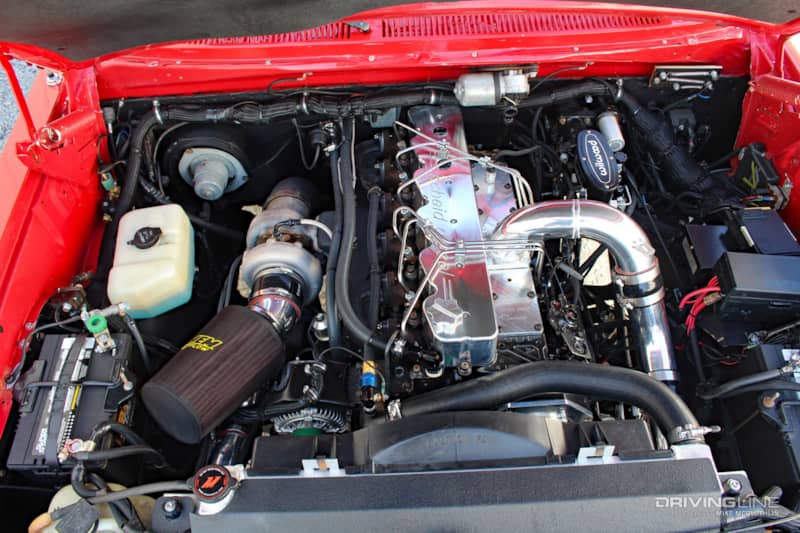 Though the 5.9L B-series didn't debut as an option on ¾-ton and 1-ton Dodge trucks until '89, the same exact body was used from '81-'93 (and the same overall platform from '72-'93), which means that Chris Ohl's '82 easily accommodates the 40-inch long inline-six. To eliminate any reliability issues, the 6BT was overhauled and upgraded (where needed) by Scheid Diesel Service. The fresh Cummins makes use of shot-peened, factory forged-steel connecting rods, ARP rod bolts, factory compression cast-aluminum Mahle pistons, one of Scheid's street camshafts and ARP head studs. The block and head have both been machined to accept fire-rings to help contain combustion. For heat and noise reduction, you can see that Chris added insulation both under the hood and along the firewall.
Spiced-Up Injection Pump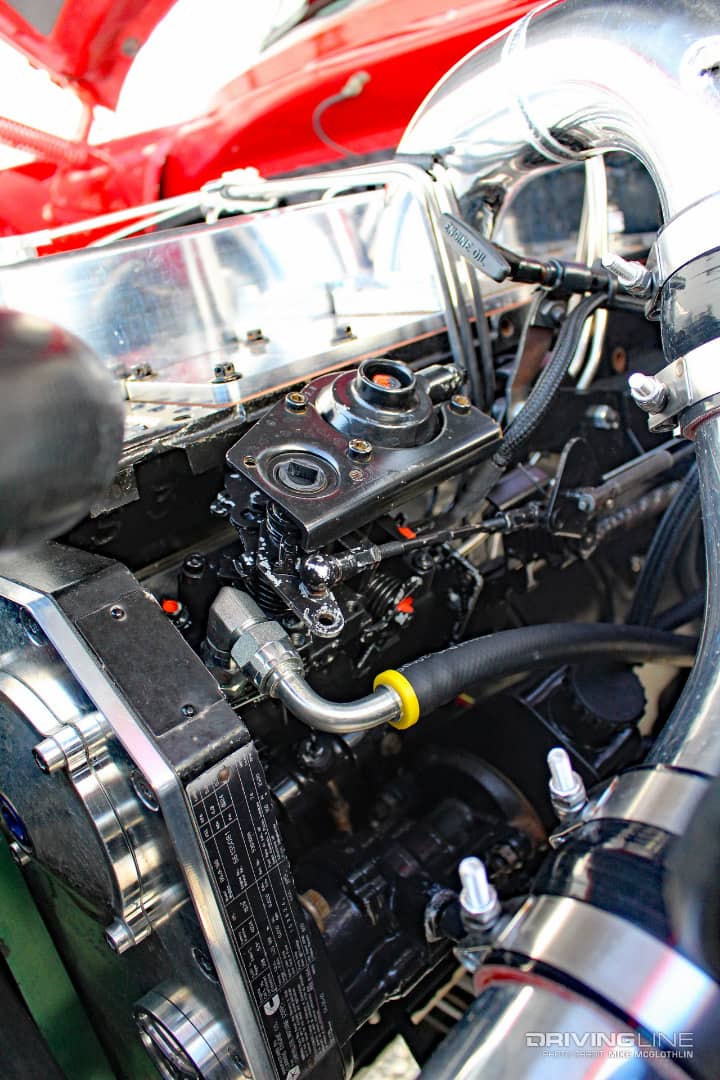 On the fuel side of the equation, Scheid Diesel was also enlisted to tinker with the Cummins' mechanical Bosch VE injection pump. The result is a maxed out 12mm pump capable of supporting 450rwhp (and 900-plus lb-ft of torque). A 4,000-rpm governor spring kit and a custom fuel pin highlight some of its internal modifications. Upstream from the rotary style injection pump, six injectors (also from Scheid) handle in-cylinder fuel delivery. They're equipped with 5-hole, 5x0.013-inch nozzles.
Tow-Friendly Turbo And Intercooler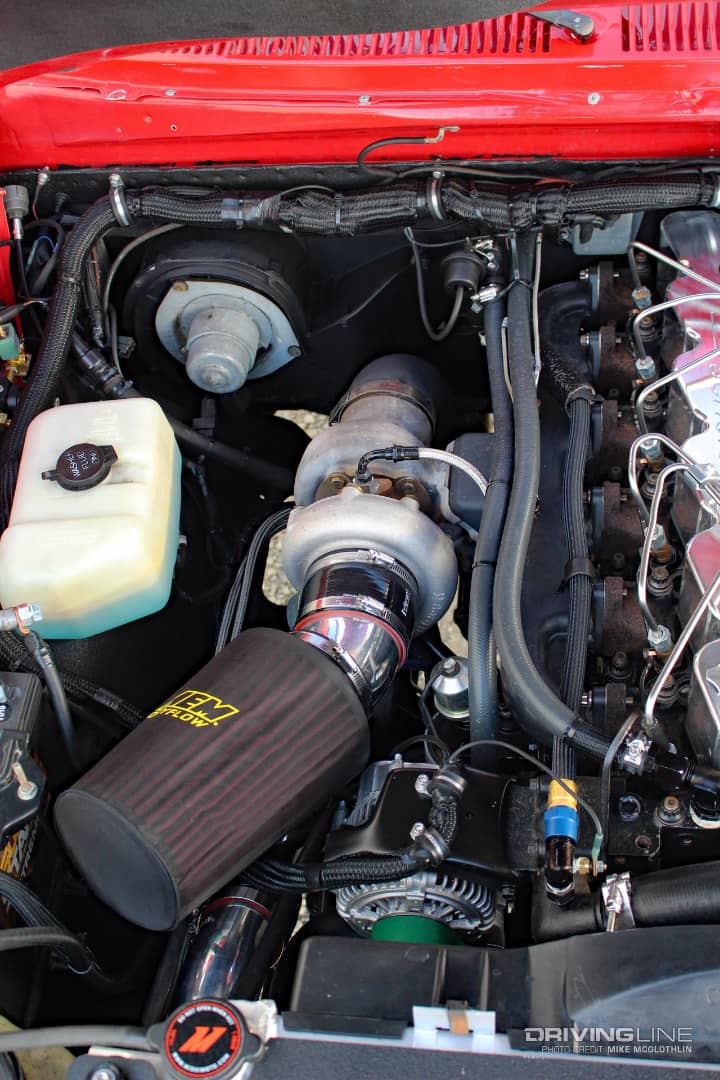 Boost building comes courtesy of an S300 frame turbo from BorgWarner. It sports a 57mm compressor wheel, hangs off of a Steed Speed exhaust manifold and routes boost through a Mishimoto intercooler. Chris fabricated the cold air intake tube himself and capped it off with an AEM air filter with an outerwear. You can also see that he went with a Mishimoto radiator at the bottom of the image shown above.
Cool-Running Allison 1000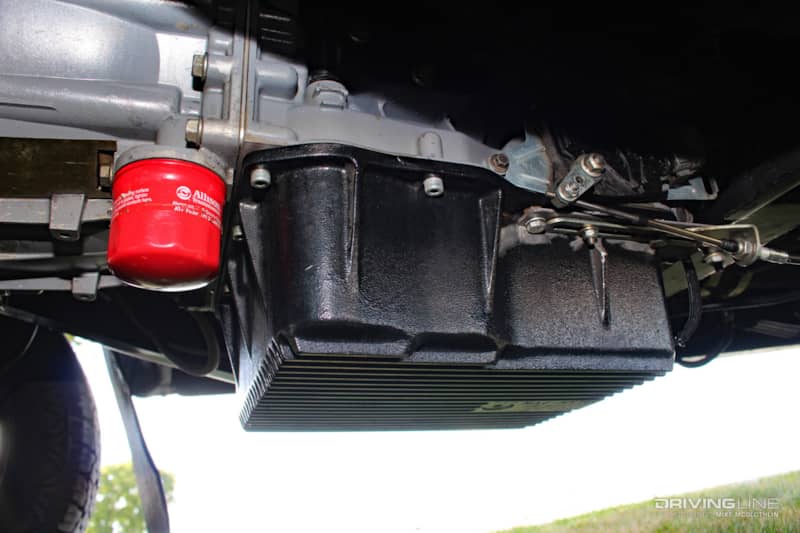 Keeping the 5.9L Cummins in the meat of its power curve is an Allison 1000. The big six-speed automatic came from CA Conversions (Custom Automatic Conversions) and makes use of a billet front cover, triple-disc torque converter and a Mag-Hytec deep pan. For added insurance against toasty ATF temps, Chris installed a remote mount auxiliary transmission cooler from Derale Performance along the passenger side frame rail.
No Run-Of-The-Mill Dana 80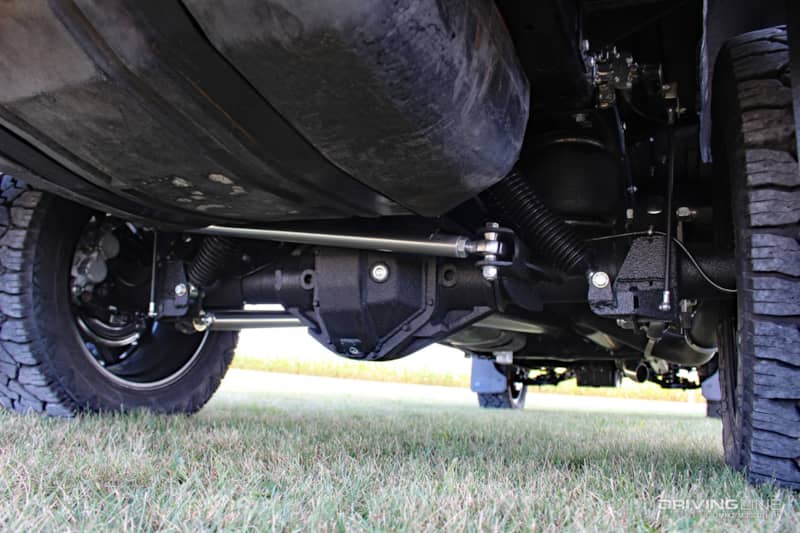 To better cope with instances where the truck would be heavily loaded, East Coast Gear Supply's robust Dana 80 was chosen for a rear axle. The ends are fitted with 13-inch brake rotors (the truck has been treated to a four-way disc conversion), the thick wall tubes conceal 40-spline axles shafts and the differential is graced with an ARB air locker. Thanks to the Allison's double overdrive gear, the truck's 4.10:1 axle gearing allows for sound low-end grunt without sacrificing fuel economy at highway speed.
Four-Linked With Air-Ride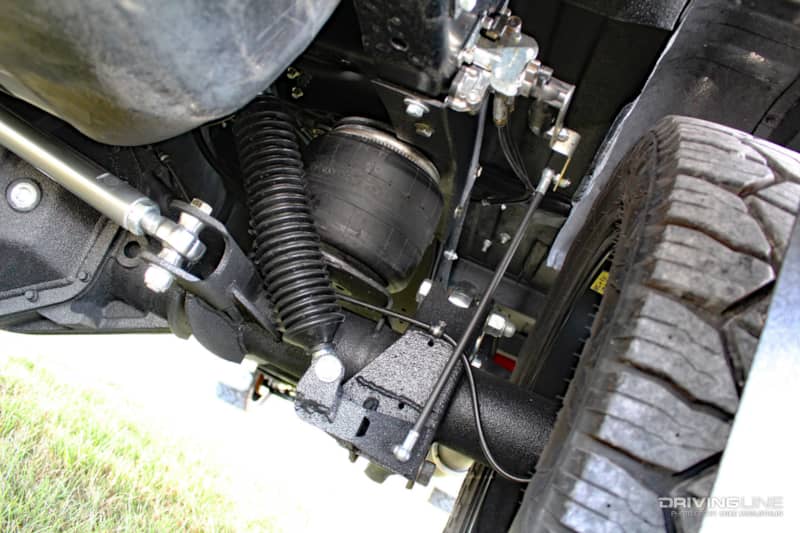 A custom four-link rear suspension system employs 7-inch diameter Firestone air bags as well as Kelderman manual height control valves. A pair of Viair compressors, located in the fuel tank/tool box combo in the bed, support the air-ride system. Also take note of the Bilstein 5100 series shock absorber and the texture present on the rear axle (and corresponding bracketry). They've been coated in bedliner to stand up to the elements.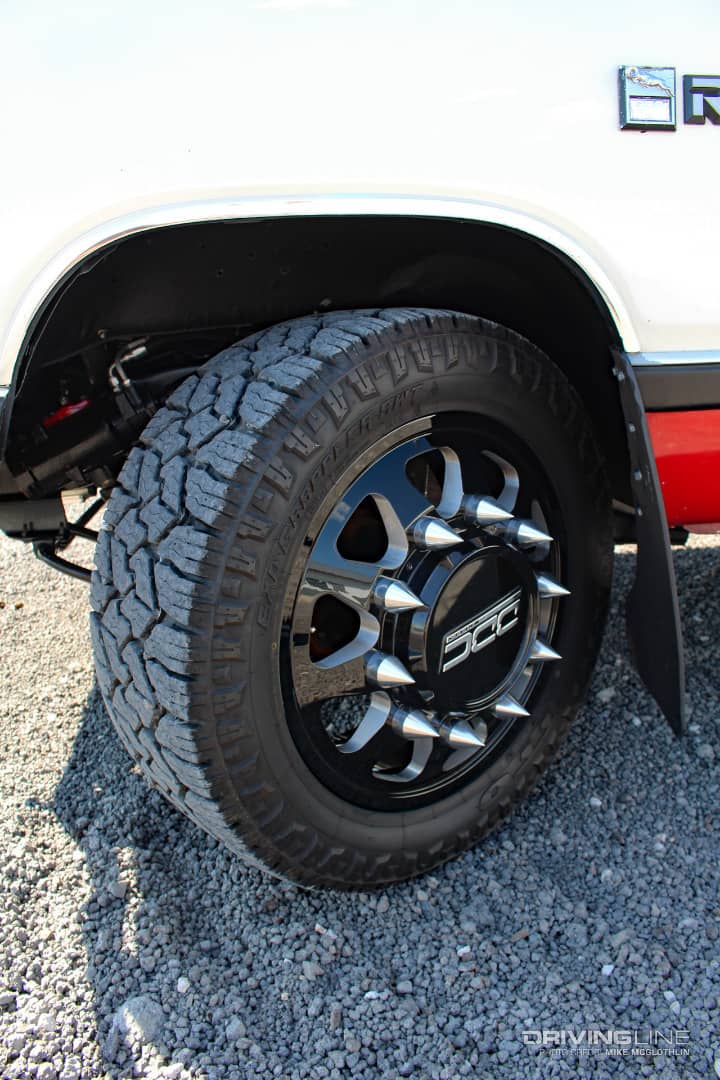 Year-round performance, the perfect size and the right price led Chris to the Nitto Exo Grappler AWT. The E load range LT275/55R20 all-weather tires are mounted to 20-inch DDC The Ten wheels, which make use of the common 8 on 6.5 bolt pattern and are topped off with 2.5-inch lug nut spikes. To achieve the front-end stance he was after, a pair of hub centric, 6061 forged-aluminum wheel spacers—sourced through Far From Stock—got the call.
Road Trip-Ready Interior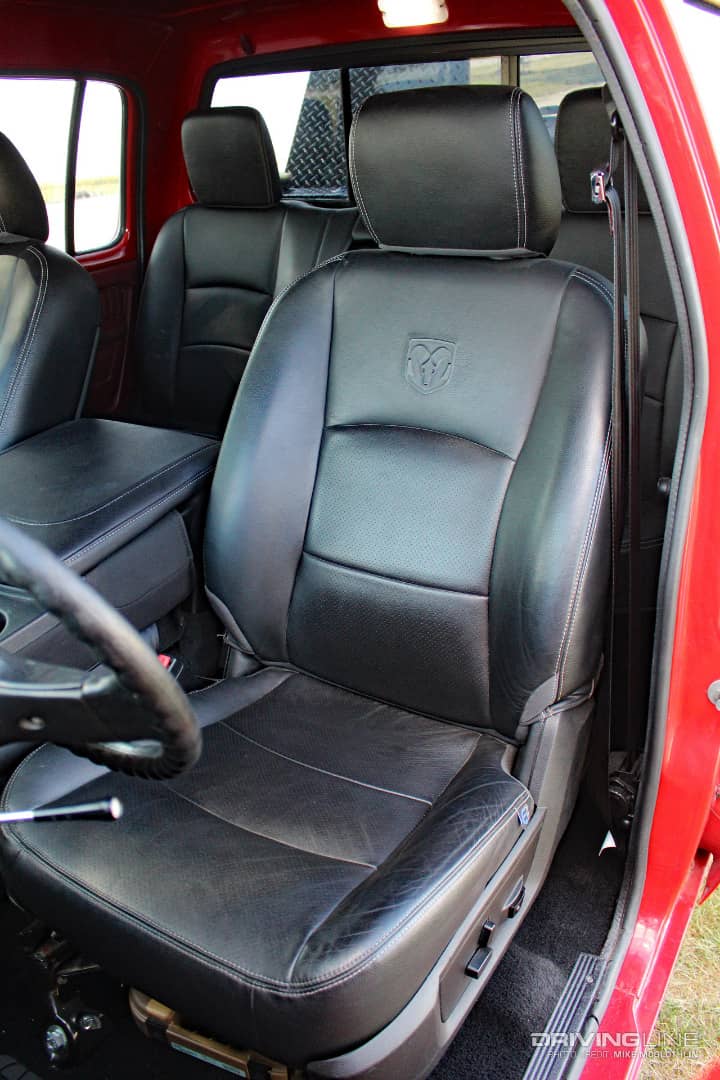 Modernizing the cab a bit, front captain's chairs and a rear 60/40split bench came from a '17 model year Ram. The black leather seats bolt to mounts Chris fabbed up himself, the driver seat is power-adjustable and new seat belts were added as well. After adding Dynamat to every floor and firewall surface, all-new carpet (provided by Stock Interiors) was laid down. In the truck's factory dash you'll find a RetroSound 1.5 DIN replacement radio, which is linked to brand-new Kenwood 4x10 speakers, front and rear.
Cosmetic Touches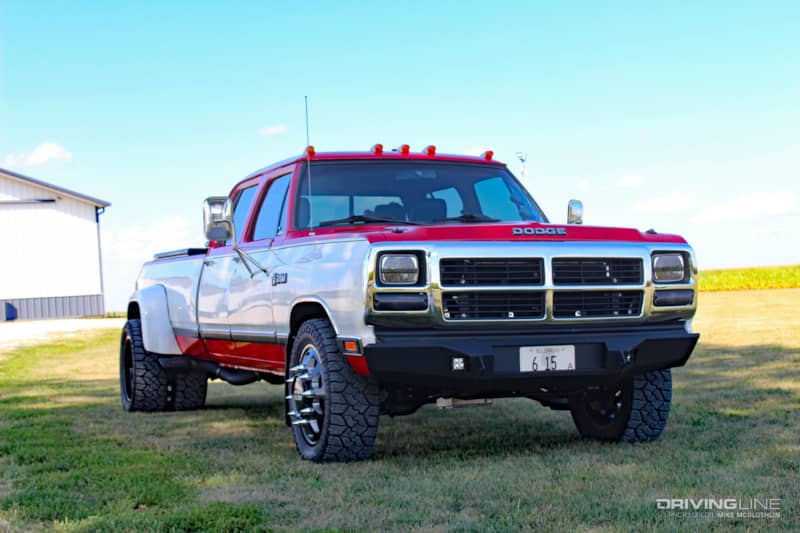 While the truck had been repainted years before he got his hands on it, Chris was able to bring the old dually's two-tone scheme back to life with a thorough buffing. Although subtle, a host of other exterior upgrades were made. Case in point, that's a replacement grille, those are Rigid Industries LED headlights, a Far From Stock front bumper integrates two d-series Rigid lights and the turn signals have been tinted. And while you can't see it here, the rear bumper is also a Far From Stock piece (with Rigid reverse lights, no less). Finally, the gooseneck hitch in the bed is a universal B&W unit, which Chris cut the bed for in order to make work.
More From

Driving Line
Curious how you can get a little more giddy-up out of your 160hp first-gen Cummins? Check out our 

budget mod series

 

for '89-'93 Dodge trucks.