The Danny Sakai Lakester: Cloning Our Heros [1 of 3]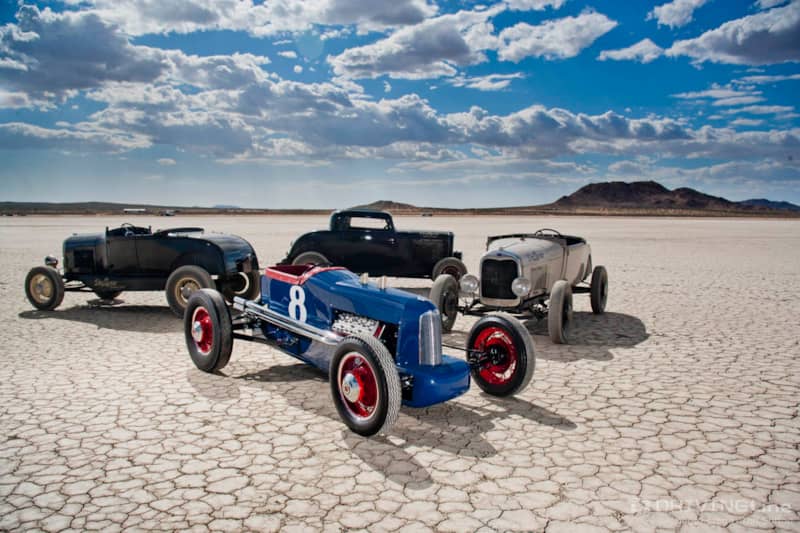 In all of land speed history there have been a handful of cars built that, well, are just about the most beautiful things you've ever seen. Land speed cars are built for speed and lack of wind resistance. Form usually follows function in this case and the result is a paired-down beauty. Most cars that were raced in the early days were street-driven hotrods and door slammers that owners slightly modified in order to get 'em going down the lakes. Times were crude for the most part and for a speed junky he could get his kicks on the weekend at the lakes and go home and back to school driving the same car during the week. For the real serious guys before WWII, the lakester was the place to be though - which obviously didn't allow for street driving. Names like Remington, ORD, and Hilborn were ruling the lakes.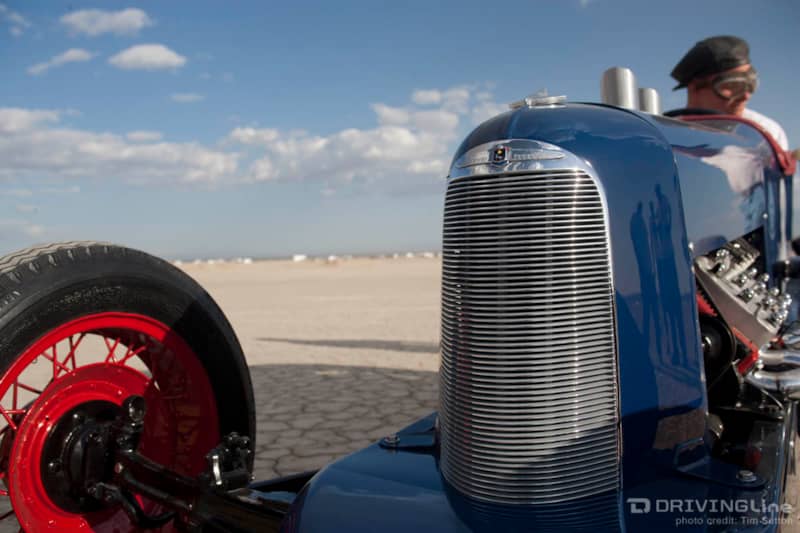 Built in 1939 by Dustin "Dusty" Campbell, this lakester ran a mild 4 banger engine and did very well in competition. After awhile, it was converted to having a LaSalle grille and at the same time received a flathead V-8. Danny Sakai, a street racer and part of the Walkers Car Club RTA, bought the car from Dustin and that's when the speeds started to climb. Sakai, a young man in his 20's at the time, was sponsored by Mal-ORD with the car which means the lakester immediately got a fresh new engine, hopped up with everything good at the time. The car ended up running speeds in excess of 127 MPH - which at the time was huge in such a small car. Danny won many, many awards and trophies and beat tons of records in the car - making it one of the quintessential lakesters of the time, and one of the more beautiful ones too. Danny himself died at a very early age before the great war, you might assume it happened out at the lakes, but sadly it was street racing motorcycles in Los Angeles in late 1941.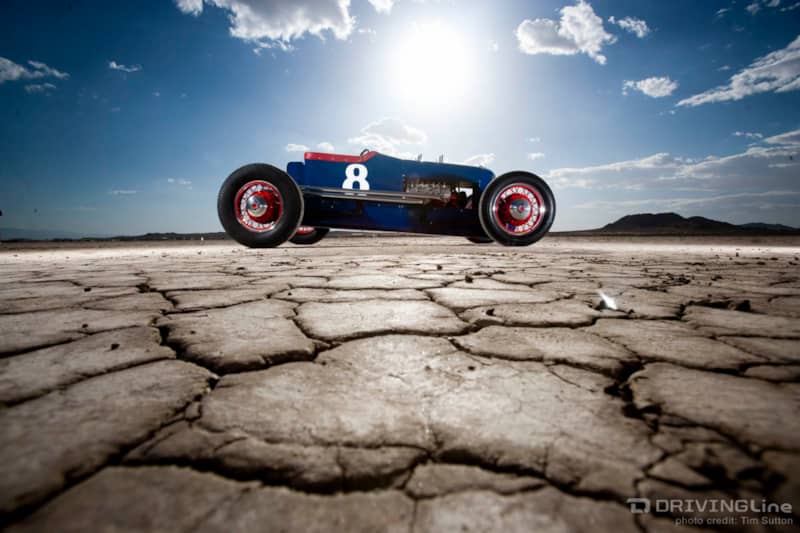 What exactly happened to Danny's car remains a bit of a mystery. The car was lost to the ever-growing land speed racing efforts of the time and seemed to disappear. Jim Lattin, who underwent the re-creation of the Danny Sakai Lakester fills in some of the historical details. Danny reportedly worked on the car at the Cadillac agency owned by Tommy Lee, a claim that seems plausible - as Lee basically assumed ownership of Danny's race car after his death, according to Lattin. He noted that during the war Lee ran it at private lakes meets, and in 1943 Danny's old car ran an unofficial 125.52 mph with Bobby Strahlmann at the helm. Upon Lee's death in early 1950, Lattin noted that Willet Brown assumed ownership of Danny's old car. An avid collector, Willet maintained Danny's car as part of his collection; however, according to Lattin, someone possibly stole it sometime in the '70s.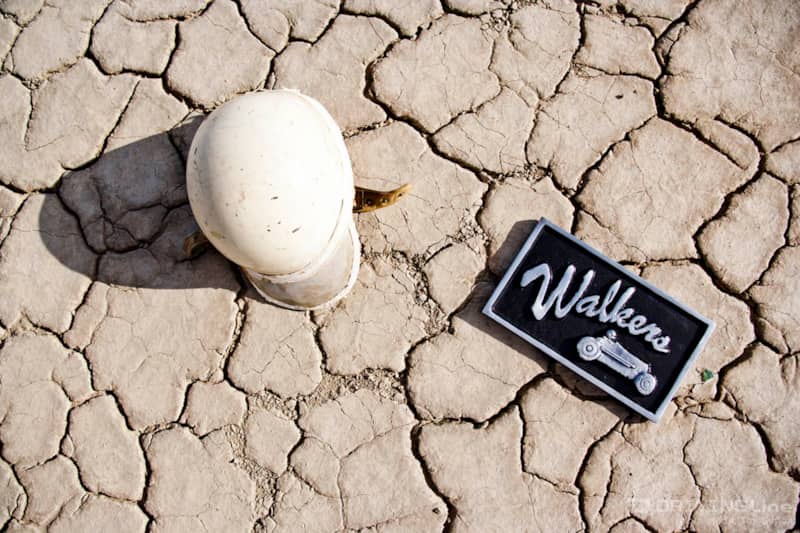 This clone is a special one, as it still retains some of the original parts from the original Sakai car. It was upon finding some of these original parts that Lattin embarked on a mission to rebuild it. Jim Lattin, being a land speeed racer with a good number of records under his own belt, is quite the hot rod historian himself. He's a collector of all things speed oriented and hard to find - and he came across a small collection of parts that he claims came off the original car. Original items such as the Mal-ORD heads were found, along with the steering wheel and front grill. Found alongside them was an original Walkers Car Club plaque, the same club Danny Sakai belong to in the '40s. I've heard of people building cars around stranger things, so it wasn't too far off base for Jim to start the build of this one from these few parts.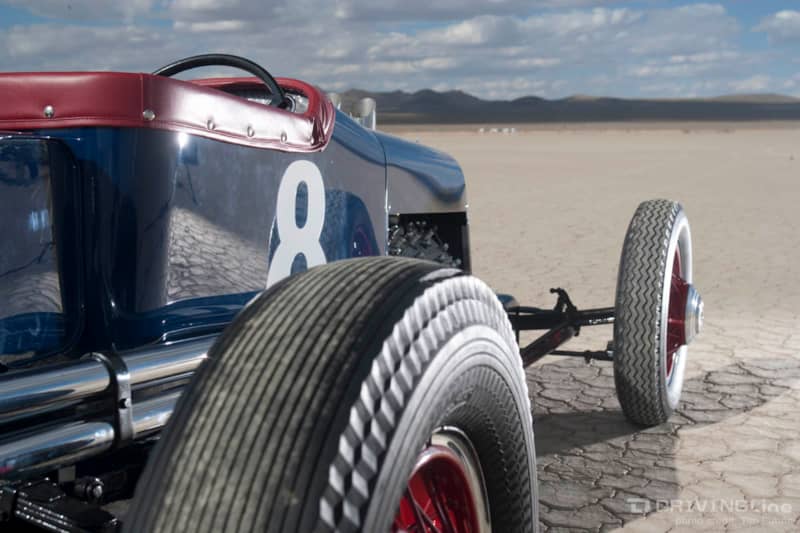 The build process was fairly easy, recounts Lattin, using old photos he had in his collection. He was able to look through his horde of parts and make a few calls for the hard to find stuff to come along. One of the hardest parts for this car to find were the Packard snap ring wheels - they're super rare in the hot rod world and mostly held onto by historians. I believe Lattin had to buy a huge collection of Packard parts just to get the four wheels pictured here. The rest of the car was shaped from aluminum, taking measurement after measurement to make sure it looked and sat right. Completed in late 2010, the Danny Sakai Lakester was unveiled at the El Mirage dry lake beds during a SCTA sanctioned land racing event. It's now a living piece of land speed racing history - showing younger hot rodders and speed merchants an important milestone in the land speed racing and hot rodding world.