The F-150 is Going Diesel: 10 Things You Need to Know!
The wait is finally over! For Ford fans holding out for a fuel-efficient diesel F-150, the time has finally come. Having been in Ford's global portfolio for well over a decade, the Duratorq/Lion 3.0L Power Stroke diesel isn't necessarily a "new" powerplant. However, Ford states the U.S. version was designed and engineered by the same team responsible for the 6.7L Power Stroke you'll find in 2011 and newer F-150s.
To give you better insight into just what you can expect from the 1/2-ton turbodiesel, we've broken down the 10 things you need to know.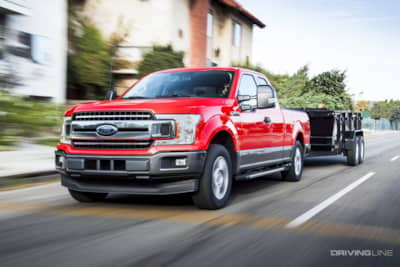 (photos courtesy of Ford)
1. 30 MPG
You're reading that correctly. Ford is stating that its new diesel offering is targeted to get an EPA-estimated 30 mpg on the highway. That figure best Ram's EcoDiesel V6 by 3 mpg's.
2. Best-in-Class Towing
Ford is aiming directly at the market who tows frequently. Thanks to 11,400 pounds of towing capacity, it now nabs the best-in-class towing capacity mark. This is something we're sure Ram will be coming back after soon.  
3. 440 lb-ft of Torque
The turbocharged 3.0L V6 diesel is fit with a variable-geometry turbo to decrease turbo lag and improve responsiveness. Using the same compacted-graphite iron block construction and forged-steel crank found on the company's 2.7L EcoBoost, the compact diesel is cranking out 250 horsepower and 440 lb-ft of torque. The peak torque figures coming in at 1,750 rpm.
4. Premium Models Only
As you might have guessed, getting into a diesel model will require you to look for a Lariat, King Ranch, or Platinum edition. The extra charge for the diesel engine will be $4,000 for Lariat trims, while the other two premier models will cost you an extra $3,000. There will be XL and XLT versions only for Fleet customers. 
5. No Exhaust Brake
Unlike its bigger brother, there will be no exhaust brake option on the 3.0L Power Stroke. Instead, Ford uses the 10-speed automatic transmission to help moderate speed effectively when you're towing or hauling up to 2,020 pounds of payload.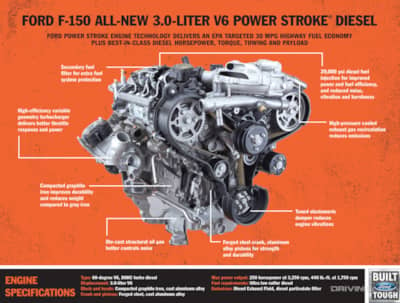 6. Definitely DEF
As is the case virtually across the board with diesel trucks, the 3.0L diesel uses an advanced emissions system with diesel exhaust fluid to ensure a smoke-free powerplant. You'll find a 5.4 gallon DEF holding tank which is estimated to last around 10,000 miles.
7. More Gauges
To ensure you can stay on top of things like DEF fluid levels, boost and oil pressure, the instrument cluster has few extra gauges for you to toggle through. You can even check on the status of your engine's fuel filters (this engine gets two).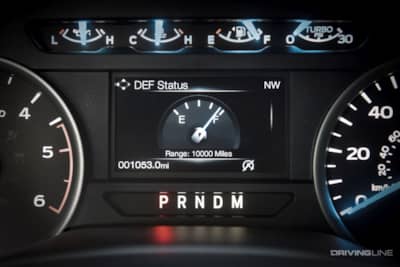 8. Common-Rail
If you're familiar with our diesel engine builder series, then you're probably familiar with the advantages of running a common-rail injection system. Ford's high-pressure system is capable of producing 29,000 pounds per square inch. This could make for some interesting opportunities for those looking to tweak the power numbers with some aftermarket help.
9. Why the Wait?
If Ford seems a little late to the party with an engine they've clearly had for a while, one might wonder why. We're guessing a combination of Federal emissions regulations combined with consumer demand largely played a major role. Given that the new F-150 is lighter thanks to an aluminum body, and it has a more versatile 10-speed transmission, Ford's wait could prove to be a smart move.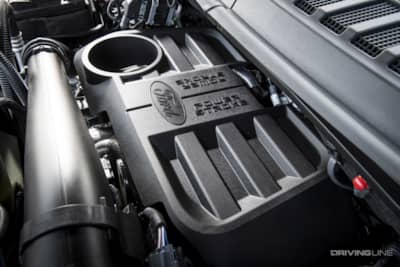 10. Order Now-ish
Starting in mid-January, dealers will be taking orders for 4x4 and 4x2 models of the 2018 F-150 with the 3.0L Power Stroke diesel.