The Ideal, Modestly-Priced Mid-Sized SUV With Third-Row Seating: Part 2
In part one, and just as the title indicates, we gave you the general rundown of what we're looking for in a new SUV. To recap, it has to be safe, carry a price tag below $50K (but preferably closer to $40K) and third-row seating is mandatory. We're also interested in a few of the finer details such as 4x4 or AWD, driver-assist technologies, exterior cosmetics, heated seats and ample passenger comfort, which is why it is now time to delve into each individual contestant and find out exactly what you can get for the money.
It's not exactly a coincidence that we decided to review the Ford Explorer first, as it is our initial first choice. By the conclusion of this series, where we've test-driven the likes of the 2021 Durango, Ascent, Traverse, CX-9, Atlas, Grand Cherokee L (hopefully) and a slightly used Volvo XC90, will we change our mind?
Three Engine Options, Four Power Ratings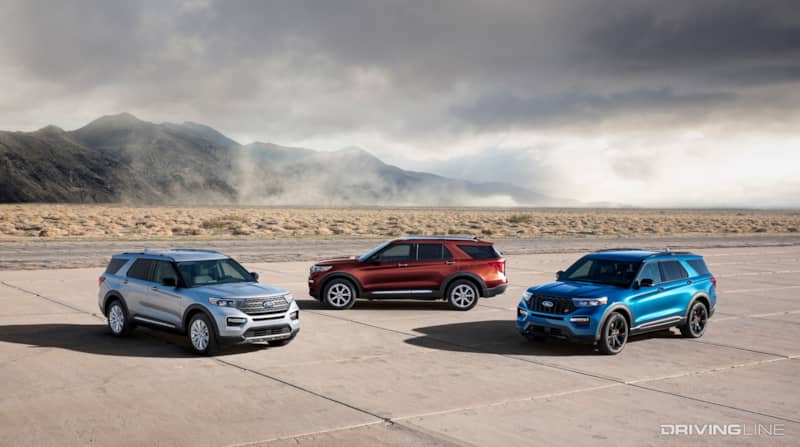 With gasoline-only, hybrid and the sporty ST models all in the Explorer lineup, Ford plays to all crowds. Cost of entry follows suit, from competitively priced base and lower trim models to more expensive trims with new-age tech and all the latest luxuries. It should come as no surprise that two EcoBoost engines (and three power ratings) are available for the Explorer. Base, XLT, and Limited models get the 300hp 2.3L EcoBoost single turbo I-4 standard. Platinum and ST models come with the bigger 3.0L EcoBoost, a twin-turbo V-6 that cranks out 365 hp in Platinum form and a track-friendly 400 hp in ST trim. As for the hybrid—a 3.3L naturally aspirated 318hp V-6 coupled with an electric motor—it's solely available on Limited models.
50/50 Third Row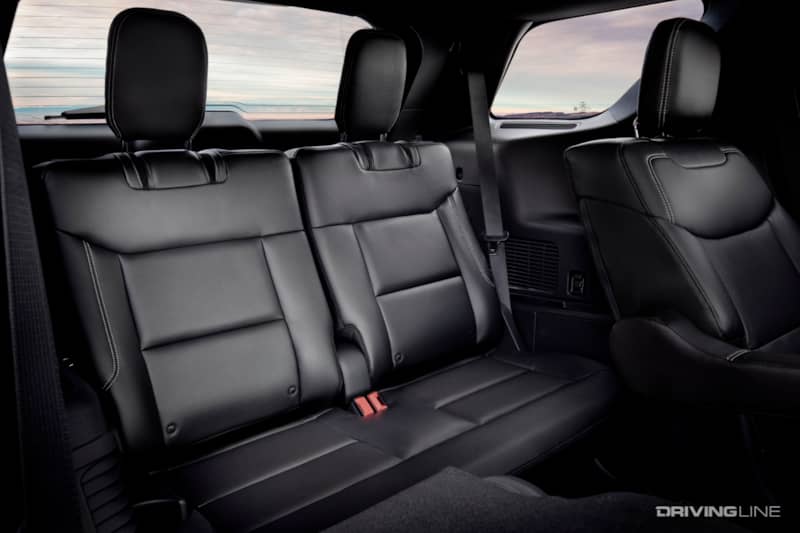 While some third-row SUV's cram a third seat into the final row, the Explorer comes with two. But even though this opens up a little more elbow room, you can't expect adults to enjoy the ride back here for extended trips. We've heard the third-row seats are more comfortable for older children and adults on the Chevy Traverse and VW Atlas models, which we'll be looking at later in this series. For now, the Explorer's third-row seems more than capable of sufficing for our young pack.
Second Row Options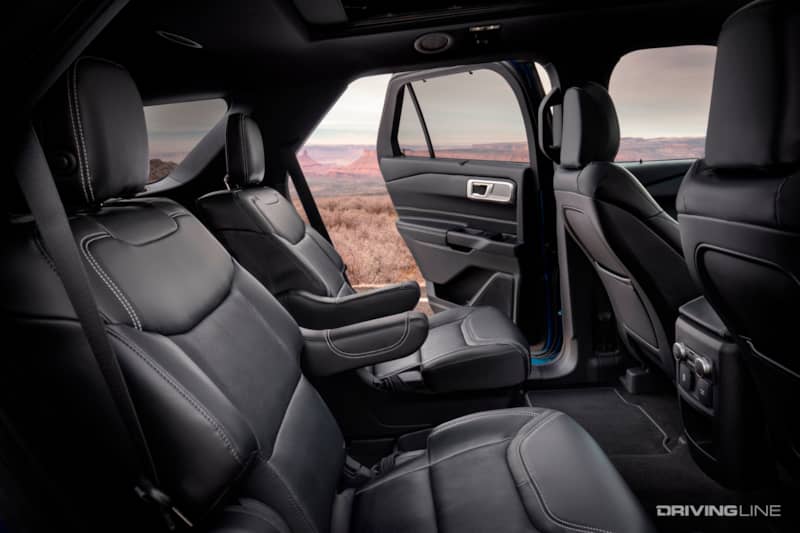 On base model Explorers, seven-person seating is made possible via a 35/30/35 flat bench second-row configuration. Beginning with XLT models, the second-row bench gives way to bucket seats and a floor-mounted center console. The console is low enough that it can easily be stepped over to access the third row, but high enough to accommodate a grade-schooler's reach. Longer arms will be needed, however, to plug in to the dual second row smart charging USB ports.
Hauling Capacity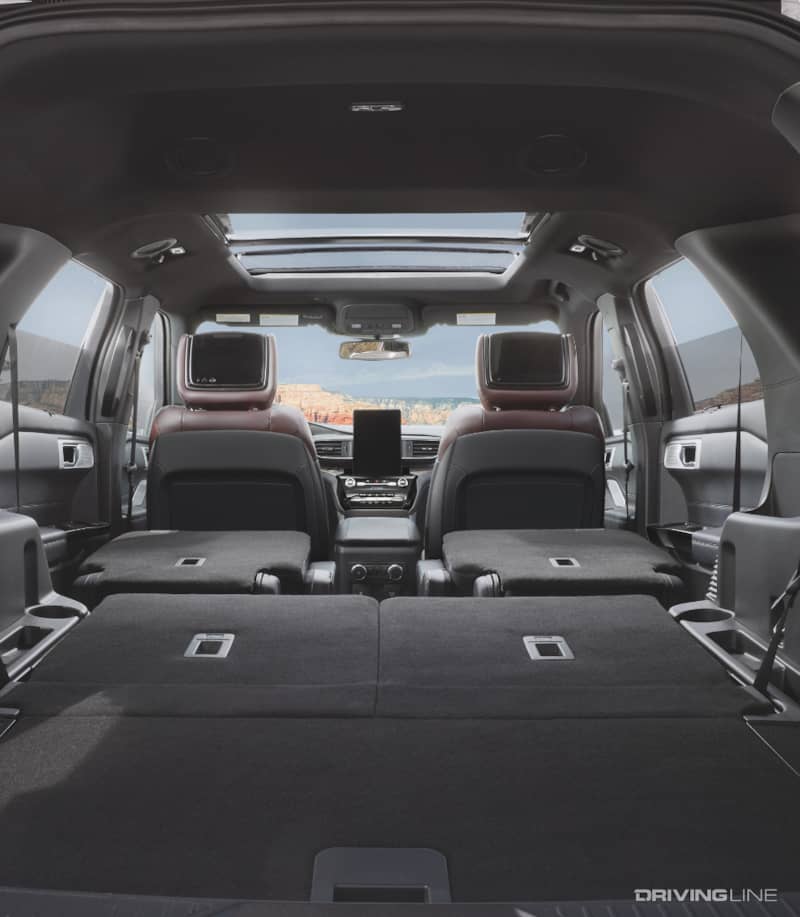 Folding both the second and third row seats down opens up 87.8 cubic feet of space in all models, while folding the third row and leaving the second upright yields just under 48 cubic feet. Behind an upright third row, 18.2 cubic feet of space is on the table, plenty of room for two large check-in bags or the loot gained from an average trip to the grocery store. Note that the 50/50 third row bench is manually raised and lowered on standard, XLT and Limited trims. Higher level trims such as the ST and Platinum get Ford's PowerFold treatment. As for the second row, power-assist folding comes standard on Limited, ST and Platinum models (manual folding on base and XLT trim).
The XLT We'd Likely Be Pursuing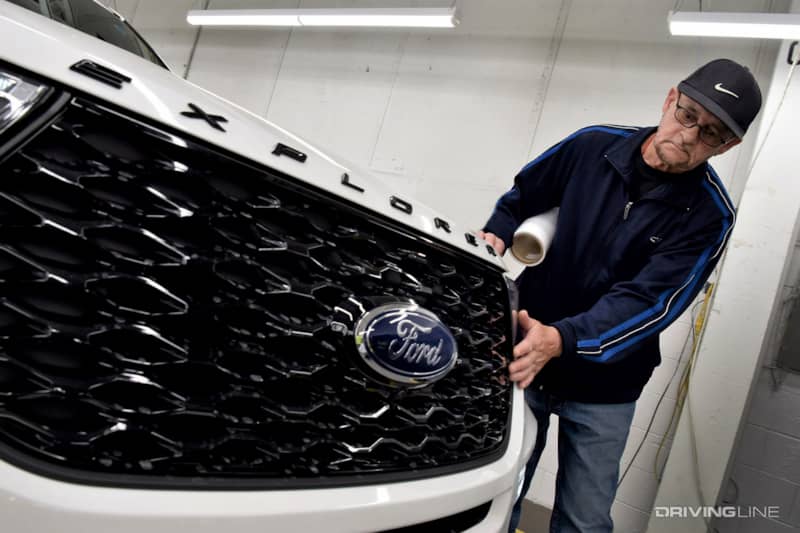 Based on its value for the dollar and the best appeasement of our wants vs. needs list, an XLT model with the optional Sport Appearance Package interests us most. XLT models come standard with power and heated sideview mirrors, heated first row seats, tri-zone electronic automatic temperature control and the aforementioned dual second row smart charging USB ports—and the Sport Appearance Package builds on that. Getting the package calls for an upgrade from the base XLT equipment group 200A to equipment group 202A, which brings a heated steering wheel, remote start and ActiveX seating material into the fold—along with adding better than $5,135 more onto the overall tally. The Sport Appearance Package itself adds 20-inch, 10-spoke Carbonized Gray aluminum wheels (vs. the standard 18's), grille bars and a mesh insert, dual chrome exhaust outlets, lower bodyside cladding insert and an Explorer badge on the hood. Estimated Price: $42,275 (per Ford's Build & Price tool).
Interior And Intelligent 4x4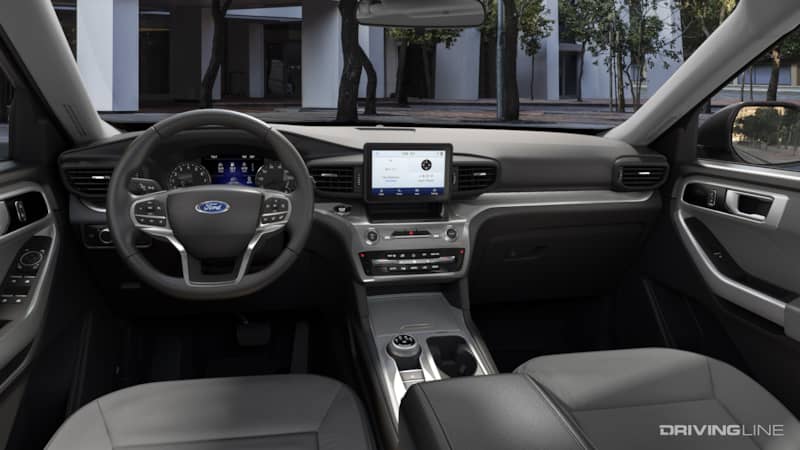 Sticking with the budget-friendly XLT trim, an 8-inch touchscreen comes standard with the infotainment system (this screen is also standard on base and Limited models). Voice-activated navigation, a rear-seat entertainment system and a 12-speaker Bang & Olufsen audio system pique our interest as well. More importantly, to navigate Midwest winters Ford's Intelligent 4x4 would be selected, which carries a $2,000 upcharge over rear-wheel drive models. Four-wheel drive Explorers feature Ford's Terrain Management System, with seven different driving modes: Normal, Trail, Deep Snow/Sand, Slippery, Sport, Tow/Haul and Eco.
Top-Notch Sound-Deadening & Standard Driver-Assist Technology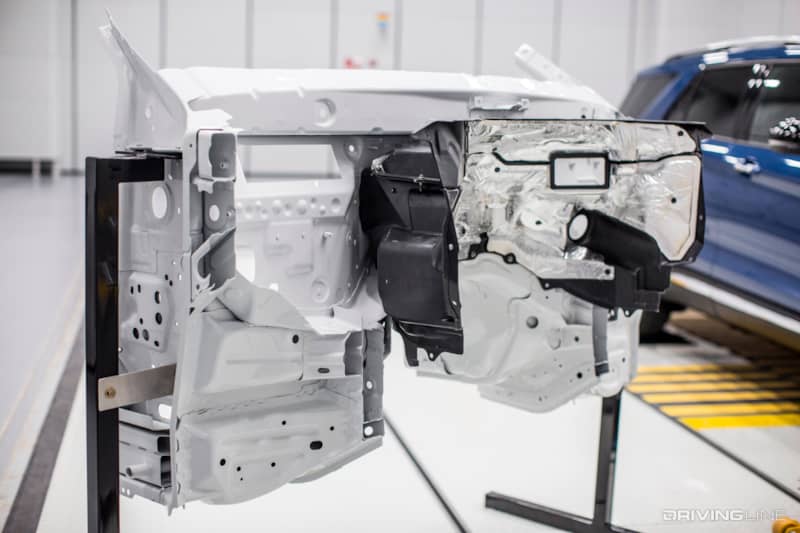 Dual-wall dashboard technology, a Ford innovation, utilizes an additional wall of sheet-molded composite material around the engine to considerably reduce powertrain noise. Further improving quietness in the cabin is Ford's use of Acoustic-Laminate Windows (front row side only on the XLT we've spec'd out above). The big wins in the safety department are: forward-collision warning and automated emergency braking, rear-cross-traffic alert and blind-spot monitoring, and lane-keeping assist and lane-departure warning—all of which aren't exactly ground-breaking but do come standard.
2.3L EcoBoost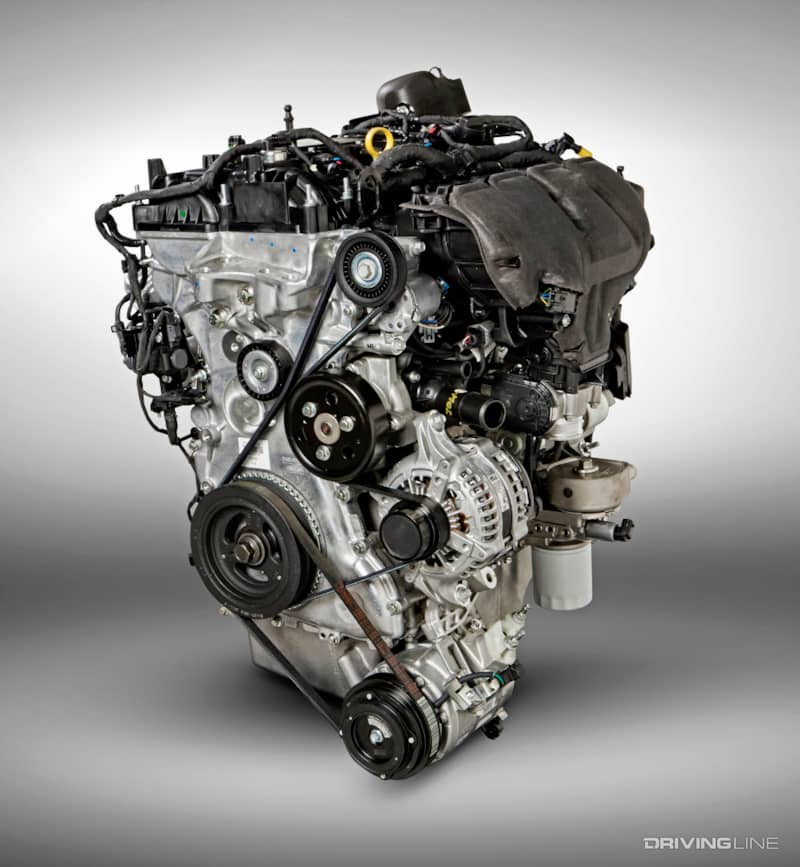 As a diesel guy, yours truly appreciates Ford's use of direct injection, turbocharging and high compression on its EcoBoost engines. The 2.3L EcoBoost's 300hp and 310 lb-ft rating is impressive for both a 140 ci four-cylinder and as a base engine option. Thanks to the torquey, DOHC aluminum block and head of the 2.3L (its 310 lb-ft is available at 3,500 rpm), 0-60 mph can be achieved in less than seven seconds and the quarter-mile can be covered in 15-seconds flat. Sprinkle in a little aftermarket tuning and you can go from 270hp making it to the wheels stock to 330 hp, which puts you into twin-turbo V-6 EcoBoost territory. Backed by a 10-speed automatic transmission, which is standard on all Explorers, the little EcoBoost is always in the right gear and in the meat of the engine's power curve. The 10-speed is also a big reason why the base engine Explorer is known for beating its 27-mpg highway fuel economy rating.