The Ideal Modestly-Priced, Mid-Sized SUV With Third-Row Seating: Part 1
So you've got a mortgage, a spouse and a growing family but not so much a growing budget… Welcome to America's middle class. Don't worry, it's not so bad. Yours truly is in the current welcomed predicament, and the family fleet is in need of some attention in order to accommodate the coming addition. The criteria? Brand-new, third-row seating, all-wheel or four-wheel drive, ample comfort and (of course) a satisfactory safety rating. The catch? A budget of $40,000 to $50,000. So where can you find a vehicle that meets these needs? For our search, we'll leave no stone unturned in the world of budget-friendly third-row SUV's.
While our personal preference will eventually win the day (as should yours), our navigation through both foreign and domestic lineups will serve as a comprehensive guide for the growing family on a budget. Each time we get our hands on one for a testdrive, we'll put together a full review. We hope our findings are as helpful to you as they will be for us. Let's get started with a look at the menu.
Ford Explorer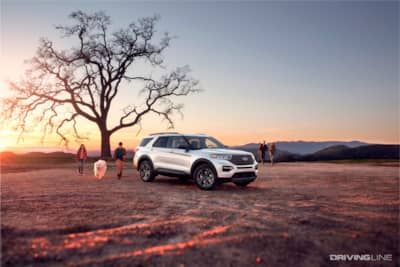 Kicking things off in the EcoBoost world, the Ford Explorer checks in near the top of the list. Due to budget constraints, an ST or Platinum model equipped with the twin-turbo 3.0L EcoBoost might be out of reach—but the 2.3L EcoBoost isn't exactly a slouch. In fact, its 300hp and 310 lb-ft of torque outperforms most V-6 gasoline options in the segment. Our ideal candidate would come in XLT trim (although we'd opt for the XLT sport appearance package), would feature Ford's Co-Pilot360 system (lane-keeping assist, blind spot identifying and automatic emergency braking), and according to Ford, should cost us a budget-friendly $42,275.
Dodge Durango R/T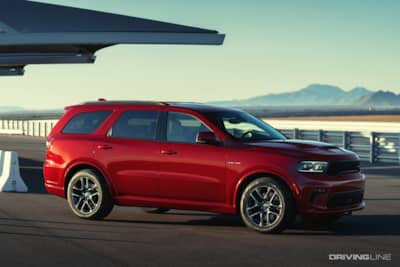 At a time when most manufacturers are hustling to deliver the next big thing in the world of EV's, Dodge is still dropping Hemi's into practically everything. Hey, if it fits, it ships, right? Luckily, a Hemi-powered Durango R/T gets a very respectable 22-mpg on the highway and can also tow a class-leading 7,400 pounds. Plus, unlike the Ford Explorer, the manufacturer's big-dog engine (the 5.7L V-8 in this case) can be had for less than $50,000. Without any additional package options, an all-wheel drive Durango R/T starts at $45,700. For 360hp, 390 lb-ft of torque, the proven eight-speed auto (8HP70) and Ram-like towing capacity, this choice is going to be hard to beat.
Subaru Ascent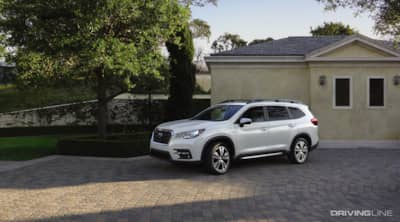 Subaru is quick to advertise that its Ascent beats out the Honda Pilot, Toyota Highlander and Mazda CX-9 in cargo room (it has 86.5 feet) and that it bests the Honda Pilot, Kia Telluride and Hyundai Pallisade in ground clearance (8.7 inches), but perhaps its safety accolades should be more front-and-center. After all, 2020 model Ascents received a 5-Star overall vehicle score from the National Highway Traffic Safety Administration (NHTSA), the Insurance Institute for Highway Safety (IIHS) Top Safety Pick thanks to its LED steering responsive headlights and was also awarded the highest possible rating for front crash prevention from IIHS. Beyond safety, Subaru's largest SUV offers a 2.4L turbocharged DOHC boxer engine with 260hp, can seat as many as eight and boasts a very enticing entry-level MSRP of $32,295.
Chevrolet Traverse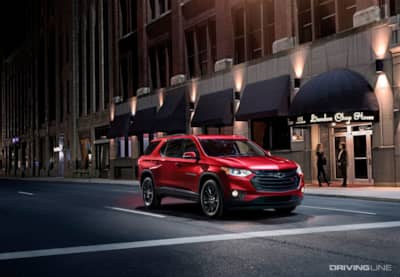 Although GM pushed the refreshed version of the Chevrolet Traverse off until 2022 models, it's still a hot-seller for the brand. And why not? It's spacious, can seat up to eight, is fairly fuel efficient for its size and the 3.6L direct injection DOHC V-6 under the hood belts out a solid 310hp (and 266 lb-ft). However, much of its lauded driver-assist functions are only available on higher trim models, which puts the starting point for price in the mid-40's. Our preference would be the RS, which comes with 20-inch wheels, leather seats (heated units up front), lane-keeping assist and automatic high-beam headlights.
Mazda CX-9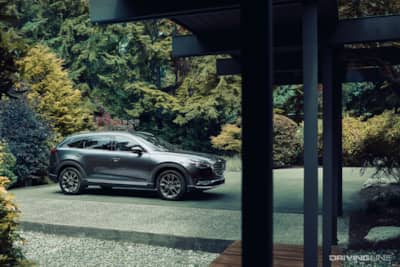 The Mazda CX-9 gets rave reviews from many in automotive media as one of the more exciting third-row SUV's to pilot. A direct-injection 2.5L SKYACTIV I-4 engine that's turbocharged and intercooled dishes out 250hp at 5,000 rpm and an impressive 320 lb-ft at 2,500 rpm, a proven six-speed SKYACTIV transmission and a fine-tuned chassis with stiff suspension and sharp steering all make for a very fun combination. Building on that, the interior boasts a more luxurious look and feel than most competing vehicles in its class, and the Nappa leather seats have the comfort to go along with it. The one area where the CX-9 appears to come up short is in space. The third row is tighter than most for passengers and rear storage is more limited than what you'd find in a vehicle like the Ford Explorer.
VW Atlas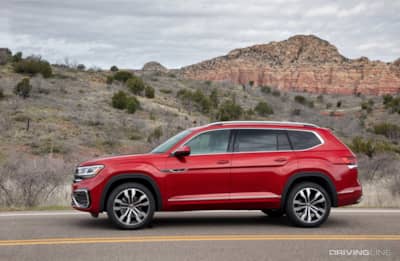 Arguably one of the largest midsize crossovers, it would be hard to overlook the Volkswagen Atlas. Pricing ranges from $34,650 on a base model S with 4Motion (AWD) and the 2.0L turbocharged I-4 to a $50,615 starting point on the upscale SEL Premium (also with 4Motion but with the larger 3.6L V-6 option). The Atlas's interior doesn't scream luxury in any way (even on higher trims), but its controls are simple to use and a host of driver-assistance features help keep you both safe and informed. Forward-collision warning, automated emergency braking, blind-spot monitoring, rear-cross-traffic alerts and adaptive cruise control come standard on all models. We'll be giving the R-Line models most of our attention.
Jeep Grand Cherokee (L)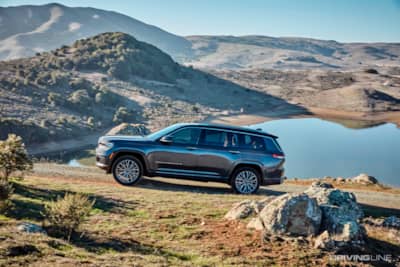 To our surprise, third-row seating will be available on the 2021 Jeep Grand Cherokee, which means we'll definitely be checking it out as well. L models will feature an extended wheel base to accommodate the extra seating, and both a 290hp 3.6L Pentastar V-6 and 357hp 5.7L Hemi V-8 will be on the table. As with the Durango option we'll be considering, it would be hard to opt for the Pentastar over the coveted Hemi. However, with detailed pricing yet to be released, we'll have to see if the thumping V-8 can be had in our price range. As for the completely modernized interior, we're looking forward to what the Grand Cherokee L might have to offer.
Volvo XC90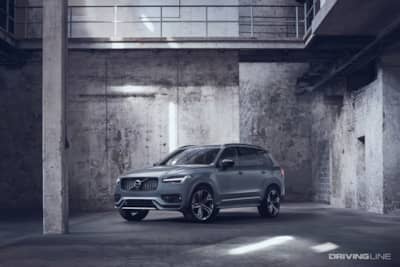 Admittedly, the sleek, elegant appearance of Volvo's XC90 is the primary reason it's on the list. Its appeal is undeniable to this observer. However, a base model—even though capable of seating seven—maxes out the budget at $49,695 and can't be had in all-wheel drive at this price point. To get the more desirable R-Design (as well as AWD and the 316hp engine), this is the only vehicle on the list that would require us to explore a pre-owned option. Thanks to its top-notch styling, the XC90 is high on the "want" list, even though the practicality of actually obtaining one is the lowest.
Although we're not particularly interested in Toyota's Highlander right now (mainly due to its exterior appeal and interior layout), we are currently enjoying the superb reliability, satisfactory fuel economy and soft-road worthiness of a RAV4. It's never let us down, especially on a set of Nitto Terra Grappler G2's, but in a few months it won't have enough cargo space for all of our brood.