The Ideal, Modestly-Priced Mid-Sized SUV With Third-Row Seating: Part 4
In a sea of third-row SUV's, Subaru holds its own with the Ascent. The Japanese carmaker's largest SUV is touted for both its top safety picks and overall reliability, but its exceptional affordability and standard features are oftentimes overlooked. Case in point, the base model Ascent can seat up to eight, starts at less than $33,000 and all models, base or top-of-the-line, feature all-wheel drive, its acclaimed Steering Responsive Headlights and multiple other advanced driver-assist technologies. Subaru also claims that 97-percent of all vehicles sold in the last 10 years are still on the road today. Yet another selling point.
Bang for the buck is exceptional with the Ascent, which is why we showed up at the local dealer to get behind the wheel of one. Below, we'll review its 260hp direct injection engine, all-wheel drive system, interior creature comforts and its pleasantly surprising abundance of cargo space as compared to its competitors. Next time, we're going cross-town to Chevrolet to try out a Traverse. Stay tuned.
Seating For Up To 8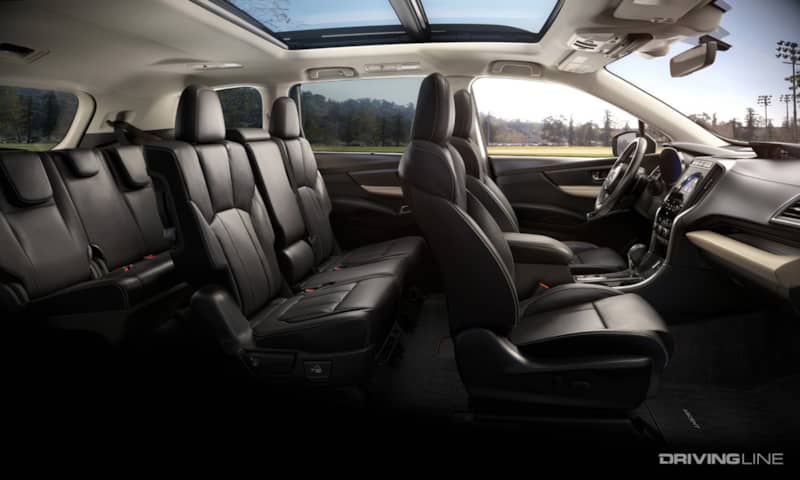 So far in this series, we haven't explored an SUV that can accommodate eight passengers. And while we don't necessarily need this much seating capacity, it is a good selling point for larger families or those who spend a lot of time shuttling extra kids around. The 8-seat arrangement is accomplished by offering a full-size bench in both the second row and third row, the second-row bench being standard on base and Premium model Ascents (but also an option on the Limited model). Seven passenger seating, with second-row captain's chairs, is standard on the upper trim Touring model, but optional on Premium and Limited trims. All 8-passenger hype aside, we would opt for second-row captain's chairs, which would still allow for more passenger seating than either the Explorer or Durango we've looked at in previous installments.
High Affordability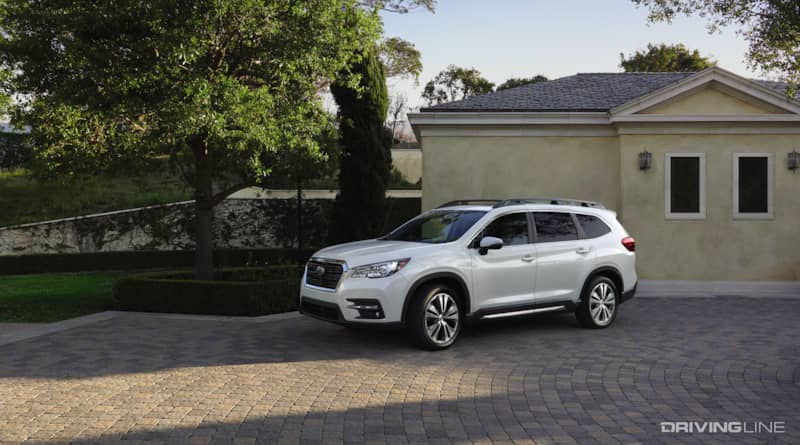 Subaru's Ascent is one of the most affordable all-wheel drive candidates on our list. A base model starts at just $32,295—and you get the same 260hp 2.4L boxer engine that other, higher-end models receive. Better yet, pricing for a well-optioned, Touring model kicks off at $46,495, still within the 50K maximum for this particular family's new-car budget. Pitted against the other SUV's we've look at so far, an intelligent 4WD Explorer starts at $35,365 and pricing for an AWD Durango (SXT) begins at $34,595.
Boxer Engine & CVT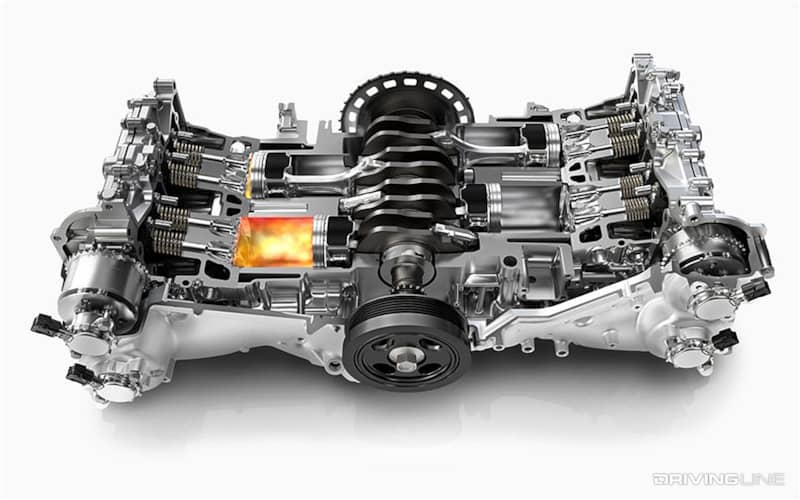 Just because flat 4's are a rarity these days doesn't mean Subaru is ready to conform. Though believed to be a bit noisy for some, the direct-injected and turbocharged 2.4L boxer engine is reasonably powerful given its size, cranking out 260 hp at 5,600 rpm and sustaining 277 lb-ft of torque from 2,000 to 4,800 rpm. Coupled to Subaru's Lineartronic CVT (available with 8-speed manual mode with column-mounted paddle shifters), 27-mpg is on the table out on the highway (on base and Premium trims) and 0-60 mph can be pulled off in less than 7 seconds.
Symmetrical All-Wheel Drive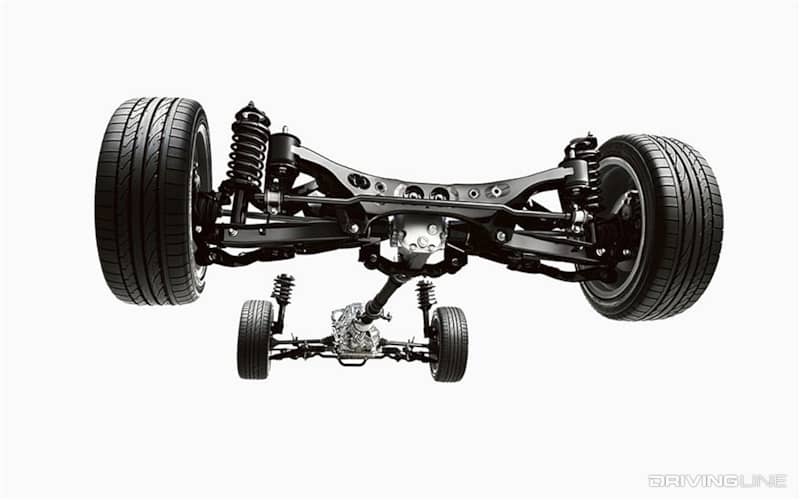 All Ascents come standard with Subaru's Symmetrical All-Wheel Drive system and Vehicle Dynamics Control, or VDC (an advanced form of electronic stability control). Precise traction control is also part of VDC that incorporates an all-wheel, all-speed traction control system. Subaru is quick to mention that the Ascent beats out other competitors in terms of overall ground clearance (8.7 inches), but we won't exactly be soft-roading if we end up talking ourselves into one. What we do like (other than AWD, of course) is the Ascent's Hill Decent Control, which maintains constant target speed when you're on the downside of a grade.
Interior Pros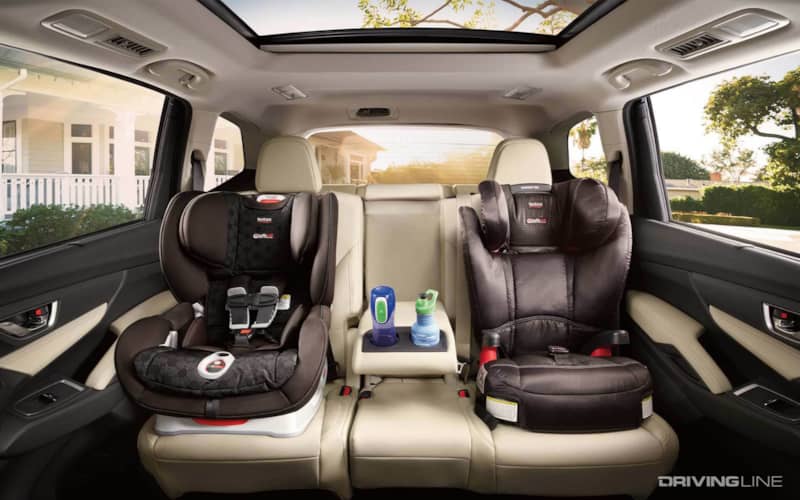 It's a stat that's hard to verify with some of the other automakers' SUV's we're interested in, but with 19 cup and bottle holders onboard we're pretty sure the Ascent wins in the beverage-storing category. Other interior options we like are: second-row climate controls (standard on Premium, Limited and Touring models), a power tilt/sliding panoramic glass moonroof option (optional on Premium and Limited, standard on Touring) and Smartphone remote start and climate control (available on Premium, Limited, and Touring models only). 4G LTE Wi-Fi capability is also possible via subscription.
Competitive In Cargo Space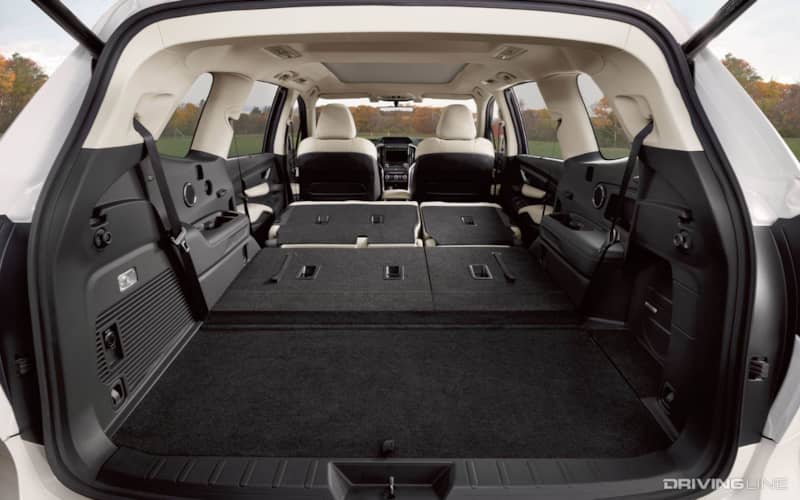 Both the second and third-row seats are tight(ish) for full-size adults, but the second-row captain's chair option (seating for 7) makes things much more tolerable for longer legs. As for cargo capacity, the Ascent is right in the thick of things. With the third row folded down, it offers 47.5 cubic feet of space (vs. the Explorer's 48 cubic feet and 43.3 feet in the Durango). With both the second and third rows folded, cargo room grows to 86.5 cubic feet (vs. 87.7 feet on the Explorer and 85.1 cubic feet for Durango). It's also worth noting that a power rear gate is standard on Limited and Touring models, but is available as an option with Premium trim.
Safety Comes Standard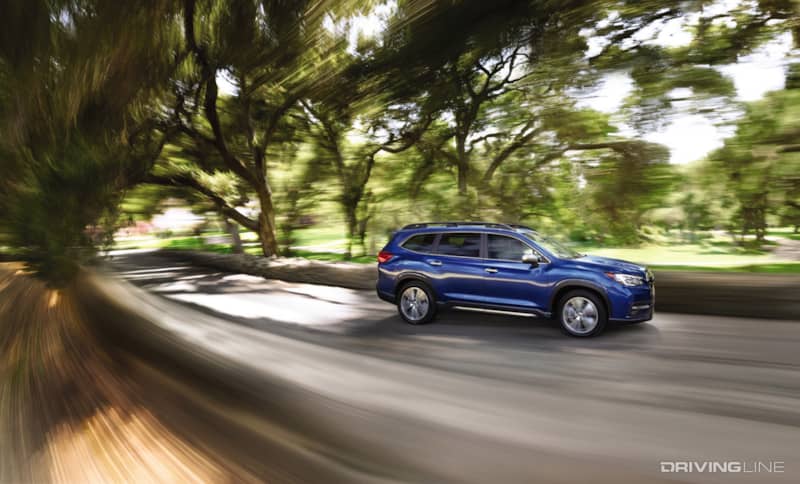 We've all seen the accident commercials that highlight the fact that Subaru builds some of the safest vehicles on the road, so it comes as no surprise that the Ascent received a 5-Star safety rating from the National Highway Traffic Safety Administration (NHTSA) in 2020. The Ascent also earned the highest possible rating for front crash prevention from IIHS, as well as a 2020 IIHS Top Safety Pick for its Steering Responsive Headlights. The latter technology is self-explanatory in that the headlights turn with steering wheel input, helping you to see what may be around the bend. Across all models, Subaru's EyeSight driver assist technology comes standard. Whether you opt for the base Ascent or the high-end Touring version, you get traffic movement monitoring, advanced adaptive cruise control, lane-centering assist and automatic pre-collision braking.
Our Ideal Ascent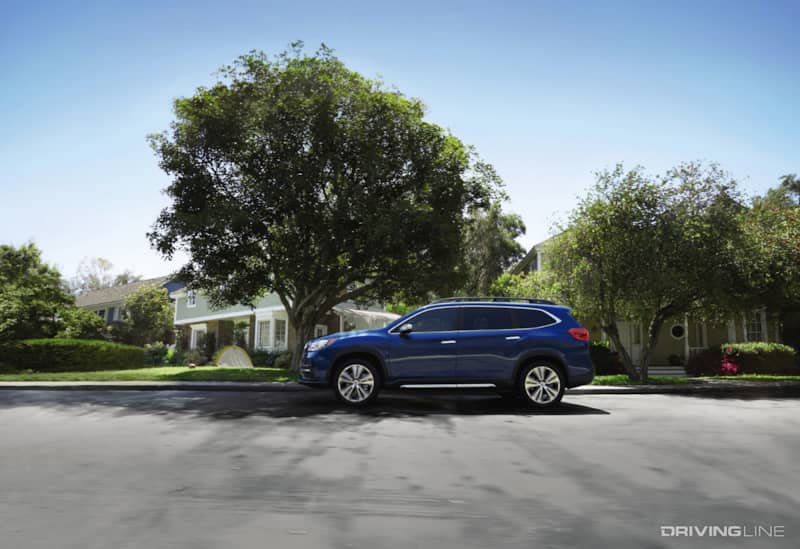 If it's our money (and it literally is), we'd opt for a Premium model Ascent with Subaru's 7-passenger convenience package (an additional $1,460). With that you get the aforementioned power rear gate, keyless access, heated front seats, a power-adjustable driver seat, an auto-dimming rearview mirror and reverse automatic braking. For another $230 we'd spring for third-row USB charging ports and then throw $369.95 at the remote start option. All in all, we would spend $37,904 for everything we would want and need—and still be well below the top of our budget.
More From

Driving Line
We'd be lying if we didn't admit that Ford's Explorer has our vote so far. Here's why.