The Perfect Weekend Off-Road Trip: The Georgia Adventure Trail Review in a Honda Ridgeline and Lexus LX570
When I discovered the enthusiast-created Georgia Adventure Trail route last year, I knew that I wanted to tackle the whole thing. The trail follows a series of public roads that run from Florida to North Carolina—and a thorough tour of all the natural landscapes that Georgia has to offer. Starting southeast of Valdosta on the FL-GA line, the route snakes up through the middle of the state, eventually moving further east to miss the Atlanta Metro, and ending in the Nantahala Wilderness on the North Carolina side. The trail consists of dirt roads, farm and forestry roads, National Forests, WMAs, and the asphalt roads that bridge them all together. All in all, it was a little less than 600 miles.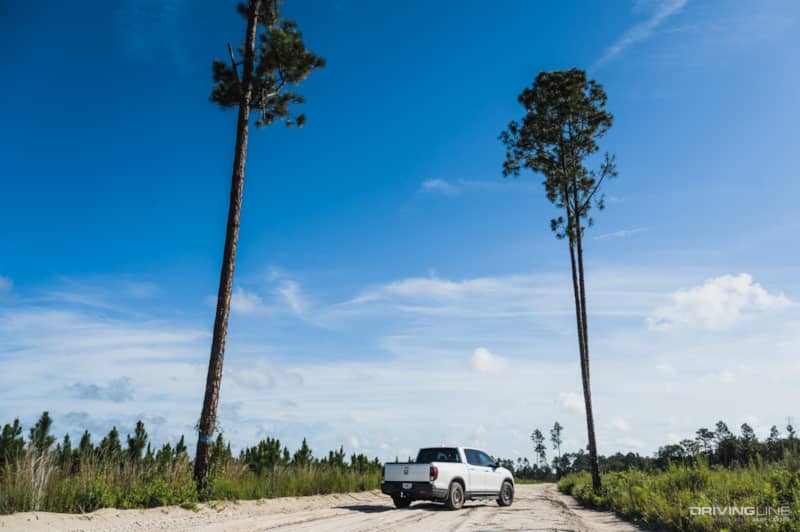 The original plan was for my dad and I to try to complete the whole trail over a weekend. We had two vehicles for the trip, a 2019 Honda Ridgeline AWD and a 2011 Lexus LX570. I figured that most of the more challenging spots would be north of my home in Macon, so my dad drove down on Friday, parked the Lexus at my house, and hopped into the Ridgeline to do the first half in one vehicle. When we passed by Macon on the way up, he would grab the Lexus and we'd ride separately for the second half of the journey. On Friday night, we drove 2.5 hours south, got a hotel room, left the hotel room to find an extra memory card for the camera at the local Walmart, and then finally rested before the next day's drive.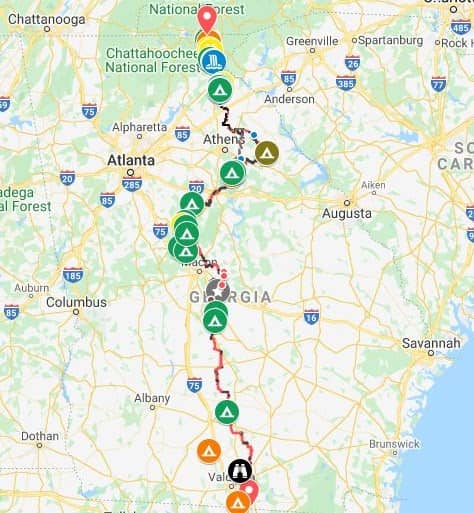 Before I go into the specifics of the trail, I think it is important to further explain what we were driving. My Ridgeline is an AWD model that has been functionally modified with a 1.5" JSport lift, a JSport skid plate, and Nitto Nomad Grappler tires on 17" Black Rhino Unit wheels. Outside of a few other aesthetic mods, the Honda relies on the surprisingly capable i-VTM4 AWD system to handle any major off-road obstacles.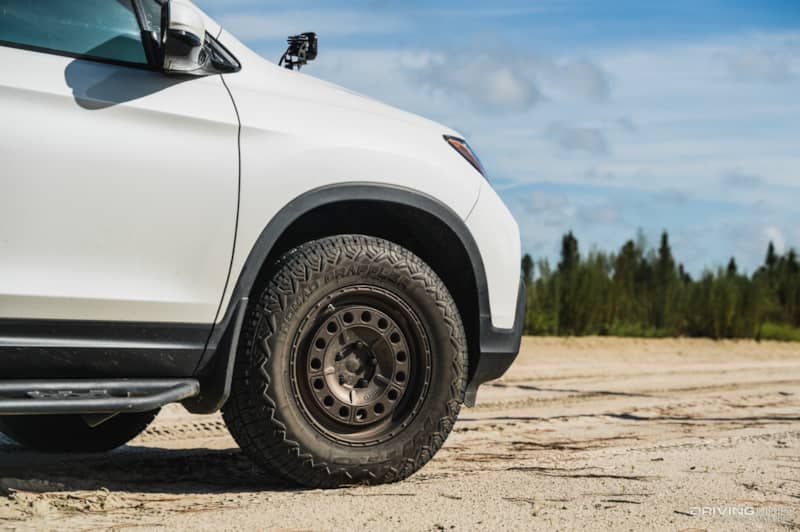 My dad's Lexus LX570, a near mechanical twin of Toyota's Land Cruiser, is stock with 250,000 miles on the 5.7L V8 and a fresh set of Nitto Ridge Grappler hybrid-terrain tires on the stock 20" wheels.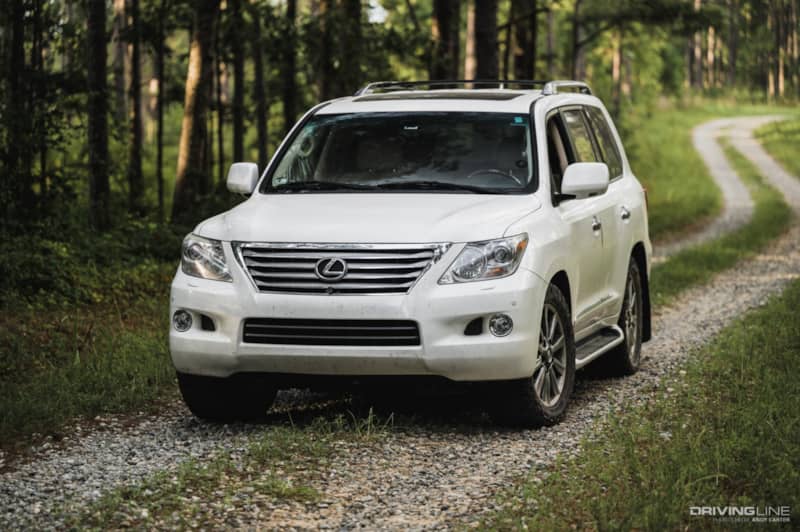 The Southern Half of the Georgia Adventure Trail: Easy Going
For those that aren't familiar with Georgia, the state can essentially be divided into three distinct geographic regions. To the south, the coastal plain is either flat and sandy, or flat and farmed. Outside of swamps, there just isn't much wilderness in the southern half of Georgia. Nearly 300 years of European occupation has meant most of the area has been converted to farmland or cultivated pine forests.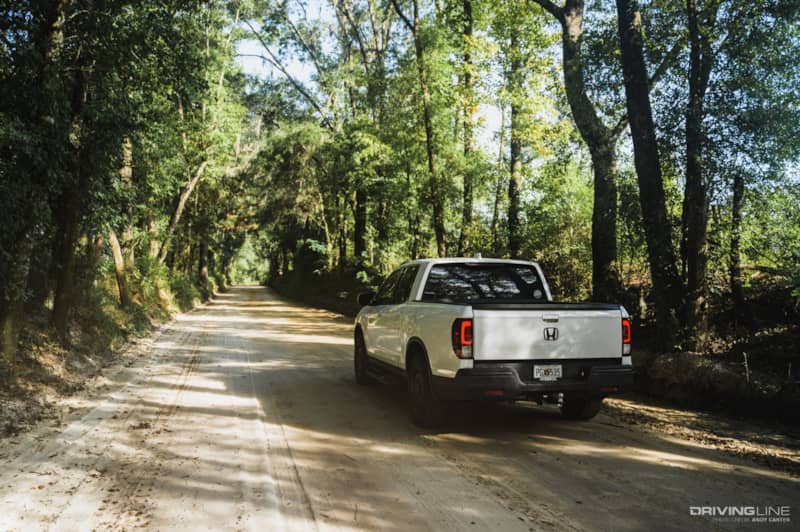 When we left early Saturday morning, our first few hours were spent snaking through farm roads and sandy easements through acres of longleaf pine. The Ridgeline performed flawlessly, but there was nothing that could have really been thought of as an obstacle. Any AWD vehicle could have made it through the absolute worst of the loose sand. Admittedly, the wider roads made for a nice opportunity to use the Ridgeline's Sand Mode, a mode that increases throttle response, changes the drive wheels to be rear biased, and disengages the traction control. The Ridgeline is certainly no rally car, but some tail-out driving made some otherwise uninteresting miles a little more fun.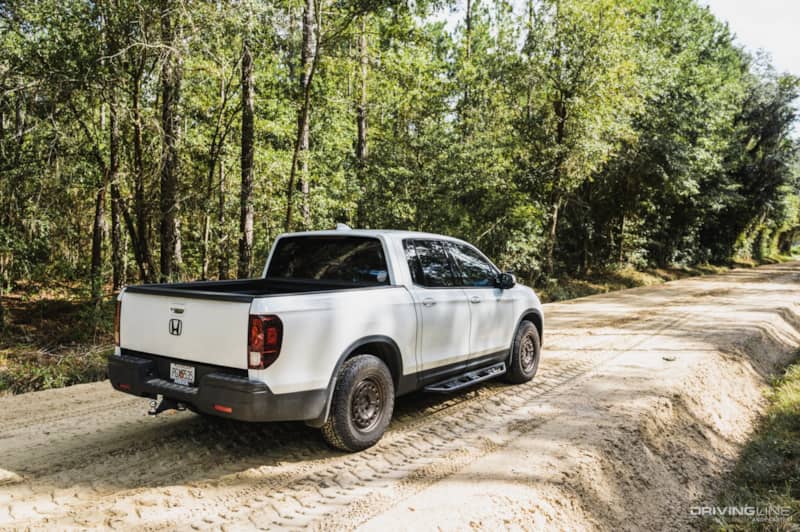 About five hours in, we made it as far as the metropolis of Fitzgerald, a small town in south-central Georgia, and stopped at a local diner for a burger. From the Florida line to that point, calling the experience an off-road adventure might garner a few chuckles from some, but it's still technically accurate. It's not to say there wasn't a spirit of adventure exploring some lesser seen areas of the state, or some great conversation, but anyone setting out to do the entire GAT should expect that this portion is the least dramatic. Safe to say, I'm glad we did it, but it will not be the portion that I return to as readily as the others.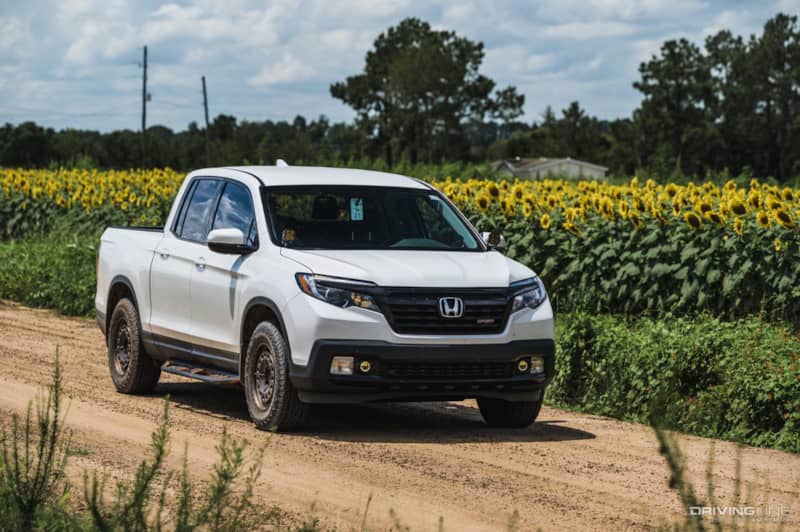 After lunch as we began to move closer to the center of the state, we began to see more elevation changes and more and more of Georgia's trademark red clay. The previous week had been dry, thankfully, so the clay mostly remained dry. As we entered the Ocmulgee Wildlife Management Area, we finally felt a sense of being in some semblance of wilderness. The roads were less managed, with ruts and standing water, despite the previous week's dry weather.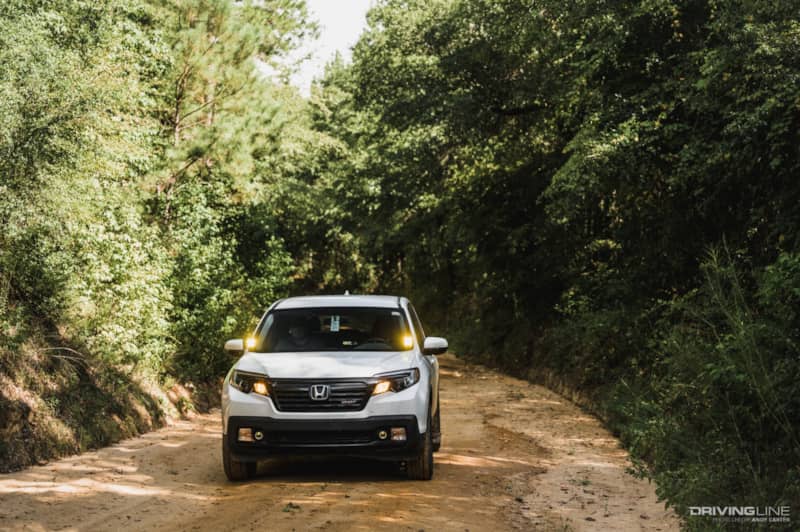 Other enthusiasts we spoke to warned us that this section can be troublesome after rain, especially if larger trucks had been through for the sole purpose of "mudding." Luckily, the Ridgeline's Nomad Grappler crossover-terrain tires made quick work of what there was to deal with, so there was no drama to speak of.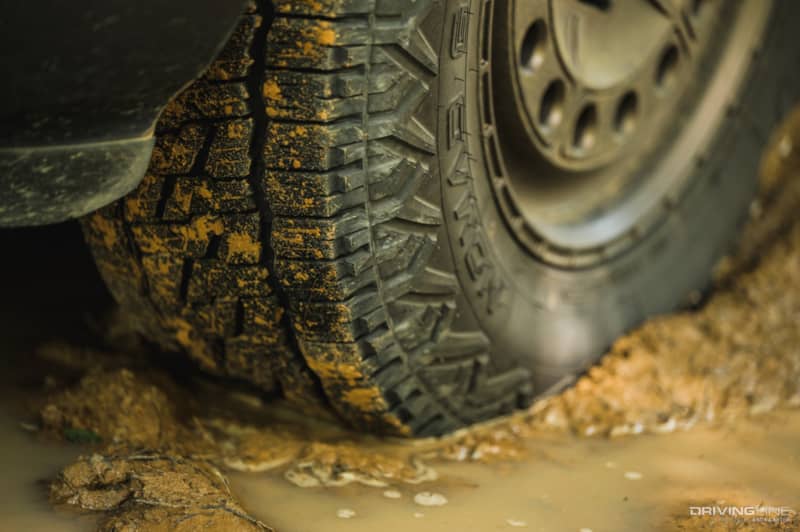 We did run into a tough spot in the Ocmulgee WMA with one of the creek crossings that had been washed away. I remember that being a topic of conversation in the local group the week before we left, but I had failed to mark it on our map. We couldn't cross it, and had to backtrack some, but luckily it didn't take us too far off of the marked route.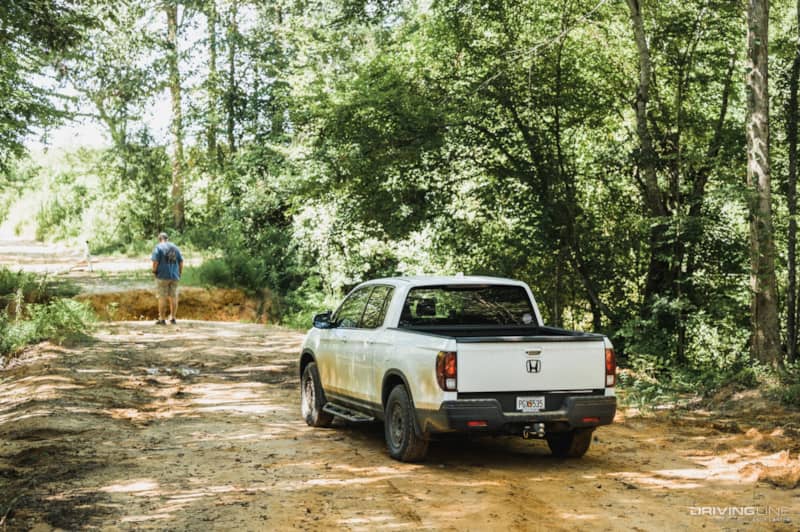 A Note on Navigation
Concerning the route, when we first started, we were using Google Maps on our iPhones with the GPX file loaded into the app. This is not the way to do it. Although it could work in a pinch, the positioning was too vague and repeatedly led to missed turns. After lunch, I remembered that I had specifically downloaded the Gaia GPS app weeks prior. With the GPX file loaded directly to my phone it functioned beautifully. The route was considerably more clear, and although it wasn't without a few frustrations, it made navigation much easier.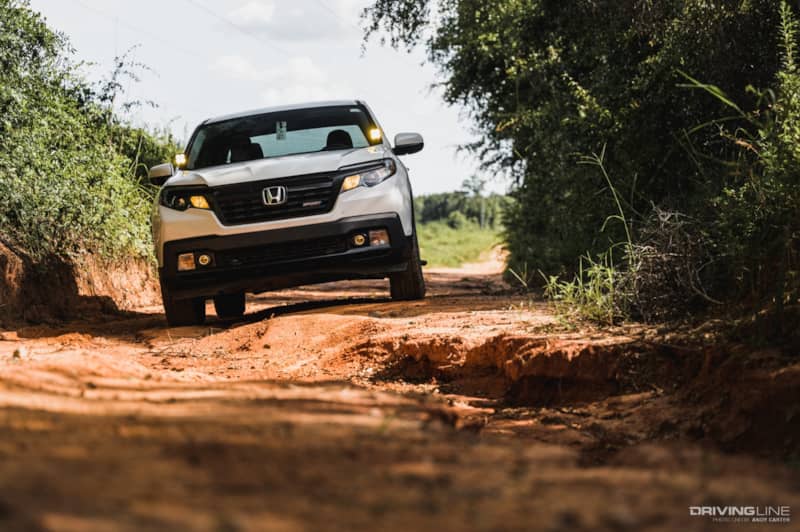 Heading North from Central Georgia on the GAT: We Add the Lexus LX570
By late afternoon, we had arrived due east of Macon, and diverted to my house for a quick dinner and to pick up the Lexus. The next section was one that I was familiar with, as I had done several local out-and-backs for day trips. Leaving around 6pm with fully charged walkie-talkies, we traveled from Macon to Jackson through some of the most beautiful terrain of the entire trip.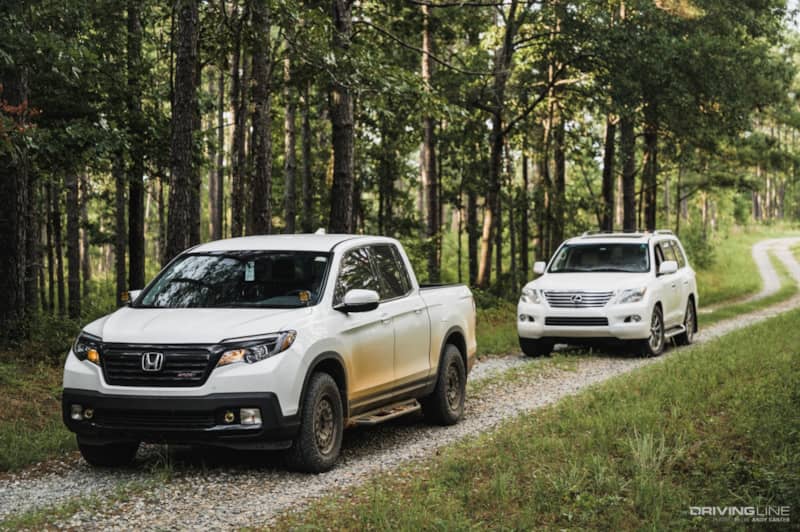 As you leave the Coastal Plain and enter into the Piedmont region of Georgia, the Hitchiti Experimental Forest provides some awesome trails through natural forest, with access to swimming, fishing, and other off-shoots to explore for those that want a little more adventure. If one was planning to camp, this would be the perfect spot to end the first day of driving, with local access to both campgrounds and dispersed camping in the area.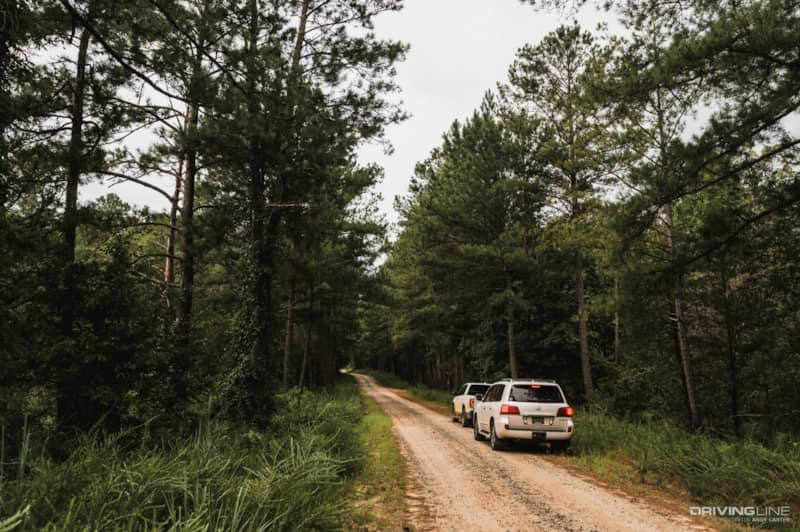 Our goal had been to make it through that area before stopping, but once the sun had set the rain arrived. Most of the last hour was spent in torrential downpour in some of the most narrow traverses of the entire route. Neither the Nomad Grapplers or the Ridge Grapplers struggled with the wet earth, and we found our way back to civilization. For a variety of reasons, we did not bring our campers on this run and stayed in a hotel, but the whole trail is such that a small teardrop with all-terrains would be a perfectly reasonable plan for accommodations.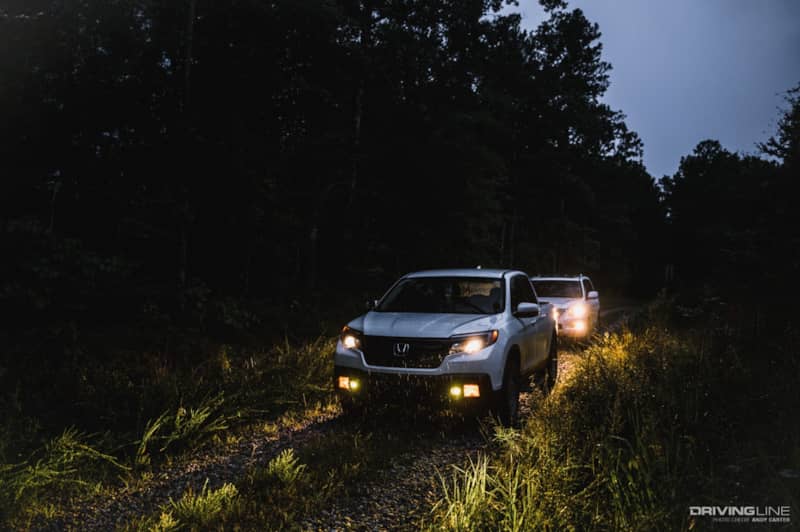 Waking up on Sunday morning, we had a little over half the trail behind us, and as the Piedmont region flows into the foothills of the Appalachians, the roads get a little more curvy and slow going. That's not to say that it is all wilderness, as there are still plenty of farm roads, but there is significantly more time spent in managed natural forest areas.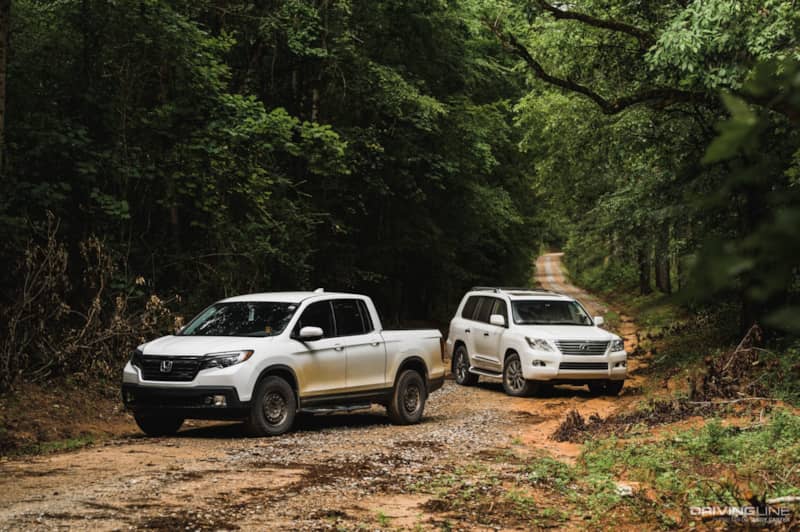 Most of those roads are well maintained, with the majority being reliably covered in gravel. There are, however, a number of interesting water crossings that, while not technically difficult, make for some added drama and opportunities for out-of-vehicle exploration.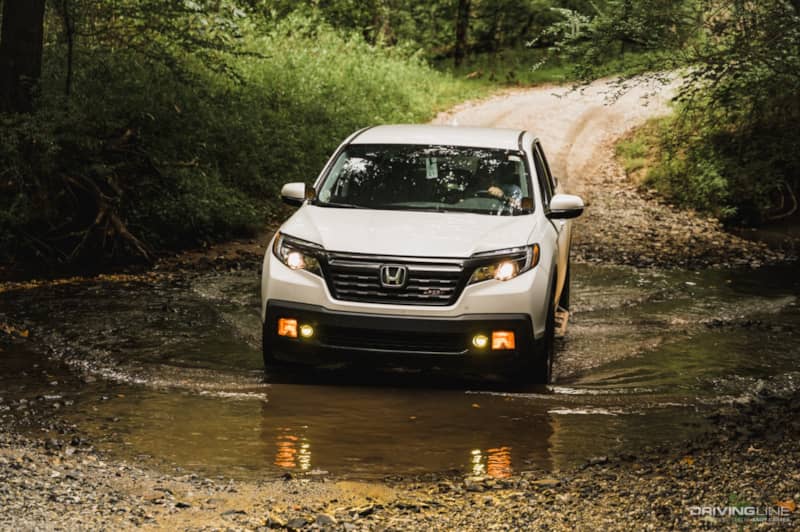 It was through this area that we realized that running the GAT in its entirety should probably be a three day trip rather than two. We passed countless hiking opportunities and trail offshoots that would have made for a more interesting trek than just following road to road on the GPX map.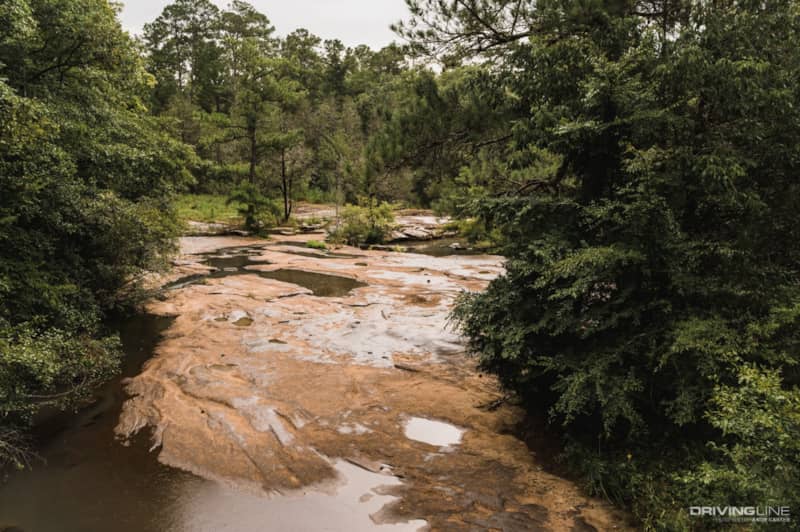 More hardcore off-roaders looking to test their vehicle's capabilities could easy travel down some less managed paths, and honestly, those just looking for an opportunity to enjoy time outside of a car could see the various historical sites or natural landmarks. Tallulah Gorge State Park would make for an excellent stopping point for day 2 with plenty to do in the area, and opportunities for camping.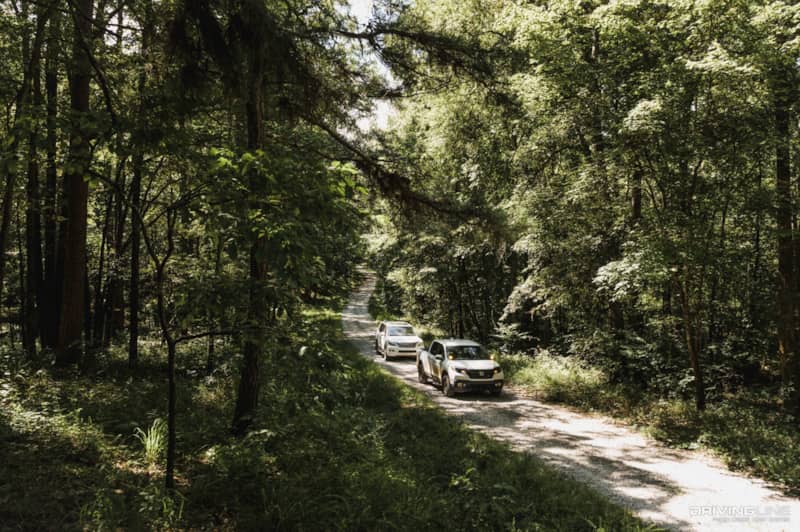 The latter half of the day, for us, was spent in a nearly torrential downpour, eliminating the chance for photo stops, and making the limited visibility of tight mountain corners more stressful. Additionally, the route around North Georgia's Lake Seed takes you through a residential area of multi-million dollar lake homes that certainly crushes any illusion of wilderness. While the roads are still gravel, driving 15mph behind a late-model luxury SUV was not the experience we were hoping for.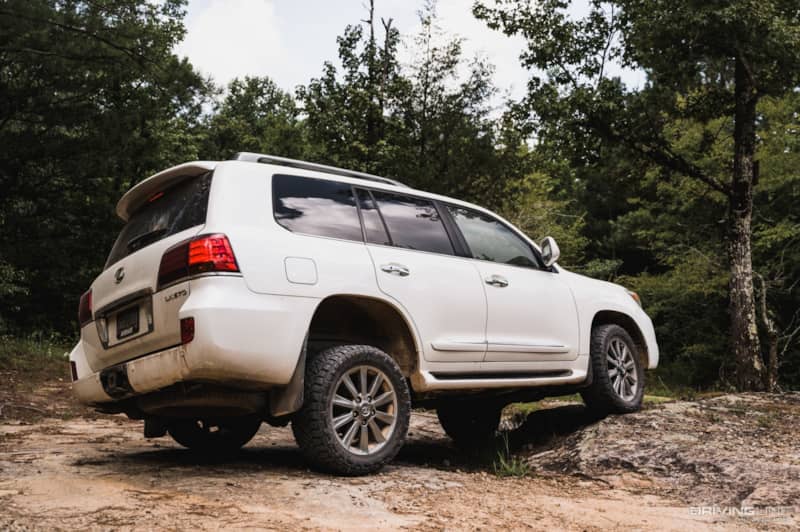 Beyond that section, the forests of North Georgia are beautiful with a mix of mountain views, huge hardwood trees, and creek crossings. Despite a few unexceptional areas dictated by the path, this area provided an altogether different experience than the Piedmont and Coastal Plain regions.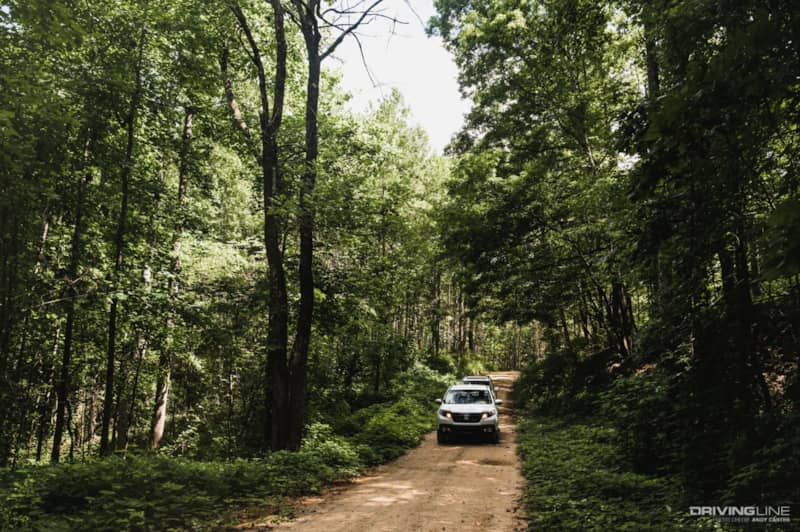 As much I would love for the final miles of the trip to be grand mountain vistas, the weather was not on our side. We crossed the Georgia/North Carolina border rather unceremoniously and turned around to head home. Without diving into literary cliche, the fun of the GAT isn't the destination, but rather, the trip itself. Regardless of whether you go it alone for a few days of solitude, or go with family or friends, the Georgia Adventure Trail provides uninterrupted time to enjoy the natural parts of Georgia.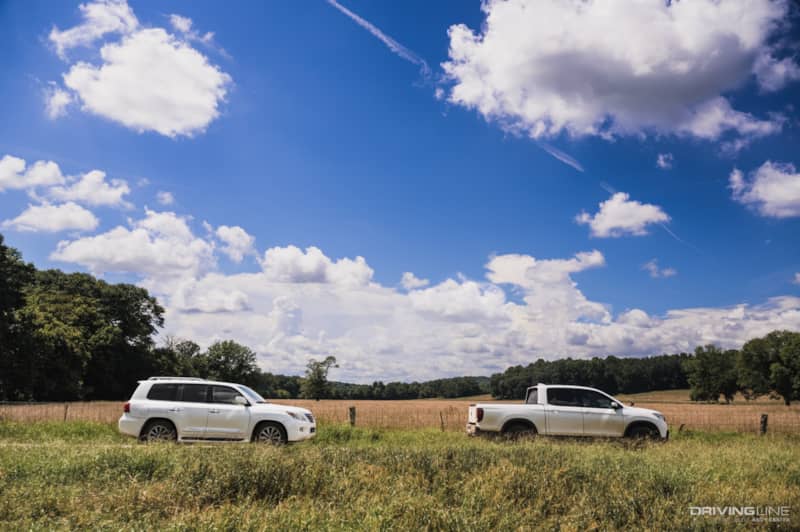 This trip is absolutely not for those that want to challenge themselves or their vehicles with off-road obstacles. What the GAT is, however, is a starting point for those that want to experience nature in their vehicle in a non-threatening, easy-to-enjoy for the whole family, relaxing way.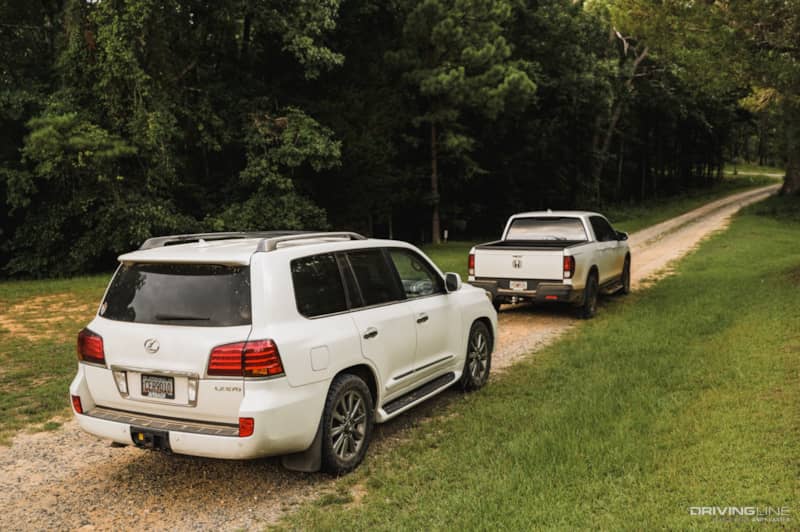 Our two vehicles represented two very different approaches to competent trail rigs, for about the same price. The Ridgeline is a crossover-based pickup with respectable AWD and a balanced set of Nomad Grappler all-terrains that are as comfortable on-road as off. 
The LX570 represents legendary Toyota 4WD performance wrapped in leather and chrome. That GAT didn't provide any obstacle that differentiated the performance between the two. Both were comfortable, and well suited to their respective vehicles.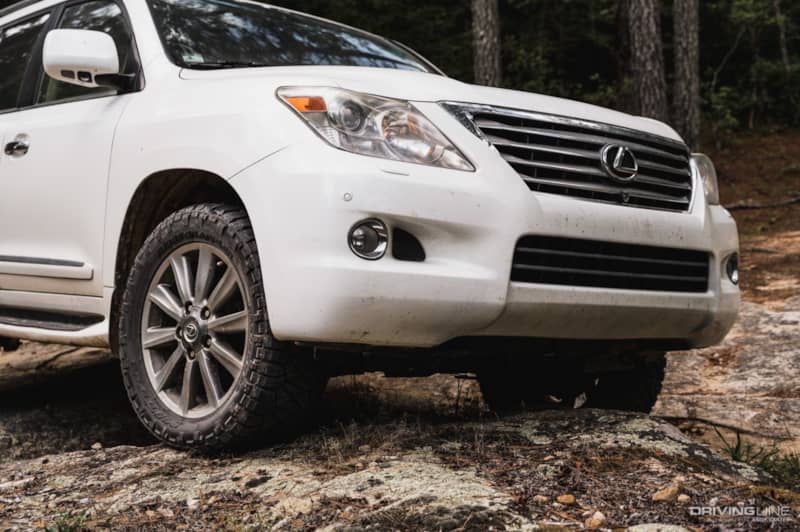 Future Plans for the Georgia Adventure Trail
All said and done, Dad and I had an awesome time. There are a few things we'd do differently. Next time, we'll bring either our tents or campers. Staying on the trail would have been awesome. We'd also advise anyone wanting to do the entire GAT to plan for three days. There's far too many "aw that looks cool" moments that we had to pass to stay on schedule.
There's no accounting for bad weather, but having the chance to wait it out would have been nice. There's certainly no reward for speed here: Take the time, enjoy the moment, and make the memories. Our lives are entirely too fast-paced to rush through an experience like the Georgia Adventure Trail.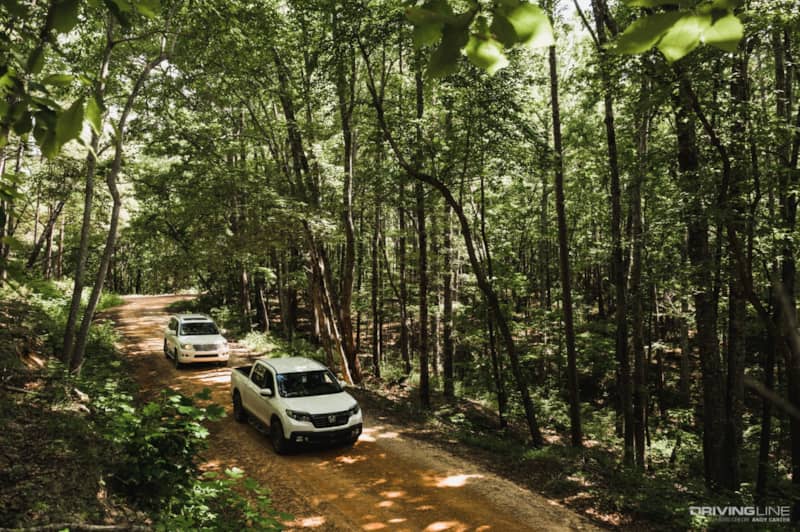 More From

Driving Line
Not sure where to start Upgrading Your CUV? The Nitto Nomad Grappler is the perfect no-compromise all-terrain for today's AWD crossover.