The Ultimate Crossover Tire: Nitto's Nomad Grappler Tested
Excellent fuel economy, an outstanding safety rating, and one of, if not, the best all-wheel-drive system on the market- the Subaru Outback is an outdoor enthusiasts dream vehicle in many ways. Over two years ago, we made the decision to sell our 2015 Toyota 4Runner and move to a 2020 Subaru Outback. The fact is, the Subaru would not only would double our fuel economy over the 4Runner, but we've found it works just as well for all of our on and off-highway needs.
Logging over 20,000 miles on the car since we purchased it, the only real modification we've been anxious to do was swap out the original all-season tires for something a bit more off-road friendly. The trouble for us has been primarily that we didn't want to move up to a heavy Light-Truck tire and rob the ride quality and performance that we so enjoy about the Outback. We don't need to build this out into a hardcore off-roader. We have a Jeep for that. However, we wanted something that would handle off-road terrain more effectively than what came on the vehicle stock.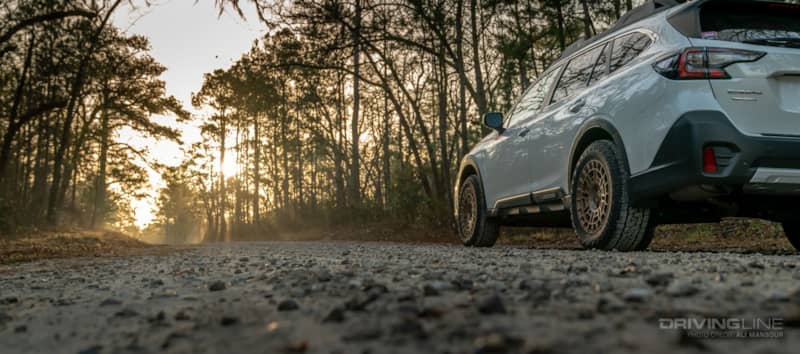 This is where the Nitto Nomad Grappler comes in. We've been running Nitto's on our trucks and Jeeps without issue for years. It's a brand we've grown to trust. When we saw the company's new all-terrain Nomad Grappler, we were pretty excited. However, when we dug a little deeper and learned that the Nomad was actually engineered for Crossover platforms, we were ecstatic. The fact that a quality tire company has finally made a true all-terrain tire for these lighter platforms is huge for this segment.
While we found Nitto offers a direct replacement size for our Subaru, we wanted to squeeze on a slightly taller and wider version to increase the cars footprint in the dirt. So, does the new Nitto live up to the Grappler family name? Read on to find out.
Gear Upgrade 
Moving to a 235/65R17 Nomad Grappler meant we would need new wheels as our car came with 18-inch-wheels from the factory. For this, we secured a set of 767 Pangea wheels in a 17x8 from Gear Off Road. These are a lightweight, cast-aluminum wheel that have the right load rating and offset needed for the Subaru. We love the bronze finish, but you can also order these in black.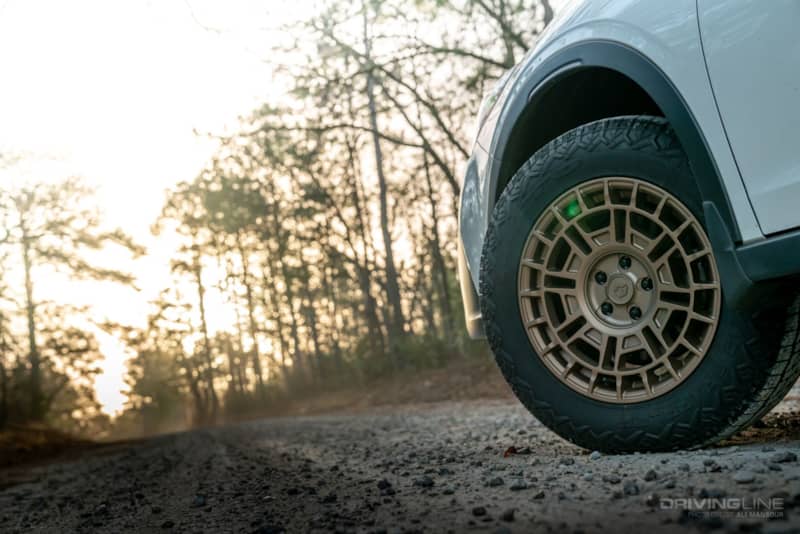 Offset 
Speaking of offset, the 767 Pangea has a +35mm offset and 5.88 inches of backspacing. This is ideal for our Subaru Outback as it keeps the tires tucked nicely under the wheelwells and doesn't add any additional strain to our front end like a wheel with a lower numerical backspacing would.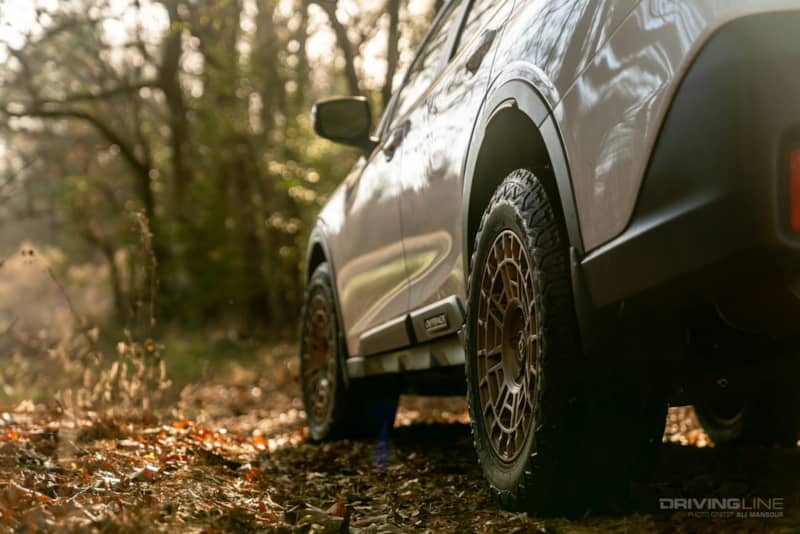 Wider Is Better 
Nitto's run true-to-size and ours measure in just over 29 inches tall and a touch under 9½ inches wide. This is only slighter taller than stock, but a full two inches wider. We haven't experienced any rubbing with this setup.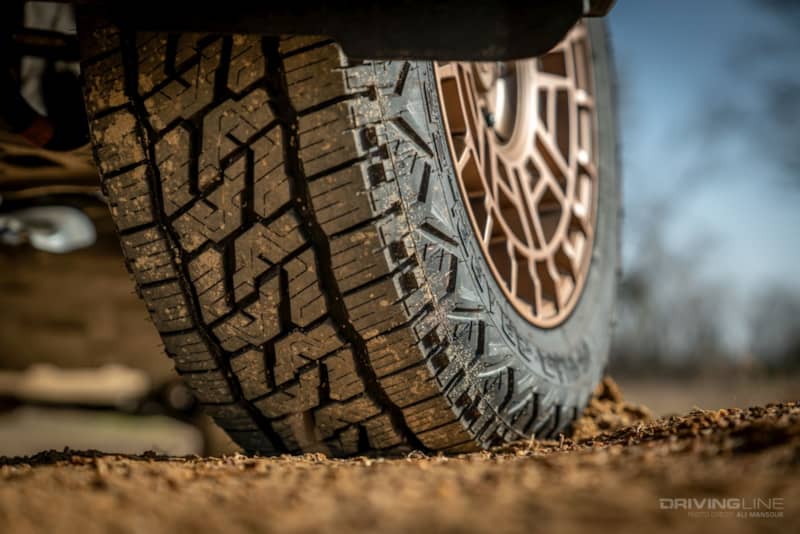 Sidewall Grip
You have two choices of sidewall designs with the Nomad Grappler. We opted to place the slightly more aggressive one on the outside. Unlike a Light Truck tire, which load rating would be overkill for our Subaru, the Nomad sidewall boast a more fitting 2,205 pounds of max load capacity. This equates to a more durable sidewall and if we want to add-on more gear to our Subaru, we have a tire that can handle it.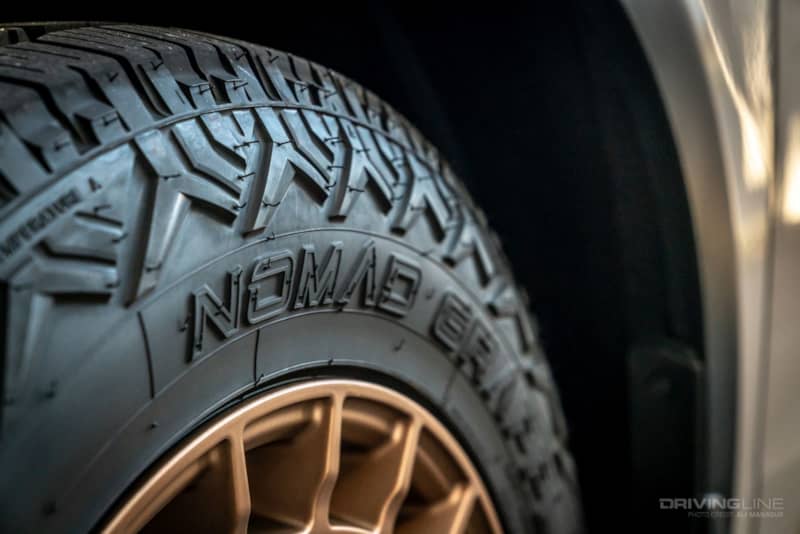 All About Balance 
Nitto has been working on this tire and like its Light Truck all-terrain tire offerings, the Nomad is extremely quiet on-road. With each wheel taking very little weight to balance, we are also happy to report there are no new shakes or vibrations associated with the tire and wheel upgrade.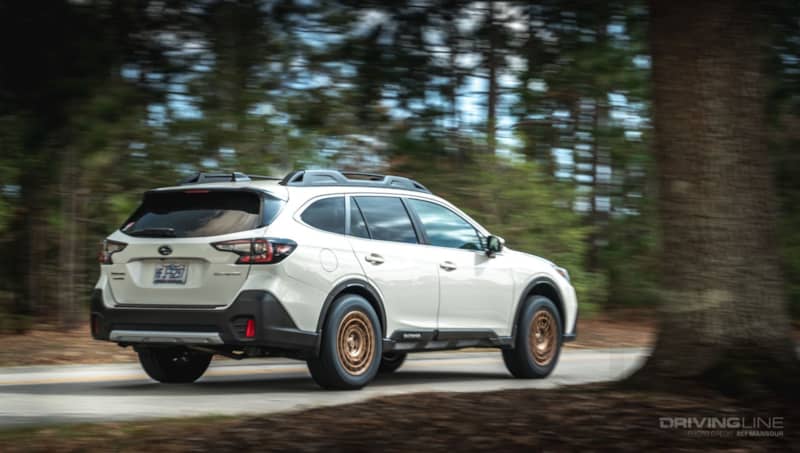 3-Peak 
We get plenty of rain here in southeastern North Carolina and thanks to a gracious amount of sipes that run throughout the tread blocks, wet road conditions have not been an issue. While we have not had a chance to test out the Nomad's in the snow, it is worth mentioning that the tires do carry the 3-Peak Mountain Snowflake rating.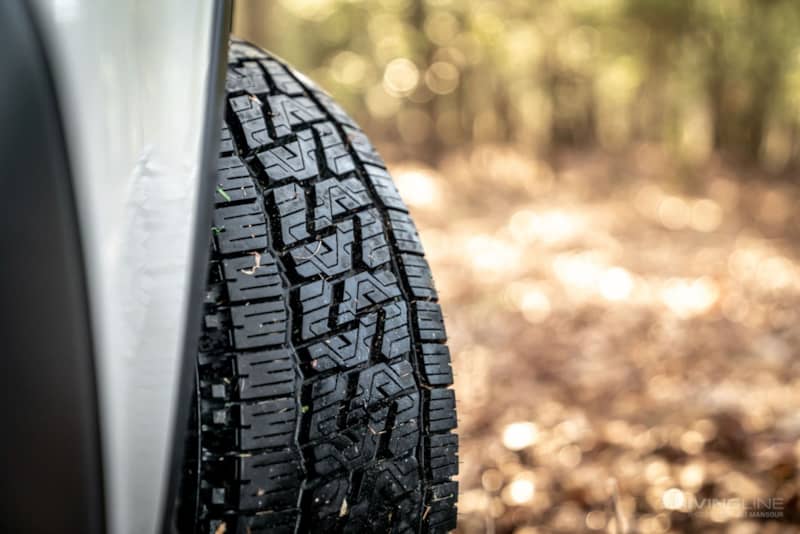 Gravel Gold
Few things can chew up a tire as quickly as a rocky backroad. We've experience flats in the past from what's commonly known as a hammer fracture. It's when a small bit of rock gets wedged between the tread and ultimately drives itself into the carcass causing a flat. It's one of the things we worried about the most with the stock tires. With the Nomad being a true all-terrain tire, the construction is better suited for repeated gravel battle. We have also found that thanks to a well-staggered tread design, we find fewer rocks lodged between the treads.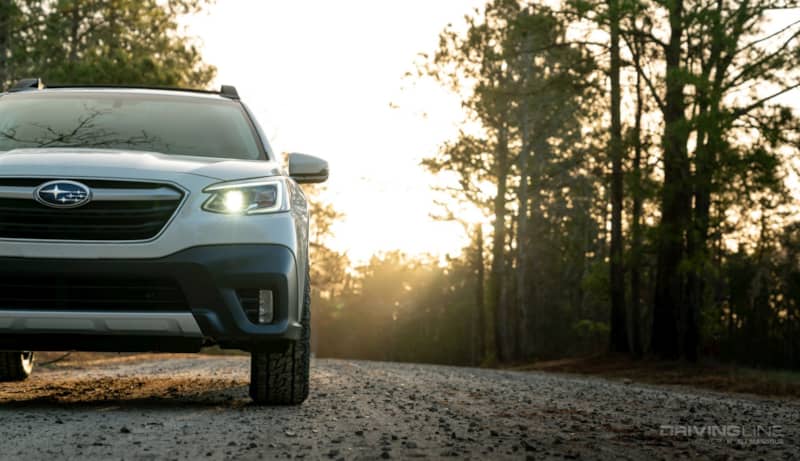 In The Dirt
Our particular mix of dirt here is extremely sandy and loamy. For Outback owners looking to traverse sandy conditions we have found that placing the car in X-Mode along with dropping a few pounds of air from the tires has proven very effective off-road. We do our best to avoid mud. But, for the light trails we've encountered, the tires have done a great job cleaning out and keeping us moving forward.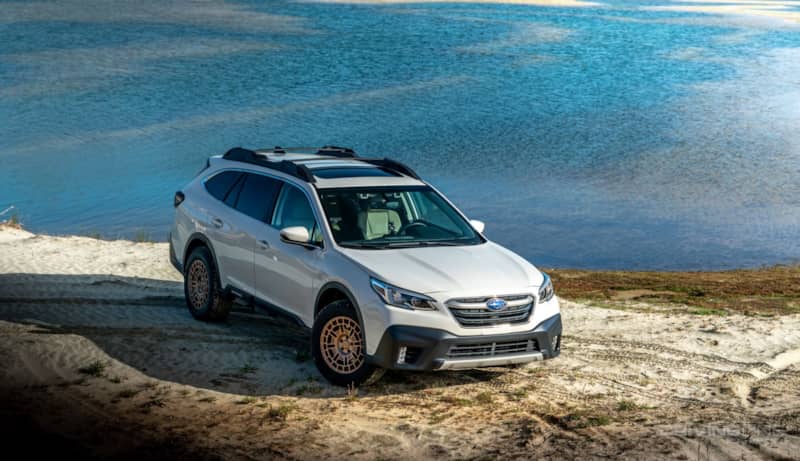 Overall Impressions
Without question, we love the new look and handling of the car. The larger footprint feels great on-road and off. We also don't feel we've sacrificed the performance or ride quality that we had in stock form. Given there is a 60,000-mile limited treadwear warranty, we feel good about our tires going the distance. The fact that these tires were engineered for applications such as ours is a big deal. If you truly want to explore more with your crossover (and make it look far better), the Nomad is definitely worth serious consideration.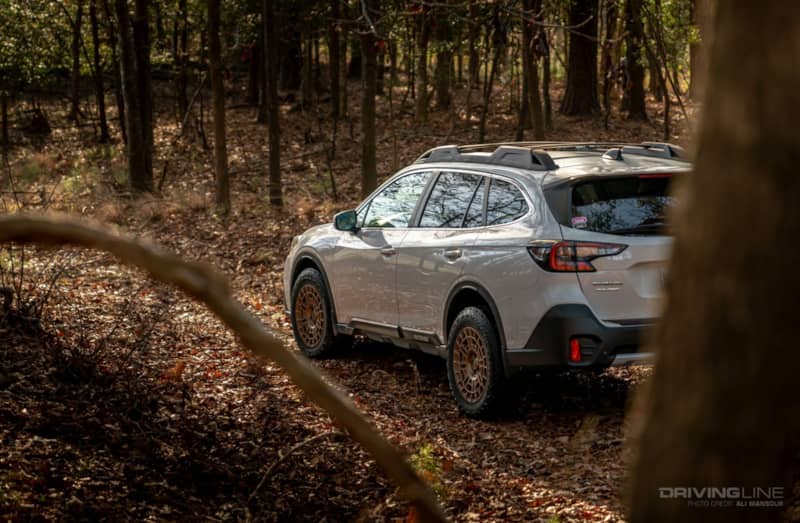 More From

Driving Line
Want to see the Nomad's 3-Peak rating get put to the test? Watch THIS!