The Road to SEMA | JK Build x2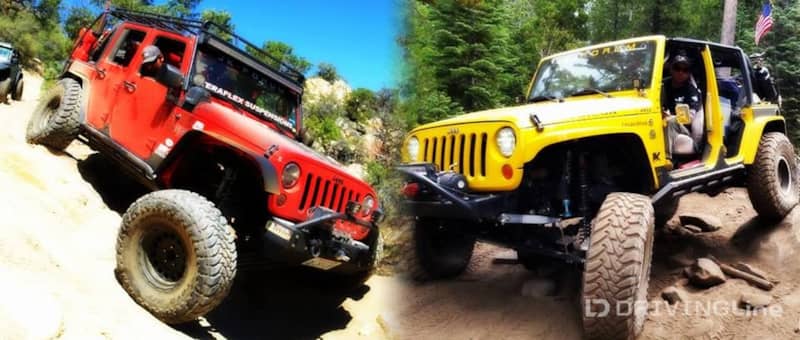 Unless you are an industry insider, most people can only dream of attending SEMA. The annual Specialty Equipment Manufacturers Association trade show held every November in Las Vegas is not open to the public; it is only open to the trade.  It is the premier automotive specialty products event in the world, and with thousands of eagerly anticipated new product launches, drool-worthy vehicles at every turn, and everybody who is anybody in attendance, it is the hottest ticket of the year in the automotive industry. Frank Hansen and Bill Craig had never been to SEMA. As the lead moderators of JK Forum, an internet forum and website dedicated to the Jeep Wrangler JK with close to 100,000 members, the two men were hoping that forum owner Internet Brands would allow them to attend on behalf of the forum so they could provide media coverage for their forum members. Their dream became larger than life when Internet Brands told them that not only could they attend the show, but there would be room in their booth for their Jeeps to be displayed if they could get sponsors lined up and have their vehicles show-ready in less than two months.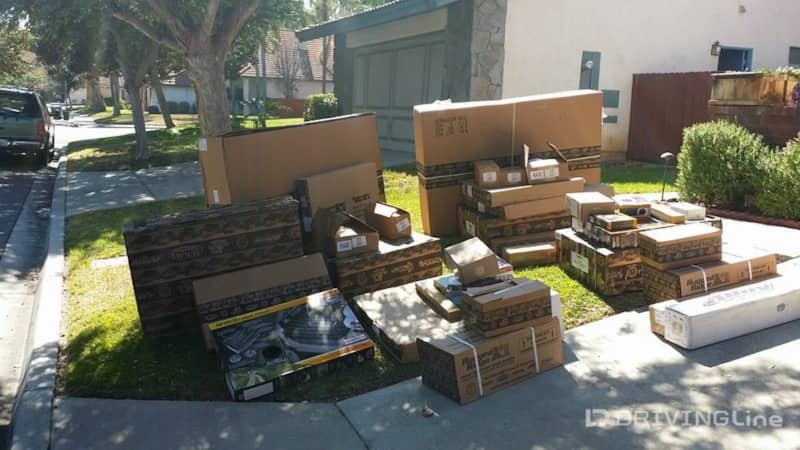 Both men own Jeep Wrangler JK Unlimiteds, which were already heavily modified. Bill's Jeep "El Pig" is a daily driver built for overland and rock crawling. Frank's Jeep "Conflicted" was well on its way toward becoming a dedicated rock crawling rig with one-ton axles and 40" tires. Both vehicles had been wheeled hard and had the battle scars to prove it. Getting them show ready would not be an easy task.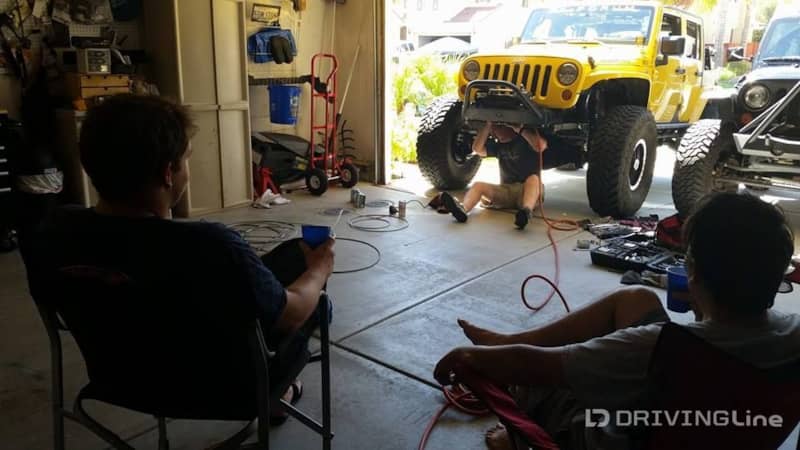 They knew they had to get busy, so immediately contacted two friends who had already been through the SEMA-build process for their advice. They learned that the first thing they needed to do was to put together a marketing proposal - a necessity before any potential sponsor would even consider talking to them. The first shock came when they realized that having someone prepare an artist rendering of the proposed builds would cost them between $500 and $1000. Still, they forged ahead, confident that it would somehow all work out.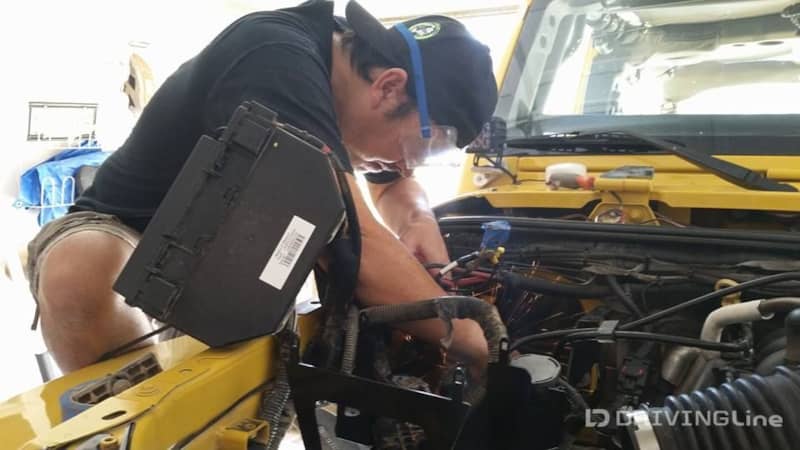 Many people think that exhibiting a personal vehicle at SEMA is just a way to get free parts, but Frank assured me that nothing could be further from the truth. Although it is true that some vendors will donate free parts and services, most only offer a steep discount in exchange for the exposure. The associated install costs, which can be quite hefty, all fell to Frank and Bill. In exchange for sponsorship at any level, Bill and Frank utilize social media to showcase the ongoing build projects on JK Forum, Facebook and Instagram, as well as create installation write ups, product reviews and videos for the products used and provide photos for the sponsors to use on their websites.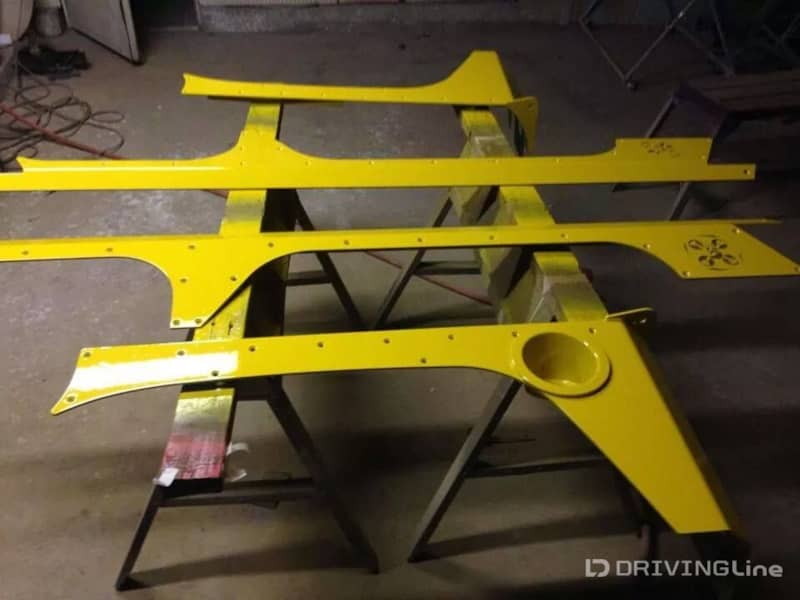 The exposure offered to sponsors lasts well beyond SEMA. Another component of their marketing plan is committing to attendance at off road events throughout the remainder of 2014 and all of 2015. Potential sponsors want to know that their product will be seen in use on the trail by owners who have firsthand knowledge and can talk to potential buyers.  In addition to SEMA, Frank and Bill have committed to attending a minimum of eighteen off-road events over the next year.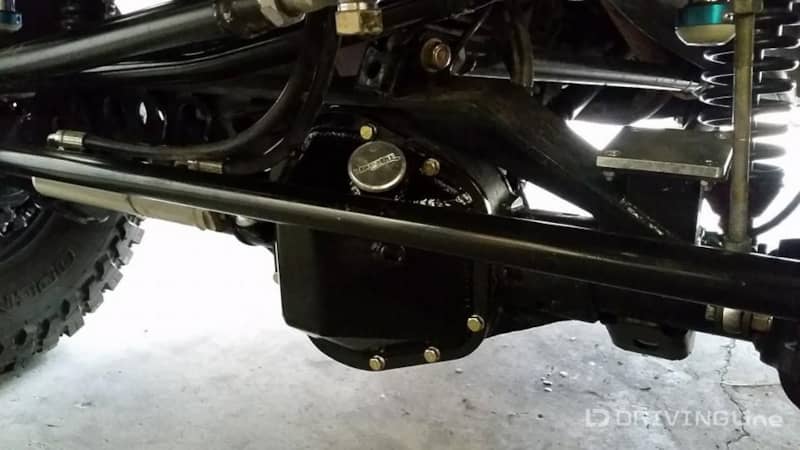 Frank cautioned that doing a SEMA build is like having another part-time job, and that anyone who can't devote the time shouldn't even consider it. Both men have full-time jobs in addition to their moderator duties at JK Forum. Their nights and weekends are consumed with finishing their Jeeps, contacting potential sponsors, providing existing sponsors with progress reports, and continuing to iron out details while working through contract language. Some vendors require exclusivity and most vendors require a minimum one or two year commitment that the products will remain on the Jeep. There are little details like logo size that need to be considered; if a sponsor does not have their own booth at SEMA, there is a limit on the size of logo that can be placed on the Jeep. Only sponsors who have their own SEMA booth can place a windshield banner on the vehicle, prime real estate with high visibility.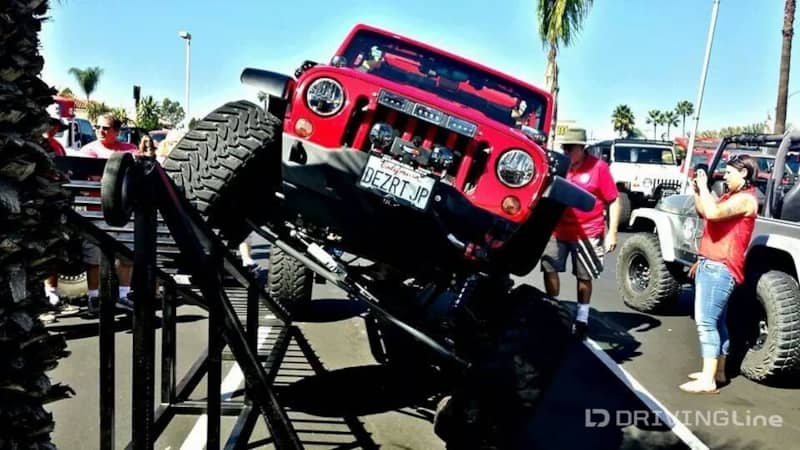 Frank and Bill already had a solid network developed through their work with JK Forum. Their contacts helped open more doors for them, but they noted that while most vendors were eager and receptive, their cold calls had a significantly lower success rate. "You have to be a squeaky wheel because everyone wants their attention," Frank told me. He said they never would have been able to accomplish the project without the generosity and a lot of help from their contacts in the off-road world.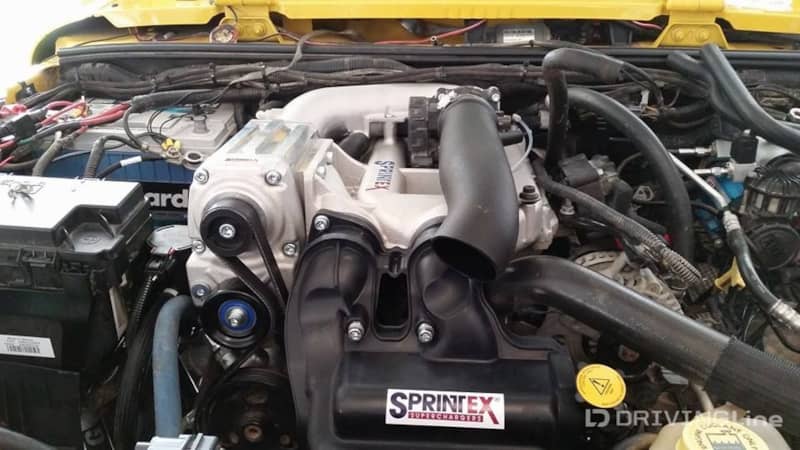 I kept in touch with the men throughout the process and heard their struggles. Budget was the biggest hurdle; Frank had just put one-ton axles in his Jeep right before he learned he would have this opportunity and his budget was tapped. Neither of the men realized how much it would cost to finish the builds when they first started. They sold off the parts they were removing from their Jeeps as quickly as they could, to generate money to pay for more parts, installation costs and paint for the new doors and hoods. They did as much of the installations as they could on their own, or with the help of friends, to save money - but there was no getting around the fact that some components required trained experts. And there were out-of-pocket expenses for things like replacing a windshield that had seen too many rocks on the trail and repairing other trail damage, tearing out stained carpet and rhino lining the interior and upgrading parts needed for the build for which no sponsor could be found.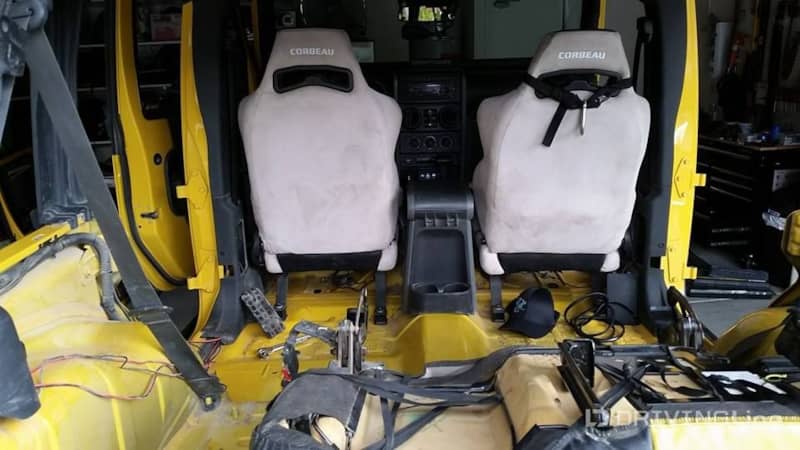 With only about a week to go, the two men are in a mad rush to get their Jeeps finished! You can follow along on the build threads at JK Forum or their Facebook page, but you'll have to wait until SEMA to see the finished products (which we'll be covering in full here at DrivingLine). The guys said they expect to be working right down to the wire to get everything completed in time. Some of the products the JK Forum Jeep builds will be featuring are: JCR Offroad bumpers and armor Teraflex Elite LCG Long Arm Suspension System, a rear Monster Track Bar and Drop Bracket, and an HD Frame Brace and Drag Link Flip Kit Rebel Off Road Recon Coilover Conversion Adams Driveshaft 1350 Front and Rear driveshafts Factor 55 ProLink and FlatLink shackle thimbles and hawse fairleads Power Tank CO2 system Sprintex Superchargers SpiderwebShade J.W. Speaker lights Omix-ADA/Rugged Ridge fenders, half doors, performance vented hoods, winches and "lots of interior trim pieces" Cascadia 4x4 flip license plate mount Genesis OffRoad dual battery kit with G Screen monitoring system OR-Fab 3rd brakelight relocation bracket EVO Mfg corner armor, side rails, Maxxima LED taillights All photos courtesy of Bill Craig and Frank Hansen