Tiny But Mighty: Detroit's 4 Smallest V8 Performance Engines
Historically, automotive enthusiasts have adopted a 'bigger is better' mentality when discussing V8 engines. The golden age of muscle cars certainly reinforced the indelible link between cubic inches and horsepower, but even in the 1960s Detroit engineers were trying to create smaller and smarter engines that produced power without relying exclusively on displacement.
Fast-forward to the 90s where small V8 engines enjoyed a brief day in the sun, often subbing in for bigger units in performance platforms that had been designed with more modest motors in mind. Still, the same technology that made them appealing to automakers seeking pint-size power would soon achieve similar results with less expensive V6 and four-cylinder engines, closing the window on small displacement V8s after a decade or so of production.
Let's take a closer look at Detroit's four smallest V8 performance engines.
Buick/Oldsmobile/Pontiac 215 V8
General Motors had been a V8 pioneer through the Cadillac brand, and by the late 1950s it was looking to innovate again with an advanced eight-cylinder engine. This time it was Buick that would lead the charge with an all-aluminum, relatively high compression 215 cubic inch (3.5-liter) V8. Offering between 155 and 200 horsepower, depending on compression ratio and carburetion, the motor topped out at 230 lb-ft of torque, or more than one lb-ft per cubic inch.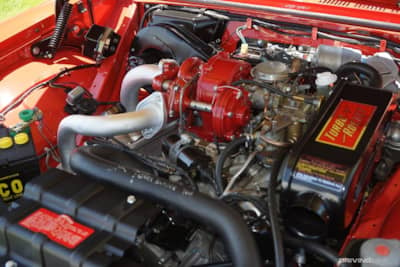 GM would stuff the 215 in Pontiacs, Oldsmobiles, and Buicks alike, and with a weight of between 320 and 350 lbs it was a good fit for the compact cars of the era. In 1962 the motor would even briefly get the turbocharger treatment in the Jetfire, making it (just before the same-year Corvair Monza Spyder) the first production turbo in history. Good for 215 horses and a whopping 300 lb-ft of torque, the finicky setup was ahead of its time and by 1963 it had been retired.

Buick would stop making the standard 215 that same year, citing the higher production costs associated with the aluminum block. General Motors would end up selling the rights to the design to an unlikely partner—Rover Group—which would go on to stuff the 3.5-liter V8 into a wide variety of cars and trucks for decades
Ford 3.4-liter V8
In the mid-90s, Ford had a sport sedan problem. The previous-generation Taurus SHO had offered enthusiasts an unusual, but fun V6-powered front-puller that featured a Yamaha-tuned engine under the hood, but no such drivetrain was available for the all-new version of the car that debuted in 1996.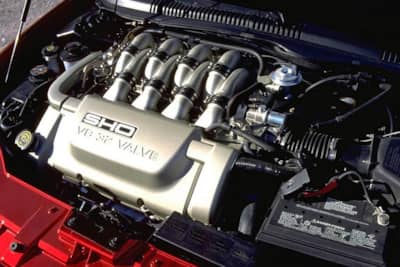 Instead, the Blue Oval would once again ask Yamaha to work its magic, only this time reworking the Duratec V6 into a slightly larger V8. This added roughly a liter of extra displacement and in the process created the smallest domestic V8 ever offered in a production vehicle.
The 3.4-liter V8 developed 235 horsepower and 230 lb-ft of torque. The aluminum engine would be offered until 1999, when the SHO would leave the market.
Oldsmobile Aurora 4.0-liter V8
Just a touch larger than the Ford Taurus SHO's eight-cylinder engine was the 4.0-liter small displacement V8 found in the Oldsmobile Aurora. Roughly the same size as the Taurus, although aimed at a more upscale crowd, the Aurora was an attempt to relaunch Oldsmobile in the 1990s as a sportier alternative to Japanese luxury marques.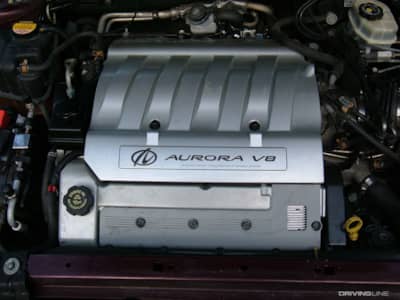 The Aurora's 4.0-liter motor was actually a somewhat smaller version of Cadillac's Northstar V8, which had been designed for use in transverse engine bays by front-wheel drive cars. Sharing many design similarities, the 32-valve motor dropped 40 ponies to offer 250 horsepower and 260 lb-ft of torque.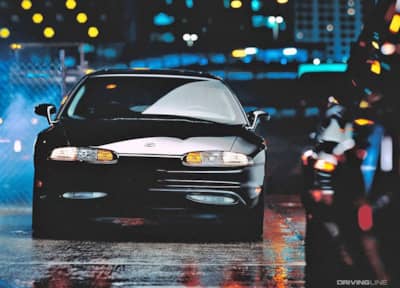 Although the Aurora wouldn't be able to save Oldsmobile during its 1995-1999 run, its V8 would go on to find fame in the Indy Racing League, with GM serving as the primary engine supplier for the series.
Ford/Jaguar 3.9-liter V8
This one's a bit of a mutt. After Ford purchased the Jaguar brand in the 1990s, it was time to modernize the aging selection of drivetrains available to the luxury automaker. The result was the AJ-V8, a motor that would also be offered as a six-cylinder, and which would carry Jaguar forward for many years to come.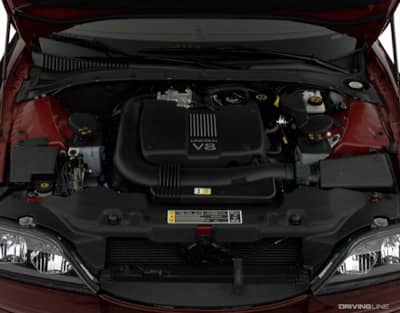 If the AJ had only been available in Jaguar products, then it wouldn't have a place in this article. However, a version of the motor—the AJ30/AJ35—would actually be built by Ford for use in several of its own vehicles. Stuffed in the DEW-platform Lincoln LS and Ford Thunderbird, this 3.9-liter engine would produce between 252 horsepower (2000-2002) and 280 horsepower (2003-2006), along with a top torque rating of 286 lb-ft.
Surprisingly, once DEW had left the building, the AJ was never seen wearing FoMoCo blue ever again. This was largely due to the fact that Ford had walked away from rear-wheel drive outside of the Mustang and the aging body-on-frame Panther cars (Crown Victoria, Lincoln Town Car, Mercury Grand Marquis).
While these motors might not have lived long, some managed to last forever. Check out these unkillable hunks of Detroit iron.