Top 5 Styles for Lowered Pickups: We Break Down the Most Popular Truck Themes
Just like any other segment in the custom automotive world, lowered trucks can be stylized in many different ways. Getting a truck down low can be done in various methods, which goes hand in hand with few major configurations. Some trucks can be low for a purpose like racing, while others smack down on the ground for pure style. To help you get a better perspective on this, we made a list of the most popular styles (in order from oldest to newest) in the lowered truck scene.
5. Pro-street
Trucks were all originally designed to be workhorses and it took some time for people to catch on to the fact that they can be customized to get more out of them. In the early days, going fast down a straight line was the main focus and trucks were simply modified for performance.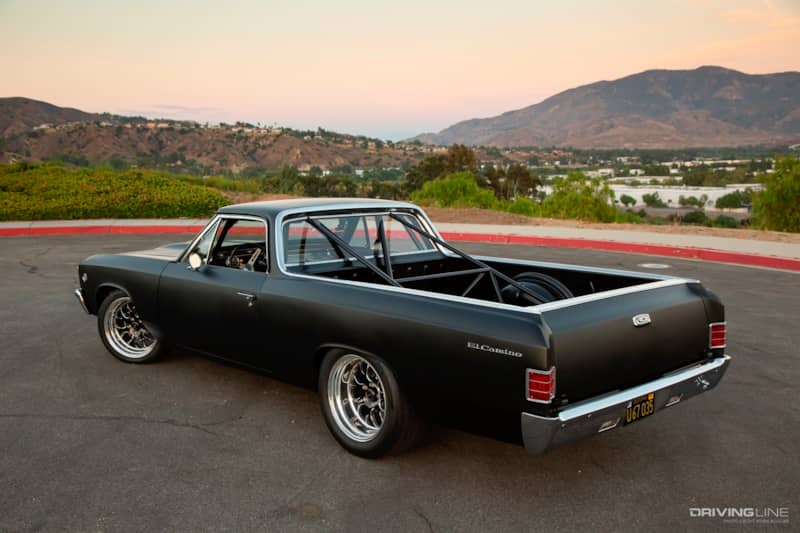 Things started to kick off in the muscle car era when street racing was the thing to do. The only problem was the limited amount of parts for trucks and most customizers had to adapt parts or fabricate their own.
We recently featured Chris Decker's '67 El Camino and it is the perfect example of a pro-street vehicle. The main objective is to have plenty of performance and his 376ci LS engine with TREMEC T56 Magnum XL transmission does the trick. That power is harnessed with a quality suspension and is customized to utilize modern QA-1 coil-overs that can be adjusted for street or track conditions. Typically, these vehicles have skinny wheels up front and a larger combo in the back. Chris' ElCo has a set of 18" Weld racing wheels with 245/40R18 Nitto NT555s up front and 305/40R18 NT555R's in the rear. Then for strength and safety, a chromoly roll cage was made to fit.
4. Mini-trucks
In the mid 80's to the early 90's guys that were into lowriders started looking for economical ways to get into the custom scene. For those that do not have the budget to buy a classic car to stylize, the next best thing was to get a truck that could be slammed.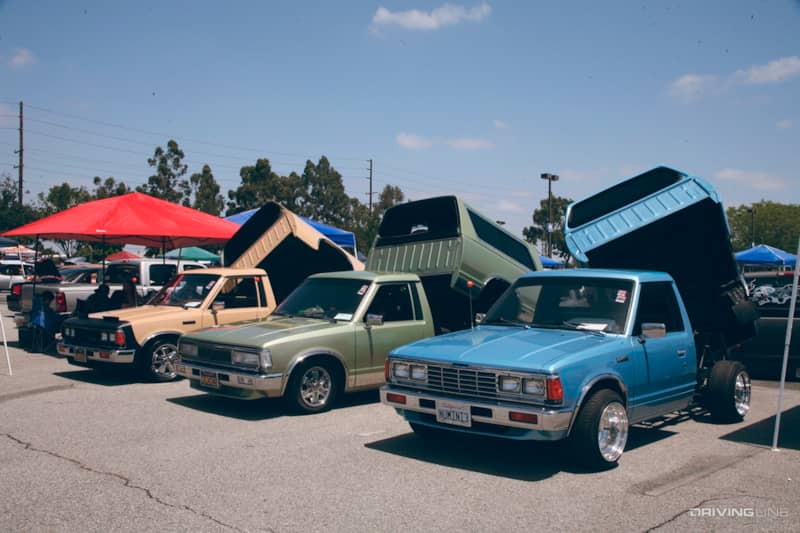 Smaller import trucks were the preferred choice as they were more affordable and had plenty of potential. This segment brought us adjustable hydraulic suspensions and wild mods like beds that were setup to tilt and dance on command.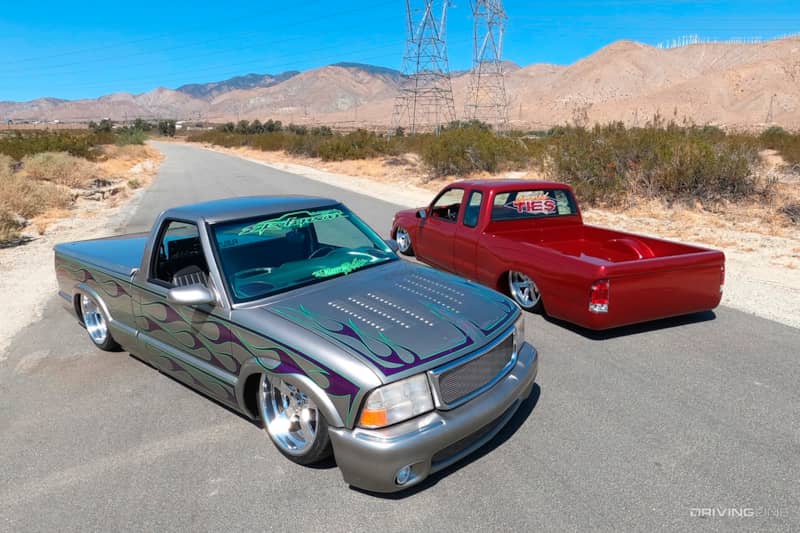 A decade after this movement started, the scene progressed and spread throughout the country. This style now includes domestic mini-trucks like my '00 Chevy S10, which has an air bagged suspension to let the frame sit flat on the ground. Low is the name of the game here and other trucks have further modifications like body drops (hot rodders call this channeling), where the floors of the body are cut in order for them to sit lower and touch the pavement. Large wheels are also a must and as you can see this S10 was equipped with 20" Bonspeed Huntington billet wheels with 245/25ZR20 NT555 G2 tires.
3. Sport Trucks
Around this same time, the mini-truck scene took off as auto manufactures started making full-sized trucks that looked and handled more car-like than ever before.
Interest grew with introduction of the '88-'98 "OBS" Chevy Silverado as it had stunning looks and could be put to use. These trucks became very popular with hot rodders and customizers looking to have a vehicle that could turn heads and be driven.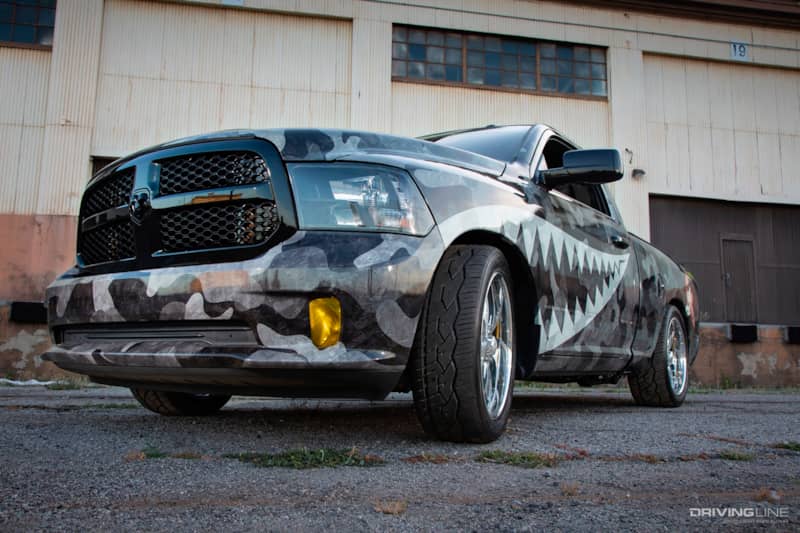 Sport trucks are still popular today and Ellie Moreno (AKA Mopar Ellie) has created a modern version of one with her '14 Ram Express called "Lonestar." Already equipped with a 5.7L Hemi engine, it has a computer tune, cold-air-intake, custom exhaust and 4.10 gears to help it get up to speed quick. The exterior was dressed up with a fighter plane inspired wrap and the truck sits lower thanks to a 4/6 drop. Finalizing the sport truck look on this truck is a set of Intro 22" billet wheels with 275/45R22 and 305/40R22 Nitto NT420V tires.
2. Street Trucks
For those looking to go further with modifications than sport trucks would fall into the street truck category as they can be pretty wild. This style was inspired by mini-trucks as they typically sit very low and generally have every aspect upgraded.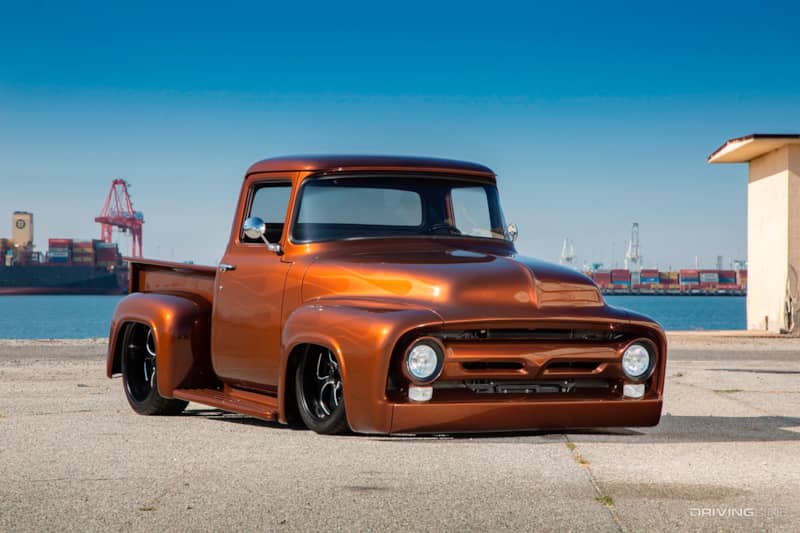 To consider a pickup a full street truck, it must have a slammed suspension, powerful engine, modified exterior and interior. Though they often have performance parts, street trucks are more about style and cruising rather than taking a beating while racing.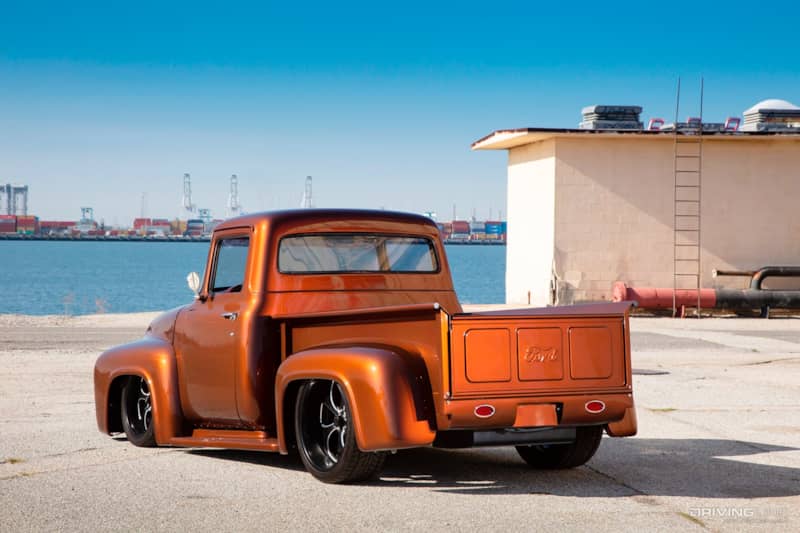 Any modern or classic truck can be turned into a street truck and David Crocker's '56 Ford F100 is a perfect example of this style. Starting the chassis, it was modified with modern components and air bags for an aggressive stance. Under the hood is a 351ci Windsor Ford Small Block engine that was punched out to 392ci. The body was massaged and coated in a custom mix of root beer/copper paint with ghost flames up front. Completing the look is a set of 20 and 22" Bonspeed Quasar billet wheels wrapped in 245/40R20 and 285/35R22 Nitto NT555 tires.
1. Pro-touring Trucks
About a decade ago, truck enthusiasts found out that trucks could not only be competitive on a drag strip but could also be customized to attack a track with corners. Performance is the name of the game here, which is dominated by V8 engines that are commonly supercharged or turbocharged. Coil-over equipped modern suspension systems with large disc brakes are also a must as these vehicles must turn with ease and slow down on-command.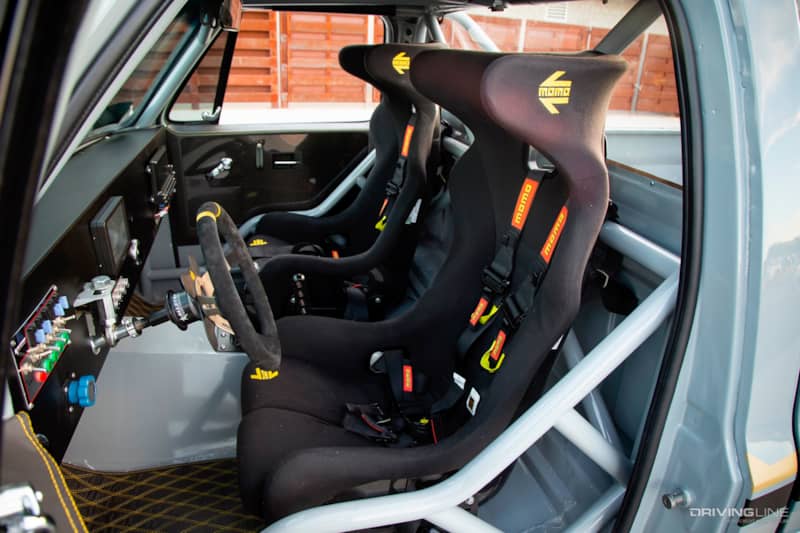 Exteriors can be dressed up, but aero parts are more valuable to owners of these trucks. Interiors are usually stripped to just the bare essentials to save weight. Things like roll cages and racing seats are a common modification as safety is a big concern on autocross tracks.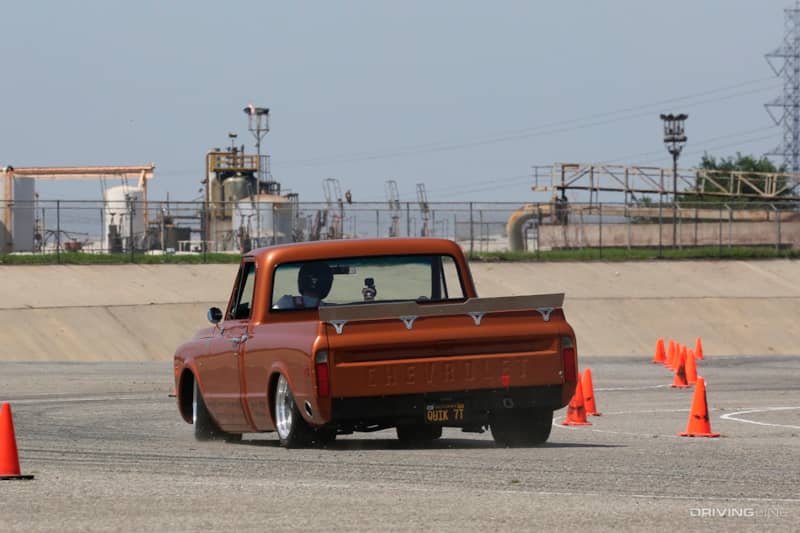 As you can see, there are many directions to go with a truck. The best advice is to figure out what you want to accomplish with your truck and take it from there. If you are looking to drag race, the pro-street style is the best fitting and for those racing around corners, the pro-touring style is where it's at. For the everyday cruiser, a sport truck can get the job done while mini-trucks and street trucks are for those that want to go all out. Either way you go, there is no right or wrong style for trucks and they can all turn heads if done well.