Trail Testing the Magellan eXplorist TRX7 Off-Road GPS
The Magellan eXplorist TRX7 Off-Road GPS Navigator has been designed specifically for off-road enthusiasts and is much more than just a navigation system. After having tons of fun testing the system during 197 trail miles, I could probably write a book about all of its features, but I'll keep my TRX7 review to the key features separating it from other navigation systems.
Right out of the box you can tell that the TRX7 is built for hard use. The 7" HD touchscreen is housed in a ruggedized IP67 casing that is drop and shock resistant. It looks and feels very solid and is larger than a typical GPS navigation unit, so you will need to put some thought into where to place it in your vehicle. There are three different Magellan eXplorist TRX7 models; the 4x4-specific one comes with a genuine RAM windshield mount. During testing, the unit survived extensive desert heat and bouncing over rocks, and it did not budge. The screen was easy to view in bright sun.
More Than Just a GPS: A Complete System
The TRX7 has a preloaded database of over 82,500 designated OHV routes in forests and public lands. The user can load a trail onto the unit and receive turn-by-turn guided navigation while on the trail. This is a great feature if it's the first time you've done a trail, or can't remember if you're supposed to bear left or right at the "Y". It also has an Off Track warning to let you know if you've wandered off the trail, and it uses breadcrumbs for a Backtrack function.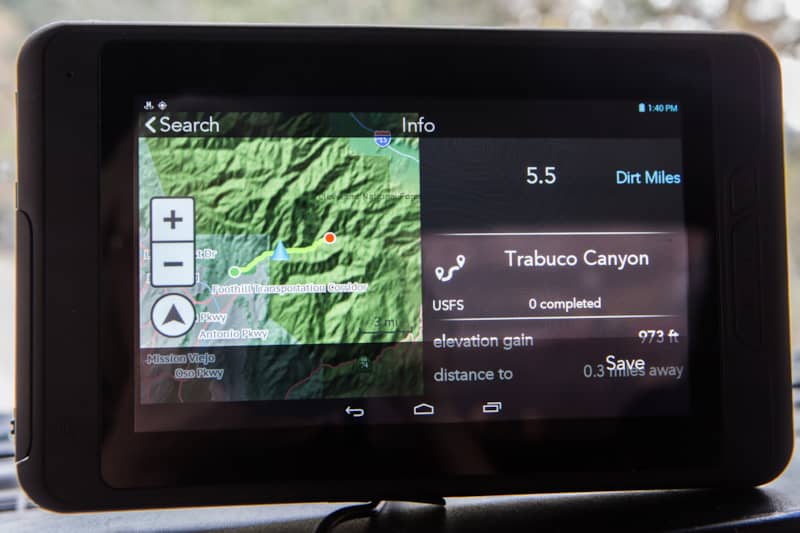 The TRX7 also has a community database of user-uploaded trails called tracks. Instead of relying on outdated trail guides and maps or scouring forums for recent information, you can view up-to-date trail information from other off roaders. User tracks typically contain detailed information about trail conditions, obstacles, and points of interest. When using a tracked created by another user, the unit will show a popup as you approach a waypoint that the user marked so you have early warning about a tricky section coming up, or a scenic stop along the way.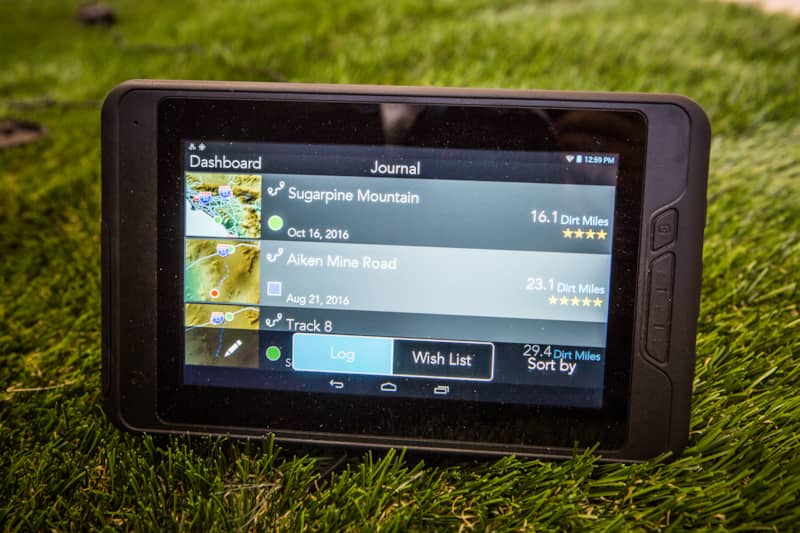 Adding Detailed Notes While Out on a Trail
My absolute favorite thing about using the TRX7 is how easy it is to add detailed information about a point of interest while I'm on the trail. The touch screen makes it super easy to add waypoints and mark obstacles with one touch, and it has a good selection of icons. For safety reasons, you do need to stop your vehicle to add details, but notes can be added by either text or audio, and a photo can be added as well. When you view a user-shared track, you can see all of the points of interest, notes and photos the user has included.
I often use this feature to mark primitive campsites I've found and note if there is shade and room for multiple vehicles. I also use it to highlight scenic spots and other interesting places I find along the trail and to mark turnoffs for side trips.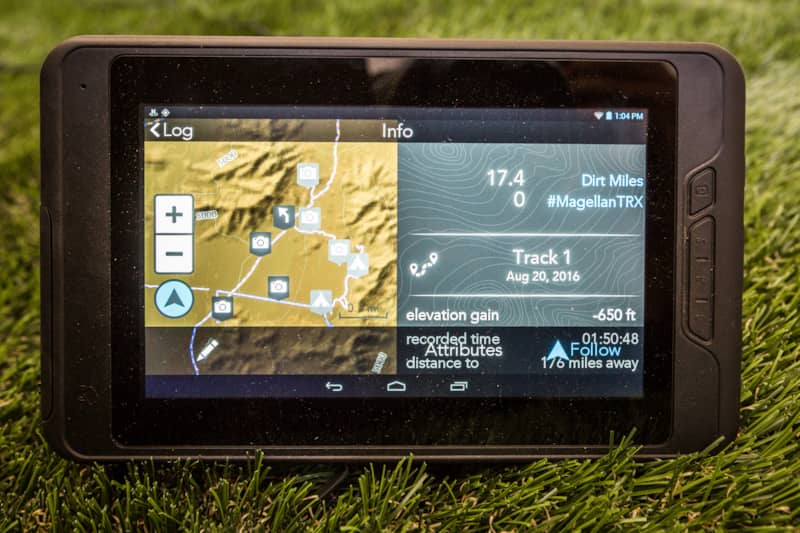 The database also has the ability to search for hundreds of thousands of places and services you might need while on an off-road trip, such as gas stations, auto services, campsites, grocery stores, restaurants and landmarks.
The basemap has both a 2D topo map with contour lines and a high resolution 3D view. The 3D view came in handy when I was wheeling in the fog last weekend and could barely even see the Jeep in front of me. The TRX7 let me see when I was cresting a hill, or about to start descending, even though I couldn't see the terrain in front of me.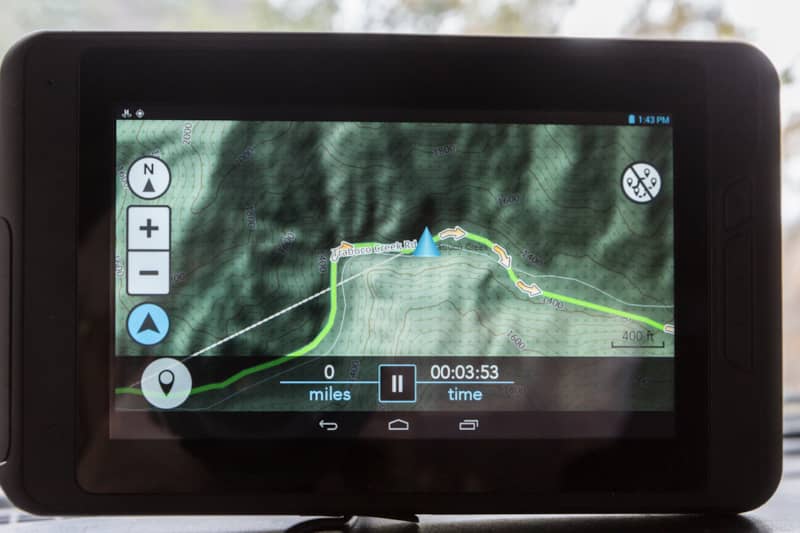 User-Generated Trail Ratings and Details
After completing a trail, the TRX7 prompts the user to enter information about trail conditions. After marking items like if the trail required 4WD or 4LO, terrain type, degrees of pitch and roll, size of any rocks and the depth of any water crossings, the TRX7 calculates a custom difficulty rating based on the Blue-Green-Red, Easy-Moderate-Difficult ranking used by National Forests. Once the trail has been ranked, the user can upload it to the Community Trail Database to share with other off-roaders.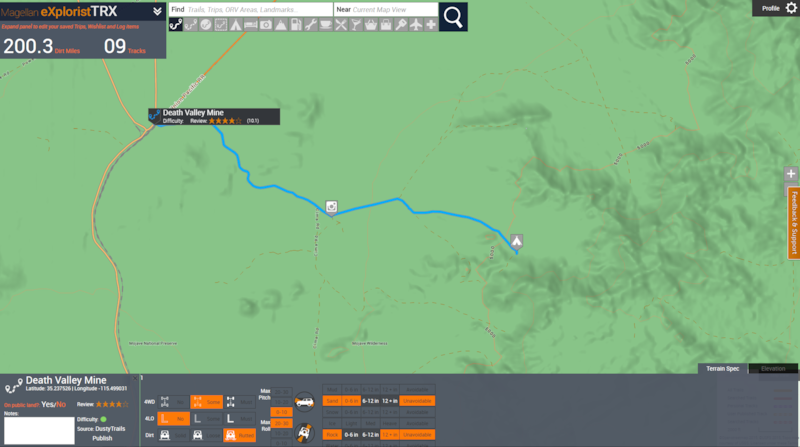 An Adventure-Tracking, Social-Friendly GPS Tool 
You can link your social media accounts (Twitter and Instagram right now) to the TRX7 and the hashtag button on the map screen will send a preconfigured tweet letting people know what trail you are doing.
All of the TRX7 features come together in the TRX Journal, which keeps track of all of the trails you've completed and any trails on your Wish List.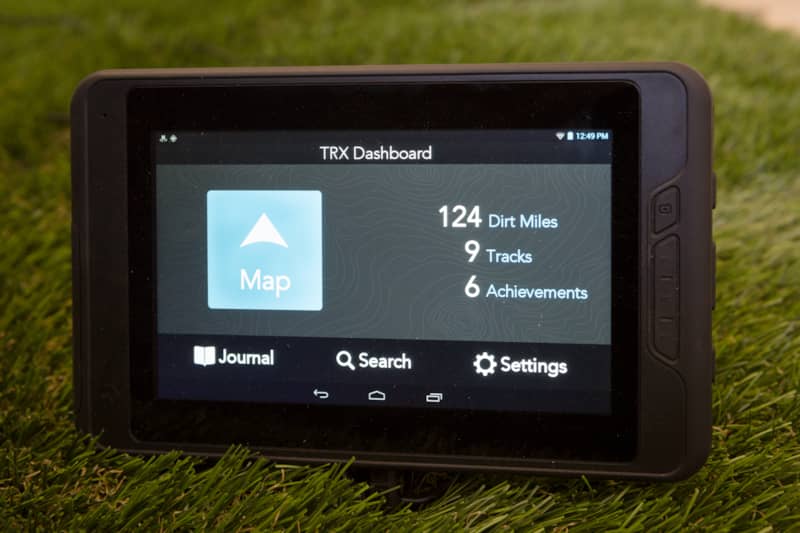 The Journal keeps a running total of your total Dirt Miles completed, and you earn award badges for completing various milestones.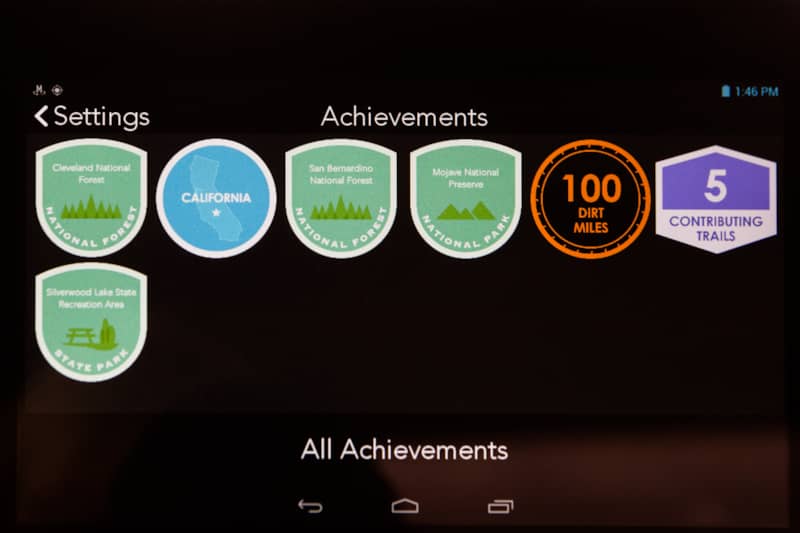 Heading to Moab and looking for trails? Search the database for Trails near Moab and you'll be shown a map with all of the available trails.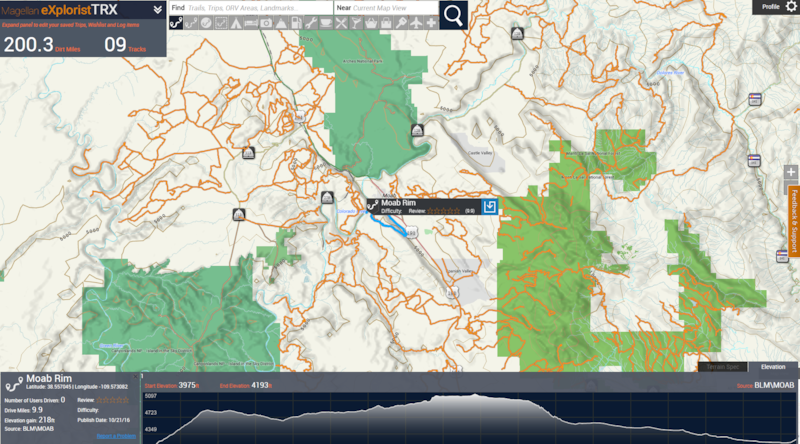 Clicking anywhere on a trail will highlight its length and show a popup with the trail details. Clicking the blue Sync icon will load the trail onto your TRX7 so you don't have to search for it after you leave home. Searching for user-uploaded tracks, you can filter by trail rating and difficulty level.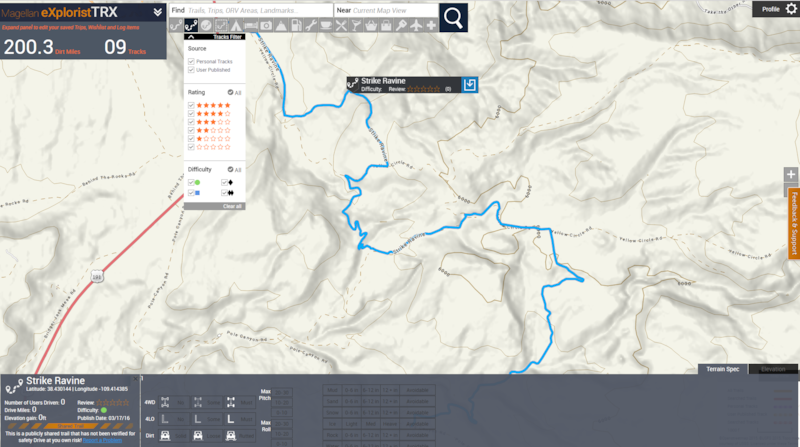 Your TRX7 Journal syncs with the TRX Trailhead website. With built-in Wi-Fi, the tablet will automatically sync upon returning home once it's connected to your Wi-Fi network. From there, the TRX Trailhead is the planning and sharing hub where you can easily view all of the trails in the database (including user-generated tracks), plan a trip and preload trails onto the TRX7. You can also upload GPX files from other devices to the Trailhead website, rate it and add attributes, and the trail will be added to your Trailhead Log.
Multiple Vehicle Profiles for Your Personal Account
The TRX7 can keep track of multiple vehicles and each vehicle has its own profile. After giving your vehicle a name and entering the year, make and model, you can use one of the icons or upload a photo of your vehicle.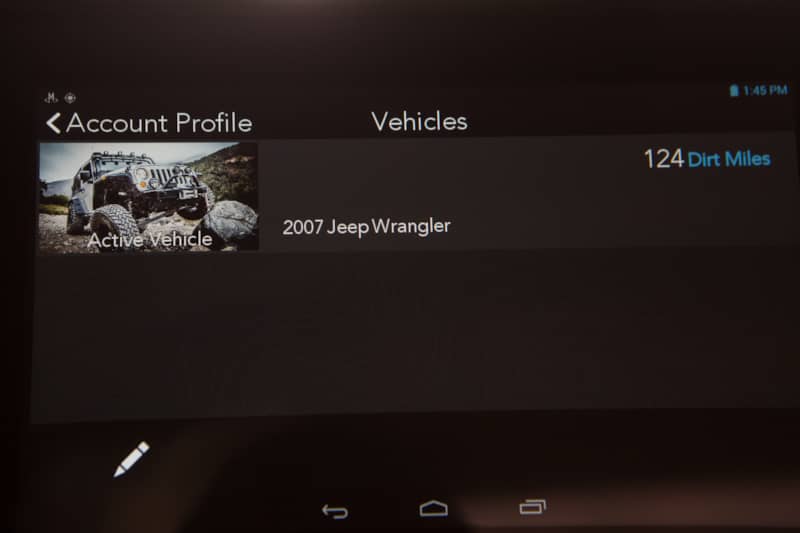 Beyond a Navigational Unit
The TRX7 is a fully functioning Mac and Windows compatible Android tablet (currently running 4.2.2 Jellybean) with a USB Port, built-in Wi-Fi, Bluetooth and an SD card slot. It comes preloaded with an internet browser, e-mail client, clock, calendar, sound recorder, file manager and it can even play your music. If you don't have Wi-Fi available, you could also use your phone as a hotspot to access the internet as long as you have a cell signal.
Magellan TRX7 vs. Competitor: Lowrance
Many people have asked me how the Magellan eXplorist TRX7 compares to a Lowrance for off-road use. Since I've only used Lowrance in a boat, I asked the question to Steve von Seggern, Director of Marketing, OHV for Magellan who laid out these differences:
Lowrance is a marine product re-purposed for 4x4 (packaging still includes sonar info). TRX7 was created for 4x4 from the ground up.
Lowrance requires an external GPS antenna.
Lowrance does not come with OHV trails installed, the user must upload GPX files.
Lowrance does not provide turn-by-turn navigation.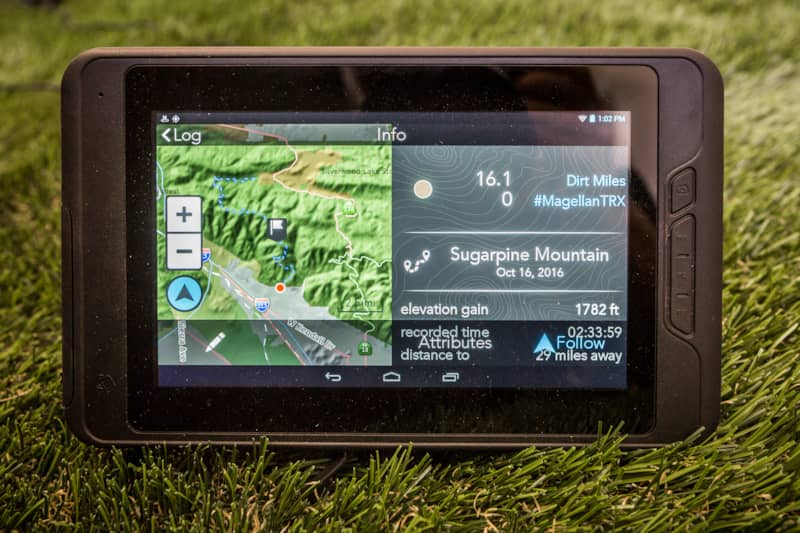 Navigating Further From Trail to Street
At present, the TRX7 continues development and Magellan is listening to user feedback. In my testing of the TRX7, the one glaring omission was its lack of street navigation. I was very excited to learn that street navigation capabilities are being added November 1, 2016. The update will enable users to navigate to the trailhead, receive turn-by-turn navigation on the trail, and then navigate to a gas station or restaurant afterwards. The addition of street level navigation will make the TRX7 the only GPS navigation unit an off-roader will need.
Editor's Update as of 1/19/17: A software update in December 2016 added many user-requested features to the Magellan TRX7, including:

Street-level routing that lets you navigate from home to the trailhead
TRX Routing beta tools will let you plan out an entire multi-day trip from start to finish
The ability to share a direct link to any Track, Trail, or Point of Interest makes it easy to plan trips with friends or brag about your trail runs
High-resolution satellite base map imagery from Digital Globe is available with a $30 annual subscription
Hiking trail names have been added to the maps
Enhanced search features make it easier than ever to find and plan your next adventure
The more I learn how to use the advanced functions and how everything integrates, the more I love the TRX7. Aside from how much I love using it on the trail, I really like having a record of all of my trail adventures mapped out for easy viewing; it has made note-taking on the trail fun instead of a chore. 197 dirt miles in, I have only just begun to tap its potential.
After reading any of my Driving Line trail review articles, if you're interested in exploring them for yourself, you can now search for my saved tracks as user "DustyTrails" on the TRX7 Trailhead!