Diesel Dyno Kings Use Nitto Tread to Win
While it stands to reason that diesel trucks making north of 2,000 hp and 3,000 lb-ft of torque would be fitted with full-on slicks at the drag strip, select DOT-approved tires seem to get the nod for safety when it comes to the chassis dyno portion of the Ultimate Callout Challenge. At any event that rivals the size of U.C.C., there are certain trends that jump out at you. This trend isn't anything new, as competitors have been running them since the advent of the event, but Nitto's NT420S all season is one of the most preferred dyno tires—by far.
But beyond the all-season NT420S, we're starting to see the NT420V make an appearance on the rollers, along with the original Terra Grappler showing up from time to time. At U.C.C. 2021, and just like in years past, Nitto tires were on more than half the trucks that hit the dyno—including the top three. We'll fill you in on their raw displays of power as well as several other top finishers who were running Nitto tread below.
Justin Zeigler: 2,443 hp / 3,282 lb-ft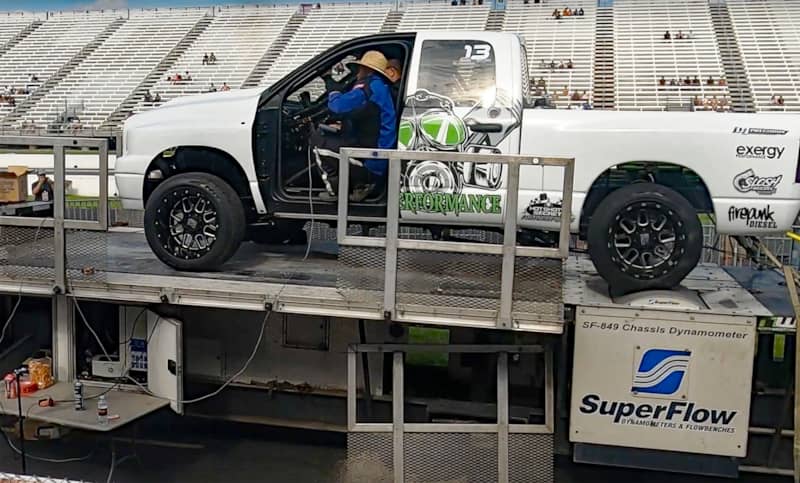 It wasn't U.C.C. champion Justin Zeigler's first time relying on a set of Nitto NT420S's to get him the numbers he needed. In fact, a week prior to the big day his Cummins-powered third-gen was strapped to the rollers at Firepunk Diesel (where it made 2,295 hp during testing). At U.C.C., and aboard the Northwest Dyno Circuit's familiar SF-849 load dyno, he didn't try to reinvent the wheel with his tire selection, but rather stuck with what had worked for him and so many others in the past. "The 420S has worked good in the past and a lot of guys at U.C.C. have made some crazy numbers with them," Justin told us in explaining the popularity of Nitto's all-season tire. "They seem to grab a single roller dyno [like the SuperFlow he was on] a little better than others tires, too."
Justin Andres: 2,220 hp / 3,404 lb-ft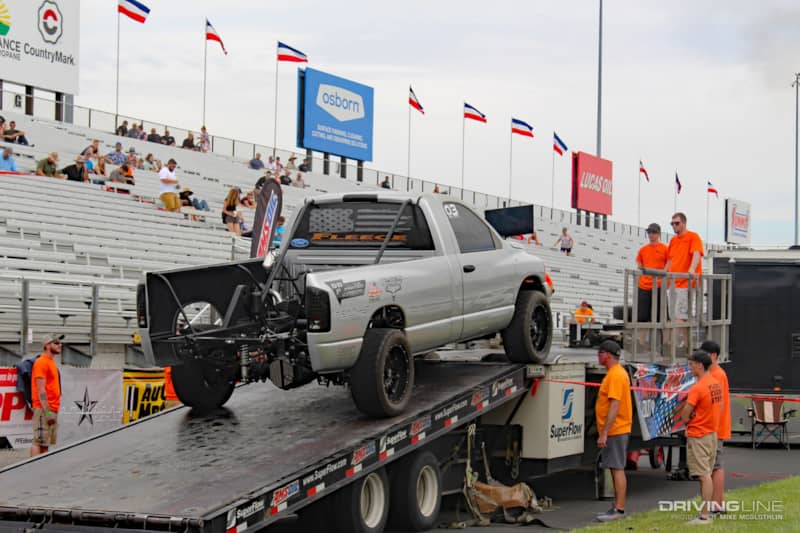 The NT420S tread aboard Justin Andres' 2,200rwhp Cummins-powered third-gen had their work cut out for them during his performance on the dyno. With six straps on the rear of the truck (including cross straps), both eddy brakes doing their best to slow the rollers down and an engine under extreme load, it's incredible how much abuse his tires endured. 
Trevor Peterson: 2,264 hp / 3,203 lb-ft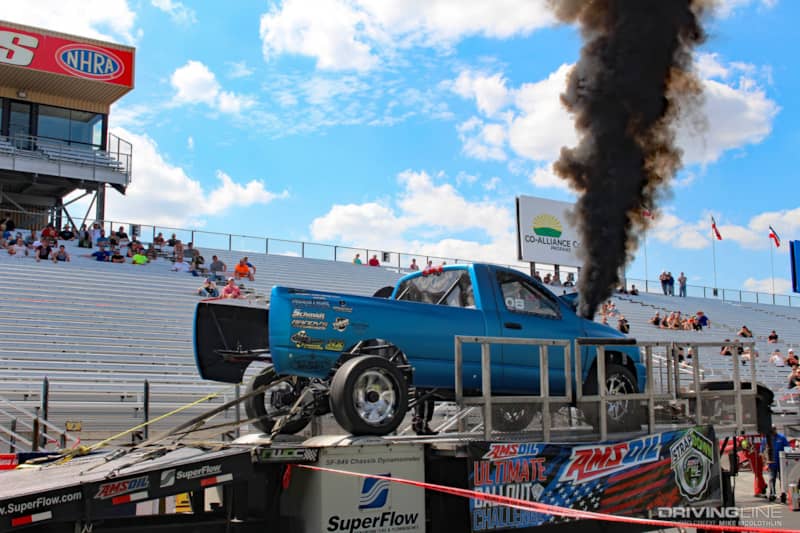 Trever Peterson's blue third-gen Cummins distributed 3,203 lb-ft of torque to the rollers by way of his truck's NT420S all seasons. In addition to the immense load tires see on the dyno at U.C.C., they are also spun in excess of 130 mph thanks to competitors dynoing their trucks in Overdrive. The tall gearing helps to further load the engine (on top of what the dyno can do) in order to help produce both a big torque number and as much boost pressure as possible.
Turba Tom Borrell: 2,090 hp / 2,789 lb-ft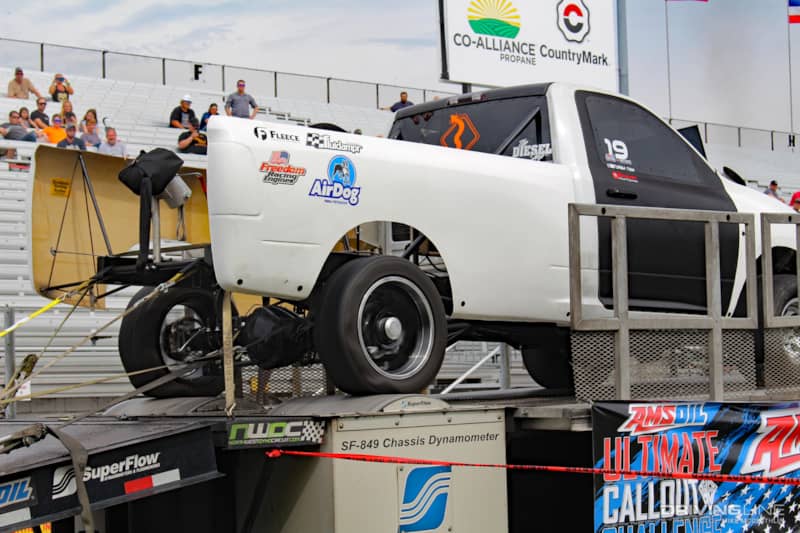 First-time U.C.C. competitor and popular YouTube personality, Turba Tom Borrell also entrusted NT420S tread while strapped to the rollers. And even though his trip to the dyno was quite eventful, it had nothing to do with tires. Prior to the horsepower measuring festivities, Tom installed his big kit of nitrous (complete with -8 AN line) but the wrong fitting was causing his nitrous solenoid to leak. Then Tom and his team had to solve a shifting issue before the truck ever laid down a number, as the transmission wouldn't shift into Overdrive. Once that was addressed, the truck made a very respectable—and what would ultimately be a Seventh Place performance—2,090 hp and 2,789 lb-ft of torque. Tom later admitted that he hit the spool stage of nitrous too late (which lowered his peak torque number) and didn't keep the big stage on long enough (which left horsepower on the table), but for making more than 2,000 hp on his first ever dyno pull, we'd say he did very well.
Kenny Bruner: 1,753 hp / 2,724 lb-ft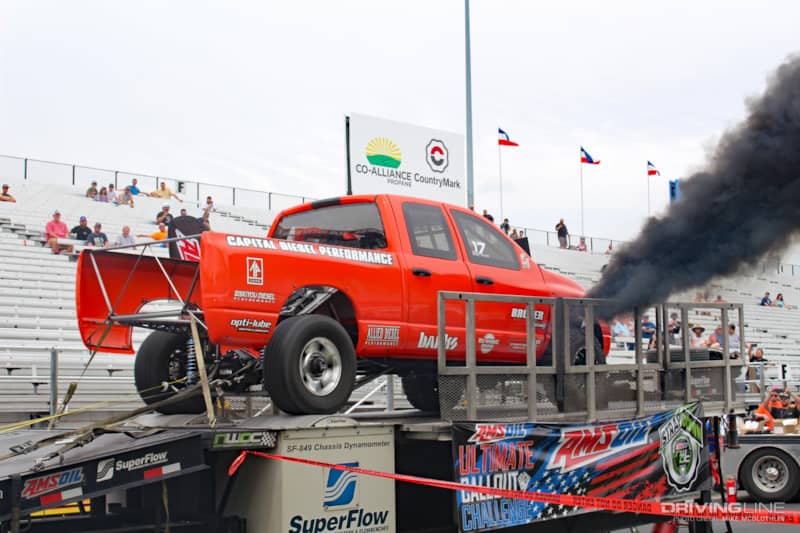 The one wild card of the bunch was Kenny Bruner and his bright orange Ram, who opted for all terrains on the dyno. Despite what they were exposed to, the Nitto Terra Grapplers provided for 1,753rwhp and 2,724 lb-ft of torque to be made—good enough for a Top 10 finish on the rollers. Kenny was also one of many competitors to rely on Mud Grapplers the following day during the sled pull.
Tony Burkhard: 2,104 hp / 2,360 lb-ft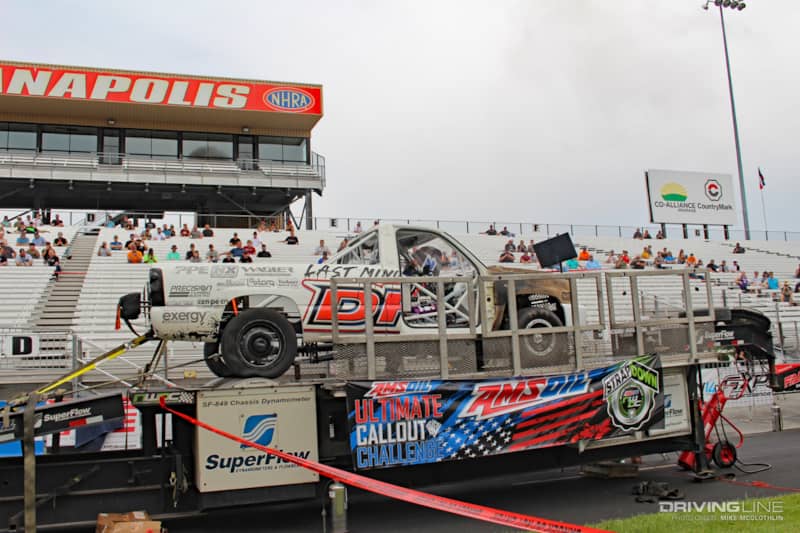 Redemption was sweet for the Dirty Hooker Diesel (DHD) team at U.C.C. 2021. After their dyno effort erupted in a ball of flames back in 2019, Tony Burkhard and his crew were back in the same truck this year—and once again sporting Nitto NT420S tread—for a rematch with the Northwest Dyno Circuit's industry-standard SuperFlow dyno. This time there would be zero carnage, just a quick, clean hit that yielded 2,104 hp—the seventh highest horsepower number recorded on the weekend.
Why Most Diesel Owners Shy Away From Running Slicks On The Dyno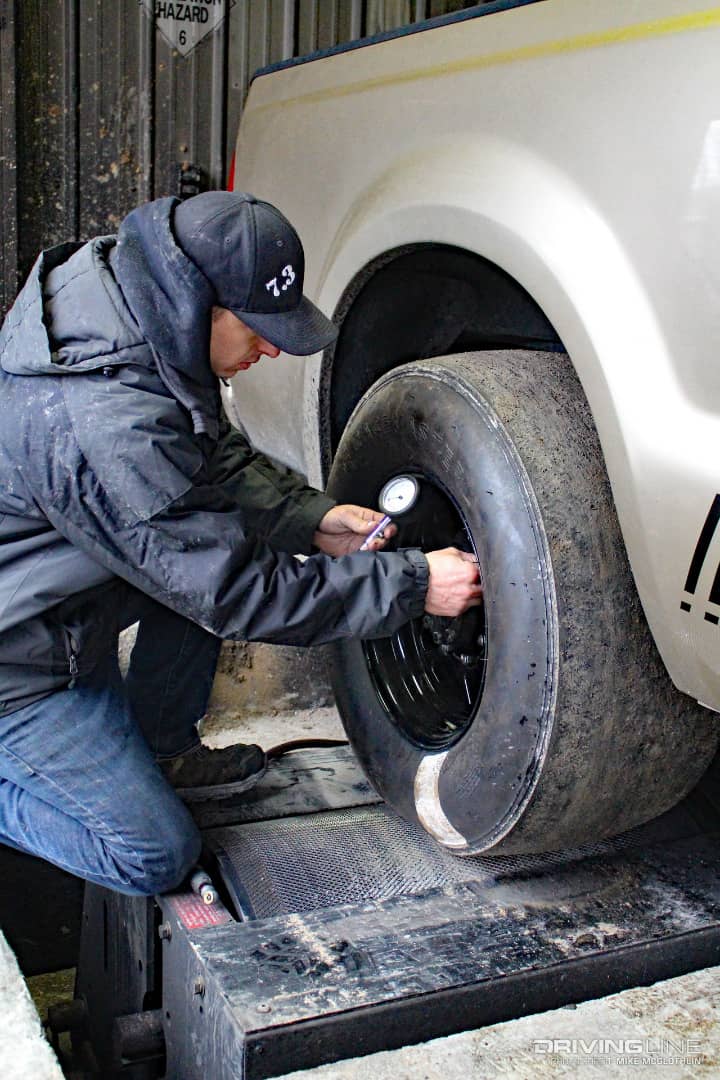 To be clear, you can get away with dyno testing on slicks if you run sufficient air pressure and strap the vehicle down properly, but it's still a good idea to keep an eye on tire growth while on the rollers. In addition, you never want to overheat the tire, which is very easy to do with a large slick under a big eddy current load. This is why (by and large) most dyno operators will tell you to show up with street tires on your truck. On dynos with aggressively textured, course knurl rollers, slicks can get chewed up in pretty short order.
More From

Driving Line
Nitto

 

provides more than just a competitive edge for dyno-melting diesels. The

 

street-going

 

crowd has embraced them for their looks, ride comfort and availability.