The Slickest Diesel Street Trucks From U.C.C. 2021, Part 1
This just in: diesel pickups and Nitto tires are still an extremely popular combo. While taking in this year's Ultimate Callout Challenge and DPI Expo, we couldn't help but notice all the diesel workhorses sitting on Nitto tread. From the Mud Grappler to the Ridge Grappler and Trail Grappler to the NT420V, nearly every tire Nitto manufactures was well-represented—and we've got three street-bound examples to show you below. The first showcases the ultra-clean, no-expenses-spared type of build: a well-executed dentside Ford with a compound turbocharged, P-pumped 5.9L Cummins under the hood. The second—a second-generation 24-valve Cummins that also packs a pair of turbos—is a little more blue collar but still plenty showy. And the third candidate exemplifies what the average Joe might do: add a unique set of wheels and a few other cosmetic upgrades to his late-mode Super Duty, which in this case is a nearly-blacked-out Excursion.
Stay tuned for the next edition, which confirms the Mud Grappler isn't losing any ground as the ultimate digging tool for big, heavy diesels that compete in the dirt.
'79 F-250 Crew Cab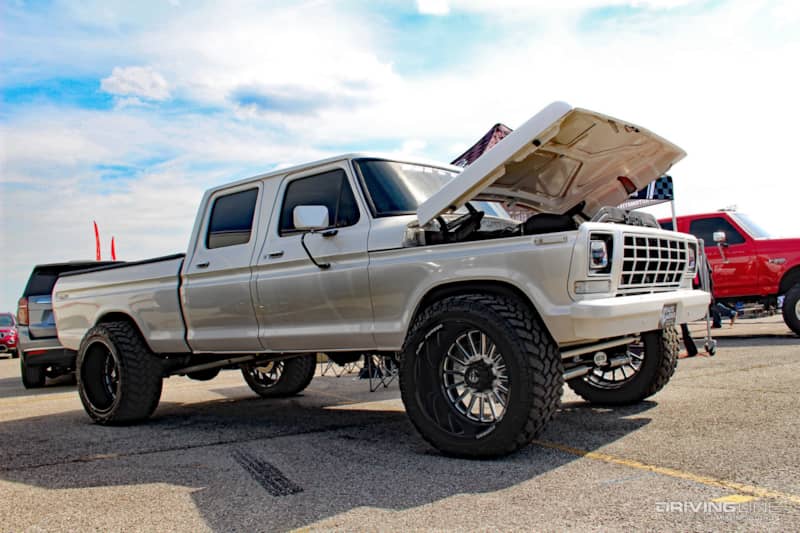 You've seen this beast on Driving Line before, but that doesn't mean this masterpiece sits in a climate-controlled shop under a dust cover. It definitely makes the rounds on the show truck circuit. We found Hunter Clark's show-stopping dentside Ford on a dead-end street in the manufacturer's midway—but it was front-and-center on the show 'n shine judges' minds. Hunter collected Best-In-Show honors and visual approval from virtually every show-goer that passed by it. Here you can see the BDS dual steering stabilizer with Fox Racing Performance Series 2.0 shocks mounted in front of the Super Duty-derived Dana 60 front axle.
Overhauled 12-Valve And Compound Turbos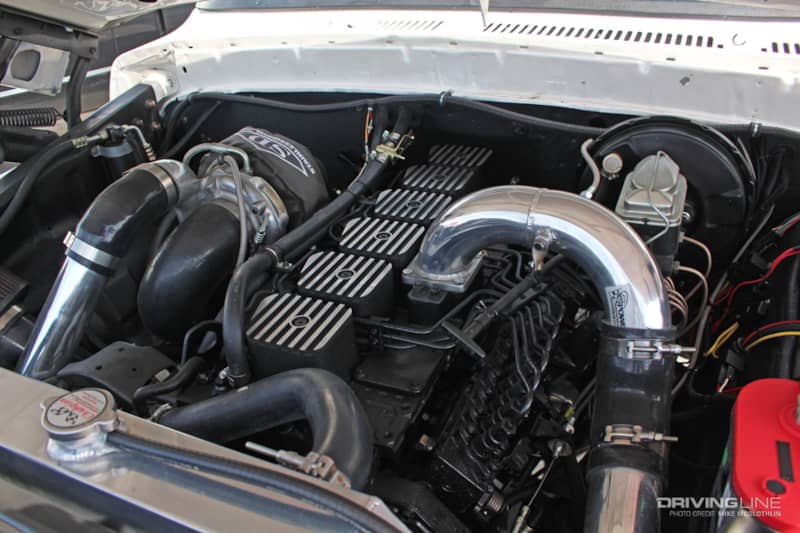 Legendary Diesel Performance rebuilt the core 5.9L 12-valve Cummins Hunter brought them and the end result is one of the cleanest Cummins swaps you'll find. The engine bay is subtly silver and black—and a compound turbo system from Diesel Power Source certainly makes things interesting. The DPS arrangement mounts an S300 over an S400 and was specifically designed as a Ford/Cummins swap kit. Each BorgWarner charger benefits from a Stainless Diesel turbo blanket, which contains heat and helps drive them harder.
Trail Grapplers And 24's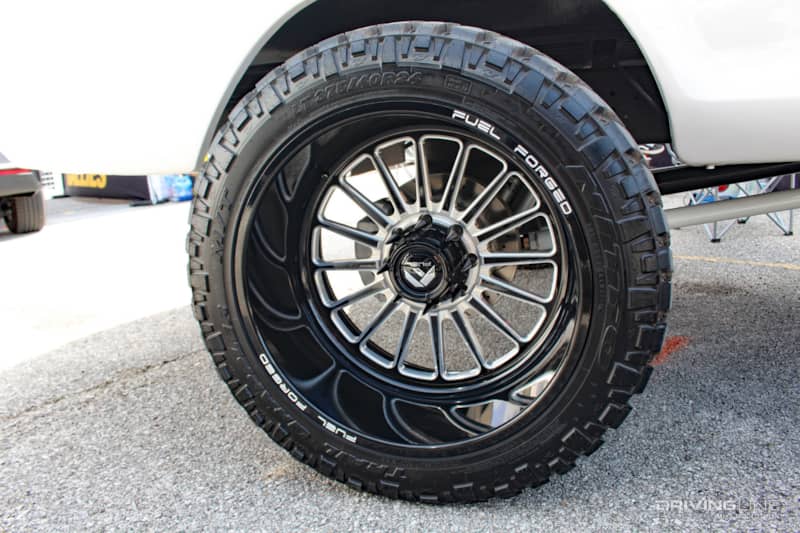 The modern, big wheel craze is a very far cry from the small wheel/big rubber days that existed when this truck was in its youth, but the 24x12-inch Fuel Off-Road FF75 forged wheels look right at home on Hunter's dentside. His choice of Nitto Trail Grapplers (sized in LT375/40R24) gives the old Ford an aggressive stance and the M/T's measure 36-inches in diameter. Don't worry, everything clears and nothing rubs thanks to an air spring suspension system built by Clark & Smith Fabrication, which provides up to 10-inches of lift.
One Bad, Black Second-Gen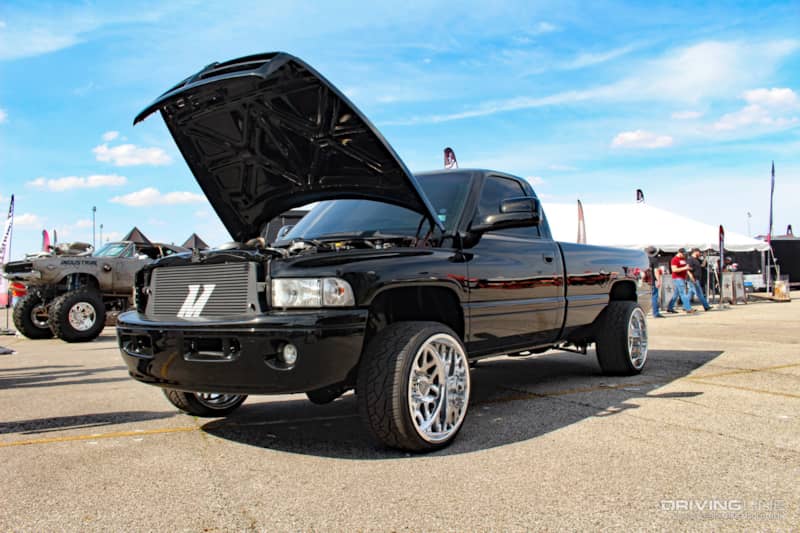 If you're biased toward regular cab trucks and VP44-fueled 24-valve 5.9L's like we are, this is the kind of everyman's build you'll enjoy. It belongs to YouTube sensation, Greg Alberalla, and while it may not be as polished as the best-in-show '79 F-250 above, it's clean and well-done nonetheless. The de-badged, bad-in-black second-gen Cummins is a six-speed manual, too, so now we really want it. We also like the low profile look the traction bars provide.
Side By Side Compounds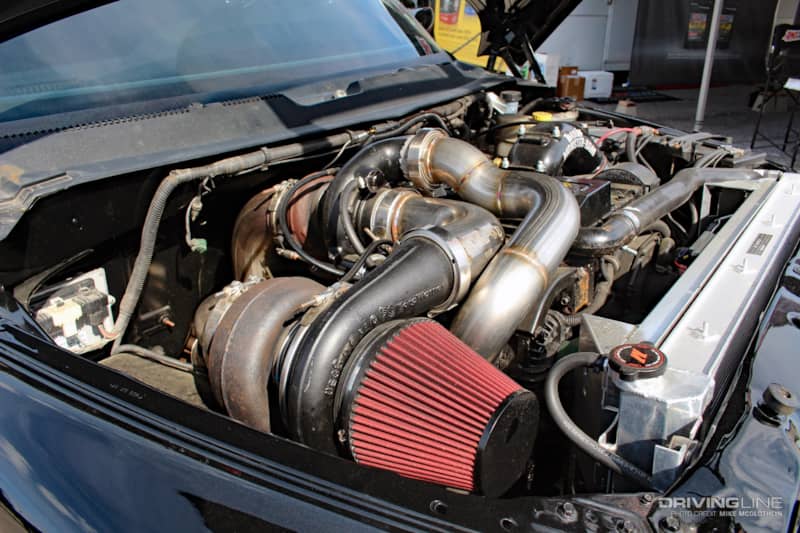 The truck's stainless steel compound turbo arrangement was built by Evil Fab Performance and incorporates V-band connection points for holding big boost. We love that Greg decided to leave the raw look of the stainless piping well enough alone. This is a side-by-side style compound configuration also, unlike the conventional over/under setups you typically see. The chargers were provided by Fleece Performance Engineering, with one of its 63mm Holset HE351CW based turbos acting as the high-pressure unit (bolted to a T3 Steed Speed exhaust manifold) and an S475 serving as the atmosphere turbo. A Mishimoto drop-in replacement intercooler helps keep EGT in check and a Mishimoto radiator was added as well.
29-Inch 420V's On 22's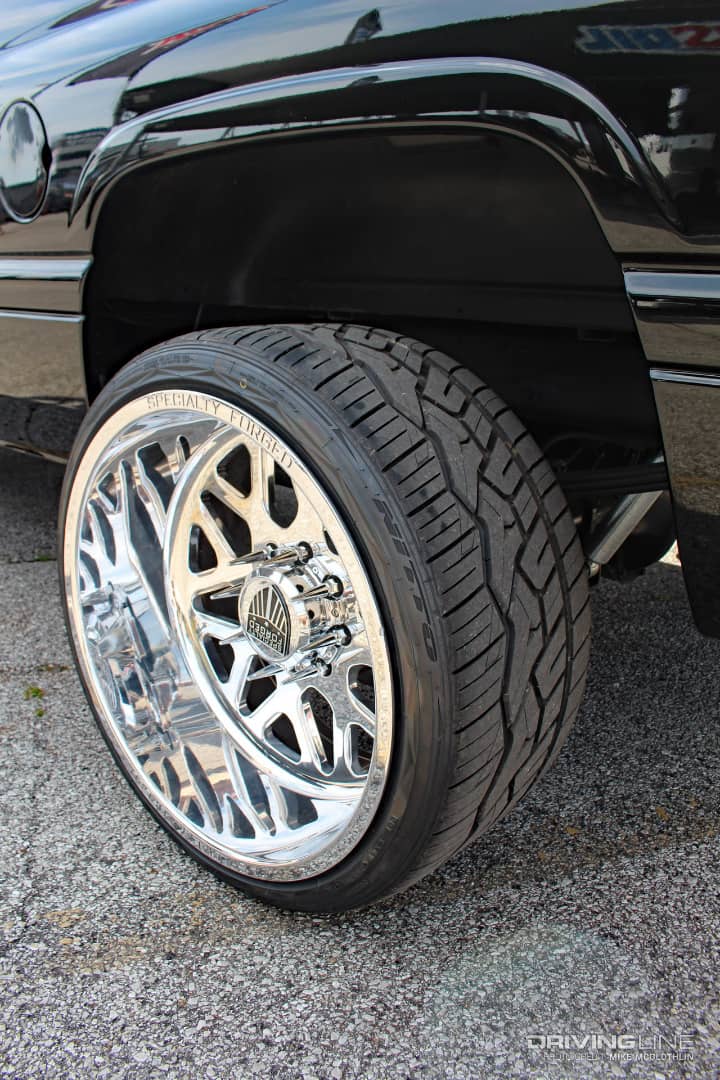 A small tire, big wheel combination makes for very little sidewall but it does provide a pretty unique look. Greg's 22x12 Specialty Forged wheels ride on 295/30R22 NT420V's. And while this is a stretch fitment, it's nowhere near as over the top as some of the examples you see these days. Greg solved the wheel well gap he encountered at the factory ride height by cutting down the front coil springs and adding 2-inch drop shackles in the rear.
The Right Touch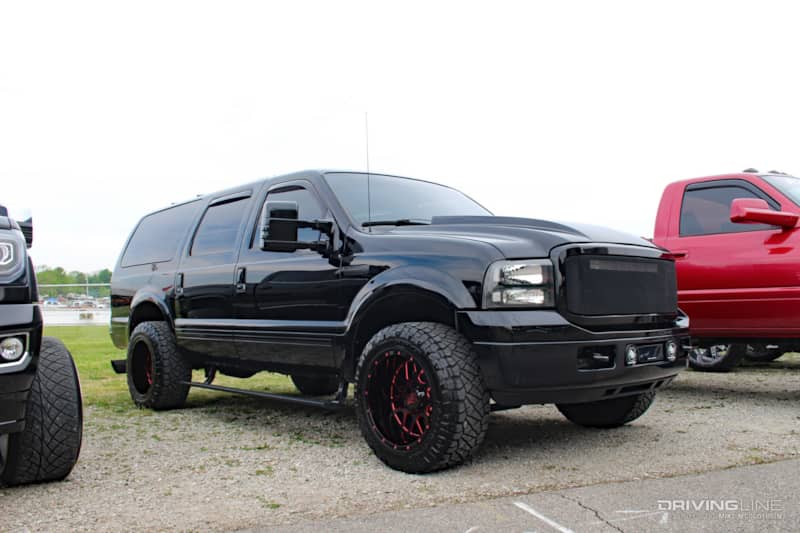 It's more of an Average Joe setup, but we appreciate the subtle touches performed on this Ford Excursion. The blacked-out badging, cowl hood, aftermarket mesh grille and clear headlights make for a clean look and nice truck without the need to go big on performance. As these giant, first-generation Super Duty-based SUV's age, it's nice to know there are Excursions this clean still out there in the wild.
Unique 20's On Hybrid Terrains
From 24's to 22's to now 20's, you can see that all of these diameters are still popular wheel choices in the diesel world. Whether you like the red clear coat on these satin black milled XD wheels, it really sets the Excursion off. The 20x10 XD820 Grenade wheels ride on LT305/55R20 Nitto Ridge Grapplers, which are equivalent to a 33x12.50 in size and also carry an F load range.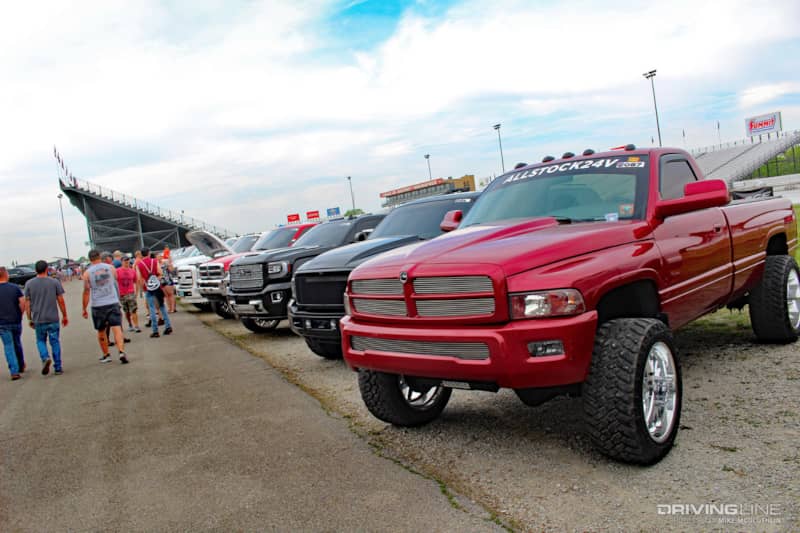 More From

Driving Line
Need more proof that Nitto is the preferred tire for diesel enthusiasts? Get convinced right here.