Ultimate Callout Challenge 2021: Dyno Day Brings With It Strategy, Triumph and Fireworks
Although Day 1 at the drag strip proved they were planting plenty of horsepower, each U.C.C. competitor had to make it official aboard the Northwest Dyno Circuit's load-cell SuperFlow chassis dyno on Day 2. That meant the trucks of U.C.C. were all being transformed into dyno mode back in the pits, which for some teams meant pulling an all-nighter. New transmissions or fresh rebuilds took place, nitrous kits were added and bottles were topped off, bigger fuel injectors went in, additional turbos were bolted on and tuning changes were made. On top of all that, some crews had the added pressure of addressing damage incurred at the drag strip.
The catch, both because these are diesels (which are known for their astronomical torque numbers) and because it makes the dyno competition more of a challenge, is that the dyno portion of U.C.C. is scored based on each competitor's combined horsepower and torque figures. In order to produce a big torque number, competitors are forced to put their engines through the ultimate test—big load, big boost and nitrous quickly ramping in at an uncomfortably low rpm. As one competitor discovered, pursuing big torque can spell disaster. Dyno strategy is key here. Too much torque at low rpm and you can bend connecting rods, crack pistons or even split the block. And too much spray with too little boost pressure and you can experience a massive nitrous backfire.
As you'll see below, the top 7 competitors executed their dyno plans effectively—with only one serious casualty.
First Place: Justin Zeigler
Horsepower: 2,443 hp
Torque: 3,282 lb-ft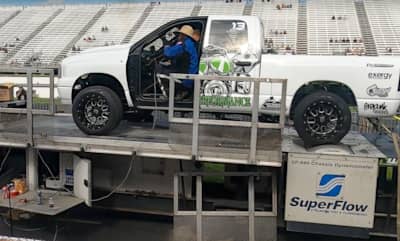 Before hitting the dyno, many teams installed fresh transmissions or tore down their drag strip candidate for a refresh, with careful attention being paid to overdrive—the gear that would be used (and desperately needed to handle copious amounts of torque) on the rollers. One such customer was Justin Zeigler, who finished second the day before in the eighth-mile competition. When it was his chance to turn the Super Flow SF-849 dyno's drums, the fresh Firepunk Comp 3 48RE held perfectly, allowing his compound turbo'd and nitrous-fed '06 Dodge to lay down the biggest combined horsepower and torque number at U.C.C. 2021: 5,726.3.
Second Place: Justin Andres
Horsepower: 2,220 hp
Torque: 3,404 lb-ft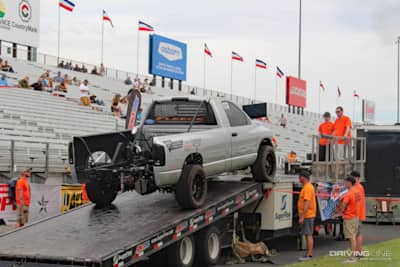 Justin Andres didn't spend much time on the dyno. It seemed like he got on, made huge numbers and then promptly backed off, which made sense with his 2,220 hp and 3,404 lb-ft of torque being the largest numbers at the time (he dyno'd fifth). Although Andres' horsepower number would eventually be eclipsed by several competitors, he laid down the biggest torque number of the weekend. His solid setup revolves around a Cummins from Freedom Racing Engines, Dynomite Diesel fueling, a tough slushbox from Randy's Transmission and spot-on tuning from Done Right Diesel Performance.
Third Place: Trevor Peterson
Horsepower: 2,264 hp
Torque: 3,203 lb-ft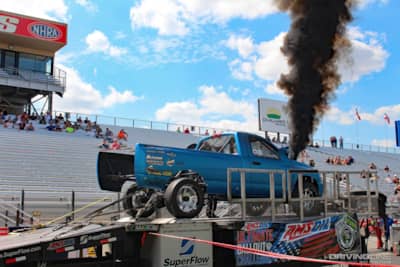 Hands down, the preferred dyno tire of choice is the Nitto NT420S. The soft side-wall all season has long been a favorite among the diesel crowd, and at U.C.C. it has held up to an incredible 3,783 lb-ft of torque in the past. Trevor Peterson's regular cab Dodge didn't produce that much grunt on the rollers, but his performance was impressive nonetheless. At 2 a.m., Peterson's Ram was finally ready for its date with the dyno a few hours later. At go-time, he activated all four nitrous kits and put up numbers that locked him into a solid Third Place finish on the rollers.
Fourth Place: Chris Buhidar
Horsepower: 2,463 hp
Torque: 2,996 lb-ft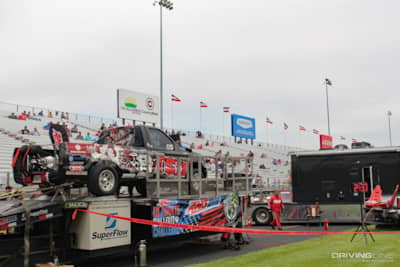 A veteran dyno operator in his own right, Chris Buhidar knew exactly what to do aboard the Super Flow rollers. Not only did his triple-turbo, Cummins-powered Ford make its best numbers to date, but it produced the biggest horsepower number of U.C.C. 2021. Even though his torque number pushed him down a couple rungs on the ladder, his Fourth Place finish on the dyno combined with his Fifth Place performance at the drag strip put him in Second Place heading into Day 3. For the sled pull, Buhidar was poised to make a run at front-runner, Justin Zeigler.
Fifth Place: Todd Welch
Horsepower: 2,369 hp
Torque: 3,039 lb-ft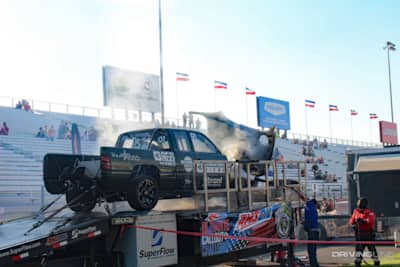 Although Todd Welch and his team failed to reach their 3,000hp goal, the guys at Power Driven Diesel did put on a show. The flying iron type of show… Notorious for their fireworks aboard the dyno, team PDD showed up with their spare Cummins under the hood and promised to attempt sending 250-psi of boost through it. For the effort, they even added nitrous to the mix, something they don't normally do. Midway through the dyno pull, the block split near the mains and the cam, blew apart taking the head up with it and allowed pistons, wrist pins, cam fragments and plenty of hot fluids to escape. Despite the carnage ending the run early, PDD's P-pumped monster still managed to build 2,369 hp and 3,039 lb-ft of torque. For the full fireworks display, check out Built Diesel Mafia's video of the run here.
Sixth Place: Evan Moser
Horsepower: 2,202 hp
Torque: 2,802 lb-ft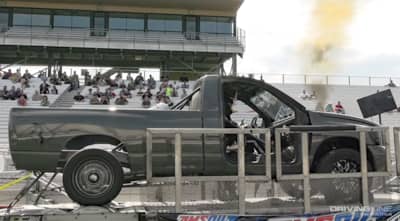 Prior to Justin Zeigler's impressive performance and Todd Welch's Internet-breaking engine explosion, it was Evan Moser's turn on the dyno. Just as he'd done the day before over at the drag strip, Moser and his regular cab third-gen finished in Sixth Place. His time on the dyno yielded more than 2,200 hp and (a relatively safe) 2,800 lb-ft of torque, which was more than commendable given the elite company he was in. Self-proclaimed underdogs, Moser's small crew from the East Coast was gradually proving that they had what it takes to run with the best of the best at U.C.C.
Seventh Place: Tom Borrell
Horsepower: 2,090 hp
Torque: 2,789 lb-ft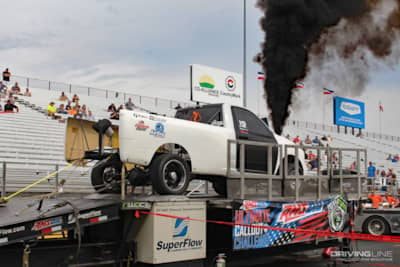 It was "Turba" Tom Borrell's first time on a chassis dyno, but you never would've known it! Even though Tom and his team didn't get a chance to try a more aggressive tuning file (his 20-minute time allotment on the dyno expired) his truck's 2,090 hp and 2,789 lb-ft numbers proved good enough for Seventh Place. And when combined with the Third Place points he'd earned at the drag strip, he sat in Third Place overall heading into Day 3, the sled pull. If Tom returns to U.C.C. in 2022, look for him to have his dyno recipe all but perfected. We already know he has the drag racing side of things 100-percent figured out…
More From

Driving Line
Missed out on our U.C.C. 2021 drag race coverage? The recap from Day 1 (Drag strip day) can be found here.