Ultra4 2015 MetalCloak Stampede Race Recap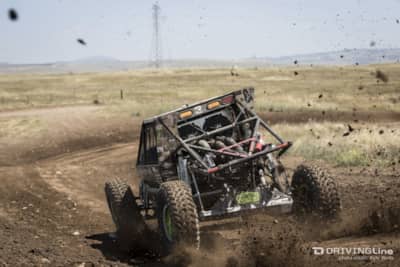 Following King of The Hammers, Ultra4 landed at Prairie City SVRA for the 2015 MetalCloak Stampede. The first of seven additional ULTRA 4 races which compose the National Championships, MetalCloak Stampede is held on a 2-mile dirt short course encompassing rocks, jumps, whoops, and go-fast sections. Racers are eager for seat time after a 3-month "vacation" since King of The Hammers. Vacation is an overstatement, as downtime means these racers are in garages and shops working on their buggies. The unlimited 4400 class is ever-evolving as parts continue to get faster and stronger - requiring racers seeking to be on top to become both engineers and fabricators as innovation is just as crucial to coming in first as flawless driving is. The 2015 MetalCloak Stampede begins with practice and 4400 prelims on Friday followed by qualifying heats and the main events for a number of classes on Saturday. The structure almost makes it seem like drivers are qualifying twice, vying for spots in the main race. As MetalCloak Stampede is run on a short course, starting spots are crucial and running prelims plus qualifying heats makes it the fairest way to place drivers.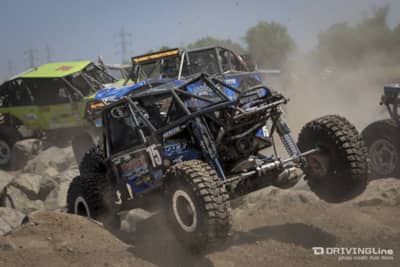 During both Friday's and Saturday's qualifying races, drivers were aggressively battling for the top spot. Strategy for a short course clearly changes from the endurance mindset used for King of The Hammers - with drivers pushing as hard as they could, breakages and mechanical failures took out plenty of drivers throughout the weekend. At last year's MetalCloak Stampede, temperatures well past 100 contributed to overheating problems, luckily the mild weather this year was kinder. By Friday's end it was Loren Healy #67 who held the pole while Gary Ferravanti Sr. #44 looked to have the fastest lap time at 2:00.65, which helped launch Gary from his 12th starting position to 2nd, all during the first lap of that heat. The top 3 from each of Friday's four preliminary races advance to Saturday's main race regardless of how they place in the mornings qualifying heats.
4400 Heat 1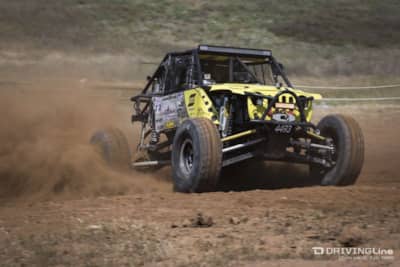 Saturday kicked off with the first of four heats for the 4400 class, each including approximately 15-20 cars competing for the top seven to proceed to the main event.  Heat 1 saw Loren Healy #67 pulling ahead early with Andrew McLaughlin #4493 and Greg Adler #210 racing for second. A yellow flag mid-way through the eight-lap race caused Healy to lose much of his lead, but he made it up again as soon as the green flag dropped. Loren's "Red Dragon" buggy seemed to glide effortlessly, like nobody else's vehicle did, over the challenging series of whoops on the long straight stretch coming back towards the start. Adler pulled off the track on Lap 5, leaving McLaughlin vying for second against Kenneth Goodall #7779 in third. The top 3 were approximately a full mile ahead of all other competitors with Healy beginning to lap the field before the race was over. First place went to Healy without a fight, with the other six racers advancing as follows: 2. Andrew McLaughlin, 3. Ken Goodall, 4. Paul Horschel #19, 5. Scott Foley #75, 6. Mike Bou #54, 7. Keith Xavier #4459.
4400 Heat 2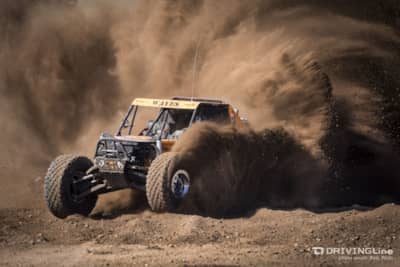 While in some heats, the rocks are the only place racers seemed to pass each other, this one was a battle of the stretches, as drivers made or lost their leads in the straights. Ferravanti Sr. #44 took the lead early, with Tom Wayes #321 and Wayland Campbell #5 close behind. Kevin Yoder #4434 began this race with only 3WD, still vying for a starting place. Although Yoder managed to move his way from 16th up to 10th at one point, he wasn't able to secure a top 7 spot. During Lap 3, Wayes broke an axle, landing himself with only 3WD as well – Wayes pulled off the course and back to the pits, however, he'd already earned himself a spot in the main by finishing first in his prelim heat Friday. There was a heated battle for the fifth through seventh spots, with Jason Blanton #966, Rob Kirby #65, and Chris Hoyt #53 fighting for spots in the main. Blanton and Brenden Thompson #5150 were head-to-head on Lap 3 just as Bailey Campbell #35az and Joseph Varga #2727 kept passing one another and swapping placements as well. Ferravanti remained in first place throughout, but Wayland Campbell was able to close in on him slightly for second as Mike Klensin #4431 did the same to Campbell, eventually taking third. The other top 7 qualifiers are as follows: 4. Brenden Thompson, 5. Jason Blanton, 6. Rob Kirby, 7. Chris Hoyt.
4400 Heat 3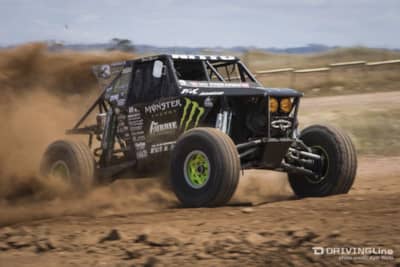 A few racers didn't make it to the lineup for this qualifying race. Levi Shirley #81 hadn't made the race the day before, and had spent the night swapping engines; now racing with an untested junkyard motor. Shannon Campbell #3 and Derek West #20 start in first and second places and are able to hold their positions through the first rock section. Derek, who's from Missouri, is racing for the first time in the Western Regional Series and has adapted quickly to the short-course style track, which is significantly different than many of the the Eastern Series' heavily wooded courses. On the back straight, Campbell pulls ahead of West, putting about 15 car lengths between them… although West is in a newly built car with more power than his last, Campbell is always one of the fastest ones on the course. The two Nitto teammates are both well ahead of the rest of the pack. Shirley, who started at the rear of the line due to missing the previous days' race, is picking people off left and right, progressing though the field towards the front of the line. By Lap 2 Shirley has moved from 14th to 7th place, good enough to progress into the main competition; he continues fighting on as it means a better starting position in the big race. By now the racers sitting between Shirley and the leaders are Alex Hardaway #4481 in third, with Cody Addington #888 and Brian Wood #4477 vying for 4/5th. Shirley is beginning to show up in their rearview mirrors as this bunched-up group gets to the first rock section on Lap 3 where Shirley makes his move, overtaking Addington and Wood in one fell swoop for 4th position. The lead positions stay very much the same for the remaining laps for what is probably the only race free of yellow flags this weekend. The final finish progresses the following seven racers to the main: 1. Campbell, 2. West, 3. Hardaway, 4. Shirley, 5. Addington, 6. Marcos Gomez #4486, 7. Justin Foxworthly #10.
Last Chance Qualifier (LCQ)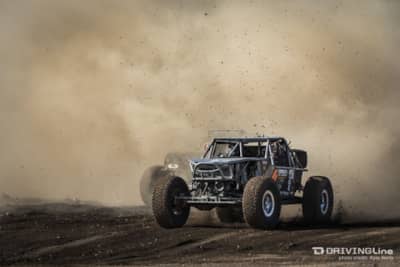 Of the 28 top seven qualifiers from the day's earlier heats, an additional five from Friday's top three finishers are progressing into the main race, including the top 3 from this final last chance qualifier. This is the all-or-nothing, checkers or wreckers race where the field of approximately 24 racers will vie for one of these last few positions. These heightened stakes showed in driver's gusto right from the starting line, with a rollover happening on the very first turn.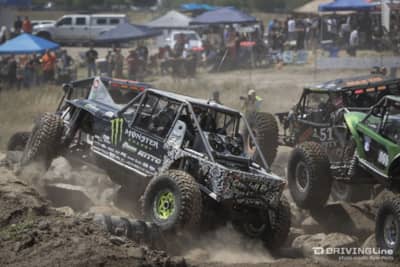 We were rooting for Bailey Campbell #35az, who looked to be channeling some of her dad, Shannon Campbell, driving aggressively right when the flag dropped – but as the cars stacked up to pass through the narrow first rocks section, Bailey held back; it almost looked as if she was being polite as she let others through and was second to last when the field came out of the rocks. Jeremy Ealand #1014, who had finished eighth in his earlier heat, pulls out with an early lead and looks to be putting distance between he and the others. Behind him a grouping of cars is closely bunched together and the 2nd and 3rd spots seem to be anybody's game. Joseph Varga #2727 is there along with Joe Arrowsmith #2044, and Rowdy Trubenbach #3006. At the LCQ's halfway mark things really began to get interesting. Multiple buggies are pulled off the track due to mechanical issues, and Varga has began to billow smoke from his engine - because of this, Alex Wacker #91 moves into third. Trubenbach progressed up to second position, and cuts to first at the rock pile, with Darren Henke #4441 now following Ealand in third. Varga isn't far behind Henke when his smoke suddenly turns to flame just below the starting line; not more than thirty seconds later another large fire erupts at the rock bed from Arrowsmith's buggy. The top three continue the last couple of laps in the same order, pulling distance from the rest of the pack who remains to fight hard for pure love of the race. The finishers who'll progress to main are: 1. Trubenbach, 2. Ealand, and 3. Henke.
SPEC/LEGENDS MAIN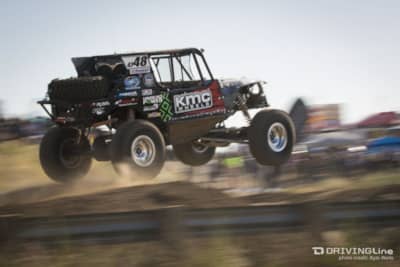 Throughout the 4400 races were also the UTV, stock, modified, spec, and legend class events. Fans of Ultra4 and spectators at Prairie City SVRA were really looking forward to the battle in the spec/legends race. Veteren motocross and off-road racer Ricky Johnson was competing in the spec class facing off against his old friend and once rival, Damon Bradshaw, as well as his son, Luke Johnson. Announced at SEMA 2013, the Ultra4 spec vehicles are essentially identical to each other, allowing the driver's ability to truly shine. With rent-and-race availability, it's a perfect way to explore Ultra4 racing without a huge investment. Ricky Johnson #4748 started at the pole with Rick Waterbury #444 of the Legends/4800 class next to him. At the drop of the green flag, Ricky Johnson powered to the lead until he was overtaken by Waterbury on the rear stretch. Bailey Cole #4702 was hot on their heels with Luke Johnson right behind them. Damon Bradshaw #4745, who started deep in the field due to a rollover during qualifying, quickly went to work moving past his competitors and by the end of Lap 1 is holding 6th place. All of the sudden, at the start of Lap 2, Bradshaw turns around and drives back to the pit, taking himself out of the race. Meanwhile Waterbury is also having problems, taking him out of the lead group. Ricky Johnson and Cole are head-to-head in a battle for first, with Cole in the lead. Ricky moves in for 1st on the back stretch and is able to hold his ground for the remainder of the laps. 4700 Spec Results: 1. Ricky Johnson, 2. Bailey Cole, 3. Luke Johnson 4800 Legends Results: 1. Mike Amaral, 2. Ernie Hardaway, 3. James Hubbard
4400 Main Event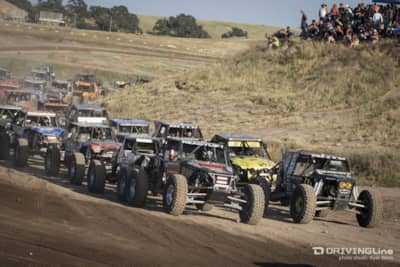 Saturday ended with the main event everyone was waiting for: the unlimited 4400 race. Based on earlier prelims and heats the field was arranged with Loren Healy #67 on pole, followed by Shannon Campbell #5, Gary Ferravanti Sr. #44, and Andrew McLaughlin #4493. Diving into the first rocks section, Ferravanti cuts past both Healy and Campbell on the hairpin curve with the three in hot pursuit of one another into the straights. Behind them Derek West #20 and Wayland Campbell #5 are close for 4/5th and putting distance on other racers behind them.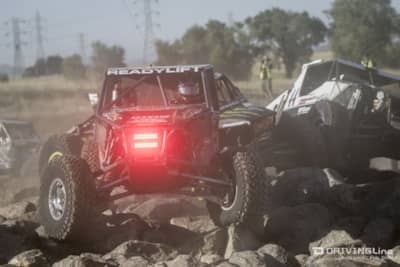 Ferravanti moves through the start line first for Lap 2 just as a fire erupts in his engine area and he pulls off course. Shannon Campbell now takes first with Healy hot on his tail. Meanwhile, Tom Wayes #321, who started deep into the field due to not being able to finish his earlier heat race, is quickly picking off other racers and moving up the field. Mike Klensin #4431 has nosed past Wayland Campbell, placing him in 4th. West, in 3rd, has put distance between he and the rest of the field but there remains to be a gap between he and Shannon/Healy in the lead. Healy remains just behind Shannon; in the past few laps he hasn't made a single move to get ahead but appears to be breathing right down Shannon's neck. Watching these two battle it out has got to be one of the most exciting things to see in Ultra4 right now. Just as in last year's Nationals, the short-course format lets you see the entire aggressive game of cat and mouse that these two play as they drive on the outside edge of everything their buggies are capable of.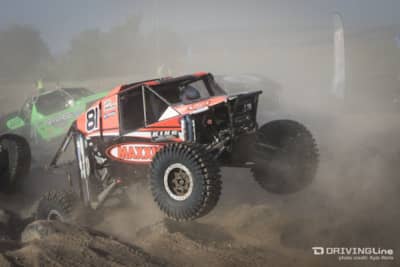 Levi Shirley #81 continues to be able get an amazing amount of power out of his junkyard engine and has moved up the field into 6th position, just ahead of Alex Hardaway #4481 and Jason Blanton #966, who have Wayes just behind them. Closing in on Wayland Campbell, Shirley nips in front of him on the hairpin after the rock section on Lap 5. Out front in the lead, Shannon Campbell and Healy are beginning to lap the field. On Lap 6 Healy finally makes his move! Healy dives in at the same rock section hairpin that so many have used to get ahead. In the subsequent two short rock areas Shannon Campbell is looking like he might be able to nudge ahead of Healy again, but once they get back on the dirt Healy powers ahead creating a 10-car length space between he and Shannon. The two continue to lap more of the field and one has to wonder if Healy strategically waited until these other cars were present as obstacles to cut ahead of Shannon Campbell. With half of the 12-lap race still to go, it remains to be anybody's game. With Healy pulling a slight amount of length on Shannon during the straights, and West continuing to trail them, the race behind continues changing positions. Shirley has a solid 4th and is gaining some ground on West, while Wayes is closing in on Wayland Campbell for a pass. Once Wayes is past Wayland he picks off Shirley on the following Lap 9 for 4th place. Lap 10 sees Wayes pulling off track momentarily, losing a number of positions and leaving Shirley and Wayland to battle for 4th. Wayland has pulled about 30 lengths in front of Shirley and appears to be closing in slightly on West. Wayes pulls back on course after a short lapse and finishes the race, but has some smoke coming from his vehicle at the end.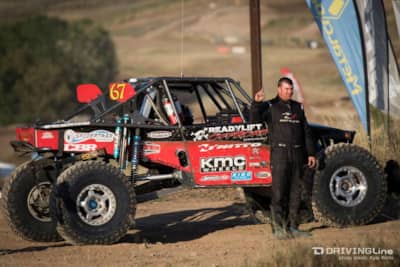 At the finish, Healy has successfully maintained the lead over Shannon Campbell. West, who had been entirely in his own space on track in 3rd for the entire race is caught by Wayland Campbell on the last half of the last lap, with Wayland nosing ahead and snagging 3rd place. West is right behind him in 4th with Shirley coming in behind in 5th. Full race results available here at Ultra4racing.com.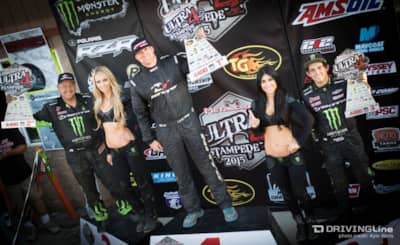 Finishing off the weekend with a podium ceremony, Shannon Campbell made everyone laugh, saying, "That big Red Dragon just whipped my little green lizard to death!" Next race is coming up in Attica, Indiana for the Ultra4 4WD Hardware Eastern Regional Series on June 26-27th, 2015 at Badlands Off-Road Park. Both Shannon Campbell and Loren Healy will be there to battle it out again, this time on a very different tree-filled course (which in the past years has always been run in the rain and mud!). Photos: Kyle Wells