ULTRA4 Off-Road Racers Put it All On the Line at Disney, Oklahoma for the "Legends of the Fall" 2022 Season Finals
Story By Matt Holt
Photos By
For the first time ever Ultra4 and National Rock Racing Association racers from all classes quite literally took over the 303-person population town of Disney, OK for the 2022 season finals.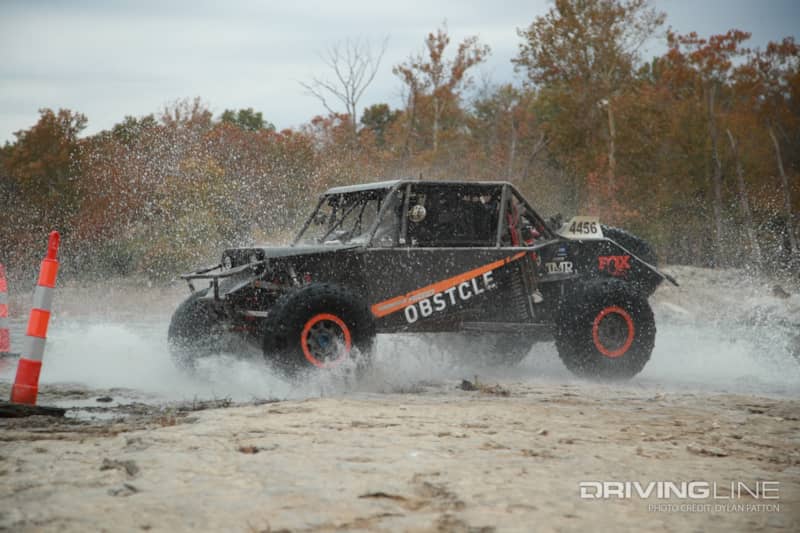 Finals for both race series were planned at the same time and at the same venue, which made for total chaos. I would compare it to having a Super Bowl and World Series event at the same time, and needless to say, it was an action packed weekend.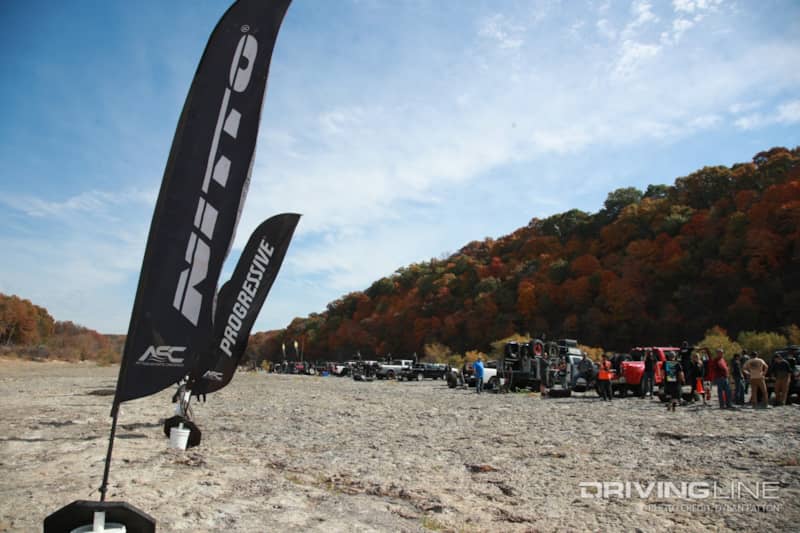 Thursday started off with prerunning where drivers get to practice trying different ways to get up the more difficult parts of the course or look at distances and try to fine tune race strategy. Friday was qualifying for the 4600 and 4900 class races.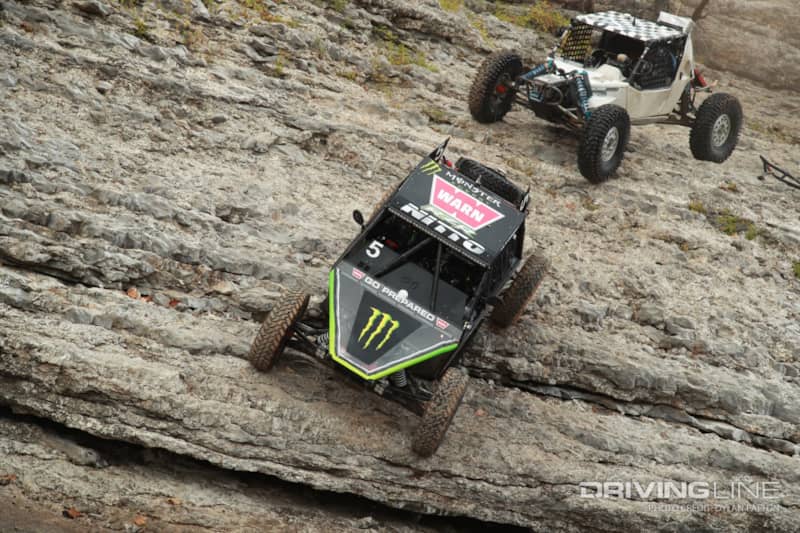 That night, after the day's racing events, I got to be part of one of the coolest things I have ever done, I went to a car show— not just any car show, this was an off-road racecar show. My Rock Bouncer as well as Ultra4 cars were lined main street for miles, as kids, and adults began to pour in droves, some had no idea what the rugged off-road machines were, but they were very excited to learn all about them.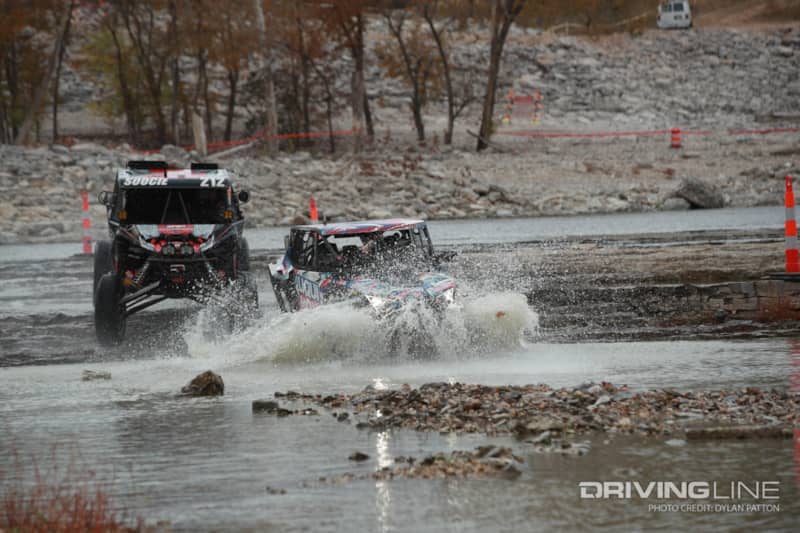 Most race teams filled their rigs with candy so that all the little kids could climb on them and pick the treat they preferred, which was joy to their little faces light up as they got candy and to look at the vehicles. It was a very nice calm before the storm with the violent emotional roller coaster the next day would hold.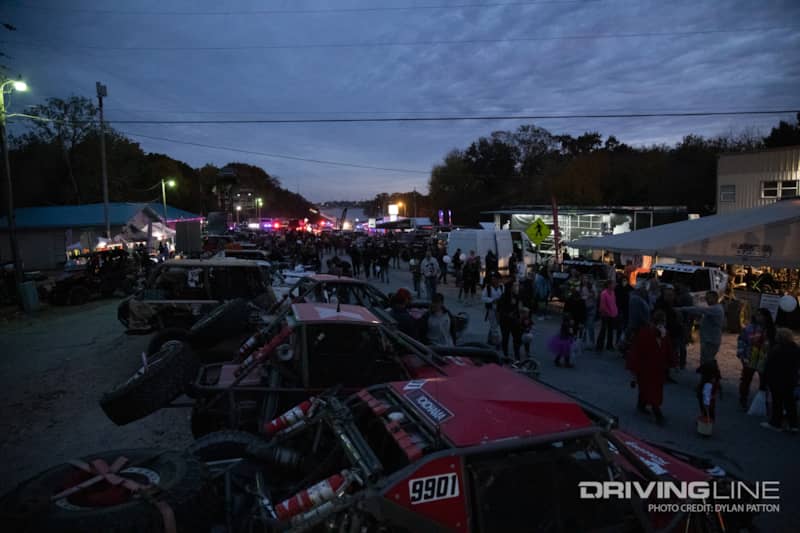 Saturday morning most teams were up prepping cars for the day while it was still dark outside and began making their way to the starting line. The 4500 and 4800 class went first at 10am, each class was set for 1.5 hour race time plus one lap.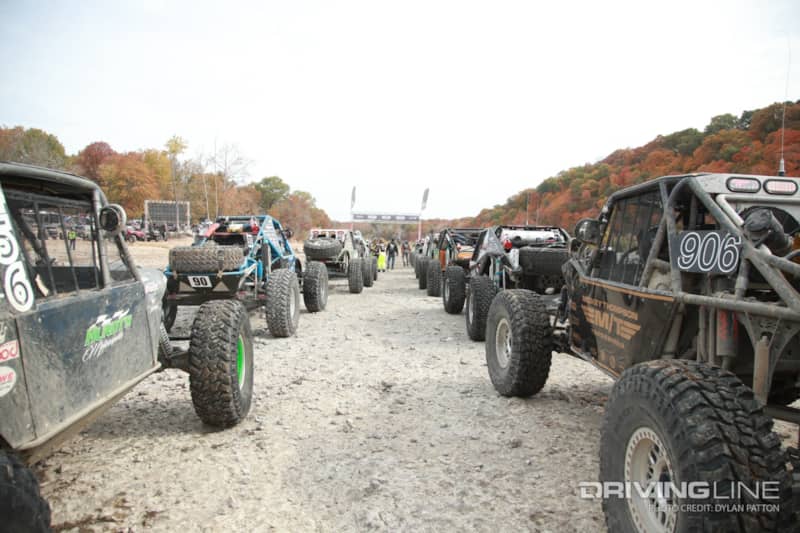 Then the big dogs rolled out at 1 PM sharp the cars were lined up to attack the super rocky and jagged course. The UTV class alone had something like 21 flat tires, so you knew the rocks were sharp—and everyone knows that changing a tire on the course can take up a bunch of time.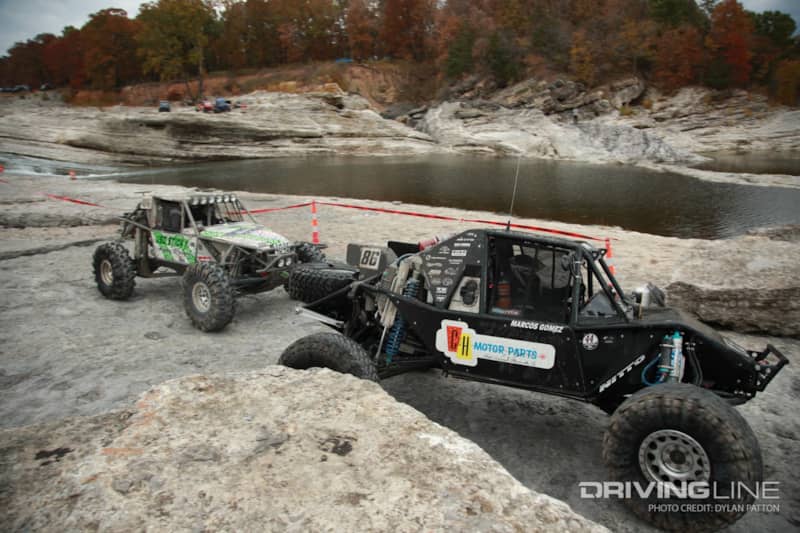 New to the series this season, Chris Branton, was sitting front row on the pole next to Paul Horschel who was very eager to blast off the line. JT, the race director,  dropped the green flag at exactly 1pm, and two-by-two the racers took off until the only engines you could hear were through the jumbotron TV set up for the crowds of spectators.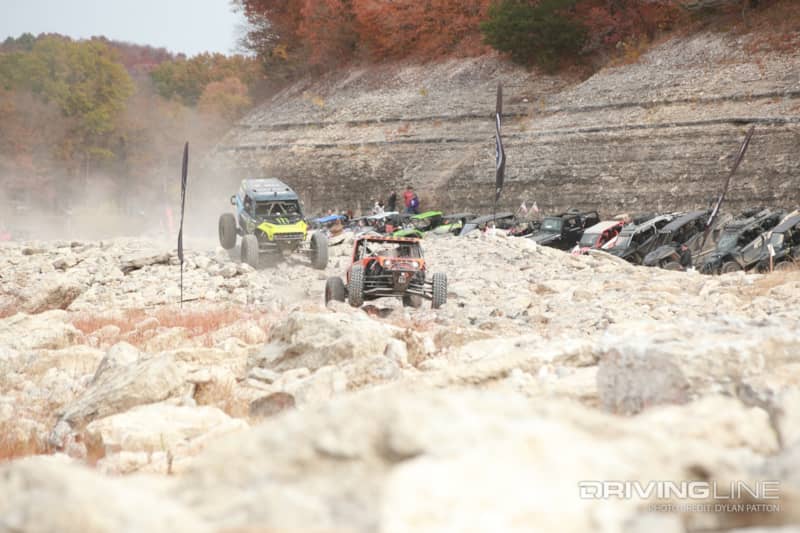 The first major obstacle they encountered was called "Waterfall," and it proved to be tough for some of the drivers. The smaller DOT tire classes struggled with it, and watching 4600 especially with the 35 inch tires there was a lot of winching and traffic jams.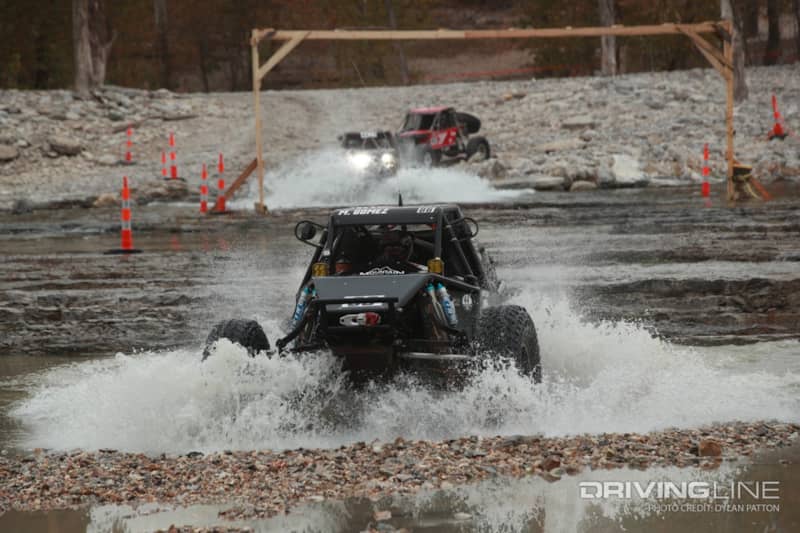 In the 4400 Class you could hear the engines screaming though the woods, and I got the opportunity to watch for a little bit and it was very clear some racers were not going to leave anything on the table at the last race of the season. Make it or break it, and the crowd got to see a little bit of both, a few chose to play it safe and winch up since there was an excavator sitting at the top with a strap attached. Another area that fans got a front seat of was "Blue," a longer down section that has a lot of line choices depending on how quick or safe a racer wanted to be.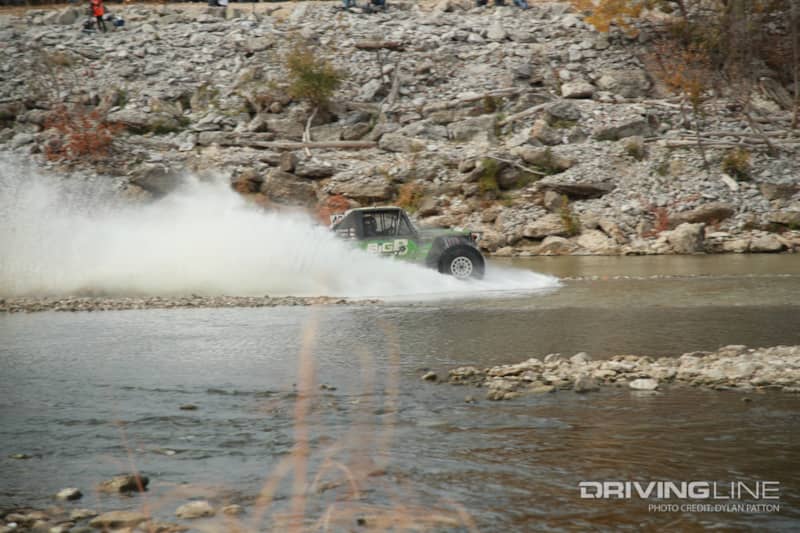 But one of my favorite places to watch was the pits, where cars would pull in with water soaked air filters, broken axles, flat tires and a variety of mishaps that required repair when racing. Probably one of the most epic happenings was Waylon Campbell who raced for nearly a lap and a half on three tires—after completing the long rock section he pulled into the pits and there was nothing left except the smoking spokes of a wheel— like some sort of a monster bull in the fight of its life.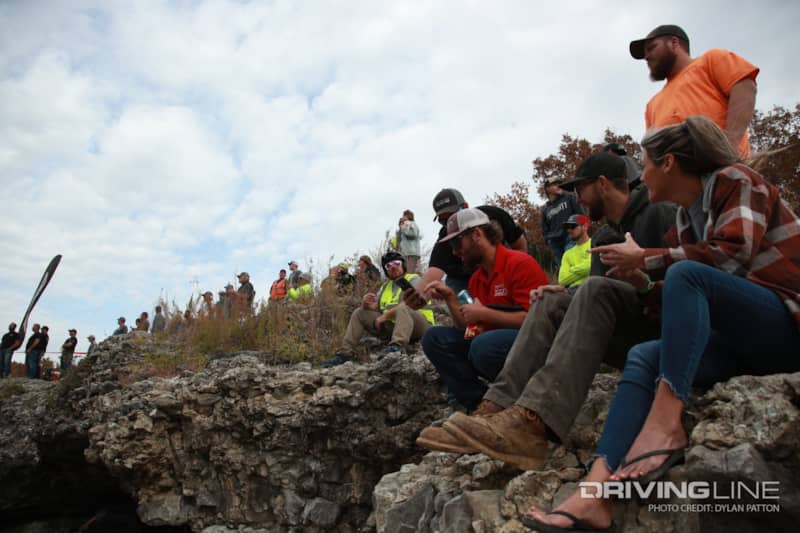 Brett Harrell had a blast battling up to the top spot for his first ever podium win in his Obstcle car. It was impressive watching him all weekend long as he beat out all the big teams that qualified ahead of him. And he did it by just going for it. He finished first, partly because all his Nitto Trail Grappler tires were intact throughout the race.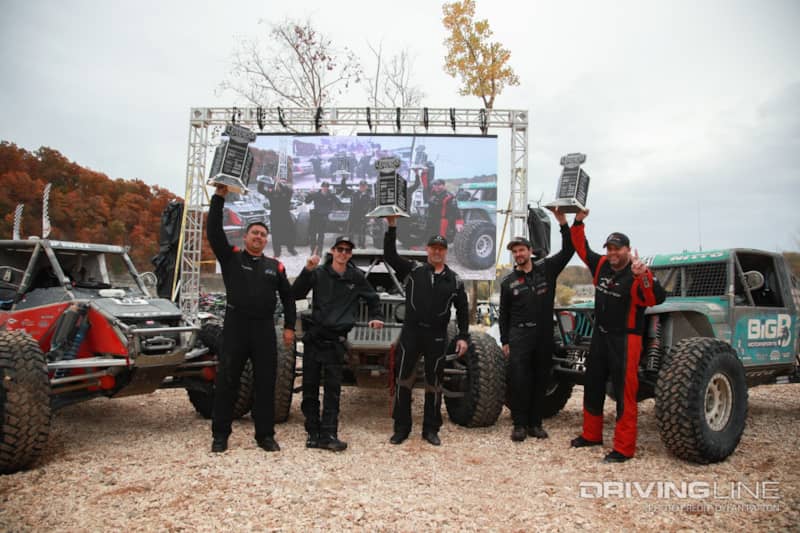 JP Gomez, from Gomez Brothers Racing, came in second— bumping Brett almost side by side as they raced though the course—and they had a good laugh about later. Josh Blyler, from Big B Motorsports, was chasing them down from a 12th place start to finally reach third place. They were the only divers who were able to complete all 11 laps of the course, which rounded out the Nitto tire podium sweep—and a Nitto Championship win six years in a row! 
2022 Legends of the Fall, Disney, OK Ultra4 RACE RESULTS
4900 Overall
1.) Mike Park
2.) Jeremy Blackburn
3.) Jason Soucie
4600
1.) Brad Lovell
2.) Vaughn Gittin Jr
3.) Bailey Cole
4500
1.) Troy Digby
2.) Rick Lavezzo
3.) Duane Garretson
4800
1.) Woody Rose Jr.
2.) Brent Harrell
3.) Eric Wikle
4400
1.) Brett Harrell
2.) JP Gomez
3.) Josh Blyler
2022 Ultra4 Nationals Championship Points Winners
4900 STOCK
1.) Joshua Smith
2.) Bryan Hamby
3.) Matthew Walraven
4900 OPEN
1.) Mark Welch
2.) Joe Gould
3.) No Qualified 3rd
4900 PRO MOD
1.) Paul Wolff
2.) Brian Stone
3.) James Cantrell
4600 CLASS
1.) Brad Lovell
2.) Vaughn Gittin Jr.
3.) Bailey Cole
4500 CLASS
1.) Rick Lavezzo
2.) Kenneth Goodall
3.) Duane Garretson
4800 CLASS
1.) Ryan Taylor
2.) Brent Harrell
3.) Tony Howard
4400 CLASS
1.) Josh Blyler
2.) Vaughn Gittin Jr.
3.) Bailey Campbell