Ultra4 2022 Thrashes Through the Woods In Eastern Kentucky for the Rush Regional Race, Nitto Sweeps Podium
Story By Matt Holt
Photos By
Ultra4 racing on the East Coast couldn't be farther from the West Coast both geographically and course-wise. The West has big and sometimes smooth rock, while the East is like racing though a thick forest, sometimes rubbing both tires on large trees, narrowly avoiding a violent collision, all while trying to push your rig as fast as possible to the top of the podium. Which is exactly the type of racing we saw at the 2022 Ultra4 Rush, Kentucky race this year.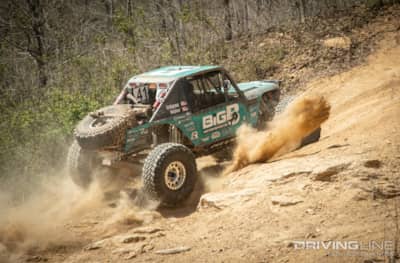 As the day began at the Rush Off-Road Anniversary Bash, drivers and spectators poured into the park. After a quick driver's meeting the racers were welcomed and told important details, including that the course and park would be open to spectators, so speeds would be restricted to 25 mph and to be very aware when pre-running and making notes not to collide with fans who may be wheeling recreationally or stopped to enjoy some snacky-snacks while watching the race cars zooming by.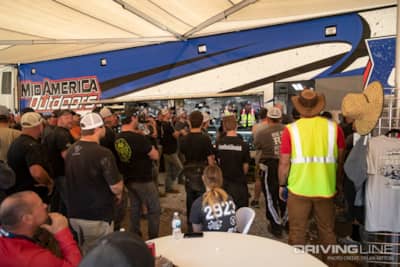 Because of the woody terrain, most of 6.3-mile course was going to be impassable, however JT, the race director, built-in some options of different bypasses so that if a slower car was met by a racer who was much faster it allowed for plenty of time or room to pass. The super tight woods course offered little room for a driver to pull over when the siren was sounding from a faster driver coming up from behind.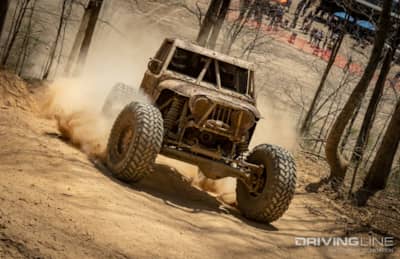 UTV
First the largest class, with 44 racers, was UTVs and they were divided into 3 classes: Stock, Pro Mod, and Open. Stock being very limited to a 33-inch tall tire and stock body makes a lot of work for maneuvering some of the steeper climbs. Pro Mod, limits stock suspension mounting locations and a 35" tire. Lastly, Open with a wide open set of rules with the exception of a 1000cc engine. There were a few things that stuck out during UTV qualifying but Paul Wolff who qualified first in his Can-Am powered UTV, then in later in his UFO 4400 car was probably one of the coolest and possibly a first of its kind.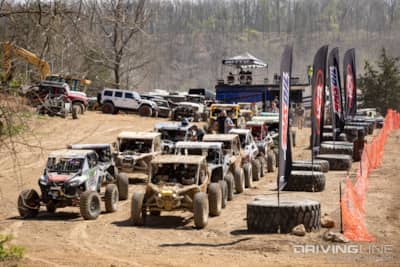 There was a bunch of highs and lows for this class being the fastest growing in Ultra4, like Paul Wolff coming off his 4400-class win at Moab, then qualifying first, leading the entire race, and then winning. Or, they Collin Truit with a race ending shoulder injury, but my favorite was when driver number 395, Cameron Zollars and co-driver Spencer Grindstaff, pulled into the ACR hot pits aside, but not into, an actual pit stop, what I can only assume was with some of his family. They began to talk and they were not doing anything to the car and the racer wasn't getting out so I figured he was broken beyond repair and his day was over, the pit nearby started talking and then all of the sudden they all started scrabbling. Cameron backed up and pulled into their pit, they started thrashing on the car and changed a tire, he quickly sped off and they all began to high five each other. The nearby pit heard they needed a tire change, but the driver and co-driver would have to exit the vehicle, remove the jack and tire, change the tire, then replace all the tools and equipment, but to the nearby pit crew, that simply wouldn't do they figured they could help their fellow competitor get back on the course faster. Watching them drive away with another team's spare tire simply restored my faith in humanity and showed me again why I passionately love off-road racing. Mr. Zollars and Mr. Grindstaff came in 8th in class and 21st overall out of 44 racers.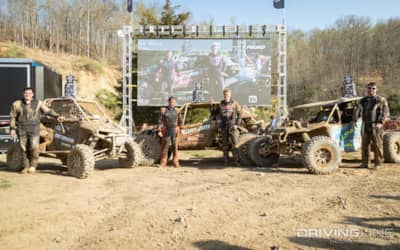 EMC
Ultra4 also now includes a new class that has been on the east cost for a while to allow drivers to be able to get into racing in the most cost affordable way in the Sportsman Stock class. Chris Miller and Matt Gresser, who both race '80s full-body Chevys, teamed up for this event and raced together in Chris' truck.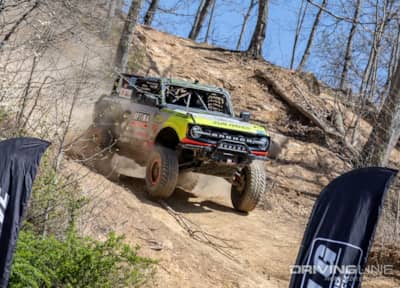 Vaughn Gittin Jr. and his Ford Bronco came out with a fury and blazed the trail to a win his class, as well Duane Garretson pulling in a win with a 4500 victory.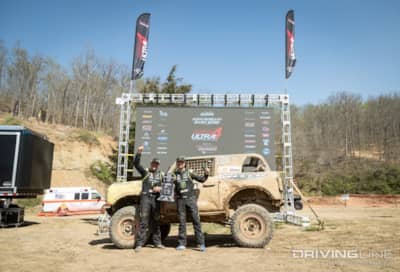 4400
The big boys raced a total of 6 laps at 6.3 Miles, for a grand total of a 37.8 mile race.  Kyle Hathaway was able to fill in for a very sick Kevin Porterfield, who declined to qualify for the event in hopes to save himself for the race.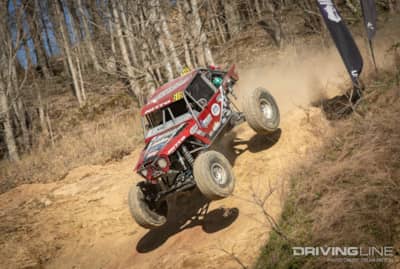 I tell people constantly that trees don't give, not at all. I am speaking of a large oak tree, when you catch a wheel something has to give, a knuckle, an A-arm, hub, or a tie-rod in the case of Paul Wolff who not only qualified 1st in UTV but also in 4400, and had won the UTV class in the morning, was not hard charging and apparently walking away with another win, when a dreaded tree was clipped, there were able to limp the car back to the pit after some trail repairs but unable to weld the broken steering link and his day was over.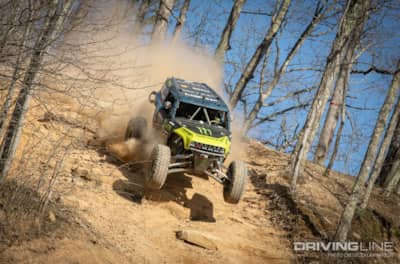 Vaughn Gittin Jr, who had already won in the EMC class, was dialed-in to be on the podium and has put Ford on the podium on every Ultra4 race that they have entered since the new Bronco's launch. Rufus Racing's Chip and Zandy both are very hard chargers but broke-down, with Chip breaking not much farther on the course than he did last year. Josh Blyer, one of the leaders of the Big B Motorsport Team, ended up on the podium as well.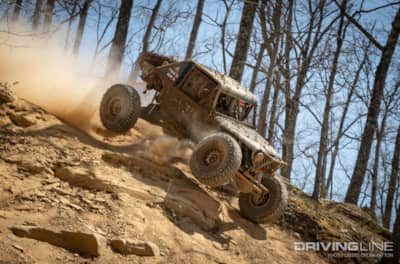 In the end it was a Nitto Trail Grappler M/T tire sweep of the podium, with Josh Blyler in first, Casey Gilbert second, and Vaughn Gittin Jr. placing third.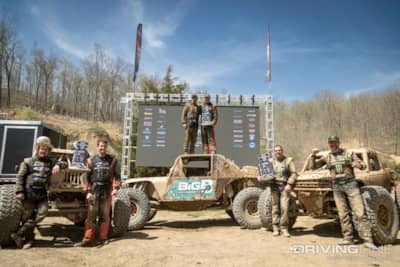 Rock Bouncers
MidAmerica who is the new oven of the Ultra4 racing series has also added Rock Bouncing to days event and it was awesome to watch the racers battle it out on a course set of for vehicular destruction with side by side racing action and then a monster hill climb.  DC Thompson won the UTV class and Wade Goode won the Bouncer class.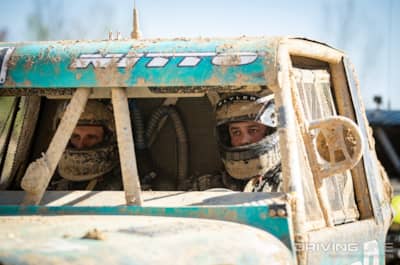 Ultra4 2022 Rush, Kentucky Race Results
UTV 170 Limited
1.) Tillman Ewing
2.) Alexander Walraven
UTV 170 Modified 
1.) Raleigh May
UTV Stock/Production
1.) Jeremy Blackburn 
2.) Aaron Lynch
3.) Brody Owen
UTV Pro Modified
1.) Paul Wolff
2.) Mitch Wofford
3.) Dustin Robbins
UTV Open
1.) Alicia Haluch
Stock Sportsman 
1.) Marc Zabboth
2.) Jason Dehn
3.) Chris Miller 
4600
1.) Vaughn Gittin Jr
2.) Jon Schaeffer
3.) Jon Lauener
4500 
1.) Duane Garretson
2.) Jesse Oliver
3.) Cody StCLair
4800
1.) Brian Trempe
2.) Shaun Rajski
3.) Evan Sherman
4400
1.) Josh Blyer
2.) Casey Gilbert
3.) Vaughn Gittin Jr