Unnamed Trail Exploration in the Mojave Desert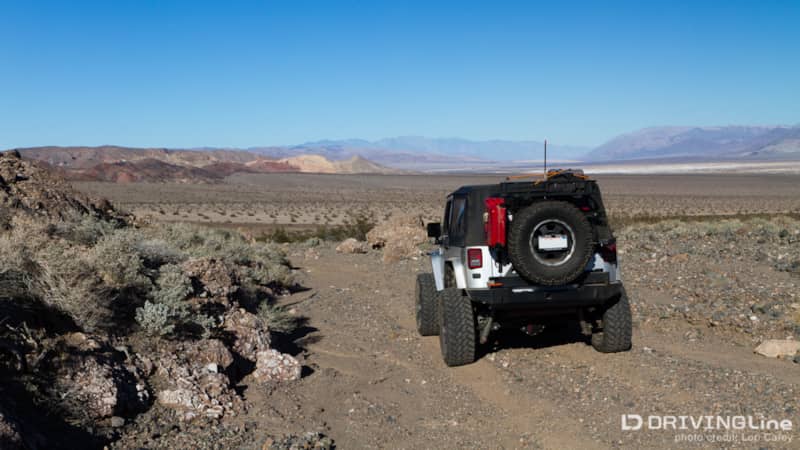 Although driving on named trails that are listed in guide books and shown on park maps can be a lot of fun, there is nothing I enjoy more than the sense of adventure that comes from exploring "off the map" unnamed trails in the Mojave Desert. I never know what I am going to find, but I am never disappointed! Before I set out to do the Harry Wade Exit Trail through Death Valley last month, I had done a lot of research about the area and noticed that the BLM-managed land to the south had several natural springs and archaeological sites in the Avawatz and Owlshead Mountains. I had also come across a reference to a well-maintained cabin that made a good base camp for anyone exploring the area. There wasn't much detailed information on-line; people are usually very careful about giving out exact locations of these resources in order to protect them. Only the most diligent and dedicated find their way to them. I studied satellite maps for days, trying to piece together routes.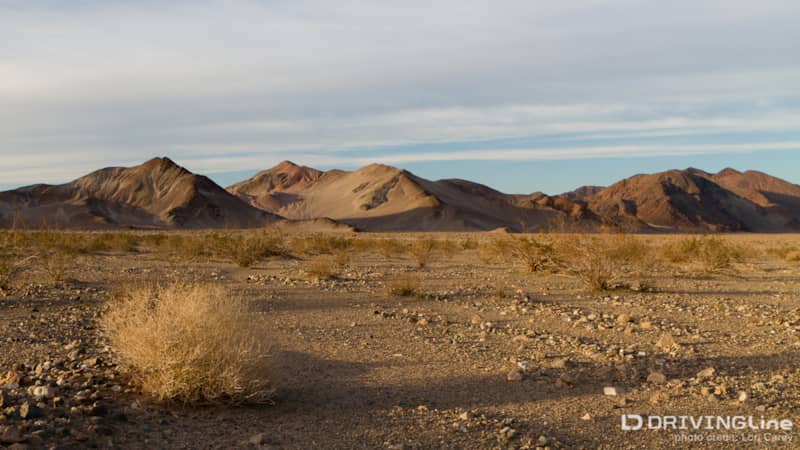 When I set out I was confident that, although I might not find exactly what I was looking for, I was going to have a great time trying in this beautiful area.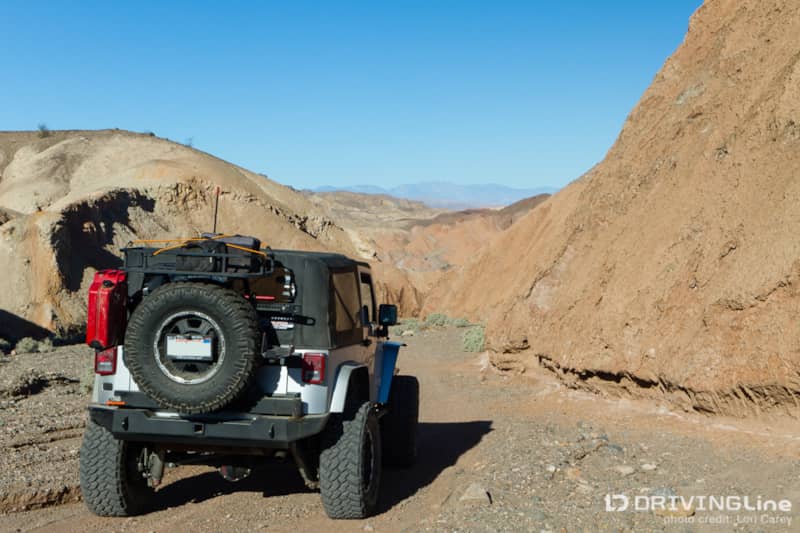 There are two trails, about a half mile apart, that set off from Harry Wade west into the Avawatz Mountains.  They are not marked, and once they get closer to the mountains there is a whole network of unmarked trails crisscrossing the main trails. Armed only with the knowledge that the cabin I was seeking was west of one of the main trails, we set out to see if we could find it.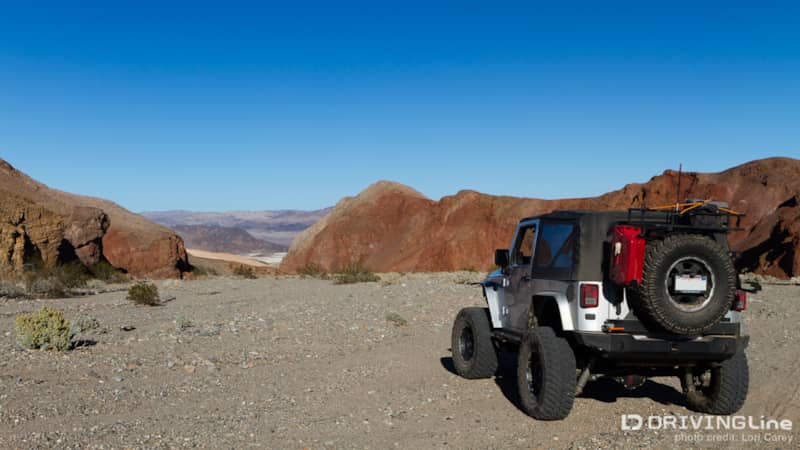 It wasn't long before we were distracted by colorful hills and unique geological formations and started turning down any trail that got our attention. It is like another world back here and it's easy to see why the area gets so much attention from geologists! We spent some time hiking one of the slot canyons before getting back on the trail.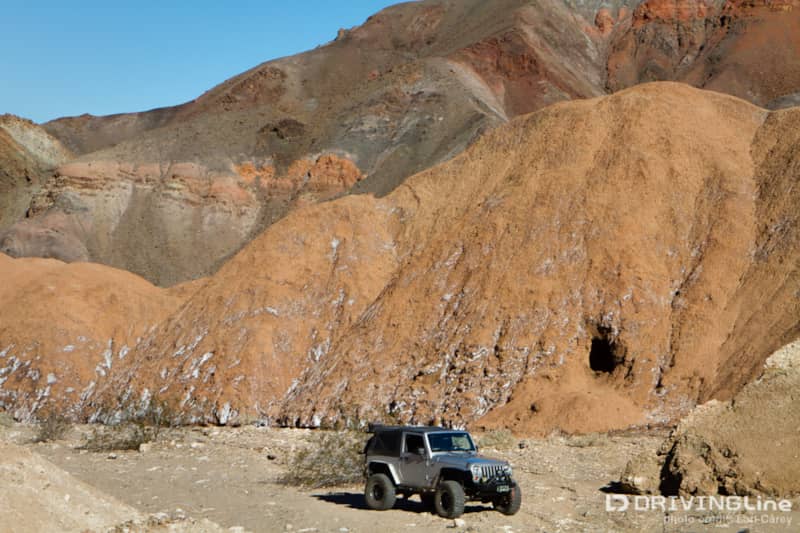 Many of the trails in this area travel through washes. There is nothing technical about the trails, but there is some deep sand and high clearance is required because much of it is rocky.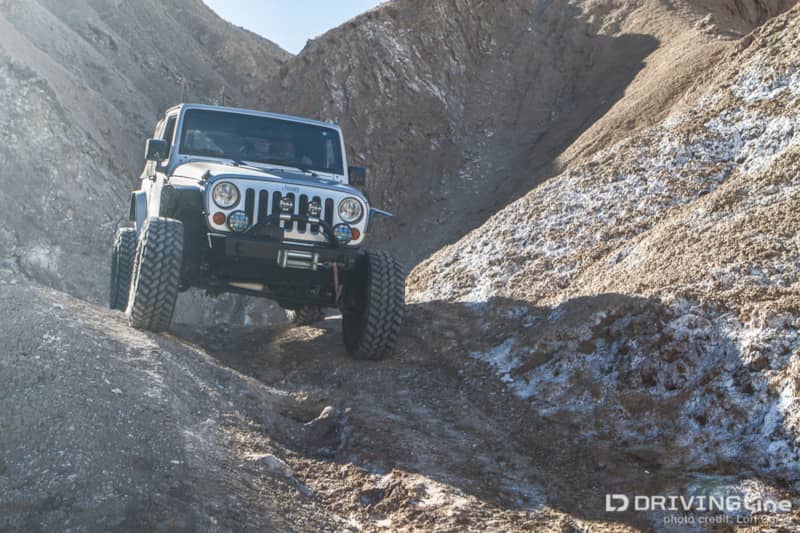 My favorite part was finding the wild burros! In all the years I have been exploring the Mojave I had never seen them before... so we were very happy to finally see some. The Burros are protected under the federal Wild Free Roaming Horses and Burros Act of 1971. Whenever an area of public land gets overpopulated with burros, the BLM rounds some up and puts them up for adoption.  These burros were very skittish and not used to seeing people.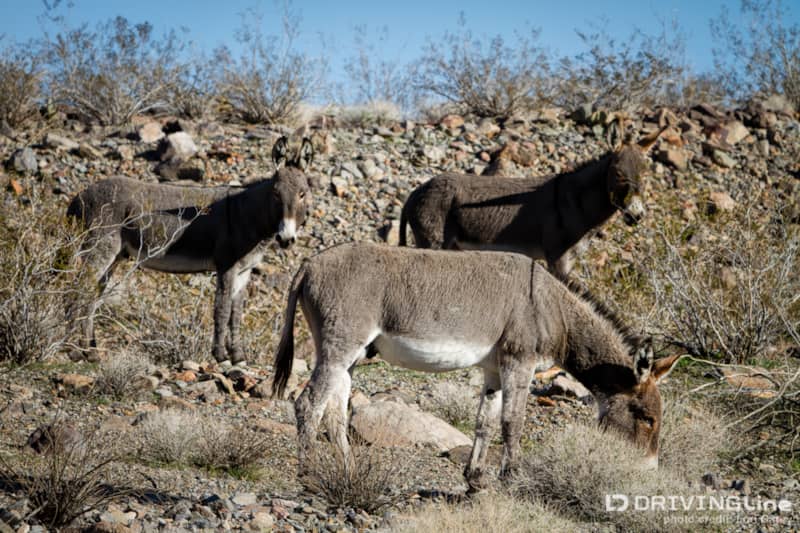 We did see a few Fort Irwin warning signs up some of the washes.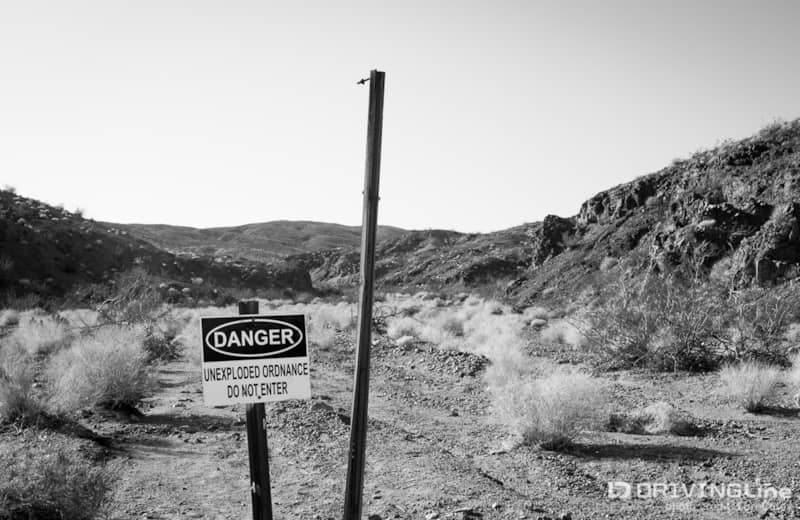 Eventually we could go no further along the main trail and we had to backtrack. That was disappointing, because the trail clearly continued through the posted danger area and the sign looked new. We hadn't found the cabin yet so when we came across an existing campsite along the trail we decided to stop for the day and set up camp. We spent a beautiful night under the stars and woke up to an incredible view of Death Valley in the distance.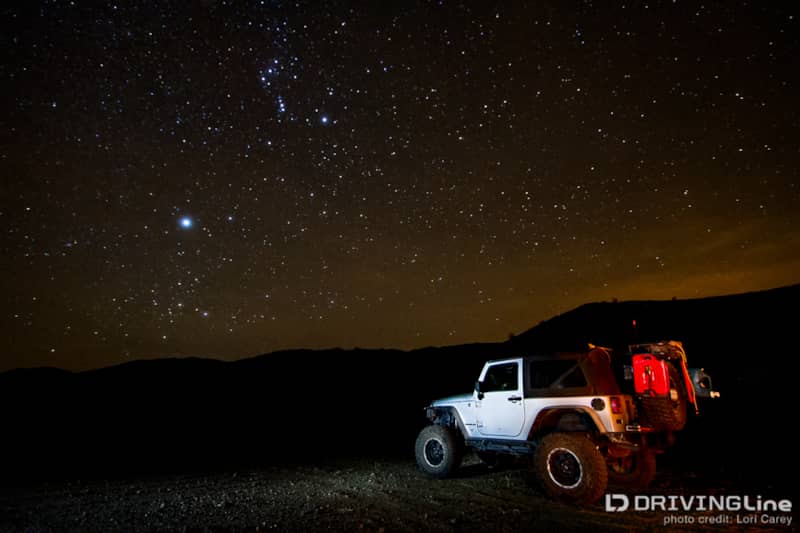 Setting out the next morning, we realized there was one trail we hadn't taken yet. Not ten minutes from where we had camped, we found the cabin.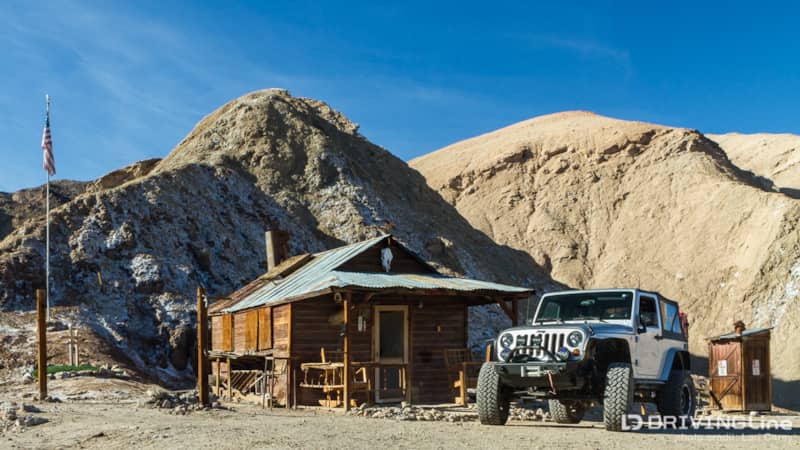 It was everything I had heard it was and more. Most cabins we find in the desert are in various states of decay, but this cabin was obviously well cared for. It was clean and tidy, had an outdoor shower, a fancy outhouse, and even a shooting range.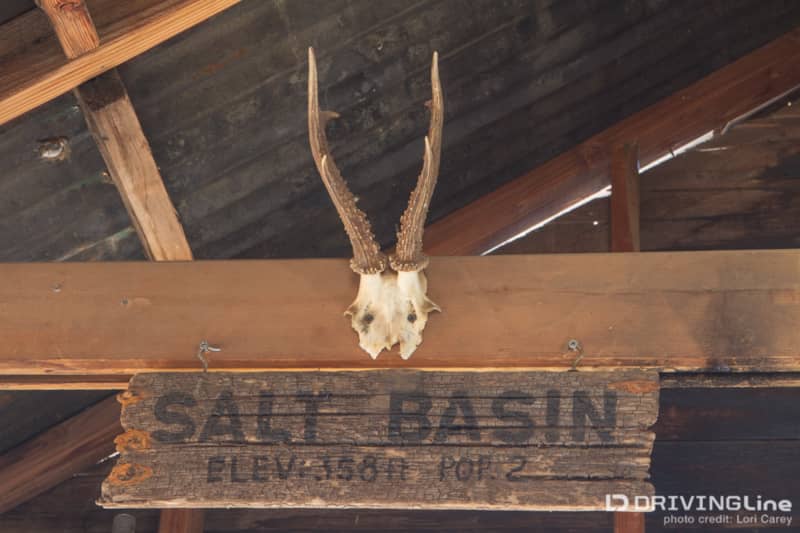 The men who originally owned it have since passed on and there is a memorial to them next to the cabin. Their welcome sign is still in place and the log book is filled with wonderful notes from people who have stayed. We fixed a loose shutter and I left a new pen for the logbook, there wasn't anything else that could be improved on.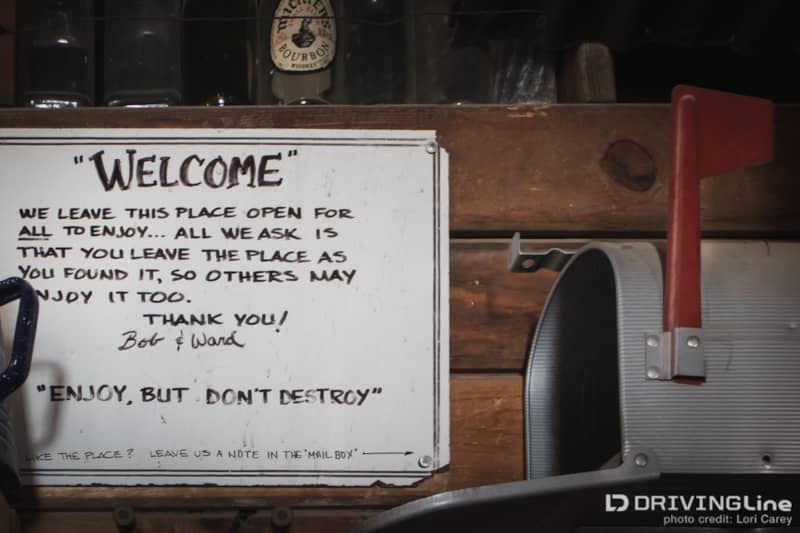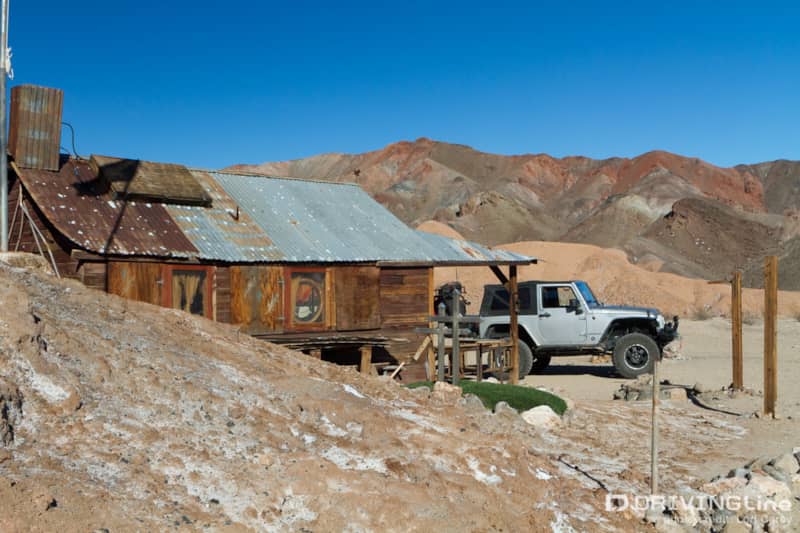 Reluctantly leaving the cabin to continue exploring, I wasn't able to find the spring I was searching for so we continued heading west to the Owlshead Mountains in search of the Owlshead Spring.  The Owlshead Mountain Trail is a marked trail off Harry Wade (just over 12 miles from 127). It's also listed in my trail book so I was certain we would have no problem finding the springs. The trail also leads to the New Deal and Black Magic mines and we were looking forward to checking them out.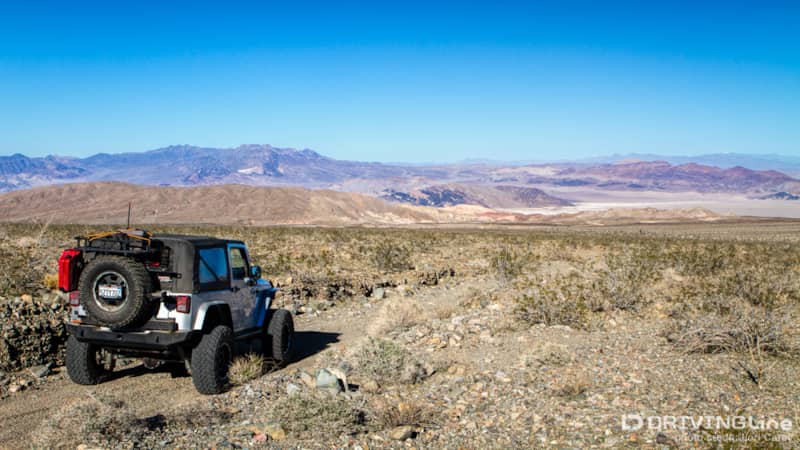 The trail was freshly graded and is extremely well maintained. We saw more burros on this trail but they were even more skittish than the others and stayed well in the distance. My guidebook says the trail is 28.7 miles long, plus a 4.7 mile spur to the mines.  Unfortunately we weren't ten miles in when we came across a brand new sign telling us that once again we had reached Fort Irwin property.  This was completely unexpected, especially since the signage at the beginning of the trail was still in place. We knew that the spring was just up ahead so we boldly ventured forth until we reached it. It wasn't exactly what we were hoping to find...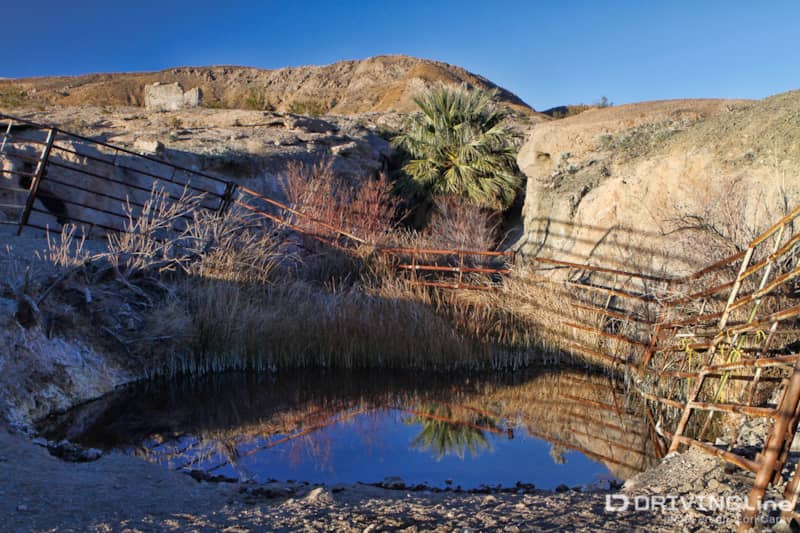 Apparently the fence is used to capture the wild burros when it is time to round them up. When we got back to civilization we asked a park ranger about the new signage and he knew nothing about it. The trail begins on Death Valley National Park property before crossing over into BLM managed land, and then back onto National Park property again. The new signage was on the BLM land. Up until we reached the sign there wasn't much to see along the well groomed trail (besides the burros) so I rate Owlshead Spring as "Don't bother" but the earlier part of the trip with two big thumbs up.