Vaquero 212: Wayland Campbell Takes the Win at Ultra4 Texas
Editor's Note: This article reflects the unofficial standings based on its publish time. *See end note for official results and penalties.
He stepped out of his father's shadow two years ago, but Wayland Campbell cast his own shadow this past weekend — a big, long, West Texas shadow as he took his first Ultra4 Racing victory in the dusty border town of Sierra Blanco. After almost 200 grueling miles in the closest thing to Baja racing Ultra4 has ever delivered — along with a string of "almosts" through the years — Team Nitto driver Wayland Campbell stood tall and proud at the top of the podium.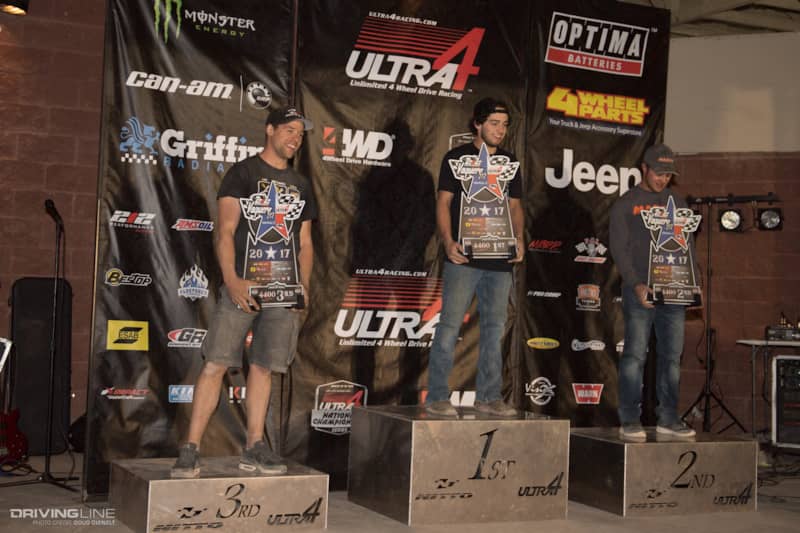 Only eight seconds separated third-place finisher and two-time King of The Hammers Erik Miller, and fourth-place finisher (also a two-time King of The Hammers) Randy Slawson — eight seconds... out of 15,730. That's a flinch in wash or a "goose it" in the rocks of a difference — over 186 miles and more than four hours. In another close finish, only 11 seconds separated eighth and ninth place between Dustin Isenhour and Andrew McLaughlin, respectively. The race was scored on total elapsed time, so the one-minute offset of cars from the start/finish line meant you were racing other cars and the clock.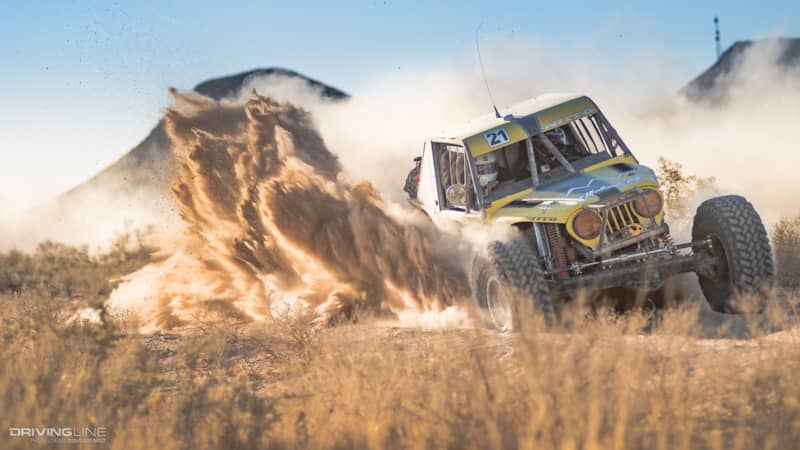 Fan (and driver) favorite, as well as former U.S. National Ultra4 Points Champion and former Ultra4 Europe Points Champion, Levi Shirley made a welcome return to the podium, earning a hard fought second-place finish. To say that Ultra4 drivers continue to push the envelope of competition and consistency would be an understatement. Steady, consistent and fast, Levi added to his seventh-place KOH 2017 finish, setting the stage for a very interesting season points race with Wayland and Erik for 2017. Every race matters, as made evident in last year's dramatic finish to the Ultra4 points series.
Texas Charm
The setting for the 212 Performance Gloves Vaquero 212 was almost as dynamic as the race itself. Teaming up with TORRA (Tejas Off Road Racing Associate), Ultra4 Racing held the opening round of the Western Series about an hour and a half southeast of El Paso in Sierra Blanca — West Texas' inaugural Ultra4 event.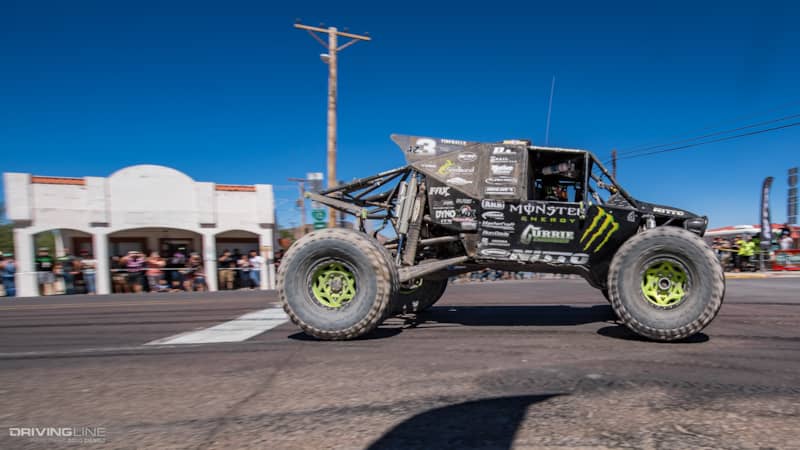 "I just checked something off my bucket list that wasn't even on it!" driver Chris May said — a statement that seemed to sum it up for many others. If driver and team feedback is any indication, it won't be the last. Complete with an involved and engaged sheriff, inmates in stripes hanging banners and Border Patrol right down the street, the adventure wasn't just on the course.
Course Masters JT Taylor and the incomparable "Texas Jesus" Matt Fallis took full advantage of the diverse terrain. The morning race consisted of one 93-mile lap, while the 4400 Unlimited Class completed two laps in the afternoon race. Starting in the heart of town, Ultra4 racers let loose with big burnouts down Main Street before heading to the desert.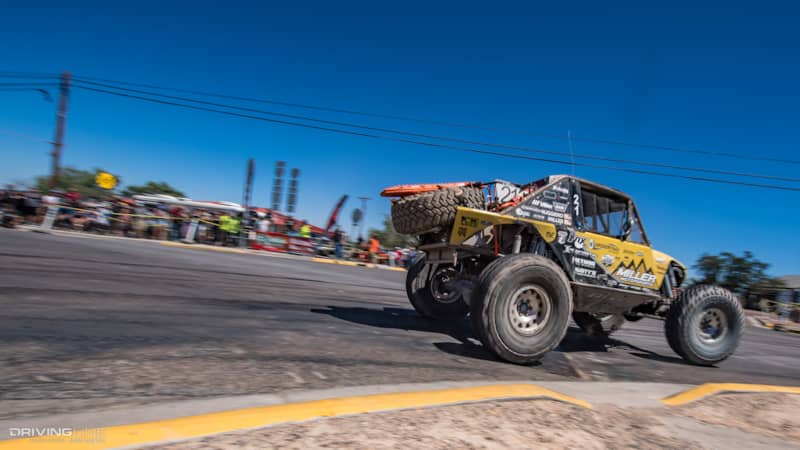 "Every time you adjusted to the terrain and started wanting something different, you got it!" exclaimed driver Andrew McLaughlin.
Cars reached top speeds over 110 mph down high-speed dirt tracks, squeezing between narrow cattle guards and fighting dust for the first 15 miles. Near RM 16 the course abruptly dropped into tighter canyon roads that allowed room to pass, but you had to be on your game as the course twisted and turned towards the 3-mile rock section before turning back to town. While not as big or painful as the Johnson Valley rocks, it was a "real" rock section that caused damage and forced drivers to switch into rock-racer mode before changing gears once again into switchbacks and long stretches beside the Rio Grande, within a stone's throw of Mexico.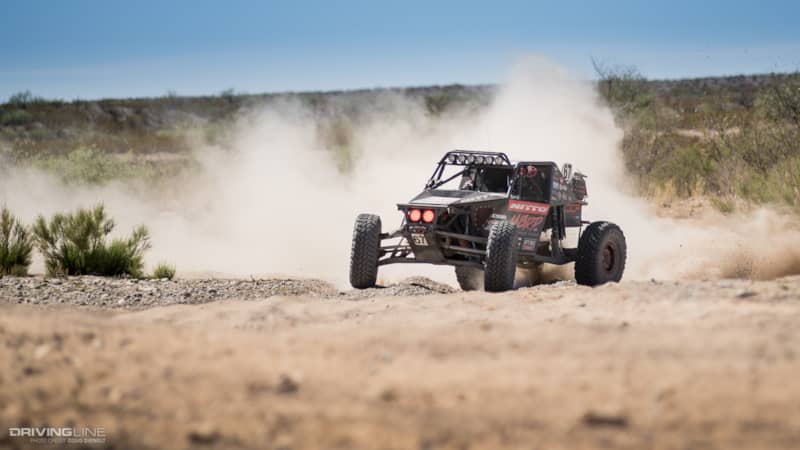 A highlight of this section of course was Indian Hot Springs and the tribute to the fallen Buffalo Soldiers. The final 30 miles of course was a wide and fast wash that also allowed for a full pit stop at the designated pits. Crossing under I-10, racing in dirt tracks beside a two-lane highway and then pulverizing a silt bed before re-entering town made for an impressive, challenging and entertaining course.
Main Race
The Main race looked like it was going to be a familiar story in a new setting. Friday night was Qualifying for starting position, with 2016 National Points Champion and Team Nitto driver Jason Scherer once again owning the pole position.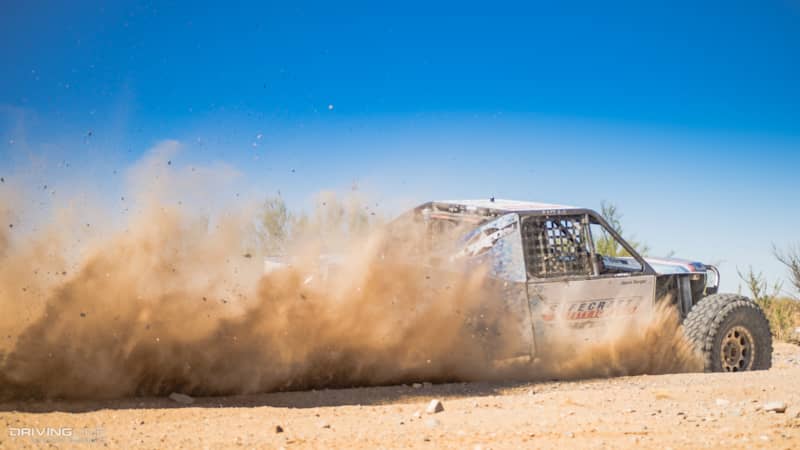 A mere fraction of a second behind Jason was perennial powerhouse and fellow Nitto driver Loren Healy in the Red Dragon. Three-time reigning King of The Hammers Shannon Campbell in the Dragon Slayer rounded out the top three off the line. All told, four Kings were in the top five, with Nitto drivers taking the top five spots in Qualifying. A battle was brewing in the desert!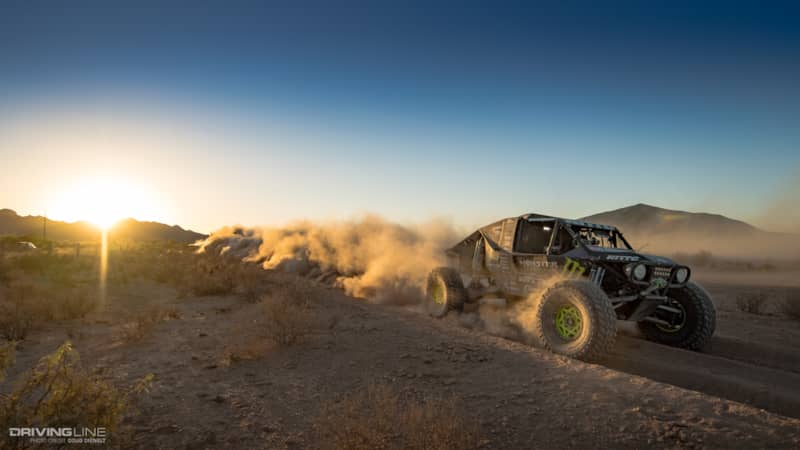 By the end of the first lap, two things were clear: Pole sitter Jason was having vehicle issues, while Loren and Shannon led the tight pack of top drivers into an epic battle into lap 2. After Shannon experienced some mechanical issues, Loren was the rabbit for a group on the hunt which included Wayland, Levi, Randy and Erik... and hunt they did. Wayland and Levi closed the gap coming into the last 20 miles as they battled each other for position and to close on Loren, giving themselves some space between Erik and Randy.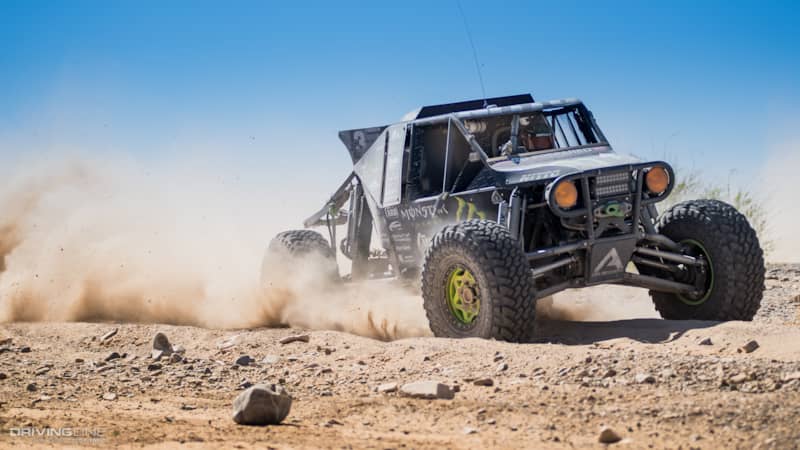 With 15 miles out of 186 remaining, the heartbreak happened: Loren lost steering in his car. After a disappointing result at KOH 2017, West Texas seemed like the best place for redemption, but it was not meant to be. Wayland crossed the line in physical first place, followed by Levi, then Loren. Erik crossed fourth with Randy Slawson coming across fifth. Making adjustments for the offset start, it was announced that Erik was third, besting Randy by eight seconds and pushing Loren back to fifth for the day.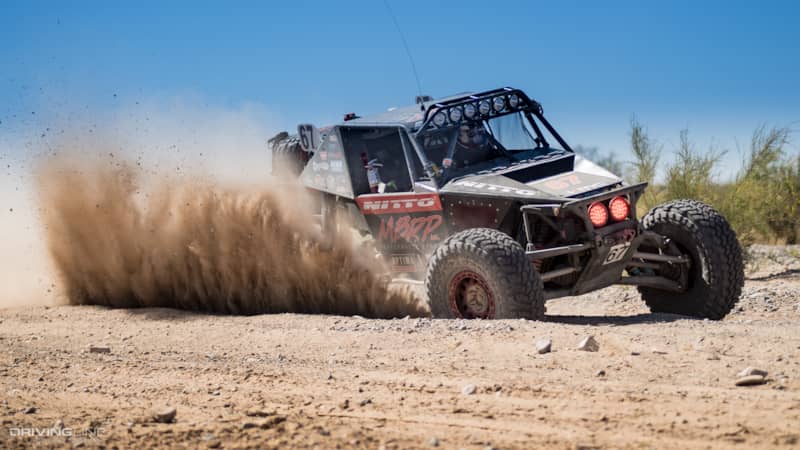 At the End of the Day
The race started with over 40 cars battling it out in the West Texas sun; by sunset, only 25 had officially finished (Cody Addington finished only 10 minutes out of time and deserves an honorable mention for a hard fought day and completing both laps for the 26th spot). Despite the punishing conditions in a race that was as long as a KOH course, drivers and fans alike were looking forward to coming back to the sleepy little town of Sierra Blanca just off Texas' I-10.
While a few teams headed home, most packed up and headed north to Moab, Utah, for the 2017 Easter Jeep Safari. Despite different destinations, everyone left with a smile on their face and a desire to come back and tackle this new jewel next year. The biggest smile of all, however, was on the face of Wayland Campbell, your 2017 Vaquero 212 winner and newly admitted member to the Ultra4 victor club. Congratulations on your first Ultra4 win, Wayland!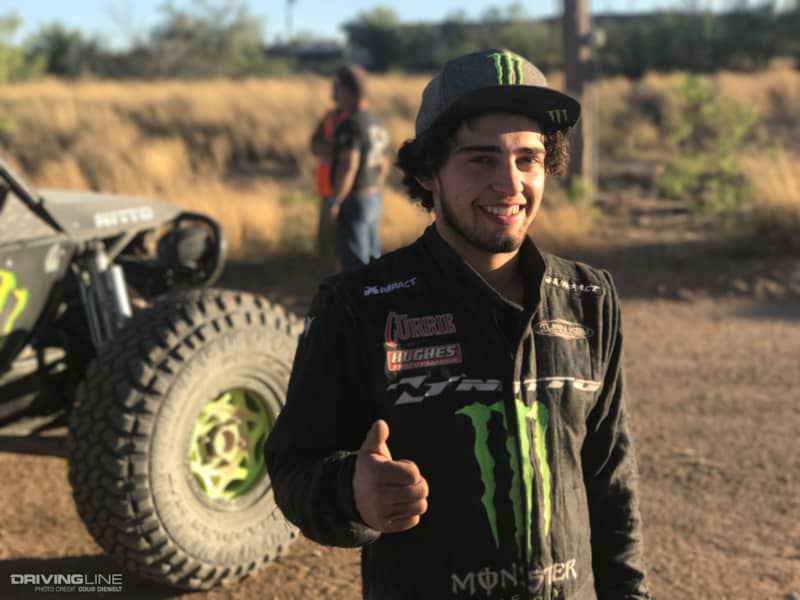 Ultra4 hits the road and will crank back up May 19 for the Eastern Series opener Ultra4s @ Davis in Davis, Oklahoma — another new venue for Ultra4.
*UPDATE
After reports that nearly every driver exceeded the speed limit in controlled zones, Ultra4 decided that further assessment was needed to determine speeding penalties. In the end, this resulted in major changes in the standings, including the podium. Wayland Campbell still remained in official first place even with his 5:43 penalty, while Erik Miller was issued a penalty of 9:33, pushing him back to sixth from third place. Levi Shirley received a 4:26 penalty and was replaced on the second-place podium by Loren Healy, formerly in unofficial fifth place.
Official Top 25 Standings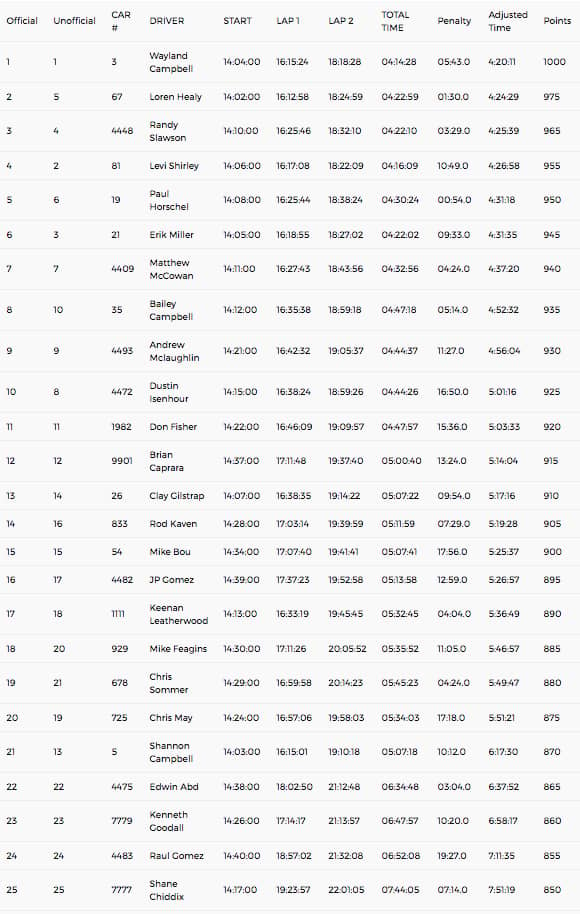 Congratulations to Team Nitto for claiming the top two podium spots at the 212 Performance Gloves Vaquero 212!
Learn more about the official results and time penalties at Ultra4Racing.com.
(Photos: Doug Dienelt)