Bakchis, Field & Vaughn Gittin Jr. Snag the Podium to Kick Off 2021 at Formula Drift Road Atlanta
The Formula Drift season is finally returning back to its normal ways and schedule for the 2021 season with 8 individual rounds spread across the United States of America. The 2021 Formula Drift season kicked off just north of Atlanta, Georgia in Braselton at the famous Road Atlanta racetrack. This venue holds a special place in Formula Drift history as it was the first ever location of a Formula Drift event back in 2004. In fact, Vaughn Gittin Jr. was competing back then and has won at this venue twice in the past in 2014 and 2016.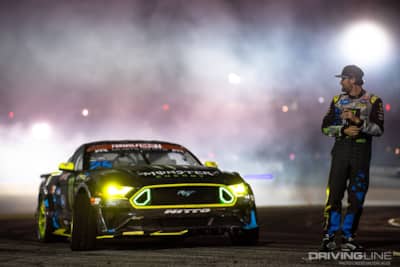 Qualifying Changes
Formula Drift has kept the qualifying format of the series relatively unchanged since the inaugural season in 2004. However, this year they have changed the series into a two-stage last chance qualifying format. All 32 drivers in Atlanta will made a first qualifying pass and only the top 24 scores were locked into the main event.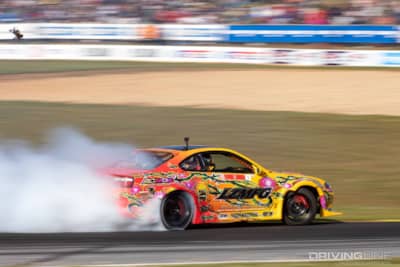 The drivers who qualify in 25th or higher must make a second pass to lock in their qualifying scores for the Saturday main event. Drivers are able to use their highest score to lock them into the 25th-32nd place after making a second last chance qualifying lap. However, if a driver fails to score any points in either the first round or last chance qualifying round, they will be unable to compete on raceday.
The Nitto Tire team warmed up their Nitto NT555 G2 tires and locked in some great qualifying scores on Friday night under the lights in this order:
Fredric Aasbo – 2021 Rockstar Energy Toyota GR Supra
Vaughn Gittin Jr. – 2021 Monster Energy Ford Mustang RTR Spec 5-D
Ryan Tuerck – 2021 Gumout / Nitto Tire Toyota Corolla
Chelsea DeNofa - 2021 BC Racing Ford Mustang RTR Spec 5-D
Adam LZ – LZMFG S15 Nissan Silvia 
Saturday Tandem: the Top 32
As the evening fell over Road Atlanta, 32,000 horsepower+ turned on and got ready for the first drift event of 2021. Chelsea DeNofa spun his Nitto NT555 G2 tires first and took out the up and coming Taylor Hull in a solid battle for a Top 32 showdown. Vaughn Gittin Jr. faced the Ferrari 599 GTB Fiorano driven by Federico Sceriffo and took home a quick victory.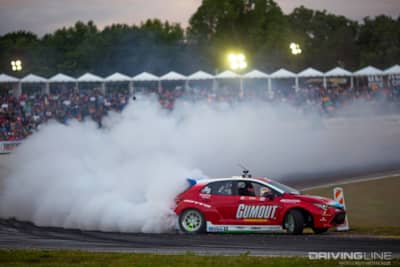 Ryan Tuerck then got an easy pass into the Top 16 as Kyle Mohan was unable to make it to back to the line after a crash on his first pass. Fredric Aasbo took out a fellow Norwegian driver Simen Olsen in his Top 32 battle and Adam LZ finished off the Top 32 Nitto Tire sweep with a nice battle with Rad Dan Burkett. 
A Tough Top 16
Once night fell over the racetrack the tandem drifting action was back for the fans! Chelsea DeNofa and his Ford Mustang RTR Spec 5-D took a quick exit in the event with a great battle against Matt Field in his Chevrolet Corvette in an amazing American muscle showdown.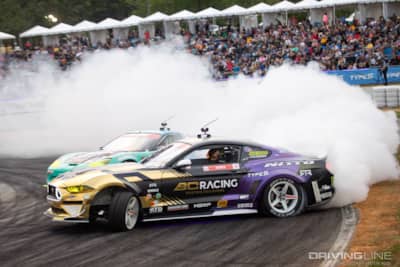 Vaughn Gittin Jr. had a tough battle with Dylan Hughes in his BMW but Gittin got the victory showing he is still focused after his 2020 Formula Drift championship. Ryan Tuerck then lost to Yves Meyer who is an up and comer from Switzerland competing in a BMW. Fredric Aasbo took a shocking early loss to Jeff Jones, but Jones has shown to be quite a competitor in recent seasons.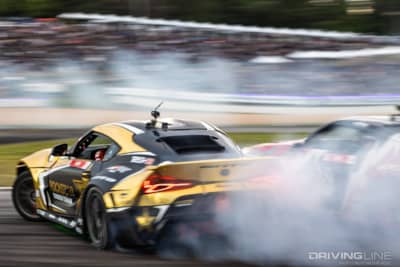 Adam LZ was then the second Nitto Tire driver to bring home a victory and make it into the Great 8 with a dominating victory over Jhonnattan Castro.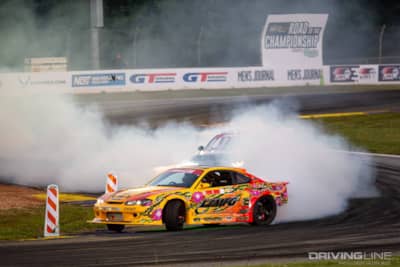 A Crash Ends it in the Great 8
Vaughn GIttin Jr. continued his event domination with a victory over the European Yves Meyer who is proving to be a real competitor this season. Vaughn was setup for a Final Four showdown with Matt Field. Adam LZ pushed his S15 Silvia hard in the Great 8 but ended up pushing a tad too hard and crashed into Odi Bakchis. Adam LZ and his team were then unable to fix his car in time so he could return to the start line and run the second part of his tandem battle.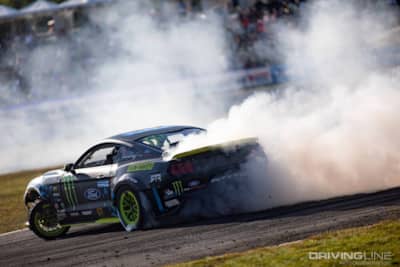 A Final Four and A Podium to Remember
A wild battle with Vaughn Gittin Jr. and Matt Field really could have fallen either way but the judges favored Matt Field in his Corvette to advance into the final round. Due to Vaughn Gittin Jr.'s great qualifying position of fourth place, he was able to land a spot on the podium. That overall performance gave him a third-place finish for the start of the 2021 Formula Drift season.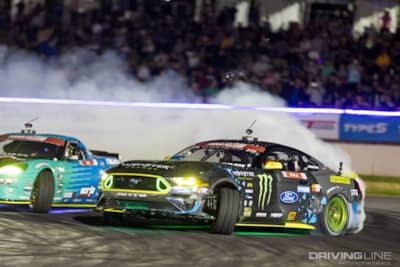 Matt Field and Odi Bakchis were the last two men standing in this insane start to the 2021 season. They collided with each other in their first face off, which led into a One More Time battle which had both teams scrambling to fix their cars. The judges took a long time to deliberate a winner with this close final battle. They ended up declaring Odi Bakchis the winner at Road Atlanta who took home his 7th career Formula Drift victory!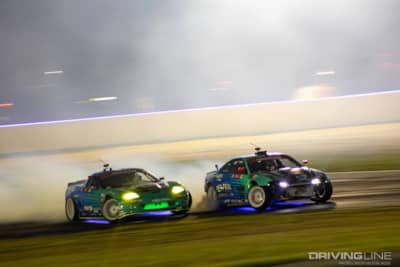 The next event is just two weeks away as the teams drive down I-75 to Orlando, Florida to a small oval course at Orlando Speed World. The last time Formula Drift came to this track was 2019 where Vaughn Gittin Jr. had a nasty crash into the wall and Chelsea DeNofa secured a podium finish!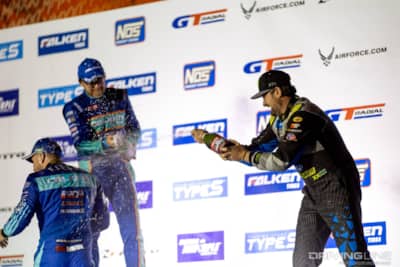 2021 Championship Standings and Points After Round 1, FDATL
Odi Bakchis 100
Matt Field 91
Vaughn Gittin Jr 80
Jeff Jones 80
Yves Meyer 67