Wheel More, Worry Less: Dynatrac ProRock 44 Review
When the Jeep Wrangler JK was launched in 2007, it came with a slew of exciting and radical changes. One of those changes came to the drivetrain with Next Generation Dana 44 axles. These axle assemblies would fit the Jeep with larger axleshafts, U-joints and ring-and-pinion. While that's music to any 'wheelers ear, it didn't take long for the axle's shortcomings to shine through.
No matter if your JK was fit with the standard-issue high-pinion Dana 30 or optional high-pinon Dana 44 in the Rubicon model, the front axle left plenty to be desired. When paired with oversized tires and 'wheeling adventures, the narrow axle C end forgings, weak ball joints and thin axletubes are all documented issues. Ultimately, the Next Generation axles have turned out to have great internals, all housed in a less-than-desirable shell.
Given that the it's mostly the weak housing and ball joints that are the problem, a full-blown axle swap isn't necessary for most JKs only planning on running up to a 37-inch-tall tire. This has led to aftermarket axle manufacturers such as Dynatrac to create axlehousing upgrades that bolt directly in-place of your existing housing. For Rubicon JK's, such as our 2013 Wrangler Unlimited, Dynatrac has made it where you can simply transfer your stock TruLock differential locker, along with the rest of your axle's internals. This makes the upgrade significantly easier on the wallet.
With thousands of miles of adventures under our belt with our JK and even larger 37-inch Nitto Ridge Grappler tires on the horizon, we felt it was time to rid ourselves of the weak OE front axlehousing. We opted for Dynatrac's ProRock 44 Unlimited series housing as it fit our Jeeps needs perfectly.
To give you better insight into why the ProRock 44 was the right axle for our JK, we put together the video above and broke down the unique features of the Made-in-the-USA axle in the article below.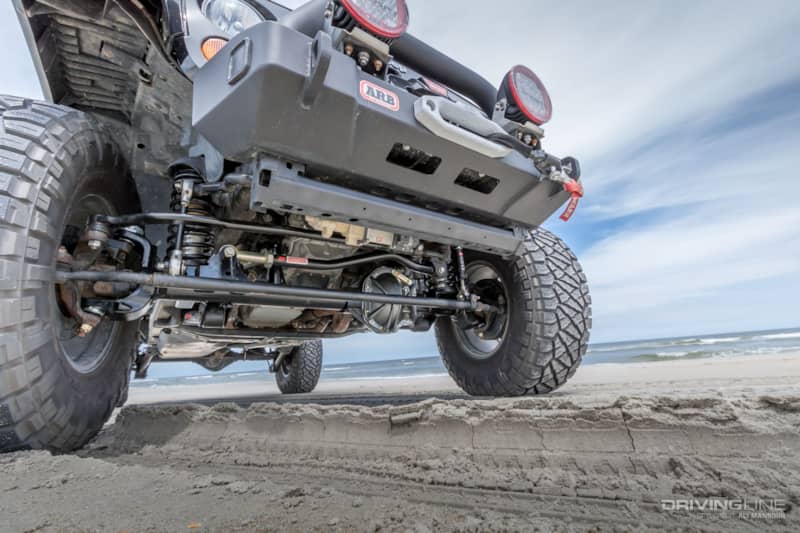 Since we'd be documenting the conversion, and needed the expertise of a veteran differential gear installer, we took our JK to Carolina Axle & 4x4 in Fletcher, North Carolina. Carolina Axle & 4x4 specializes in drivetrain upgrades and turns out some impressive builds as well. Some of you might recognize the owner, Jody Treadway, as he's the pilot of a killer 5.0-powered solid-axle Ford Ranger we featured a while back.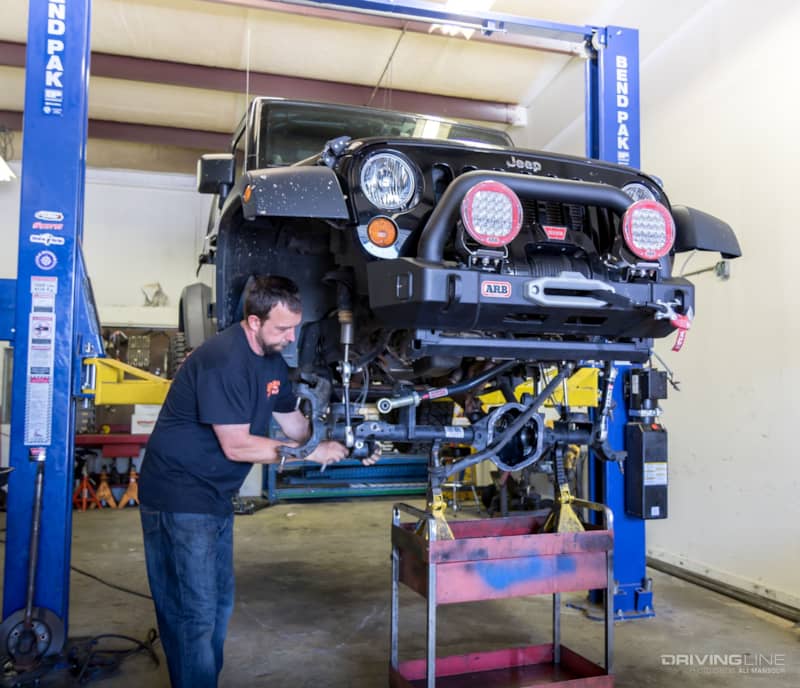 Dynatrac ships the ProRock 44 via crate, and it comes painted and ready to install. For those looking for an easy at-home swap, you can opt to have the axle sent with a new gear set and differential locker already installed.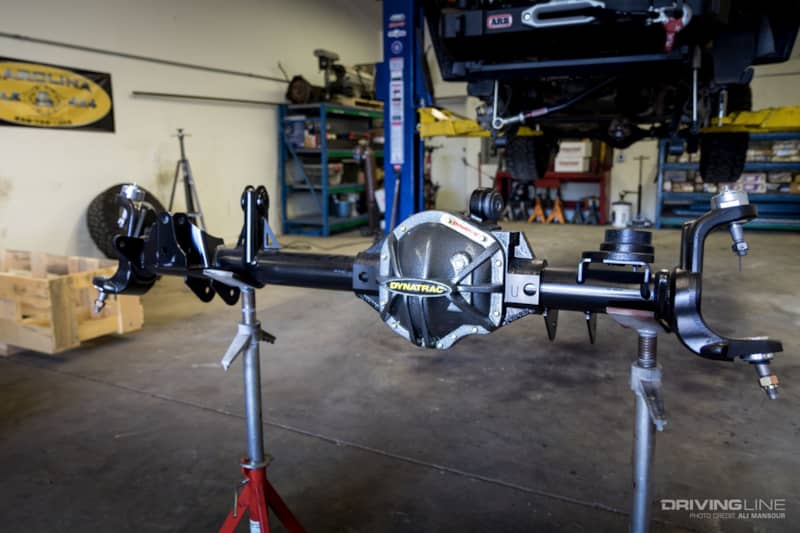 The JK's Dana 30 and Dana 44 both use the same outer Cs. They are incredibly thin and known to bend. Dynatrac reduces this bending probability tremendously by equipping the ProRock 44 with massive C end forgings that get pressed onto the new axletubes.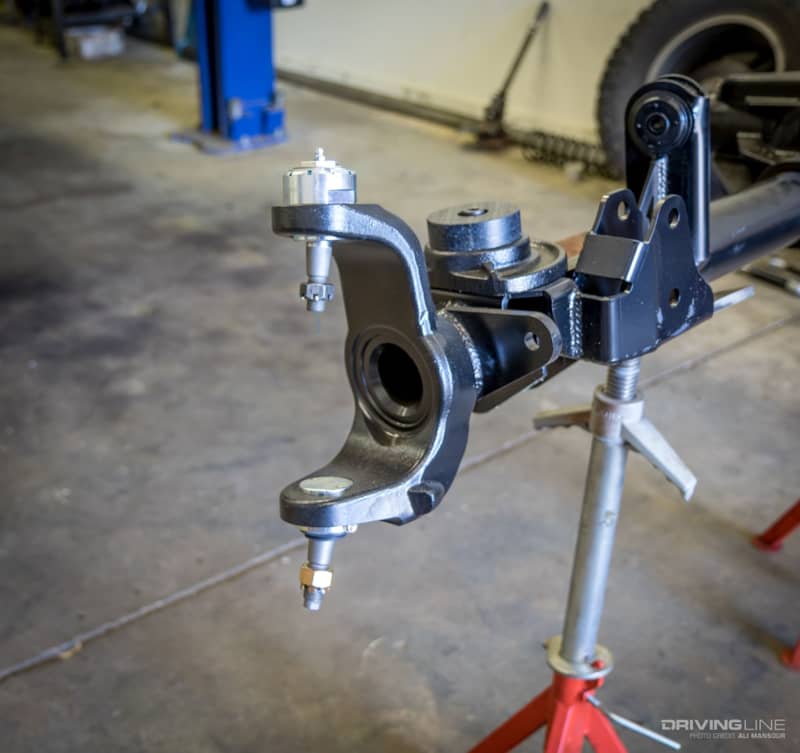 Ball joints are another common failure point on the JK front axle. We opted to have our axle fit with Dynatrac's Pro Steer ball joints. Each joint is crafted with a billet-steel body and chromoly stems that have been heat-treated. The joints are fit with a precision-ground stainless steel ball and Teflon-coated wear points, which help make the Pro Steer joints almost four times stronger than the stock ones. While grease fittings and heavy-duty seals will help you extend the life of the joints, if you do happen to wear one out, don't fret. In addition to being engineered to handle hard impacts off-road, the Pro Steer joints are also fully rebuildable.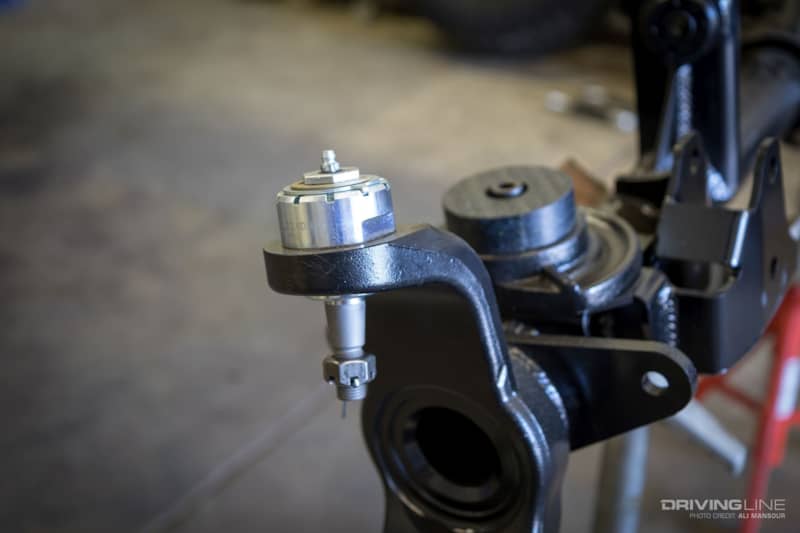 We opted to have our ProRock 44 fit with ½-inch-wall, 3-inch O.D. axletubes. This tremendous increase in tubing material is matched by the thicker brackets welded to the axle. While this adds a little weight, it's absolutely worth it. We've seen a few JK axles bend due to the thin factory axletubes.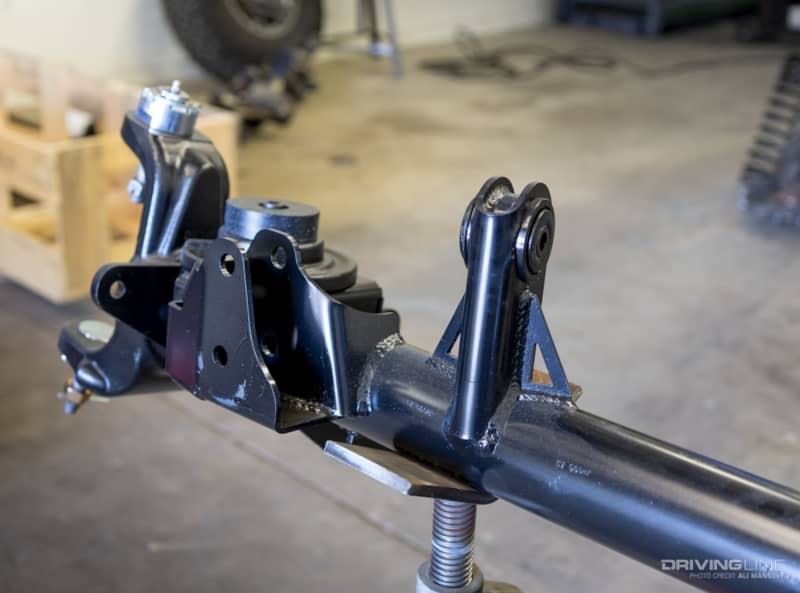 Ground clearance is king off-road. As the lowest point on the axle, the differential's shape and size are extremely important. Dynatrac's patented ProRock design offers more ground clearance than a Dana 30! Even with our modestly sized 35x12.50R17 Nitto Ridge Grapplers, we have just over 11 inches of clearance at the lowest point on the diff. If we do happen to smack into a rock, the included nodular-iron cover is designed to take a beating.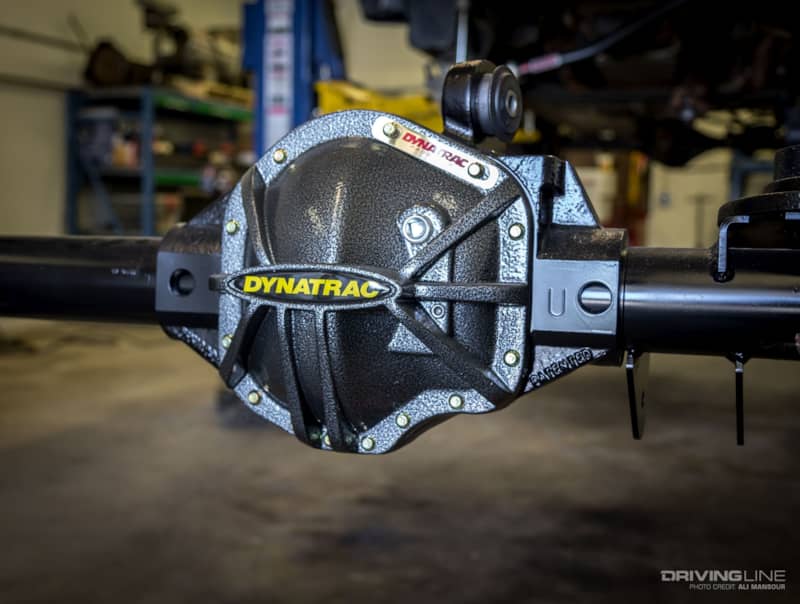 We ordered our housing empty, which allowed us to use our Nitro Axle & Gear 5.13 differential gear set and Mopar TruLok locker. While you can read more about gearing the differential here, we can tell you this is one step we highly recommend letting the professionals handle.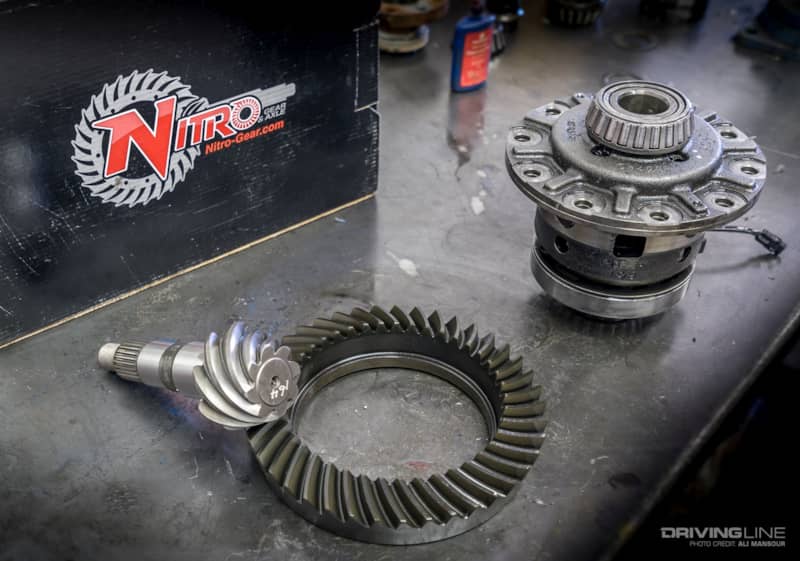 The ProRock 44 uses the Next Generation JK gearset. Since it's a high-pinion front differential, it powers on the stronger drive side of the reverse-rotation ring gear. For those running the stock Rubicon locker as we are, the housing is made to accommodate to stock locker plugs.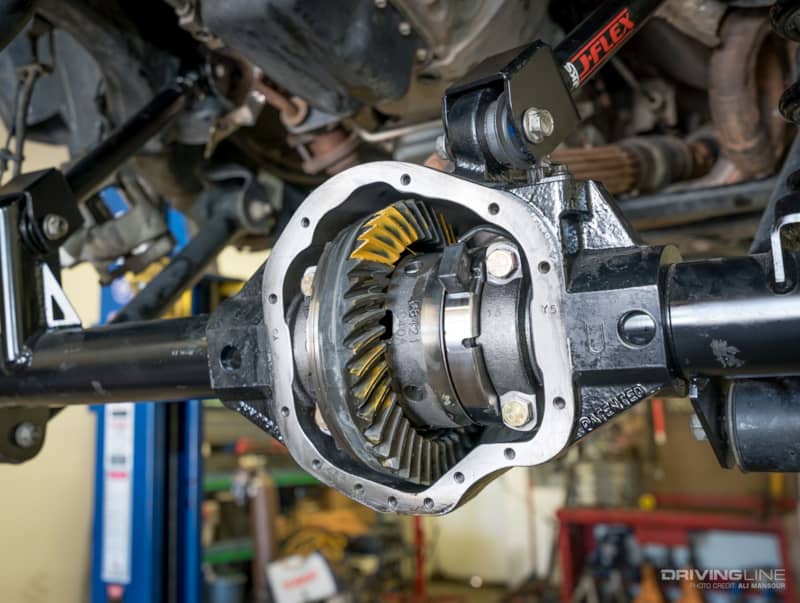 The Unlimited version of the ProRock 44 is built with extra caster for the differential. This is designed for those running 3 inches of lift or more. Since were are just shy of the lift cutoff, we used a set of JKS Manufacturing upper control arms to properly dial in the caster.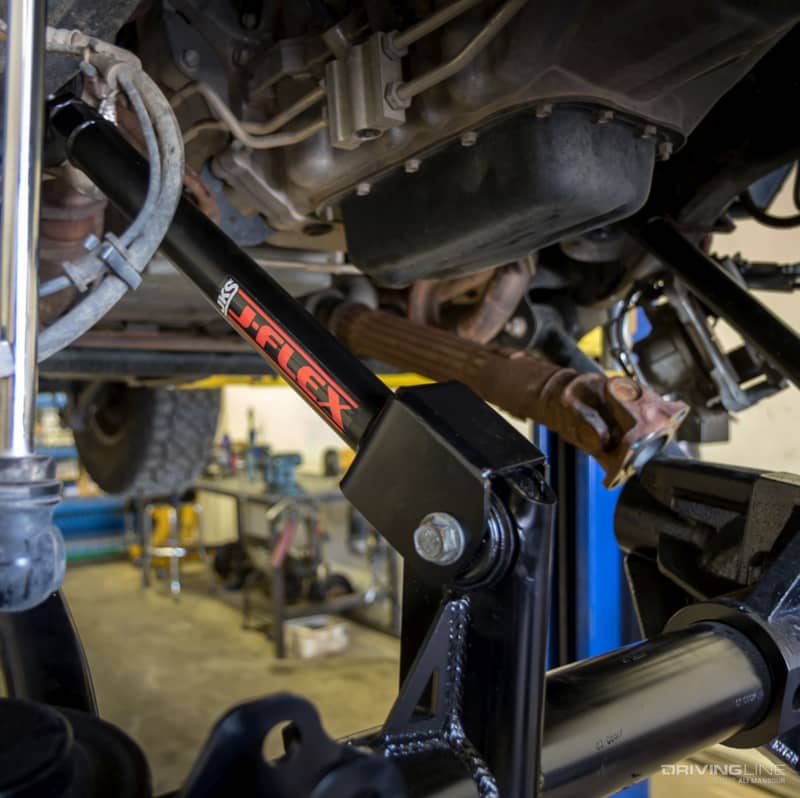 While drivelines are one area we'd like to upgrade down the road, for now, we retained our stock front 'shaft. Since the ProRock 44 is built within the same dimensions as the stock JK Dana 44, there were no modifications needed fo the driveline.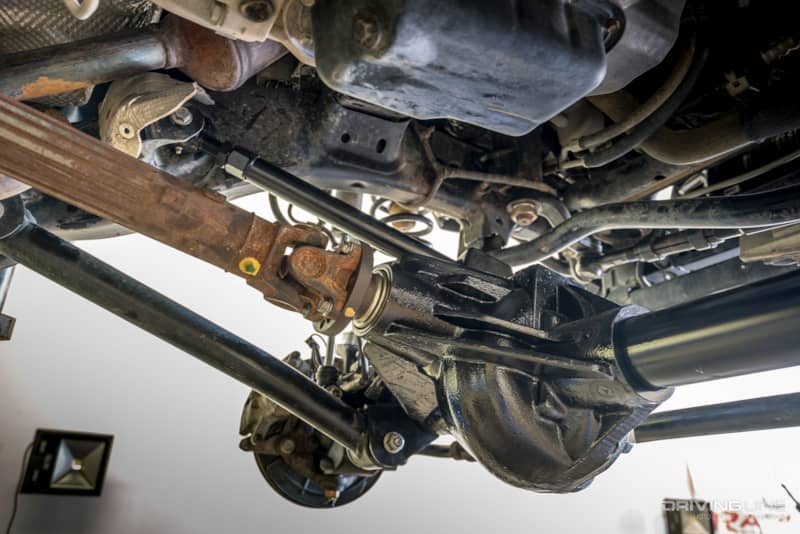 You'll retain your Jeep's stock outer steering knuckles, unit bearings and brake assemblies with the ProRock 44. For a little more money, you can opt for Dynatrac's chromoly axleshafts. This may be something we upgrade down the line.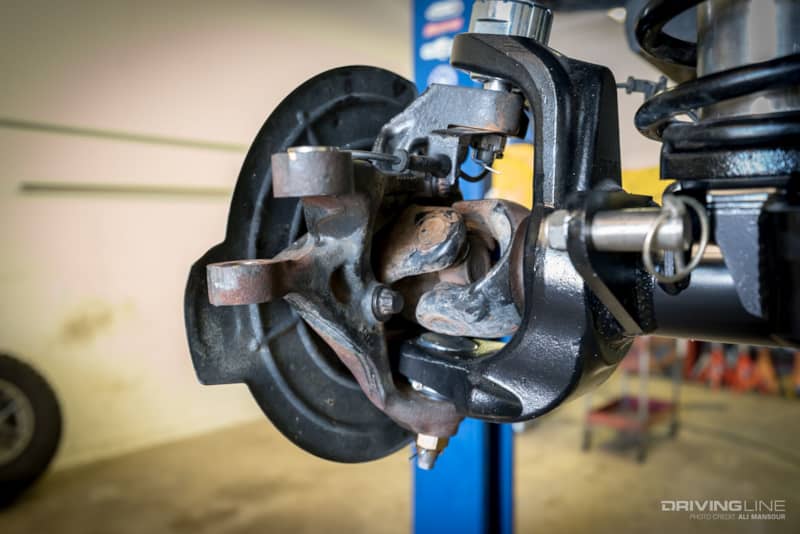 Dynatrac not only makes the track bar bracket stronger; you can opt to raise the mounting location as well. To accommodate this higher mount, you'll need to convert to a draglink that attaches atop the steering knuckle. We used a complete Drag Link Flip Kit from JKS Mfg., which included the necessary drill bit and knuckle insert.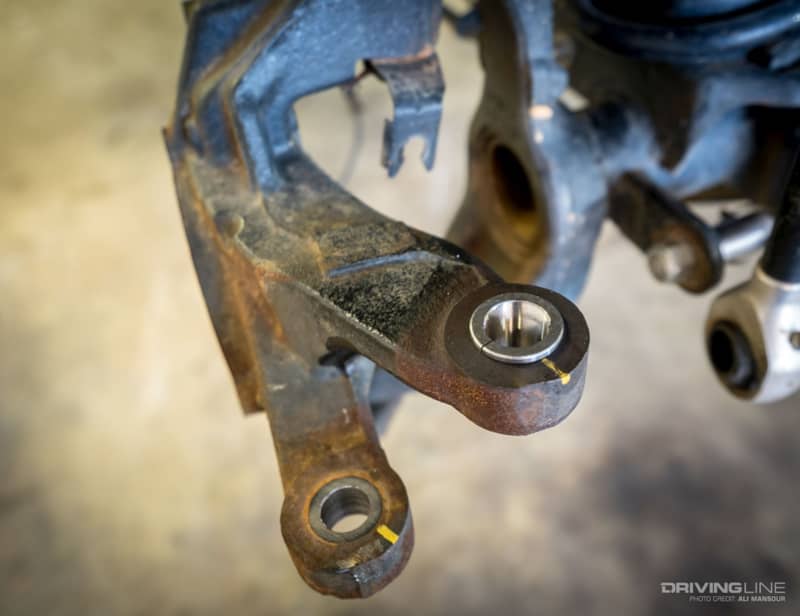 The new JKS draglink attaches to the stock tie-rod end adjuster sleeve and bolts to the knuckle using an OE-style tie-rod end. This puts the steering geometry back in check, so we don't have to worry about bump steer. You may notice that we're not running a steering stabilizer. This is due to us testing PSC Motorsports' all new Big Bore XD steering gear. We'll have a full review on that coming soon.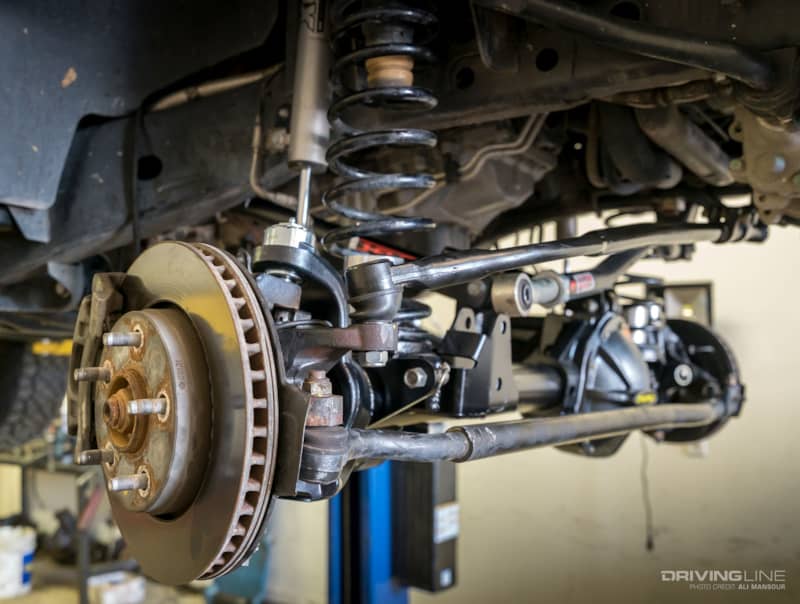 Given we are running a modest 2.5 inches of lift, we swapped in a set of new set of 3-inch bumpstops from JKS. This ensures we don't have any contact between the draglink and the bottom of the Jeeps framerail at full compression.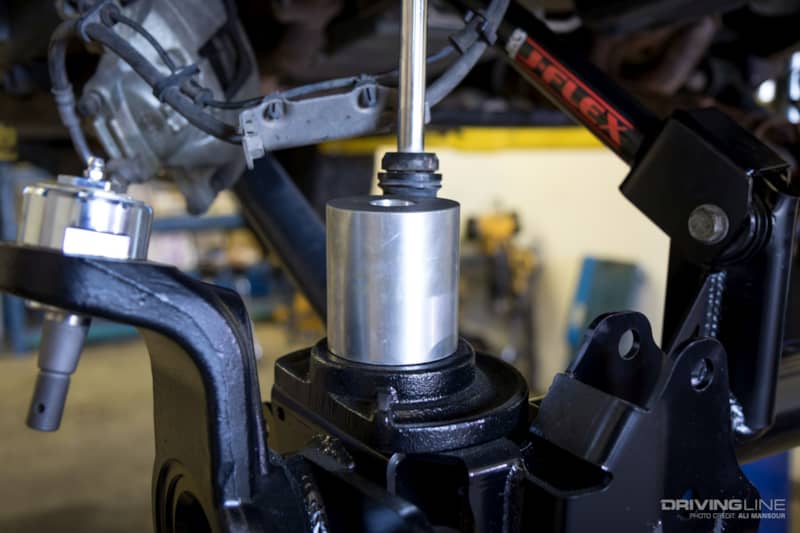 With the axle in, we filled the differential with fluid and torqued all the bolts. To ensure you don't overfill the diff, Dynatrac builds in an overflow port in the cover.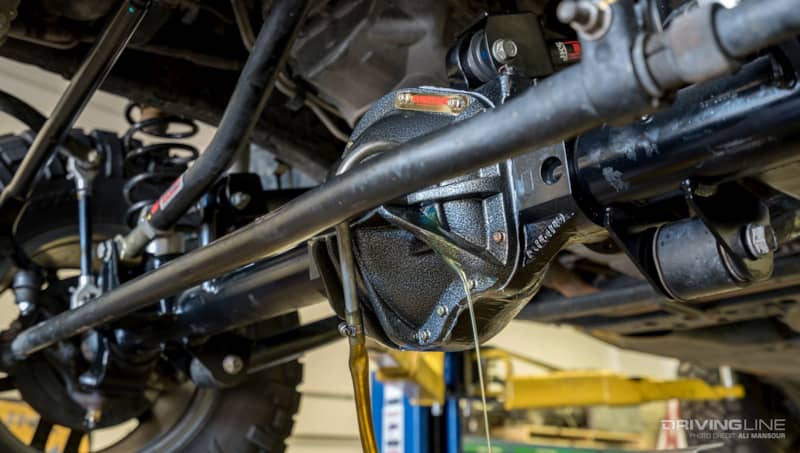 The entire swap only took a few hours at the shop. It was literally a bolt in affair, and after a quick alignment check, we were back on the road.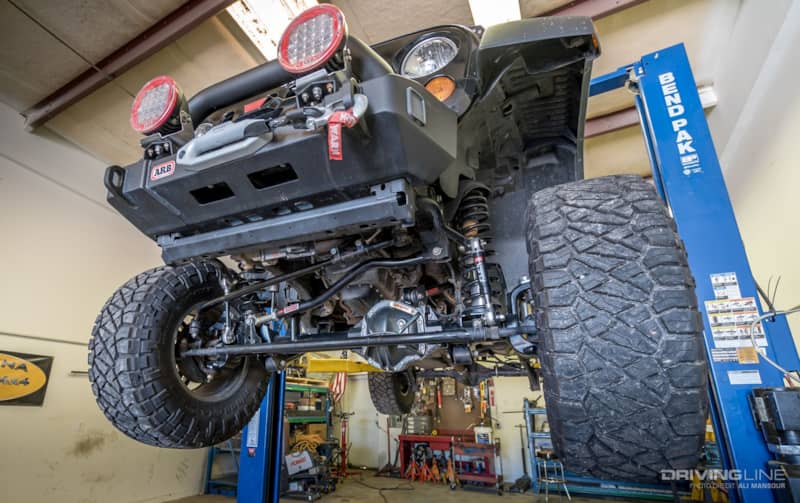 We have more upgrades and adventures in store for our JK, so we're looking forward to hitting the trail with our new axle beef. Aside from an extremely tight and solid feel partly thanks to the new Dynatrac ball joints, there's no real change in driving to speak of. While an axlehousing might not be the flashiest upgrade you do to your JK, it just might be one of the most important.