Why Coilovers Are a Street Car Must-Have
Coilover suspension isn't just for competition vehicles. Cars used mostly for street driving reap the benefits, too, and it's a noble way to gain a few "cool kid" points. Plus, despite the common assumption that coilovers can be nothing but a stiff ride, when done properly, this is one upgrade that can (literally) save your ass, especially if you are driving an older car or one that's racked up 50,000 miles or more.
Driving a vehicle with outdated stock suspension isn't fun for anyone. It can cause unnecessary wear on your vehicle and rattle your kidneys raw. Springs are bound to lose compression and rebound pressure with age, so repairs are inevitable. And, well, you may as well upgrade while you're in there, right?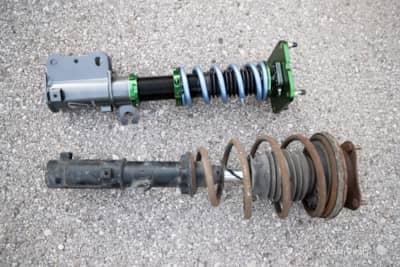 "Rex," my '88 Mazda RX-7, was way overdue for an upgrade. So overdue, that if he (yes, he) were a library book he would have racked up hundreds of dollars in fees. Every well-intentioned cruise through town resulted in embarrassment over the car's excessive porpoising and swaying with even the smallest imperfection in the road. Granted, Michigan's potholes are like craters and the spidery cracks in the road are starting to resemble ravines, but I am not ashamed to steer like a drunken sailor if it'll spare a rim. What's even worse is feeling the instability through the steering wheel, and then fighting a nagging longing to unlock the car's full potential. And don't get me started on the stock, almost 4x4 stance appearance that's so bad I can fit a fist-and-a-half between the fender and top of the tire—UGH.
Spirited drives didn't have nearly enough spirit, though new tires wrapped around Enkei 92 wheels certainly helped with the grip. It was time for a change, but my needs were specific. For Rex to remain a full-time summer fun car on the road and track, and on ever-changing mostly terrible public roads to boot, I needed fully adjustable suspension. A setup comfortable enough on the street and tough enough for the track, and one that would last. That's right folks, I actually plan on keeping this car for a while (give me three years). Even more importantly, the shocks needed to be rebuildable, with extra bonus points for U.S.A. manufacturers.
Go Full Custom
The best solution for the 30-year-old suspension and my road-dominating requirements for Rex was to go with a company that would custom build the coilovers to my needs. After researching the internets and reading through countless facts and opinions on various companies, I called Fortune Auto based on their promise of every order being custom-built in-house with the best quality control in the industry. That first call instantly ended my search. Without any hesitation, aside from a couple jokes about the potholes that eat cars out here, they immediately pointed me toward the Generation 7 500 Series and set me up with custom spring rates, shock tuning and specific valve settings for the best ride quality possible for my unpredictable local roads. The gleaming new parts even came with a certificate of authenticity and installation instructions.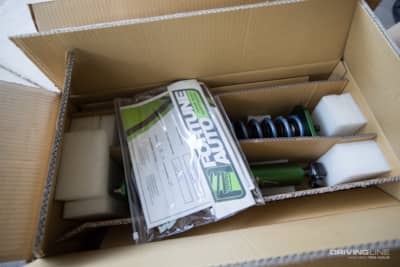 The install was as simple as uninstalling the old and replacing it with the new. Minor adjustments lowered Rex down to the muffler-scraping height I desired.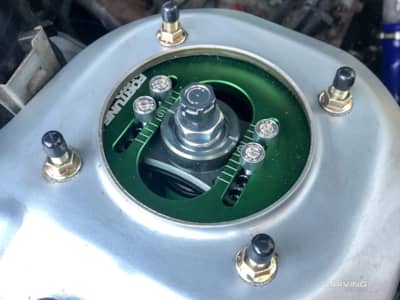 Don't be a Cheapskate
As you spring into brand research, keep in mind that going the cheap route often earns you a rougher ride with less adjustability. Some of the off-the-shelf mystery brand kits are a downgrade in overall quality when compared to an OEM replacement. If you can't afford quality, it may be best to settle with an OEM replacement, and there's nothing wrong with that as long as you just keep driving.
Depending on budget, your performance needs and personal preference, there are several manufacturers that make quality street to competition coilovers. BC Racing is one of the largest aftermarket suspension parts distributors and they offer affordable, high-quality coilovers that are capable of dominating the track and street. A lot of pros also hit the track with KSport, but after doing some online reading of other drivers' experiences, KSports may be better for serious track-only setups.
Overall, coilovers present a more rigid ride than what an OEM replacement would be, but in a way that encourages more fun-having. The stance is a bit more serious and the steering more responsive, which allows me to feel even more connected to the road. I should note that I am one of "those people" who likes to feel the road as much as possible. On the contrary, I don't want to see any blood in my urine, either.
Before I committed to coilovers, every spirited corner was white-knuckled, but not in a good way. When I turn through the twisties today, I'm confident in the suspension and I know the tires will grip, and the quicker I can whip around corners the wider my smile gets. I still cringe and swerve around every pothole, maybe even more so. But is it still worth it? Hell yes. But there is one downfall: now I can clearly feel the worn '80s rubber bushings crumble away with every turn of the wheel.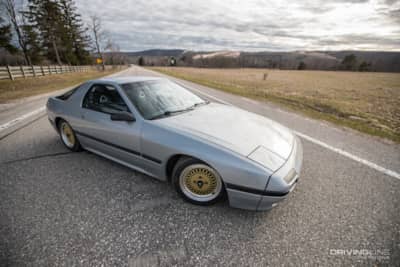 Since suspension is now top-of-mind, take a deeper dive into tuning your setup to maximize on-track car control.  Or, if you're also considering air ride suspension, click here for a comparison.