Wings & Wheels: What's New at Vörsteiner?
In a field full of overdone and overblown aftermarket tuners, Vörsteiner has slowly settled in as a leader in providing functional, clean aerodynamics that keep the original design language of each vehicle it develops. More recently, Vörsteiner has dipped into the wheel business in an effort to provide a truly complete program for most high-end European performance cars on the market.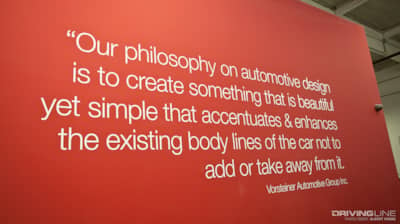 I recently paid a visit to Vörsteiner's home office in Garden Grove, California, to discuss their newly released wheel programs as well as their latest aero projects in production. All design, modeling, tooling and production is handled in this SoCal Studio. Vehicles are 3D scanned in-house utilizing GOM systems to ensure OEM fitment and precision development.
Novara Edizione Aero for the Huracán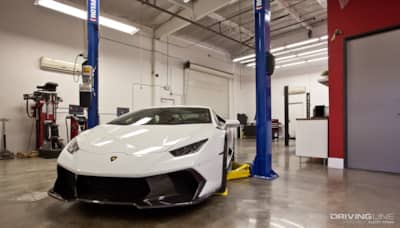 Upon entering the studio, the first thing that caught my eye was a Lamborghini Huracán with Vorsteiner's Novara Edizione aero. Developing additional aero for the already incredible Lamborghini Huracán is no easy task. Comprised of mostly carbon fiber, Vörsteiner uses what they note as the finest Autoclaved Pre-Impregnated carbon fiber available. It provides superior stiffness,
 aerospace strength and durability compared to traditional hand-laid carbon fiber composites. This is particularly impressive considering the many angles and details that make up the kit. (See the Lamborghini in action in #HuracánDrift.)
Novara RS Edition exhaust (pictured below) delivers additional performance and incredible sound via straight pipes.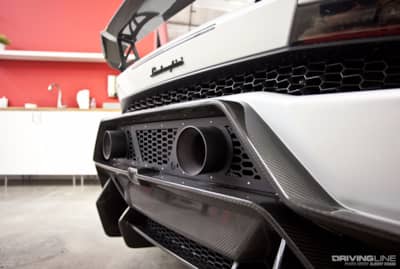 The Novara front fender vents (in visual carbon fiber) allow for additional cooling, an ode from the Lamborghini Super Trofeo GT3 series.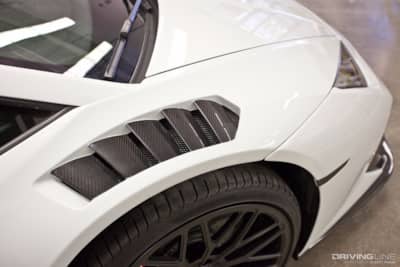 On the other side of the studio, they were finishing up the final production pieces for the 570-VX McLaren program.
570-VX McLaren Aero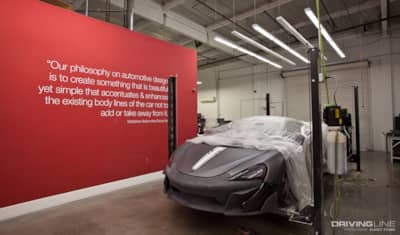 As a completely new vehicle for McLaren, Vörsteiner was one of the first automotive companies to release full aero additions — debuting at this past SEMA show. In addition to the front bumper and splitter shown, Vörsteiner has developed a revised rear bumper and diffuser, along with a very radical aero wing blade with full carbon uprights.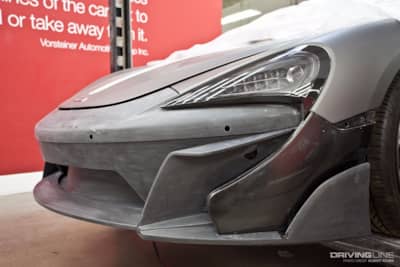 V
ö

rsteiner's New Wheel Programs

The first of two cateories is Vörsteiner's "Flow Forged" collection (VFF-107 seen below) — an incredibly affordable lineup that is readily in stock with applications and fitment for most European performance models.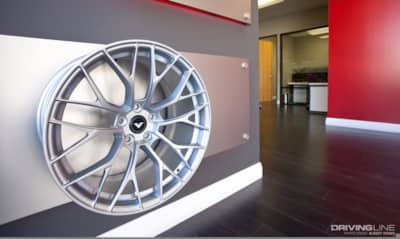 The "Nero Forged" collection (SF-V001 seen below) is slightly more upscale, made using the latest T-6061 aerospace grade aluminum blocks and individually machined to customer specification. These wheels are lightweight and load-rated for each particular application to maximize weight efficiency and performance.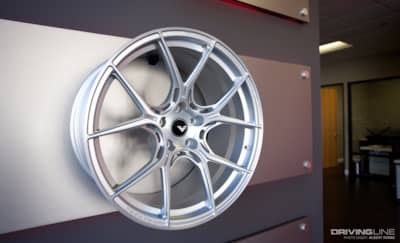 Exotic car owners can be very fickle individuals. Most want to individualize their vehicles, while still keeping the feel of the original design. This tough balancing act is something that Vörsteiner has mastered, time and again — a testament to their proven following and massive appeal in the European aftermarket industry.

To see the Novara in action, fitted with Nitto Tire NT555 G2s, watch below: