Wrecks to Riches: BADBUL Gen7
Story By Alex Grant
Photos By
With a fleet of road, race and off-road machinery, you'll struggle to get Mad Mike Whiddett to tell you which is his favorite. But you don't have to dig too deep to find out why the familiar names have stuck around for so long. Nine years since its first event, and newly re-worked with the best in the business behind it, the BADBUL RX-8 seems to have lost none of its red-blooded appeal.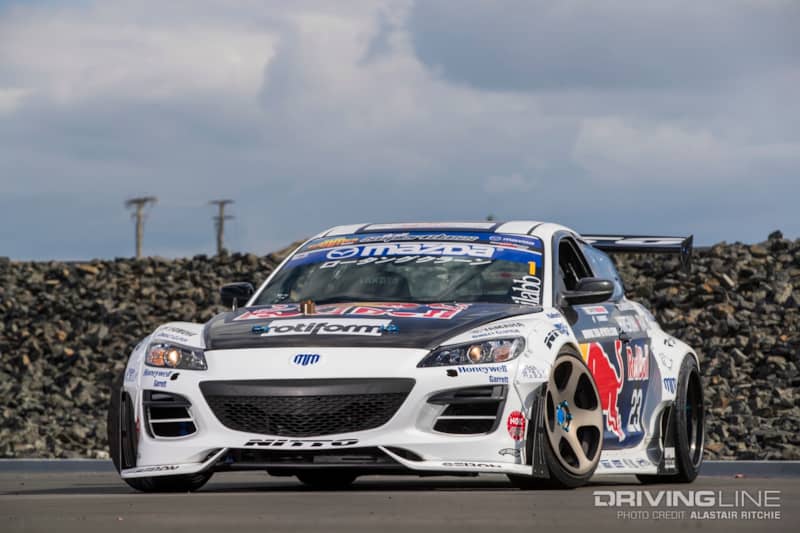 "It's the easiest route to the podium," Whiddett laughs when asked what's behind this latest revival. "If I wanted to win every event, this would be the car to do it. I can just jump into it, and it's really easy to drive."
BADBUL Beginnings
Mad Mike Motorsports' Hampton Downs circuit HQ might be only a short distance from his Auckland hometown, but it's worlds away from his childhood. It's a self-made empire built on determination, tight budgets and skill, which he could barely have imagined growing up. BADBUL has been a constant for most of that journey—a second car for international events, built as his partnership with Red Bull was taking shape almost ten years ago.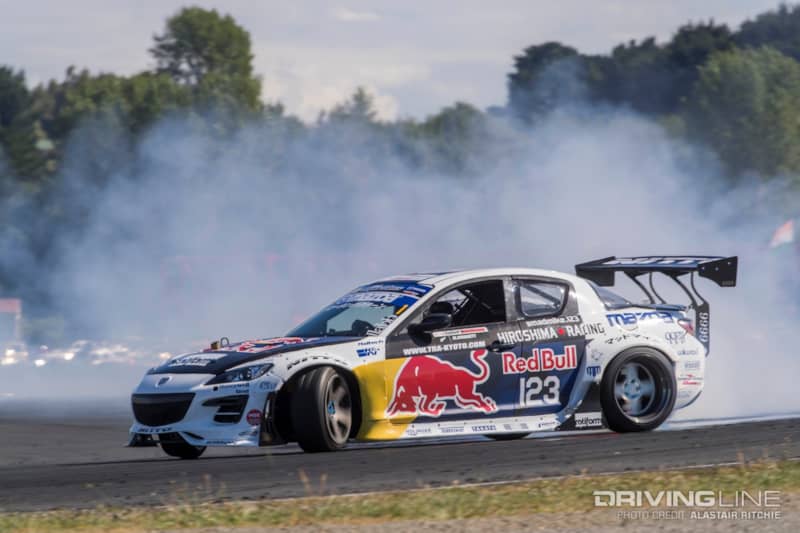 "We realized the best chance of winning was to build a replica of the RX-7 we already had because one of the hardest things is adapting to a different platform. But we enjoy the challenge of building something different, so we started with the RX-8 and the 20B three-rotor turbo and it's developed from there."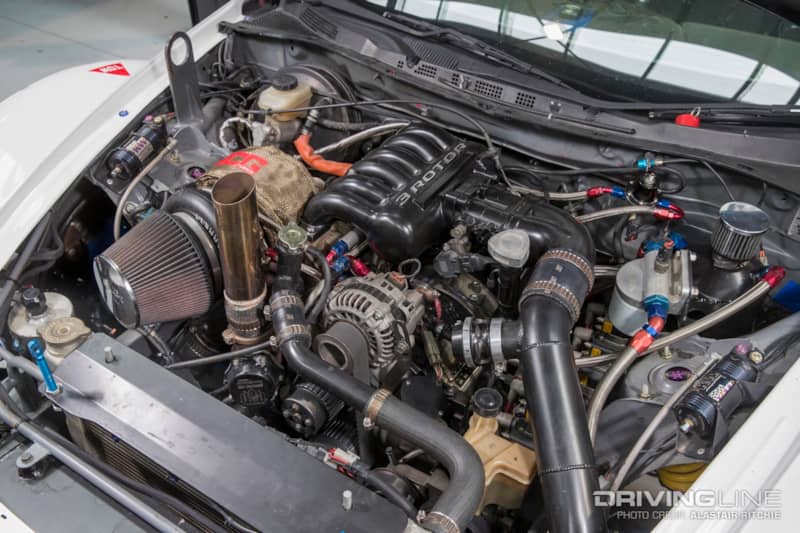 Quickly, BADBUL took Mike to a New Zealand Drift Championship title win in 2009, its first season, progressing to Formula Drift a year later. This was a steep learning curve for a team with no track data to fall back on, and a stepping stone to an even busier schedule which would put the RX-8 on the back-burner for almost two years.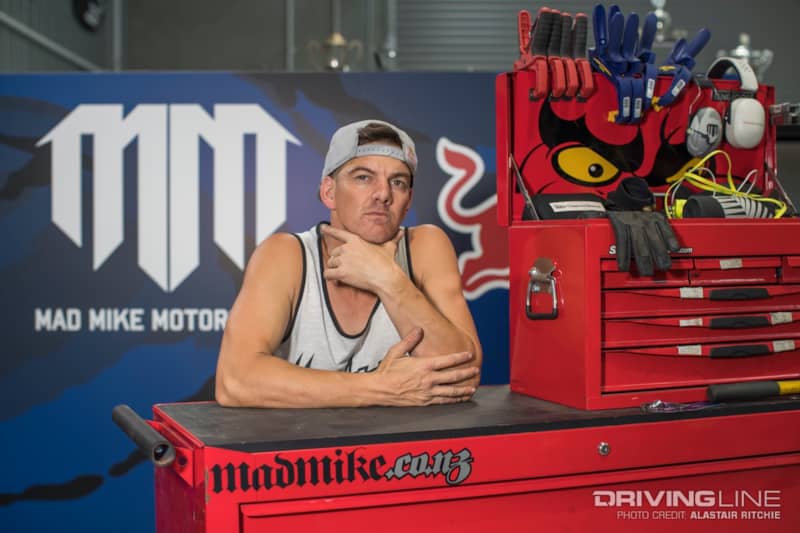 The Return
Its return was unplanned. "There was a static display at the Red Bull Drift Shifters in 2014, and I'd crashed the RX-7 beyond repair at my own event," Whiddett explains. "So we pulled it off the GoPro stand, threw some gas in it and I ended up going all the way through and winning. That got us thinking it could be a really competitive car."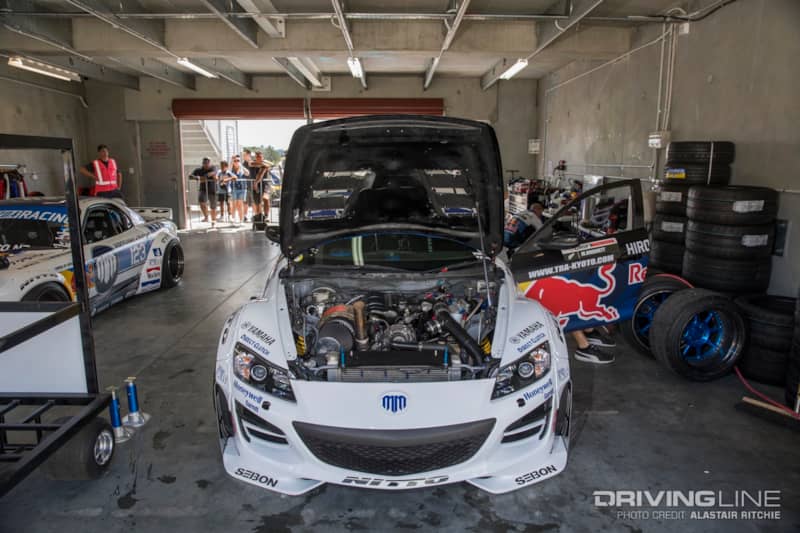 Not to mention high-profile; its return to the limelight would include tearing up the driveway at Goodwood Festival of Speed with Lord March in the passenger seat, and a starring role in Red Bull's Conquer the Cape video, drifting South Africa's relentless Franschhoek Pass and getting six million views in its first weekend online. Mike had rediscovered the love, and with the experience and contacts to take good foundations to the next level. BADBUL Gen7 is a fusion of everything he's learned since its first podium finish.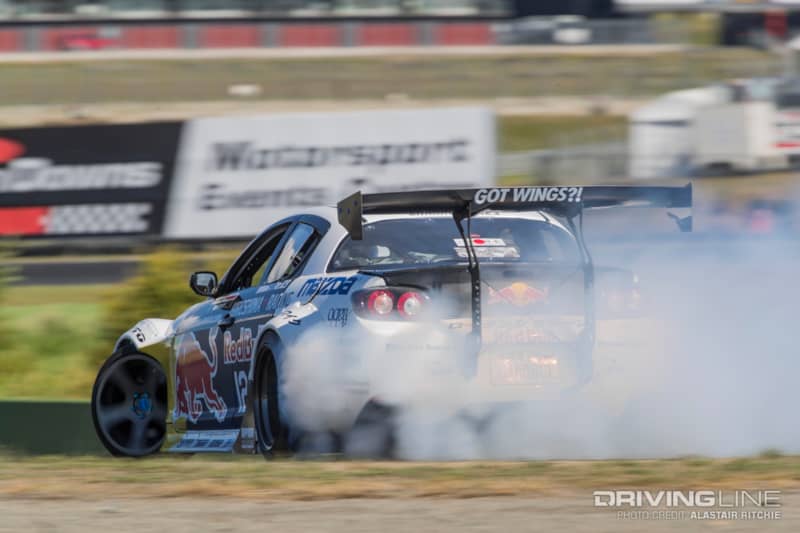 Gen7 Upgrades
Including borrowing from its stablemates, two seasons of Formula Drift had shown just how effective the RADBUL Miata's hardware had been. So, while its turbocharged 20B engine is unchanged, the two cars feature an identical subframe, FD3S-spec Wisefab steering setup and KW three-way adjustable suspension with Megan Racing rear arms. All of its 812 whp is put down through a six-speed Holinger sequential transmission and quick-change diff.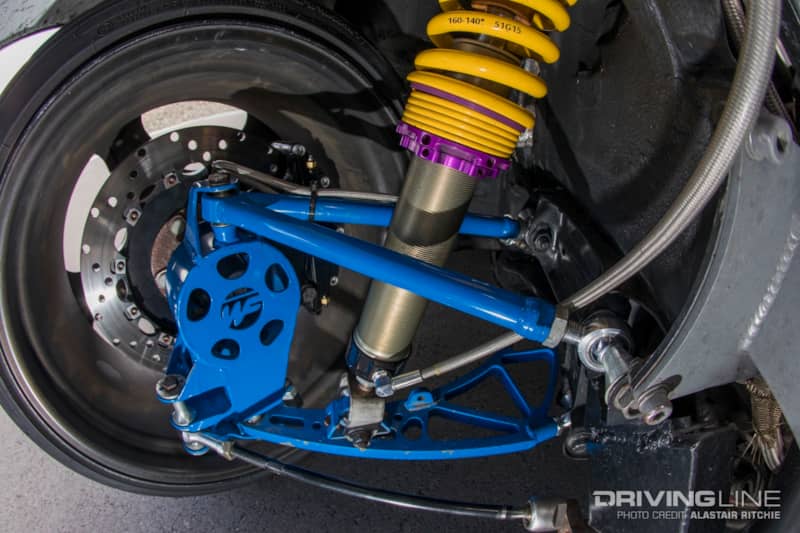 The visual overhaul casts the net a little wider. Mike's fourth collaboration with Kei Miura of Rocket Bunny, it's a functional aero kit inspired by his recent stint racing McLarens in the Australian GT Championship, the overfenders filled with staggered and mismatched 18-inch Rotiforms wrapped in Nitto Tire NT05s. With his own graphics shop, the livery is an in-house job.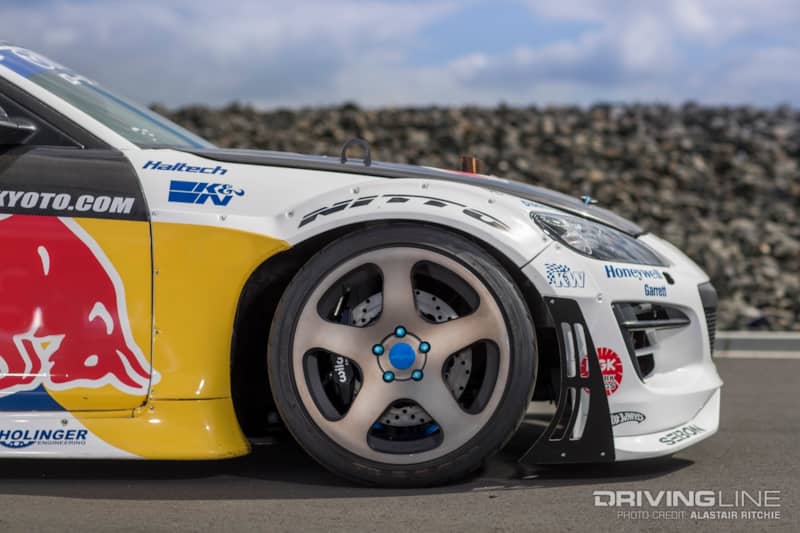 "We qualified number one with a 99 at the recent WTAC Drift Challenge in Sydney. That's my highest ever qualifying score and via a credible judging panel as well—Keichi Tsuchiya, the father of drifting, gave it a perfect score. The car was great, we battled through to top eight then, unfortunately, tore the sump open on a rumble strip. But we've got lots of events ahead, so I'm looking forward to finding out what it can do."
Nine years of development suggests that'll be worth watching. With an ever-wider experience of global motorsports and a taste for fusing different influences together, this familiar part of the fleet still has plenty to offer.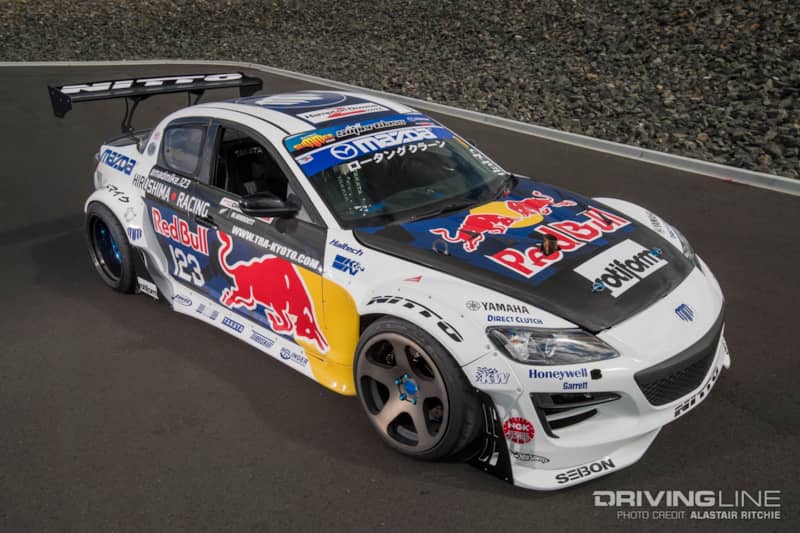 Tuning Menu: 2004 Mazda SP3 RX-8
| | |
| --- | --- |
| OWNER | Mad Mike Whiddett/Mad Mike Motorsports |
| ENGINE | Three-rotor 20B, Monster bridgeport, lightened and balanced rotors, cross-drilled eccentric shaft, modified stationary gears, NGK spark plugs, Garrett GTX-4508R turbo, custom merge exhaust manifold, Turbosmart Mad Mike Signature Edition 60mm Power-Gate external wastegate, Turbosmart blow-off valve, K&N air filter, custom 3.5-inch stainless steel exhaust system, custom fuel cell, 2x Bosch Motorsport 044 fuel pumps, Bosch Motorsport lift pump, high-flow fuel lines, Turbosmart adjustable fuel pressure regulator, custom fuel rails, high-flow injectors, Gilmer belt drives, custom catch tank and overflow bottle, PWR Performance oil coolers, alloy radiator and 6-inch intercooler |
| ELECTRONICS | Haltech Sport 2000 ECU, custom loom |
| TRANSMISSION | Holinger RD6SS 6-speed sequential gearbox, Direct Clutch sintered iron triple plate clutch and flywheel, Autosport Dynamics/Winters quick-change rear end, Autosport Dynamics limited slip differential, Driveshaft Shop custom axles |
| SUSPENSION | KW bespoke three-way adjustable suspension, FD3S RX-7 steering rack, steering angle kit by Wisefab, Megan Racing steering arms, MM tie-rods and ends, Wilwood Performance Dynapro six-piston forged billet calipers with Ultralite rotors (front), ASD hydraulic handbrake |
| WHEELS & TIRES | 18x9.5 Rotiform NUE (front), 18x11 Rotiform SLC (rear), 225/40 (front) and 275/35 (rear) Nitto Tire NT05 |
| EXTERIOR | Mazda RX-8 R3 front and rear end conversion, Rocket Bunny Pandem Mazda R3 RX-8 kit, Rocket Bunny rear mount wing blade and wing stays, Seibon carbon fiber doors and trunk lid, Sanbrooks polycarbonate Lexan anti-scratch rear window and rear quarter windows, Sanbrooks heated glass race windscreen, custom Mad Mike Motorsport livery |
| INTERIOR | Six-point weld-in roll cage, Takata/MM race seats, Takata six-point harness belts, RacePak digital dash, Lifeline fire suppression system, D2 Racing air jacks, custom switchboard |
See more BADBUL in the photo gallery below and check out Mad Mike's RADBUL!