10 Most Memorable Indianapolis 500 Pace Cars
Pace cars occupy a strange slice of the automotive sphere. Wedged between the race cars they briefly share a track with for a few shining moments each year on the one hand, and the standard street vehicles they are based on the other, it's not always easy to serve two masters.
This is especially true when car companies decide to go the time-honored route of slapping some stickers on the side of a production model and selling it as a pace car special. Over the years there have been some, shall we say, "interesting" choices for pace car glory—some deserved, some not—and while not all have made it to the showroom floor, they're still a part of the Indy 500's long and storied history.
Let's take a look at 10 of the most memorable pace cars to have ever taken to the grid.
1. 2002 Oldsmobile Bravada
Kicking off our list is perhaps the most tone-deaf Indy 500 pace car choice of all time. Yes, at the turn of the millennium Oldsmobile's Aurora V8 was making waves on the track in Indy competition, but the decision to leverage corporate synergy to promote yet another bland SUV variant of the General Motors GMT 400 platform was a total dud. In fact, it's hard to think of a less-deserving vehicle to lead a pack of rip-roaring race cars than a plush pseudo-luxury truck.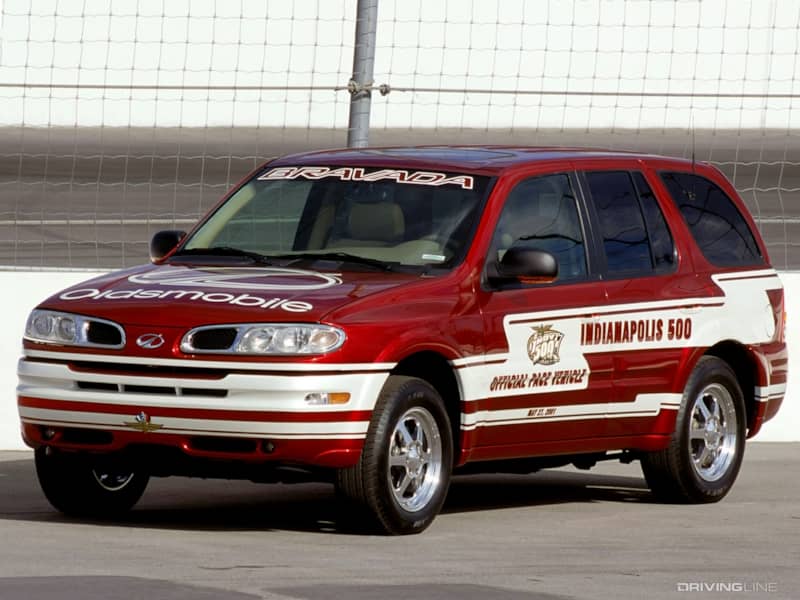 Although offering 270hp in stock form, the actual Bravadas that were used on-track were modified in order to stay ahead of the Indy crowd, and were said to be capable of 140 mph. This is a scary thought to contemplate for anyone who's ever ridden in this fine example of GM's total indifference to sport-utility dynamics. One hundred twenty-one stickered Oldsmobiles were built for the race, with two of those actual pace vehicles and the rest used for support purposes.
2. 1930 Cord L-29
It's pure poetry that the first Indy 500 to be won by a front-wheel drive car was also paced by one. The Cord L-29 was in fact designed by the same man, Harry Arminius Miller, who developed Billy Arnold's Brickyard-winning car that year, the first of a dozen vehicles to win the race using one of Miller's motors.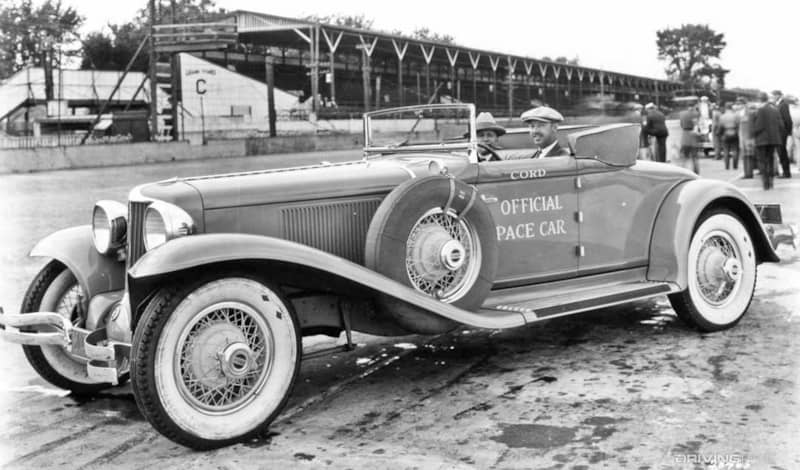 The L-29 itself was a magnificent vehicle, an enormous roadster that would hint at the future Cord coffin-nose models that would be manufactured by Auburn over the course of the decade. Its 301 ci straight-8 engine was good for 125hp, a monstrous number for the era but hamstrung on the street by gearing that wasn't a good match for the almost two-ton weight of the car.
3. 1964 Ford Mustang
The 1964 Ford Mustang was poised to change the auto industry forever, but that hadn't yet been made clear when it was tagged in to serve as the Indy 500 pace car. A trio of official pace cars were built featuring stronger-than-stock V8 engines lifted from the GT40, said to push out 450hp.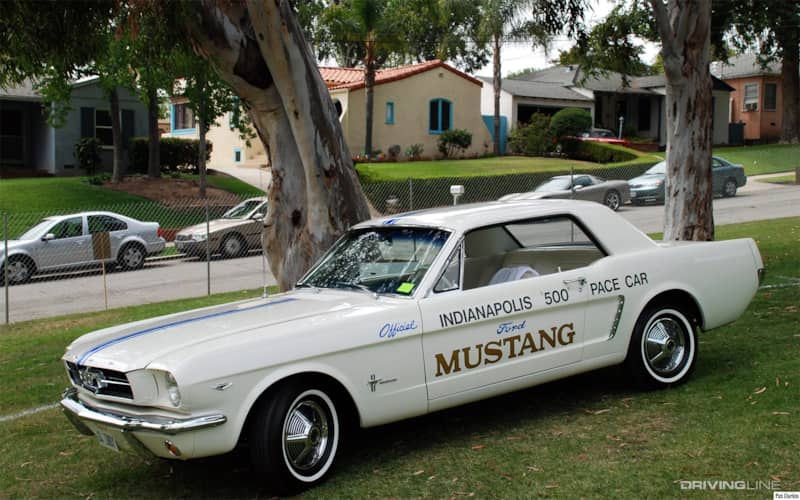 An additional 220 Mustangs (the vast majority coupes) were used for support and promotion during the week. It was an auspicious beginning for one of Ford's most important models ever.
4. 1967 Chevrolet Camaro SS
It's a similar story with the 1967 Chevrolet Camaro SS pace car. Although not as ground-breaking—after all, the Bowtie-wearing two-door followed the Mustang into the pony car segment it had created all on its own—it would still set up a rivalry that would last for decades. Featuring a 396 big block V8, the Camaro SS pace car was breathed on by Chevrolet's "Experimental" department to keep it ahead of the pack in a race that was eventually won by A.J. Foyt.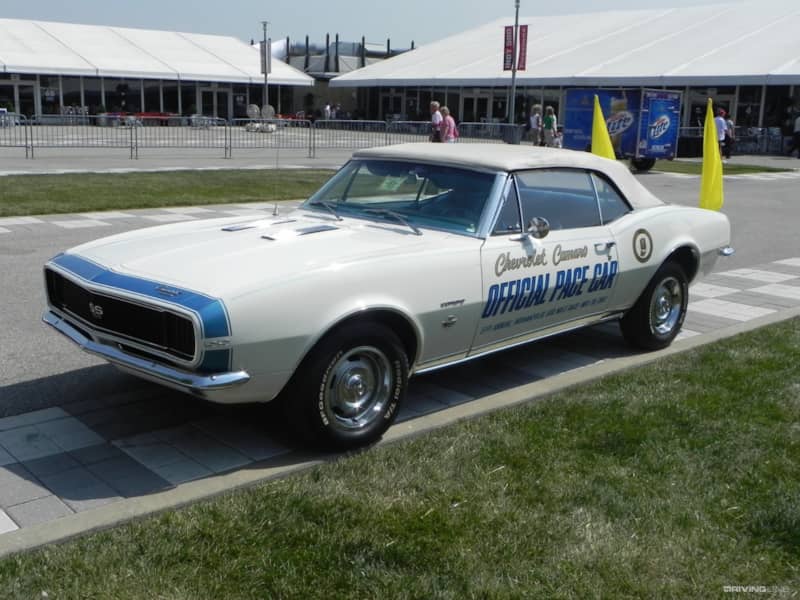 Chevrolet would produce 200 of these pace cars, keeping 179 in the U.S. and sending the remaining 21 to Canada. They shared the L78 big block with the official car. Chevrolet would repeat its Indy Camaro pacing in 1969, but it would take Ford until 1979 before it had a Mustang leading the open-wheelers through the 2.5-mile oval again.
5. 1978 Chevrolet Corvette
By the end of the 1970s, car companies were beginning to clue into the promotional possibilities made possible by Indy 500 participation. Chevrolet, sensing the opportunity to kill two birds with one stone, managed to slide the Corvette into pace car contention to celebrate its 25th anniversary. At the same time, it created 6,502 black-and-silver pace car edition 'Vettes for sale to the general public, prompting a gold rush among collectors, some of whom paid significant sums over retail for what they assumed would be a vehicle that would appreciate over time.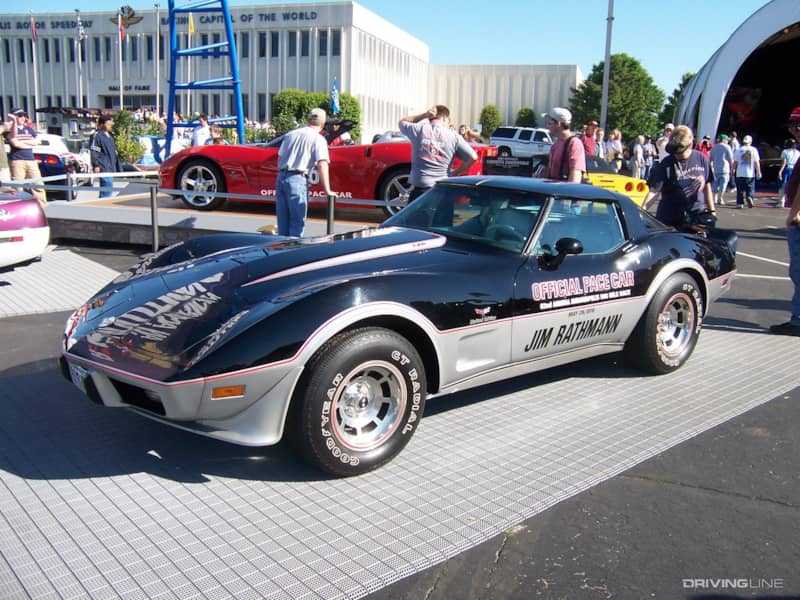 It was somewhat of a failed gamble. Maybe if Chevy has stuck to the original plan of building 100 cars for each year the Corvette had been on sale they'd be worth more today, but '78 Corvette pace cars suffer from the same middling interest that plagues their less-pedigreed disco-Vette contemporaries. You can currently pick one up at a reasonable price, which when adjusted for inflation is probably less than what a few who jumped the gun back in the day forked over.
6. 1989 Pontiac Turbo Trans Am
A decade later GM had finally figured out what limited edition really meant with the production of the 1989 Pontiac Turbo Trans Am pace car edition. Only 1,555 Turbo Trans Am pace cars were built in total, and each sported an awesome 3.8L V6 similar to what was found under the hood of Buick's Grand National coupe.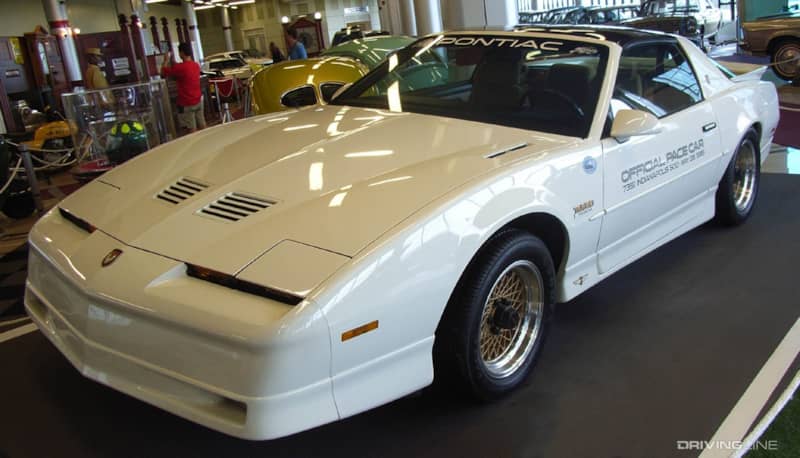 Because of this, Pontiac bragged at the time that the TTA was the first Indy pace car that didn't need any factory hot rodding to handle its ceremonial duties on race day. Also notable from the Trans Am are its extremely low-key decals, making it one of the few stealthy pace car special editions out there.
7. 1990 Chevrolet Beretta
Apparently, GM decided to take everything we just said about low-key and throw it out the window the following year when it cut the roof off of the Chevrolet Beretta, painted it bright yellow and then splash a hot pink INDY across the doors, spray-paint style.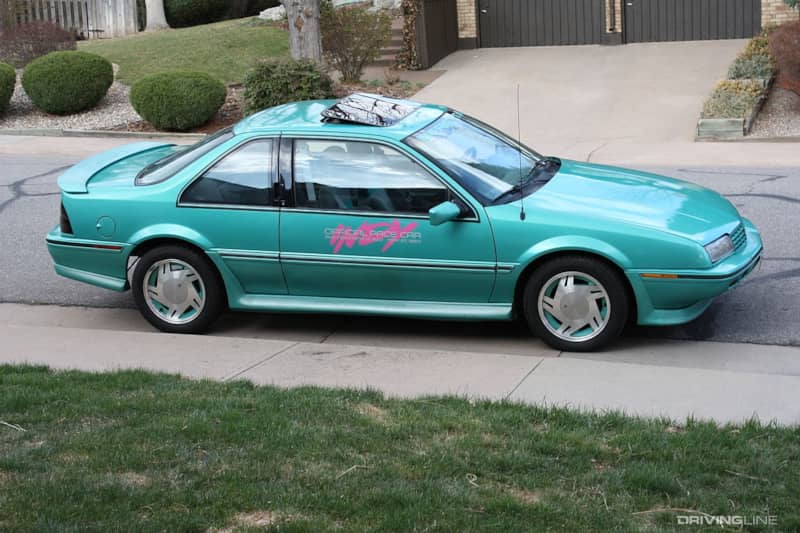 Chevy would go on to build 1,500 Beretta pace car replicas, but as coupes, not convertibles. They also lacked the 3.4L V6 that the official vehicle counted on to push it past 200hp (and its correspondingly beefier four-speed autobox), making do instead with a more anemic 3.1L V6. If yellow wasn't your thing, Chevrolet had you covered with a further 6,000 pace car coupes drenched in that most late-'80s of colors: teal. The cars also featured a mish-mash of aero bits taken from various Beretta models, shaken in a blender and then installed on top of an upgraded FE7 suspension package.
8. 1991 Dodge Viper
The Dodge Viper was never meant to perform pace car duties. In fact, there wasn't even a '91 model year for Chrysler's king snake, which means that the pair of cars circling Indy that year were prototypes lifted from the show car circuit that they had been a fixture on since the roadster's 1989 unveiling.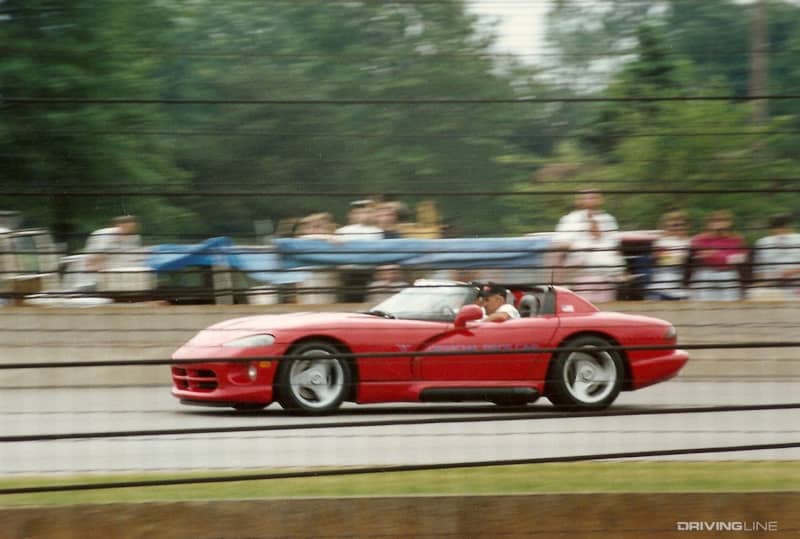 Why was the Viper pressed into service? Dodge had originally intended for the Stealth, a coupe built in partnership with Mitsubishi (read: rebadging of the Mitsubishi 3000GT) to do the honors. When the UAW got wind of the plan, however, they immediately flipped out about an import being involved in what was considered the most America race in the world. Chrysler backed down, the Viper was hastily slotted in as a replacement and the rest is history.
9. 1998 Chevrolet Corvette
The 1998 Chevrolet Corvette makes our roundup for one reason, and one reason only: it features what is by far the most hideous paint scheme of any Indy 500 pace car before or since.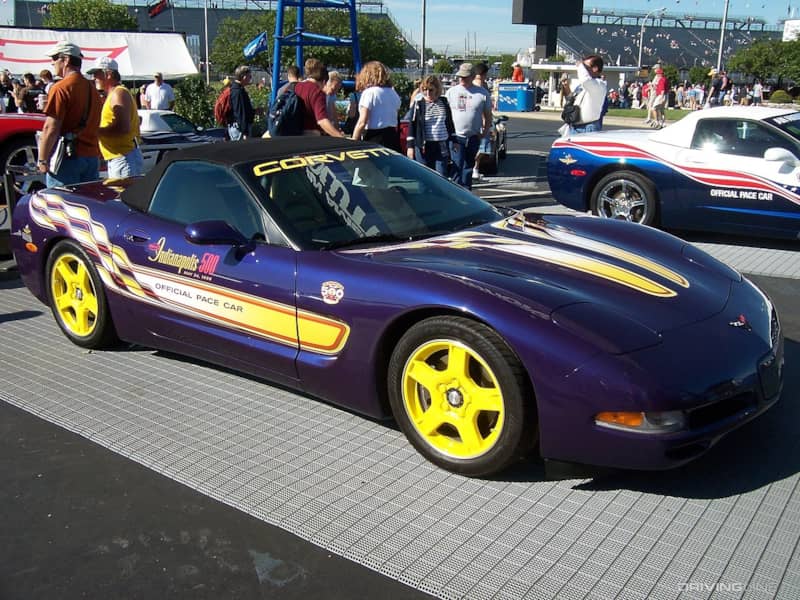 No vehicle should ever have a bright yellow interior, but apparently Chevy was signing checks with its eyes closed at the end of the '90s, with the end result being this monstrosity.
10. 1997 Oldsmobile Aurora
The 1997 Oldsmobile Aurora breaks with the loose chronology of this list, but we wanted to begin and end with the now-defunct marque that paced Indy no less than a dozen times.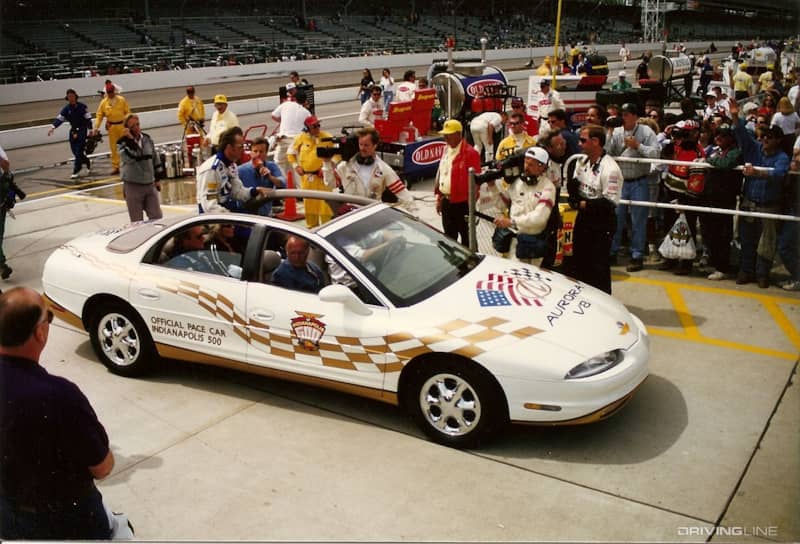 Although the Bravada was a serious misstep, the Aurora actually made sense. After all, it was named after the engine that Olds had introduced to the series and was powered by a somewhat distant, street-friendly relative of said power plant. Surprisingly, GM would limit the gold checkered flag stripe livery to the 64 support cars it furnished for the race, and not trouble its elderly Oldsmobile customers with an official pace car package. The Aurora would pace the race for a second time in 2000, with Anthony Edwards somehow being roped into the driving duties.
Curious about the biggest race events in the country? We've got you covered with this guide.