10 Restomod Pickups that Rocked the 2020 Grand National Roadster Show
Running since 1950, the Grand National Roadster show continues to bring out the best custom vehicles in America. Originally held in Oakland, CA, the show has seen many changes in venue but has been held at the Pomona Fairplex for quite some time now. Now in its 71st year, this show has never skipped a year since the initial event. Though some things have changed along the way, it has always been held inside a structure, which makes it the longest running indoor car show in the world.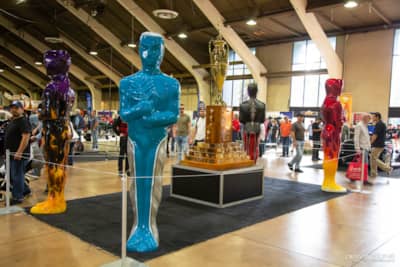 One of the biggest namesakes of this event is the "Americas Most Beautiful Roadster" (AMBR) award, which crowns a new vehicle every year. Winning this award puts your name on the 9-foot tall trophy that has a list of every legend in hot rod culture. There are also a number of other vehicles present at the event and we were interested in the number of trucks invading the space. It was hard to ignore the stunning trucks at the show and here are the ones that topped our list.
10. Wes Dokter's '58 GMC
These "Task Force" body trucks have been a mainstay over the years. They have been popular with the classic audience, and this one had larger and more modern version of American Racing's Torq Thrust wheels covered in performance-based Nitto NT555 G2 tires. You can also see that the truck has shaved door and tailgate handles along with a bright metallic paintjob. Under the hood is a Chevy small block engine that shines like a jewel.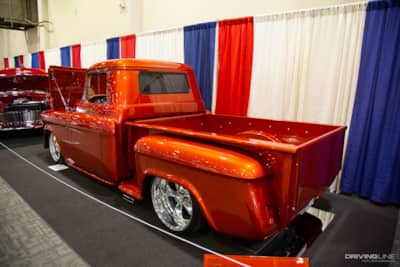 9. Land & Kandy Folliott's '56 Chevy Pickup
Taking things up a notch, this truck had been given a modern facelift on the inside and out. Starting with the foundation, the chassis has been upgraded with an IFS and rear four-link system to hold the 9-inch rear end in place. The Budnik wheels now tuck under the body thanks to a set of Ridetech air suspension parts. Powering this truck is a 383ci stroker motor with 7004R transmission behind it. Giving it a new look, Premier Street Rods body worked and painted this truck to a high polish. Complimenting the exterior is a luscious leather upholstered interior by Ron Mangus.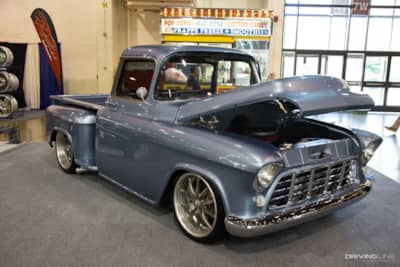 8. Ed Borges' '80 Chevy C10
Though these "Squarebody" trucks ('73-'87 GM pickups) are a bit new in comparison to other vehicles at the show, they have been a hit lately. This one has a 350ci Chevy V8 that has been decked out with painted billet pieces from Eddie Motorsports. The engine also has electronic fuel injection thanks to FiTech's throttle body kit, which lets it run with ease. The stance comes from an upgraded 2-inch drop suspension that has utilizes improved disc brakes. The thing the really made this one stick out is the PPG Mango Tango Toxic Orange paint that has covers the body.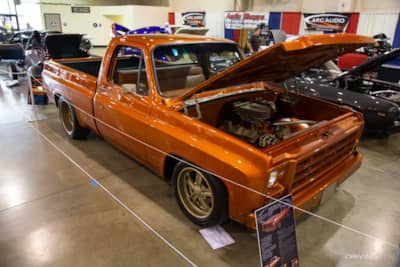 7. David Gonzales' '62 Dodge D100
Believe it or not, these trucks were originally available in a 4-door option. They are rare to come by and it's a real treat to see one customized. Built by Lakeside Rods & Rides, this D100 has it all. Best yet, it even has a Dodge 440ci engine that has been completely dressed up. With room for the whole family, this truck must be a blast to cruise in.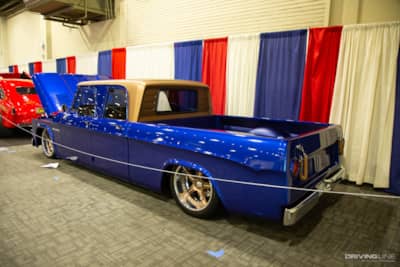 6. Jeff Salter's '50 Ford F1
Though this truck was not entirely finished, it was a big hit. If you didn't know it, the original suspension on these mid-century trucks are more like something you would find on a horse-drawn carriage and to slam an F1 takes a lot of work. Basically, Born Vintage Custom Creations scrapped all the old equipment and replaced it with new components setup-up with airbags to get it on the ground for show and lift it up to drive. Double Z Hot Rods gave it a spectacular paintjob that really set this thing off.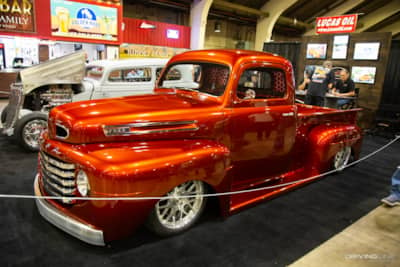 5. Tim Sharp's '57 Chevy
Popular with the crowd, these '57 Chevy trucks are unmistakable for anything else. Customs by Lopez built this truck from the ground up and it has custom touches inside and out. We especially dig the one-off front grille and unique center console on the inside. This truck also sits on a set of Bonspeed wheels with Nitto INVO tires.
4. Jeff Chamber '47 Ford COE
Known as "Just a Big 'ol Fiasco," this truck is an absolutely wild creation. These cab-over trucks were built for industrial purposes and look nothing like this one. Stanley Bros. Hot Rods set this large truck down over a set of big rig 22-inch aluminum wheels and created a custom bed for it. It's also powered by a 383ci small block Chevy engine with a 700R4 transmission behind it.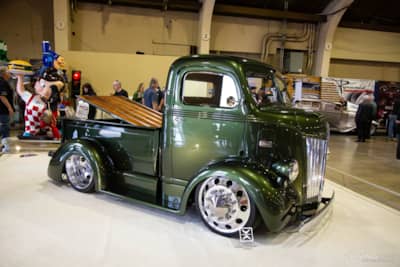 3. Apicella Designs '52 Chevy
Technically, this truck is more like a 2019 pickup as it started with a pile of new parts from multiple aftermarket companies. Brad Apicella started with a Total Cost Involved coil-over chassis and mounted a Premier Street Rod body on with a Mar-K bed. This truck is now powered by a supercharged GM LSA engine to help spin the Raceline billet wheels. Ron Mangus is the man when it comes to custom upholstery, he transformed the interior on this truck like a modern luxury car.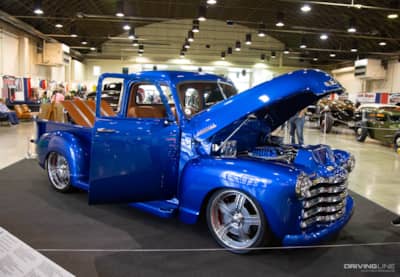 2. The Dokter Family's '56 Chevy Bel Air Pickup
If you're familiar with these trucks, you would know that they mostly came with step side bed and fleet sides are rare. Built by Tommy's Auto Fab, this '56 actually has a custom bed that mimics the look of a Bel Air passenger car. On top of that, it has a modernized lowered suspension that allows it sit right over a set of Curtis Speed billet wheels. Under the hood is a modern GM LT1 direct-injection engine.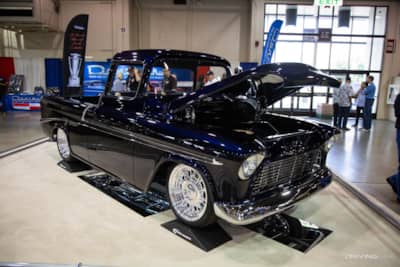 1. Kindig-it Design '48 GMC New Design
This truck really takes the cake as it is truly unique from all others. With a high-end clientele, the talented crew at Kindig-it Design really have the ability to express their creativity. Some of the most notable things on this truck includes the stretched cab, custom bed and front end that uses styling from a Chevy model. The cab also has suicide doors and a dash from a '59 Chevy passenger car. With a body unlike any other, cookie cutter wheels didn't fit the bill and a one-off set was made by Billet Specialties. Up front is a LS engine that was made to look like a vintage motor with old school valve covers and faux oil bath style air cleaner. This truck ties together many different modifications in one well rounded out pickup and it is definitely on a level of its own.