1969 Camaro and 1952 Chevy 3100 Pickup Truck Diesel Swaps: Two Builds That Are Simply Too Cool For School
In the past, classic pickup trucks and legendary muscle cars weren't exactly regular recipients of diesel transplants. But times are changing and modern compression ignition engines have proven themselves reliable, fuel efficient and powerful choices for those looking to repower time-honored rides. And nowhere else is this more true than with GM's iconic 6.6L Duramax. The V-8 oil-burner utilizes the latest and greatest in fuel injection technology (high-pressure common-rail), sports aluminum cylinder heads and can even help a ¾-ton, 7,500-pound truck return 20-mpg. With the right parts in the mix, four-digit horsepower can also be achieved, not to mention double that number in lb-ft of torque.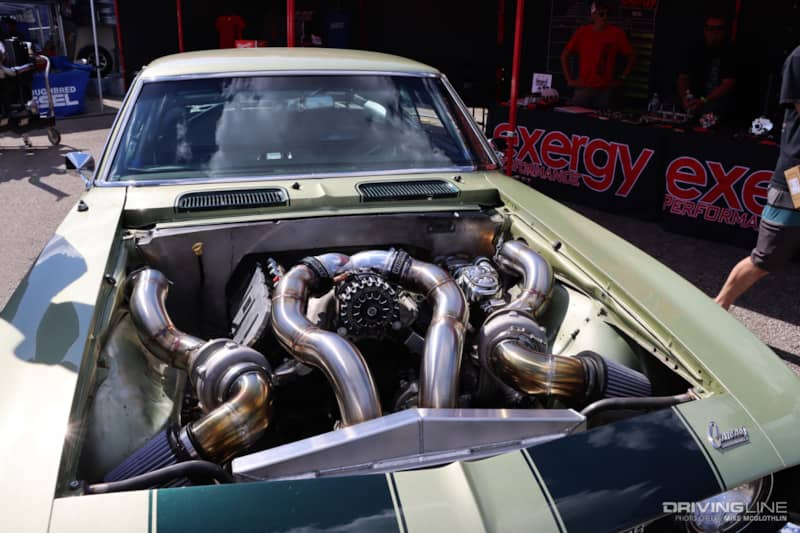 Two unique and superbly-executed Duramax swaps are on tap this time. One is a '69 Camaro and the other is a '52 Chevrolet 3100. One is built for big horsepower while the other is rocking a stock engine. One is bolted to an Allison transmission while a TH400 is nestled into the other candidate. But aside from these differences, both are equally awesome, vintage Chevrolet's packing GM's time-tested 6.6L V-8.
'69 Camaro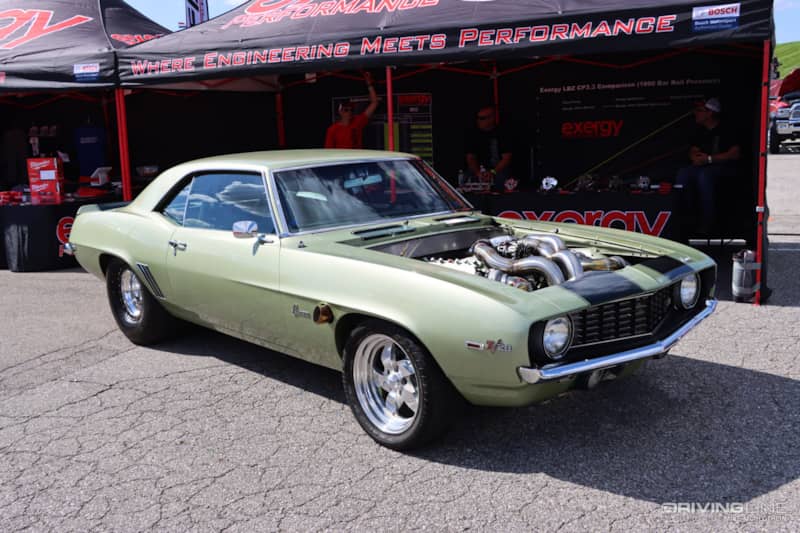 For car enthusiasts the world-over, there is no mistaking the looks of a first-generation Camaro. It's no secret that their long engine bays make them good candidates for large V8's—and in this case a 6.6L Duramax (complete with an intercooler wedged in front of it) fits like a glove. That's right, this immaculate '69 Z28 benefits from diesel power. And not only that, it's also sporting twin turbos. No, not compounds. Parallel turbos (i.e. true twins), a configuration that boasts two identical chargers, each one feeding its own dedicated bank. A large bulk of the work performed on this project took place at Firepunk Diesel in Plain City, Ohio.
Race-Ready Long-Block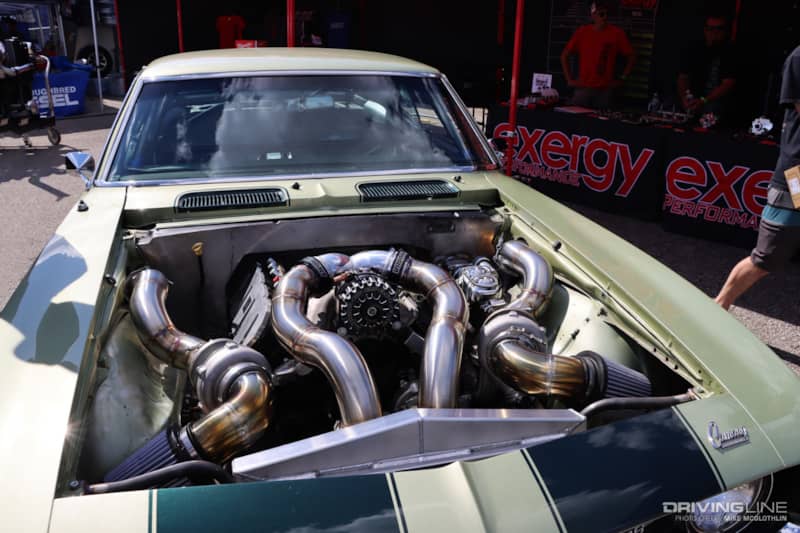 With very few expenses spared, a top-of-the-line Duramax was pieced together. The factory cast-iron block remains but a Callies billet crankshaft, narrowed billet Wagler Competition Products rods, Mahle Performance pistons and a Wagler Stage 2 cam reside inside it. Manton pushrods and valve bridges, Wagler-ported GM cylinder heads fitted with larger intake (36mm) and exhaust (35mm) valves complete a parts list that guarantees the long-block can survive 1,500 hp. Eight 150-percent over injectors and a 14mm Race CP3 from Exergy Performance, along with a Bosch MS 25 Sport stand-alone ECU controlling everything, ensure the car is capable of reaching its 1,100 to 1,200 hp target.
Twin Garrett Turbos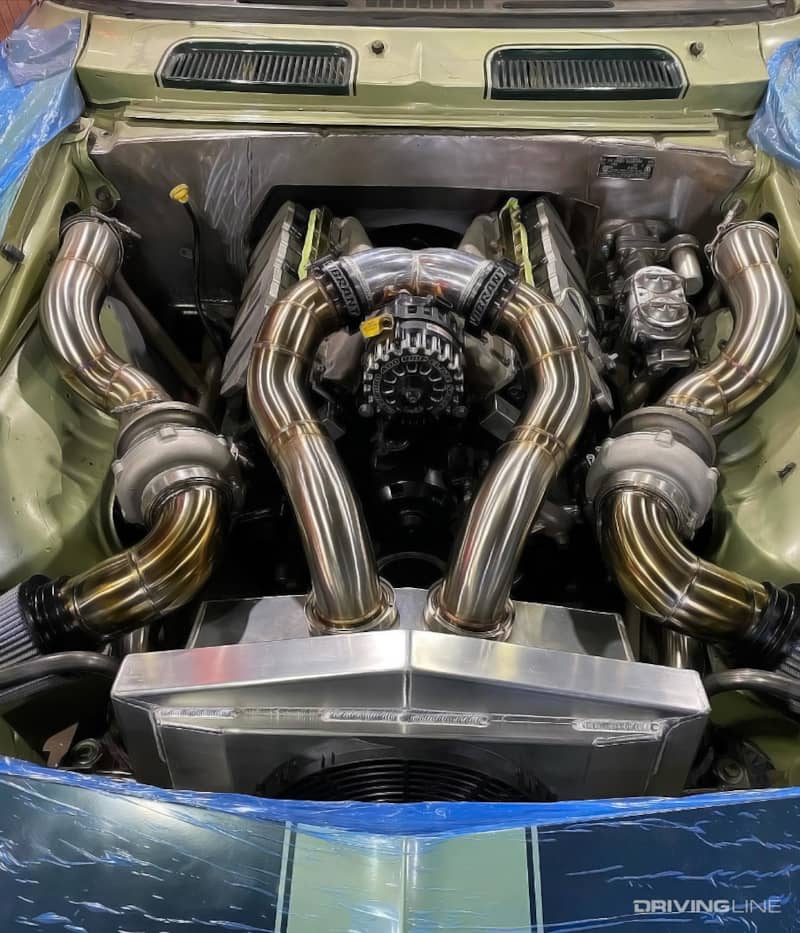 Each of the engine's twin turbos are of the Garrett GT3076R variety, a charger that leaves the assembly line with a 57mm (inducer) compressor wheel, a 55mm (exducer) turbine wheel and benefits from a water-cooled, dual ball bearing center cartridge. The fab work surrounding the twins was performed by Firepunk's Cody Fisher, one of the premier fabricators in the diesel industry, and the GT3076R's feed boost through 304 stainless steel tubing into a No Corners Cut Fabrication intercooler. Boost enters the high-flow heads via dual cold-side pipes that transition into a Wagler cast-aluminum street intake manifold rather than the Duramax's factory Y-bridge design. A bit off topic but important nonetheless, the Duramax is bolted to a TH400 from Rossler Transmissions.
'52 Chevrolet 3100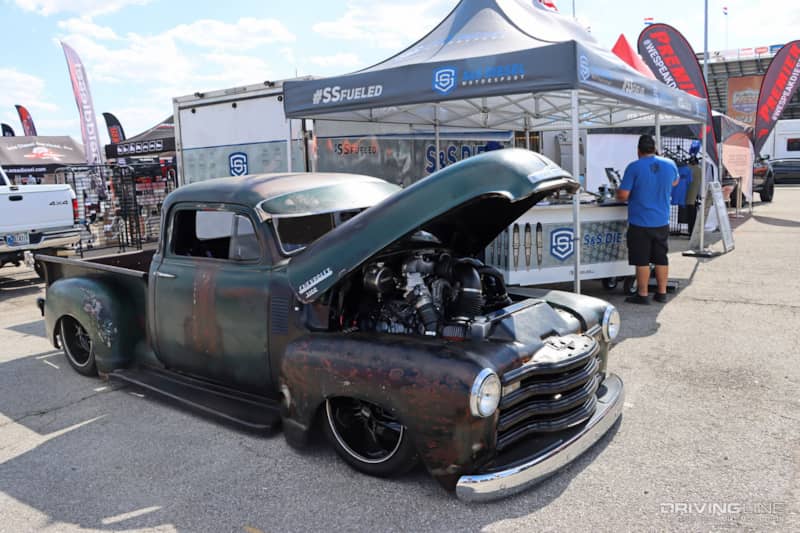 It's a '47-'55 Advanced-Design Chevrolet like you've never seen—and we're not just referring to the chopped top, the ridiculously low stance or the patina. Keith Porter's '52 Chevrolet 3100 packs an L5P Duramax under the hood, a 10-speed Allison transmission behind that and Corvette suspension front and rear. Literally found in a barn and resurrected to masterpiece status, Keith fittingly named the truck "Rags To Riches." When we spotted his project parked beside the S&S Diesel Motorsport booth at the 2022 DPI Expo, we couldn't help ourselves and had to move in for a closer look.
New Tech, Old Wrapper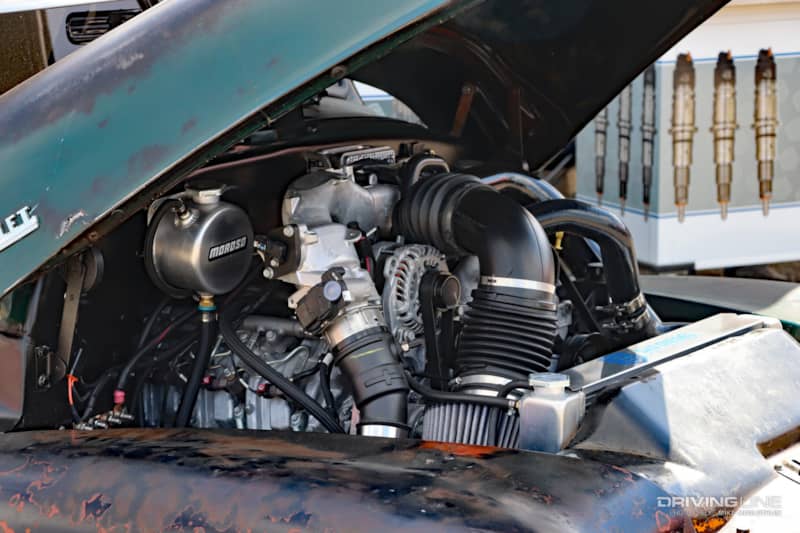 The latest generation 6.6L Duramax V8, an L5P that boasts 445 hp and 910 lb-ft of torque from the factory, sits under the hood. Perhaps even more intriguing than the L5P being stuffed into place is that the latest Allison transmission, the 10-speed 10L1000, is along for the ride as well. Thanks to significant portions of the build taking place at S&S Diesel Motorsport, employee Andre Dusek developed the Allison control package the truck is equipped with, which isn't yet (but may one day be) available to the public to make this particular swap easier to pull off.
MoTeC-Controlled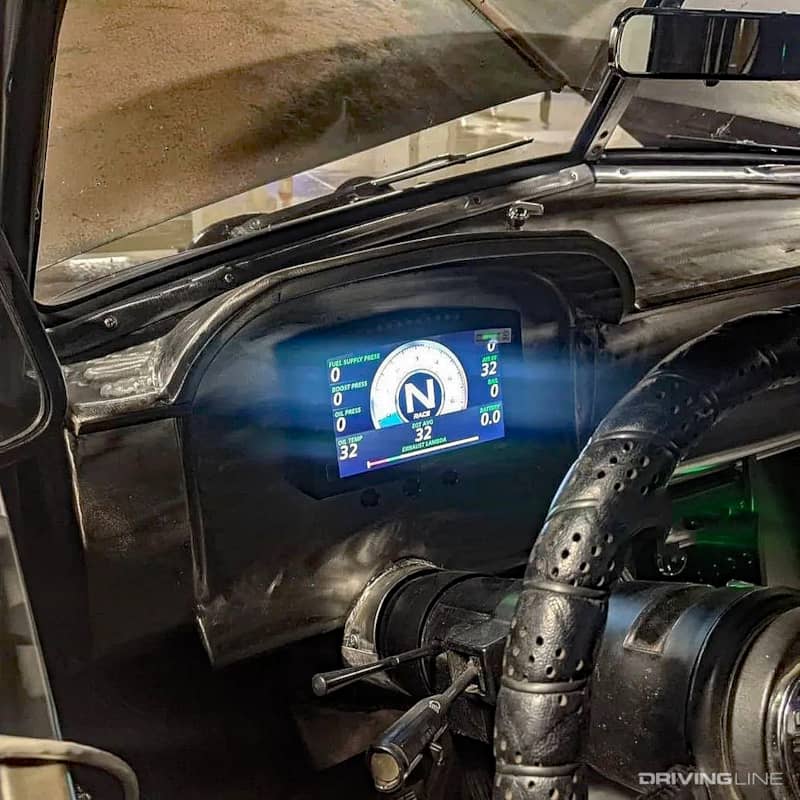 A MoTeC C127 display serves as a clue for what took place on the electronics side of the Duramax/Allison swap. The display shown above is capable of not only monitoring and presenting viewable powertrain vitals, but features data logging capabilities. A MoTeC M142 ECM, a stand-alone engine control module—and in conjunction with Motec LTC Lambda to CAN control modules and an S&S-built, custom stand-alone harness—controls the engine, Allison, and factory VGT turbo. Further inside the interior, the dash, floor, and all paneling are custom-fabricated pieces.
Chopped, Dropped, Shortened And Stretched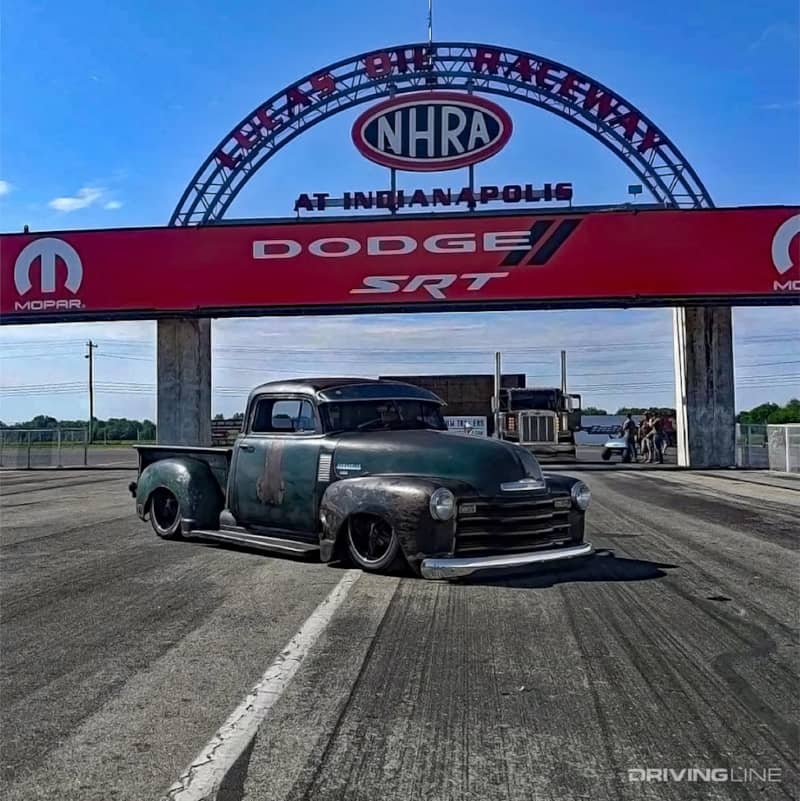 With the top chopped by 3-inches and the box shortened by roughly six, Keith's '52 Chevrolet pulls off a classic yet almost sinister appeal, a look that the Foose F104 Legend Custom wheels certainly help with. Contrasting the shorter box, the doors were stretched roughly 6-inches, while the truck's custom glass package came from Auto City Classic in Isanti, Minnesota. Full air-ride makes laying-frame possible.
All The Rest Of it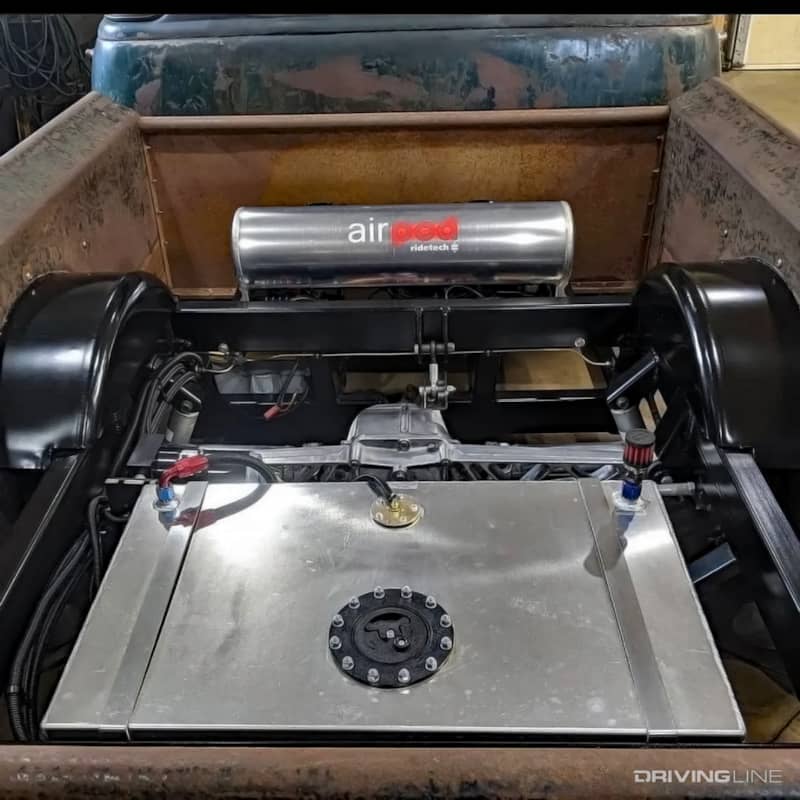 But wait, there's more. Much much more… The old-school Chevy ½-ton rides on C4 Corvette IFS and IRS suspension—and you can actually spot some of the truck's 2-inch by 4-inch tube frame here. An AirPOD digital leveling and RidePro-X dual compressor system from Ridetech is also part of the unique suspension setup, the 5-gallon aluminum tank visible above. Finally, the 17-gallon fuel cell is tied in with a 165-gph FASS lift pump system to make sure clean, air-free diesel is always being supplied to the L5P Duramax.
More From

Driving Line
This is far from the first time we've presented a classic Duramax repower. Check out 

this

 

stunning, barn-built '98 Chevy 1500 Duramax swap.