2002 Ford E-350 Flatbed 4x4: The Ultimate Do-All Van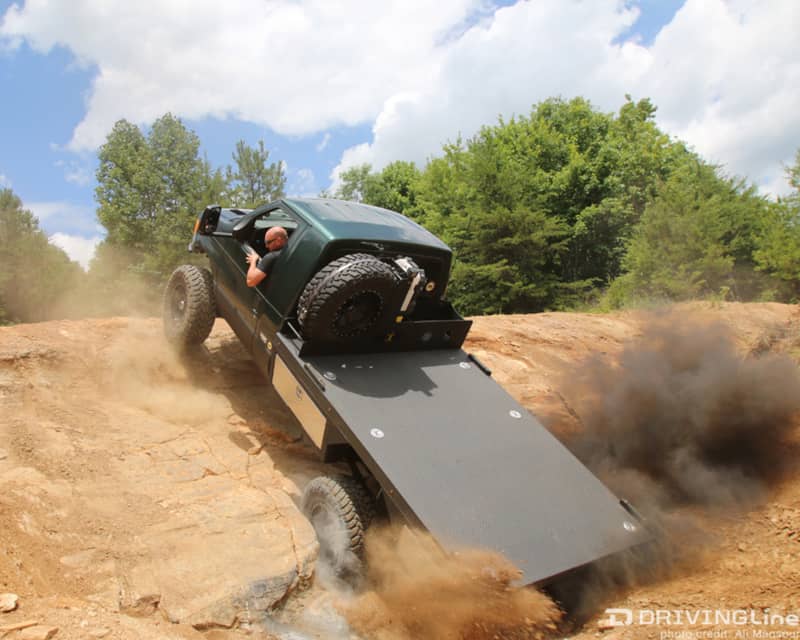 When building a 4x4 to survive treacherous terrain, function will always trump form. Thankfully, this doesn't mean the rig has to be visually unappealing. With a little creativity and a strong skill-set, 4x4 builders can generate some incredibly stylized and functional machines. Chris Steuber's 2002 Ford E-350 is a prime example of the ultimate merger of functionality, performance and way out-of-the-box thinking. As the owner of Ujoint Off-Road in Fletcher, North Carolina, Steuber makes his living converting '92-to-current Ford E-Series vans into functional 4x4 adventure machines. As an avid wheeling enthusiast, Steuber wanted to create a multipurpose van that could should off his company's wares, in addition to fulfilling the need for a new shop truck and adventure platform. We say van loosely since his creation started off as a full-bodied E-350, but there clearly isn't much of what we would consider a conventional van left. When we caught up with him at The Flats Offroad Park in Marion, North Carolina, he was in the middle of testing out some of the latest modifications to the van he likes to call "V4." We've wheeled with some of Steuber's creations in the past and are constantly amazed at how well they work off-road. V4 however, was definitely one of the most extreme examples we've seen from Ujoint to date.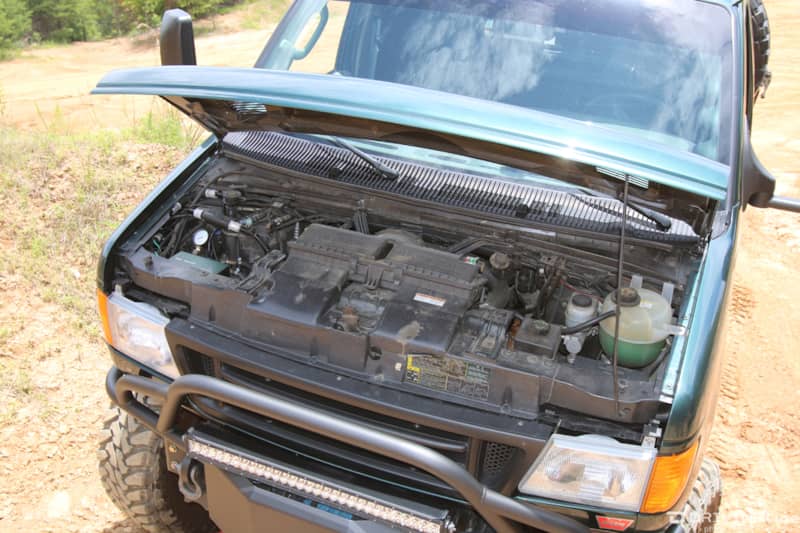 Generating that cloud of soot you saw earlier comes from a new 7.3L turbo diesel engine. To grab a little more power from the massive V8, a DP custom tuner was installed. This setup offers eight power options, so Steuber can choose which setting is right depending on what he's doing with the van. Expelling the soot quickly is a Diamond Eye 4-inch turbo-back exhaust system. All of the torque is channeled through a 4R100 automatic transmission which has been mated to a NV271 transfer case.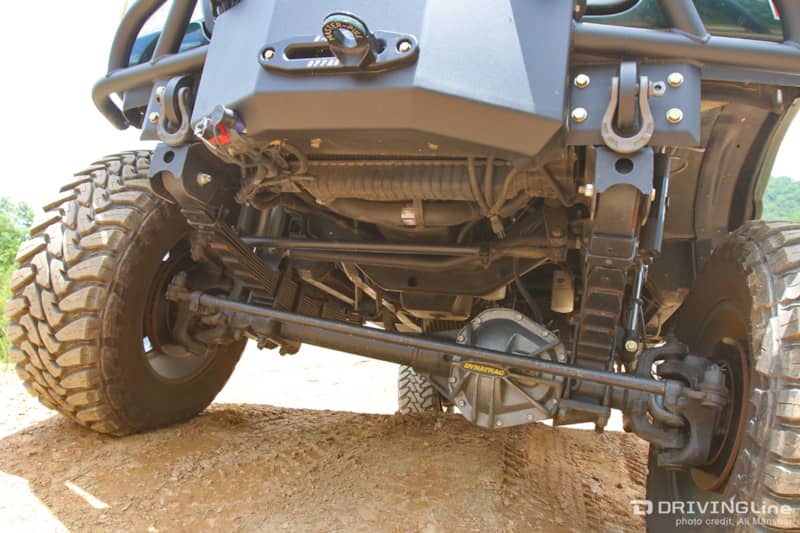 Ujoint Off-Road specializes in leaf-sprung sold-axle conversions for the E-series vans. The setup on V4 uses the company's 8-inch lift springs, along with dual Fox 2.0 shocks. This spring-over axle setup secures a high-pinion Dana 60 front axle, which is fitted with a Ujoint Stage II upgrade. Going with the Stage II system outfits the axle with the correct components to maintain compatibility with Ford's RSC (roll stability control) system. Other performance upgrades include a Ujoint crossover steering system, a Knoll Racing Power Lock and 4.56 differential gears. Stopping it all is a set of brakes sourced from a Ford F-550.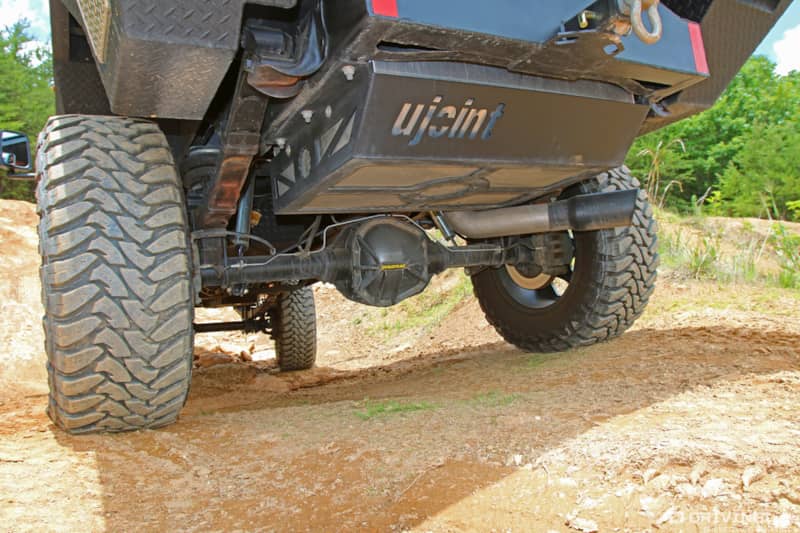 The rear axle is another Super Duty sourced upgrade. It's a full-float Sterling 10.5, which has be upgraded with an automatic Grizzly Locker. Steuber actually twisted the axletube on the day we shot the rig as he was hammering up a rock ledge - click here to read more about that and how the issue can be fixed. Other items of note are the Ujoint helper air bags, which don't inhibit the travel of the Ujoint 6-inch-lift spring pack. The custom aluminum fuel cell you see is actually the rigs auxiliary tank. It holds an impressive 30 gallons of fuel, so he doesn't have to worry about running out on some of his longer back-road expeditions.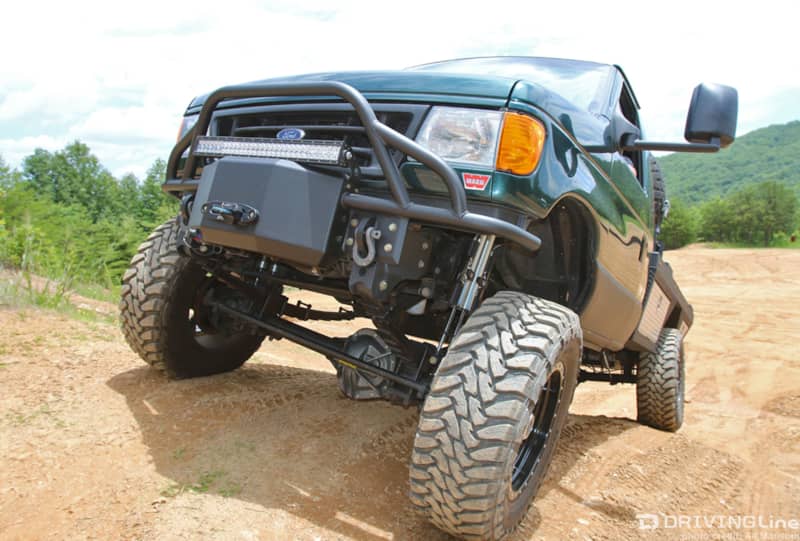 With its short nose and high-clearance Ujoint front bumper, V4 has an excellent approach angle. Since the 7.3L diesel engine already adds enough weight to the front of the van, the front bumper was comprised from aluminum to shave weight. It holds a Warn 16.5 winch that carries a spool of synthetic winch line from Southeast Overland.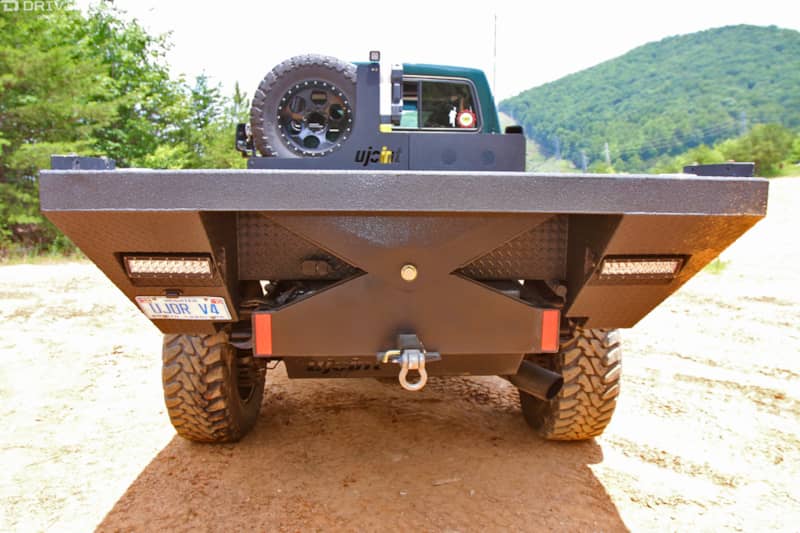 Ujoint knew that V4 would be twisting around the trail system and that articulation could put a significant amount of stress on the aluminum bed. The company's solution was rather smart. Understanding how the frame would flex in certain off-road scenarios, the team created a custom mount system that would allow the bed to move independently from the frame. We've witnessed this three-link system being put to work, and it works exactly as the company intended.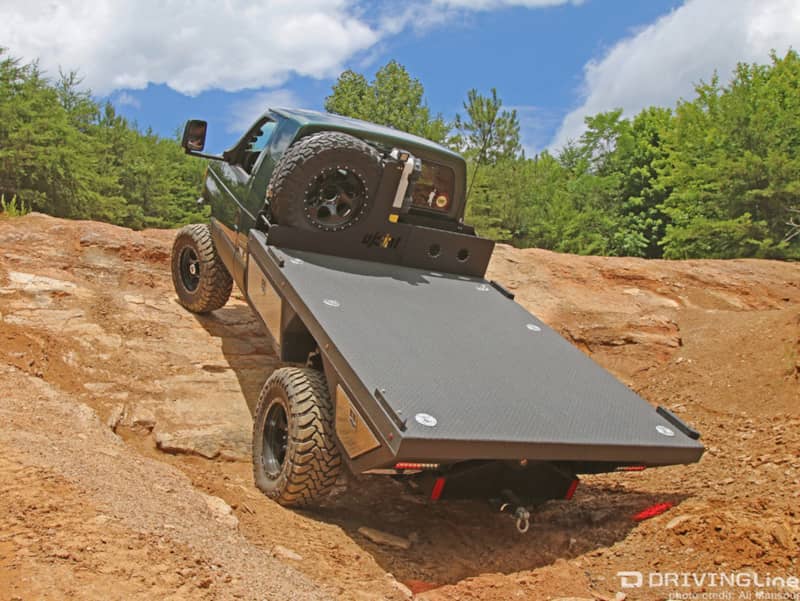 Function is what V4 is all about. The custom bed features multiple tie-down points, along with a custom tire carrier that can hold two of the rigs 38-inch-tall spare tires. To keep things from sliding around, the bed was coated with a durable Rhino liner.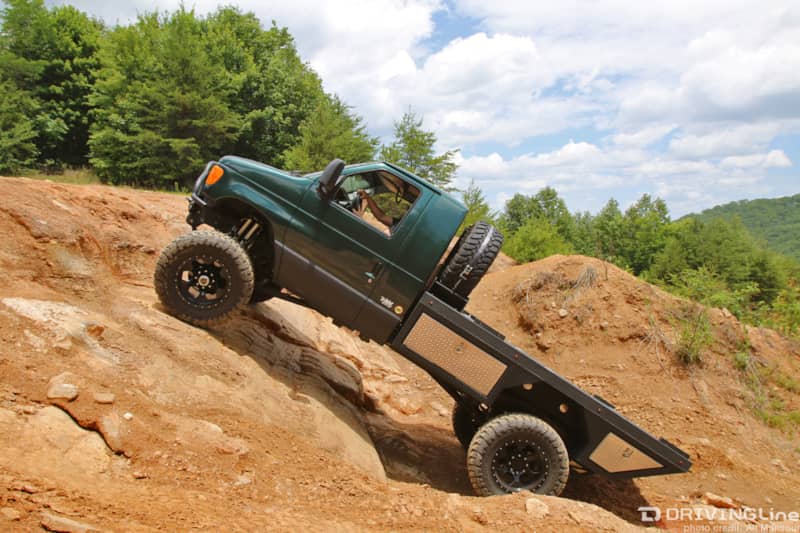 With a wheelbase a little over 140 inches, the van is an extremely stable climber. Aiding its ability is the fact that 16 inches was chopped from the back of the original framerails. This frame reduction was factored in when creating the bed, thus the allowing V4 to have a 10-foot-deck, with a sloped high-clearance departure.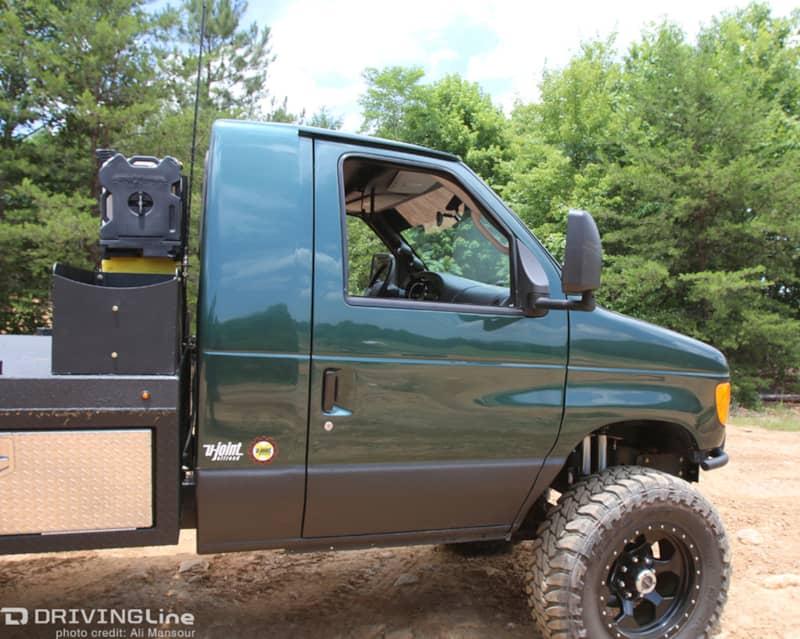 The cab closeout comes from Blackhawk Industries. It's comprised of fiberglass and was smoothed out by Smokey's Auto Body and coated with a Ford-specific Forest Green paint.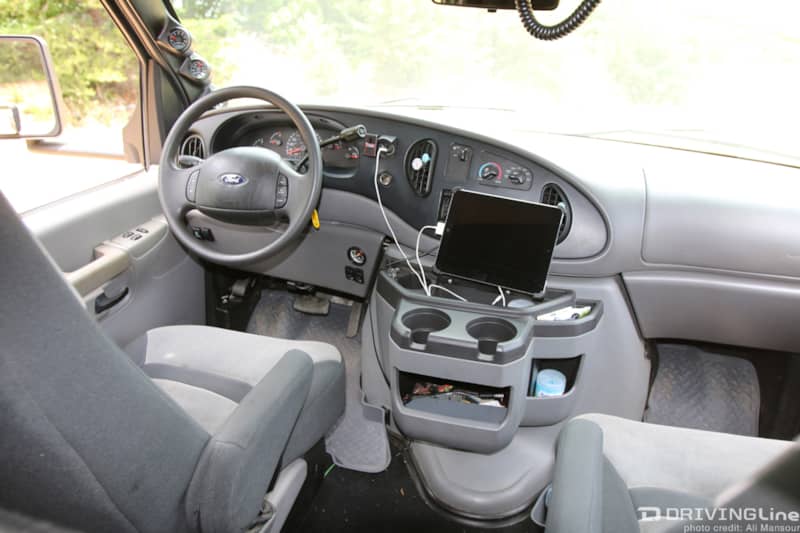 Inside the cab, AutoMeter gauges and custom iPad mount offer a bit more instrumentation. Otherwise, the factory creature comforts were all left intact.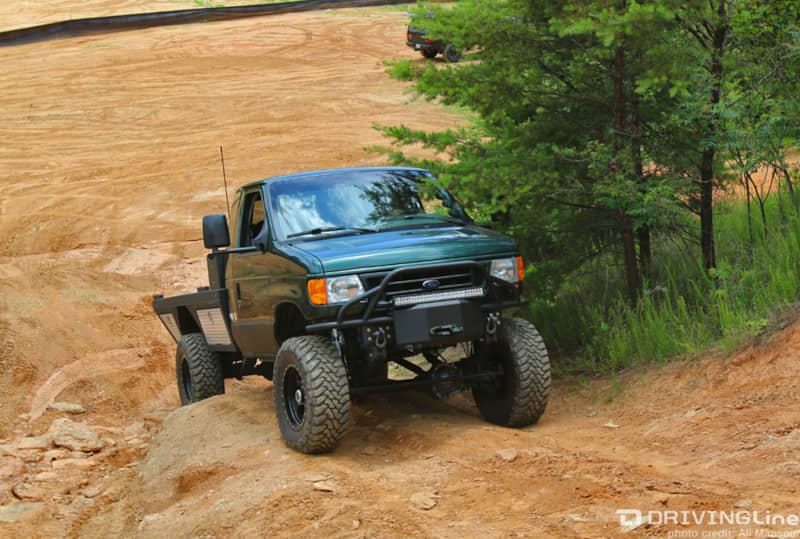 Sure, V4 is no Ultra4 Racer, but it gets down the trail with surprising ease. For a rig that has to wear so many hats, we can't say we know of many that can do it better. We still have a tough time calling this one-off ride a "van," but we can say that it's one of the most unique E-350s we've ever come across. To check out more of Ujoint's creations, be sure to visit them on the web at www.ujointoffroad.com.