V4 2.0: An Anything but Typical Ford E-350 Van Evolution
Even the best project vehicles benefit from hindsight. While most of us rarely have the time, energy, or funds to create a newer version of a beloved project car, for Chris Steuber and his Ford E-Series van known simply as V4, it was well-worth revisiting. As the owner of Ujoint Offroad in Fletcher, North Carolina, upfitting Ford E-Series vans is part of the daily grind. Though 4x4 vans are unique in their own right, when you are immersed deep into van life, you have to step even further out of the box to create something special.
While his original 2002 Ford E-Series was a retired ambulance that he rescued from junkyard in 2011, for version 2.0, Steuber would start with a brand-new 2021 Ford E-350 Cutaway. The biggest reason for the switch being he could opt for Ford's massive 7.3L Godzilla V8. With his original 4th Generation E-350 undergoing many suspension, bumper, and bed configurations over the years, he knew exactly how the latest version would need to be configured. And while there would be plenty of suspension bits and assorted hardware moved over from the original build, the major piece that would make the transition would be the one-off aluminum flatbed that made V4 so unique.
From a custom coilover suspension and Dynatrac ProRock 60 front axle to the massive 37-inch Nitto Ridge Grapplers, there were no corners cut when it came to creating the second-coming of V4. We recently had a chance to catch up with Steuber on the trail and see 2.0 in action. While you can watch our full Inside Line video feature of the van on our YouTube channel, here, we are diving into some of the details that make it one of a kind.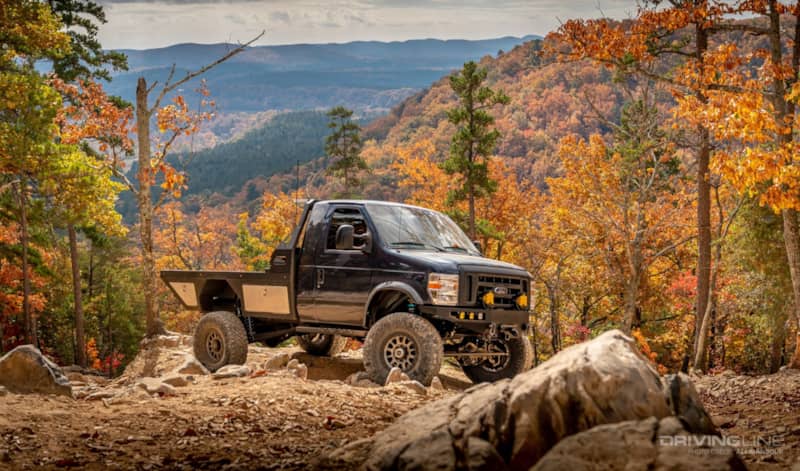 Godzilla Power
Powering the van is Ford's 7.3L Godzilla V8 gasoline engine, which pumps out 430hp and 475 lb.-ft of torque. It is backed by a 6R140 transmission, and was mated to a NP1128 manual-shift transfer case. While the original V4 build had a 7.3L as well, it was a turbodiesel, not a gasser.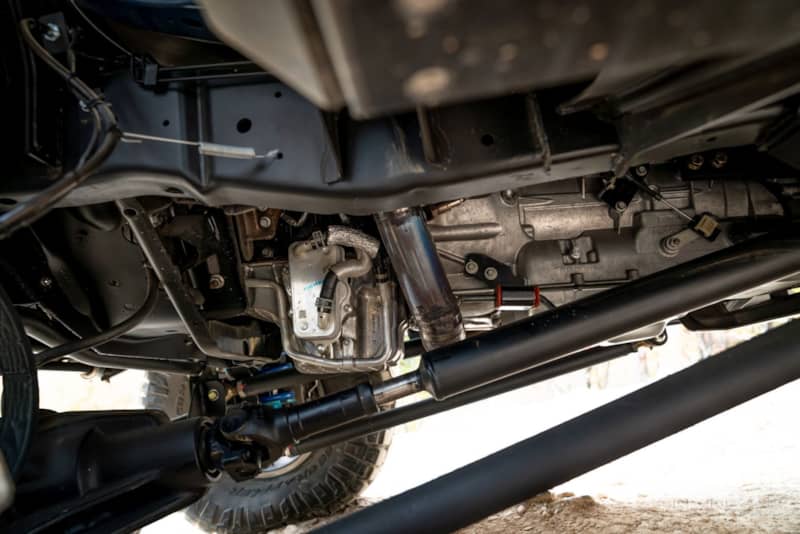 4WD Conversion 
Ujoint Offroad specializes in 4x4 conversion for 4th gen Ford E-Series vans, so of course, V4 2.0 wasn't going to be left as a two-wheel drive. While Ujoint typically uses leaf-spring conversions, for this build, it would get a custom 3-link with 12-inch-travel King coilovers.
ProRock'n
To improve the turning radius and allow more room for the suspension bits, a custom-width Dynatrac ProRock 60 front axle was special ordered for the build. The axle housing uses Ujoint's crossover steering kit, Dynatrac hubs, knuckles, and spindles, along with 14.5-inch F-550 rotors. Inside, there's a 4.88 gearset mated with a Knoll Racing Power lock.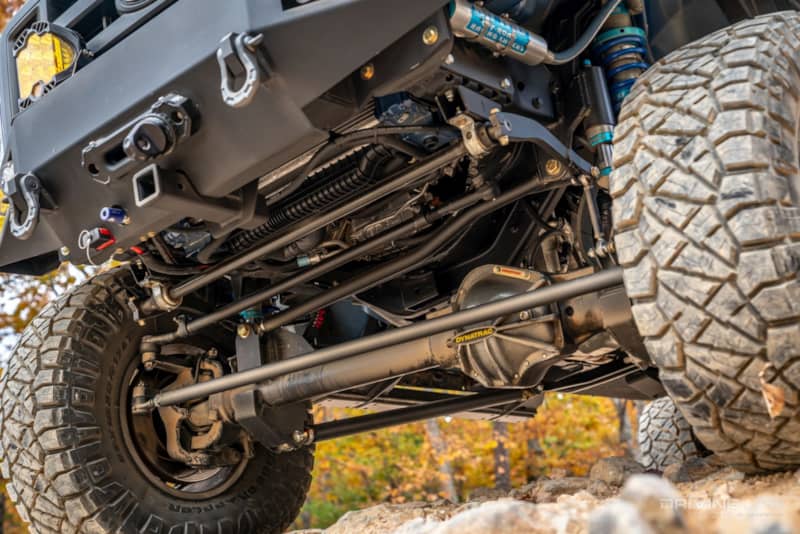 Trailing Arms
The trailing arm lowers and triangulated uppers were carry-over items from the original build. As too were the 12-inch-travel 3.0 King coilovers and bumpstops. The Dana 70 however is all-new and received a custom truss, along with a Detroit Locker and matching 4.88 gearset. Located just behind the 1-ton housing is the stock 40-gallon tank, which is protected via a custom aluminum skid plate.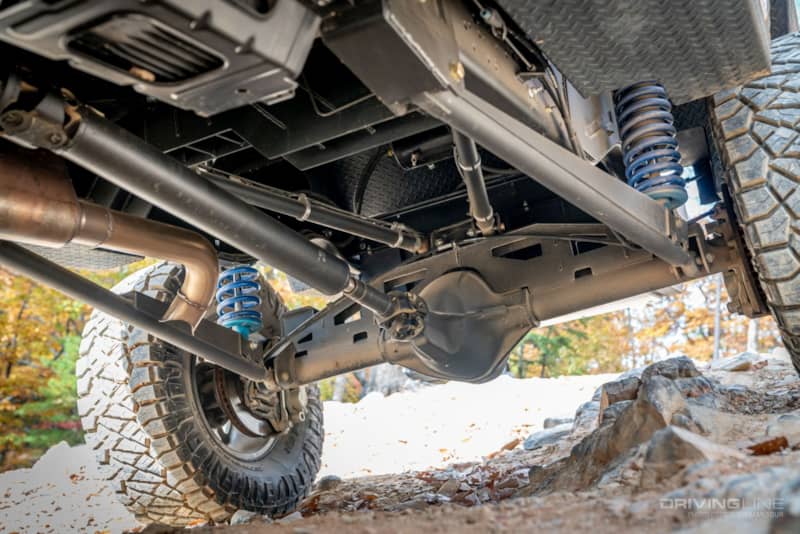 Flatbed 
The most iconic feature of the first build was the custom flatbed. Given the immense amount of time that went into building it originally, Steuber wisely opted to move it to the new build. Comprised from 3/16-inch aluminum diamond plate and coated with Rhino-liner, the 10-foot-long deck has seen many variations over the years. And, unlike a traditional flatbed that would be hard mounted to the chassis, this setup uses two forward mounts and one massive rear bushing pivot mount to allow the chassis and bed to flex independently. Aside from the assortment of storage boxes (the front of which spans the entire width of the bed), there are six tie-down points on the deck for hauling cargo.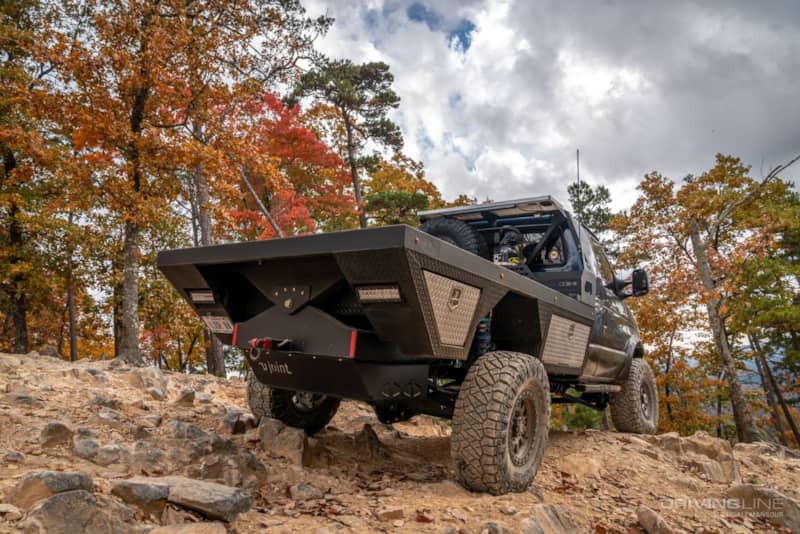 No Headaches 
The headache rack serves many purposes on this rig. It's not only securing the full-size 37-inch Ridge Grappler but is home to a 90-watt solar panel, Baja Designs chase light, Power Tank and MOLLE panel for any extra gear or accessories. The CC65-19 cutout in the lower right is a dedication to Steuber's friend Chad Christy who passed away in 2019. Some of you may remember Christy's amazing overland van known as Alpha Van. You can find a full video of that on our YouTube channel as well.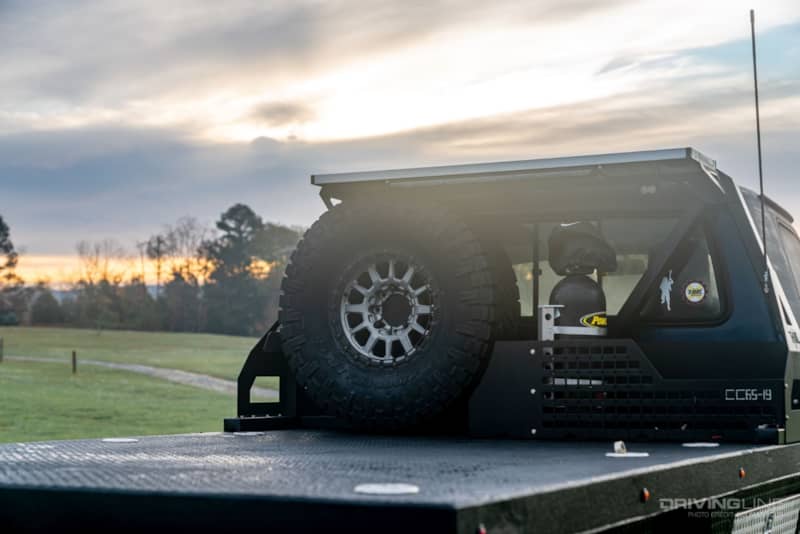 Ridge Grappling 
This van is about as dual purpose as the come, serving as a wheeler, shop truck, and demo vehicle on any given day. As such, he needed a tire that could handle it all with ease. This is why he opted for a 37x13.50R17 Nitto Ridge Grappler. He states the hybrid tire gave him not only the performance he was looking for, but the load rating that the van required. These innovative knobbies were paired with a set of 17-inch InnoV8 racing G600 beadlock wheels. Helping to keep the tread covered are Bushwhacker flares.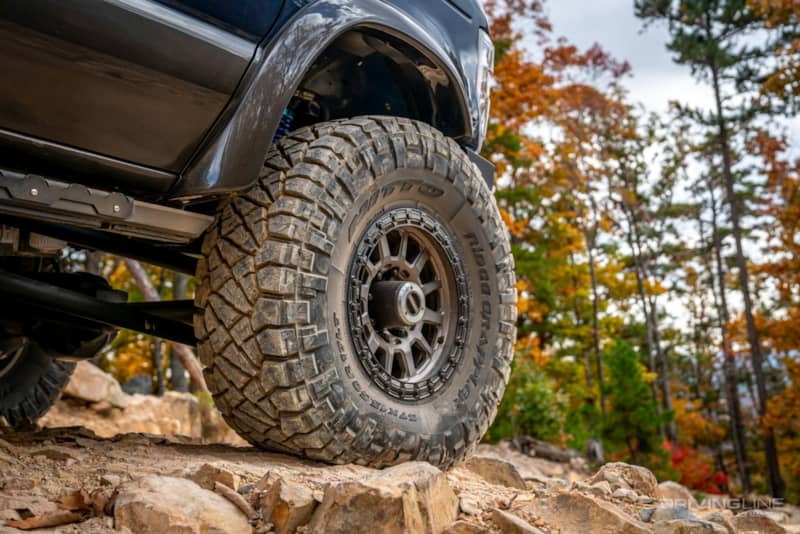 Bump It Up
Creating a platform for an arsenal of Baja Designs lights and adding a home for the 12,000-pound Warn winch is Ujoint's aluminum front bumper. To ensure the cab stays protected, Ujoint also fabricated rocker guards that double as steps. To control the lighting assortment, an sPOD was used.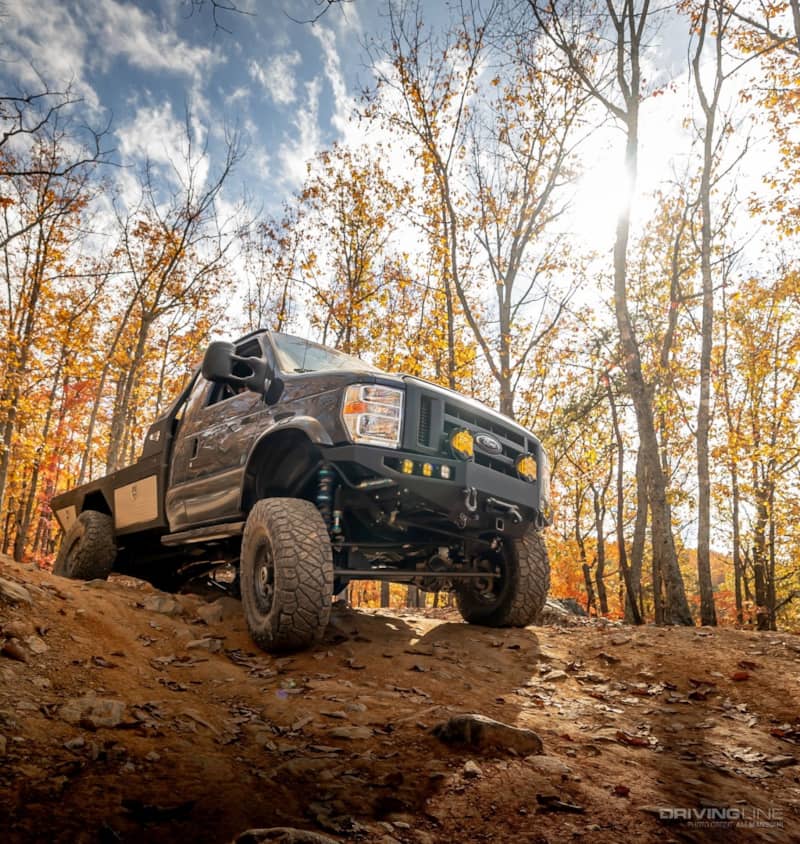 Cab Back
When you order a cutaway chassis from Ford, the back of the cab comes open. To close it out and give it a seamless appearance, Steuber took a 12-inch Cab Back extension kit to Dark City Customs in Swannanoa, North Carolina, who merged the two pieces and repainted the entire cab.