2016 Formula Drift Montreal Recap [Gallery]
Reigning Formula Drift Champion Fredric Aasbo is the undisputed king of the North (that's Canada) after his second consecutive win at Montreal's Autodrome Saint Eustache. This is the first time, however, that the scores count towards the Pro Championship series, and Aasbo needed every point in order to close the gap between himself and Nitto Tire driver Vaughn Gittin Jr., the current leader. Gittin Jr. got as far as the Blackvue Final 4 before Chris Forsberg (the round's second place winner) got the better of him. Gittin Jr. might have missed the podium this round, but he earned enough points to still stand on top with a 3-point lead.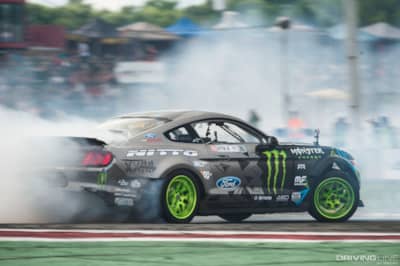 Only three rounds remain for the 2016 Formula Drift Pro Championship Series! Stay tuned to DRIVINGLINE.com/DRIFT to see if Vaughn Gittin Jr. can hold on to the lead.
Get all of the details from Formula Drift Montreal in our Top 32 Play-by-Play breakdown.