2019 Toyota 4Runner TRD Pro Off-Road Review
It seems as our world becomes more and more connected, some people look for more reasons to unplug and get away from it all. Toyota has been one of the leading purveyors of adventure-ready vehicles for the last four decades, and their newest lineup of TRD Pro vehicles is undoubtedly the most off-road capable. Cleverly packaged as a luxurious, comfortable SUV, the TRD Pro 4Runner takes the shape of a car you want to drive every day around town. But, should the urge for escaping the concrete jungle ever arise, it comes equipped to take you virtually anywhere you want to go.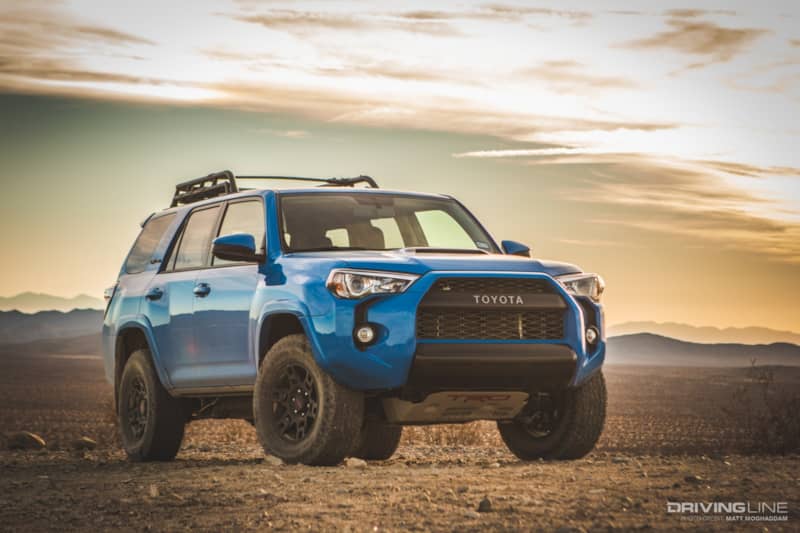 Shocking Upgrades
Since its debut in 2014, the TRD Pro 4Runner has always set the benchmark for superior off-road suspension in its segment. Five years later, it's still keeping up that tradition. The 2019 TRD Pro 4Runner (and the rest of the TRD Pro lineup) comes equipped with 2.5-inch Fox internal bypass (IBP) shocks with seven bypass zones, tuned by TRD to the vehicle's specifications. The IBP shocks allow for seamless transition from comfortable daily driving to fast desert terrain to slow rock crawling. TRD gave the 4Runner specifically designed coil springs up front to give it an extra inch of wheel travel and ride height. The rear 2.5-inch Fox shocks are also designed to work in harmony with the TRD off-road coil springs, featuring a piggyback reservoir and 11 bypass zones within the shock body. It's about as advanced as off-road suspension gets in any stock form SUV.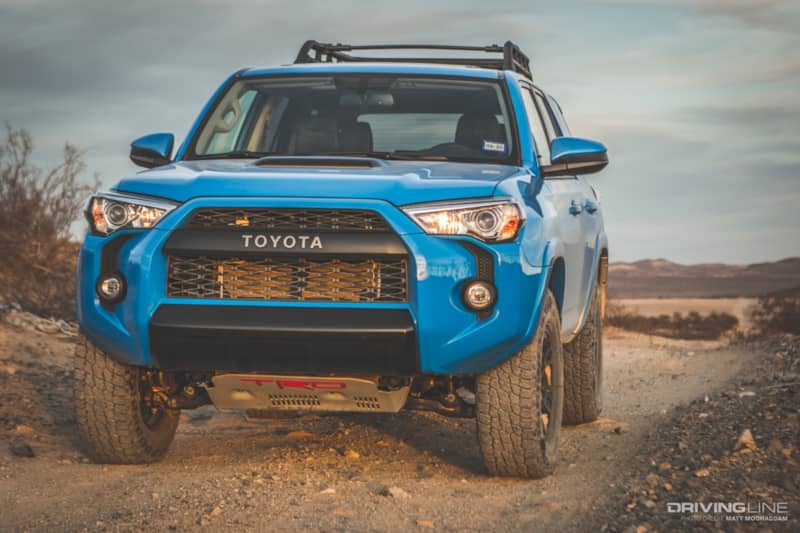 Styling and Storage
New to the 2019 TRD Pro 4Runner is a factory roof rack that's reminiscent of the factory roof rack found on Toyota's now-discontinued FJ Cruiser. Although plenty spacious inside, the roof rack allows for extra storage of items you might want outside the cab, and gives you the freedom to mount a roof top tent directly to it without the need for additional railing. The 2019 TRD Pro comes in three distinct colors: Super White, Midnight Black Metallic, and Voodoo Blue (only available in TRD Pro line).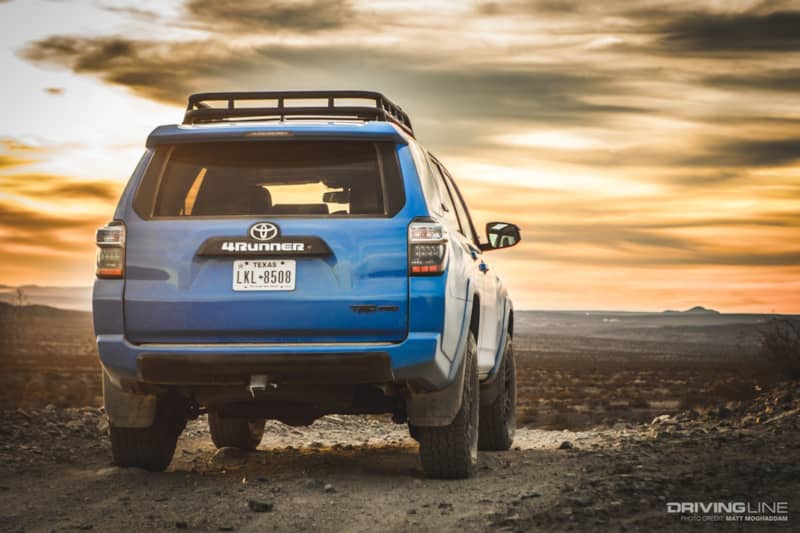 Keeping Traction
A 4x4 is only as good as its grip to the ground, and the 2019 TRD Pro 4Runner has plenty of it. As in previous years, Toyota teamed up with Nitto Tire when it comes to the TRD Pro 4Runner's traction needs, utilizing the tried and true Terra Grappler all-terrain tire. The Terra Grappler perfectly complements the TRD Pro 4Runner with its mild-mannered and quiet on-road characteristics, combined with off-road grip whenever you need it. Wrapped around a set of 17-inch matte black TRD alloy wheels, the P265/70R17 Nitto Terra Grapplers provide comfort and capability in a single package.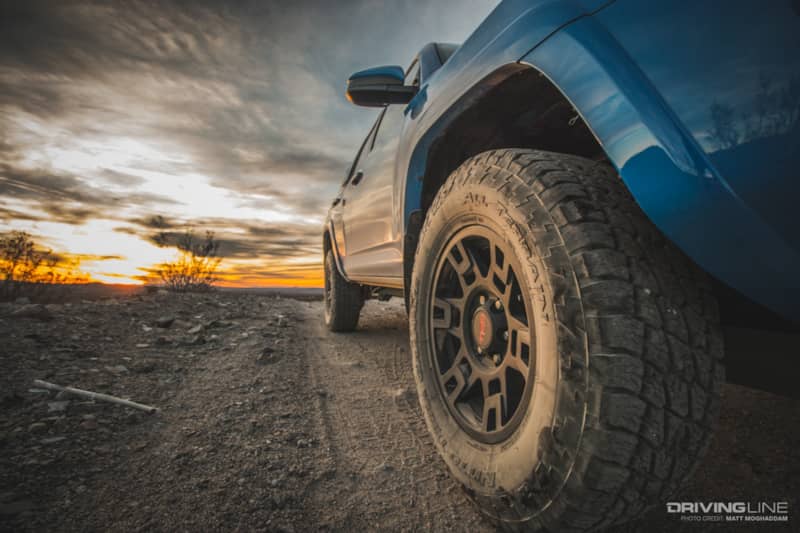 First Impressions 
In order to really get a feel for the newest upgrades featured on the 2019 TRD Pro 4Runner, we had to get our hands on one and put it to the test. The on-road performance is well-mannered, easy to drive, quiet, comfortable, adequately powered and above all, very luxurious for an off-road vehicle. These characteristics are what we've come to expect with the TRD Pro lineup from Toyota, but in order for us to form an informed opinion of the SUV as a whole, we needed to put it in its element.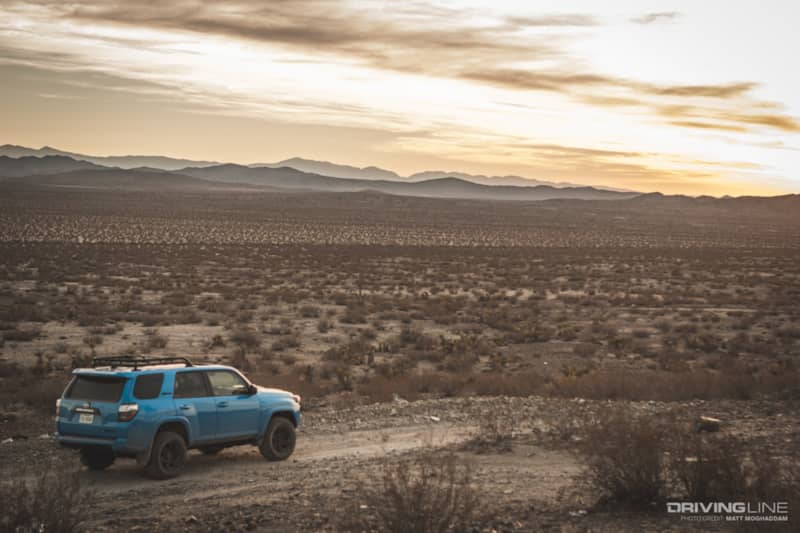 Being in Southern California, our editors have the unique opportunity to test drive vehicles in several very different environments without needing to wander too far from our home base. The first test in the dirt was in the Mojave Desert. Although many desert trails allow you to travel at faster speeds, expect lots of surprising wash-outs from recent rains, ruts along the trail and washboard surfaces. Where most SUVs would slow down at the sight of any of these obstacles, this is where the 2019 TRD Pro 4Runner shines. The Fox shocks are so well tuned from TRD that you barely feel any change below you in the terrain as you're driving through these obstacles, allowing for a very comfortable off-road ride as the suspension does its job. This is a huge upgrade over last year's TRD Pro 4Runner, which we put to the test chasing the Baja 1000 off-road race.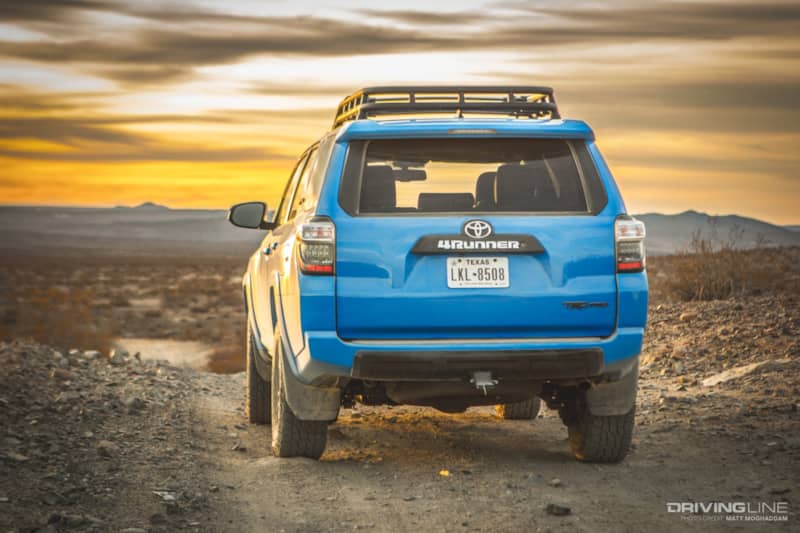 The second test took place along the steep trails in the San Bernardino Mountains. The uneven, rocky terrain up in the mountains was no match for the TRD Pro's off-road driving assist functions. The rear locker made it easy to overcome obstacles safely that low range 4WD just couldn't handle alone and downhill assist provided for a smooth descent of even the steepest slope. The Terra Grapplers handled both rock and loose dirt with ease, providing great traction alongside the 4Runner's traction control features. It just seemed to do it all, without any hesitation or hang-up.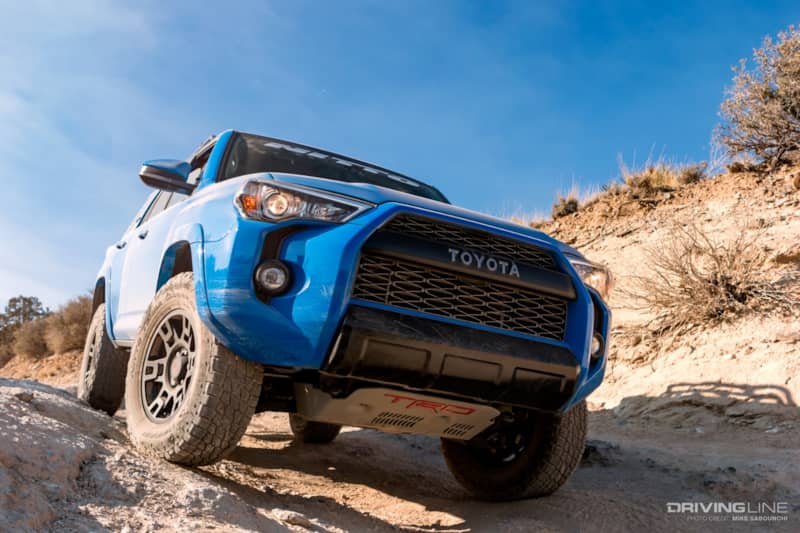 If you're looking for a way out of the hustle and bustle of daily life, but don't have the means to own and maintain a dedicated off-road vehicle, the 2019 TRD Pro 4Runner may be the right pick for you. In addition to giving you the freedom to "unplug" at any time and head out for an adventure, it's proven as a comfortable and easy daily driver that will impress even your snobbiest of friends. The 2019 TRD Pro 4Runner carries forth the core values of its predecessors as a capable vehicle at the forefront of technology, while still feeling like a luxury SUV. It's a clear indicator that the TRD Pro lineup isn't going anywhere soon, and we can expect to see plenty of these out on the trails next year.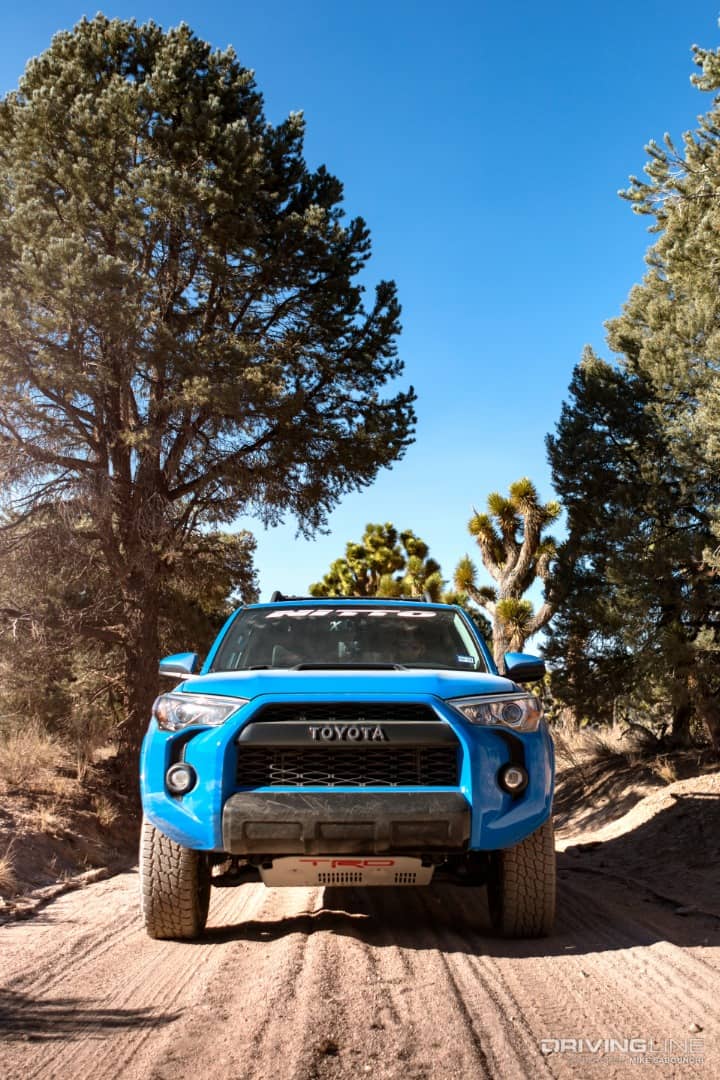 Are you more curious about the Tundra and Tacoma TRD Pros? You can see our impression of them in our full TRD Pro linup review!