2022 Ford Maverick Hybrid In-Depth Review
We miss the minitrucks from the '90s. It was a great time for trucks in general. For those looking for an inexpensive, compact, and fuel-efficient (for their time) truck, you had plenty of options. However, times have changed dramatically in the truck world (RIP regular cab). For a while there, we didn't think we would ever see anything close to the minitrucks of old again. That is until the 2022 Ford Maverick showed up.
Let's get one thing out of the way. Yes. We know it's a unibody vehicle. So, for some members of the truck community, it will never be considered a "real" truck. Yet, Honda has proven with its Ridgeline that there is a tremendous market for those looking for a fuel-efficient pickup, regardless of it has body-on-frame construction. The fact that the hybrid version of the Maverick can be purchased for under 20K and delivers 42 mpg is incredible.
Now, add in the fact that it has a 54-inch-long bed (only 6 inches shorter than the Crew Cab Ford Ranger bed), and the Maverick becomes an extremely attractive option in the truck world. Earlier this year, we purchased a 2022 Ford Maverick Hybrid XL. In many ways this truck has been full of surprises. Some good, some not so good. In this article, we'll break down everything we've learned so far, what we changed, and what this truck is truly great for.

Getting The Truck
From order date to delivery, it took five moths for the Maverick to show up at the dealership. This one had an MSRP of $22,110 (which we paid). The only options were the 400W in-cab inverter ($150), bed extender ($370), and trailer hitch receiver ($100). The base price was $19,995 plus destination and delivery fees of $1,495.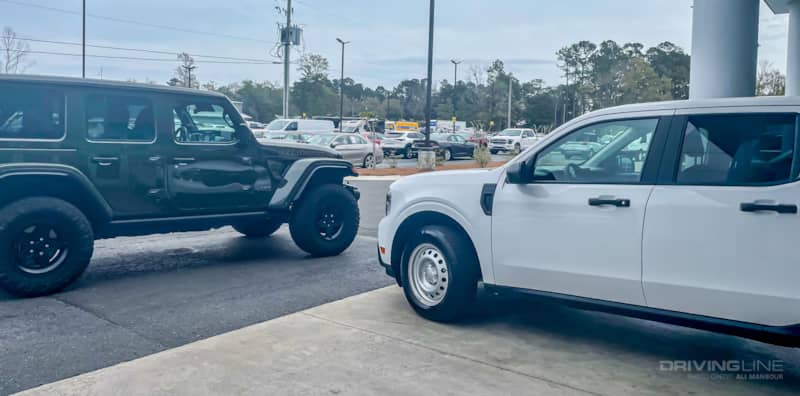 Power
The Maverick comes standard with the 2.5L inline-four engine mated to a ECVT transmission. The ECVT has gear drives, not belts like a traditional CVT transmission. It uses a dedicated motor to power the truck and another one to start the engine and act as a generator to charge the on-board batteries. The combined system offers 191 horsepower. It doesn't sound like much, but we've found it to be fairly adequate for most driving scenarios. In fact, off the line, the truck is peppy thanks to the instant torque the electric motor provides.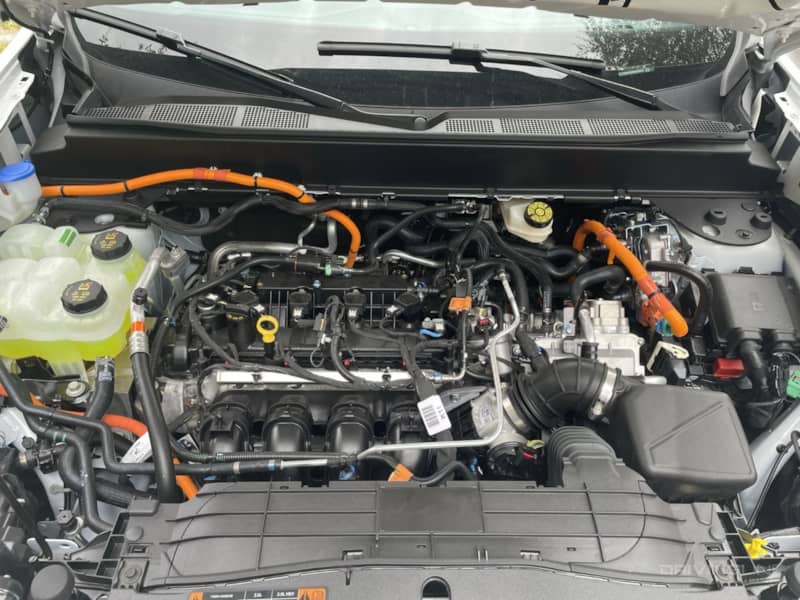 Fuel Economy
The Hybrid has an EPA estimated 33 mpg hwy and 42 mpg city rating. We primarily do a mix of city and highway with speeds seldom over 60 mph. Our hand calculated average is right at 38.5 miles per gallon. A touch better than the 37 combined average listed on the window sticker. This is with us driving in Normal mode and with some fairly aggressive starts from time to time. Every key cycle, it will display your fuel economy on the info center. To date, our best displayed MPG was 51.2.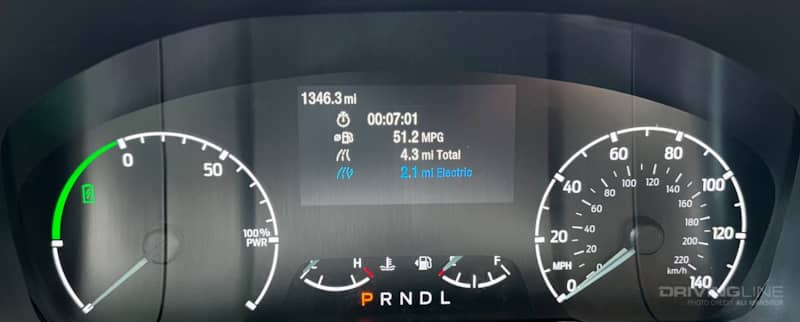 Interior
The XL interior is fairly plain, but we don't mind that at all. It is a very compact truck but doesn't feel too small for our family of four. We like the comfort and support of the front seats and the back has plenty of room for a booster and kids car seat. Though all Mavericks are offered as Crew Cab, five-seat trucks, it would be a tight squeeze with three adults in the back. It's also worth noting that the steering wheel is a little on the small side, which depending on your arm length, may put your arms in an uncomfortable driving position.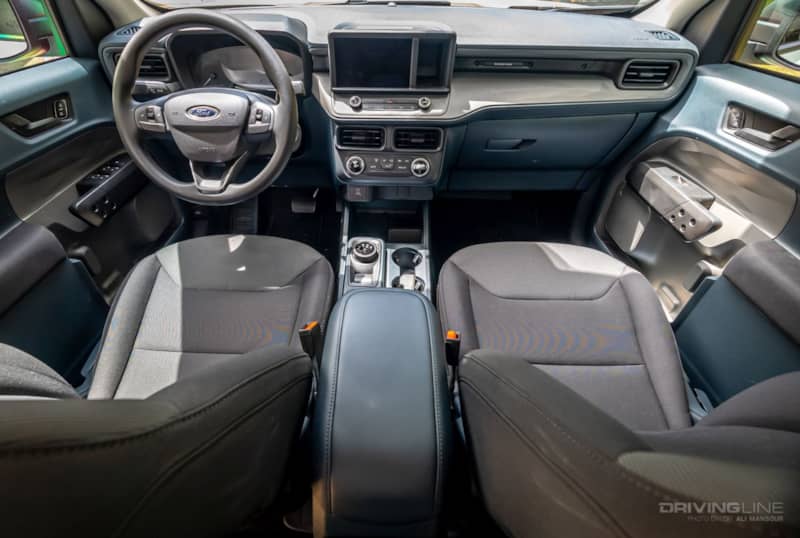 Interior Gripes
The two biggest interior dislikes for us have been the radio and shifter knob. The radio is a basic AM/FM that constantly disconnects from our phone. Couple this with the terrible sounding speakers, and you may be looking for a stereo upgrade. While we've gotten used to the turn-dial shifter, its placement seems to align with the sun fairly frequently. This makes it extremely hot to the touch and not fun surprise when putting the truck in gear.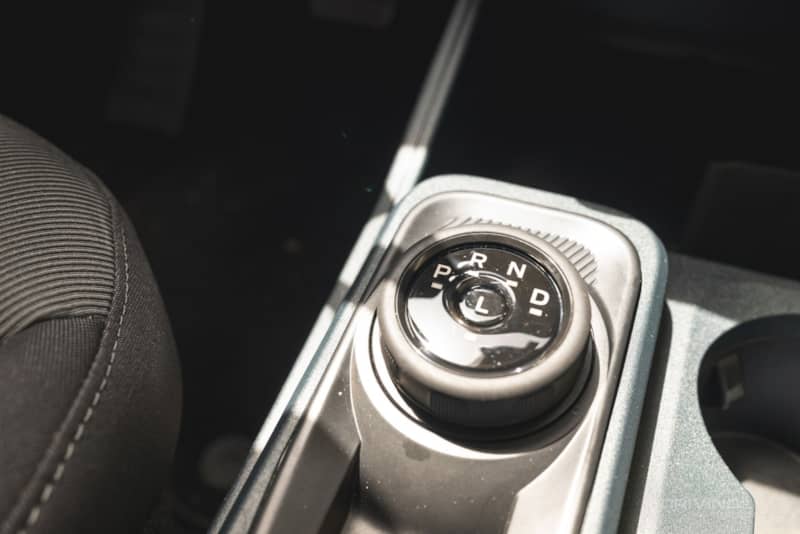 Hauling
We use the bed of the truck frequently. Given its low stance, it's extremely easy to haul bigger items compared to some of our taller vehicles. While we haven't tried to tow anything, we've put a little over 600 pounds of weight in the bed. That kind of weight is extremely noticeable and will drop the rear suspension a fair amount. It never felt dangerous, but you could tell it was a lot for the suspension to manage. Air bags out back would be nice to have for sure. With a 54-inch-long bed length, we've found the bed extender to be extremely helpful as well.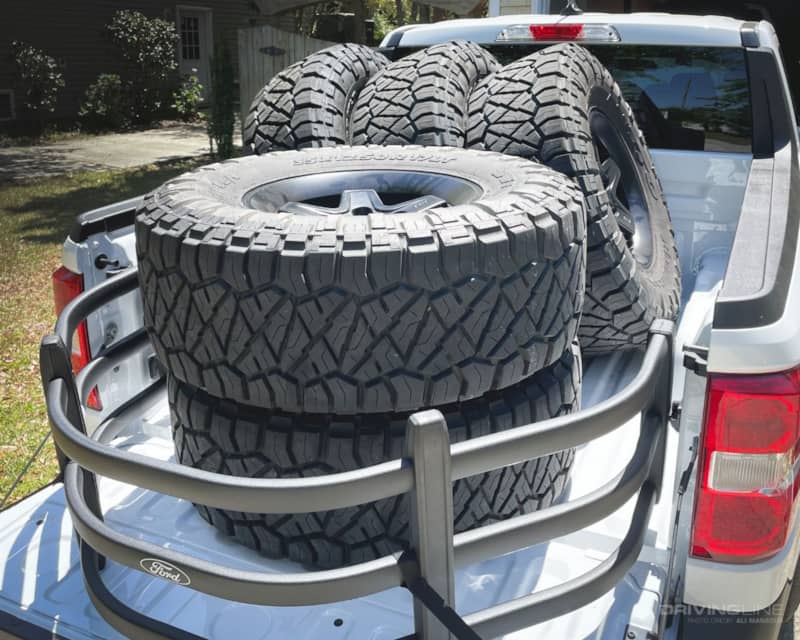 Storage
One of the first items we picked up for the truck was a bed cover. With a family of four, you run out of room quickly inside of the small cab. We picked up this Tri-Fold cover from Rough Country for $279.95. It was literally the least-expensive bed cover we could find and it's actually worked out great.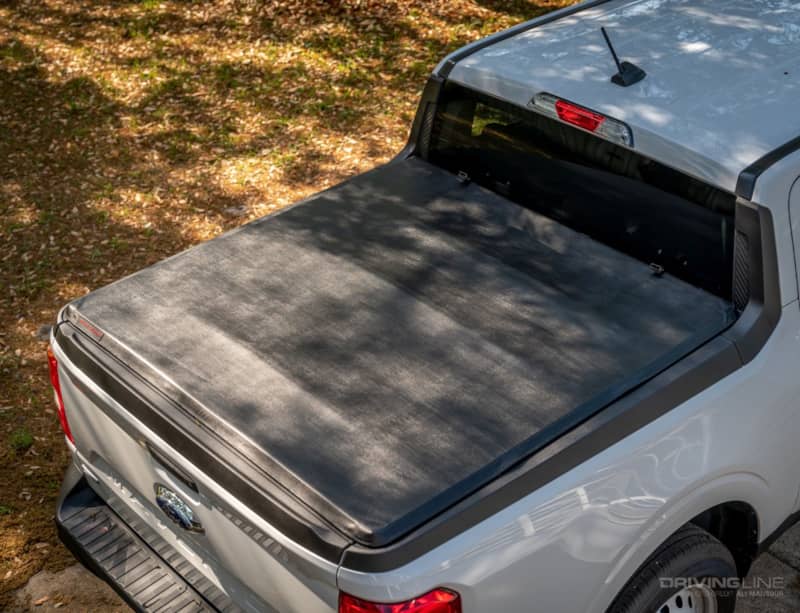 Covered Options
The Rough Country cover folds up in a few seconds and can be completely removed in less than a minute. It does a decent job of keeping the elements out (no bed cover is 100-percent waterproof) and we've found it very easy to keep clean. For the price and quality of the cover, we couldn't be happier.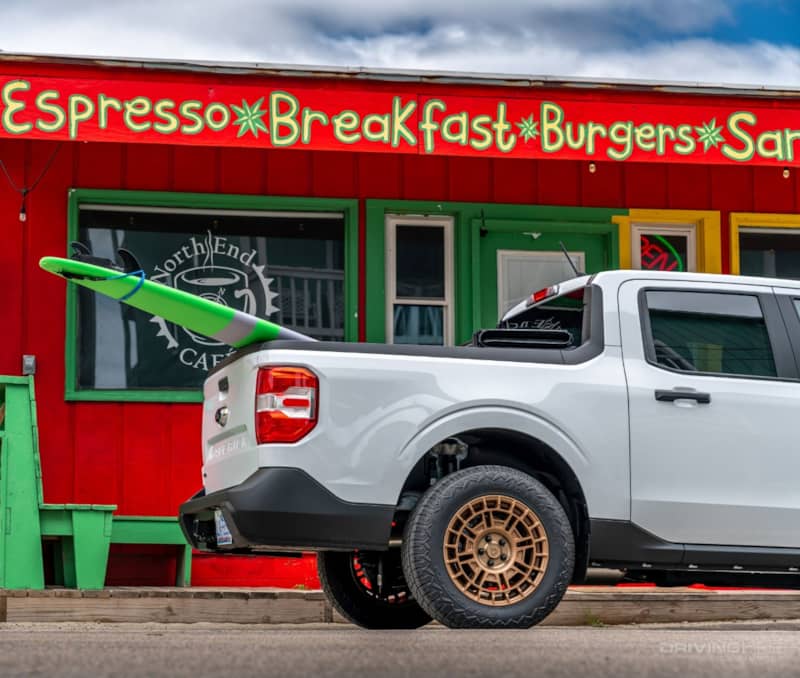 Wheel Upgrade
From the factory, our XL came with silver 17x7 steel wheels. Maybe if Ford would have painted them black, we would have been more excited to keep them. The silver and white was just a bit underwhelming in the appearance department. Once we determined what backspacing we needed, we did some research and found a set of wheels that would work perfectly under the truck from Gear Off Road. These are the 17x8 767 Pangea wheels in bronze.

Offset
What's important about this wheel set is that they have 5.88 inches of backspacing with a +35mm offset. This keeps the wheel almost perfectly tucked under the wheelwell. This helps retain the factory handling and limits the tires ability to sling debris on the side of the truck.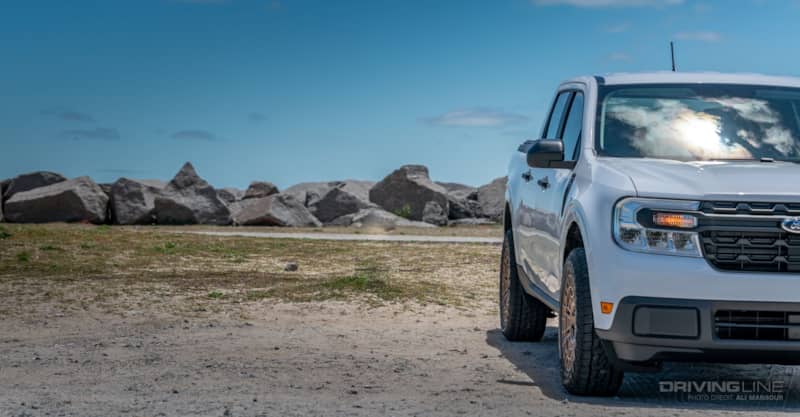 Nomad Life
Since we went with a slightly wider wheel than what came with truck, we decided to move up to a 235/65R17 size tire. This is actually an optional size on the Maverick, so we knew it would clear without issue. While there are plenty of tire options in this size, wanted to make sure we picked a set that was appropriately load rated for the truck. Going with a traditional light-truck tire would be overkill for the lightweight Maverick and the added weight of an LT tire would be a huge hit to the power and ride quality. After digging through specs online, we ultimately landed on the Nomad Grappler from Nitto Tire.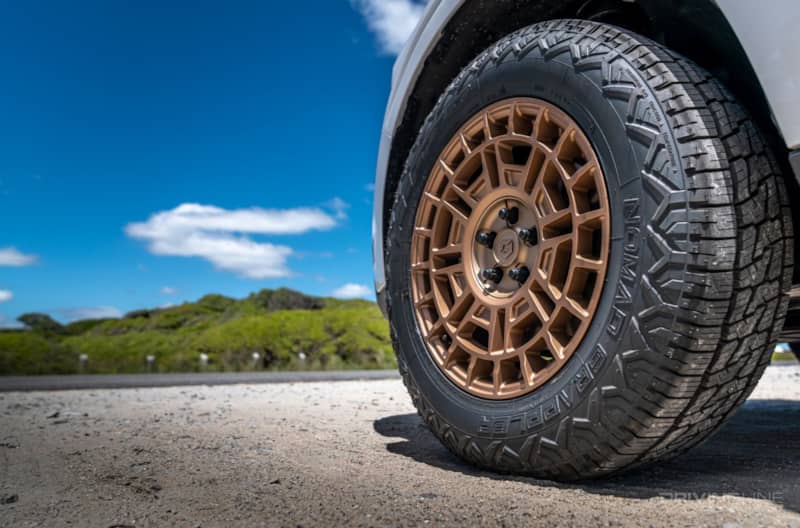 A New Terrain
The Nomad Grappler is a bit different from a conventional all-terrain tire in that it's actually designed for CUV's and Crossovers. The Maverick Hybrid weighs around 3,600 pounds, which is similar to a Subaru Outback. Given we were familiar with how this tire worked on our 2020 outback, we thought it would make a great fit for the truck. The 235/65R17 is only ½-inch taller and ½-inch wider than the original tire. Since the overall weight of the new tire and wheel package is similar to the old setup, we're happy to report we haven't noticed any real changes in power or economy. We'll have a long-term review of these later this year.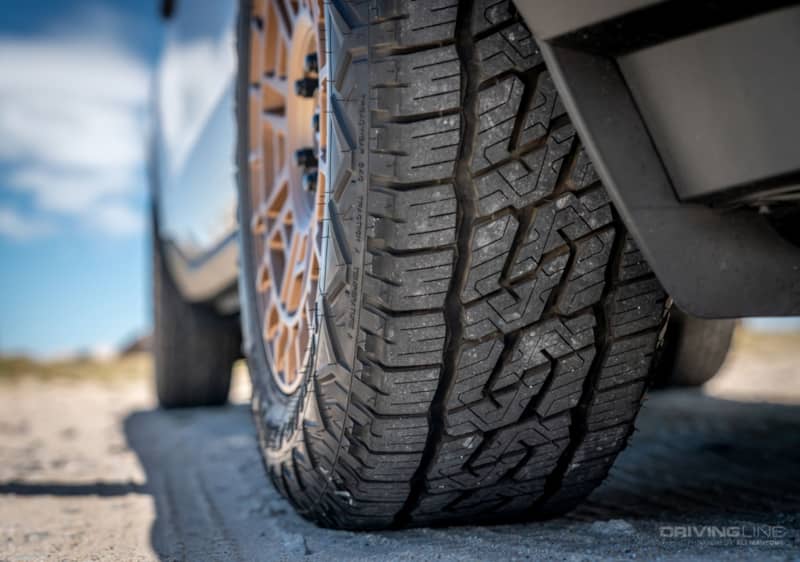 On-Road
The Maverick drives more like a compact SUV than a conventional truck, which is ideal for this nimble platform. The ride is more along the truck side of the equation, but it still more plush than traditional midsized pickups. Our biggest complaint about driving the truck has to do with the brakes. We don't mind the regenerative braking assist and it's pretty easy to get used to. What we don't like has to do with very low speed braking. What we find is that the transition from regen-braking to standard braking can be abrupt.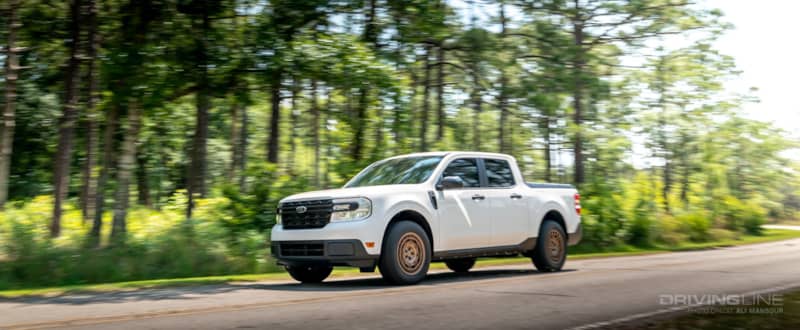 Off-Road?
As of writing this, you can only get the Hybrid in a front-wheel drive configuration. That's a bummer. However, we have found that it works OK off-road. No, not real trail conditions. But, on the sand and gravel we often haul our dirt bikes, it works fairly well. Moving to the all-terrain tire helped with this tremendously. Just make sure to turn off the traction control and place the power setting into "Sport" mode. Also, be cautious as the Hybrid does not come with front recovery hooks.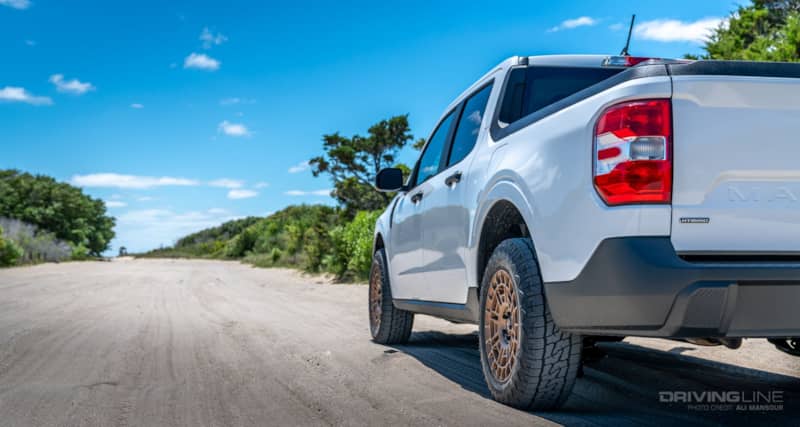 Mini-meets-mini
We weren't kidding when we said we like the minitrucks of yesteryear. While our solid-axle-swapped Chevy S10 Crew Cab on 40-inch Nitto Mud Grapplers is far from stock, you can see just how similar the cab size is between the 2001 Chevy and 2022 Ford. In terms of size, we think Ford nailed it with the Maverick.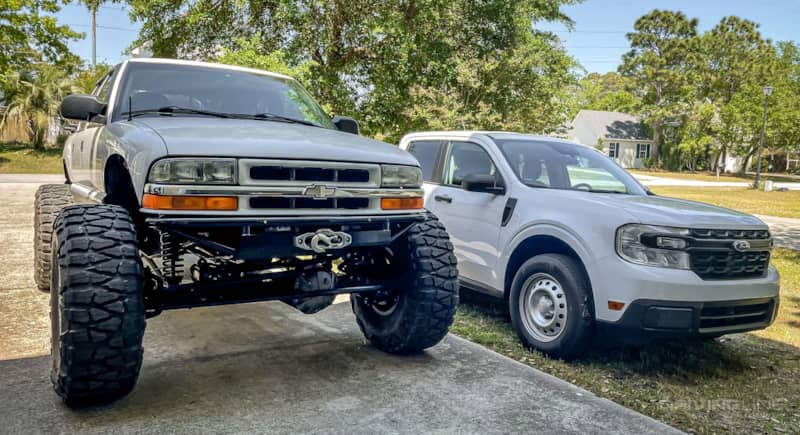 Moving Forward
While there are a few more nuances of the Maverick that we will go more in detail with on our video review, for the most part, it's actually great vehicle. For the price, there's really no other truck that can touch it. A quick Google search of these and you'll find the aftermarket is already rolling out upgrades, which is incredible. With gas prices as high as they are, this truck has actually saved us hundreds of dollars per month over driving our gas-guzzling Jeeps that we love so much. While there are times it sounds a little rattly on the inside, we haven't found any major fault with the Maverick. Sure, going with a Lariat model will give you some serious interior refinement, but that means spending almost six thousand more over the XL. Sadly, it's still fairly difficult to find these (or any new trucks) sitting on the dealership floor. However, for those in the market, we say it's well worth considering.