Nomad Grapplers Meet Badlands Off Road Park
Nitto's new Nomad Grappler crossover-terrains have been along for the ride on our '16 RAV4 for two months now, and not only did they make the tail-end of winter more tolerable but they've tamed the CUV's driving characteristics at highway speed. Now, with those dark and grim winter days (hopefully) behind us, it's time to switch gears and enjoy the spring thaw. For us, there is no better place to do that than at Attica, Indiana's Badlands Off Road Park. The 1,400-acre paradise boasts a perfect mix of terrains, from rock and sand to mud and creeks, and even hill climbs all being available for the weekend warrior — or in our case, weekday tire-tester — to explore.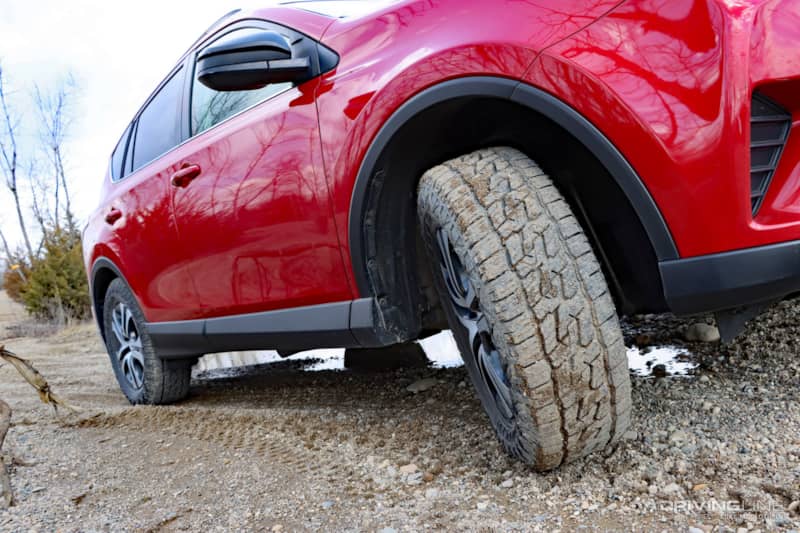 Sticking to the sizeable sandbox available at the park's entrance, along with its entry-level trails, we spent a Thursday afternoon putting the Nomad Grapplers to work in loose terrain and mildly-technical rock and dirt sections. For the relatively non-aggressive ground we were able to cover on them, the crossover terrains performed flawlessly. As a bonus, travel to and from the Badlands proved fruitful as well. According to our hand-calculations, the Toyota's fuel economy is up almost 1 mpg over what we were getting on the previous set of all-terrains. If you needed any more convincing that the Nomad Grappler is the perfect tire for your CUV, keep reading.
Playing in the Sandbox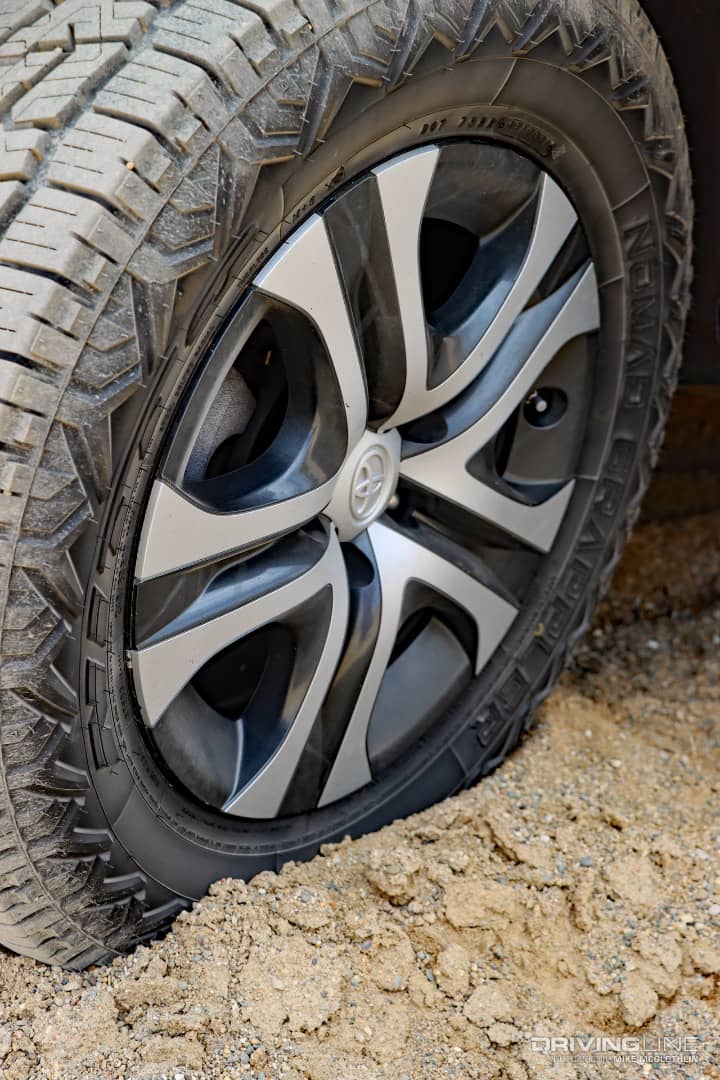 The can't-miss sand dune area at the Badlands is the first thing you see upon entering the park, and this section consumes a solid portion of the 1,400-acre grounds. To get an idea as to how well the Nomad Grapplers would perform straight off the highway, we neglected to air them down in order to widen our footprint. Despite digging in in a few soft spots, the crossover-terrains provided ample traction to crest each dune we came across, even at slower speeds.
Sharing the Park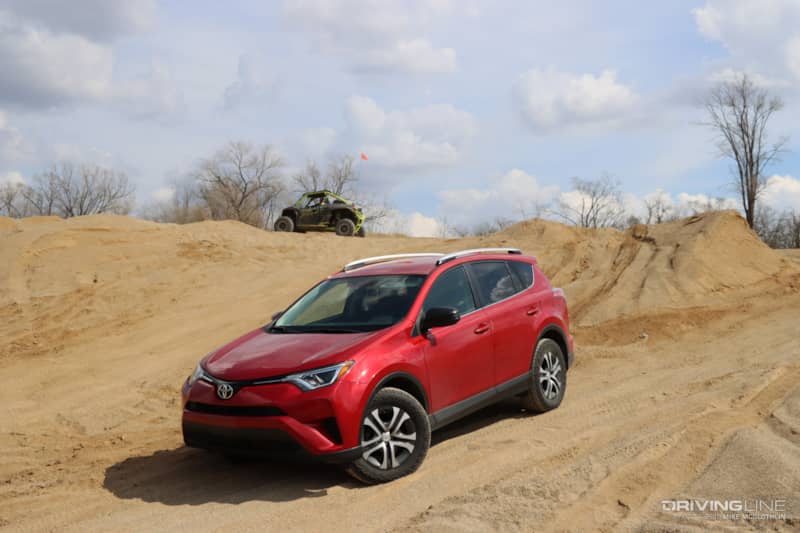 When you take a crossover off the pavement, you can expect a few hardcore off-roaders to stop what they're doing and give you a double-take. And don't be surprised if someone stops to make sure you're OK. From odd looks to random, lighthearted comments to the international sign of approval (i.e. thumbs up), off-road purists on side-by-sides, ATV's, dirt bikes and Jeeps alike will probably have a wide array of reactions when encountering your crossover on the trail.
Clearly Marked Trails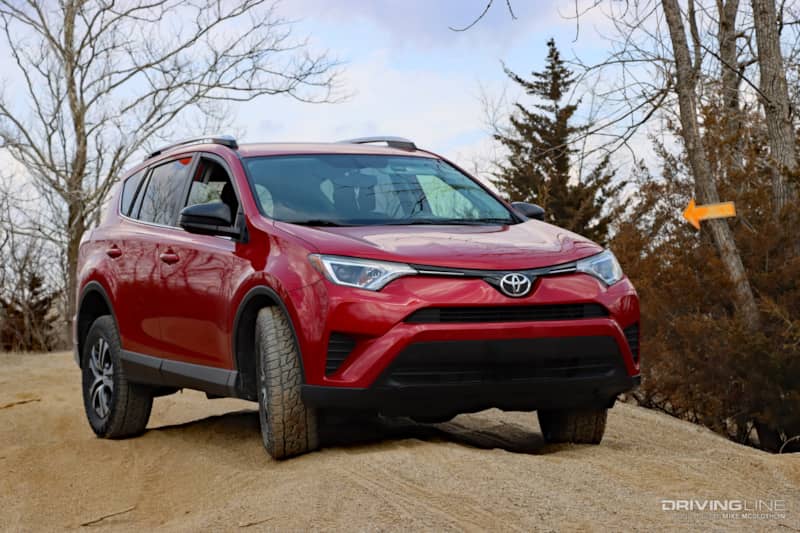 Whether you're an off-road novice or (like us) are new to taking a CUV off-road, the clearly marked trails at Badlands Off Road Park help keep you from getting into any kind of trouble. Each passage is color-coded according to the trail's difficulty, from beginner to expert. And although we stopped here for a photo, an orange marker at the Badlands means expert level. Fittingly, our RAV4 is pointed in the opposite direction here. By contrast, entry-level trails are marked with yellow arrows — which was more our style on this visit.
Careful Trail Selection(s)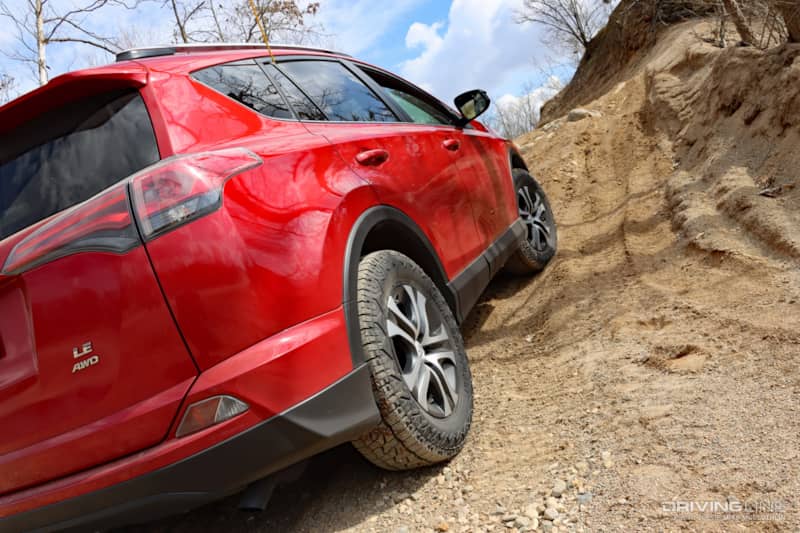 Being mindful about what the RAV4 was capable of, we not only elected to peruse entry-level trails, but trails with a clear, trouble-free path to the top. The Nomad Grapplers never broke traction in any of the loose dirt and sand-packed trails we chose, but as it's still a daily driver, we have to admit that special care was taken to avoid scratches and especially undercarriage rubbing. After all, the Camry-based RAV4 sports just 6.3 inches of ground clearance.
Dynamic Torque Control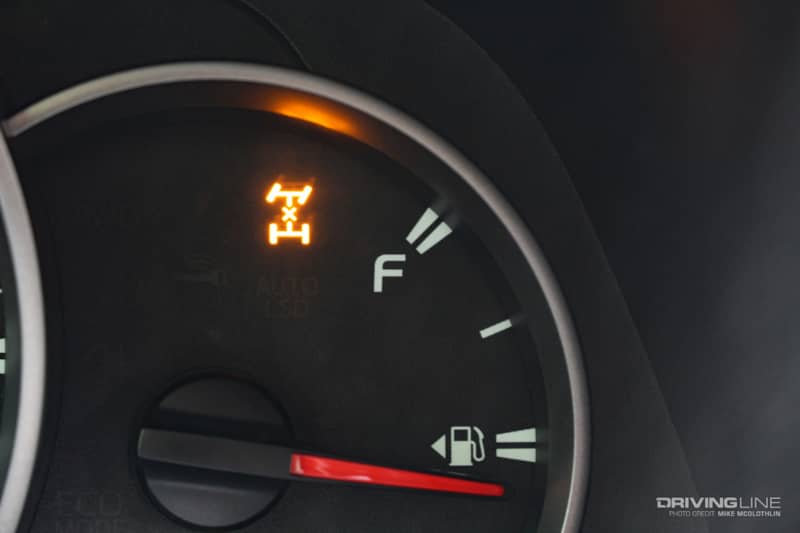 Although we didn't air down the Nomad Grapplers before diving into the sand, we did have to make one small change from the cockpit. If we wanted a fighting chance to crawl up the few rocky dirt trails we elected to climb, the RAV4's Dynamic Torque Control option had to be used. In this mode, the center differential is locked, effectively splitting power 50/50 between the front and rear wheels. To give us the best bite possible, traction control was disabled as well.
Avoiding Rocks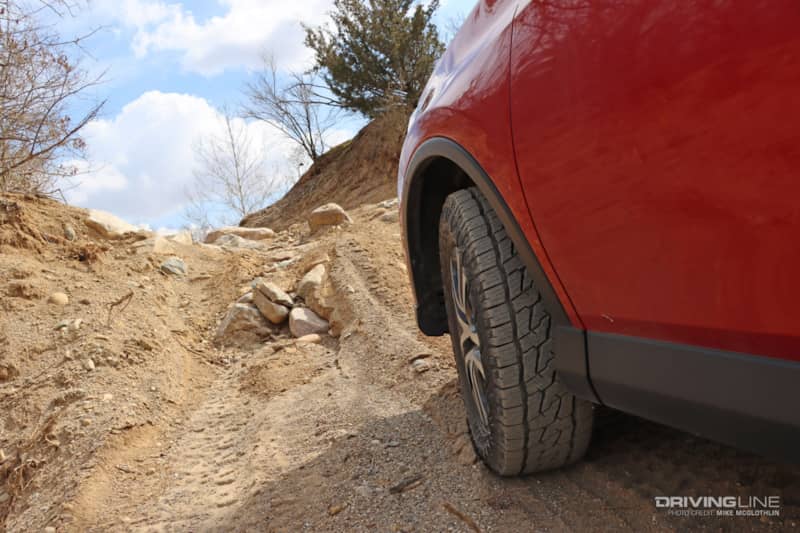 Due to the aforementioned lack of ground clearance, there was a good amount of investigating conducted prior to navigating any one obstacle. Specifically, we picked trails and lines that allowed us to skirt around larger rocks, stumps and logs. Certain trails, even though clearly marked as entry-level, were passed up due to the ground clearance issues we likely would've faced. However, in the sand dune section at the Badlands there are countless spider-like trails that take you to the top of the hill — most of which are exceptionally easy and trouble-free to crawl or blast up.
Creek Crossing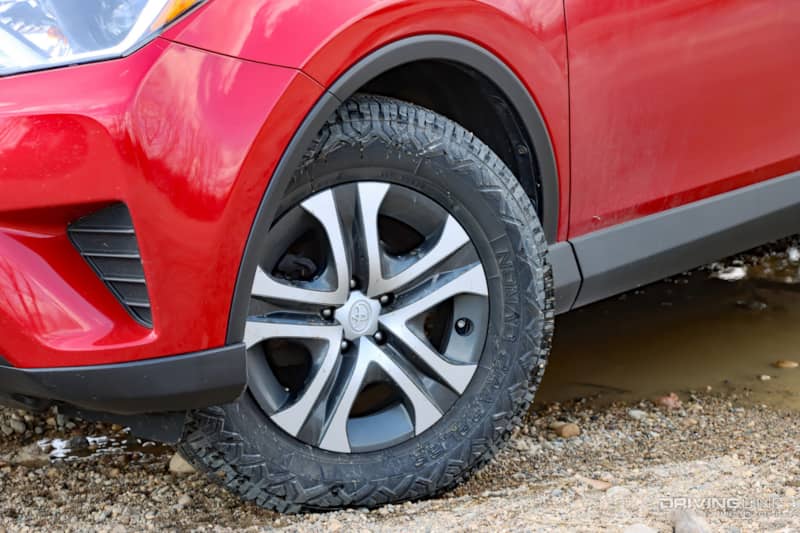 For a taste of wet sand and light mud, a shallow creek provided exactly the kind of test we were after. While our specific crossover was initially purchased to grab groceries, transport kids and handle general daily driver duties, the addition of Nomad Grapplers has emboldened us to get the most out of the CUV's all-wheel drive system. With the factory all-seasons, we never would've considered going anywhere near Badlands Off Road Park. Now, and after having had a great time playing in the park's entry-level areas, we can't wait to go back and hit more aggressive trails.
Drama-Free Adventuring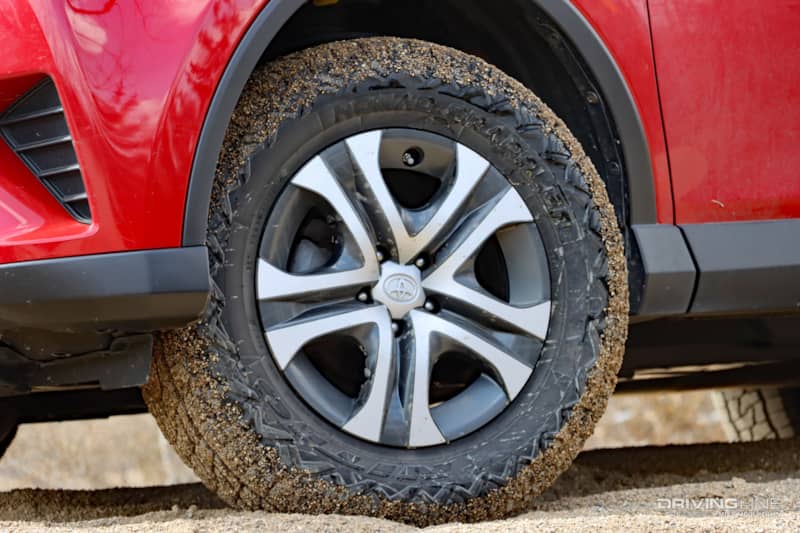 Even though wet sand quickly stuck to the Nomad Grapplers in our approach to the creek, when driven through a light section of mud they did clean out surprisingly well. And despite dipping our toes in the water, we made sure our trip into the drink was shallow and short-lived. After all, drama-free off-roading is the name of the game for the owner of this RAV4. On the plus side, any time you can avoid having to pay the park's $200 recovery fee you're going to leave a bit happier.
More From

Driving Line
For our first-look at the Nomad Grapplers, check out our initial impression of the crossover-terrain aboard our '16 RAV4 right here.