2023 Ford Bronco Inspired Ultra4 Build
Imagine for just a moment that Ford engineers had but one task — to make the Ford Bronco the ultimate off-road machine. No frills, compromises, or budget restraints. While lawyers and bean counters at the Blue Oval mothership would never let that happen, that doesn't mean it can't be done. Case and point, Loren Healy's 2023 Ford Bronco inspired Ultra4 Racing car.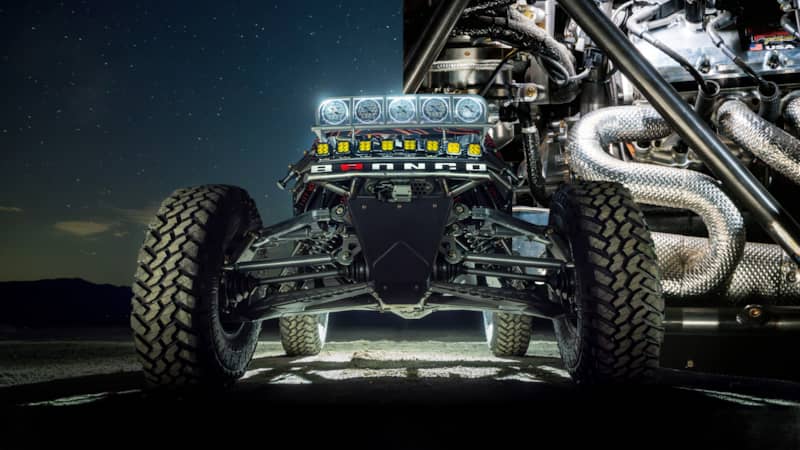 Designed to race at the highest competitive level in Ultra4 Racing, this 4400-class car is truly unlimited in every way imaginable. The goal with this race machine was not only to bring home trophies, but to continue to push the limits of off-road race car building. Crafted by the talented teams at Fun-Haver Off-Road and Triton Engineering, Healy's single-seat car combines decades of racing knowledge and off-road innovation in one package. With five Ultra4 Racing national championships under his belt and two King of the Hammers wins in the bag, Healy has cemented himself as one of the top athletes in this sport.
With so much of his success coming from behind the wheel of his single-seat 4400 car known as the Red Dragon, the shift back to a solo cockpit is a familiar one for the Farmington, New Mexico, native. While many components on this car are tried and true, such as the 40-inch-tall Nitto Trail Grapplers, items such as the Fortin Racing FRST5 sequential transmission is far from the norm. To get a closer look at the fresh build, we caught up with the Team Nitto Tire racing driver to check out the details on this freshly built car.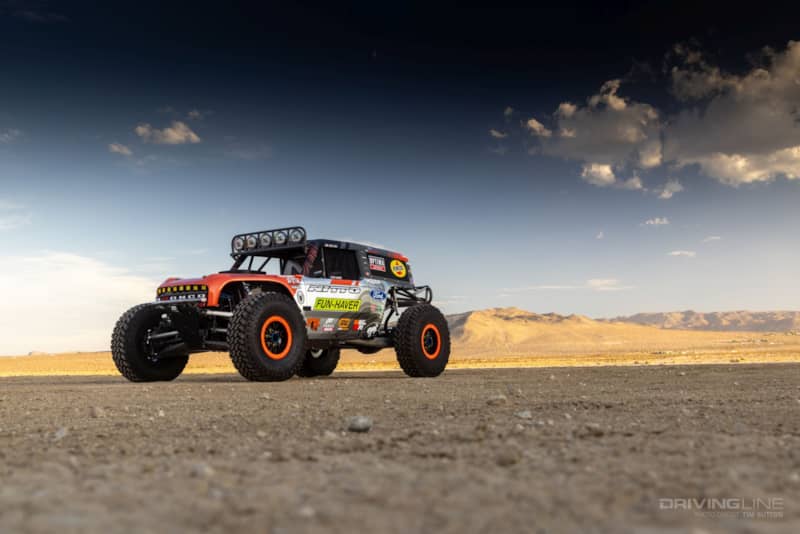 Chassis and Body
The entire build started with a digital render and an assortment of 4130 chromoly tubing at Triton Engineering. The main chassis is comprised of 2-inch O.D tubing that's reduced to 1.75-inch O.D in spots where the slightly smaller (and lighter) tubing can be used. The chassis is entirely TIG welded and optimized for weight distribution and suspension travel. Once the framework was complete, it was given a full coating of STEEL-IT paint.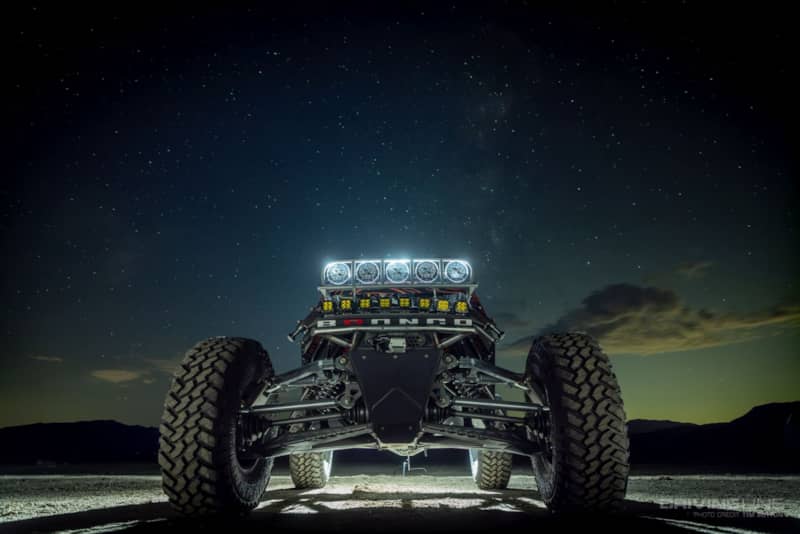 Giving it that familiar late-model Ford Bronco appearance is an assortment of aluminum and fiberglass body panels. All of which can be easily replaced and removed. Since fitting an off-road race vehicle with a high-end paint job isn't wise, this Bronco-inspired car has a custom vinyl wrap covering the body panels. At 120 inches, Healy's wheelbase is only 3½ inches longer than Ford's flagship Bronco Raptor.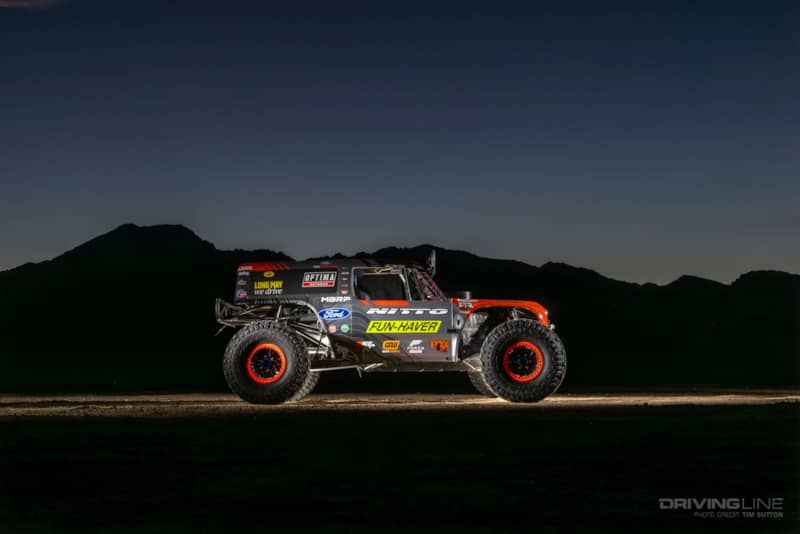 In terms of weight, a Bronco Raptor is a little over 700 pounds heavier. So, not too far off from stock. The big difference in terms of dimensions has to do with width. Healy's Bronco is a full 19 inches wider. This added width is not only necessary to increase the stability of the vehicle but helps achieve tremendous suspension travel with the IFS.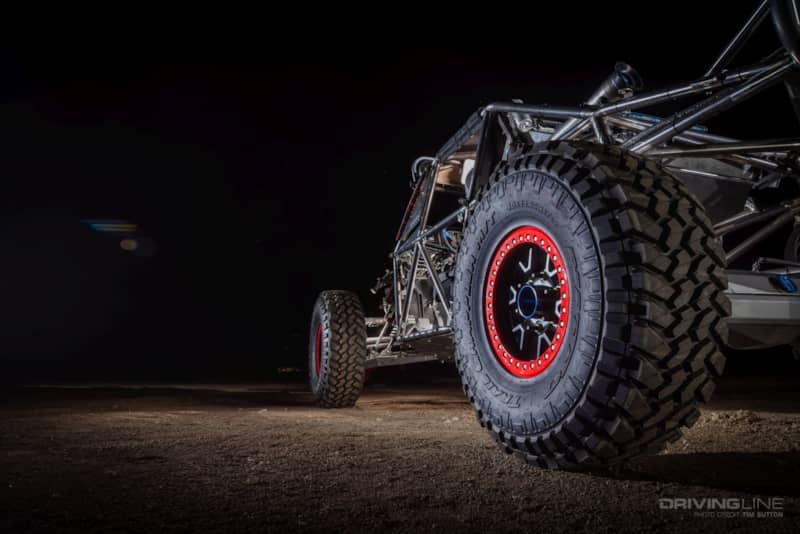 Powertrain
At the head of the powertrain, you'll find a Ford RY45 engine. This Roush-Yates engine is based on Ford's NASCAR FR9 engine used in Cup cars. The fuel injected 455ci engine has a compression ratio of 13.5:1 and is outfitted with Mahle pistons, Ford Performance heads, Kinsler 8 Stack intake manifold, a Dailey oil pump and pan, custom K&N air filters, and MBRP exhaust.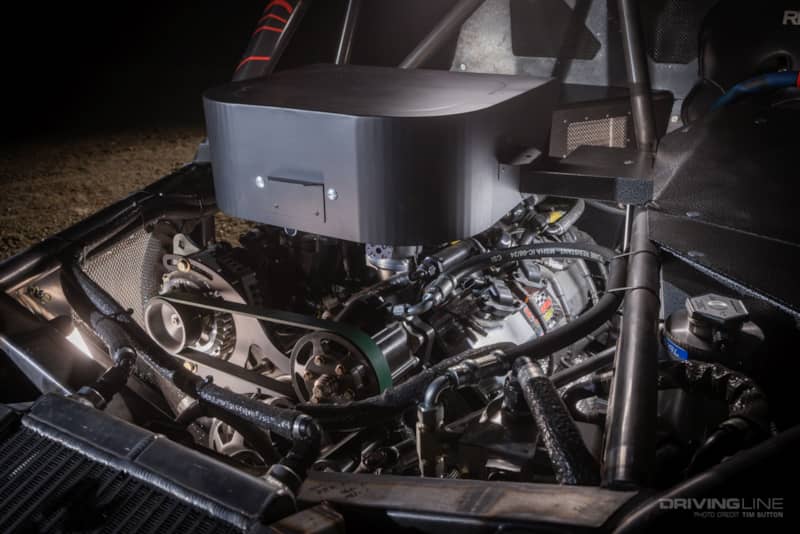 The machine work was performed by Pro Power, while the wiring harness comes from James Linn. CBR Performance coolers keep the Pennzoil and VP Racing fluid temperatures in check, while a DC Power alternator and Optima battery keep things charged up. Channeling the 925 horsepower and 750 lb.-ft of toque is a Fortin Racing FRST5 sequential transmission. This cutting-edge AWD Truck Gearbox also plays the role of the transfer case.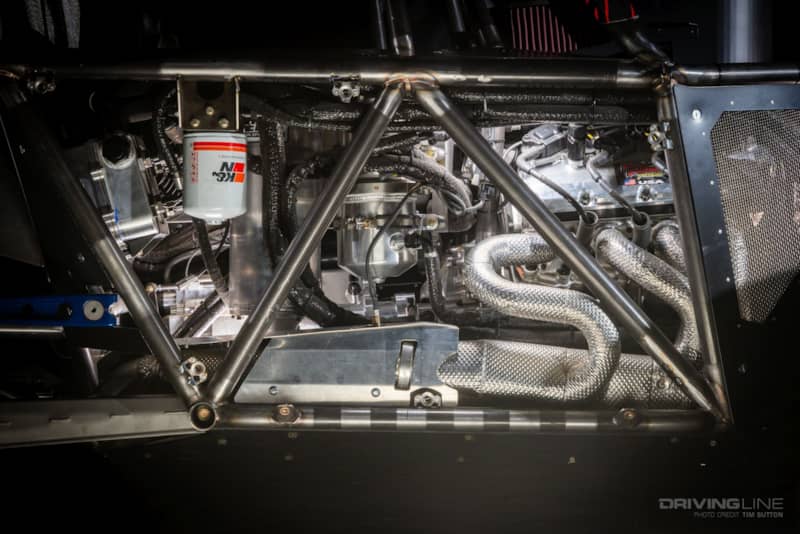 This Fortin Racing gearbox has become an extremely popular option for Trophy Trucks looking to transition from 2WD to 4WD. This AWD Truck Gearbox will undoubtedly be ideal for short-course racing. However, since it doesn't have a deeper low range option like a traditional two-speed transfer case, it may be at a disadvantage in more technical rock sections. This could be a serious challenge for a more rock oriented race like King of the Hammers. It's possible though that the engine power may be enough to compensate for this lack of gear reduction.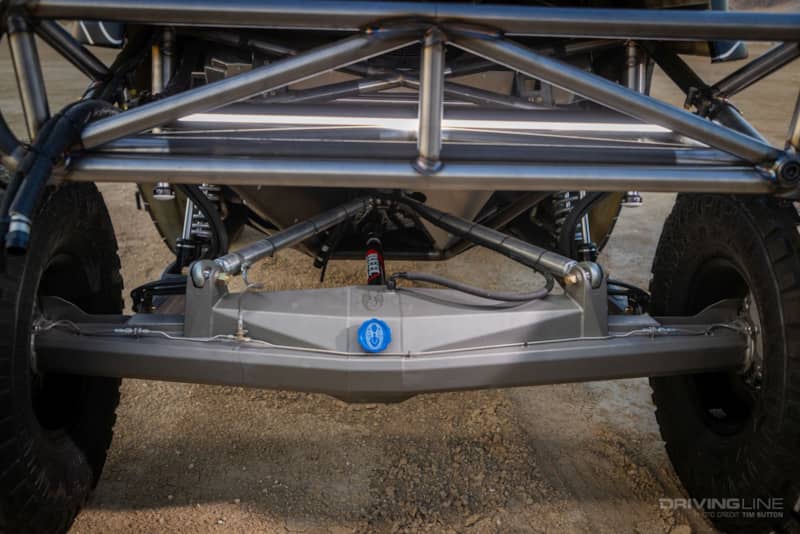 Attached to the Fortin gearbox are 3-inch O.D. drivelines from JE Reel. The front driveshaft is equipped with1350 U-joints, while the rear is 1480. The race-spec front differential comes from Spidertrax. This narrowed IFS diff is packed with a Gearworks high-pinion third member and 40-spline race-series ARB Air Locker. Moving out from the IFS housing you'll find RCV Performance Series 30 CV's married to 45-spline Spidertrax axleshafts. Outback, there's a Spidertrax 4-inch Pro Series fabricated axle housing using a Gearworks 10-inch low-pinon 5.83 gearset, spool locker, gun-drilled 45-spline axleshafts, and Spidertrax rear hubs. Making sure this Bronco has plenty of stopping power, is a full race-series braking setup from Wilwood.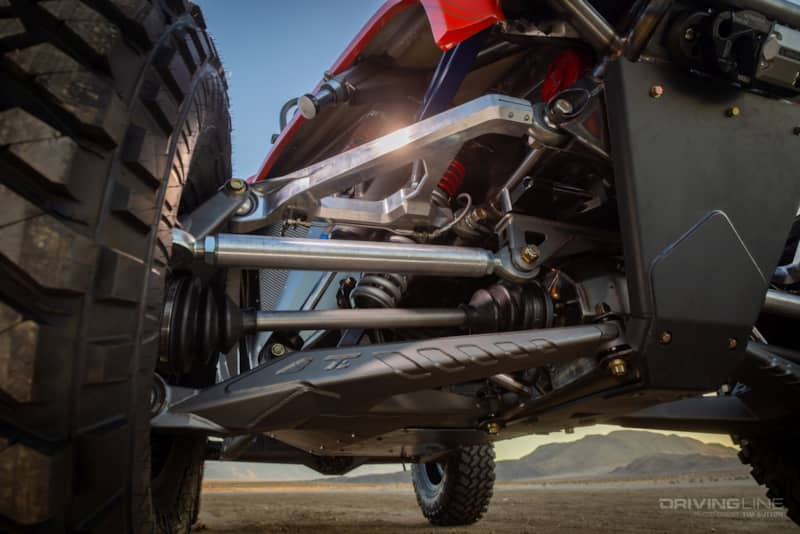 Suspension and Steering
The independent front suspension was custom built and designed by Triton Engineering. The long-travel A-arm setup uses Fox 2.0 coilovers with 3.5 bypasses on each side. The bypasses are fit with Fox's Live Valve technology, which allows them to adjust valving properties automatically using a series of sensors attached to the bypass tubes. Sitting at mid-travel at ride height, the front end cycles a full 18 inches of travel.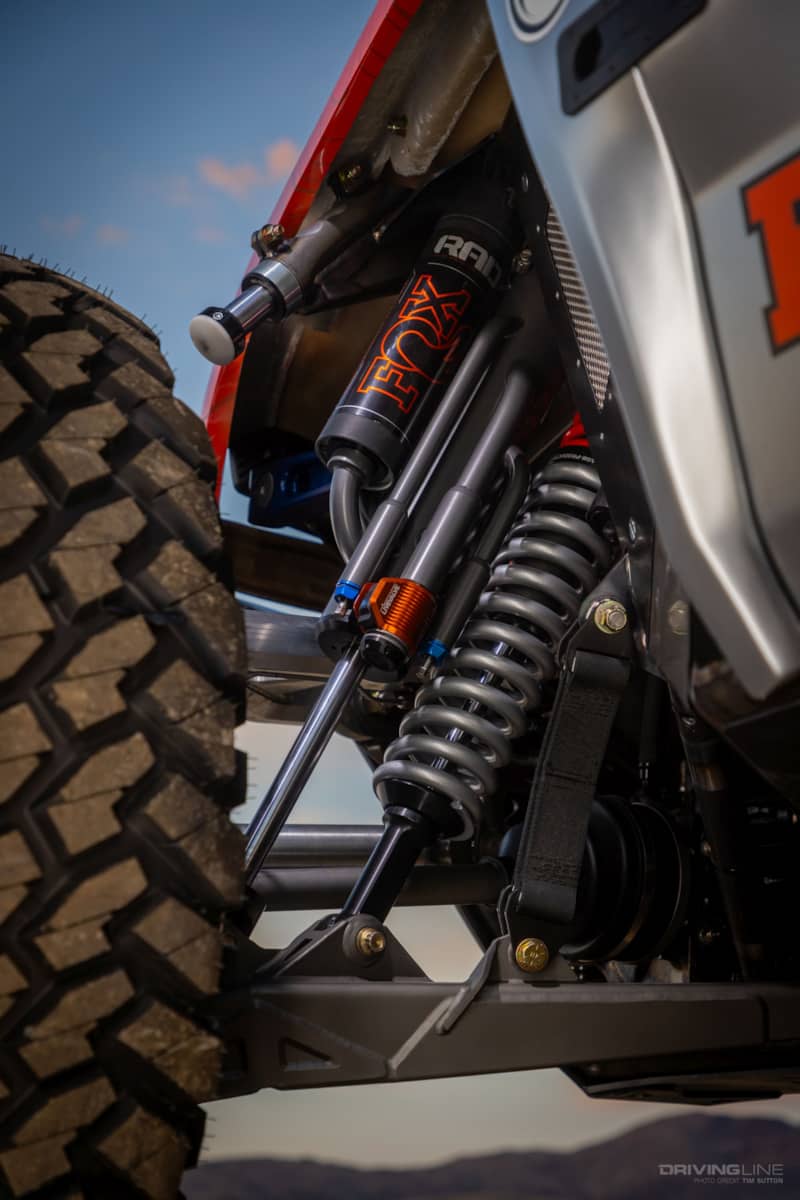 Managing the steering duties is a Howe 3.0 Trophy Truck steering rack and fluid pump. The rear suspension is a race-proven trailing arm design, which uses triangulated upper arms. Like the front, the rear suspension uses a Fox 2.0 coilover and 3.5 bypass shock with Live Valve technology on each side. This configuration nets 26 inches of travel. Helping balance out the travel and stability are Spidertrax 35-spline sway bars.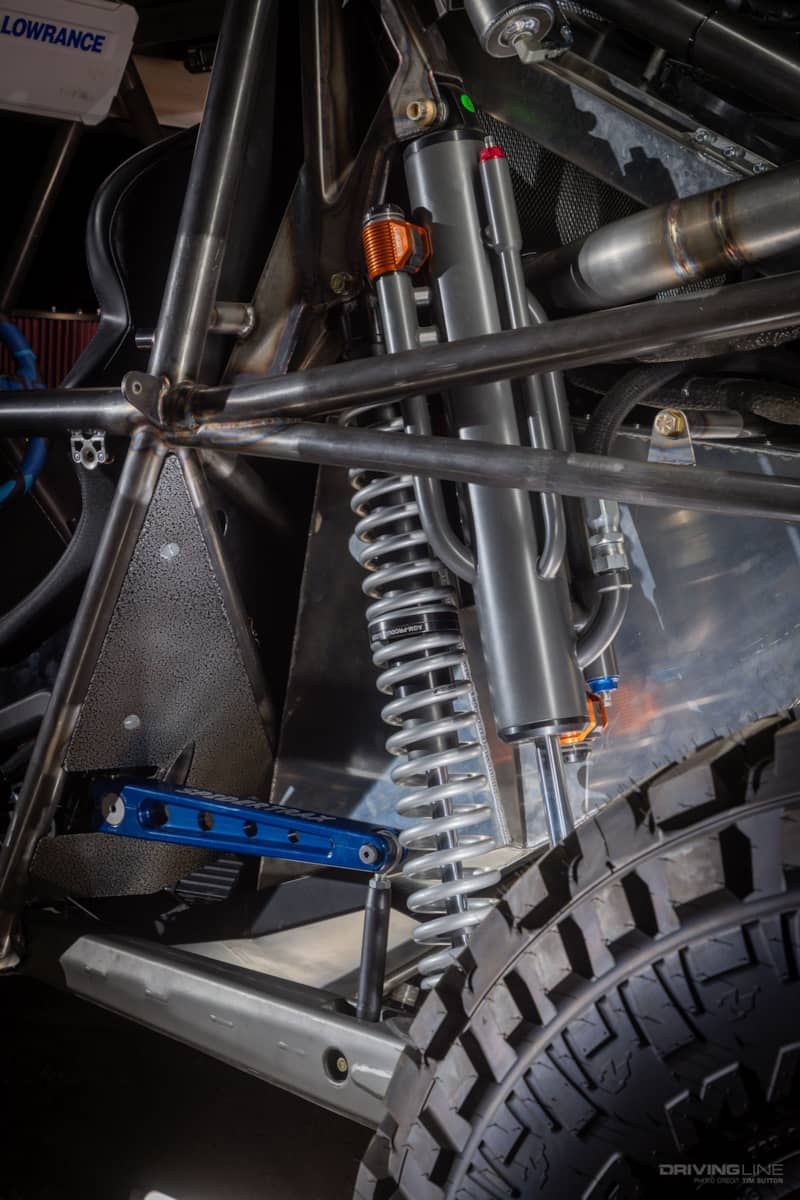 Tires and Wheels
While Healy's race cars have evolved drastically over the years, one thing that has remained consistent is his tire of choice- the Nitto Trail Grappler. The Trail Grappler has become a staple in Ultra4 Racing, with countless podiums and National Championships to back up what recreational wheelers and racers all know- Nitto build quality is simply second to none. Though he has run both the 42- and 40-inch Trail Grappler in the past, for this Bronco, he decided to go with a 40x13.50R17. To ensure the tire stays put, the high-performance rubber was mounted on a 17-inch forged beadlock from Centerline.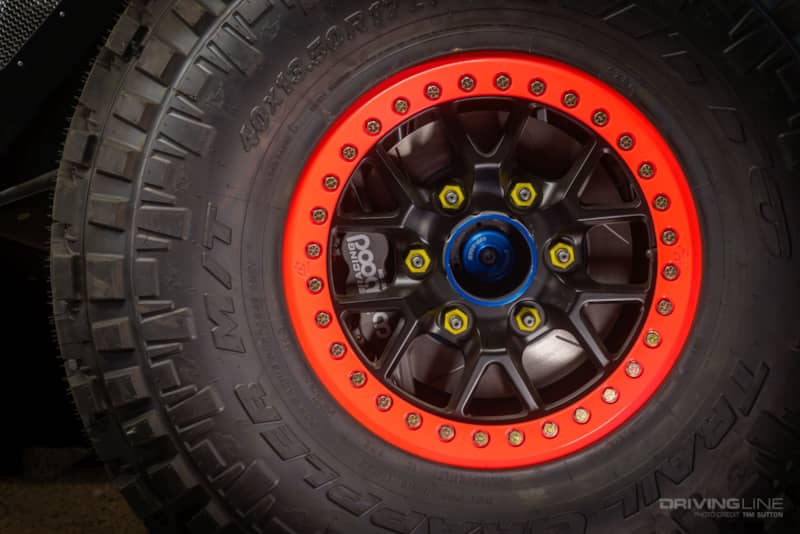 Interior
With much of the powertrain occupying the passenger side of the vehicle, there's just room for the necessities inside of the race car. The seat comes from Recaro, while the steering wheel is from Fun-Haver. Since there is no copilot to help read vital signs, Healy has his Motec display and Lowrance navigation unit mounted in an easy to view places.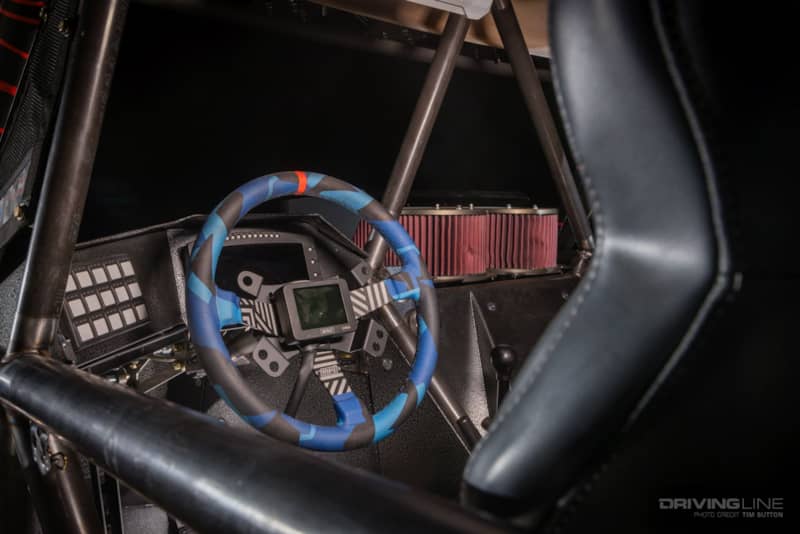 Other Bits
Preparation is key for any race. Making sure there's plenty of fuel onboard is a 40-gallon Fuel Safe cell with dual Aeromotive fuel pumps. If the race does go into the night, Healy can switch on his six HP70's and 8 Cube lights from Project X. Of course, while not generally necessary for short-course racing, one tool that can be the difference between winning and losing at King of the Hammers is a winch. Healy's ride is fit with a Warn RC 9.0, a race-proven winch setup that has served him well over the years.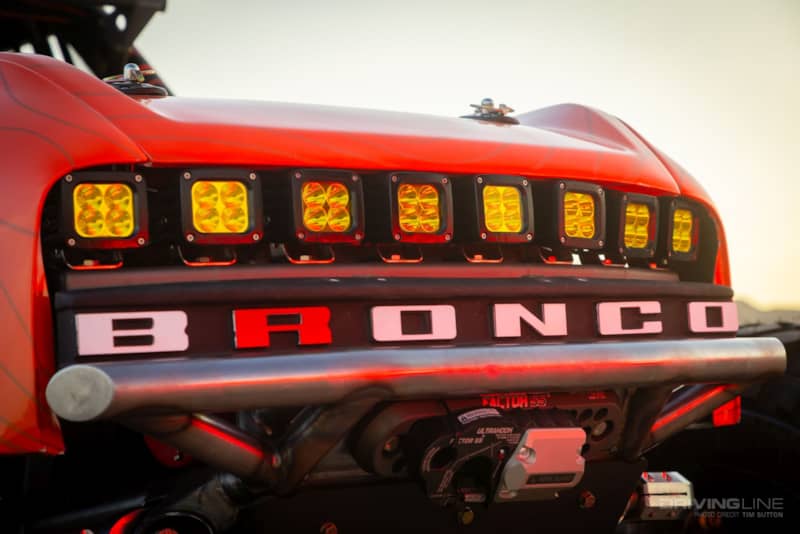 More From

Driving Line
Check out one of the winningest Ultra4 cars of all time, the Red Dragon.