From Red Dragons to Wild Horses: Loren Healy's Ultra4 Ford Bronco
He's a staple in Ultra4 and one of the nicest guys in racing. Loren Healy has earned his place among at the top of the field, as the Nitto Team racing driver has two King of the Hammer wins under his belt and multiple national championships. While he made much of that racing legacy behind the wheel of his famed Red Dragon race machines, for 2020, Healy would leave the mythical machines behind for a horse of a different color.
Debuting at the 2020 Nitto Tire King of the Hammers, Healy's number 67 would now be placed on a new Ford-powered race car. With Bronco boldly laid out across the grille, Healy's transition to the Ford-sponsored Fun Haver team would have his latest race rig blend in nicely with teammate Vaughn Gittin Jr's Brocky. Unlike Jr.'s Jimmy's 4x4-built two-seat chassis; Healy would go back to his original Red Dragon roots with a single-seat Paul Horschel chassis.
Using a mix of proven equipment and the latest race parts available, Healy's Bronco-themed 4400 car is a melting pot of innovation. Of course, this rig would get its ultimate test fresh out of the shop as it battled its way to a 7th place finish at KOH this year (more on that later). To find out more about this rig, read on as we dive into the details of this cutting-edge race machine.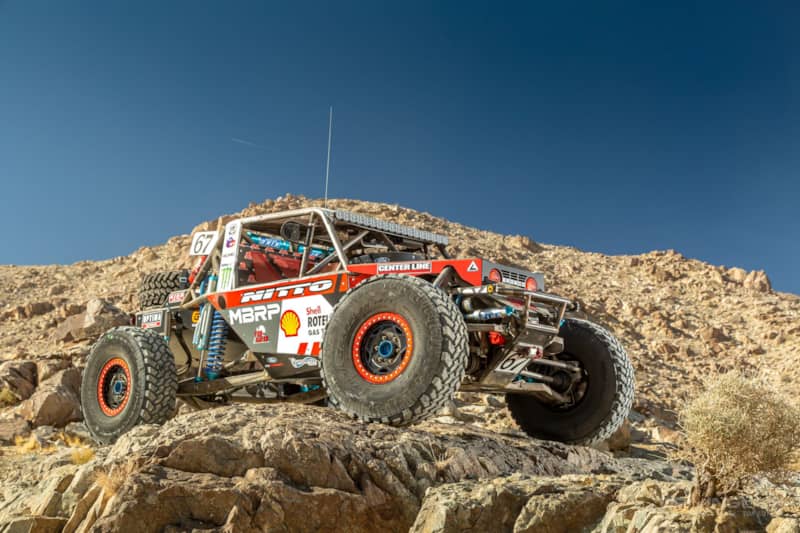 Ford Power
Putting out 780 horsepower and 680 lb-ft of torque is a Jeff Ginter built Ford V8. The Blue-Oval based 460ci engine is sporting a Holley intake and EFI system, custom MBRP exhaust, MSD wires, Dailey Engineering oil pump and pan, and DC Power alternator. Making sure power is always on tap are two Optima YellowTop batteries.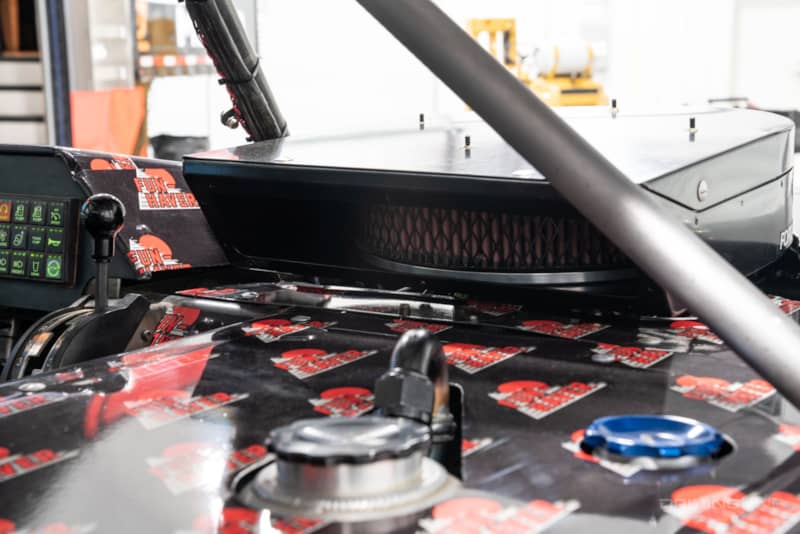 Single Seat
Most of Healy's success has been driving solo throughout his carrier. While only having one Recaro ORV racing seat inside of the cabin can be a major disadvantage at races such as King of the Hammers, it's a challenge Healy is used to. With only one seat, it's easier to work with the weight distribution and balance of the car. While not having a co-driver can hurt you at the Hammers, it hasn't proven to be an issue on the rest of the circuit in the past for Healy and other champion-winning drivers.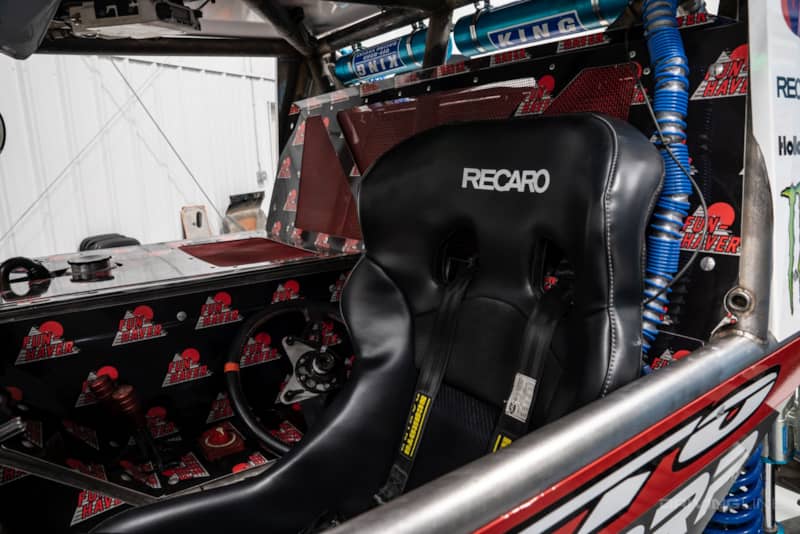 IFS
Though Healy retains a solid-axle buggy for his recreational wheeling, an independent front suspension is what he has stuck with under his race cars for years. This plated A-arm configuration uses 2.5 King coilovers paired with 3.5 King bypass shocks. Providing a little cushion for that last stage of compression are King 2.0 bumpstops. In total, this setup cycles 20 inches of total suspension travel. That's 12 inches of up and 8 of down.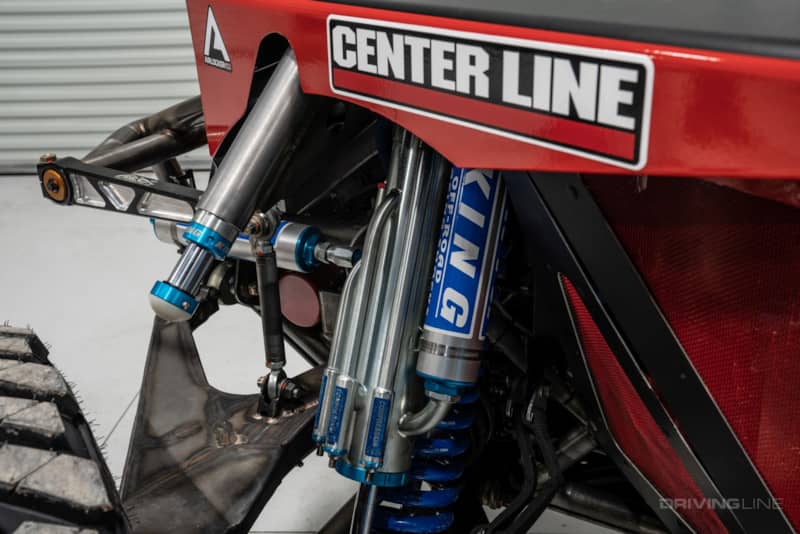 Spider Tracking
Making an IFS setup survive off-road is no easy task. To make sure his long-travel setup doesn't leave him sidelined, the car was fit with a Spidertrax IFS housing that's fit with a Gearworks high-pinion third member. The 40-spline ARB Air Locker is secured to the 5.43 gearset. Attached to the housing are Spidertrax 33-spline 300M axleshafts working with Series 30 RCV Performance joints. This setup finishes out with Spidertrax 45-spline Pro Series hubs. Steering the rig is a 7-inch rack-and-pinion steering setup from Howe.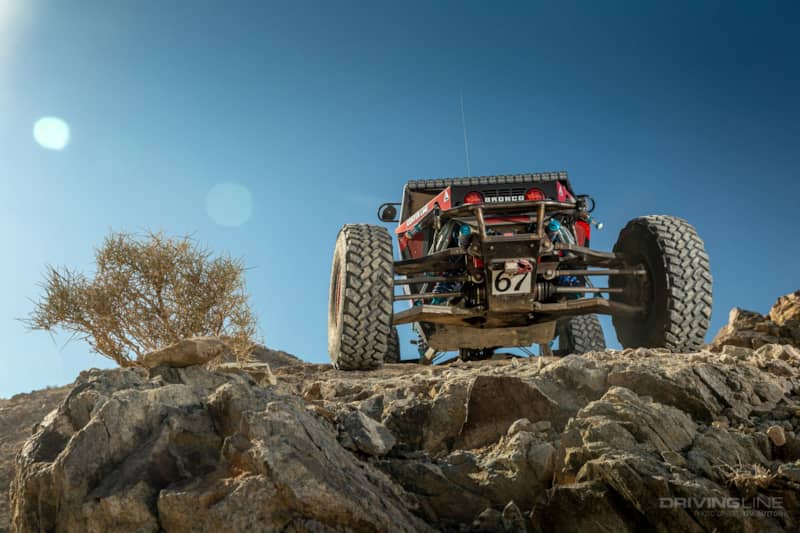 Trailing Travel
Out back, you'll find a trailing arm setup fit with a 2.5 King coilover and massive 4.0 bypass shock. The triangulated upper control arms help center the axle and provide bind-free motion for the 25 inches of total travel. Like the front, a PAC Racing 35-spline sway bar increases stability of the car.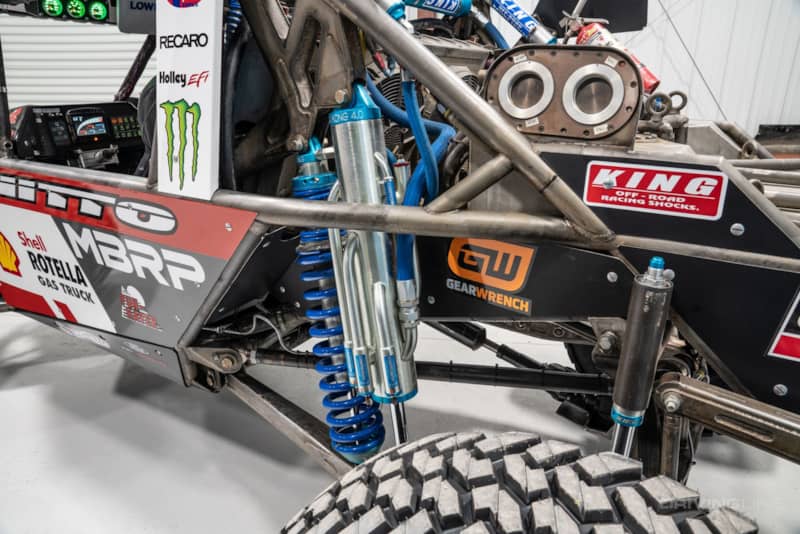 Rear Balance
While both differentials get their marching orders from 1480, 3.5-inch JE Reel drivelines, the rear 'shaft is feeding a custom off-set 4-inch series Spidertrax rear axle. The chromoly housing is fit with a low-pinion third member with a 10-inch ring gear. Bolted to the 5.43:1 gearset is a 45-spline spool. This no-frills locker works with gun-drilled 300M Spidertrax axleshafts, which rotate the Spidertrax hubs. Stopping the setup are Wilwood six-piston calipers.
Recovery
Since Healy is running solo, having a fast-spool recovery winch is a critical piece of equipment. His latest car is using one of the most proven setups in Ultra4 Racing- the Warn 9.0 Rc winch. Replacing the standard hook at the end of the Spydura synthetic rope is an UltraHook from Factor55.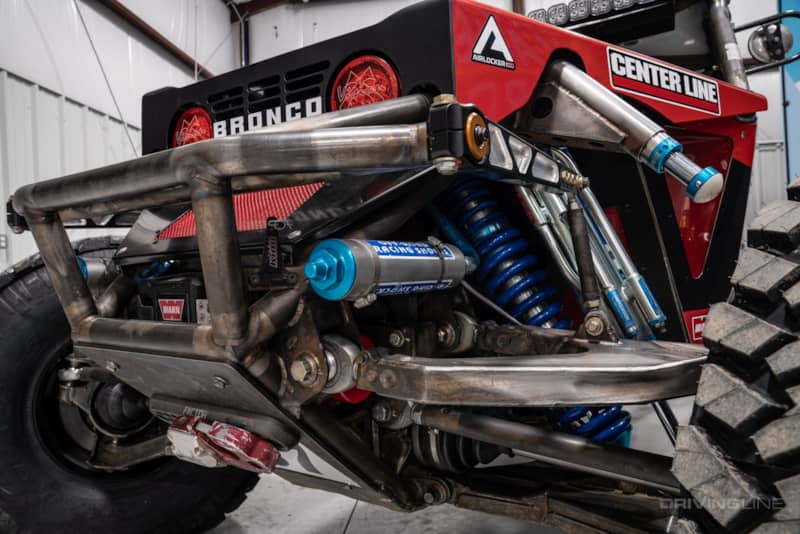 Fueling and Cooling
Offering plenty of fuel for the desert stretches is a Pyrotec 45-gallon fuel cell. This uses dual Aeromotive fuel pumps for reliable delivery. Tucked just in front of the cell is a CBR radiator and electric fan setup. CBR is also the company that was used for all of the oil coolers on the car.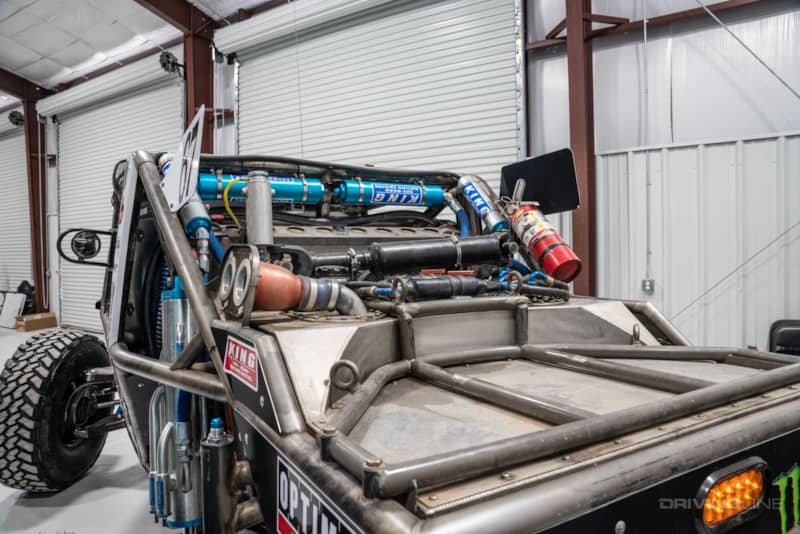 A Winning Combination
One thing that has been a staple in Healy's racing career, and something he definitely contributes to part of his success, are the Nitto Trail Grapplers he races on. The Trail Grapplers dominated the podium at the 2020 King of the Hammers and allowed him to get through the race with zero flats. Securing the 40x13.50R17 mud-terrain radials are 17-inch Forged beadlocks from Centerline wheels.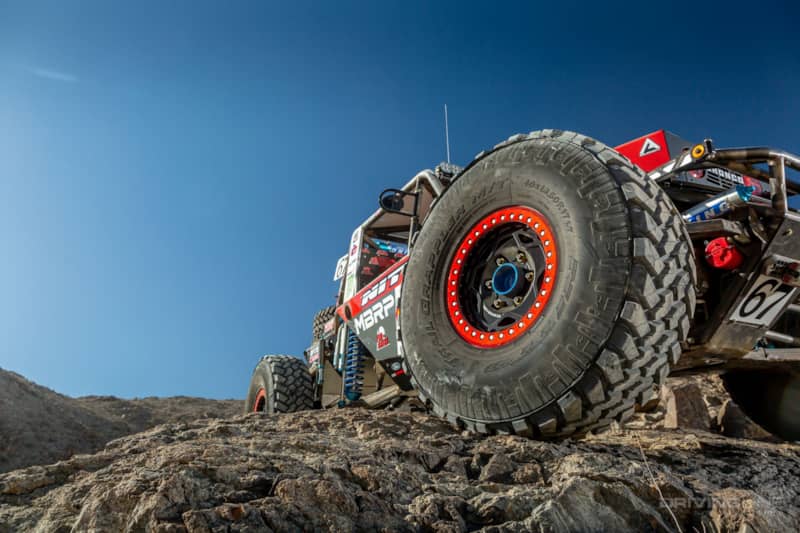 Night Vision
A signature look for Healy's race cars throughout the years has been the red headlights. His latest Ford Bronco 4400 car continues this tradition thanks to Vision X Unite lights. Of course, there's an assortment of other Vision X LED lights throughout the rig that not only provide safety lighting needed for desert racing, but far reaching vision for when this race rigs sees a late-night challenge (Baja 1000 anyone?).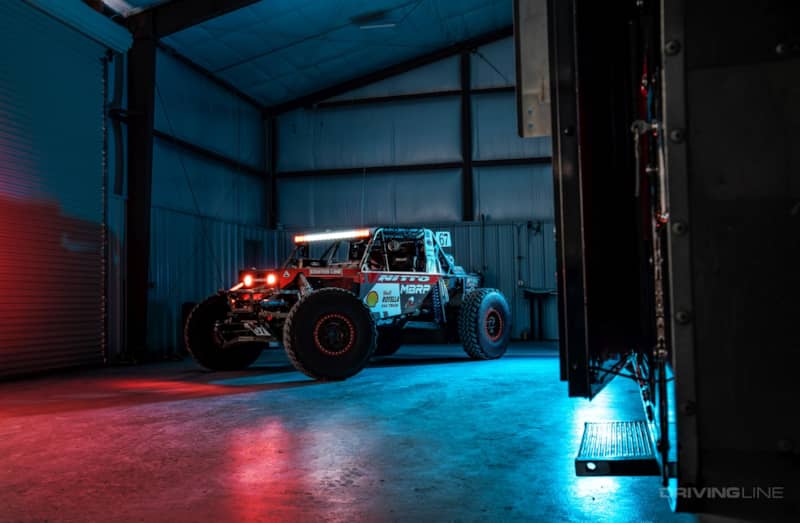 Command Control
Everything is within arms reach inside the cockpit. From the Lite Racing digital dashboard to the Winter's shifter moving the Gearworks TH400, Healy has to stay busy scanning and controlling the car on race day. Helping navigate him through the desert is a 9-inch Lowrance GPS, while twin-stick levers operate the 3.0:1 gear-driven Atlas II transfer case from Advance Adapters.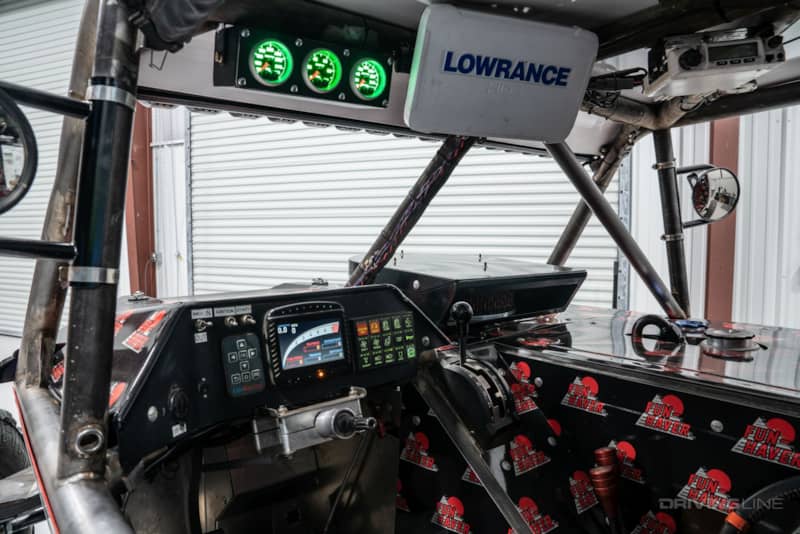 Skinned To Win
Racing at this level takes a lot of help. Thankfully, Healy has some excellent sponsors to make his job title as professional wheelman possible. The custom RTR wrap provides billing for the sponsors and is placed atop aluminum quick-release panels, which allow Healy to service the car with ease.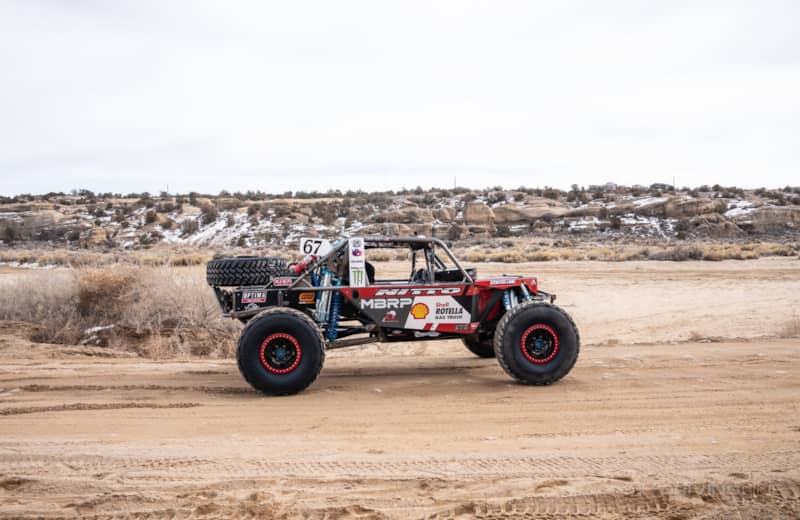 Fluid Demands
Pushing race cars to the ragged edge is tough on parts most will never see. This is one of the reasons Healy teamed up with Shell Rotella to ensure that his cars fluid demands were not only met, but exceeded. While Shelly Rotella is well known as a go-to oil for diesel platforms, they company also offers high-performance oils for gas vehicles as well.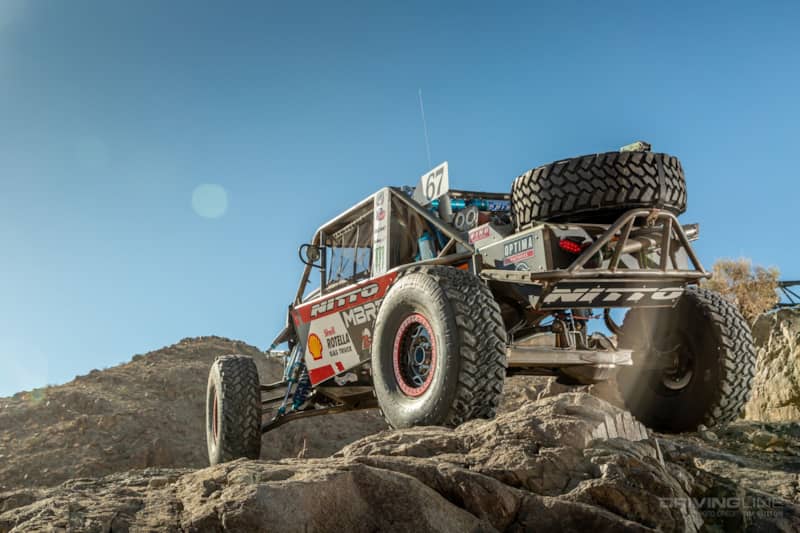 By The Numbers
Riding on the back of the Paul Horschel-built chassis is a full-size spare wheel and tire. This offers a bit of weight balance and extra insurance on the track. The single-seat car's main chassis is composed primarily of 2-inch, TIG-welded chromoly tubing. Weighing in around 5,200 pounds with a roof height of five-foot, five inches, it's a stout race machine. While the weight adds stability at triple-digit speeds in the desert, the 20-inch belly height and 116-inch wheelbase keep it nimble in the rocks.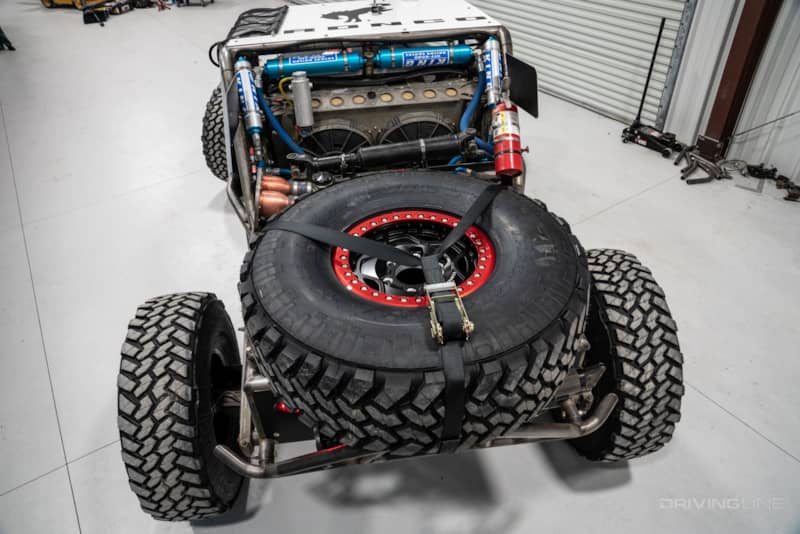 Fast Start
If you were lucky enough to watch the 2020 Nitto Tire King of the Hammers race, you likely remember Healy keeping his Bronco upfront for quite a while. Taking the pole position on race day thanks to a blistering fast qualifying run, Healy was on pace to take the crown for the third time. However, a bent differential skidplate would slow down his day. Thankfully, Healy would be able to repair the car and go on to take a 7th place finish. While it wasn't the podium finish he wanted, the fact that he took a practically brand-new car to the Hammers and nabbed a top 10 finish is still extremely impressive. Though the race season is currently on hold thanks to the global outbreak of COVID-19, we're looking forward to watching this veteran racer battle it out later this year.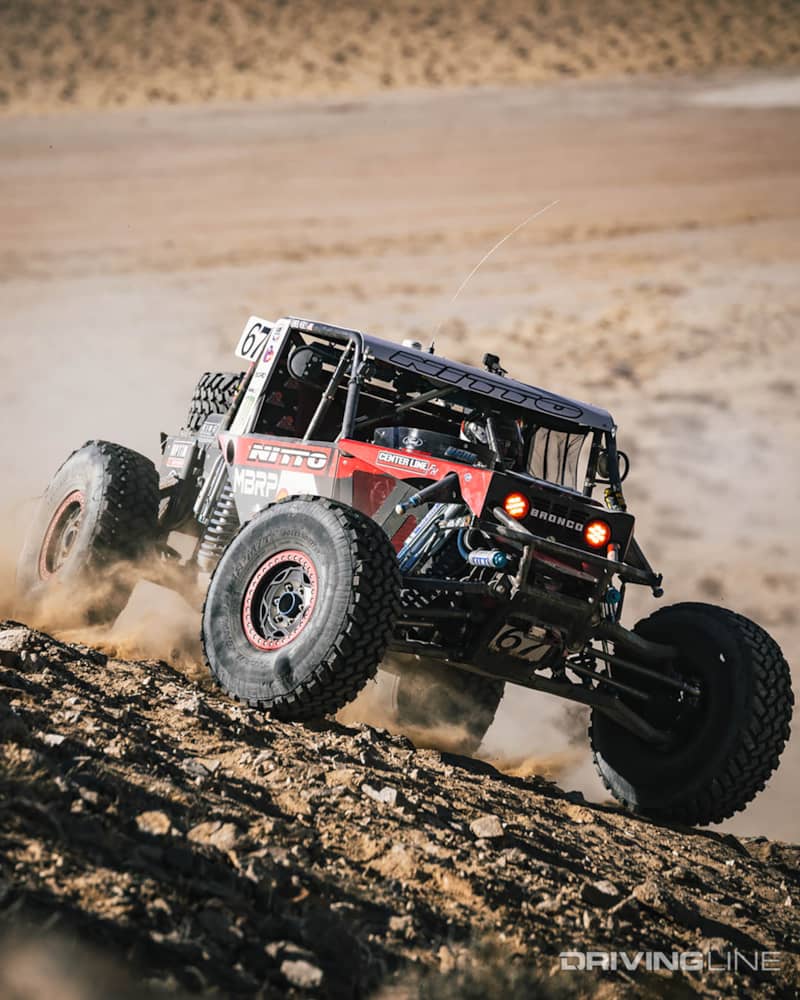 You've seen the future, now check out the winningest Ultra4 car.
(Additional photos courtesy of Team Fun Haver)