2024 Jeep Wrangler: Everything You Need To Know
The long anticipated mid-cycle refresh to the Jeep Wrangler platform is finally here. While some of the new features on the 2024 Jeep Wrangler have been known for some time, such as the new grille shown on the 20th anniversary package, there was still plenty of speculation as to what the update would look like. Now, we finally know and the list of what's new is enough to get some Jeep enthusiasts excited and likely make others roll their eyes.
Without further ado, let's jump into what you need to know about the 2024 Wrangler platform.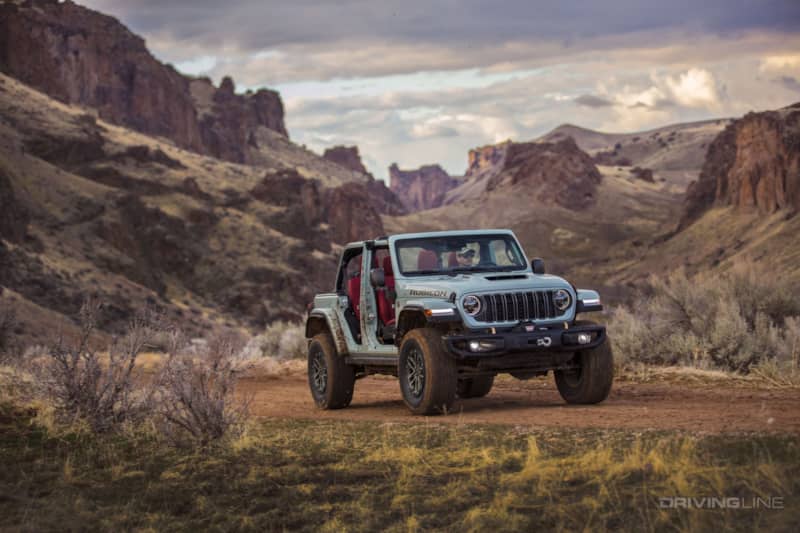 Dana 44 HD Full Float
Overlanders, rock crawlers, and anyone looking to tow, will be excited with Jeep's all-new Dana 44 HD Full Float rear axle. Thanks to the full-float design, the Wrangler can now tow up to 5,000 pounds. While we do wish this was a Dana 60 full-float rear, we are happy to see Jeep making improvements to a critical member of the drivetrain. Looking at the rendering, it would appear that this full-float upgrade is fairly compact, similar to a unit bearing. Given it retains the stock 5 on 5 bolt pattern, it's possible this could be an easy upgrade for older JL's.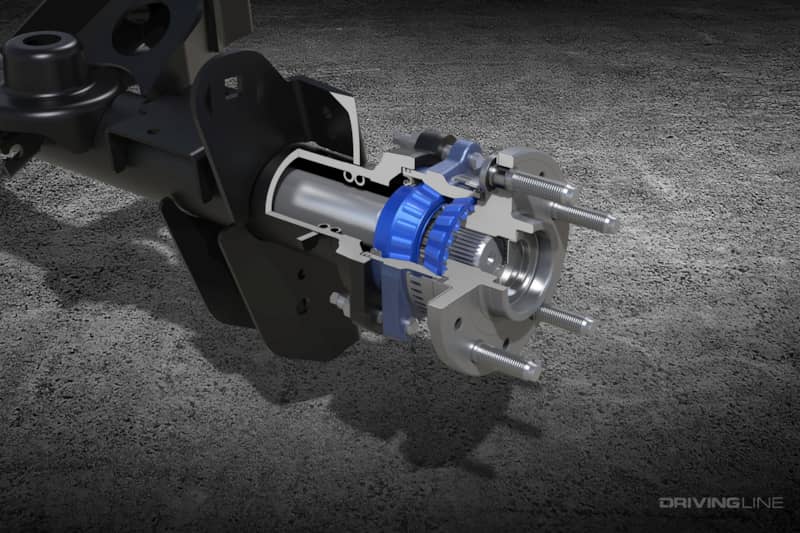 Power Seats
On one hand, it amazes us that it has taken Jeep this long to offer a power seat. On the other hand, we never felt this was something that an open-top wheeler needed. A 12-way adjustable seat, that is tested for up to 34 inches of water fording, is an exciting new feature that should provide even more visibility and comfort for all sizes.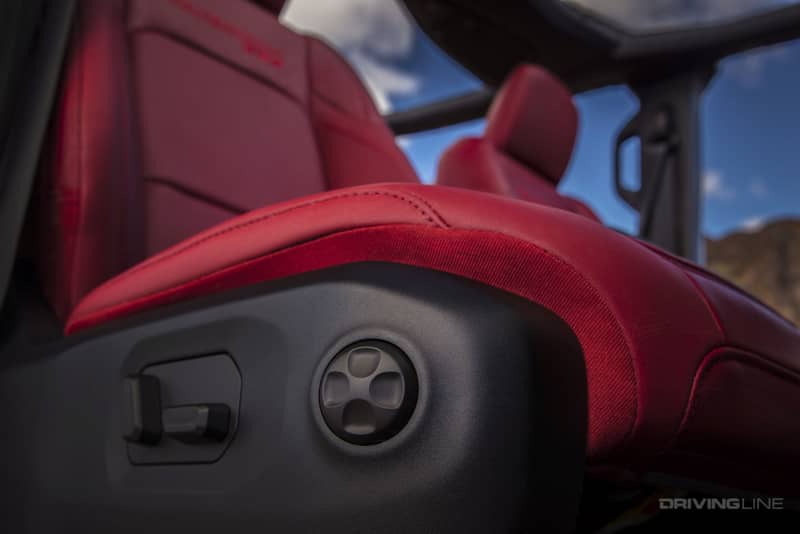 Winch Included
A winch-ready steel front bumper has been a mainstay for years, but Jeep hasn't given you a winch from the factory, until now. You can now get a factory installed Warn winch with 8,000 pounds of pulling capacity. We think this is great. But, if we are going off of the widely used formula of 1.5 times GVWR, an 8,000-pound winch is a bit under rated for some of it's heavier 4xe and 392 models with GVWR's over 6,000 pounds.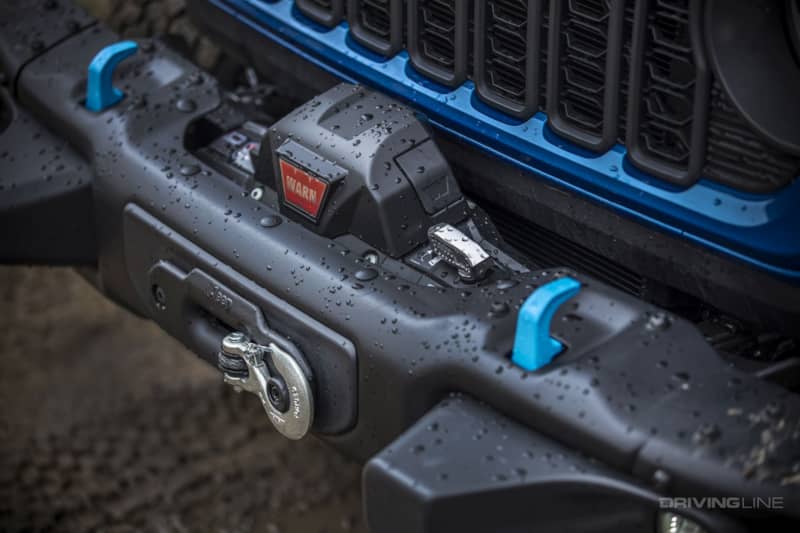 The Manual Is Alive!
Not only can you still get the six-speed manual transmission, but you can now have it behind the V6 or the 2.0L inline-four-cylinder engine. That's a first for the 2.0L. Please, someone buy a manual Jeep so they will keep making them.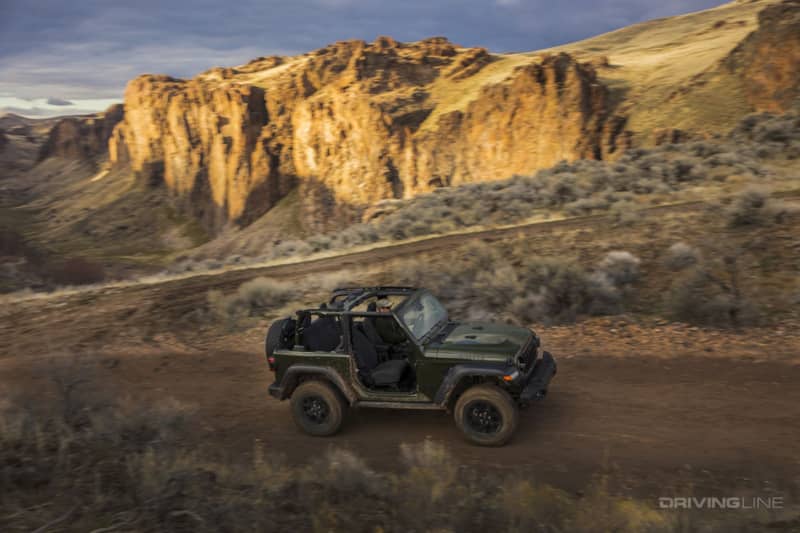 Willys Cool
If the thought of a low-frills Wrangler with real off-road appointments is what you are looking for, then check out the new Willys package. It now comes standard with a rear locker, highline flares, and 33-inch-tall tires. Jeep is listening to the consumer in many ways. This is a win for sure. It still needs a front locker, but we're glad to see this package expanding.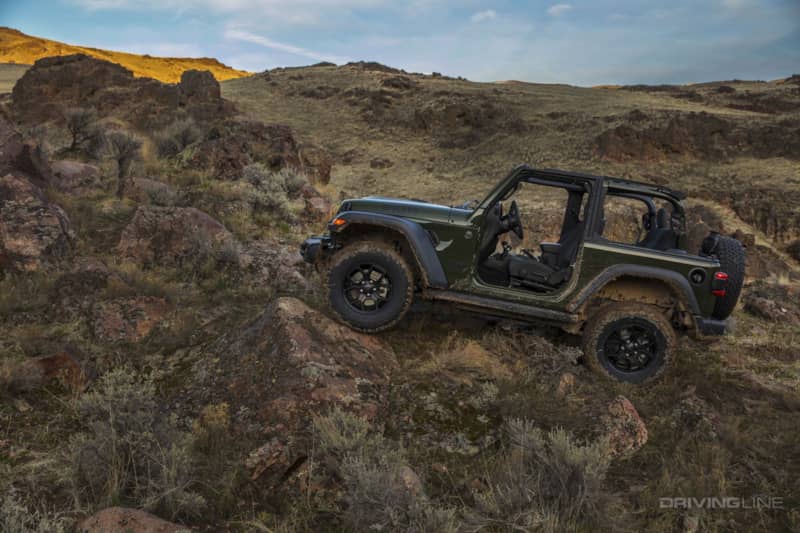 Rubicon X
A new Rubicon tier is here and Jeep is calling it the Rubicon X. The X gives you 35-inch-tall tires, integrated off-road camera, and steel bumpers in addition to all of the other upfits that come with the regular Rubicon package. There are also new wheel varieties throughout the trim packages.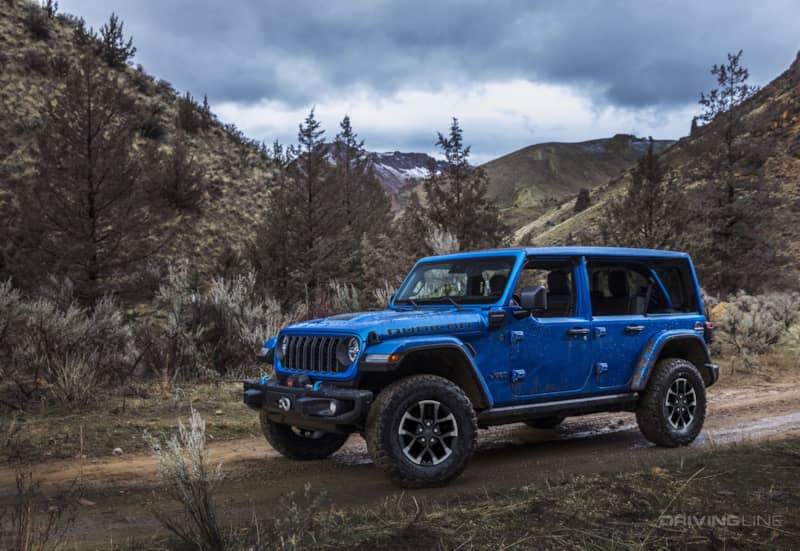 Interior Changes
A massive 12.3-inch touchscreen and Uconnect 5 is now front and center in the 2024 Wrangler. There's also a 7-inch digital screen cluster. "Yay, more electronics" said no Jeep Wrangler owner ever. This setup is much better from a technological front, but it doesn't blend all that seamlessly (what's up with those center vents?).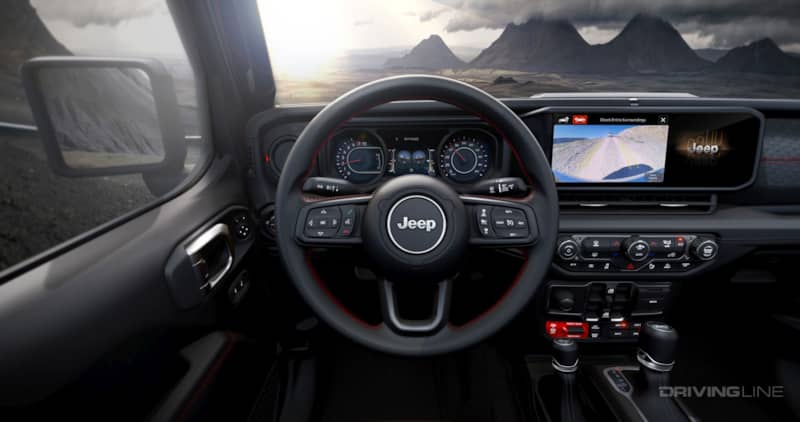 Upping Safety
There is an increase in airbags and standard safety features across all trims for 2024. Acoustic glass is also said to quiet the cabin. There's also some new tech outside of the vehicle. On 4xe models you will be able to tap into the vehicle's hybrid battery power system with an optional PowerBox. This will give you four 120-volt outlets offering 30 amps of power. So, you can power your camp or worksite for a bit.
The Windshield Just Got More Expensive
Jeep seemed fairly excited about the fact that they transferred the original fender-mounted antenna to the windshield. While it does clean up that area on the passenger fender and keep it from snagging branches on the trail, it will surely increase the cost to replace the windshield. For most vehicles, this would be a non-point. On the Wrangler with a nearly vertical windshield that is well-known for getting cracks, this is going to be a challenge. Hopefully, the Gorilla glass option will keep the windshield doctor at bay.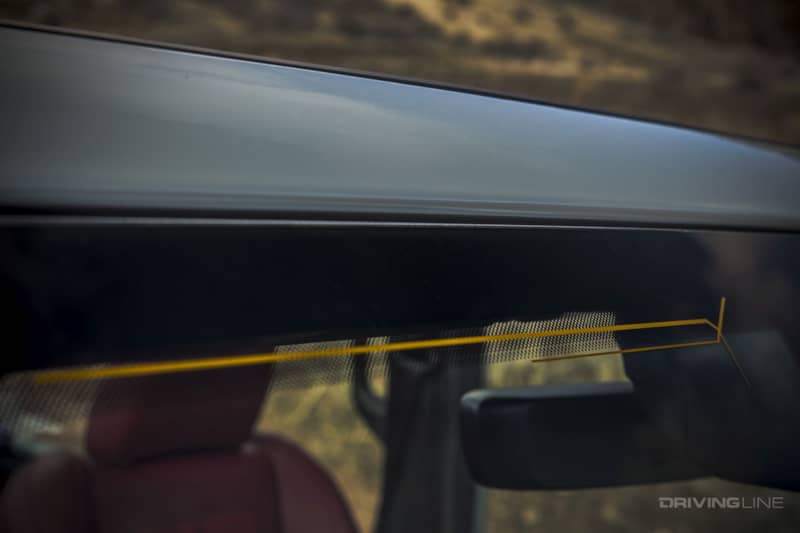 392 Goodies
Standard appointments for the top-tier 392 will now include 4.56 differential gears and 35-inch-tall tires. The gear news is great, but we're still shocked that Jeep hasn't made 37's standard with the 392. We've proven you can do it and we believe they know it works as well. We're not sure what the hold up is, but everyone can agree that it's still awesome you can order a V8 Wrangler direct from your dealer in 2024.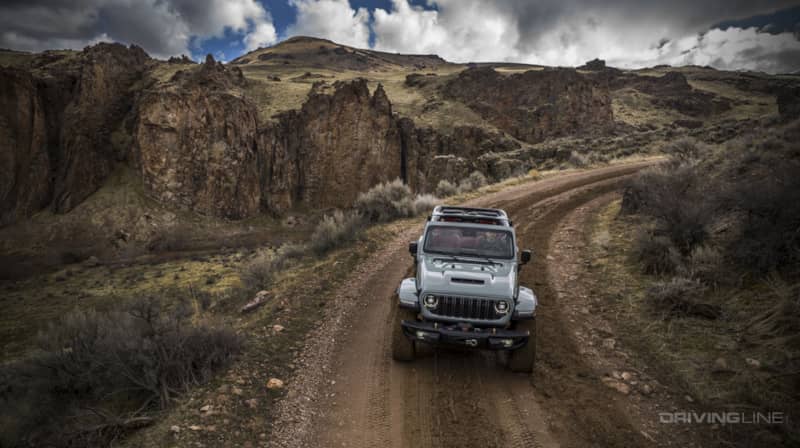 It's All Good
The changes for 2024 are truly good in many respects. People will always (we hope) want to put their own touches on the Wrangler. But, if you just want an absolutely killer Jeep right off of the showroom floor, Jeep is giving you some great options. Let's just keep our fingers crossed for one with 37-inch-tall Trail Grapplers and a long-range fuel tank from the factory one day.
More From

Driving Line
Check out how 37's with No Lift on the 392 Wrangler works!