5 (More) Blazing-Fast Diesels You Have to See
Building on the  "5 Fastest Cummins-Powered Dodge Rams in Existence" piece we brought you, we decided to spill the beans on another handful of 1,500 hp Pro Street diesel trucks. This time, two-wheel-drive versions abound, along with a four-wheel-drive Ram that ingests 600 hp worth of nitrous per pass. We'll profile the unofficial patriarch of the Pro Street class, showcase a first-gen Lightning reborn as a triple-turbo Cummins monstrosity, and also give you the scoop on a wheels-up, 9-second common-rail Dodge.
As is commonplace in diesel motorsports (and as you'll soon see in this article), Cummins power plants rule the day in Pro Street. However, we do have a surprise to help break up all the hummin' half dozen clatter: a nasty triple-turbo Duramax shoehorned into a classic Chevy. It's an 8-second '69 C10 that has successfully disrupted the inline-six monopoly in diesel drag racing in recent years. As the field of trucks continues to grow each summer, these vehicles stand out as regulars on the Pro Street scene. And better yet, on any given race day, either one of the following rides is capable of setting a new record.
1. Stuckey Racing
This truck could easily be labeled the Godfather of the Pro Street diesel class. Owned by Earl Stuckey, maintained and wrenched on by Robert Donalson of Shiver Diesel and driven by Philip Palmer, it was one of the first trucks to put diesel drag racing on the map. The '94-model-year Dodge Ram 2500 was originally a long bed but went under the knife immediately after Stuckey purchased it (it was stripped, cut and back-halved in short order). After debuting the truck in 2005, the Stuckey Team had the little green machine dialed in by the summer of 2006, where it began to receive national attention by showing just how fast diesels could be.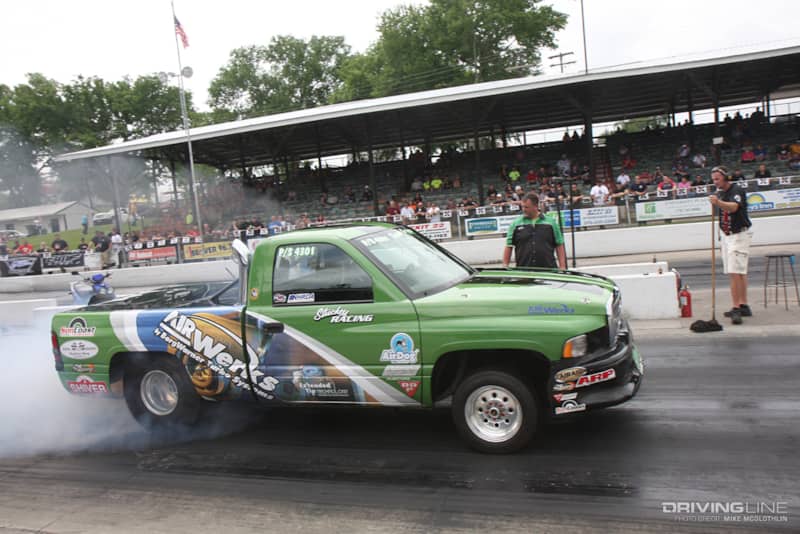 First in the 9's, First in the 8's
As one of the earliest Pro Street trucks in existence, Stuckey Racing's two-wheel-drive Ram accumulated a lot of firsts in the sport, including the honor of being the first full bodied diesel truck to do the following: run a 9-second quarter-mile (2006), run an 8-second quarter-mile (2010) and click off a 5-second eighth-mile. You may have even seen the truck's groundbreaking 8.91-second blast on the Speed Channel TV show "Pass Time." Thanks to a fire-ringed yet budget-built 12-valve 5.9L Cummins with a Shiver Diesel fuel system, a SunCoast transmission and a fearless driver, the Stuckey team's Dodge was the truck to beat in Pro Street for the latter part of a decade.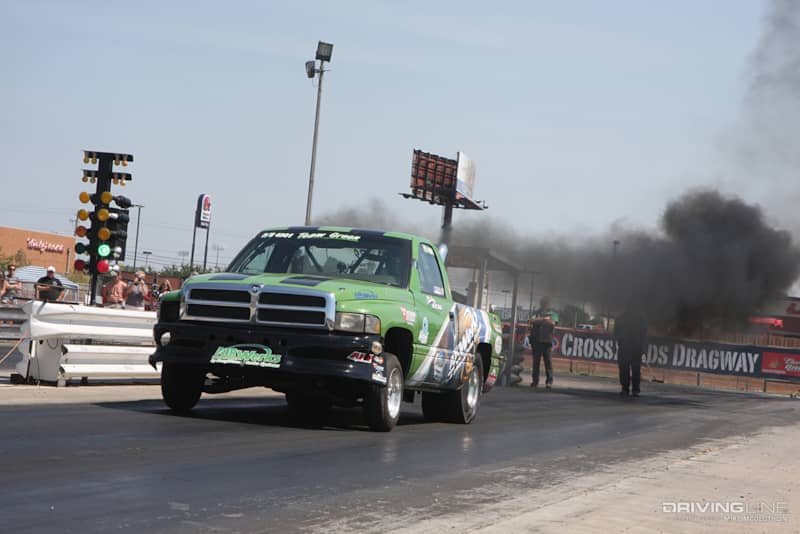 2. Dustin Jackson
This ain't your average first-generation Lightning. No sir, instead of housing a thumping Ford V8 under the hood, Dustin Jackson's '94 SVT F-150 is propelled via a triple-turbo'd, 1,500+ hp 6.7L-based Cummins. The common-rail Comp 6.4 engine from Fleece Performance Engineering is graced with dual 12 mm S&S Diesel Motorsport CP3s, huge Dynomite Diesel Performance injectors, a Turbo 400 from Rossler Transmissions, and ECU tuning from Hardway Performance. A trio of S400-based turbos from Forced Inductions are utilized in a two-stage arrangement that produces in excess of 120 psi of boost.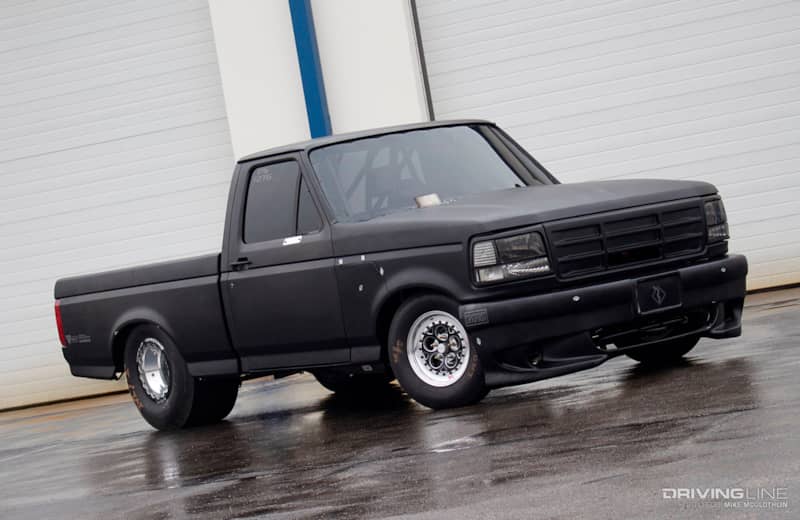 Rule Breaker
In case you were wondering, yes, this is the same Lightning that was kicked off the track at last year's NHRDA World Finals event for going too fast. On its first all-out pass, the truck ran an effortless 8.40 at 167 mph — on a chassis certified to run no faster than 8.50… Since then, the truck's chassis has been thoroughly updated (courtesy of spending the winter at Fleece Performance Engineering) to meet the new SFI 25.6 spec. In layman terms, the truck is legal to run a 7.99 in the quarter-mile. Our only question is, with an engine capable of producing 2,100 hp, how long will it take for Dustin's Lightning to get kicked off the track again?
3. Kenneth Ashley Black
Kenneth Ashley Black cut his teeth in diesel drag racing with an '04 Dodge Ram 2500 4x4 crew cab that ran consistent in the 12.0 Index category. That truck had one turbo and roughly 800 hp. A few years ago, he started campaigning the two-wheel drive, third generation Ram you see here. It's lighter, packs three turbos and a de-stroked 6.7L Cummins (6.4L) that sends well over 1,000 hp to the rear wheels. So, yes, it's fast.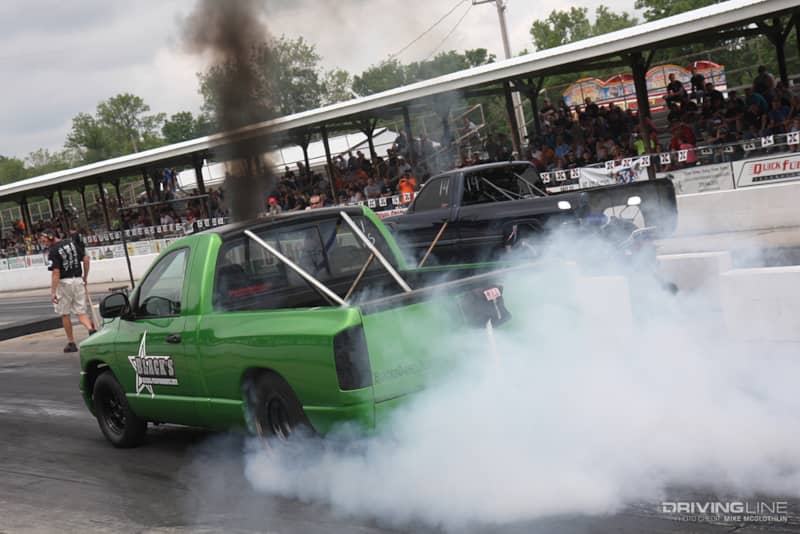 Wheels-Up
While it's been as quick as mid 5.30's in the eighth-mile and run low 9's at more than 150 mph in the quarter, Black's Dodge is infamous for something else: putting daylight between the track and the front tires. On its way to cutting 60-foots in the 1.3-second range, the truck's violent, boosted launches have a tendency of sending the front wheels skyward. As you can imagine, its penchant for pulling the wheels off the ground are a crowd favorite.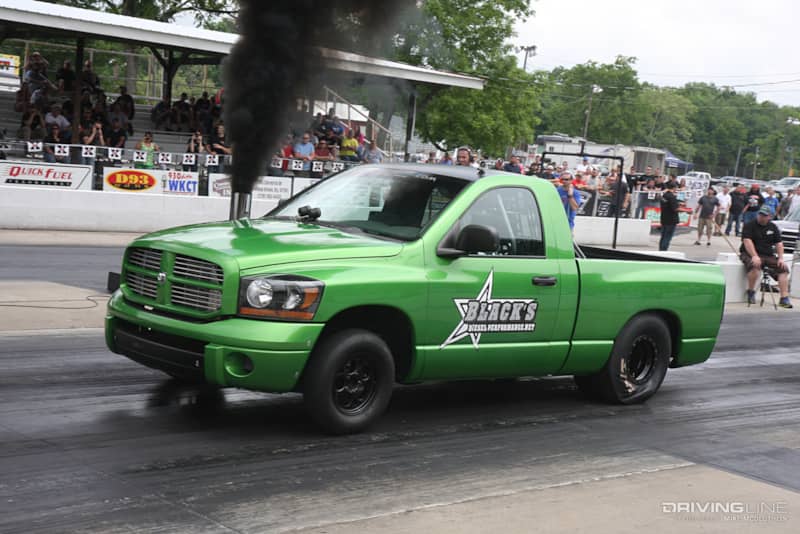 Take a look at one of its more dramatic wheels-up instances in the video below:
4. Brett Deutsch
Even though Brett Deutsch's Duramax-powered '69 C10 is the odd man out in the Cummins-dominated Pro Street field, his truck has the quickest (and fastest) timeslip on this particular list — and it's not by accident. Brett's classic Bow Tie has been an ever-improving vehicle in this class, going from 11's to its current, deep-8 status in just a few short years.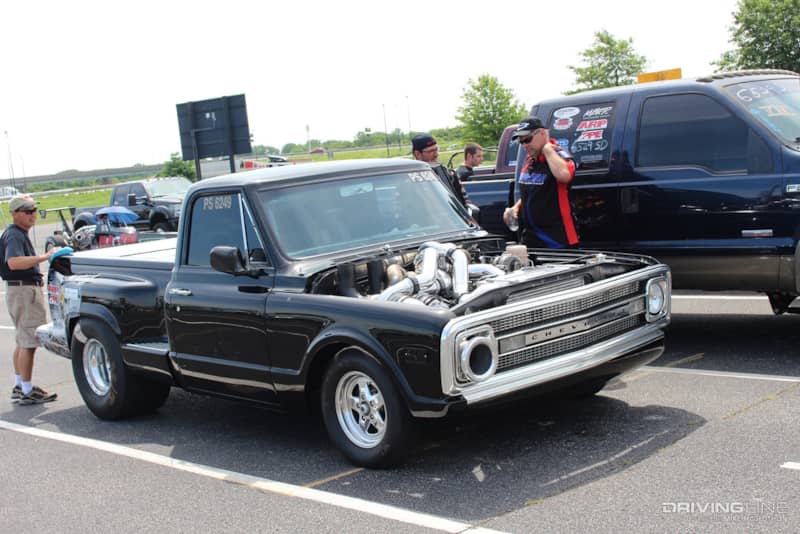 Triple-Turbo Work of Art
Packing triple turbos from Bullseye Power, turbo and intercooler piping from HSP Diesel and an engine built by Danville Performance using select Wagler Competition Products parts, the LLY Duramax likely produces between 1,700 to 1,800 hp at the crank. The V8's thirst for fuel is quenched courtesy of a massive set of injectors and CP3s from Exergy Performance, ECU tuning is handled by Danville Performance via EFI Live, and power makes it to the ground thanks to a Rossler Transmissions TH400 spec'd with a Neal Chance lockup torque converter.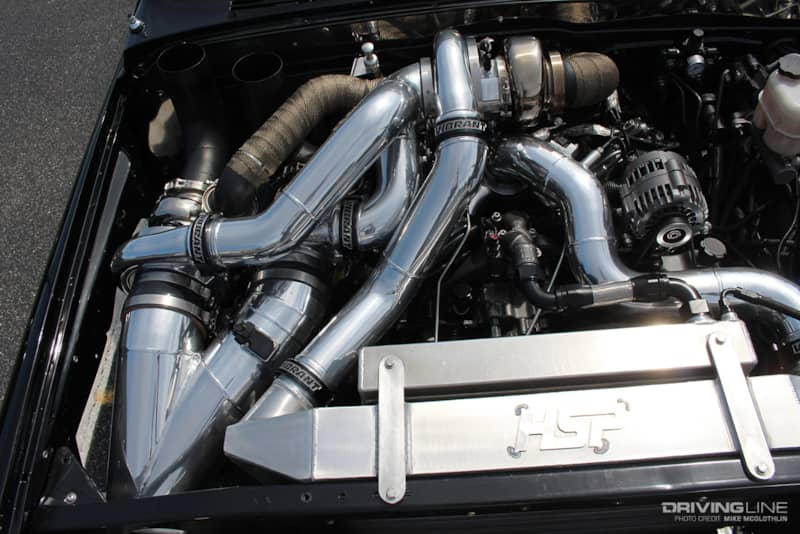 8.39 at 168 MPH
The image below is documented proof of Brett's quickest pass so far. The fairly conservative 5.47-second eighth-mile time helps illustrate how strong his C10 pulls on the big end of the track. Of course, some power may be pulled out of the truck at the starting line in an effort to maintain traction… Either way you look at it, an 8.39-second pass is impressive for a 4,500-pound truck, and the 168-mph trap speed translates into roughly 1,500 hp making it to the rear wheels.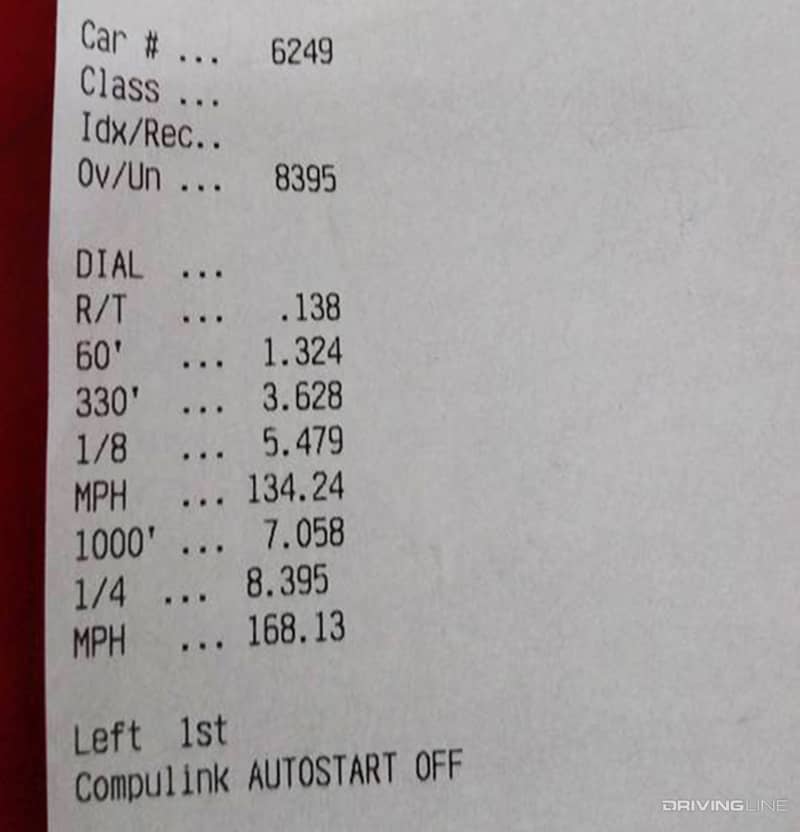 5. Chase Lunsford
Another Pro Street truck that back-halfs like a freight train is Chase Lunsford's '01 Dodge Ram 2500. While running 5.60's in the eighth-mile seems to be the truck's norm (which equates to 8.80 in the quarter using the NHRA's eighth-to-quarter conversion calculator), Chase has clicked off a best of 8.61 at a blazing 166 mph. We've also seen the truck pick up as much as 34 mph between the 660-foot mark and the 1320.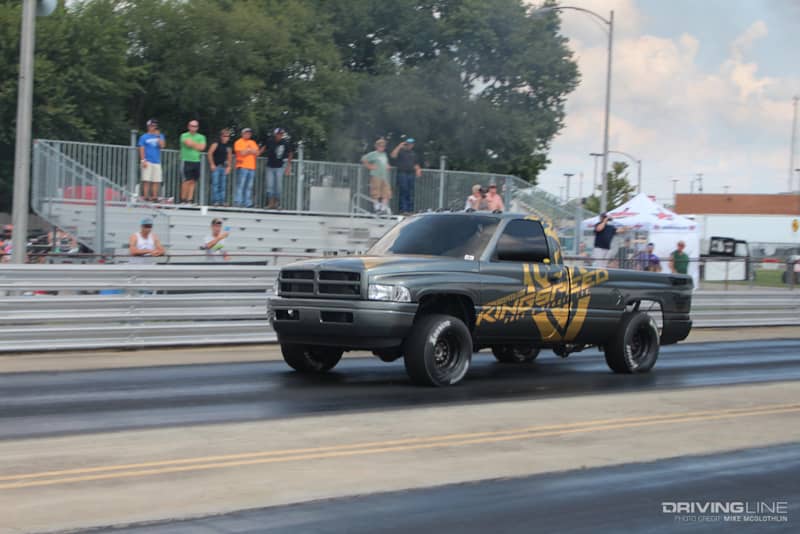 One Turbo, Plenty of Nitrous
While it might be the only four-wheel drive on our list, the gutted second-gen Cummins is definitely light. The P-pumped 12-valve Cummins under the hood utilizes a single, BorgWarner based S400, but receives an extra 500 to 600 hp kick thanks to a generous dose of nitrous oxide. As the owner of Kingspeed Race and Repair in Bowling Green, Kentucky, it's obvious that Chase knows how to make a vehicle get down the track in a hurry. In 2016, his regular cab Ram took home the win at two Pro Street races and finished second in the Outlaw Diesel Super Series points chase.