50,000-Mile NT420V Tire Review
A product that performs better than advertised is one of the highest complements you can pay a tire manufacturer. After more than 50,000 miles—accumulated in less than three years' time—Trent Skinner is convinced he made the right choice when he made the switch to Nitto's NT420V. At the time, he needed an all-season tire that could do a bit of everything. From daily driving to towing trailers and regular drag racing to the occasional dirt drag, Trent had his work cut out for him in finding the perfect tread pattern. After all, he was bolting them to a 650hp (and later on, a 900hp) Cummins-powered third-gen Dodge Ram.
On the drag strip, Trent tells us the 420V's held their own. In commuter mode, he also reports that they were exceptionally quiet even as they neared the end of their tread life. And finally, Trent related that the 420V is well-suited to towing. So impressed by how well they handled a trailer, he now recommends them to anyone looking for a long-lasting street tire that tows well. The set under his '06 Dodge Ram 2500 measured LT305/55R20, a size that boasts an F load range and a remarkable load carrying capacity at maximum pressure.
The Do-Everything Dodge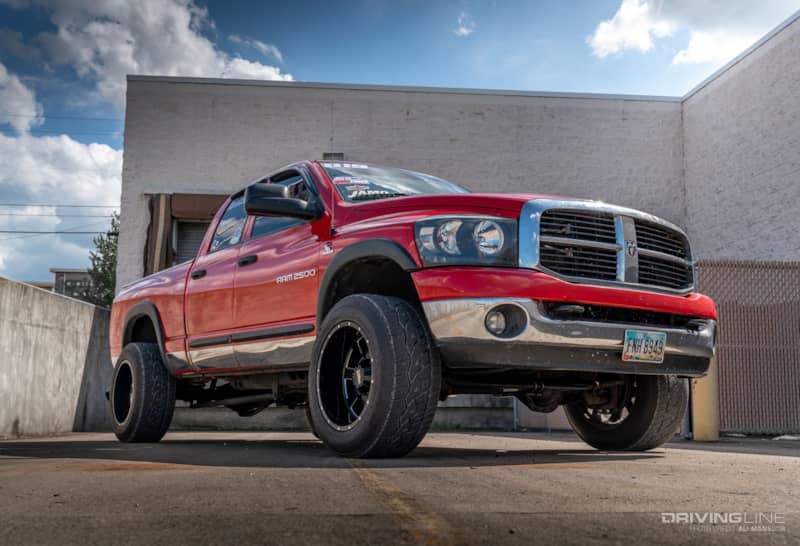 As an employee of Cummins Inc., what else would you expect Trent Skinner to drive? As a diesel truck enthusiast, it's no surprise he chose to park a 5.9L-powered third-gen Ram in his driveway—as it's one of the more coveted trucks in the diesel world. But as Trent's affinity for adding horsepower grew, the need to maintain traction did also. Hence the choice to run all-season tread over all-terrains or mud terrains. But even though Trent dabbled in go-fast goodies (like so many other diesel-heads do), it didn't change the fact that this was his "everything vehicle." It got him to work every day, hooked onto the trailer anytime something needed to be hauled and it sent him through the eighth-mile in 7-second intervals in ultra-reliable fashion.
The Right Tire, At The Right Time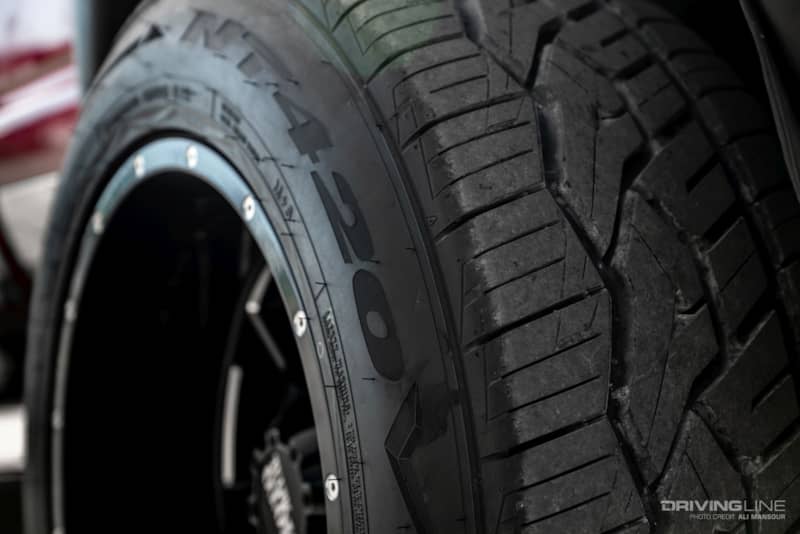 When it came time to stuff some fresh tread under his 170,000-mile Ram, Nitto had just released the NT420V. The new all-season was destined to replace the aging yet popular NT420S and—based on his luck with Nitto tires in the past—Trent was willing to give them a try. His LT305/55R20 NT420V's measured 33.23-inches in overall diameter, were roughly 12.5 inches wide for an adequate footprint and mounted perfectly to his 20-inch 962 model wheels from Moto Metal. Added versatility came in the form of the 420V's load range F rating, which would be perfect for a truck that was expected to tow.
Making The Switch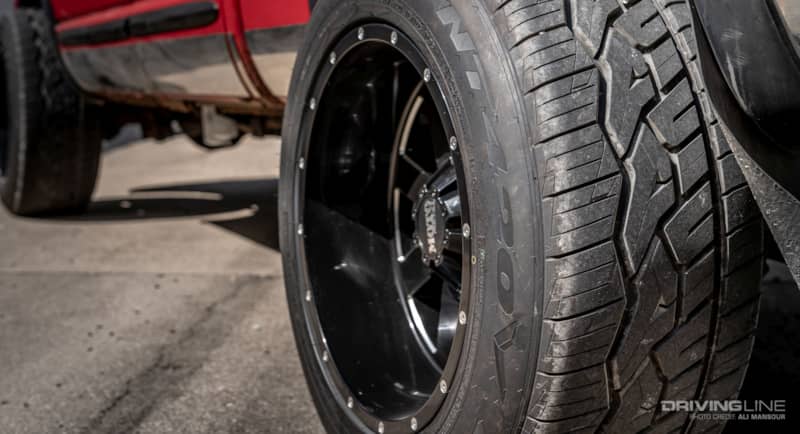 Prior to the arrival of the NT420V, Trent was a big fan of Nitto's NT420S. In fact, the all-season 420S was a hit with much of the diesel community thanks to its soft-compound providing great traction on both prepped and non-prepped surfaces. However, the 420S was never an ideal tire for diesels that are regularly put to work. With its stronger sidewall and higher load index, the NT420V changed all of that while simultaneously offering satisfactory grip. "They are a great tire," Trent says. "And they always hooked up very well on the street." Trent also tells us that, throughout their lifespan, the 420V's remained quiet, especially at highway speed. His regular rotation schedule, combined with the tire's asymmetric sipe and groove count (as well as its variable pitch tread block design) all likely had a role in the 420V's lack of road noise.
A Performance Tire That's Serious About Towing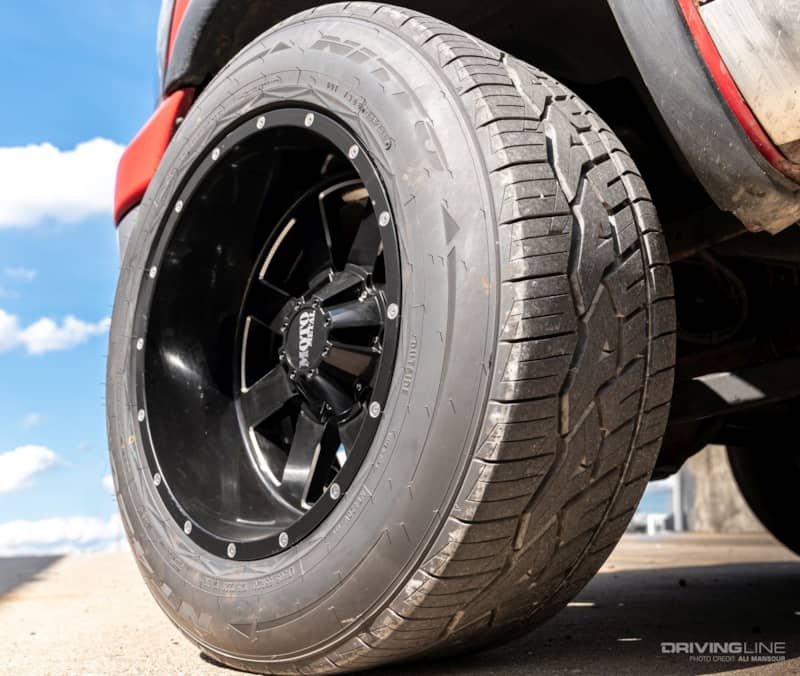 Unlike the 420S, Nitto designed the 420V specifically for heavier trucks and SUVs. And knowing that many diesel trucks can tow well north of 20,000 pounds (while weighing 8,000 pounds or more themselves) Nitto made an intentional effort to cater to the diesel crowd—which is readily apparent in its F load range versions. The LT305/55R20 F 420V's on Trent's 2500 series Ram boast a load index value of 125, which means 3,640 pounds of load carrying capacity for each tire at maximum pressure (80 psi).
At The Track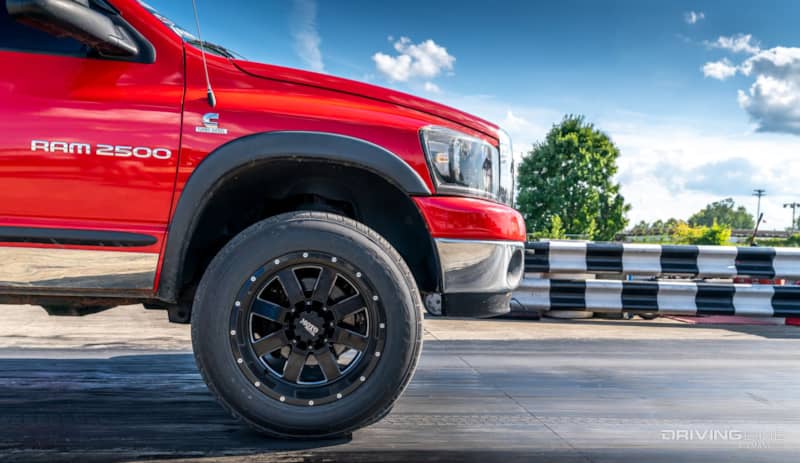 For Trent's ET Bracket and 7.70 Index class racing endeavors, his NT420V's allowed him to leave the drag radials back at the trailer. Drag racing on the 420V's called for a bit of fine-tuning on air pressure, but once Trent found the sweet spot the truck was consistently cutting low 60-foots and repeatably running his dial-in. For all-out grudge racing, the drag radials got the call—but that's to be expected when 900rwhp and 1,800 lb-ft of torque is unleashed. The latter occasions were rare however, as Trent spent most of his time chasing after the national ET Bracket and 7.70 titles on NT420V tread.
Double-Classing
A couple years back, Trent finished Sixth Place in the Outlaw Diesel Super Series (ODSS) ET Bracket class with his Dodge riding on NT420V's. He even secured an event win 500 miles from home. That same year he would finish 12th Place in the 7.70 Index category, one of the most competitive classes on the ODSS circuit (and that regularly enjoys 60 or more drivers competing each season). Without question, double-classing isn't easy, and finishing near the top of two of the busiest classes in diesel drag racing is a highly commendable feat.
An Underappreciated Piece Of The Puzzle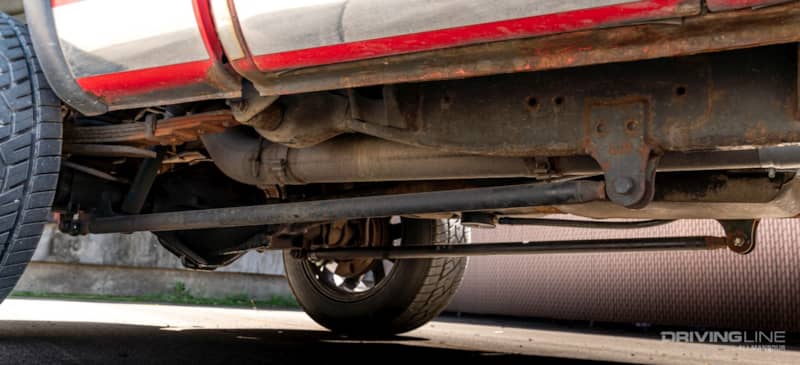 It's hard to grasp just how important a good set of traction bars is in the traction equation. With many years of service on them, these battle-worn bars built by Firepunk Diesel continue to do their job and do it very well. They keep the rear AAM 1150 from wrapping under load (the truck produces more than twice the torque it did stock…), along with keeping the leaf springs from twisting and better controlling driveshaft plunge. This means no wheel-hop or premature driveline failures at high horsepower. On the towing side, they also help improve braking performance.
More From

Driving Line
Believe it or not, the highest horsepower street-driven diesel truck in the land is rolling on Nitto tires. Get a load of Chris Patterson's wild, 3,000rwhp monstrosity of a Cummins right here.