Bad In Black: A Low-Key, 1,200HP Cummins Equipped Dodge Ram Truck
With roots deeply embedded in blue collar work, diesel enthusiasts are a motivated bunch of folks. Cory Lauer is no different. He's a farmer, mechanic and horsepower junkie from Winterset Iowa—and last December he decided to go drag racing with his newly-acquired '04.5 Dodge Ram 2500. Almost immediately, the truck's factory manual transmission was ditched in favor of a full manual valve body 48RE, the 5.9L Cummins was replaced (and heavily reinforced) on account of a cracked block and the interior was completely refurbished because it needed it. In the process, Cory built a streetable, dyno-verified 1,265rwhp monster capable of running low 10's.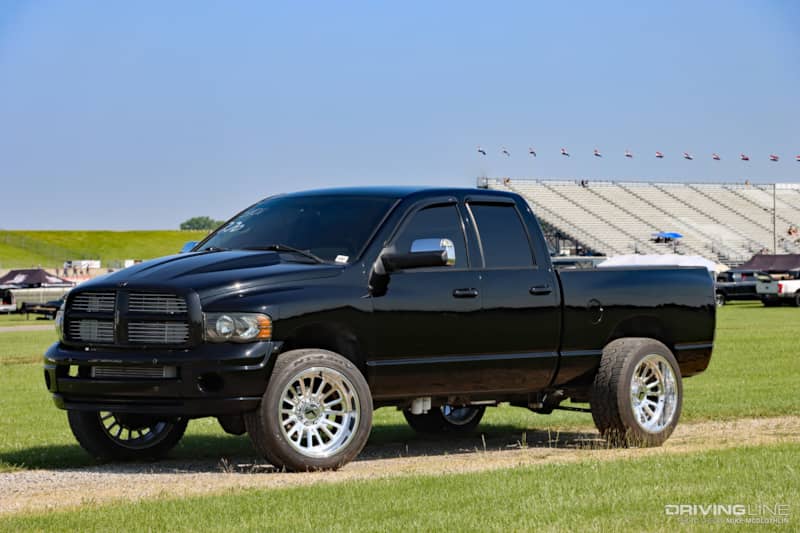 In what amounts to exemplifying the term "over the mark," Cory's first trip to the drag strip resulted in effortless mid-6-second eighth-mile passes—even though 7.70 Index was written on the windshield. "That was my first time ever drag racing, and I was definitely in the wrong class," he told us. "I had slow reaction times, but the truck ran consistent 6.50s." Cory's plan for the future entails dialing the truck's power back a bit, slowing things down a couple tenths and going rounds in the 6.70 Index class. For an inside look at what makes this obscenely fast, 6,500-pound Dodge so quick, keep reading.
Fortified 5.9L
Upon splitting the block shortly after obtaining his '04.5 Dodge Ram 2500, Cory Lauer quickly rounded up the parts needed to piece together a stronger 5.9L. The common-rail Cummins now residing under the hood of his third-gen sports the factory bore and stroke but benefits from a set of Wagler Street Fighter rods, stock compression Mahle pistons and ARP fasteners throughout. Up top, a set of ARP Custom Age 625+ head studs anchor the Fleece Performance Series cylinder head—which boasts fire-rings, hardened valve seats, Manley stainless steel valves and 105-lb valve springs—to the block.
All The Boost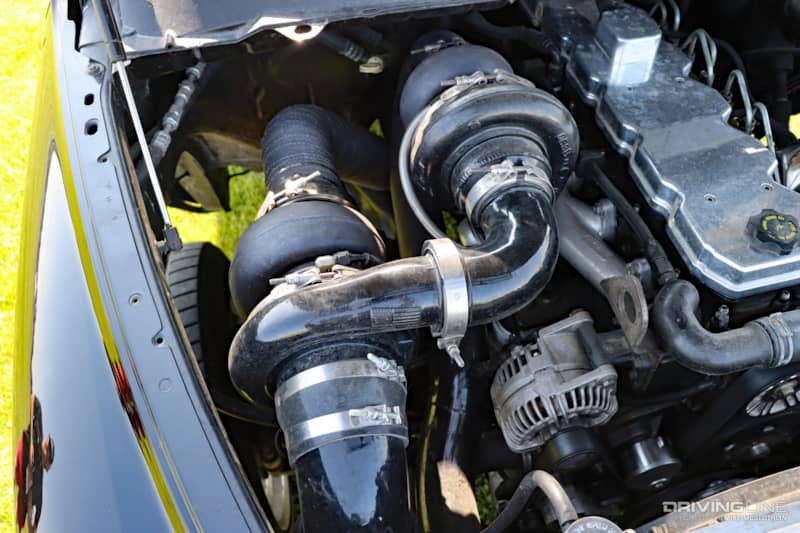 As you can see, the passenger side of the engine bay is consumed by two sizable BorgWarner turbochargers. The one on the right is an S468, serves as the high-pressure unit in Cory's EvilFab Performance-sourced compound arrangement and is bolted to a T4 foot exhaust manifold. The charger on the left, an 88mm BorgWarner S488/96/1.32 T6, moves a copious amount of air up top and serves as the atmosphere (low-pressure) turbo in the system. Cory doesn't really keep tabs on boost, but he knows it could very well top 100-psi at full tilt. This combination forces boost through an On 3 Performance intercooler.
Exergy Fueled
Amplifying the Cummins' high-pressure common-rail injection system is a stroker CP3 from Exergy Performance. This 6.7L Cummins-based version of the original Bosch high-pressure fuel pump is equipped with a cam that makes use of a 14mm stroke (as well as other proprietary internals) and can support more than 1,400 hp. It sits in the factory location. Downwind of the 14mm CP3 and the fuel rail, performance injectors fitted with 250-percent over nozzles (also from Exergy) handle in-cylinder fuel delivery. The truck's injection system is fine-tuned via EFI Live software.
Supporting The Cause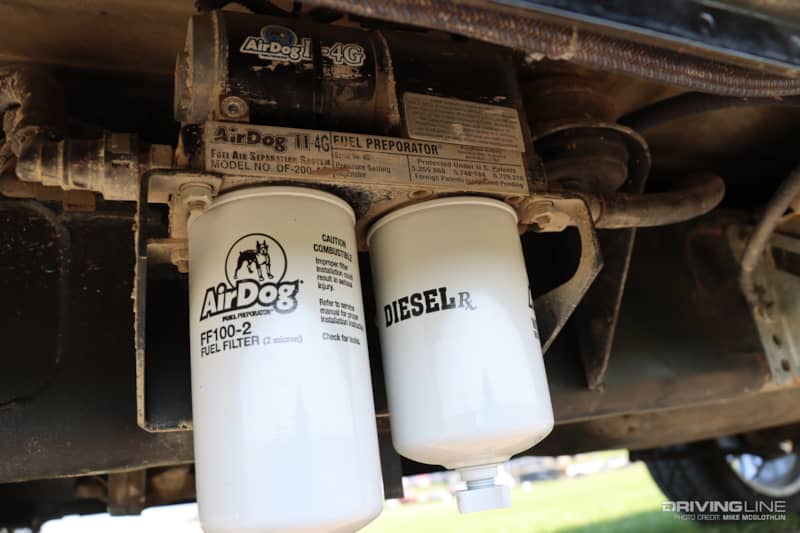 None of the truck's 6-second magic would be possible without proper low-pressure fuel delivery. Keeping the 14mm CP3 and the rest of the common-rail system happy is mandatory in making four-digit horsepower, and it always begins with a good lift pump. This AirDog II 4-G system maintains 15-psi worth of low-pressure fuel supply at all times and can flow a very healthy 200-gph. It pulls fuel from the factory tank and is mounted along the driver side frame rail.
Full Manual Valve Body 48RE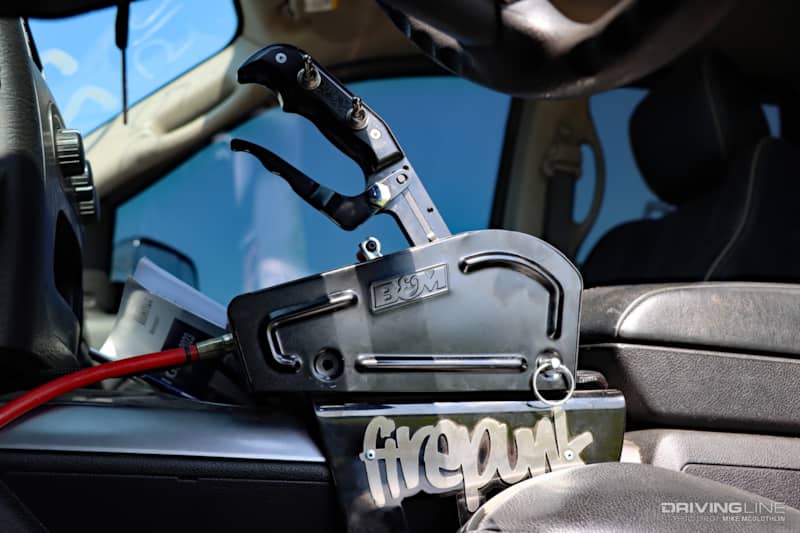 After bringing the truck home last December, Cory got straight to work removing the NV5600 six-speed manual it came with. Its replacement was a 48RE automatic complete with a full manual valve body. The reinforced four-speed benefits from billet input, intermediate and output shafts, and makes use of a triple disc torque converter with a billet stator from Goerend Transmission. Building his own transmissions is a source of pride for Cory and is a regular part of the work he performs at Lauer Farms Diesel Performance and Repair.
Transmission Insurance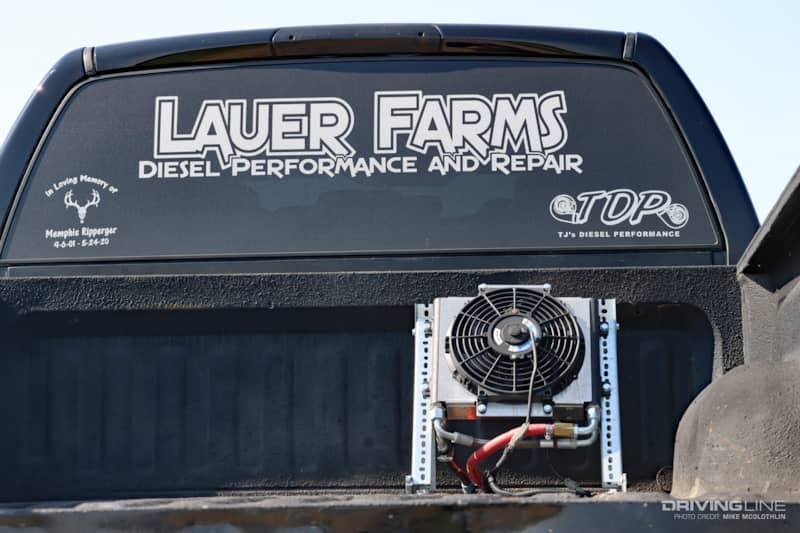 To protect his transmission investment, Cory runs an auxiliary cooler in the bed. The BD Xtrude double stack transmission cooler employs an 800-cfm electric fan to keep ATF temps in check. Cory tells us the fan automatically kicks on at 180 degrees F and shuts off at 160 degrees. He then added that it often doesn't need to come on at all. Insurance items like this are highly suggested if you want to enjoy any high-horsepower diesel that's equipped with an automatic transmission.
Nittos On KG1's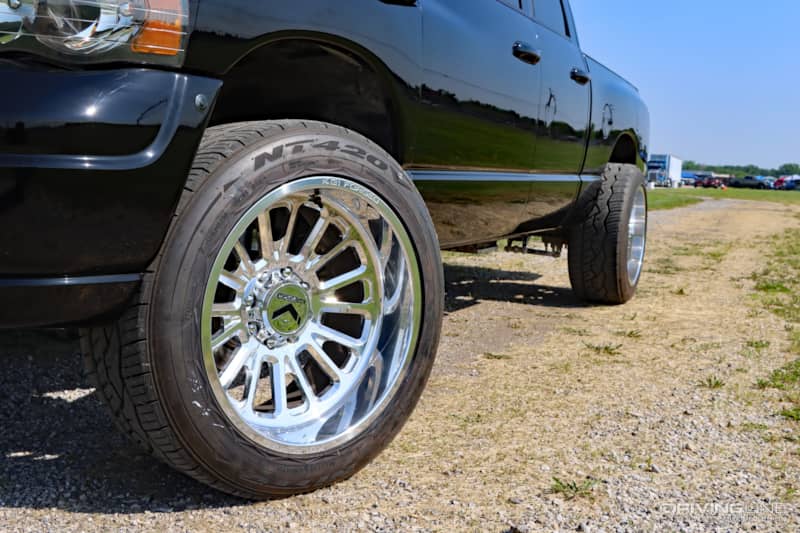 How does a set of luxury truck and SUV tires end up on a 1,200hp ¾-ton Dodge Ram? Other than its attractive price point and high availability, the Nitto NT420V provides ample grip thanks to its asymmetrical tread pattern. And while the LT315/45R22 420V's have their work cut out for them in maintaining traction in Cory's particular application, they are arguably one of the best tire choices for a 2,000 lb-ft diesel outside of drag radials or full-blown slicks. The 33-inch NT420V's are mounted on 22x12-inch KG1 Forged wheels.
CalTracs & 6's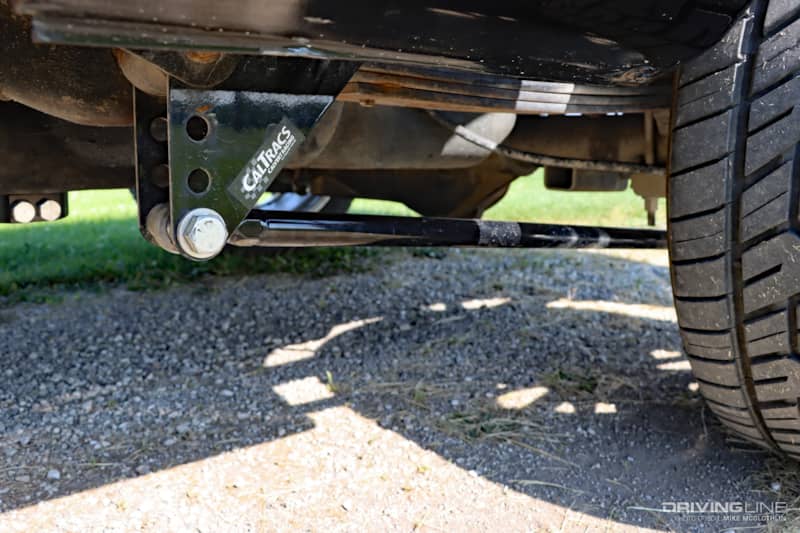 In addition to the NT420V tires and the transfer case being locked in 4-High, CalTracs bars provide further traction assurance at the drag strip. The CalTracs have no issue keeping the rear AAM 1150 from wrapping and the leaf springs from twisting, even with 15-psi of boost on tap on the launch. It's a recipe that has allowed Cory to run 6.50s in the eighth-mile at just over 100 mph—enough ET to get him kicked off the track for lack of a roll cage. Over the winter, Cory plans to upsize his compound arrangement and go after 1,500 hp on the chassis dyno. After that, he's setting his sights on competing in the Ultimate Callout Challenge. Needless to say, this might only be the beginning of his high-horsepower journey.